A cheesy crustless chicken pot pie casserole that's gluten free, down-home comfort food. This is sure to be your family's new favorite way to eat chicken pot pie.
Potatoes inside and crispy cheese on top ensure you won't miss the crust! It's also a quick weeknight dinner, perfect for using up leftover chicken.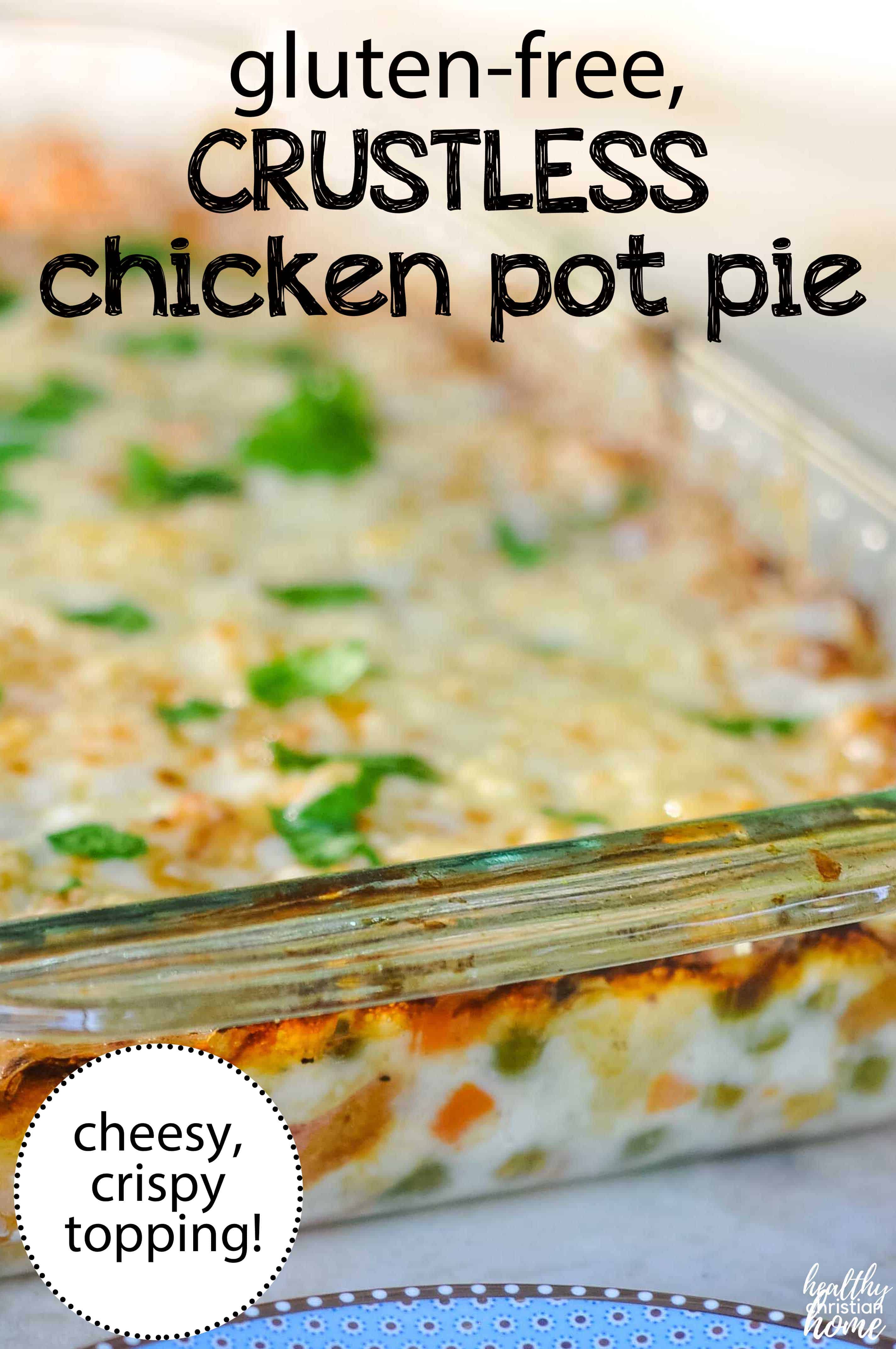 My Discovery of the Best Chicken Pot Pie Casserole Ever
Chicken pot pie is a meal I've always liked…. but not loved. Then, I went to a ladies' bible study where the hostess made *hands down* the best chicken pot pie I've ever tasted.
I got two platefuls, and my belly was happy. But I wanted more.
As my son James says, "Mom, my tummy is telling me to stop eating but my mouth is telling me this is sooooooo good…."
We've all been there!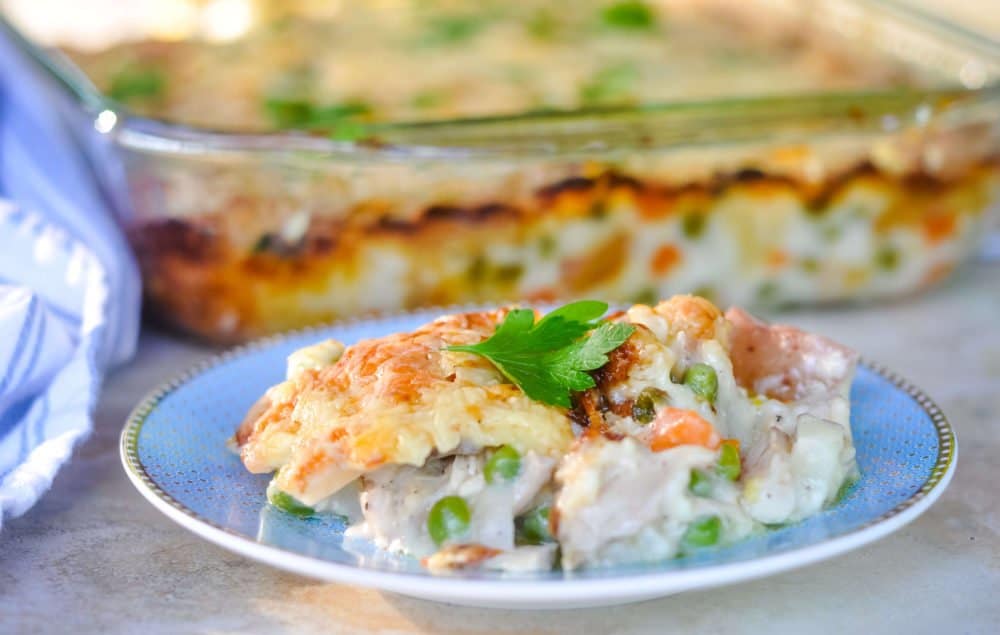 So after that fateful meal, I had to ask the hostess for the recipe so I could recreate it the very next day.
It's the skillet chicken pot pie from Six Sisters Stuff, and it's the inspiration for this crustless chicken pot pie.
It has a whole block of cream cheese.
(Yes, you read that right.)
The main thing I wanted to tweak about this recipe was the puff pastry crust. Since most store-bought frozen doughs are filled with some not-so-natural ingredients, I decided to try a crustless version with crispy, gooey cheese on top.
It's chicken pot pie success! Perfect for all my gluten free friends, too.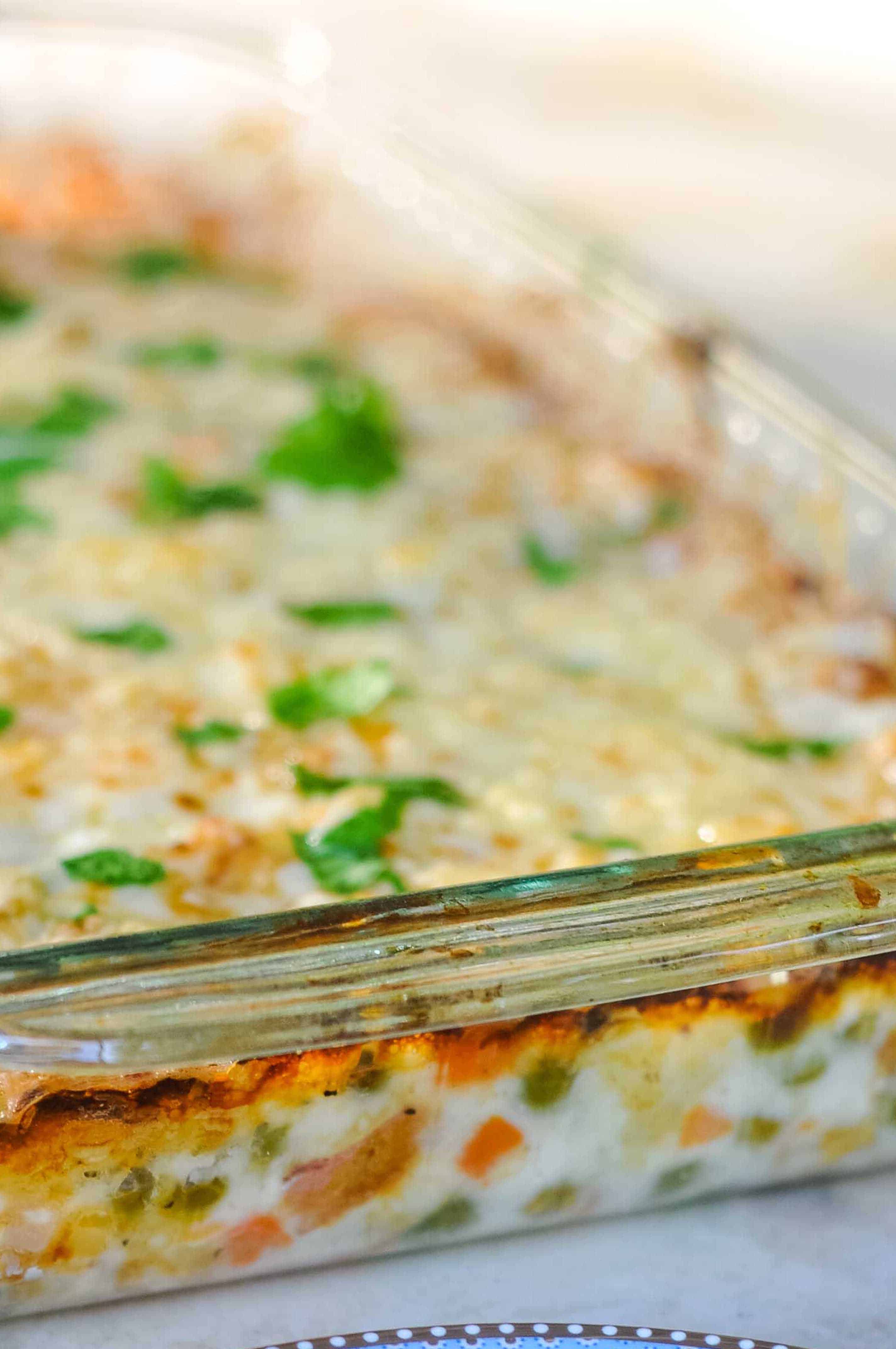 How to Make a Gluten Free Crustless Chicken Pot Pie
Worried that a chicken pot pie with no crust won't be as tasty as the original? Never fear! To me, this is the best chicken pot pie recipe in the world. (The fam agrees.)
Here are my best tips for making a gluten free chicken pot pie casserole everyone will love!
I decided to change the vegetables up a bit from the original recipe, using what I had on hand. This chicken pot pie recipe is so versatile and you can basically use whatever veggies you fancy.
Don't skip the potatoes! They add such a wonderful heartiness, and an element that a lot of pot pies miss. Most chicken pot pies have lots of corn and green beans, which are okay. But the potato makes up for missing the crust in the best way!
Instead of using flour to thicken the sauce, we're using arrowroot powder or non-gmo cornstarch to keep it gluten free.
A crispy, cheesy crust is a wonderful replacement for puff pastry! We're using plenty of mature grated cheddar and letting it get nice and golden brown to form a crust. Feel free to sub other cheeses your family enjoys.
How to Make a Keto Chicken Pot Pie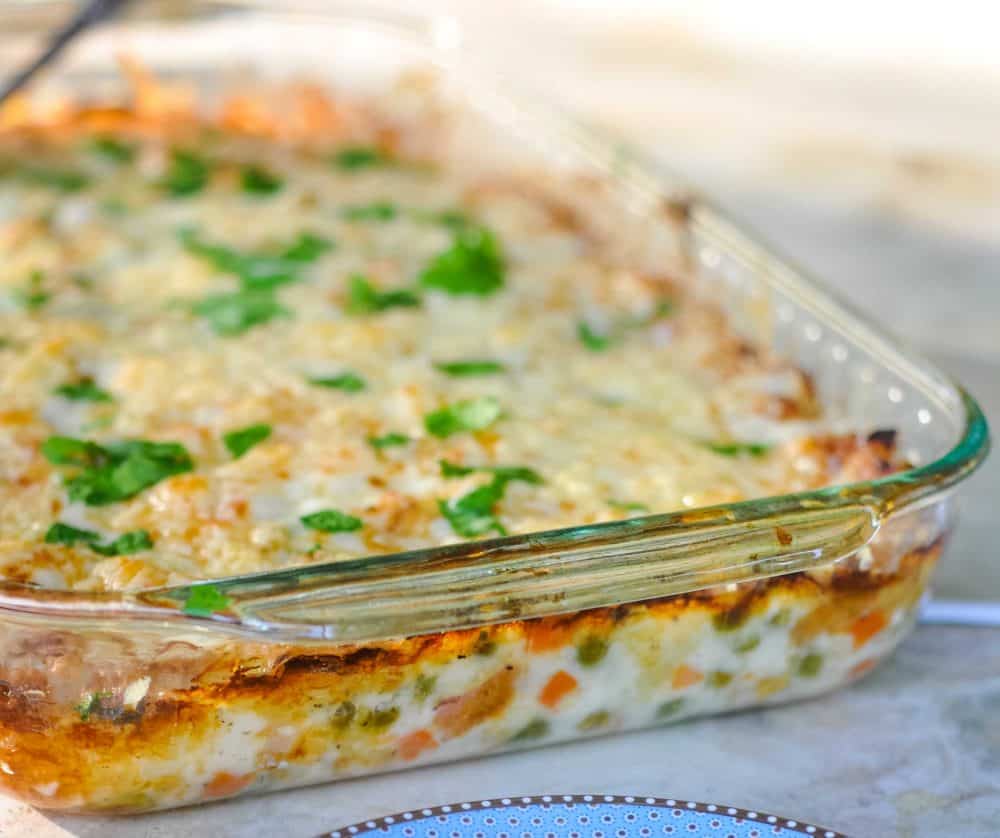 Need to adapt this recipe for the keto diet? No problem!
Omit the potatoes, peas, & carrots and sub non-starcy veggies like mushrooms, zucchini, celery, and asparagus.
Instead of cornstarch or arrowroot for thickening the sauce, use a keto alternative thickener like almond flour or psyllium husk. Here's a thorough article on the 7 best keto substitutes for cornstarch and thickeners.
For this recipe, you may need:
A large (and I mean LARGE), semi-deep skillet for frying the onions, potatoes, and making the sauce – plus adding the chicken & veggies. Everything but the kitchen sink is in there! Here's a nice big one.
Here's the organic, non-gmo cornstarch I use, and my preferred brand of arrowroot powder.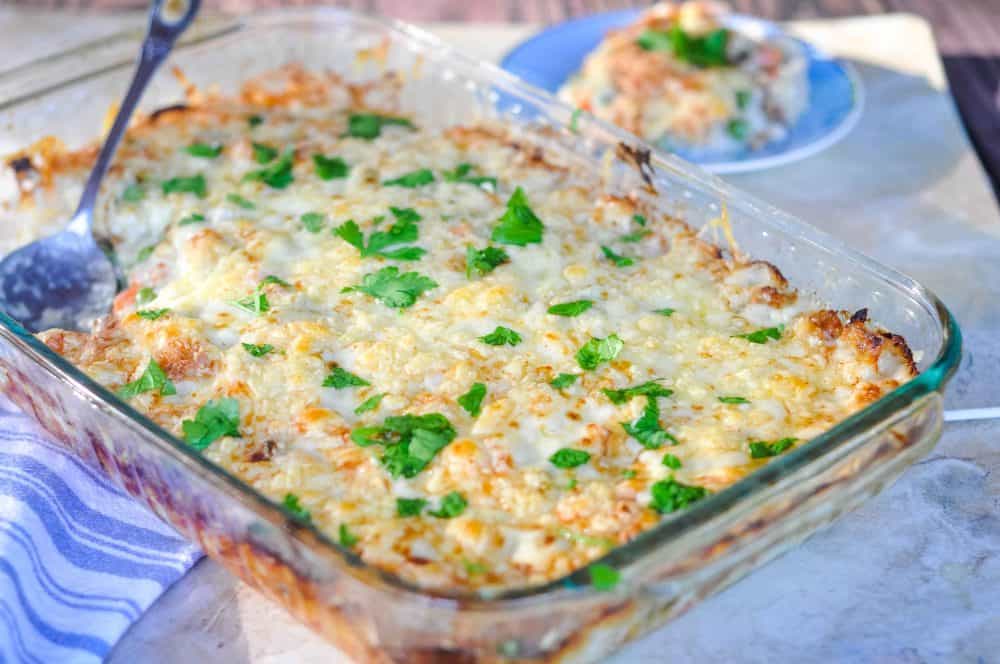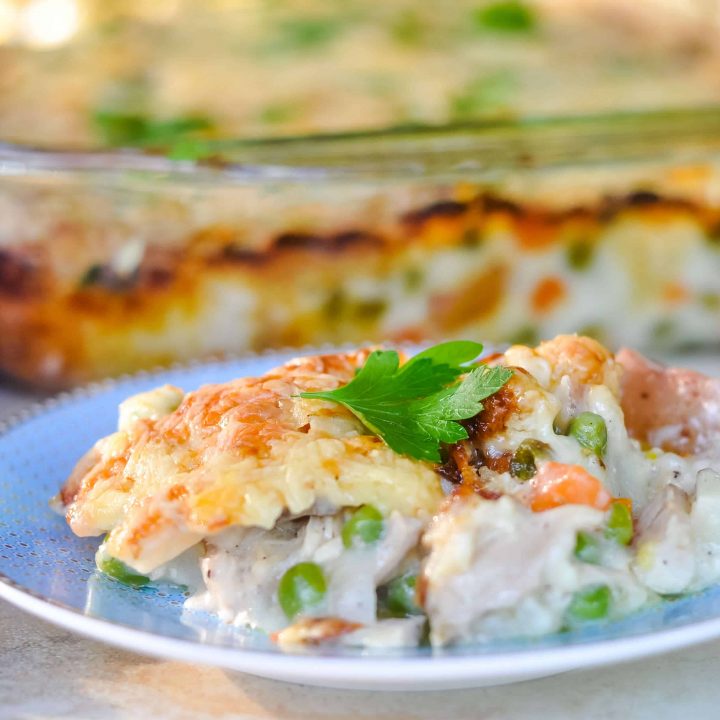 Yield: 10 servings
Cheesy Crustless Chicken Pot Pie Casserole (gluten free!)
Prep Time: 20 minutes
Cook Time: 20 minutes
Total Time: 40 minutes
A cheesy crustless chicken pot pie that's gluten free, down-home comfort food. This is sure to be your family's new favorite chicken pot pie casserole. Potatoes inside and crispy cheese on top ensure you won't miss the crust!
Ingredients
2 TBSP ghee or butter
1 onion, diced
2 large red potatoes, diced
3 cloves garlic, minced
1/4 cup non-gmo cornstarch, or arrowroot powder (for paleo/keto)
2 cups chicken broth
1 8 oz. block cream cheese
1 12 oz. pkg frozen peas & carrots
2 cups cooked chicken, chopped
3 cups mature cheddar cheese, grated
salt & pepper, to taste
2 TBSP fresh parsley, chopped (optional)
Instructions
Saute onions and potatoes in ghee or butter in a large skillet. Allow to cook for 8-10 minutes on medium heat with the lid on, stirring occasionally. Add garlic during last minute of cooking time.
Add cornstarch or arrowroot and chicken broth to a mason jar. Shake vigorously to combine.
Add broth/starch mixture and cream cheese to skillet potatoes. Cook and stir until cream cheese is melted and sauce is thickened, about 5 minutes.
Fold in frozen peas/carrots and cooked chicken. Season to taste with salt & pepper.
Transfer to 9x13 baking dish. Sprinkle with cheddar and bake at 400 degrees F for 15-20 minutes, until cheese is golden brown and bubbly. If cheese is taking too long to brown, broil for 3-5 minutes. Before serving, sprinkle with fresh chopped parsley if desired.
Recommended Products
As an Amazon Associate and member of other affiliate programs, I earn from qualifying purchases.
Nutrition Information:
Yield:
10
Serving Size:
1
Amount Per Serving:
Calories: 407
Total Fat: 27g
Saturated Fat: 14g
Trans Fat: 0g
Unsaturated Fat: 9g
Cholesterol: 92mg
Sodium: 570mg
Carbohydrates: 24g
Fiber: 3g
Sugar: 4g
Protein: 19g
Need more yummy chicken recipes? You'll love these: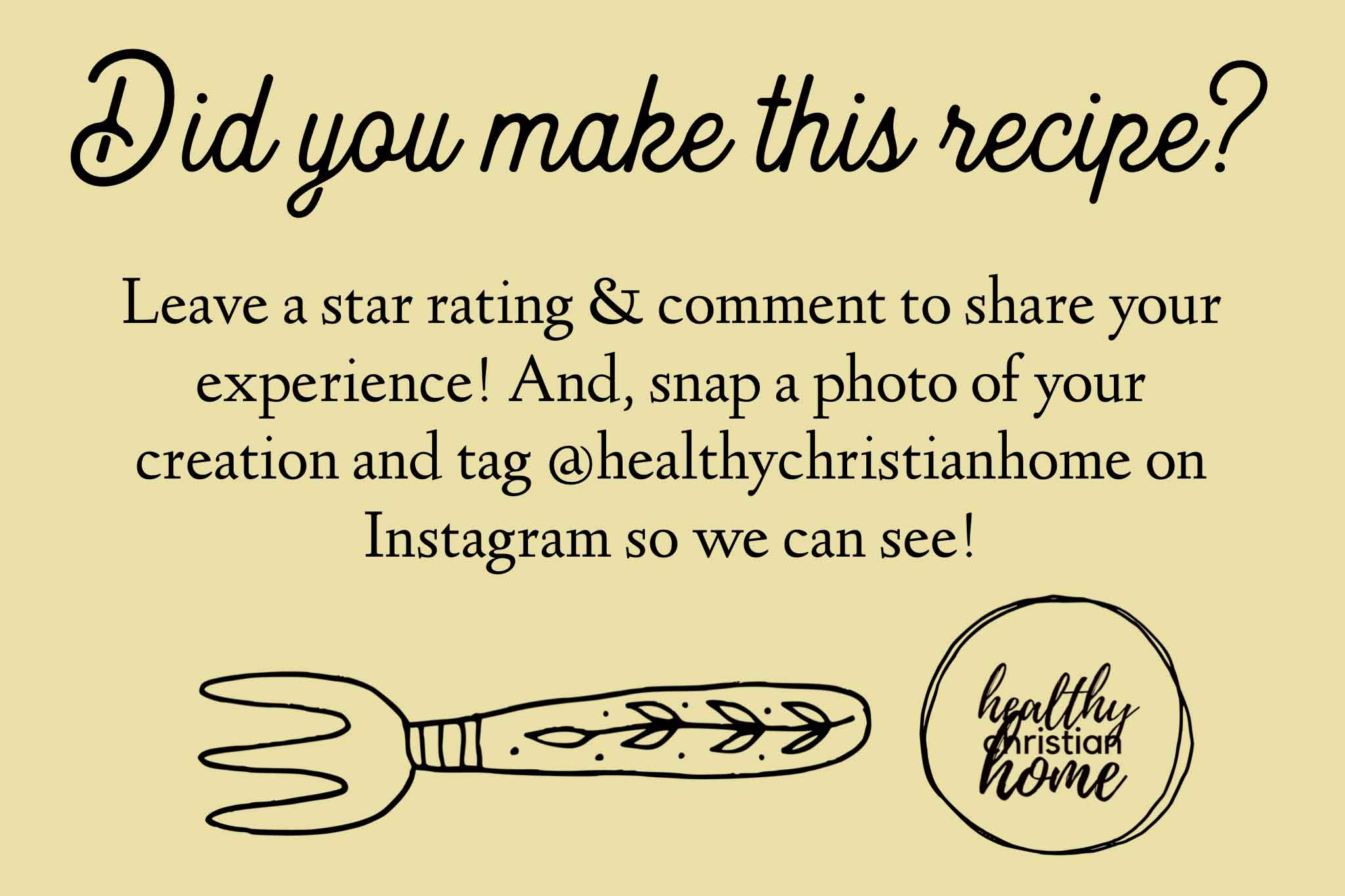 Are you a chicken pot pie fan?
PIN IT!