Are you searching for small ways to make your life simpler? A capsule wardrobe is a great way to simplify wardrobe. Read on to learn what a capsule wardrobe is and why it's such a great idea.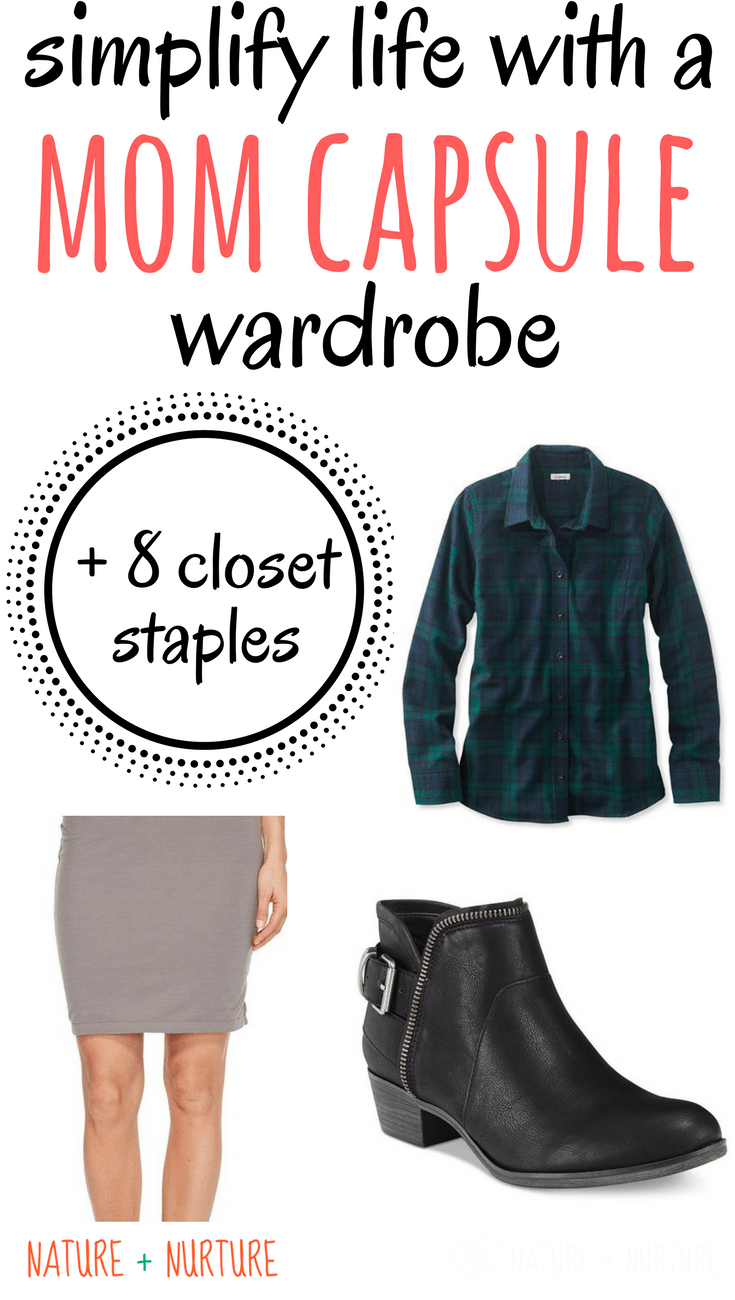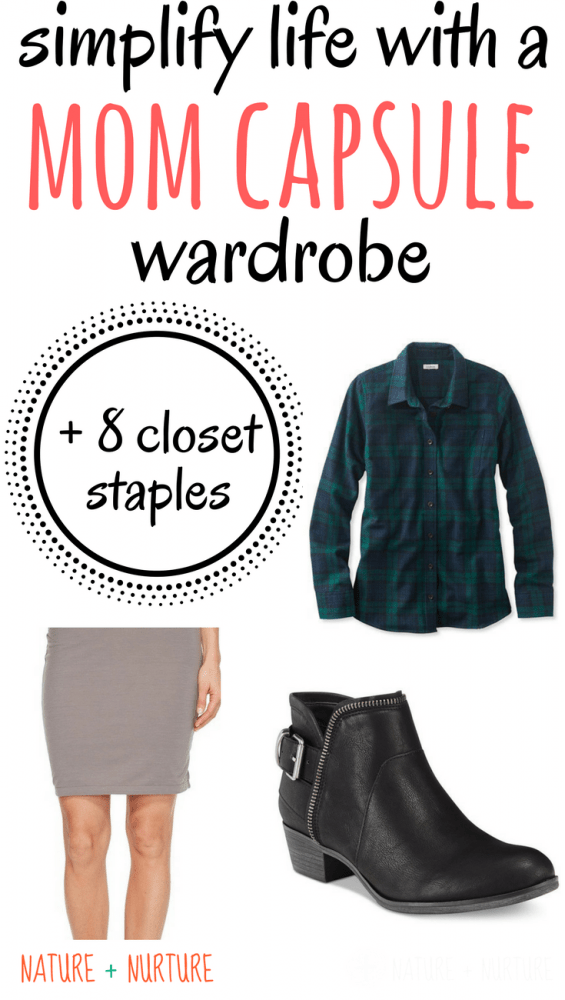 What happened?! Had two babies, that's what. It occurred to me recently that about 70% (or more) of my closet is un-wearable. This mama's style has been neglected for way too long, people. The solution? A capsule wardrobe. First, a run-down on why I needed help.
Basically every item that fits me is blue. Like every. Single. Thing. Some of my clothes are maternity (yes, I am one of those moms who wears maternity clothes when her baby almost 2. Glad you can't see my red face right now). Some of my clothes are WAAAY too small (pre-baby), but I can't seem to get rid of them.
I think, "Maybe someday in the unforeseen future I will magically lose 15 pounds and get my pre-baby body back." That's coming from the girl who dislikes almost every form of working out, with the exception of strolling outside or yoga (are those even considered exercise??). Finally facing the fact that I am in denial and that the Calvin Klein little-black-dress will never look the same, I needed a new plan.
The other day I was perusing Facebook when I came across an article which had a link to un-fancy.com. WOW. Loved her closet solution immediately – it's called a capsule wardrobe. You'e probably heard of this term many times if you spend any time at all on Pinterest.
Simply put, a capsule wardrobe is made up of a smaller quantity of clothes with much higher quality. When creating a simplify wardrobe, you only include pieces you absolutely adore and would wear any and every day. In her plan, she uses a general guide of 37 items per season – for example: 15 tops, 9 bottoms, 9 pairs of shoes, 2 jackets/coats, and 2 dresses. PJs, workout, and special occasion clothing don't count as part of the capsule. You can reconfigure the combination any way you want (I will probably do fewer pairs of shoes and more tops) to suit your needs.
Read more about capsule wardrobes here.
It's kind of nice starting my wardrobe (almost) from scratch 😉
5 reasons to love the "capsule wardrobe" method:
1. It solves the "What do I wear?" dilemma.
Since you love everything in your wardrobe, you won't be standing in front of a full closet and moaning, "I have nothing to wear!" It will take almost no effort to throw together an outfit that will look great.
2. It simplifies life.
Less laundry. Enough said.
3. It increases confidence.
When you know everything in your closet fits well and flatters you, you always feel beautiful.
4. It helps you discover your personal style.
When you are limited on the amount of clothing you can purchase, you'll only buy things that scream "YOU." Chances are you will start to see a pattern in what you gravitate toward, learning more about your individual style. I see my style as simple, artsy, feminine, and vintage. But this may change the longer I practice this method.
5. It provides more money and time for things that matter.
This method eliminates buyer's remorse, because each piece purchased will be thought-out and planned. It also gives you more time for family, friends, hobbies, and service because you will probably spend less time shopping and getting dressed!
The challenge for me will be choosing pieces that compliment each other so I can create lots of different outfits with less. As my mama used to say, "Less is more." In my opinion, a simplify wardrobe is awesome because can help foster contentment in our lives.
For a few resources to get started creating your own personalized capsule wardrobe, I recommend the site Greater Than Rubies.
Best Basic Items to Help Simplify Wardrobe
There are several items in my closet that I keep going back to on a continual basis. They are the things I throw on when I don't want to think about what to wear. I've listed my favorite must-haves for any mama who wants to simplify wardrobe below!
Basic + Graphic Tees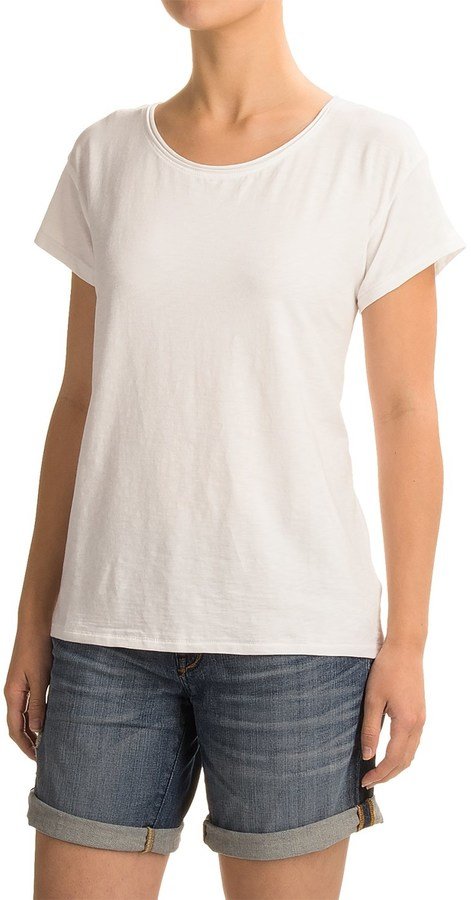 Casual and cute t-shirts are a must for every mom. You can find cute basic tees anywhere, but I'm a personal fan of Artisan NY for affordability and fit. I usually find these at TJ Maxx or Marshalls, or you can find them online. My absolute fave is a 100% linen top from them – I haven't been able to find it anywhere else yet. But a linen top is always a great choice for durability. Here's another brand of linen tee that looks great. The Icebreaker brand also another great tee to have. It is absolutely brilliant casual wear – pure soft merino wool that will last and last.
Neutral Flats
Heels just don't work for me in this stage of life. Neutral flats still look chic and feminine without being uncomfortable. I've been searching for the perfect pair of neutral flats for awhile now. My Ollio ballet flats were ordered sight unseen from Amazon since the reviews were so great. Admittedly, I was skeptical, but they are divine! Flats usually pinch my toes because my toes are quite long, but these are perfect and so comfortable. Sadly, I can't find the exact shoes for sale right now. But here's a similar pair.
Perfect Jeans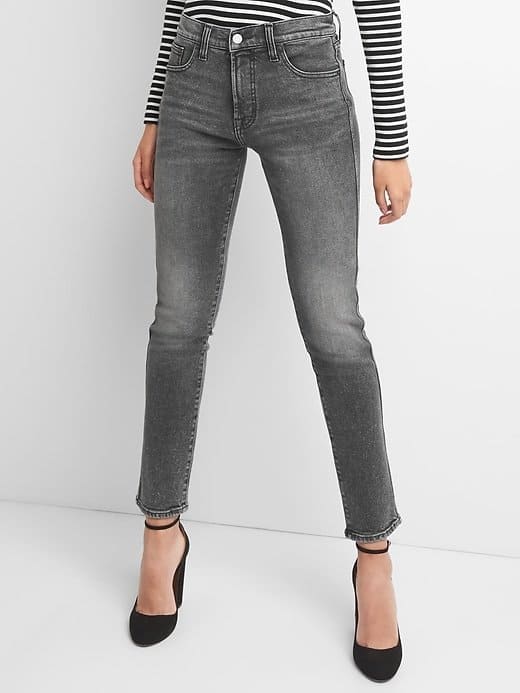 Probably 9 days out of 10, I'm wearing one of my favorite pairs of jeans. Currently, I rotate between two pairs that are 100% cotton and great quality – both from GAP. I'm really impressed with GAP denim quality for the price point. A lot of the high-end denim (we're talking hundreds of dollars) have a lower cotton percentage than GAP. They are so soft and durable, and you always know you're getting great quality, so when I need jeans I never look anywhere else. Next on my wish list is a pair of black straight leg, similar to this.
Striped Shirt + Plaid Shirt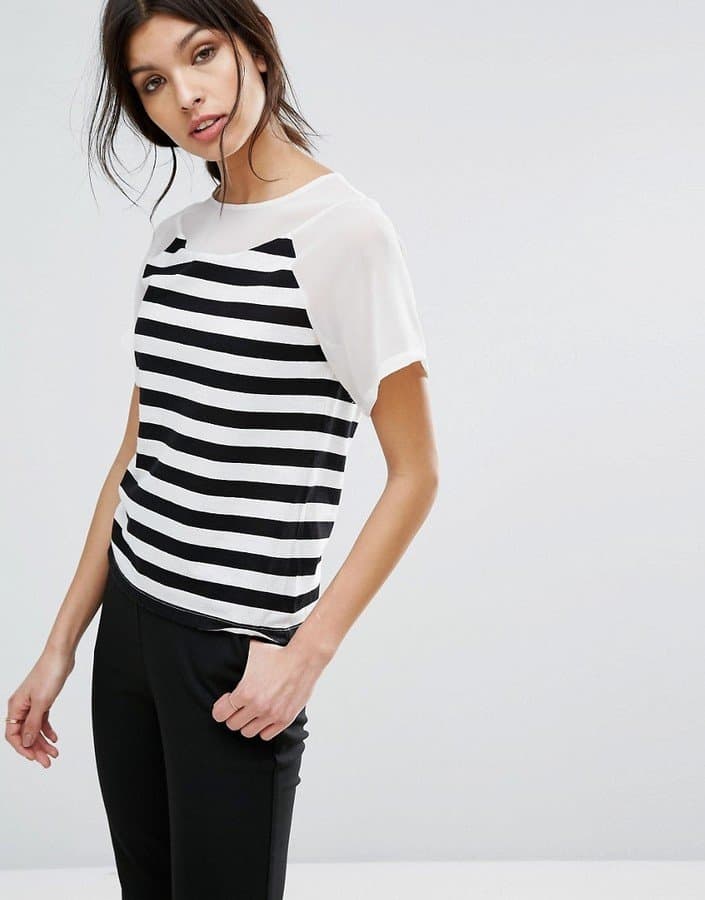 Every woman needs a classic striped shirt and a plaid shirt in their wardrobe. The striped shirt is perfect for pairing with any type of bottoms imaginable – skirts, cargo pants, black pants, or jeans.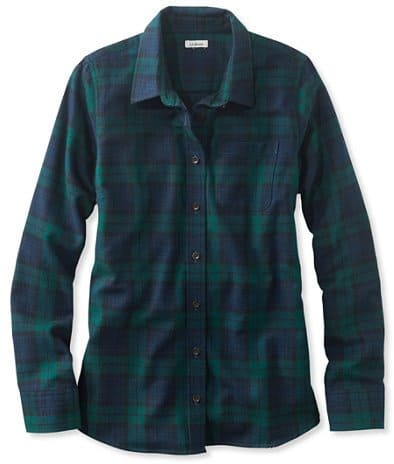 A plaid shirt adds instant style and coziness factor to any casual outfit – especially in the fall and winter months.
Jean or Statement Jacket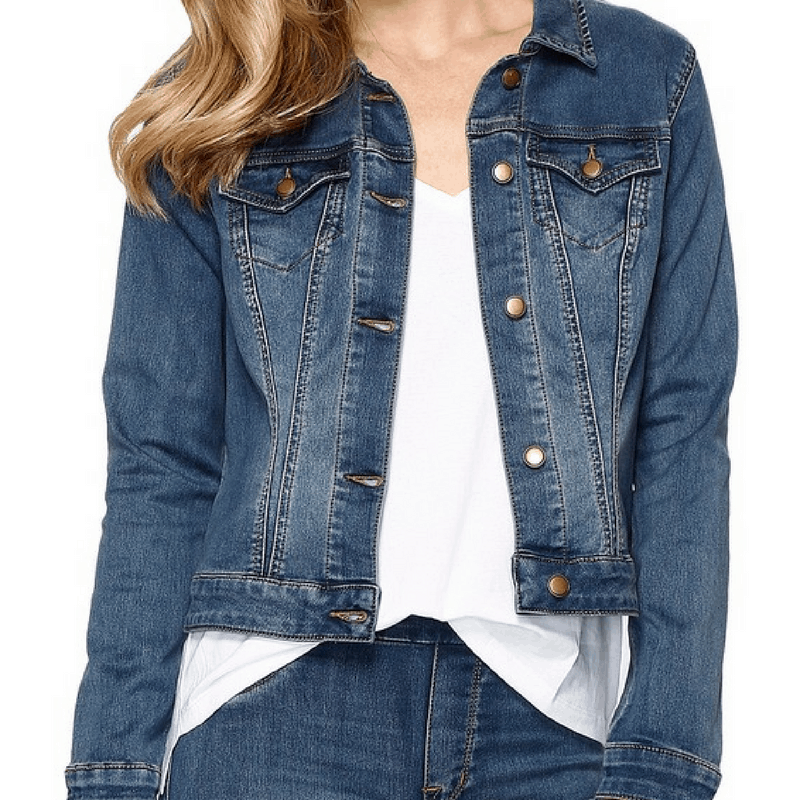 This year, my main Christmas gift is a good quality jean jacket and I'm so excited! A jean jacket can be used for decades and is so versatile for tons of different outfits. Other options for a statement jacket include a military/bomber jacket or sparkly jacket.
Basic Skirt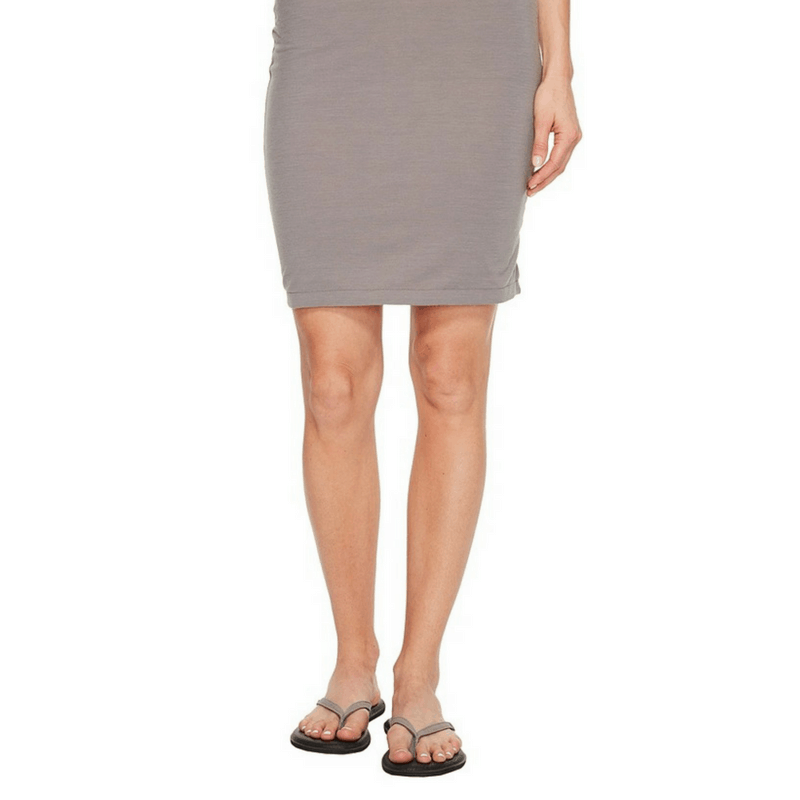 Comfortable skirts are some of my most well-worn wardrobe items, especially in the spring and summer months. One of my best purchases was a black merino wool skirt by Icebreaker. Merino wool is ultra-lite and is moisture wicking in the summer and retains heat in the winter, perfect for every season. Here's a similar one.
Ankle Booties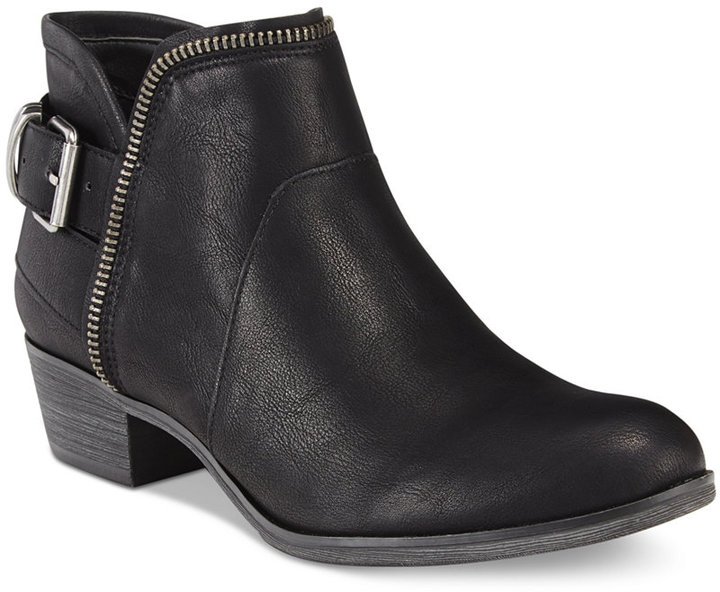 Currently, I'm on the hunt for the perfect dark gray or black ankle booties. I have a black leather pair that I love, but the heel is too high for all day comfort. If you have any recommendations, let me know in the comments. Right now, I have my eye on these.
These are just some of my personal favorite wardrobe pieces. Whatever you're looking for, I recommend browsing on ShopStyle Collective – they have tons of brands and you can compare lots of amazing pieces at one glance.
Remember all the benefits of simplifying your wardrobe – it will reduce stress, help you hone your personal style, and increase contentment too.
Keep your life free from love of money, and be content with what you have, for he has said, "I will never leave you nor forsake you." – Hebrews 13:5
You may also like: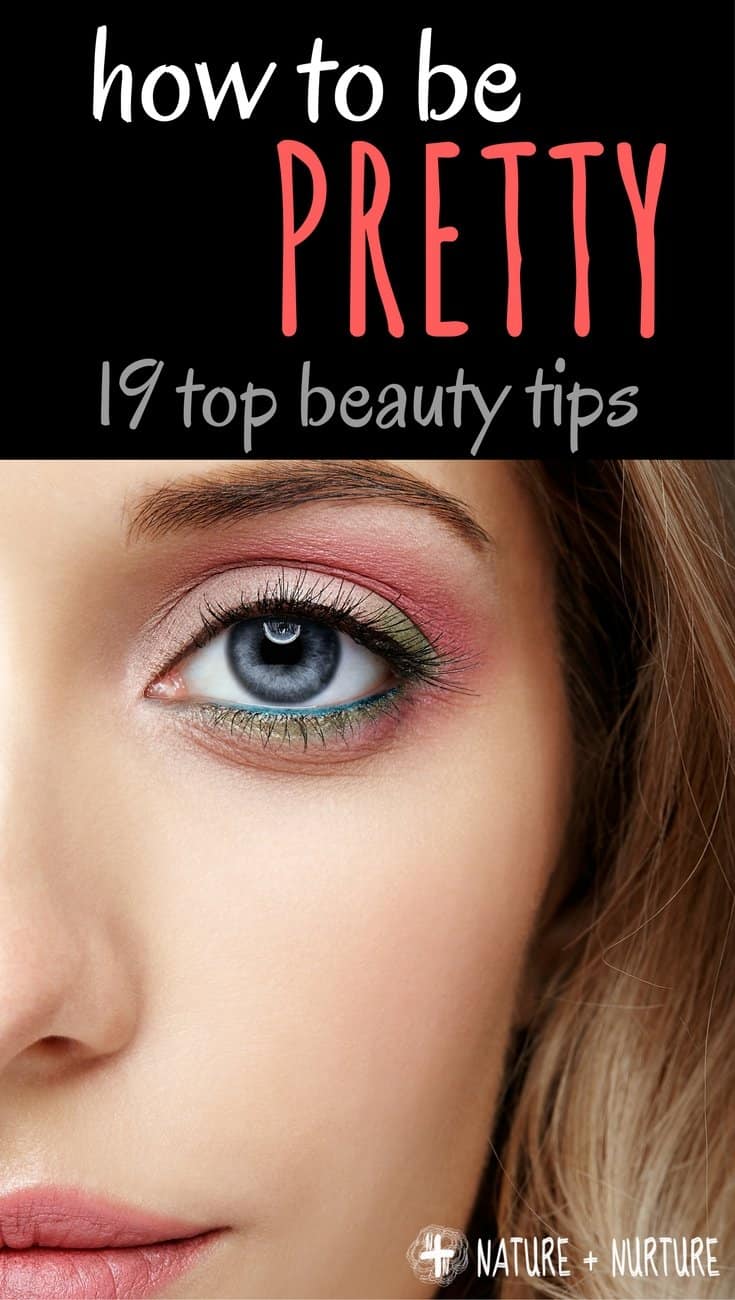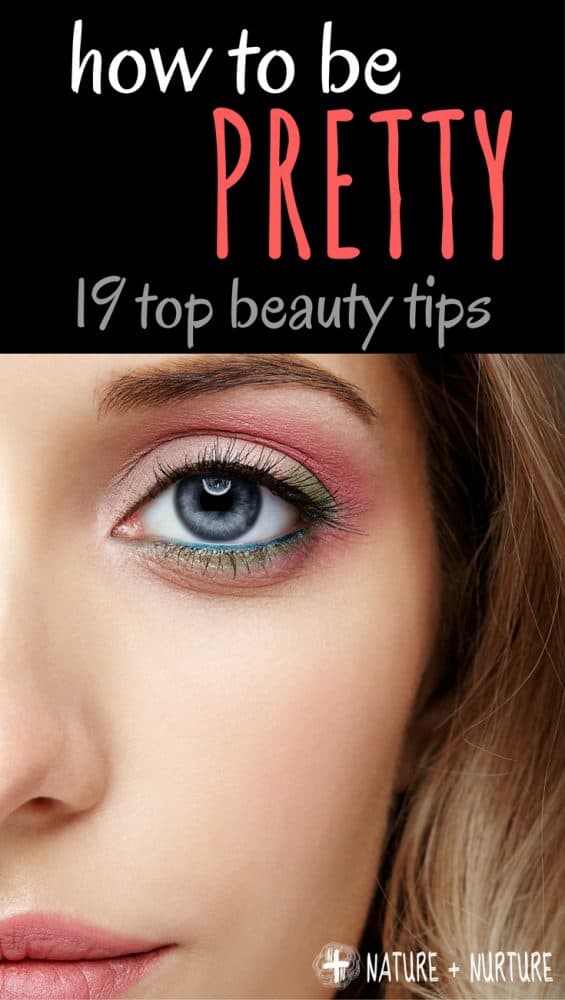 Would you ever simplify wardrobe with the capsule wardrobe method?
With Joy,


PIN IT!