Looking for a unique salad or a way to use up your stored pearl barley? Try this delectable mediterranean pearl barley salad with goat cheese!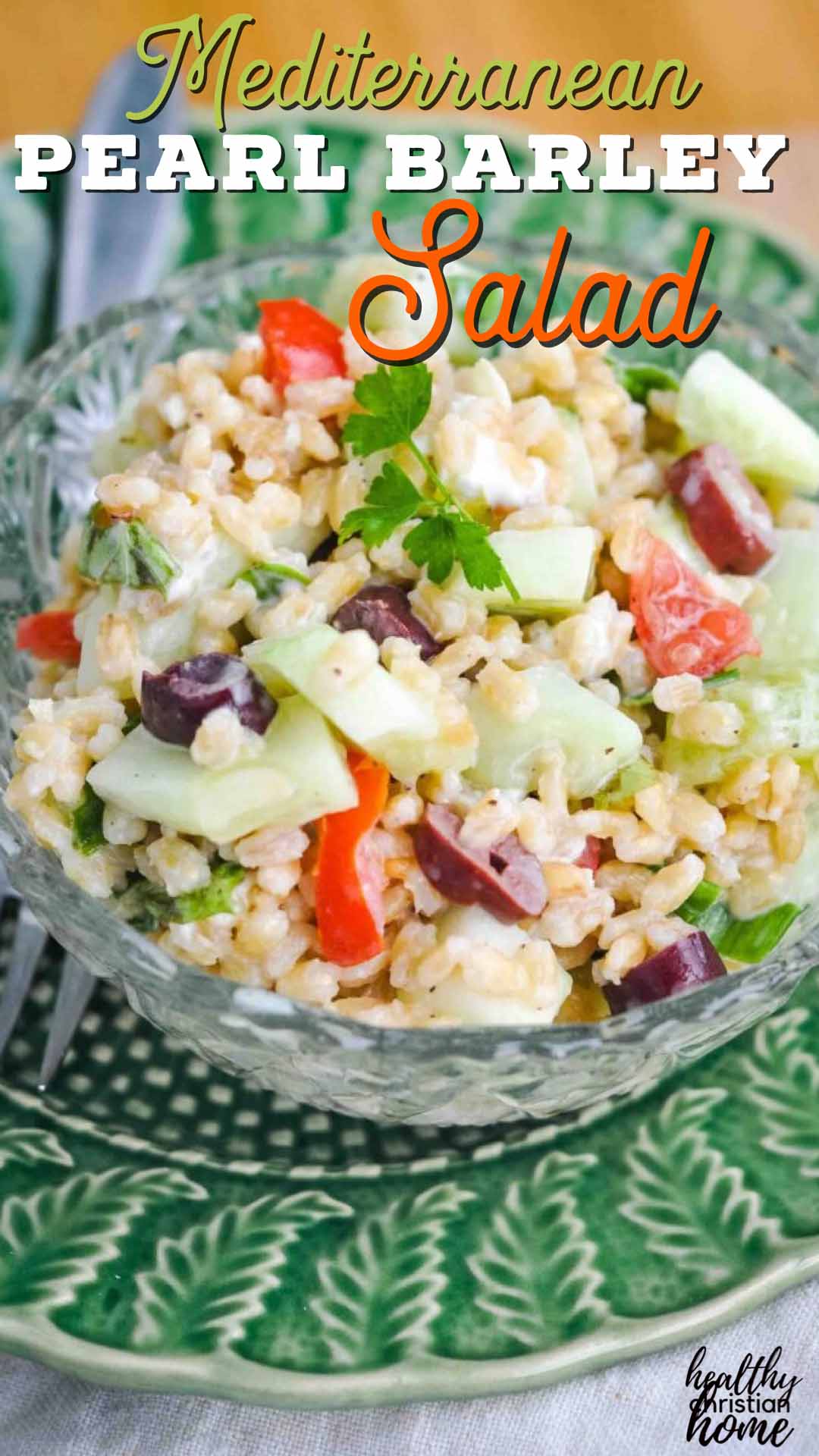 Try this unique grain based salad
A mouthwatering, well-made salad is on my top ten "favorite foods" list. There is a world of difference between a creatively put together salad with quality ingredients and a pile of romaine with a few carrots tossed in.
Am I right?
When you take just a little bit of extra time and use a few unique ingredients, it really takes your salad to the next level. Such is the case with today's fun salad recipe!
This salad incorporates soaked whole grains, which is a wonderful way to boost your health and it's also great for your budget! If you're looking for some creative pearl barley recipes to use up your pantry stash, this is a great one to try.
I love doing a warm grain-based salad during the colder months or whenever I'm running out of lettuce and need to be creative. And this one is full of flavor, flavor, flavor!
The creamy goat cheese melted into the warm barley creates the most delightful creamy dressing, which is complemented by lemon and garlic flavors with crunchy veggies.
You can use whatever add-ins or toppings you like, but I always enjoy mediterranean flavors (try out my leftover roast beef gyros or mediterranean white bean hummus with beef)!
More salad recipes you'll love: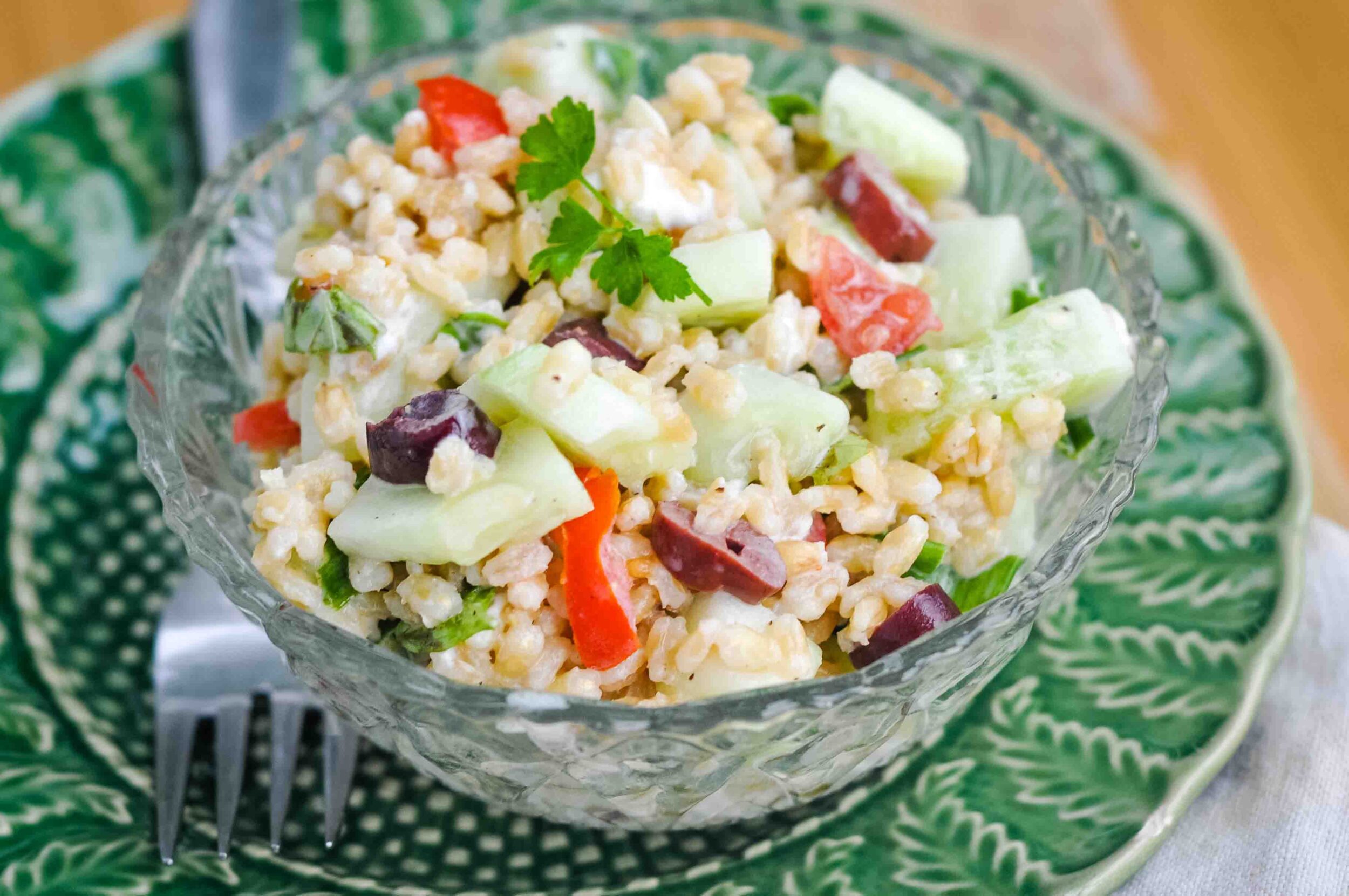 Pearl Barley Nutrition
Pearl barley isn't super common in American cuisine (aside from the beloved vegetable beef soup), but it's really good for you! Barley is delicious and has a chewy texture with a slightly nutty flavor.
Most barley that is available in stores is pearl barley, which has been hulled. With the hull removed, it has a few less nutrients but is still a positive addition to your diet.
Pearl barley contains a variety of B vitamins along with minerals like iron, copper, manganese, selenium, and magnesium.
How to cook pearl barley
For best results, soak the pearl barley overnight before cooking. This helps make it more digestible and breaks down the phytic acid.
When cooked, barley will expand up to 3 times its original volume.
For every cup of barley you want to cook, add 3 cups of liquid. Many people like to cook barley in broth or stock to give it extra flavor.
Add the barley, liquid (water or stock), and salt to a saucepan and cover with a lid. Allow to soak at least 8 hours or overnight for best results. If using stock, allow it to soak in the fridge.
When you're ready to cook, heat the the barley and liquid mixture on high and bring to a boil. Reduce the heat to simmer, and allow to cook (covered) until the barley is tender. Check barley at around the 25 minute mark. It's done when it is soft but still chewy and has tripled in volume.
The barley should absorb most of the cooking liquid. Simply fluff barley with a fork, and you're done!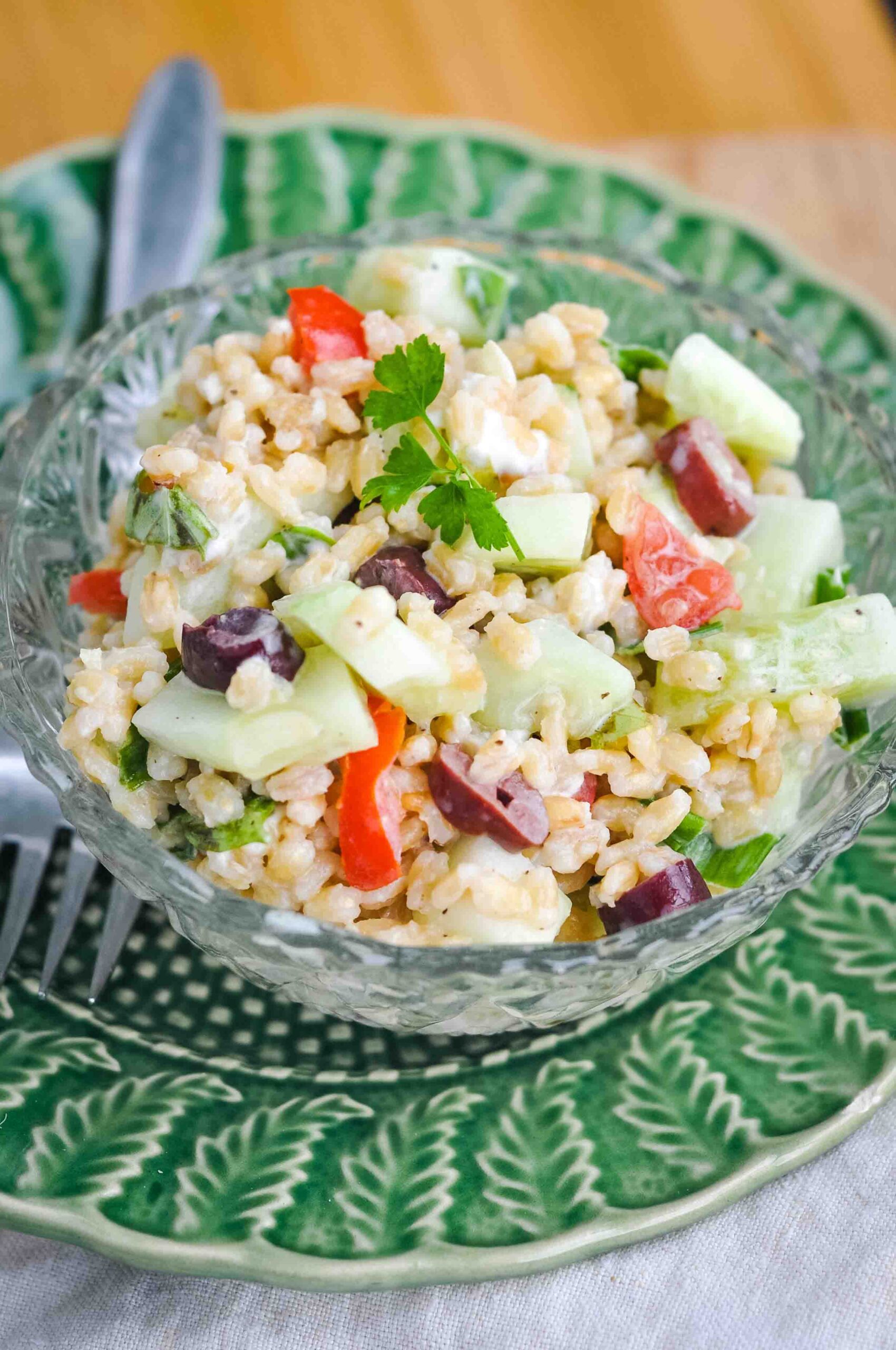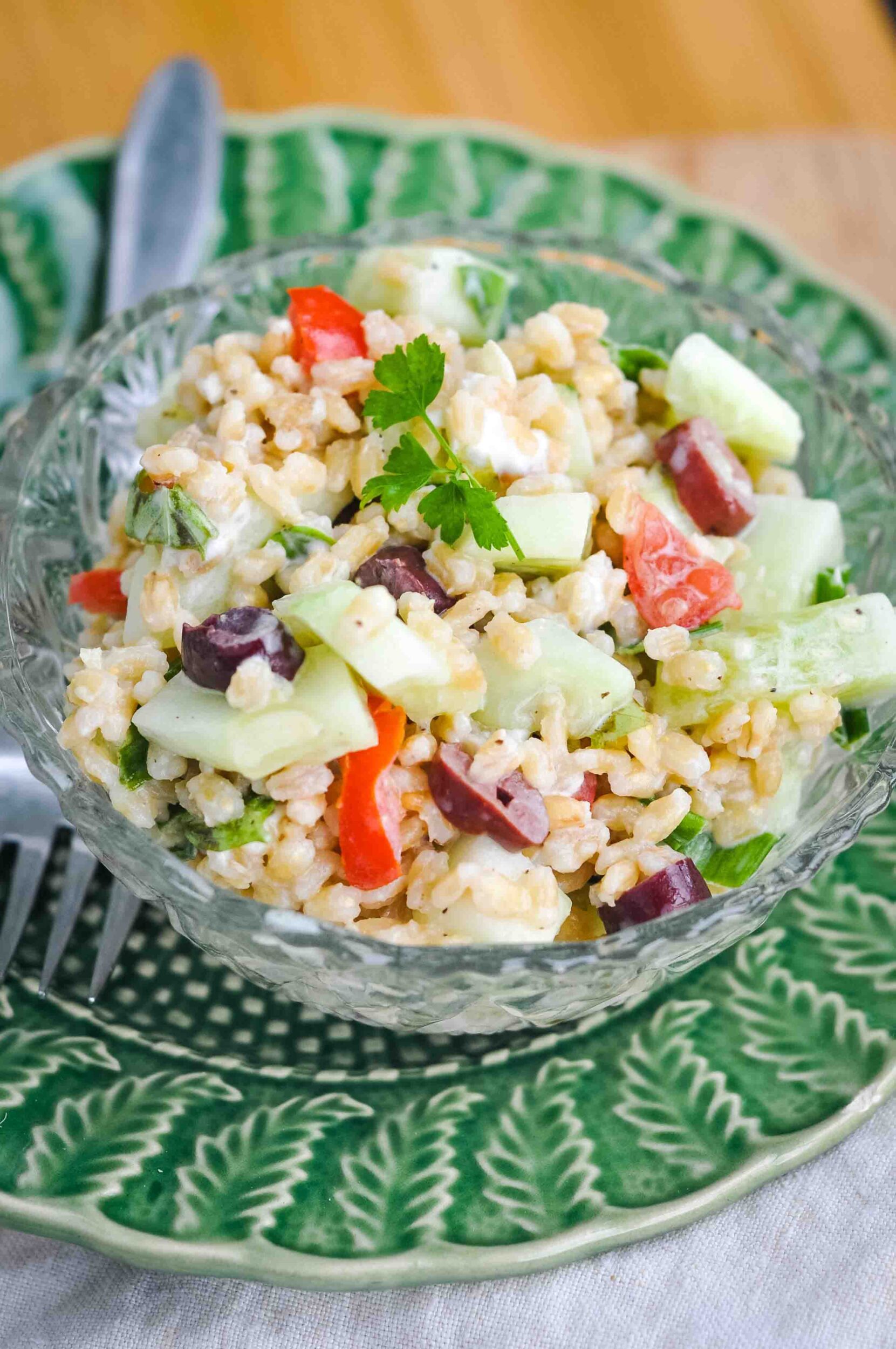 How to make mediterranean pearl barley salad
After you're done cooking the barley, the rest of the salad is a snap!
While the barley is still warm, add it to a salad bowl along with 2 ounces of soft goat cheese. The cheese melts into the barley creating a creamy dreamy "dressing"!
Next, chop all your veggies. I like using tomatoes, kalamata olives, green onions, garlic, and cucumber in this recipe along with whatever fresh herbs I have on hand. Today I'm using mint for that Greek vibe along with some basil.
Add the chopped veggies and herbs to the salad bowl, then drizzle with lemon juice and extra virgin olive oil. Season to taste with salt & pepper.
Toss everything together really well and dive right in! This dish is perfect along side pretty much any meal, or make it a complete meal by just adding some protein on top like grilled chicken or beef.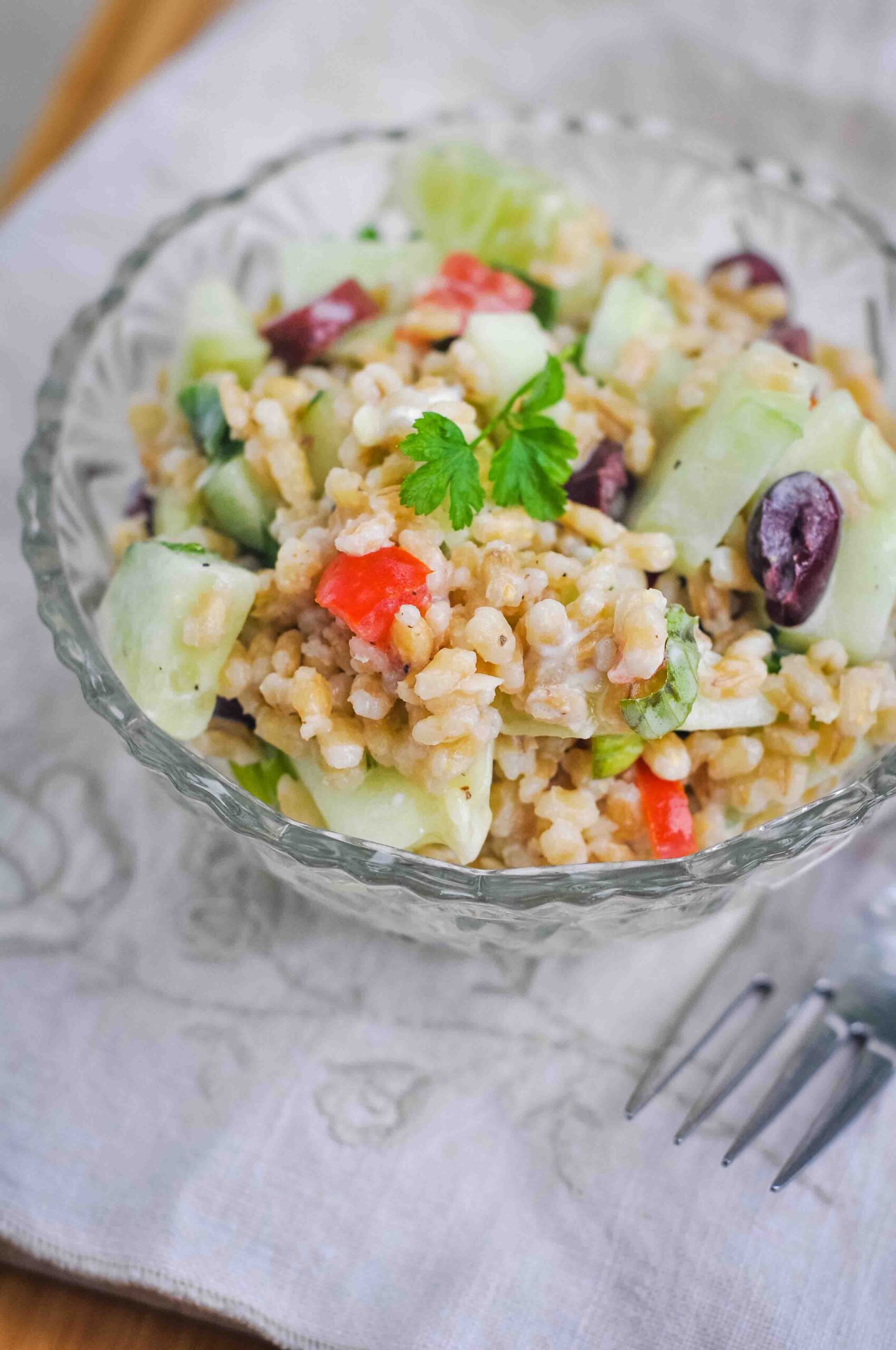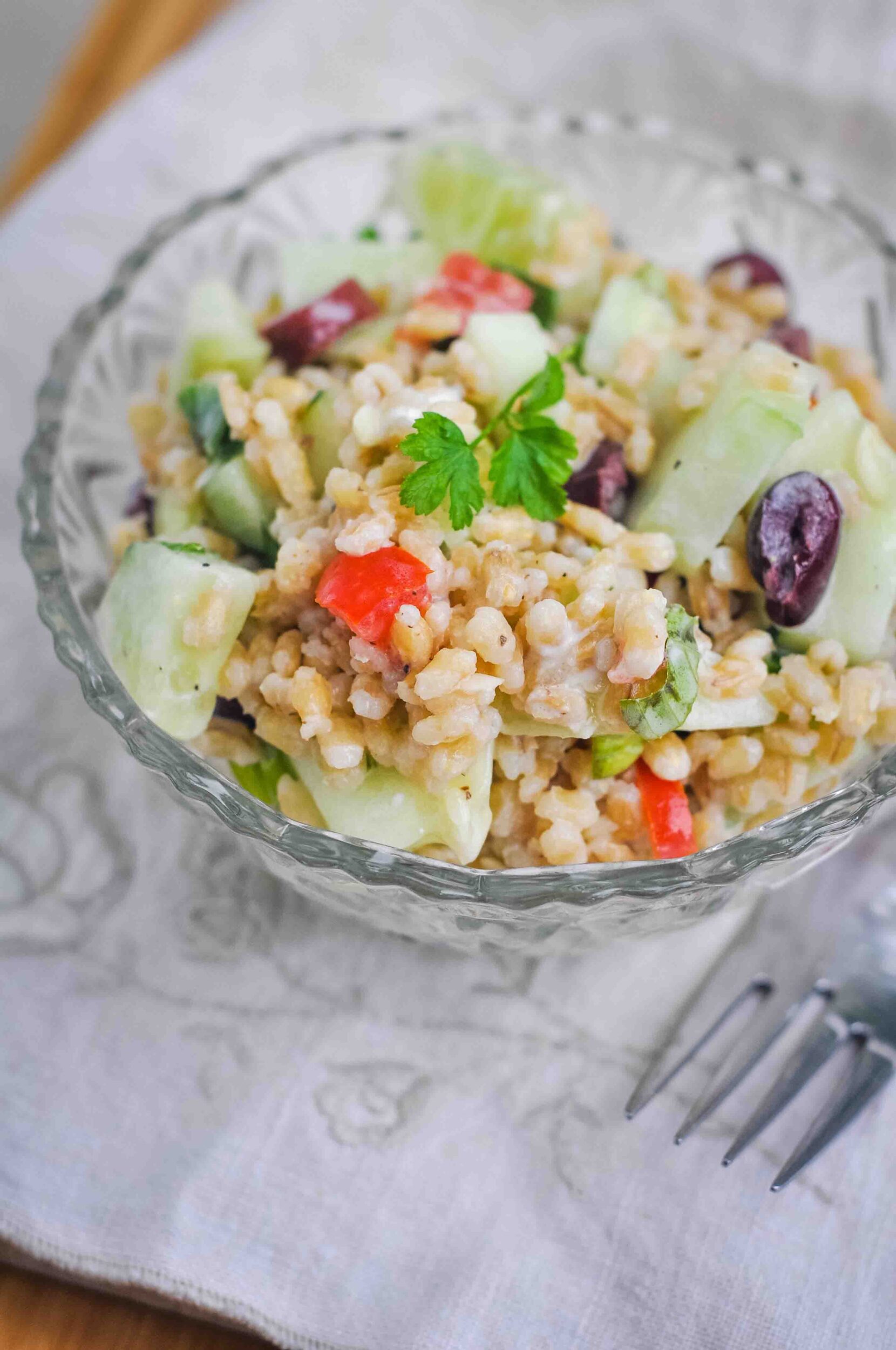 Other salad topping ideas:
There are lots of other yummy things you could add to this salad, such as:
Chopped nuts
A dollop of hummus
Grated carrots
Chopped or caramelized onions
Any type of protein/meat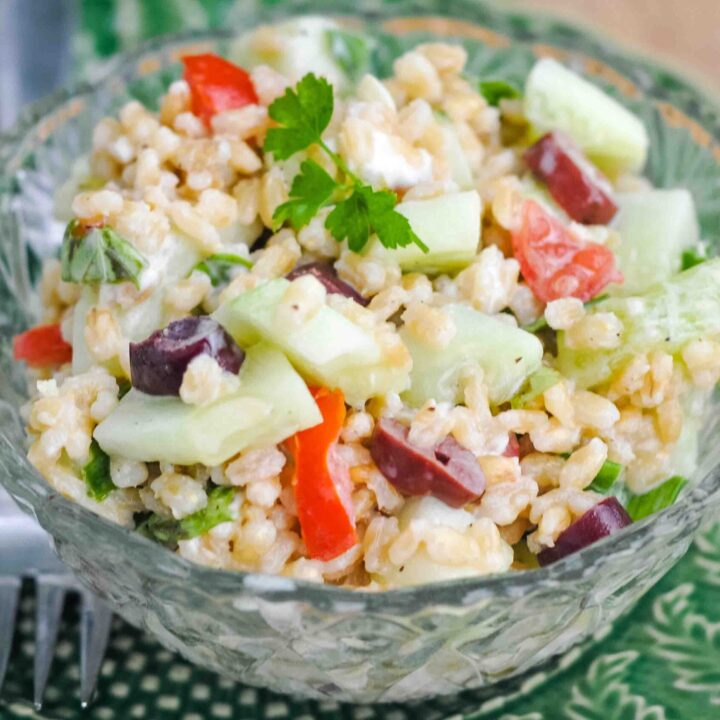 Yield: 6 servings
Mediterranean Pearl Barley Salad
Prep Time: 10 minutes
Cook Time: 25 minutes
Total Time: 35 minutes
Ingredients
1 cup pearl barley, cooked *
2 oz. soft goat cheese
1 large cucumber, diced
1 large tomato, diced
1/2 cup green onions, diced
1 cup kalamata olives, sliced
2 cloves garlic , minced 
Chopped fresh herbs of choice (I used mint & basil)
2 Tbsp. extra virgin olive oil
1 lemon, juiced
Salt & pepper to taste
Instructions
Cook 1 cup barley in 3 cups broth or water and a pinch of salt until liquid is absorbed (15-25 minutes). For best results, soak barley overnight before cooking.

Fluff barley with a fork and transfer to a salad bowl. Allow to partially cool.

While barley is still warm, add in 2 ounces of soft goat cheese. This will melt into the pearl barley and create a light dressing.

Add chopped vegetables, garlic, and herbs to the bowl. Drizzle on olive oil and lemon, add salt and pepper to taste. Toss to coat everything together.
Notes
* For full barley cooking instructions, refer to blog post.
Nutrition Information:
Yield:
6
Serving Size:
1
Amount Per Serving:
Calories: 159
Total Fat: 12g
Saturated Fat: 3g
Trans Fat: 0g
Unsaturated Fat: 8g
Cholesterol: 4mg
Sodium: 236mg
Carbohydrates: 12g
Fiber: 2g
Sugar: 2g
Protein: 3g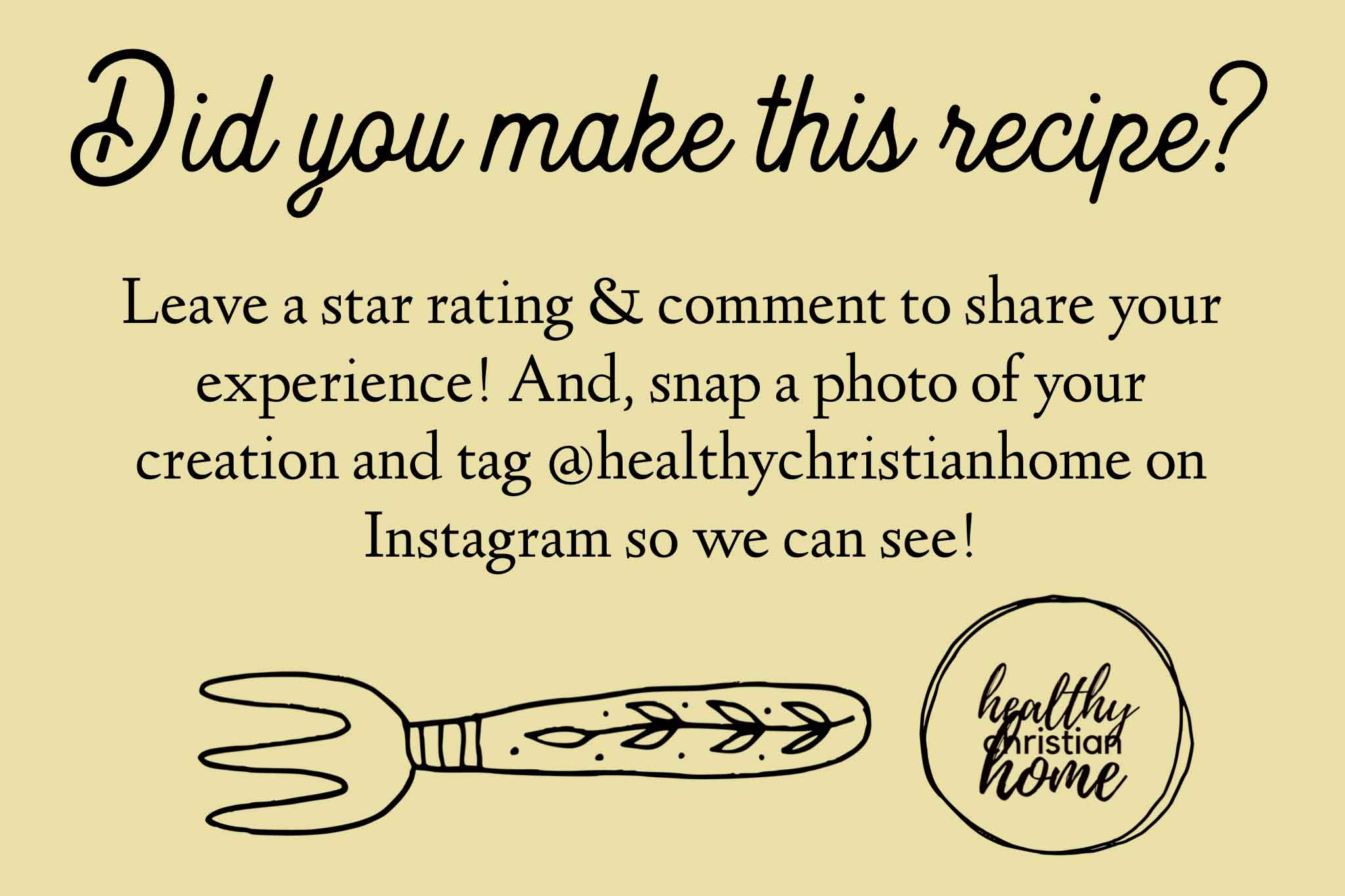 What's your favorite unique salad recipe?
PIN IT!