Need a tasty, easy recipe to use your dried pinto beans? Try this spicy cheesy pinto bean bowls! They're sure to become a lunchtime favorite.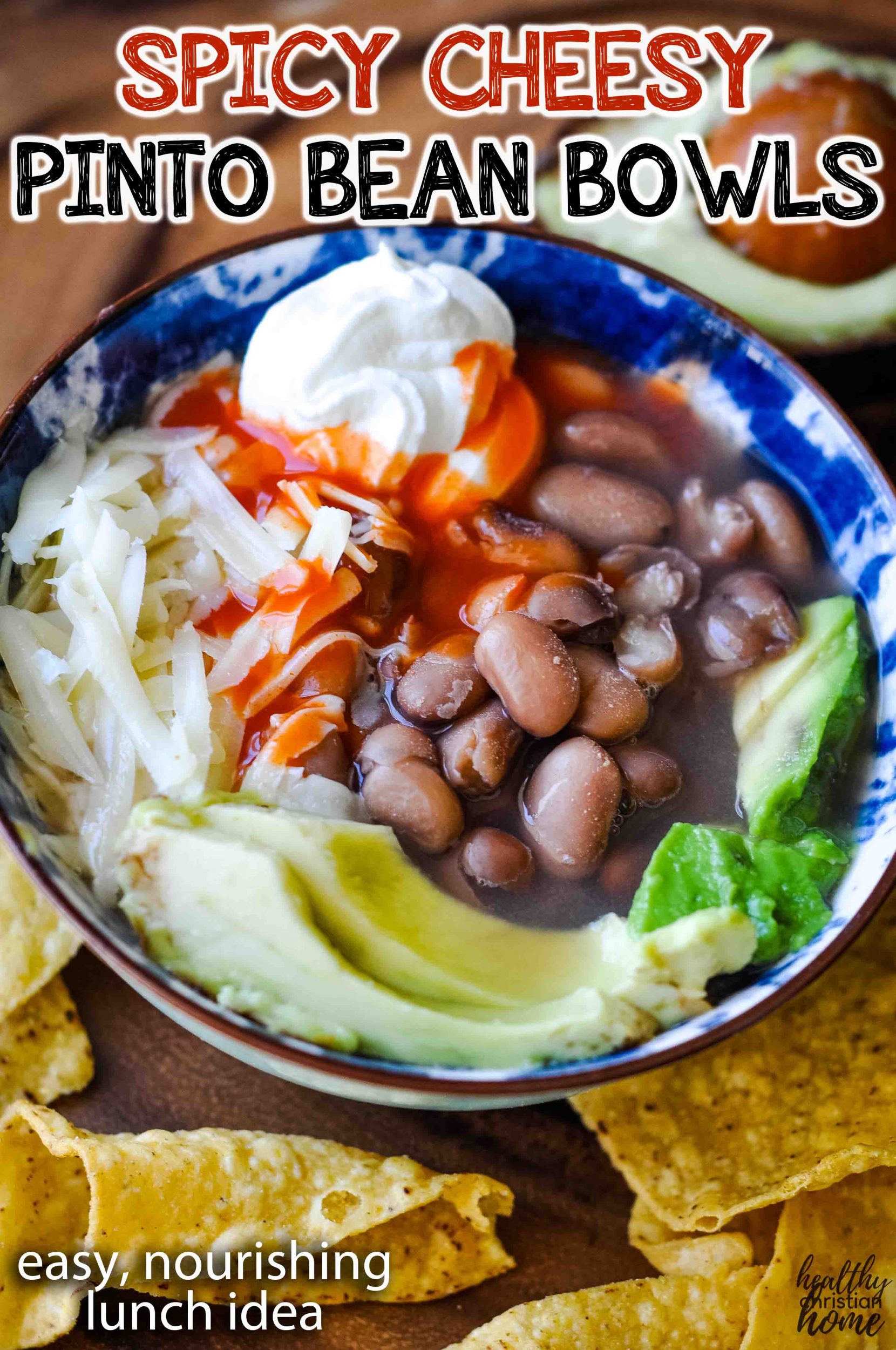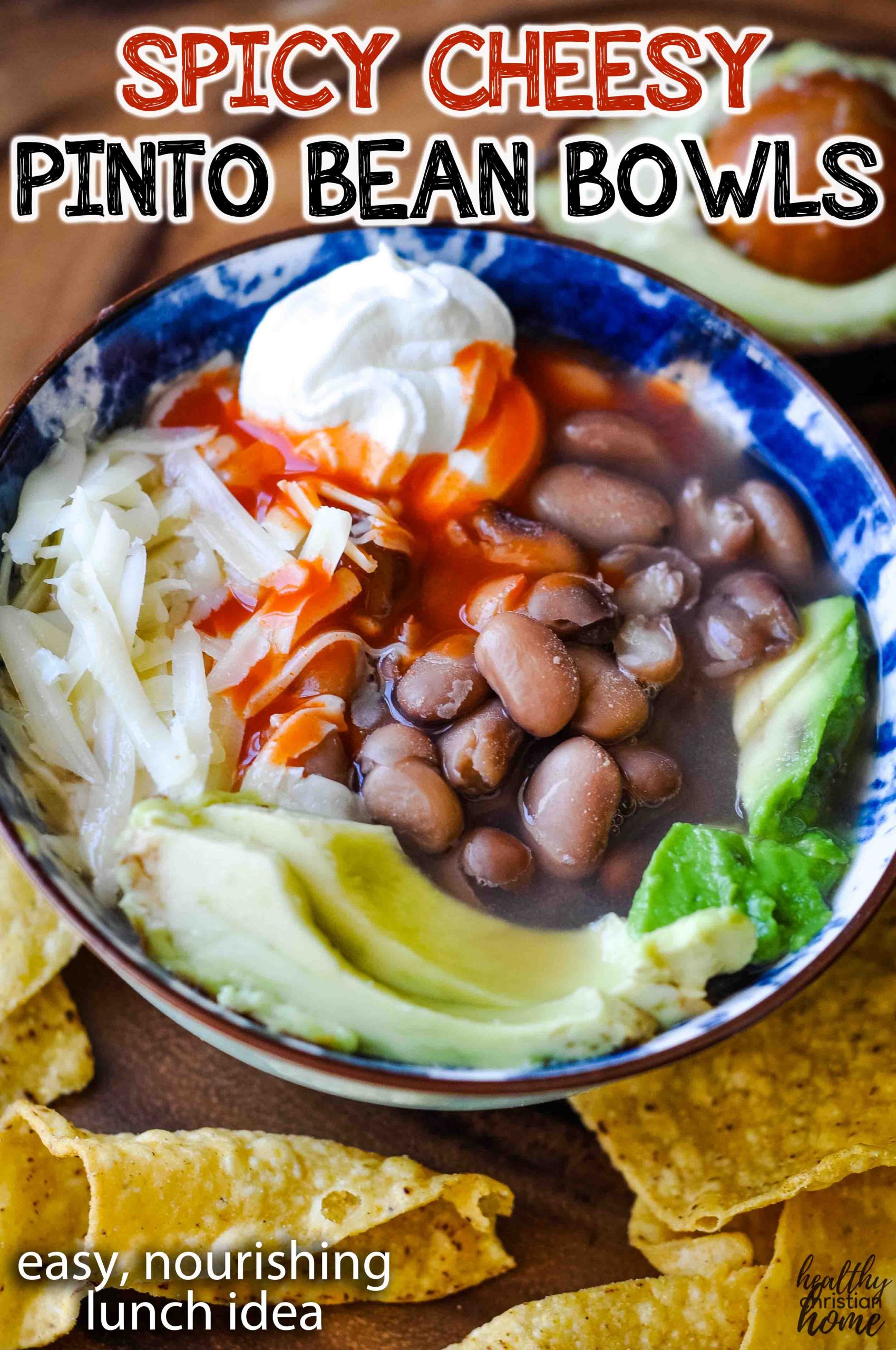 The creation of pinto bean lunch bowls
I'm not quite sure how this recipe came about. My boys and I started adding a little bit of this, a little bit of that to our pinto beans (I usually have some type of cooked beans hanging out in the fridge or freezer).
And I don't know about you, but bland food and I don't get along. My food MUST have lots of flavor, flavor, FLAVOR! And if it doesn't, something must be done ASAP.
Of course, beans are notoriously bland. But that can be a good thing, because they're a blank slate for whatever flavors you want to add!
Plus they have such a divine creamy-ness and texture. I've been known to add all sorts of random things to my beans.
So, we started adding our favorite things to our lunchtime beans and before you know it, we had this special bean concoction I'm sharing with you today. We hit on a perfect flavor combo with this one!
Sometimes it's more of a bean bowl, and sometimes all the elements are mashed together to become the tastiest bean dip ever! All I know is that it's a bowl of pure bean comfort food.
They're perfect for lunch – filling, they are super quick to throw together, and it something different than the typical sandwich.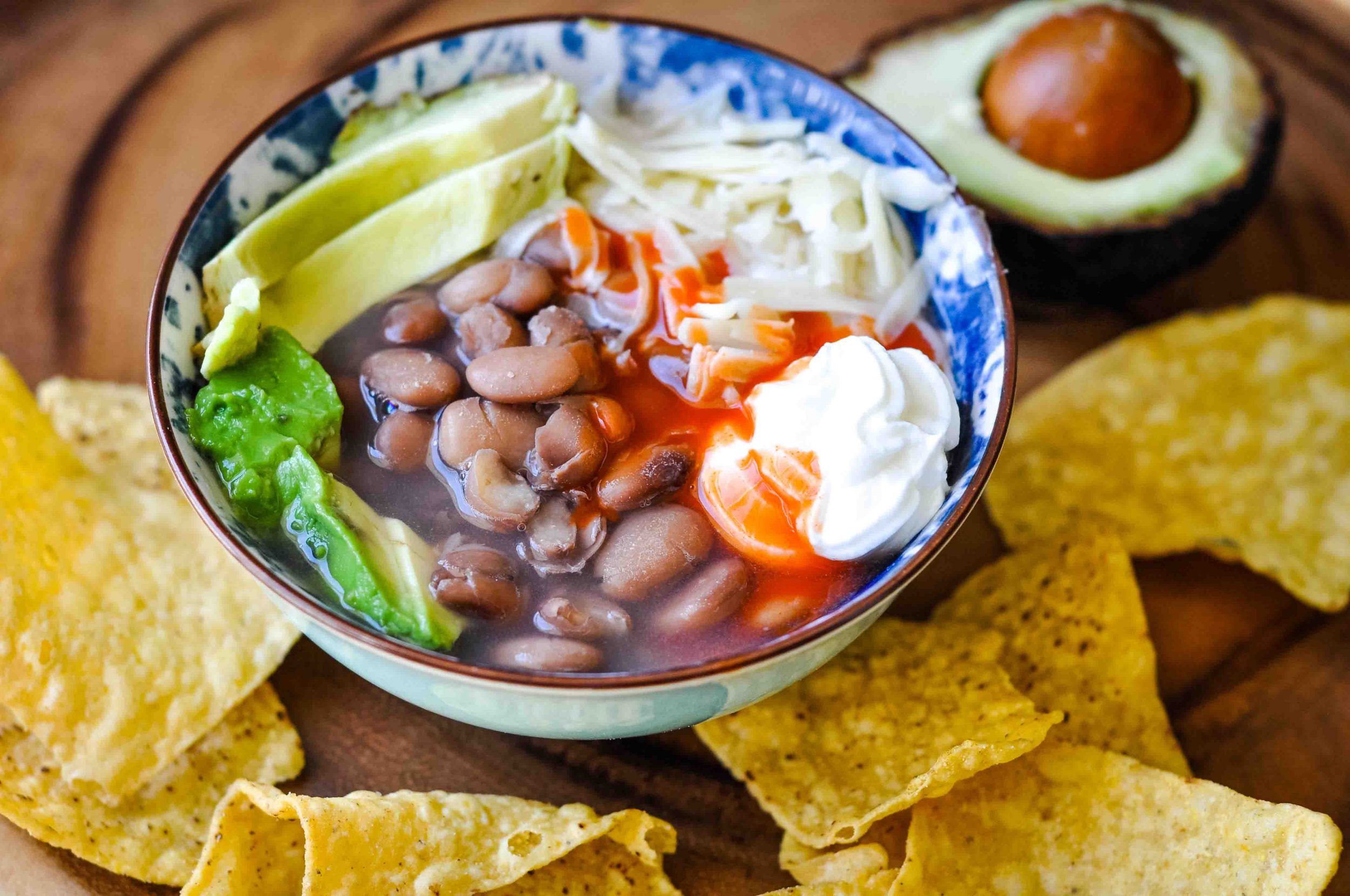 What's in these pinto bean bowls?
These lunchtime bean bowls are so easy to make, I bet you have most of these ingredients in your pantry right now!
Pinto beans
Duh. For maximum nutrition and $ savings, soak your own beans for 8-24 hours in warm water with a splash of apple cider vinegar to break down phytic acid and de-gas your beans.
Cook until soft and season with plenty of salt and pepper. One cooking tip I heard that really adds extra flavor is to chop 1/2 an onion and a few cloves of garlic and add to the bean pot while they're cooking. Yum.
Mature cheddar
The more flavorful, the better. I love raw grass fed cheddar, or a wonderful budget friendly option is Cabot cheese, which can be purchased in large blocks and has a ton of flavor. Grate it yourself – it's far superior to pre-grated cheese. Cheese is an incredible source of fat soluble vitamins A, D, E, & K.
Sliced avocado
We love adding fresh avocado to our bean bowls! The flavor and creaminess is so good. Plus it gives you a great boost of healthy fats and B vitamins like folate plus potassium.
Buffalo hot sauce
A good dose of hot sauce is KEY to the flavor of these bowls! We love Texas Pete. Any hot sauce you love works.
Sour cream
A nice dollop of sour cream finishes off our bean bowls. Creamy and tangy, sour cream complements all the other flavors so well! You're also getting an extra boost of calcium.
Tortilla chips (for dipping)
We love dipping tortilla chips in these bean bowls, and sort of mashing everything up to create a bean dip. Our new favorite brand of chips is Xochitl, which are non-GMO project verified and cooked in healthier non-hydrogenated oils. You could also just eat these bowls straight, without chips, or use crackers or something else for dipping.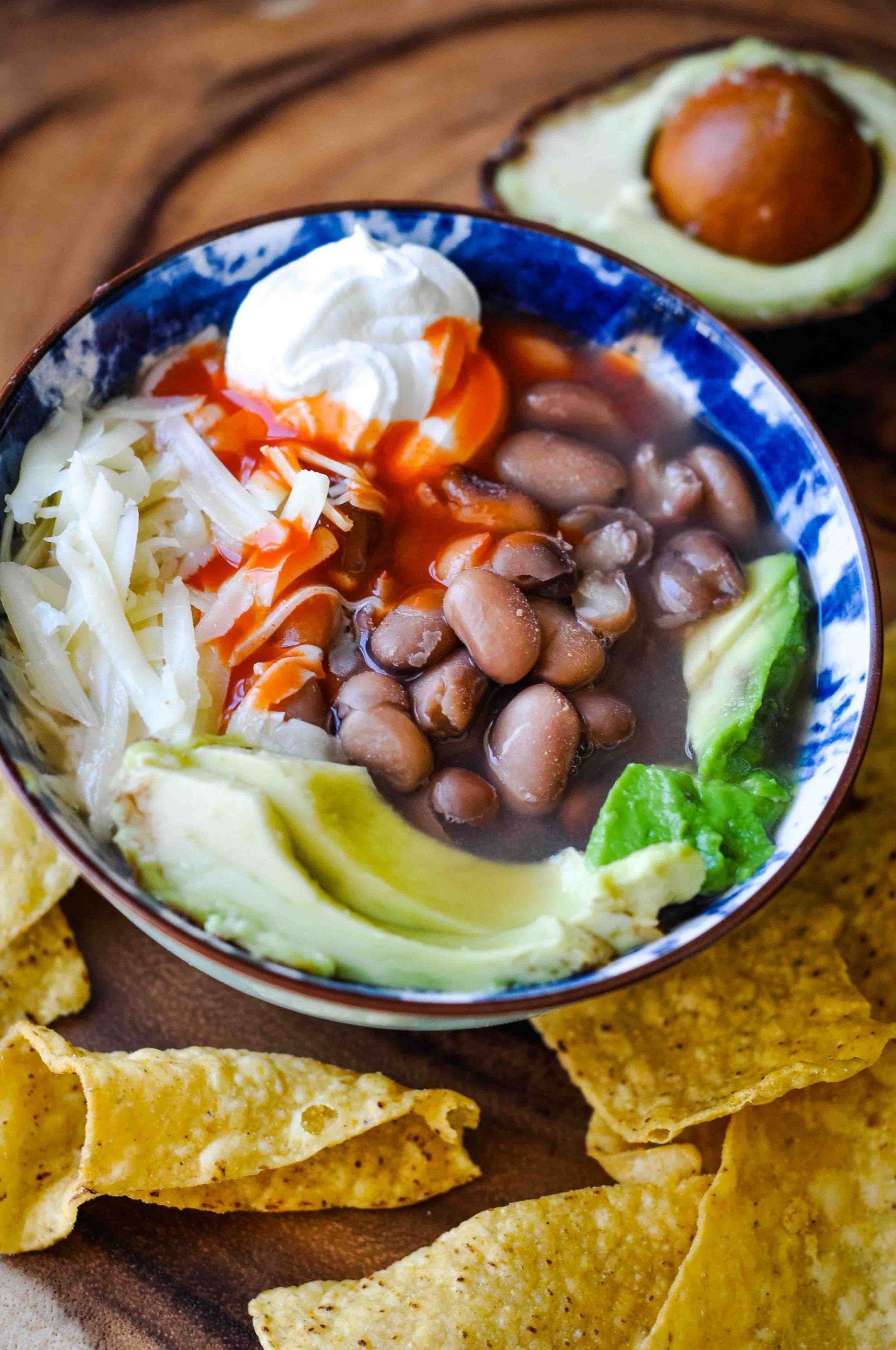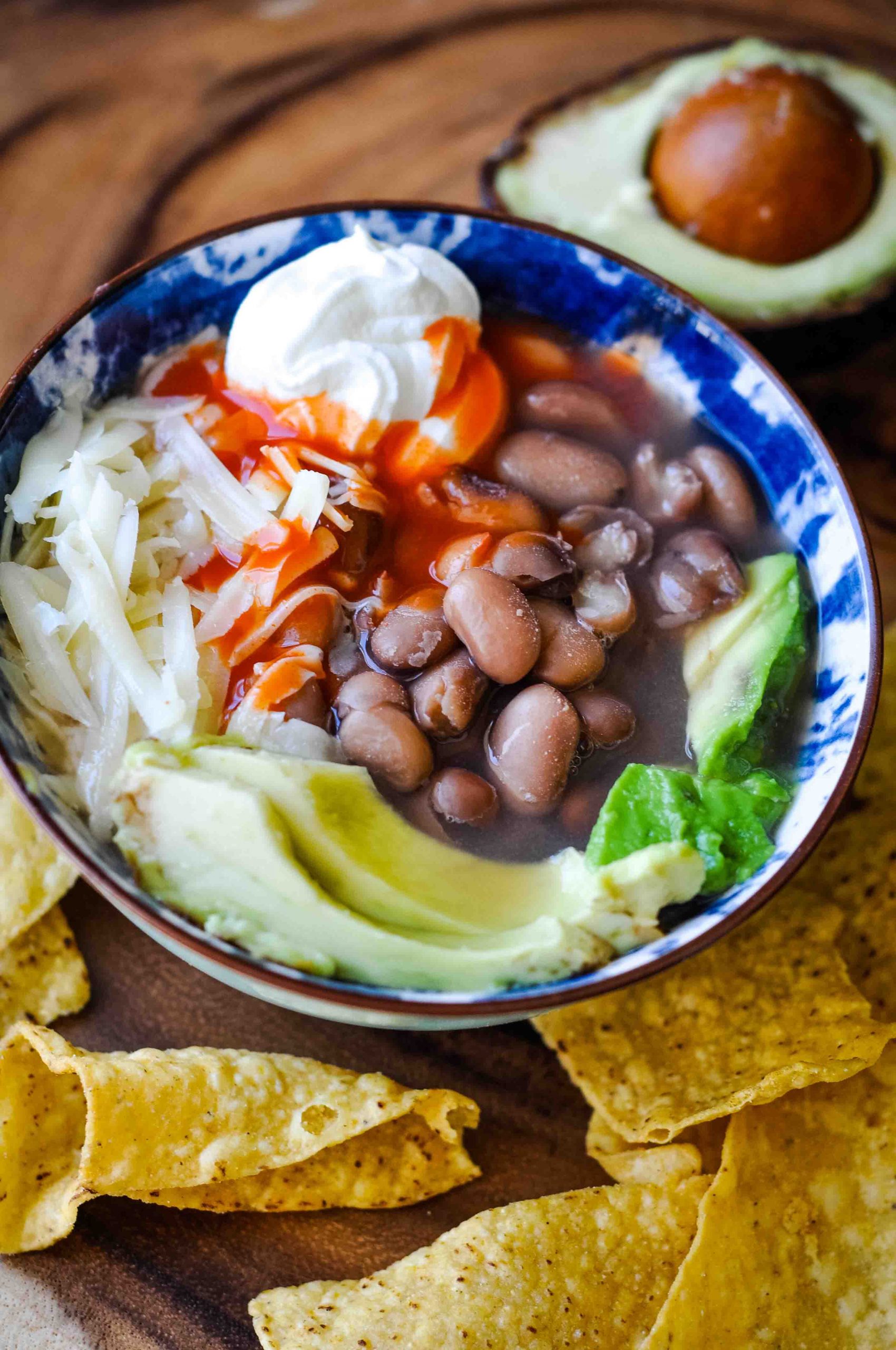 More easy lunch ideas:
Mexican bean dip idea
If you wanted to take this recipe to the next level, you could totally layer these ingredients to make an amazing Mexican bean dip!
Just mash the beans lightly and spread in the bottom of a serving bowl or platter. Layer grated cheese on top, mash avocados and spread, and finish with sprinkling hot sauce on top and a nice layer of sour cream.
Serve with tortilla chips for dipping. This is a great healthy appetizer for any party or game day get together!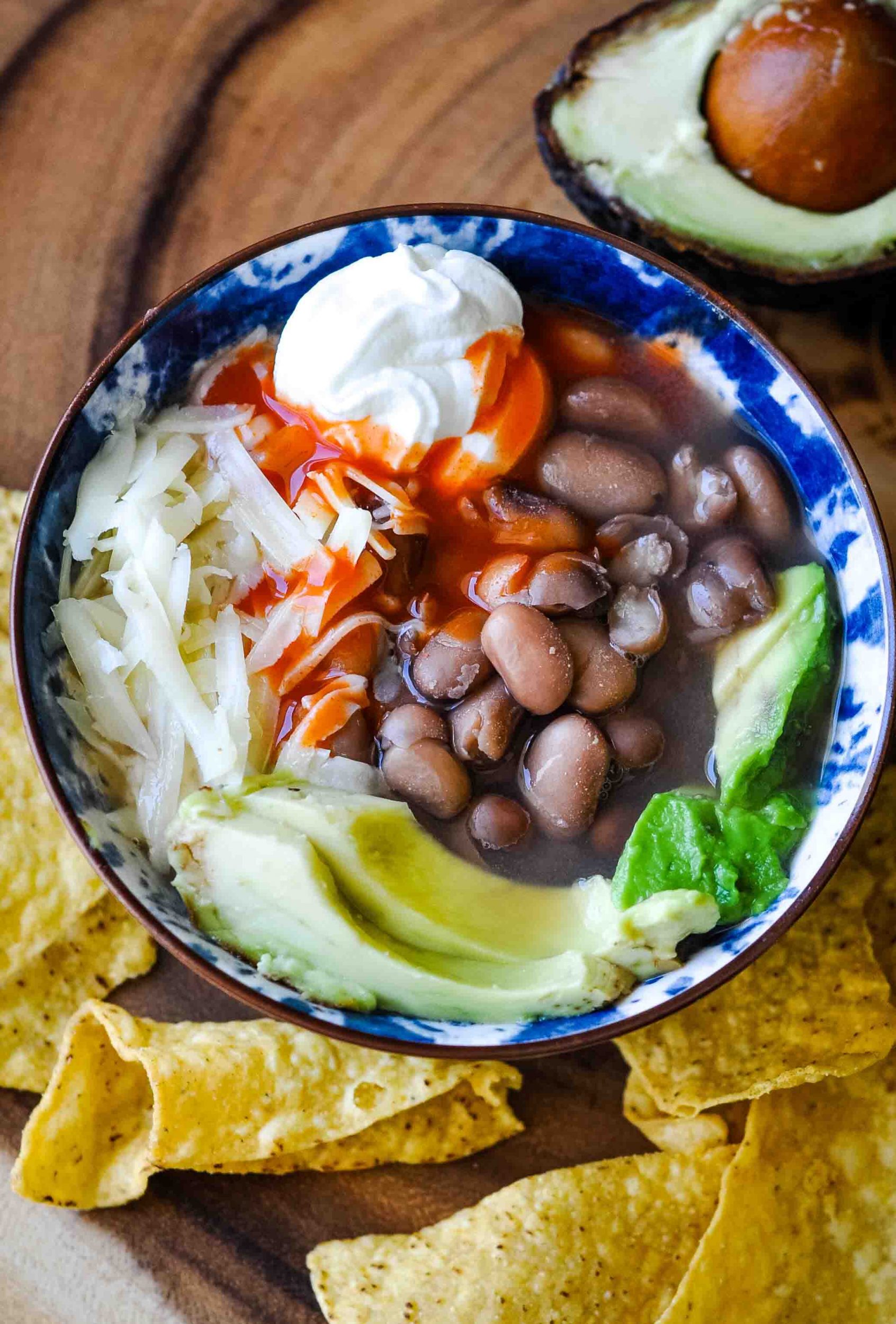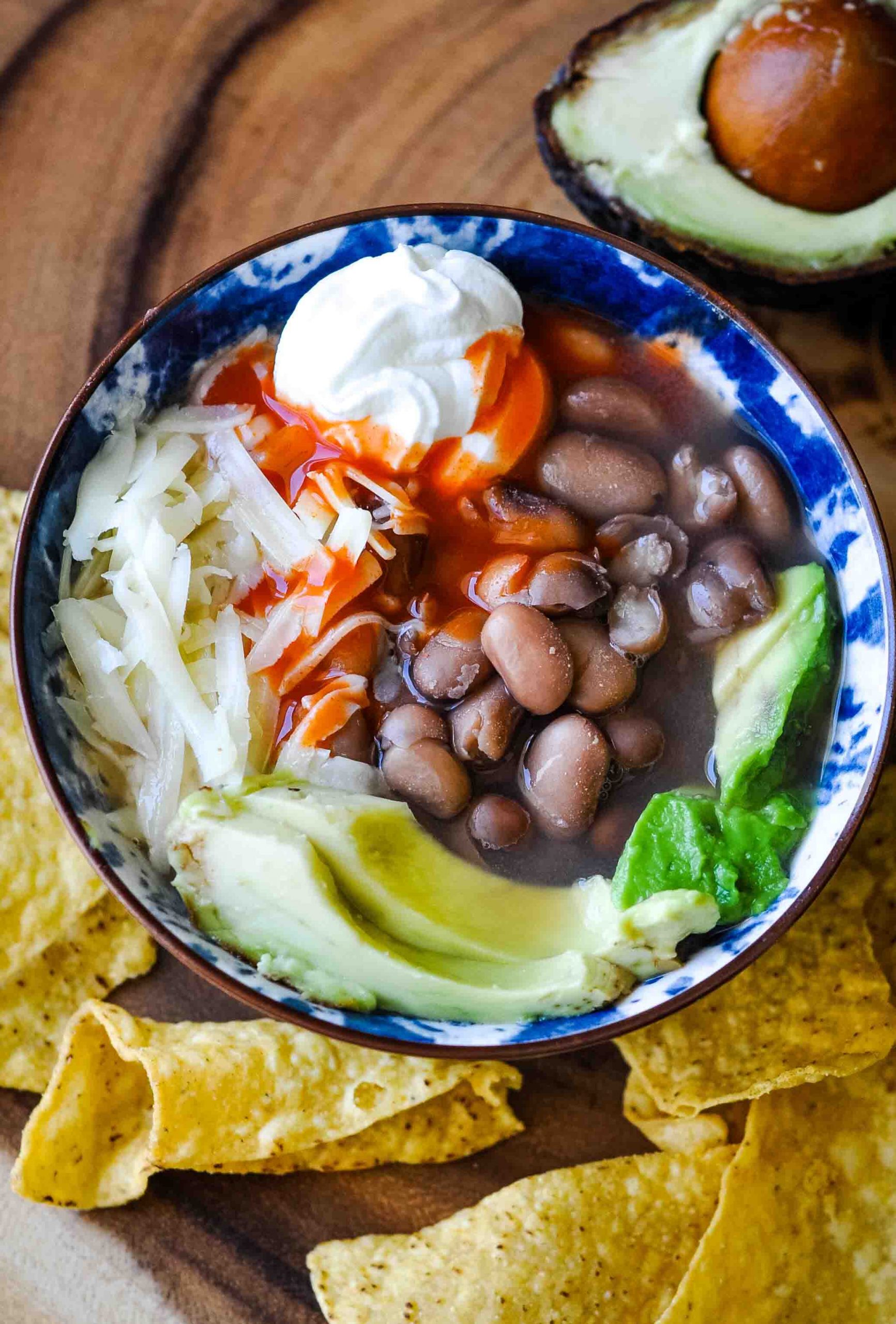 Pinto bean bowls variations
There are lots of ways you can change up this recipe to use what you have on hand!
Use any type of beans to sub for pinto beans, including black beans, great northern, etc.
Add some cooked rice to the bowls
Use any cheese you have in the fridge that needs to be eaten
Try different veggies inside: sauteed peppers & onions, fresh chopped lettuce, or sliced olives
If you're not a hot sauce fan, use salsa instead
Try adding some Mexican spices like cumin or chili powder to the beans
Serve with any tortilla chips you enjoy, or pita bread, or even crackers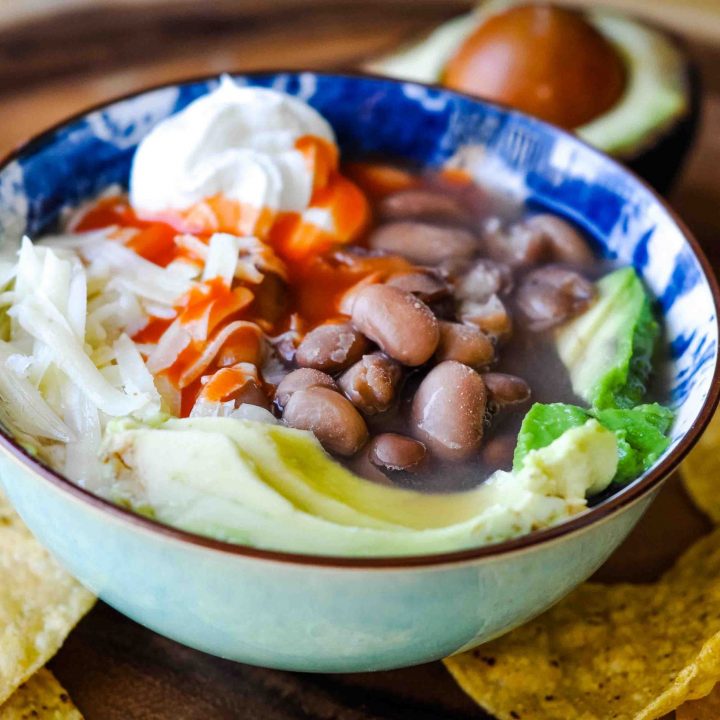 Yield: 1 serving
Spicy Cheesy Pinto Bean Bowls
Prep Time: 5 minutes
Total Time: 5 minutes
These spicy cheesy pinto bean bowls are an easy lunchtime favorite! Filled with mexican flavors, these bowls can be eaten as-is or mashed into a special bean dip.
Ingredients
1 cup cooked pinto beans
1/2 cup grated mature cheddar cheese
1/2 avocado, diced
1 Tbsp buffalo hot sauce, to taste
2 Tbsp sour cream
Tortilla chips, for serving
Instructions
In a bowl, layer warm beans with grated cheese.
Top with sliced avocado, sour cream, and buffalo hot sauce.
For the consistency of a dip, mash together. Serve with your favorite tortilla chips.
Nutrition Information:
Yield:
1
Serving Size:
1
Amount Per Serving:
Calories: 749
Total Fat: 44g
Saturated Fat: 17g
Trans Fat: 1g
Unsaturated Fat: 22g
Cholesterol: 87mg
Sodium: 561mg
Carbohydrates: 59g
Fiber: 22g
Sugar: 2g
Protein: 36g
PIN IT!