Are you stuck in a breakfast recipe rut? Try some of these mouthwatering, creative Instant Pot breakfast recipes!
Everything is made with real food ingredients and is quick and easy, thanks to the trusty Instant Pot. I've got over 40 yummy IP breakfasts, from eggs to oatmeal to sweet specialties!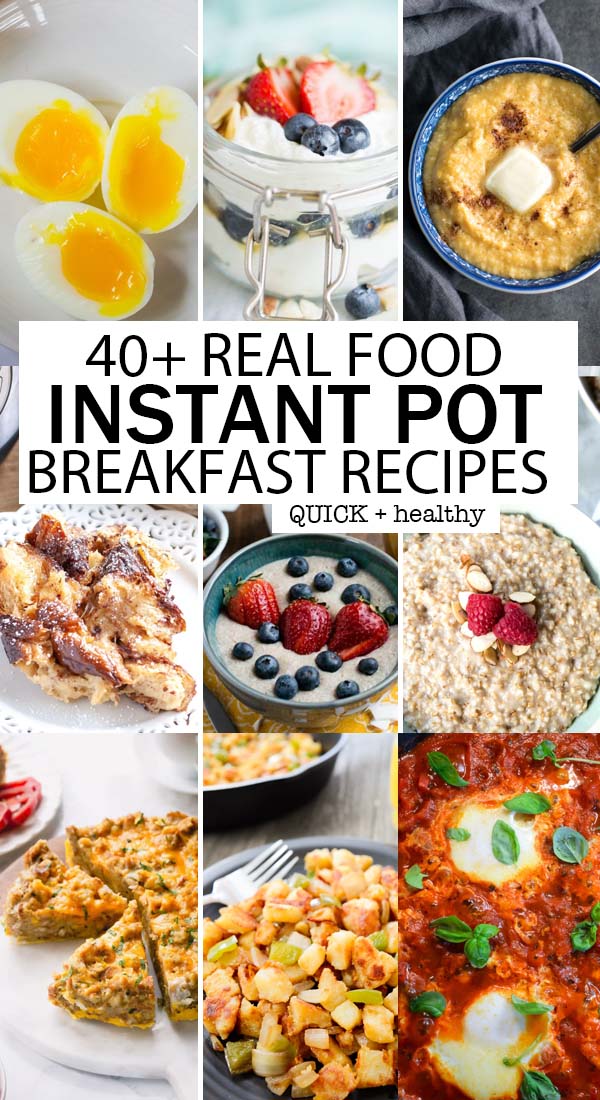 When I start my day with a substantial breakfast, my day is INSTANT-ly better (see what I did there?). Especially if it's a yummy, quick Instant Pot breakfast!
And if you don't have an Instant Pot? Just get one already – you'll thank me later. It's worth it for the ease of making boiled eggs alone!
Why You Should Be an Instant Pot Breakfast Person, Even If You Don't Feel Hungry
But many times, I don't feel hungry in the morning – even after fasting for around 10 hours. Maybe you've experienced this too.
But did you know that if your body isn't hungry in the morning, it often means you are in a stressed and energy-depleted state?
And what your body really needs is nourishment to kickstart your metabolism and replenish your body's glycogen stores and deliver steady energy to your cells.
I recently learned how much better I feel when I eat something nourishing in the mornings, and I'm sure you've noticed the same thing. I also feel so much better about sending my boys off to school with real food in their bellies.
Most of my life, I haven't considered myself a "breakfast person" and would typically power through with a bowl of cereal or Carnation Instant Breakfast. That's just sad.
So let's ditch the Carnation Instant Breakfast and swap it for Instant Pot breakfasts! Because you can still have something quick and easy that is nourishing, too.
Not to mention, putting in a little extra effort in your first daily meal will pay dividends in energy as you go about your day. But the Instant Pot makes it super easy.
Our Typical Instant Pot Breakfast Routine
To make real food breakfats easy, I usually make a huge batch of boiled eggs in the Instant Pot to eat throughout the week. Every few days I make a new batch, using the method from All the Nourishing Things.
This is the best method I've found for creamy yolks with whites that aren't runny! They are perfectly done.
We usually pair eggs with a smoothie I whiz up real quick in the blender with frozen fruit, kefir, collagen, seeds, coconut oil, etc. Here's the recipe we use everyday. Most days I serve toast with butter too.
If I'm out of eggs, I soak oats overnight and add lots of butter and shredded coconut.
The Best Instant Pot Breakfast Recipes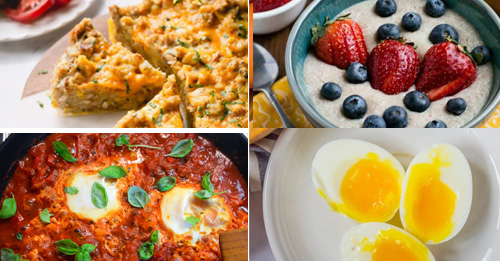 Since we are kind of stuck in a breakfast food rut, I decided it would be fun to round up a bunch of real food breakfast recipes to change things up.
And all of these recipes feature my favorite kitchen appliance – the Instant Pot! While we adore Instant Pot dinners like savory italian roast beef and beefy cheesy lasagna mac, I needed some breakfast recipes to add to our rotation.
Plus, they are all made with REAL FOOD ingredients. Nothing yucky or artificial here!
These recipes are divided into 3 categories – Egg recipes, Porridge recipes, & Breads/Sides/Specialties.
Instant Pot Egg Breakfasts
These Instant Pot Breakfasts all feature plenty of protein through everyone's favorite morning ingredient - eggs!
Instant Pot Porridge Breakfasts
Everything from yummy oatmeal to non-grain porridge options, all made in the trusty Instant Pot!
Photo Credit: www.rachelteodoro.com
Steel cut oats are less processed than rolled oats, which means they will take longer to cook. But not if you make them in your instant pot! 
Photo Credit: traditionalcookingschool.com
Simple, light, and delicious, this Instant Pot Butternut Squash Rice Porridge is a nice change from classic oatmeal for breakfast. With plump raisins, fragrant cinnamon, and perfect sweetness, this porridge will be a hit at your table.
Photo Credit: www.babaganosh.org
Cherries and chocolate? Yes please! These Cherry Chocolate Steel Cut Oats are cooked in the Instant Pot in just 15 minutes, so you can enjoy a healthy tasty bowl on a weekday morning.
Photo Credit: sustainmycookinghabit.com
With the creamy rice texture, cinnamon flavor and raisin bursts of yummy sweetness, you can't go wrong with this easy breakfast.
Photo Credit: peasandcrayons.com
Instant Pot Pumpkin Grits are ready to rock your breakfast! These easy cheesy grits are made in the pressure cooker and are SO easy to make.
Photo Credit: amomsimpression.com
Breakfast has never been easier than these kid-friendly Instant Pot Oatmeal Bites. We love to meal-prep them ahead of time on Sunday morning for the entire week.
Photo Credit: emilykylenutrition.com
Naturally vegan and gluten-free, this Instant Pot or stove top Golden Milk Quinoa Porridge Bowl is an anti-inflammatory bowl of goodness with a warm, sweet flavor that will help you heal from the inside out. 
Photo Credit: allthenourishingthings.com
This soaked Instant Pot Quinoa Breakfast Porridge is a gluten-free, grain-free dairy-free breakfast that's easy, digestible, and has just 4 ingredients! Top it with extra dairy-free milk, butter or ghee.
Photo Credit: instantpoteats.com
Oatmeal can be plain and boring, but not when it is nutty and creamy with an extra kick from tangy cranberries and toasted nuts!
Photo Credit: www.sidewalkshoes.com
Instant Pot Quinoa is so fast and easy, making it perfect for an Instant Pot breakfast. This Instant Pot Quinoa Blueberry Breakfast Bowl is healthy and delicious with quinoa, blueberries, honey, yogurt and pistachios!
Photo Credit: www.sidewalkshoes.com
These Instant Pot Strawberry Steel Cut Oats are so delicious and so easy to make with the pressure cooker. The perfect healthy breakfast that is creamy and little sweet and bursting with strawberries!
Photo Credit: recipesfromapantry.com
Instant Pot Polenta Breakfast Porridge is an easy and delicious way to start your day! This rich creamy polenta porridge topped with maple syrup and chopped nuts is just the thing to warm you up on chilly winter mornings. 
Photo Credit: lowcarbyum.com
Low carb and Keto Coconut Porridge is a cinch to make, using your Instant Pot!
Instant Pot Breads, Sides, & Specialties
If you want something a little extra-special, try one of these creative Instant Pot breakfasts. From breads to yogurts to savory feasts, you'll find something the whole family will love!
Photo Credit: www.steamycooker.com
Incredibly Moist and Delicious Banana Nut Bread with Almond Flour Made in an Instant Pot Pressure Cooker.
Photo Credit: www.theorganickitchen.org
This Instant Pot Chorizo with Potatoes is going to be your new favorite meat and potatoes dish. Served alone, with eggs or avocados this meal is quick Paleo/Whole30 comfort food, OR fold into warm corn tortillas for a spicy version of Tacos de Papas.
Photo Credit: www.melaniecooks.com
Sweetened naturally with maple syrup, this Gluten-Free Instant Pot Apple Crisp breakfast is a healthy new take on one of my favorite treats! With your Instant Pot, apple crisp has never been easier.
Photo Credit: www.allergyfreealaska.com
This Instant Pot Coconut Milk Yogurt is a perfect dairy-free alternative for those of us who can't have cow's milk. It's smooth and tangy, yet you control the amount of sweetness added.
Photo Credit: www.foodlovinfamily.com
Instant Pot French Toast Casserole is a quick and easy way to make a delicious breakfast casserole. If you are having people over for brunch, this french toast bake is always a hit! 
Photo Credit: www.cookingcarnival.com
Instant Pot Banana Bread – family favorite, moist, eggless, vegan, easy to make, simply perfect breakfast!
Photo Credit: raiasrecipes.com
Step-by-step how to make Easy Homemade Yogurt in the Instant Pot! You'll never go back to those silly yogurt makers…
Photo Credit: thebellyrulesthemind.net
The easiest strawberry jam recipe ever! Strawberries, sugar and lemon juice is all your need for the fail proof recipe. No pectin, no cornstarch, no artificial preservative, no added color.
Photo Credit: traditionalcookingschool.com
With a yummy and moist chocolate zucchini bread recipe already under my belt, the only logical thing to do was adapt it to the Instant Pot (or any pressure cooker!). Say hello to Chocolate Zucchini Muffin Bites! 
Photo Credit: mondayismeatloaf.com
Mix up the school day breakfast routine with Instant Pot French Toast Bites. Easy to make and customize to your favorite flavors!
Photo Credit: www.whereyougetyourprotein.com
Instant Pot breakfast potatoes are prepared ahead of time in the Instant Pot, then browned and crisped on a skillet. They're easy to make and full of flavor!
Photo Credit: blackberrybabe.com
The best part of owning an instant pot is being able to make your own yogurt. This Instant Pot Greek Yogurt is healthy and so much more affordable than store bought!
Which Instant Pot is Best?
There are so many makes, models, sizes, and styles of the Instant Pot. If you don't have one already, I definitely recommend the 8-quart size instead of the 6-quart. It will work with all of the above breakfast recipes.
We only have a family of 4, but I love cooking in batches and I've often found myself filling the bigger IP all the way to the Max Fill line! If you do any meal prep or make broth, getting the larger 8-quart size is a no-brainer.
The newest Instant Pot models have all kinds of bells and whistles, but the functions you'll use most often are Manual mode, Saute, Slow Cook, Keep Warm and Yougurt Maker.
Pretty much every Instant Pot has all these functions, except maybe Yogurt. Just read up on what functionalities are most important to you.
Here's the model we have, and absolutely love! It's the 8-Quart DUO. Not a single regret since I purchased it!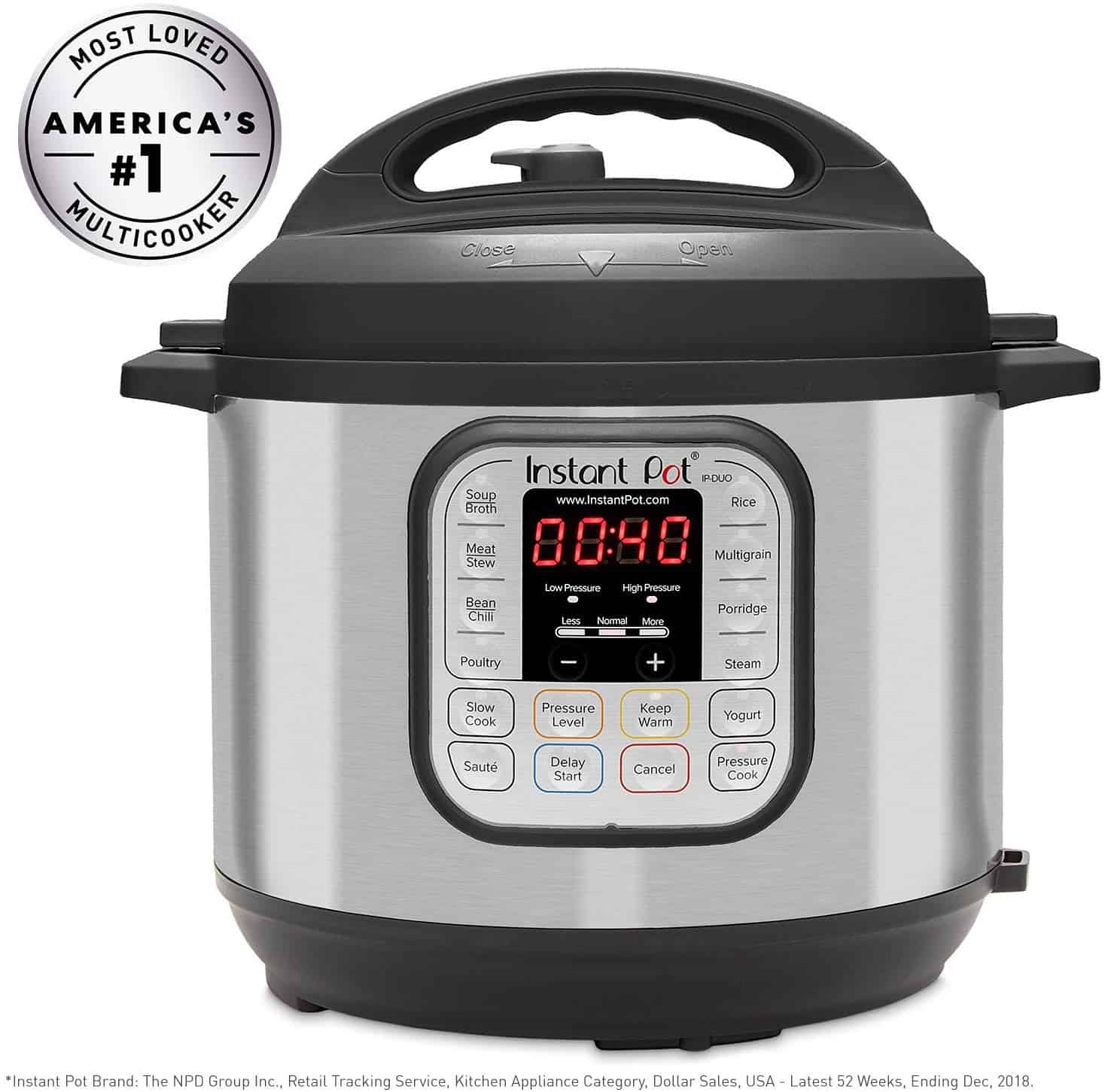 What are your favorite ways to use the Instant Pot? Will you try any of these breakfast recipes?
PIN IT!