Citrus vinegar cleaner is a wonderful all-purpose cleaner you can make at home. Try this super simple, effective vinegar cleaner in your kitchen, bath, and all over the house.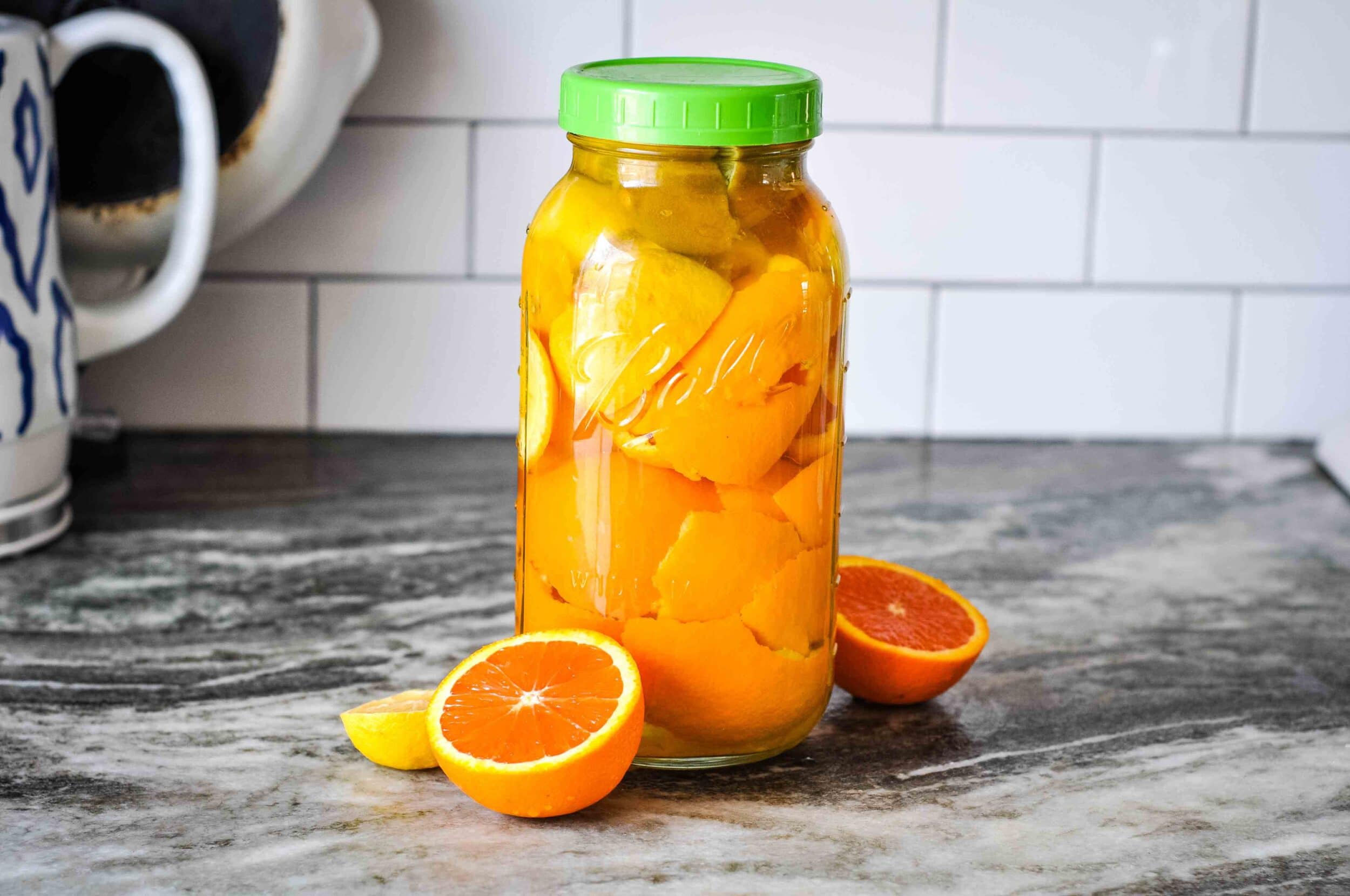 I loooove fresh citrus. Lemony lentil salad, citrus zucchini bread, citrusy wassail, lemon in my tea, lemon water… it's all so good. Plus we all know how beneficial citrus fruits are for the body – loaded with vitamin C, cleansing, and detoxifying!
A fond memory I have as a child is sitting at the kitchen counter watching my mom make fresh-squeezed orange juice. Best breakfast beverage ever.
But did you know that citrus benefits keep on giving even after they're consumed? Don't throw away those lemon and orange peels!
Instead, keep them and get every last drop out of them by making this fabulous, simple homemade all-purpose citrus vinegar cleaner.
By the way, Isn't this glass bottle just pretty?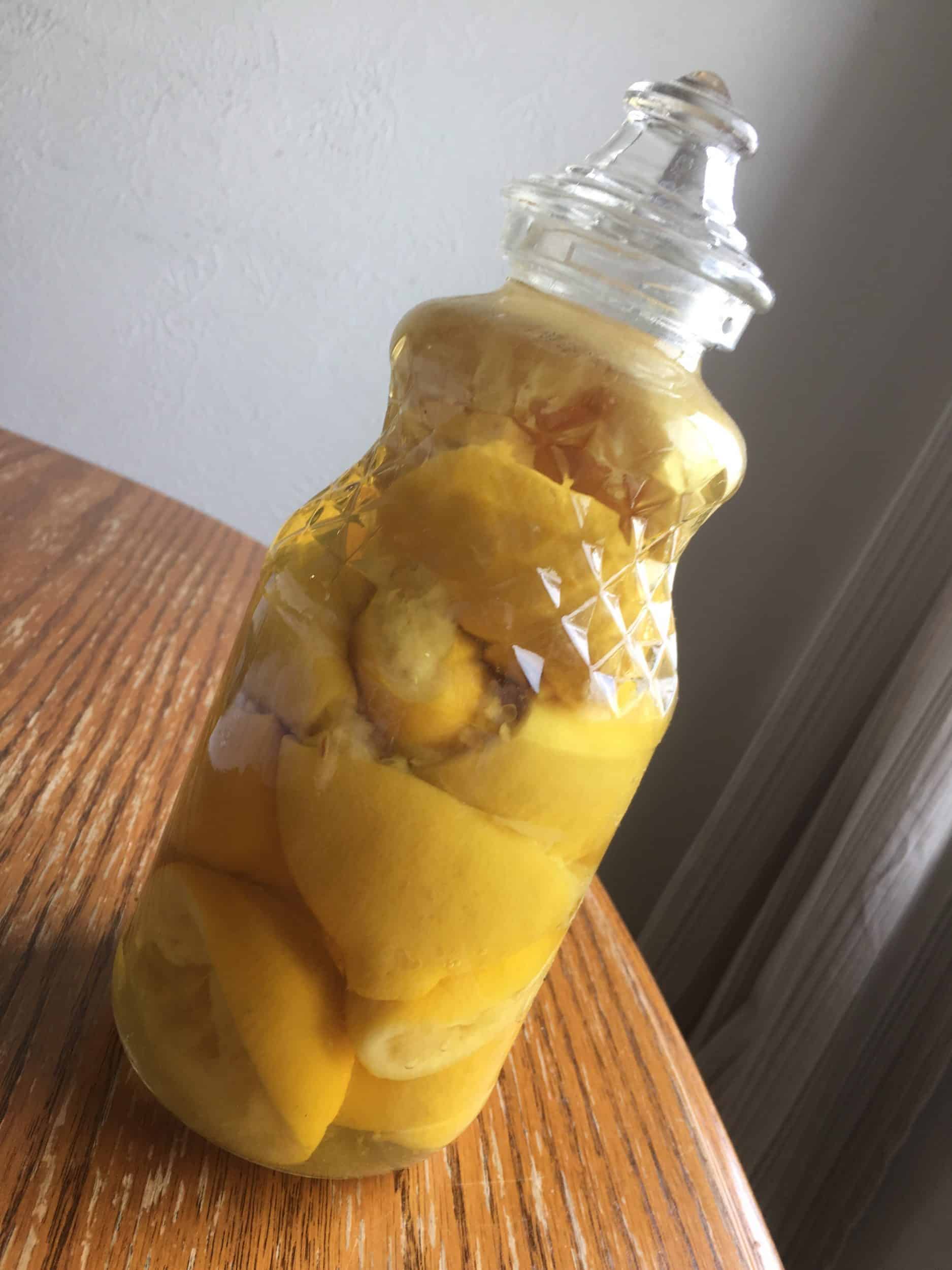 Why are orange & lemon peels good for cleaning? Is citrus a natural cleaner?
There is a special substance in citrus fruit called d-limonene. It is a natural solvent, and is also what gives citrus it's amazing pleasant smell (1). Lemons in particular are high in citric acid and have antibacterial benefits. Orange peel oil has been used for centuries for cleaning and polishing surfaces.
Safe to say, citrus is historically adored for it's pleasant smell and grease-cutting properties.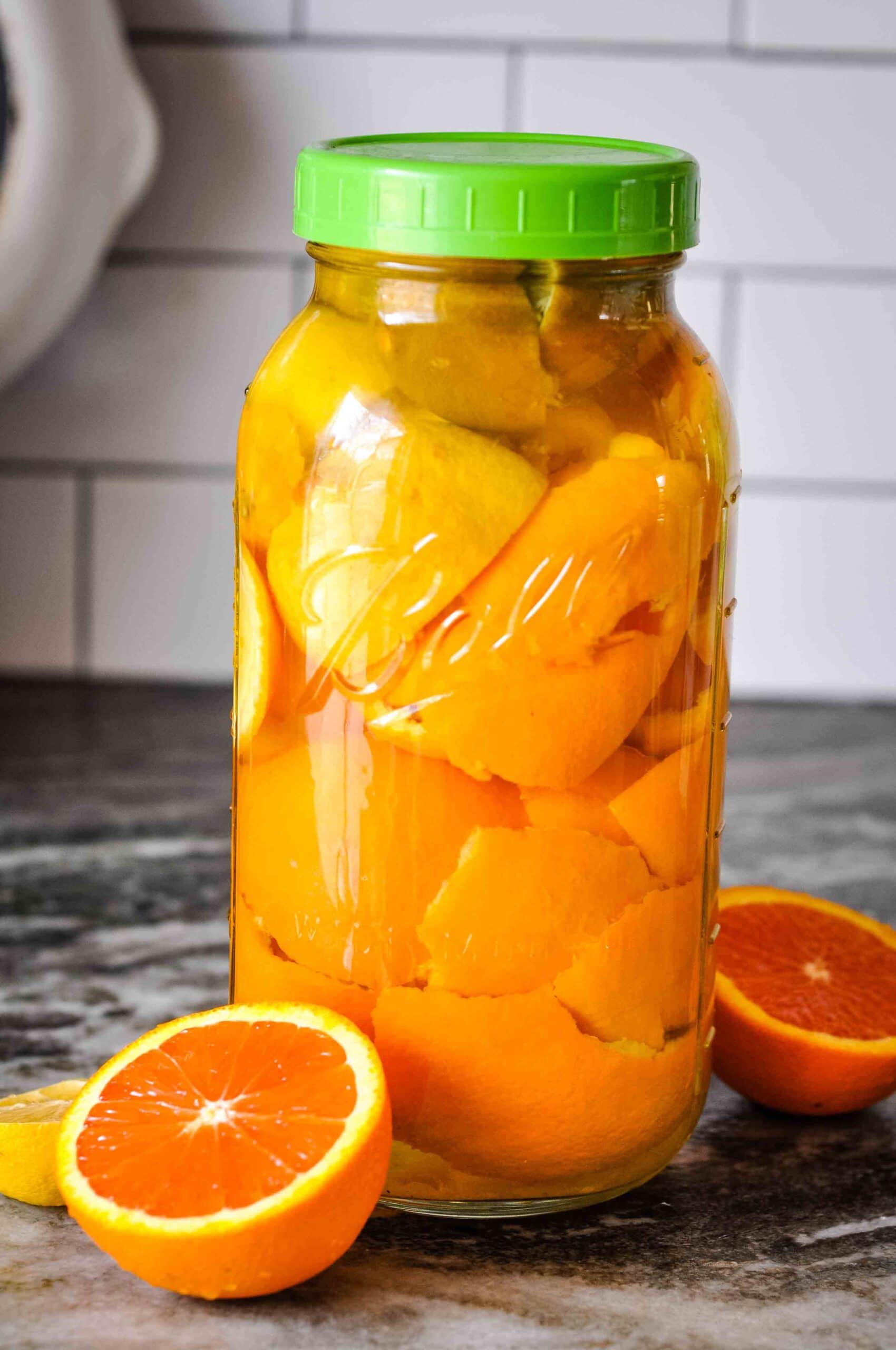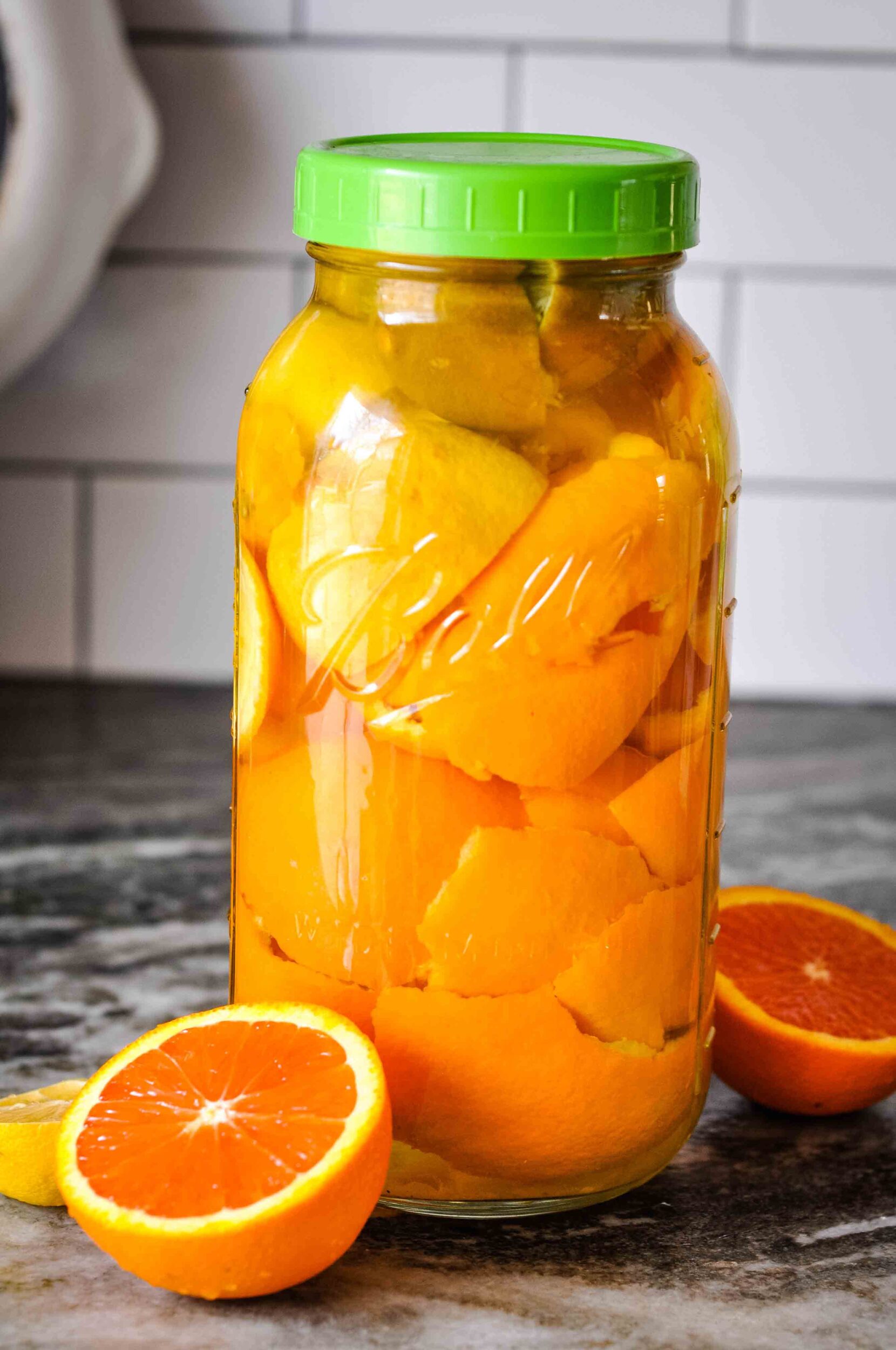 Vinegar Cleaner Cuts Grease!
Combined with vinegar, which is also a great grease-cutter and has disinfectant properties, this citrus cleaner is mega-powerful.
And, you won't believe how incredibly easy it is to make. Honestly, this citrus vinegar cleaner can cut through just about any greasy mess my family can make. Perfect for greasy stovetops and even bathroom grime.
For a while, I was buying Aunt Fannie's cleaning spray from Thrive Market. It's a wonderful non-toxic option, but it is a little pricey. The main ingredient in it is vinegar.
Then I remembered this recipe from my mother-in-law, and we started using it again. I forgot how wonderful it is — and CHEAP! For just a few cents, you can make a totally natural cleaner that works as well as any store-bought cleaner on the shelf.
Also, nothing quite says clean like the smell of lemon or citrus wafting through the house. It just makes everyone feel good!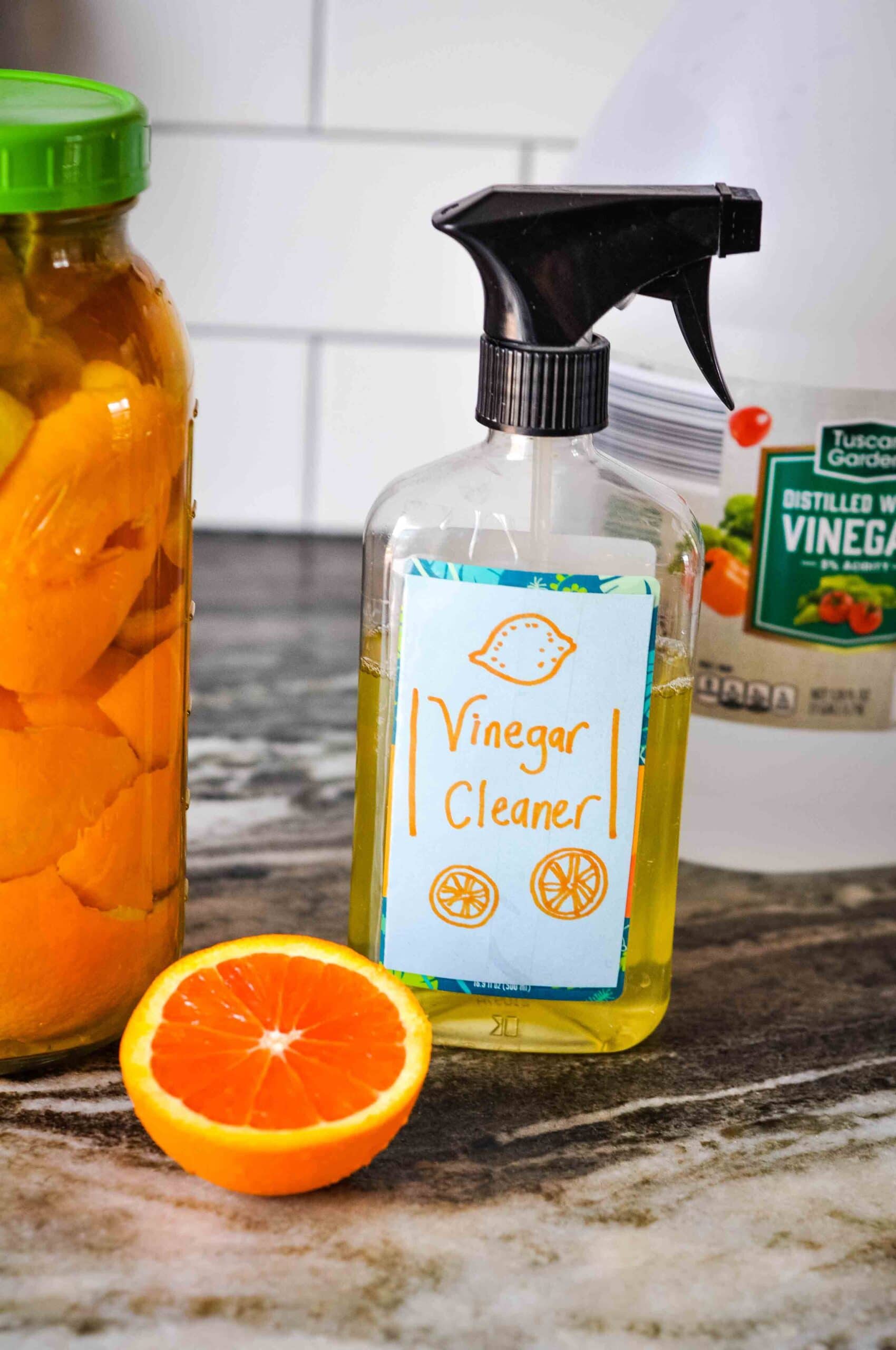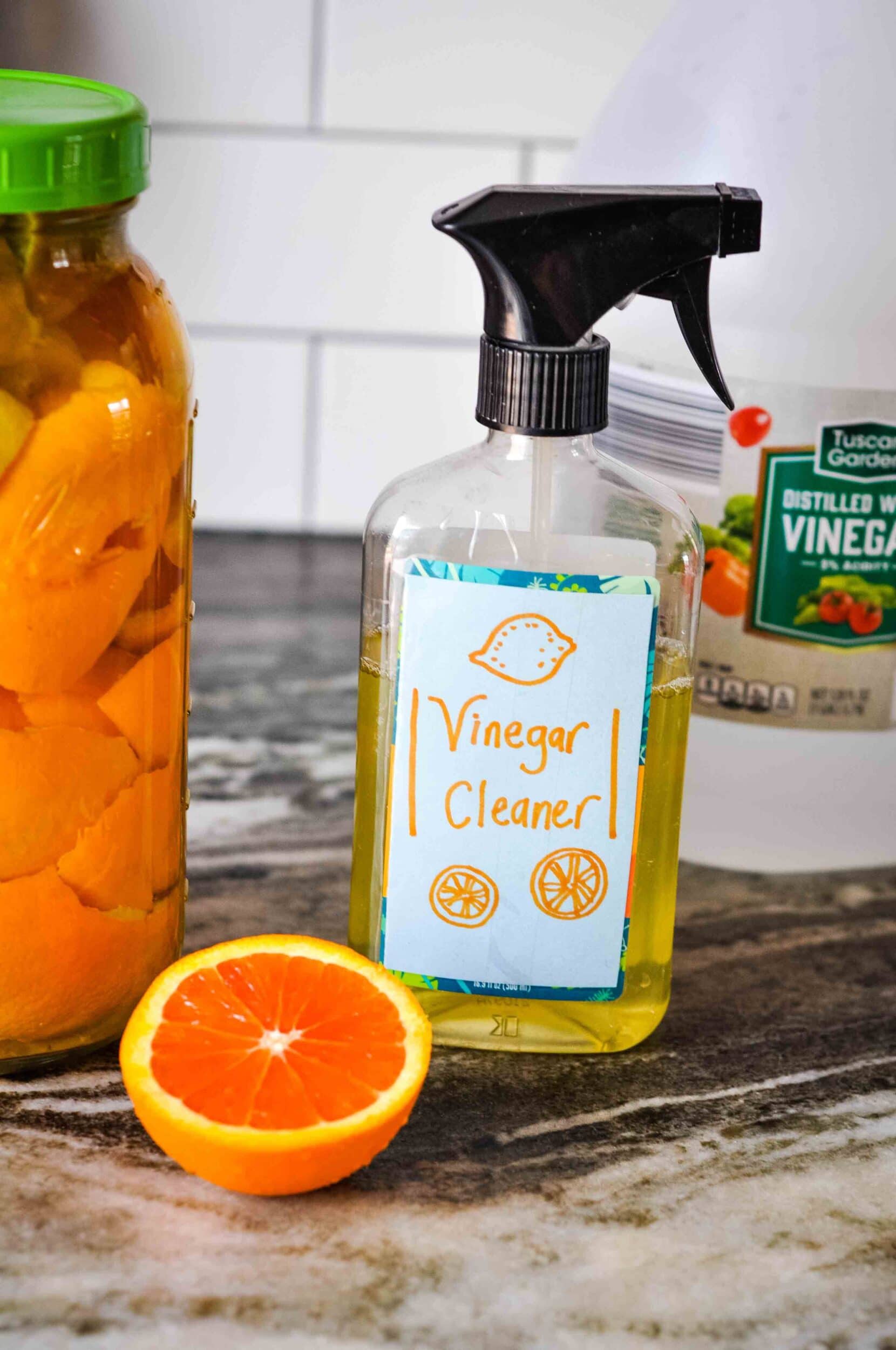 Is the vinegar smell overpowering?
When you first use this spray, it definitely has a strong vinegar-y smell. But, this dissipates in just a few seconds and all you are left with is a bright citrus scent!
How do you make a vinegar cleaning solution?
For a simple straightforward vinegar all purpose cleaner, you can use a 1:1, 1:2, or 1:3 ratio of vinegar to water. Some people add a dash of natural soap into the mixture, as well. For tough jobs, use a higher ratio of vinegar.
Of course, you can take your vinegar cleaner to a whole new level by adding citrus peels!
What is vinegar good for cleaning?
Vinegar is the most versatile household cleaner and can truly be used anywhere in the home to cleanse and disinfect in a safe, non-toxic way.
You can use it on kitchen surfaces, appliances, furniture, knobs & handles, bathroom surfaces, even glass mirrors and windows. I even use it for cleaning out my kids' lunchbox carriers and for mopping our kitchen floors!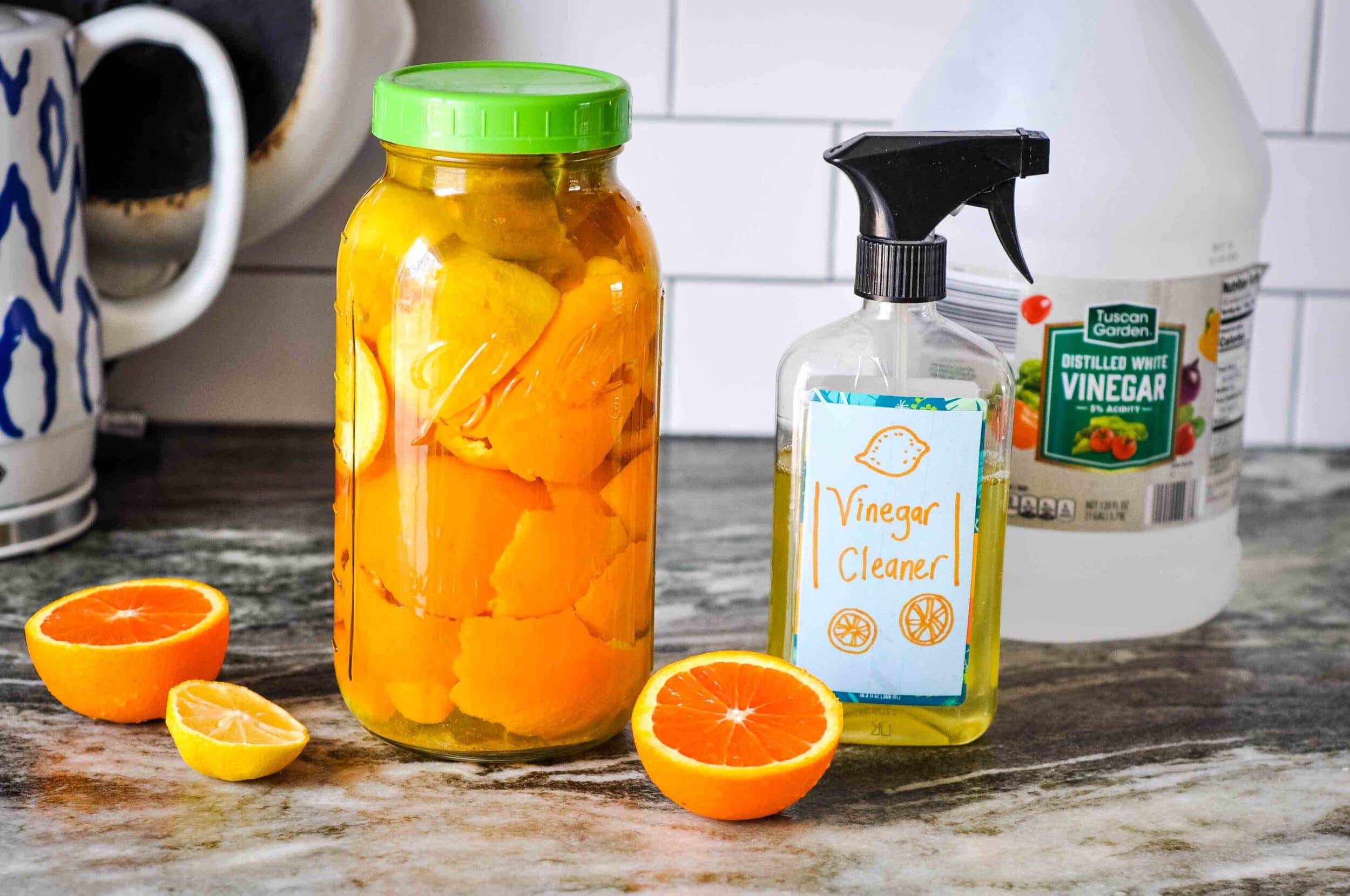 What can you not clean with vinegar?
Vinegar is safe to use on most surfaces, but you want to avoid using it on natural stone like marble or granite as it may etch the surface. However, it's great to use on wood, laminate, glass, tile, porcelain, etc.
If you are using this cleaner on a special piece of furniture, it's best to test a small inconspicuous area first to ensure it does not damage the surface.
How do I clean my bathroom with vinegar?
Use this vinegar cleaner in the bathroom as you would any other bathroom cleaner. You can pour some of the straight, undiluted vinegar into your toilet bowl before brushing.
Then, use the diluted citrus vinegar spray on your sinks, bath/shower, and countertops. Let sit for a couple of minutes before cleaning with a sponge, then buff dry for a beautiful sparkle & shine!
Before we get to the recipe, grab my 7 favorite DIY beauty recipes below!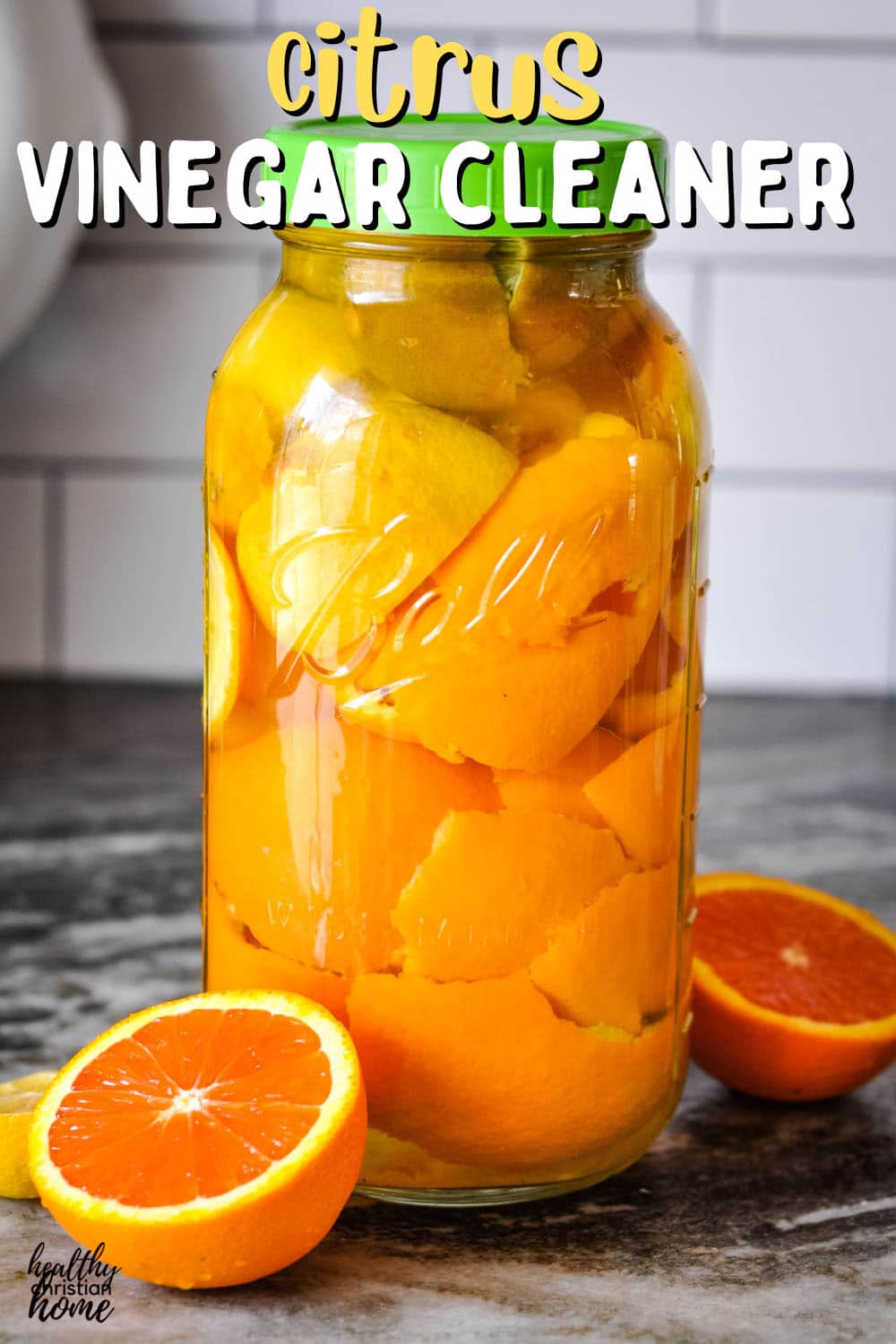 Homemade Citrus Vinegar Cleaner Recipe
This process is so easy, it's laughable. Special thanks to my mother-in-law, who showed me this handy little tip! After trying this, you'll wonder why you ever spent money on store-bought cleaner.
First, collect citrus peels. All you have to do is toss your used citrus rinds and peels into a glass jar (I like using Ball half gallon jars).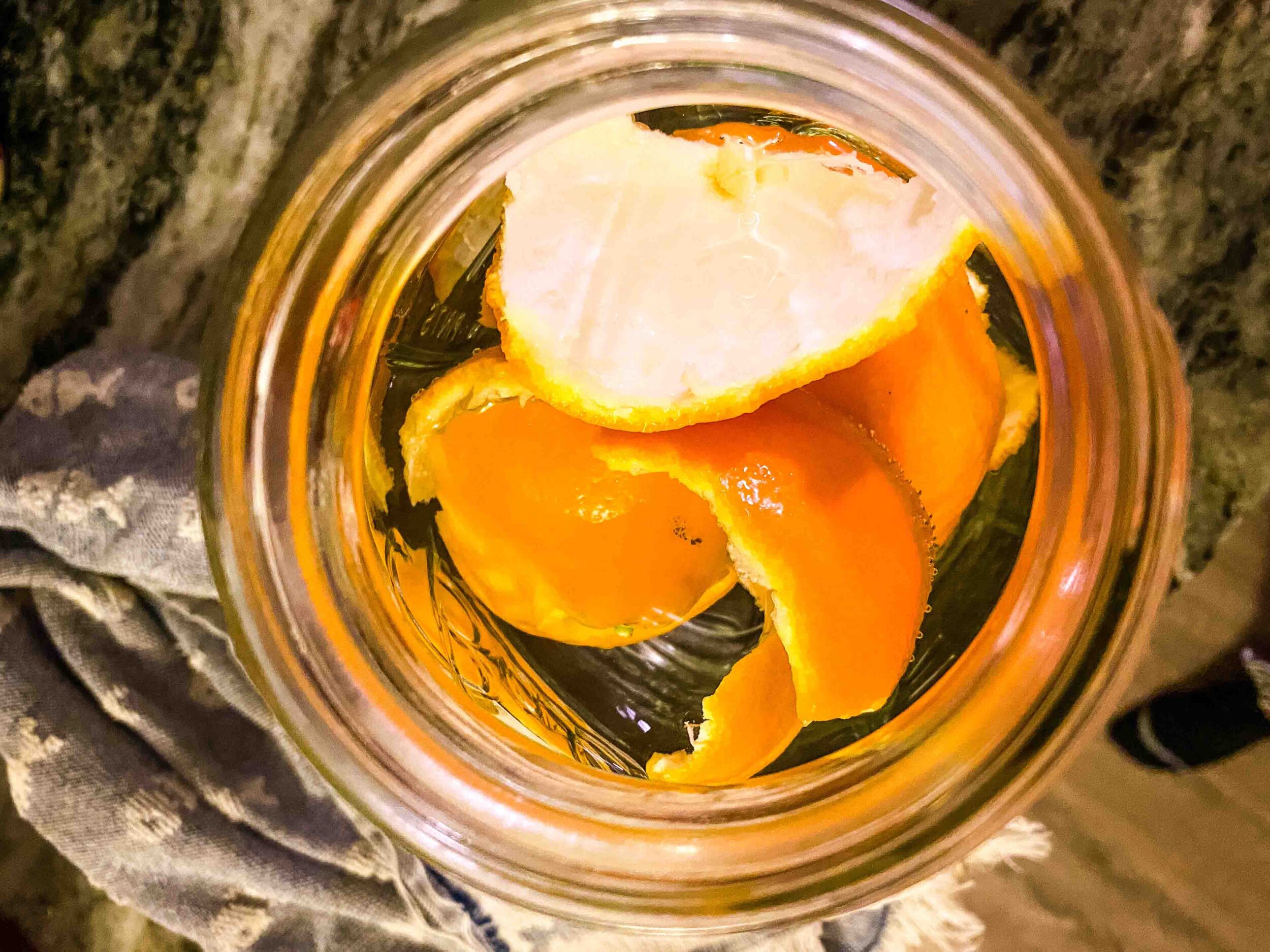 Next, cover with vinegar. Cover the peels with distilled white vinegar. You might be able to use another type of vinegar, but I would stick with white vinegar. It's cheap and works best for this recipe.
Just add the peels gradually as you use them and toss them into the jar. You can also use other types of citrus like grapefruit, limes, or whatever you have on hand.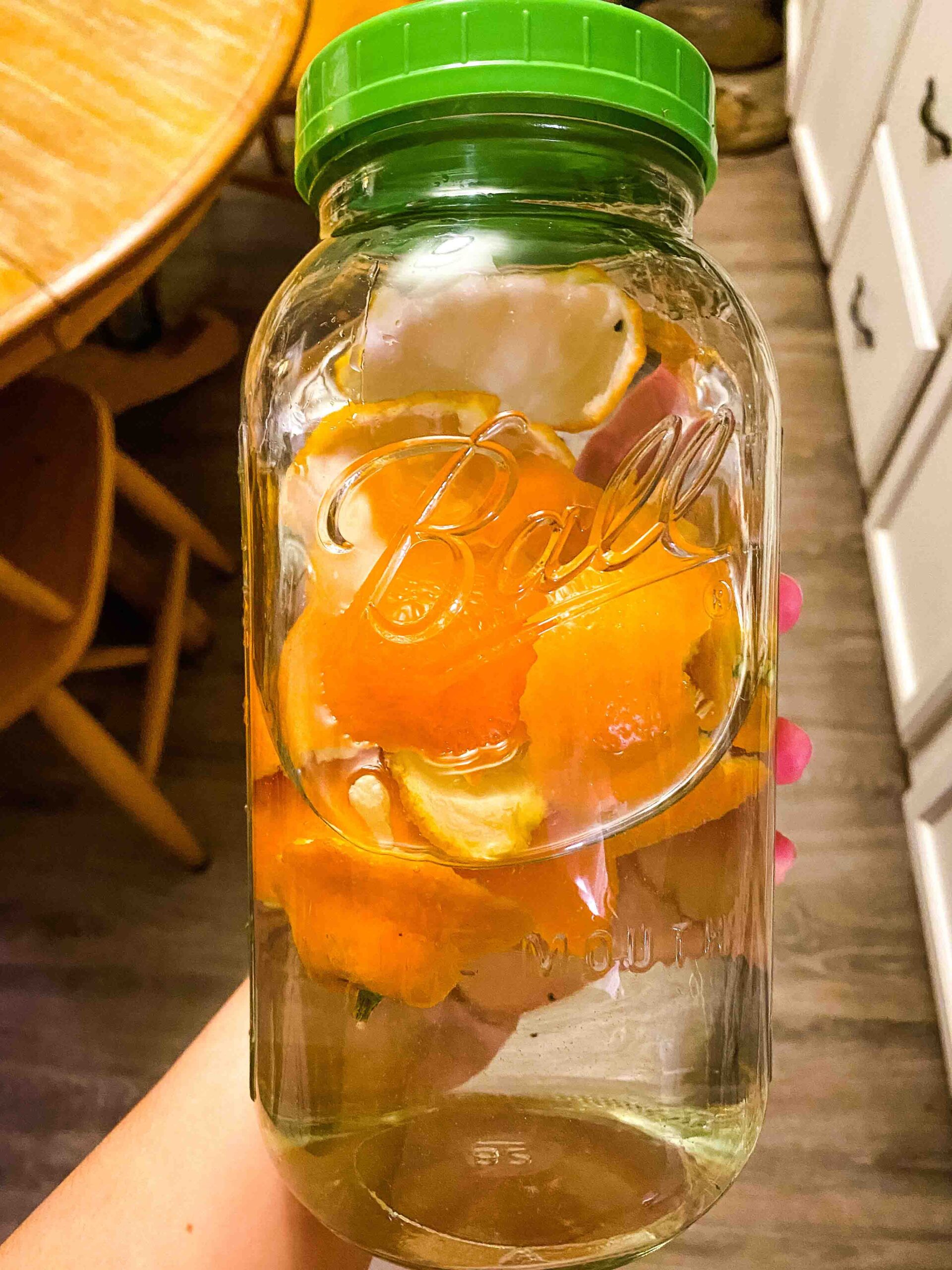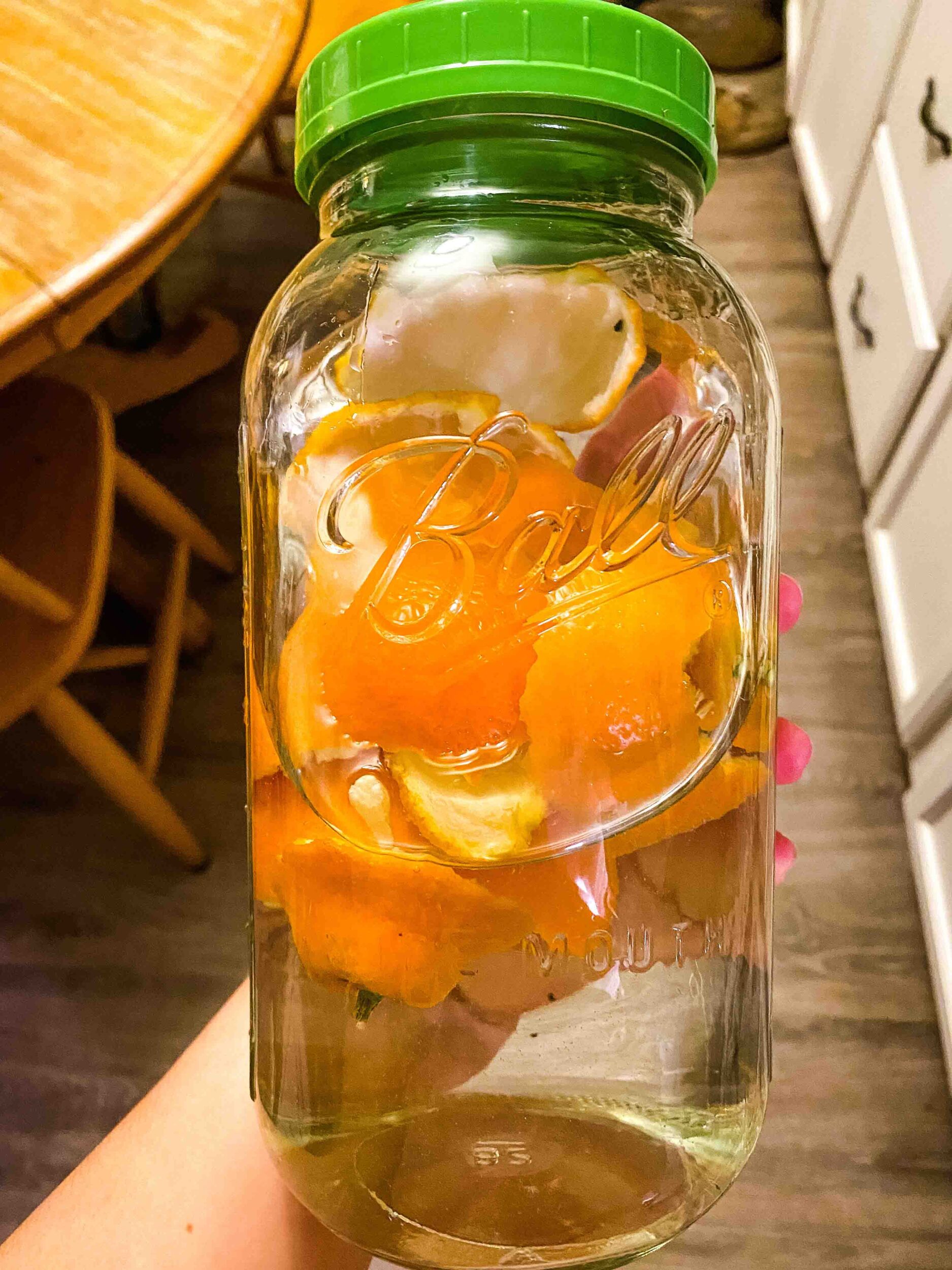 Then, let the vinegar infuse. Allow the vinegar to sit and infuse all those lovely citrus oils into it. Let it sit at least a week, up to one month. Give the jar a shake every once in a while, if you think of it. (I usually forget and it still works great.)
Your vinegar will turn into a gorgeous yellow-orange cleaning vinegar with the power to cut the toughest grease.
Enjoy your homemade cleaner! Strain the vinegar through a funnel into a jar or spray bottle. Use undiluted on tough jobs, or make an all-purpose cleaning spray.
To make a spray: Pour some vinegar into a spray bottle (fill about 1/2 or 1/3 full) and fill the rest of the way with distilled water. You can use more water if you want to dilute the mixture and make the cleaner last longer.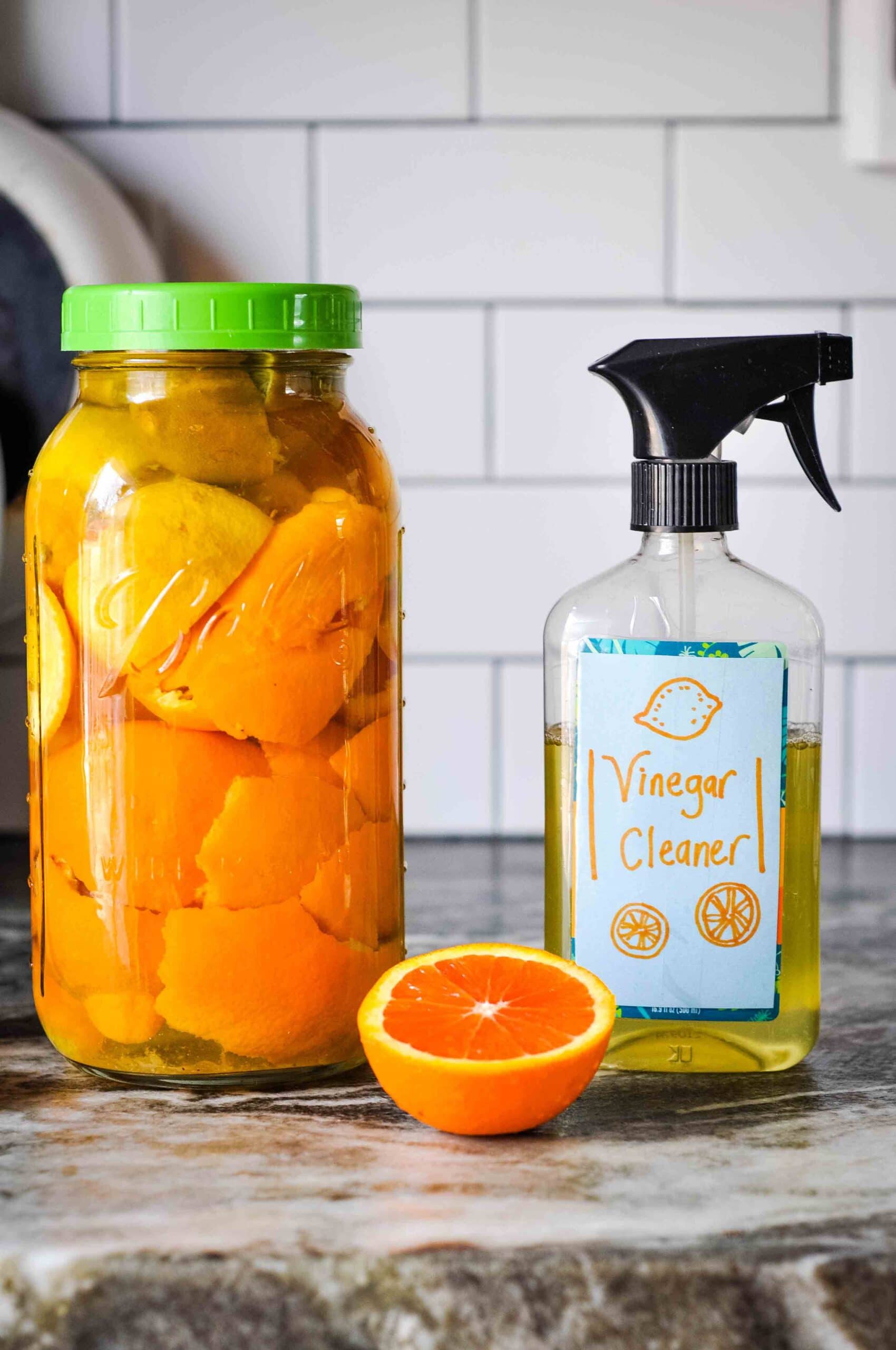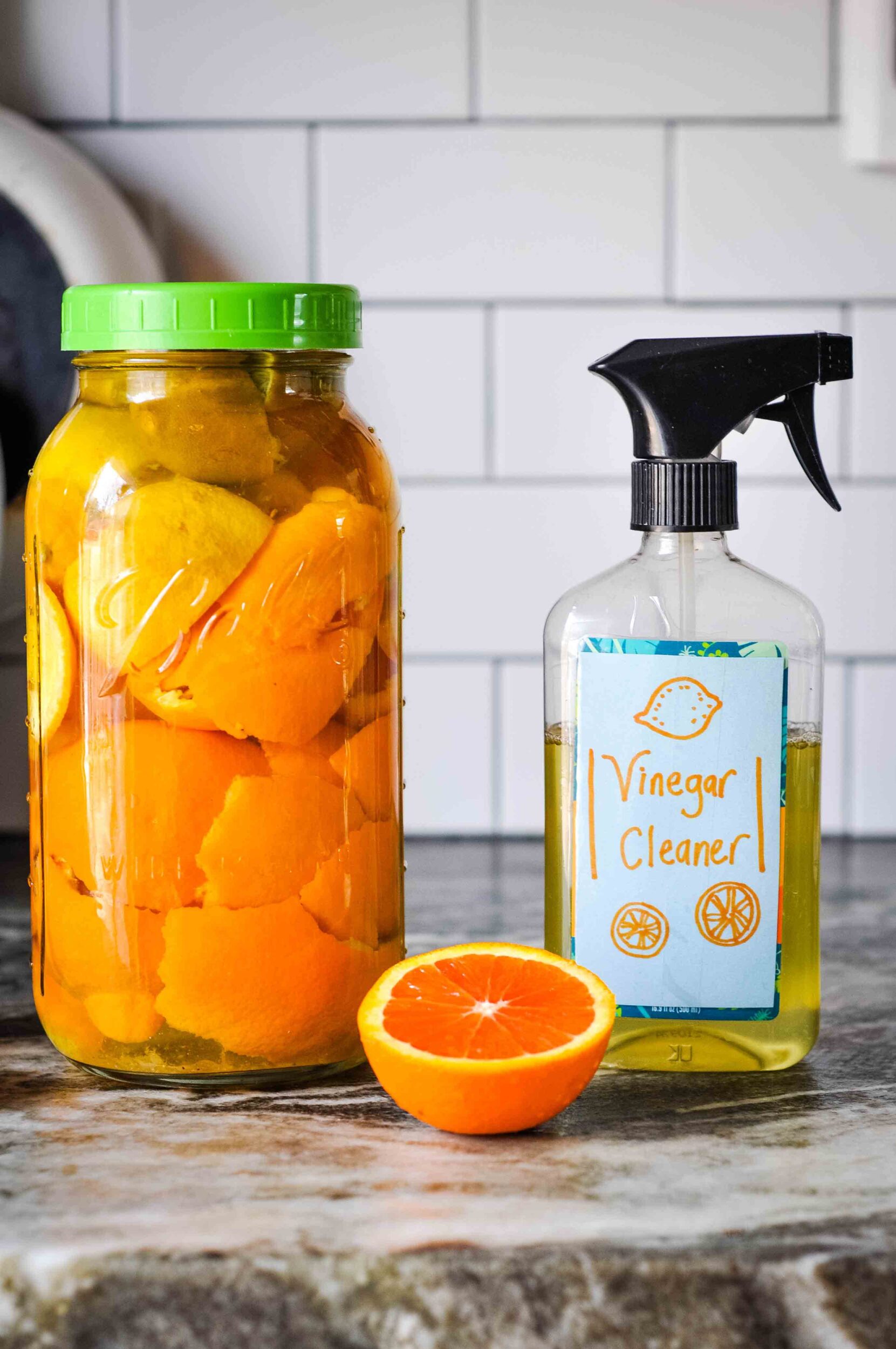 Using distilled water is important, especially if the cleaner is going to sit in the bottle for awhile and it won't be used up quickly. Regular tap water can breed germs and bacteria, so you want to used distilled (or boiled and cooled) water.
This is the best all-purpose cleaning spray! The possibilities are endless.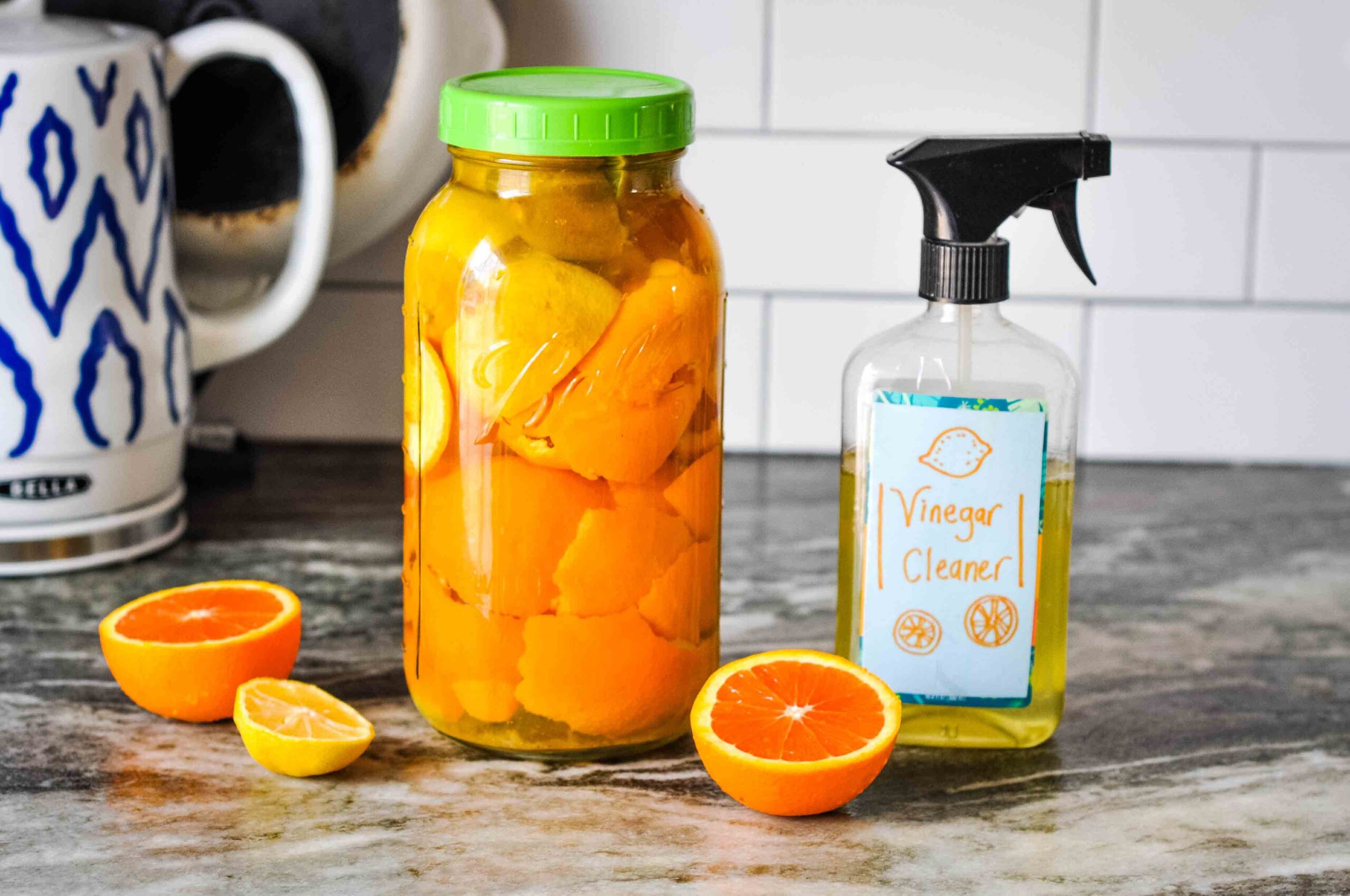 Yield: 1 quart
Homemade Citrus Vinegar Cleaner
Prep Time: 2 minutes
Active Time: 2 minutes
Additional Time: 7 days
Total Time: 7 days 4 minutes
Difficulty: Easy
Citrus vinegar cleaner is a wonderful all-purpose cleaner you can make at home. Try this simple, effective vinegar cleaner all over the house.
Materials
1 dozen citrus peels (enough to fill the jar)
5 cups white vinegar (enough to cover the peels)
Instructions
Collect citrus peels (lemon, orange, grapefruit, etc.) in a large jar as you use them.
Cover the peels with white vinegar. Keep adding peels until the jar is full.
Allow the vinegar to infuse for at least one week, up to one month.
Use undiluted for tough cleaning jobs, or dilute at a 1:2 ratio with distilled water to make a general all purpose cleaning spray. Spray on and wipe off with a damp cloth.
Notes
* If diluting the vinegar, distilled water is recommended to avoid bacteria growth.
Spray bottle for vinegar cleaner
These spray bottles are perfect for storing your vinegar cleaner. They are dark glass, which makes them perfect to use for DIY cleaning recipes.
The dark glass allows the natural oils to stay potent for longer, and glass is preferred for long term use. (Essential oils and other substances have been known to break down plastic.)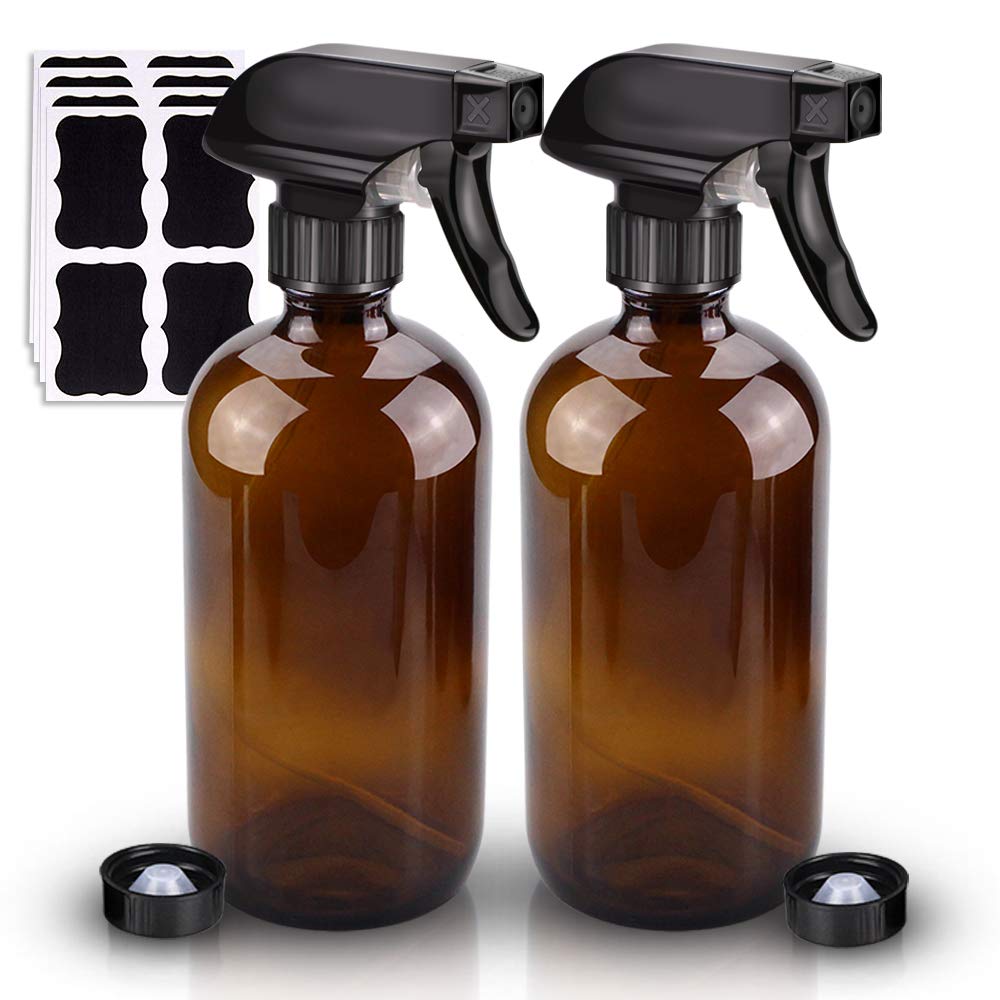 Other Ideas for Citrus Vinegar Cleaner
This citrus cleaner is also great to use undiluted for cutting grease on the stove top or crusty pans. Just pour it straight onto offending areas and allow it to sit for a few minutes to work its magic before scrubbing.
Another awesome use is to put some citrus cleaner in a tiny cup in the top of your dishwasher when you do a load of dishes. It will make them sparkle and shine!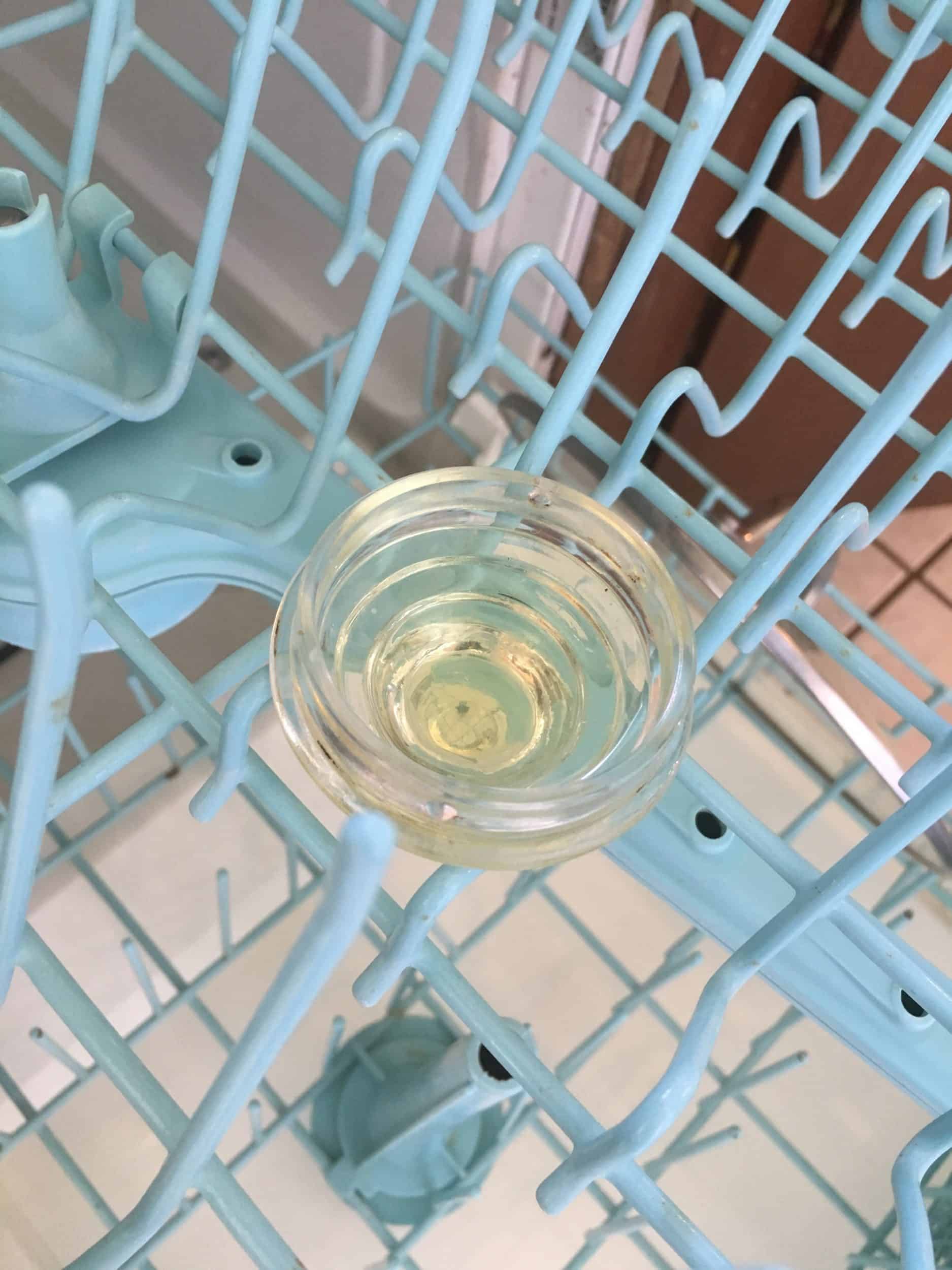 If you use this DIY homemade citrus vinegar cleaner, leave a star rating and a comment to let me know what you think! What's your favorite DIY cleaner?