A "good morning" smoothie booster combines healthy smoothie add ins and superfood powders to simplify your morning and power your day. Smoothie boosters are perfect for supercharging your morning drink with tons of vitamins and minerals.
This smoothie booster mix combines collagen, spirulina, seeds, and other special goodies to boost your energy levels. It also prevents you from doing extra work every morning – one scoop and you're good to go!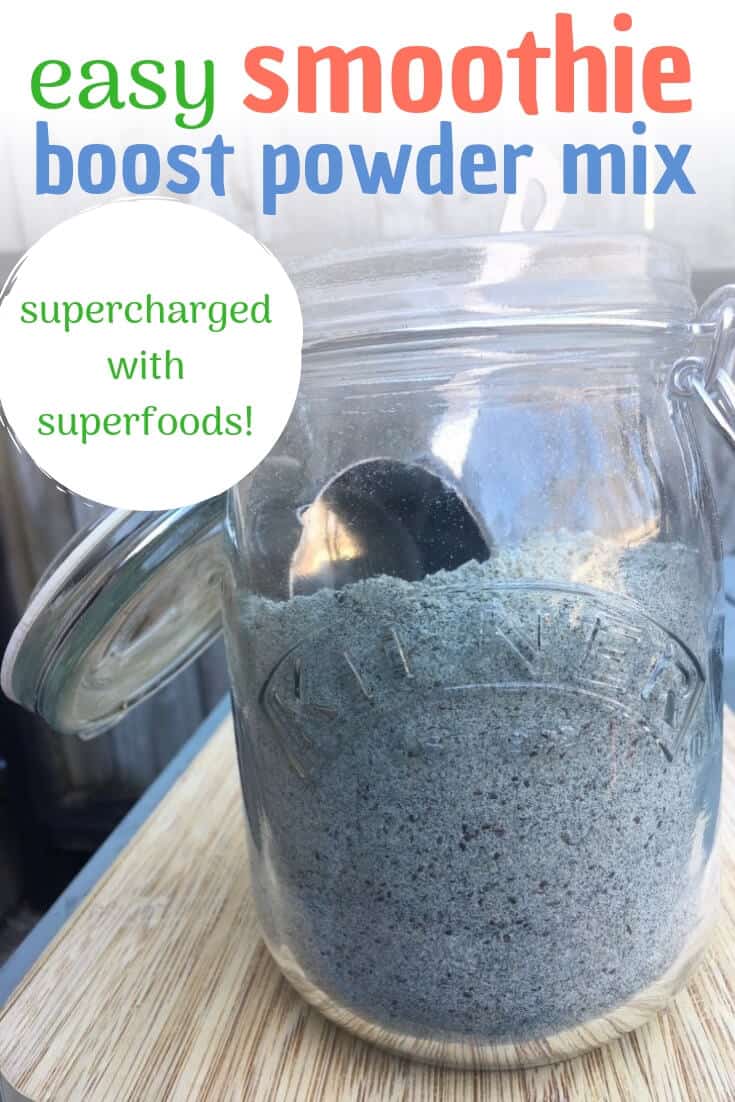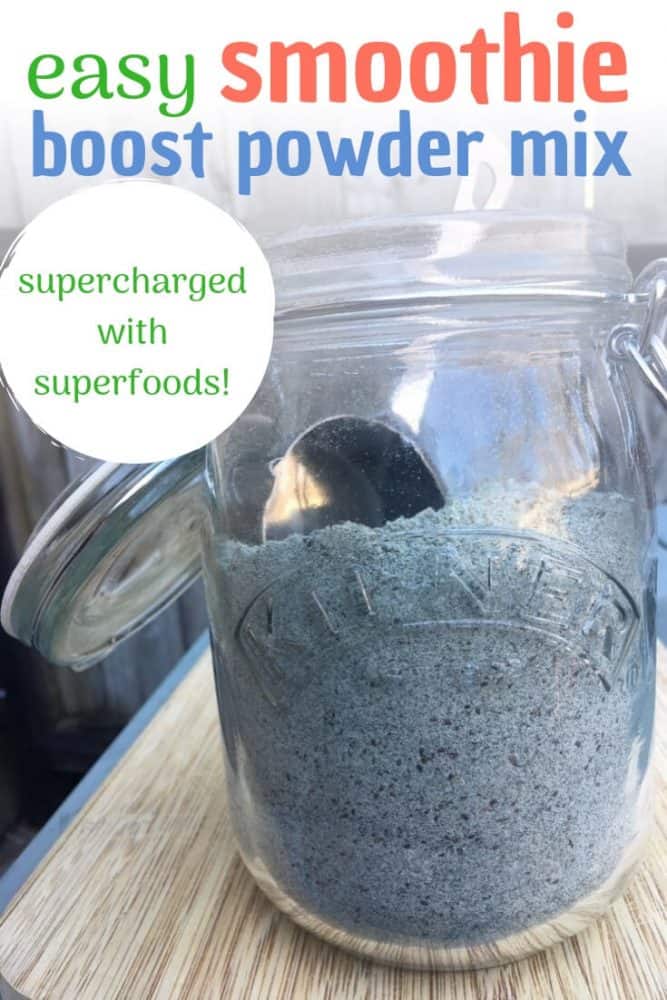 Nine days out of 10, our family drinks a healthy smoothie for breakfast. It's the perfect way to start the day because you know at least one of your meals that day is super healthy. We usually have it along with peanut butter maple homemade oatmeal (recipe to come). It's a fairly quick breakfast to throw together, but I'm always looking for ways to simplify the process.
The thing that takes the longest (for me) about smoothie-making is all the little packets I have to open and add in. I like adding superfood smoothie boosters (chia, flax, collagen powder, spirulina, etc).
However, it can be a little time-consuming, fumbling around and opening all those bags of this and that. I simplified the process a little bit by putting all my smoothie add-ins into a small basket that sits behind the blender. That kept me from running back and forth to the pantry, but I still had to open all those separate bags.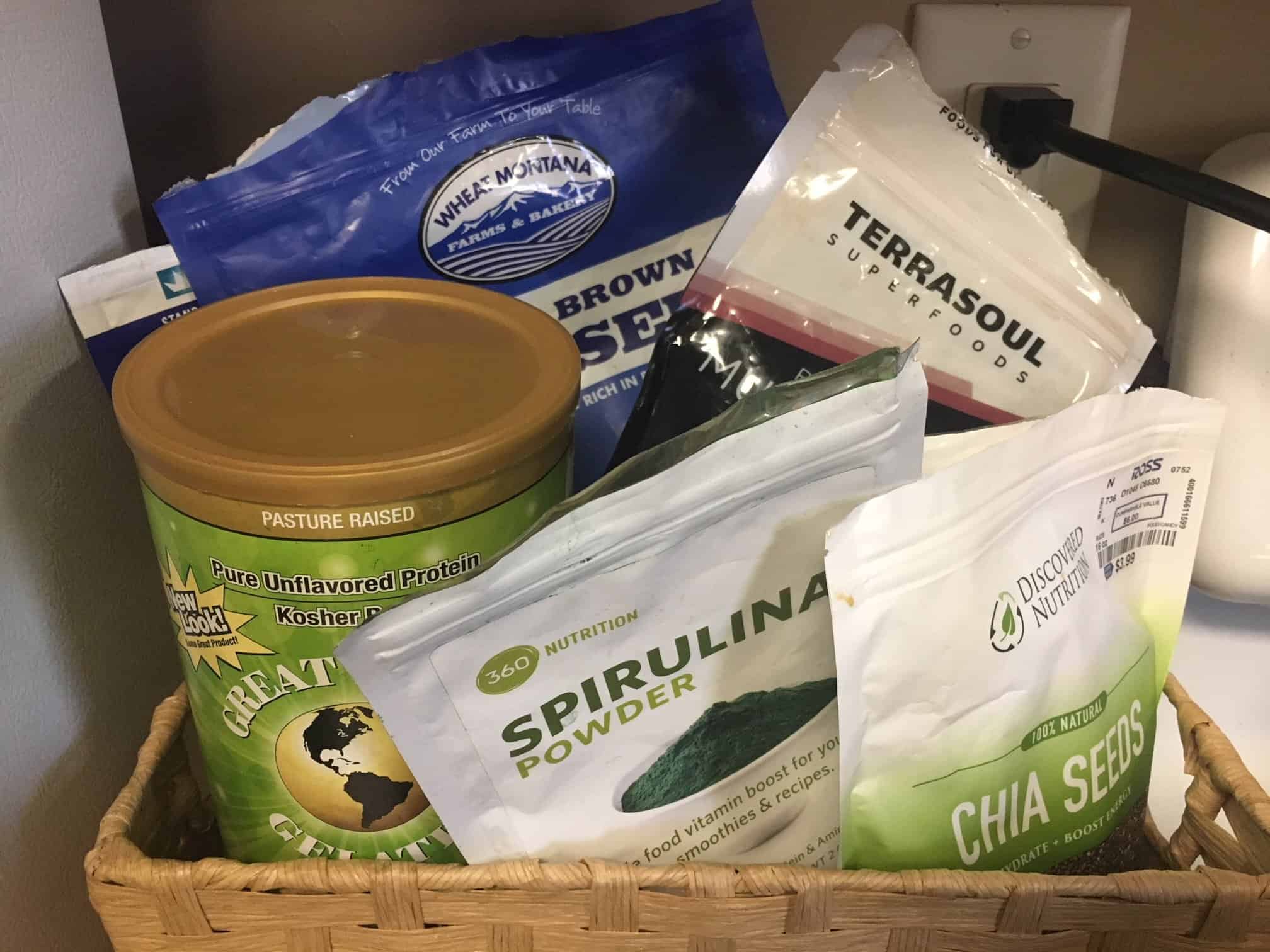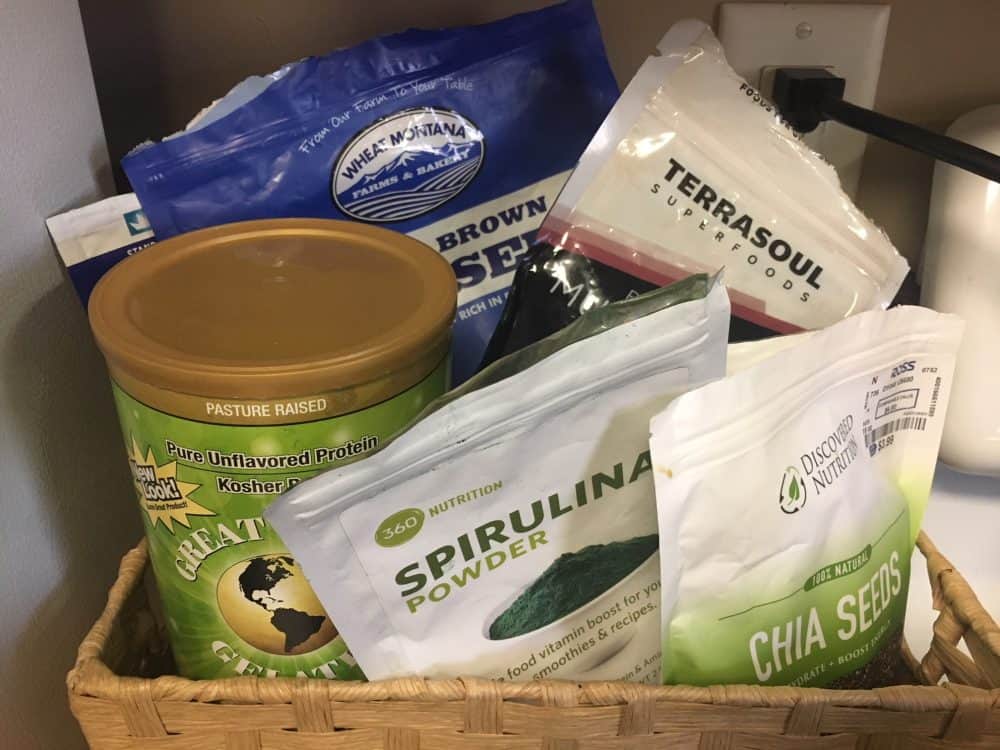 The other day while perusing Pinterest I came across this BRILLIANT idea by The Gunny Sack. It's a powder smoothie booster add ins mix! I cannot believe I did not think of this before. It's going to be a game-changer for our busy mornings.
I changed up her recipe and included the ingredients I like best. You can easily tweak this recipe to fit your needs. Just check out the serving size on the back of whatever ingredient you want to use. Multiply that by however many days you want the smoothie mix to last.
Options include whey protein, plant protein, seeds, or other superfood powders – you could even use nuts or dried fruit like goji berries. Mix all the ingredients together, and you're done!
For example, here are the daily servings sizes for each of my ingredients: 1 tbsp collagen, 1 tbsp chia, 1 tbsp flax seeds, 1/3 tsp reishi mushroom powder, 1 tbsp spirulina, 1 tbsp colostrum LD (I will outline the benefits of each ingredient below).
Keep in mind, these serving sizes are per person. However, I still only use the single serving size when I make a batch for my entire family, to make the ingredients last longer and because I add lots of other healthy stuff to the smoothie. My kids drink about 8 ounces of smoothie each, and my husband and I drink about 12 ounces.
Tip: For easy cleanup, I like using disposable cups for smoothies. No fun trying to clean dried-on smoothie off of a glass.
Also, if you're making smoothies on the regular, investing in a high speed blender is definitely worth it. It grinds all your seeds smooth and pulverizes frozen chunks and crunchy veggies perfectly. We tried to skimp on this in the past and use cheap blenders, but they would break easily and our smoothies would end up chunky. Not the most appetizing breakfast. It's one of the best investments we've ever made. We use it to make puddings, hot chocolate, smoothies… you can even use it to make soup! The possibilities are are endless. We love our Blendtec.
For the smoothie base, here is what I typically use: 1 banana, 1 cup frozen fruit (we like mango or blueberries), 1 raw carrot or handful of spinach, 1/2 cup coconut milk or greek yogurt, 1 tablespoon coconut oil, plus enough water, juice, or cold herbal tea to give it a good consistency. After adding all this, I add the smoothie booster.
Best Smoothie Boosters + What I Use
Now let's discuss the smoothie boosters and why I love each one of these ingredients.
Pro Tip: You can source several of the smoothie boosters listed here, as well as others, for 25% off retail price at Perfect Supplements. If you're not familiar, Perfect Supplements offers natural and organic supplements cheaper prices. When you buy 3 of their products, you get 25% off – and they use the highest quality ingredients.
Side note: I haven't tried Acai Berry Powder, Fermented Kale, Plant Protein, or Three Grass Blend. But they all sound like lovely additions! If you try them, let me know what you think. There are so many things you can add as smoothie boosters!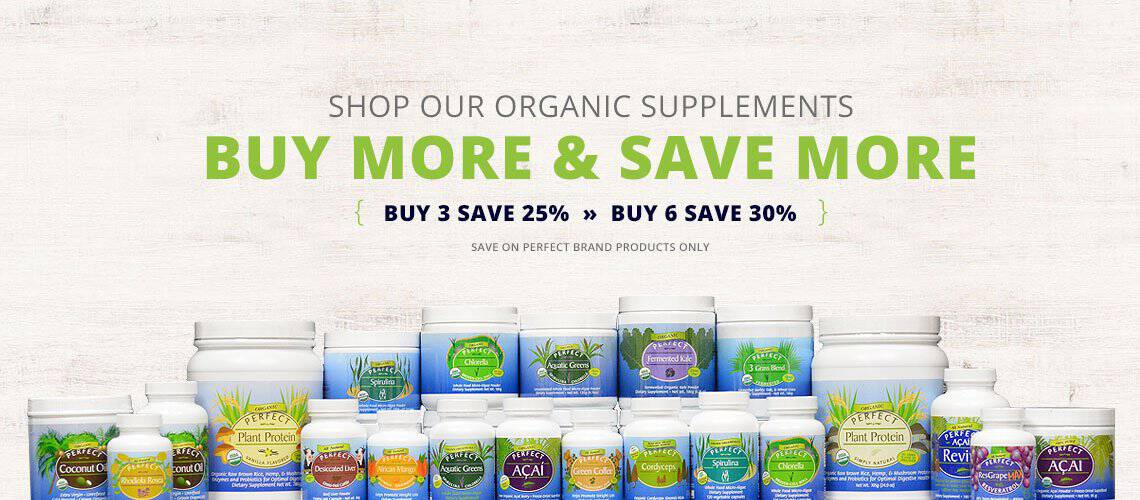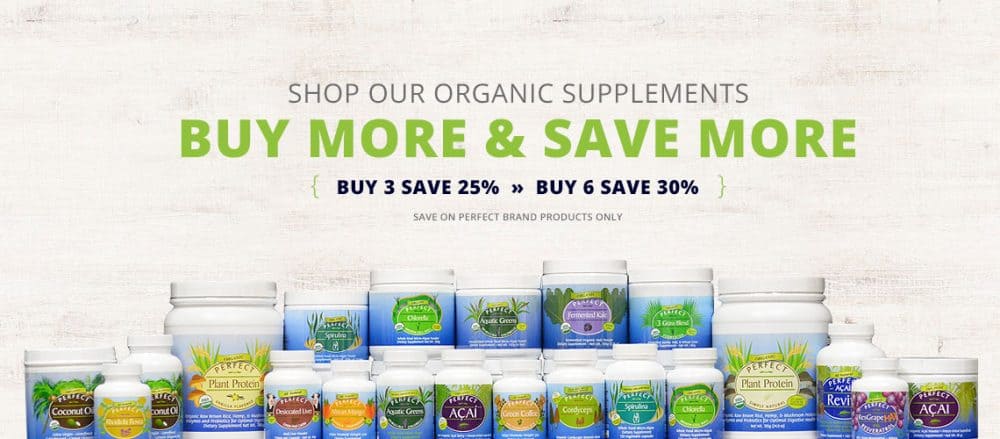 Smoothie Booster #1: Collagen Hydrolysate Protein Powder
This is much healthier than typical protein powders you buy these days. Collagen is amazing – it's a form of gelatin that can be blended into hot or cold beverages. Gelatin is from the bones/joints of the animal (similar to what you get in bone broth). The American diet relies so heavily on muscle meats and often fails to eat the "whole animal" including nutrients from bones and joints. They contain special amino acids that are great for health. Some of the benefits of collagen are: beautiful skin/hair/nails, aids liver detox, anti-aging, aids digestion, fights lactose intolerance, and combats inflammation (source).
Collagen hydrolysate is a more complete protein that what you'll find in plant based powders like pea protein, which do not contain the full range of amino acids. It's also healthier than whey protein, which is hugely popular – a lot of MLM companies market their own brand of whey protein. The problem with a lot of these is outlined by Wellness Mama:
A Consumer Reports investigation found low to moderate levels of lead, arsenic, and mercury in many well-known protein powders.
Many other protein powders contain processed soy, artificial sweeteners, sugars, artificial flavors and colors, and synthetic nutrients that are not easily absorbed by the body.
In a sense, protein powders can be thought of like a supplement. High quality ones can be beneficial in some cases, but they are never a replacement for a well-balanced, whole food diet.
Using a collagen powder only has one ingredient – collagen – which contains balanced protein which is often missing in the Standard American Diet. To me, using this is a no-brainer. Find collagen powder here!
Smoothie Booster #2: Chia seeds
If you haven't already heard the rave reviews about chia seeds, check out this post. Basically, they carry crazy amounts of nutrition (antioxidants, calcium, Omega 3s) in the tiniest seed. You definitely need these in your smoothie booster mix for energy and nutrient content.
Smoothie Booster #3: Flax seeds
Flax seeds are an amazing healthy smoothie add in because they contain lots of Omega-3s as well as compounds called lignans which are great for hormone balance and even fighting cancer. I'll never forget hearing about flax seeds in a Christian ladies' college lecture. The speaker handed out recipe cards for flax seed muffins and told about how they supported various women with breast cancer. There is some further proof in this article from the American Association for Cancer Research.
Have you ever heard of the Budwig diet protocol? In this diet, you eat one serving of cottage cheese or yogurt with flax seeds and flax oil. It is thought to help with cancer as well. Throwing a few flaxseeds in a smoothie is so easy, and greatly beneficial!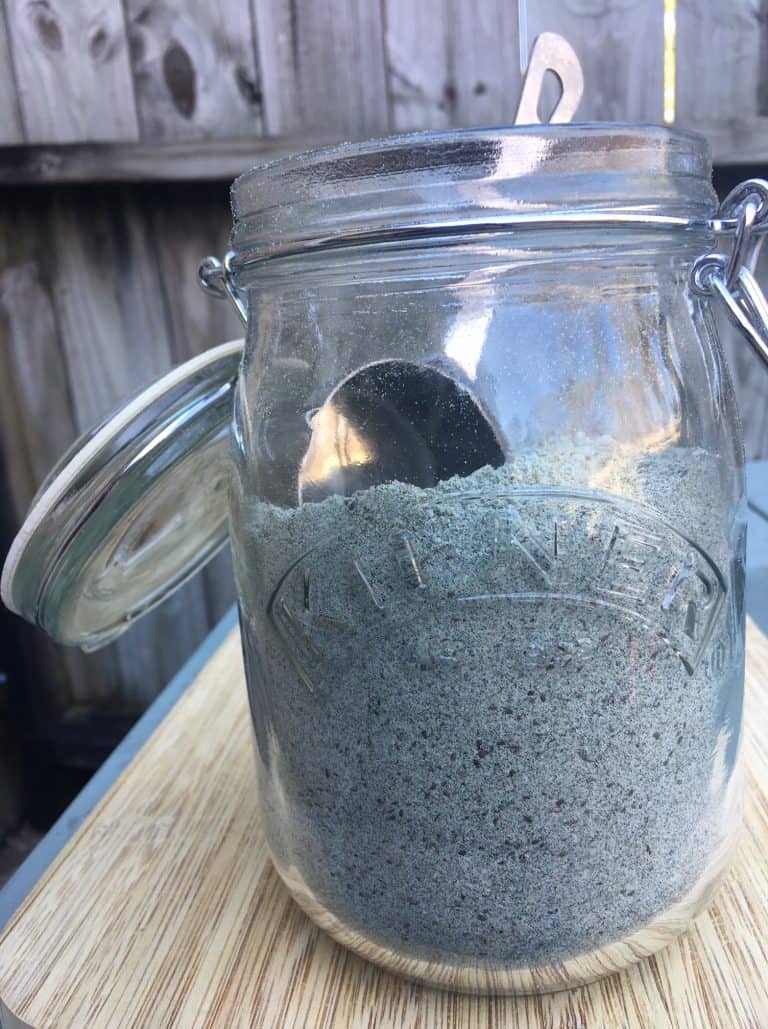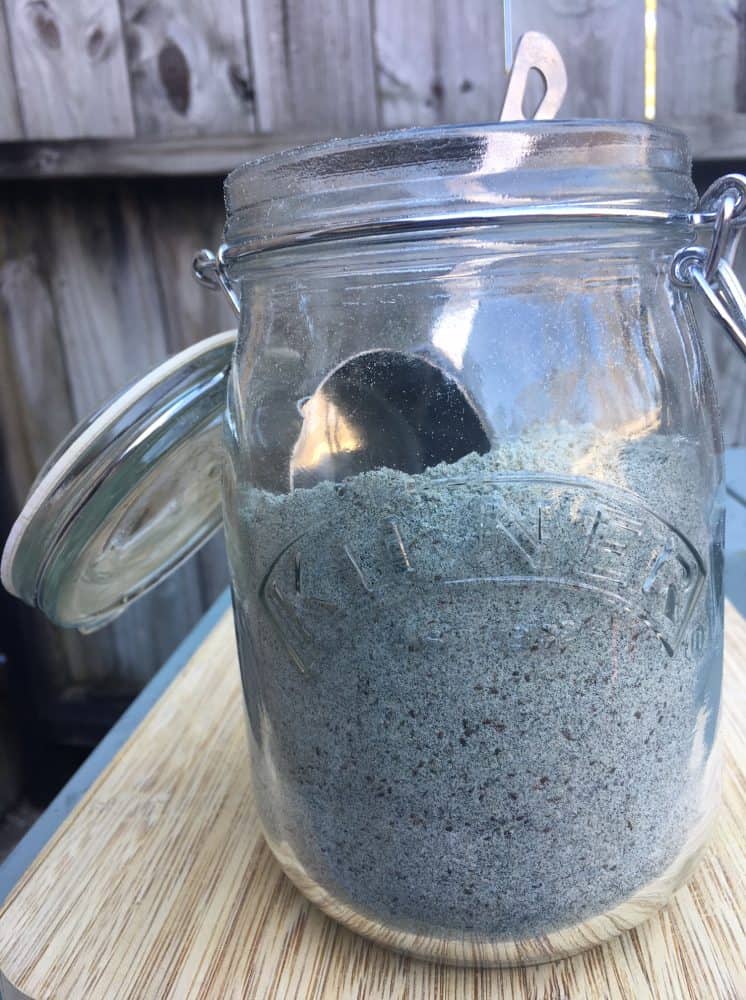 Optional Smoothie Add Ins
The following smoothie booster ingredients are optional – you may decide to use them, omit them, or add something totally different. These are just a few things I like to use.
Smoothie Booster #4: Spirulina or Greens Powder
When we add spirulina powder to our smoothie, our boys love it and call it a "Hulk smoothie." They like to show me their muscles while they drink!
Spirulina algae has one of the most nutrient-dense profiles of any superfood. It is high in vitamins and minerals like B vitamins, vitamin K, copper, iron, manganese, magnesium, and more. Another option is to use an Aquatic Greens Mix, which also contains chlorella.
Spirulina is great for detoxing heavy metals, lowering blood pressure, fighting HIV and cancer, boosting energy + weight loss, and more. However, you want to make sure your spirulina is of top-notch quality to avoid possible contamination, and there is some controversy about pregnant women and children consuming it (source).
One caution about using spirulina: if you don't want your smoothie to be green, don't use it. The blue-green color is potent! And sometimes, if you add a lot of bright orange colors with the spirulina, it can turn an unsightly brown. But it has a pleasant mild taste, so if you don't mind the color, you're good to go. Sometimes I omit this if I want our smoothie to be a beautiful vibrant orange, purple, pink, etc. But it's perfect if you're doing a green smoothie anyway with lots of spinach or kale. Or, make a mango smoothie with the spirulina and it will turn a beautiful bright green.
Smoothie Booster #5: Dessicated Liver Powder
One of the best smoothie boosters for energy is liver powder. If you're feeling lethargic, this is a great choice because it provides energy boosting nutrients like B12 and iron. Full disclosure, though: it will give your smoothie a liver flavor. If you want all the benefits without the taste, try these capsules.
Smoothie Booster #6: Reishi Mushroom Powder
Recently, while listening to a Facebook live broadcast from Dr. Josh Axe and Jordan Rubin, I learned about the healing powers of reishi mushrooms. These mushrooms have long been revered for their medicinal properties and are harvested largely in Asia. They are adaptogenic, meaning they help the body adapt to stress.
Reishi mushrooms may help prevent viruses/infections, lower blood pressure, fight cancer, balance hormones, fight diabetes, support the liver, and help with allergies/asthma. Tread lightly with this one, though. While researching this post, I discovered that reishi mushrooms are usually only recommended for short term use, and not to use the powder more than a month due to possible liver toxicity. And if you're pregnant or have a bleeding disorder, you shouldn't use this.
Smoothie Booster #7: Colostrum LD
A friend gave me a bag of this to try, and I really enjoy using it. It adds a great creamy taste to the smoothie, and researching the benefits of this supplement is fascinating!
Colostrum is something we all know of as "mother's first milk" which sets up our immune system for life and is one of the most nutritious substances on earth. This Colostrum LD is pure bovine colostrum from grass fed cows, which helps strengthen the immune system (contains immunoglobulins) and heal the digestive tract. In fact, bovine colostrum has been shown to have the same properties and benefits as human colostrum (source). It is thought to be safe even for people with dairy sensitivities.
While this add-in is a little more pricey, its benefits are impressive and may be worth adding to your smoothie mix or drinking on it's own. Sourcing is important with colostrum, since there are some less beneficial products on the market. Sovereign Laboratories is the best choice for purity.
Smoothie Booster Method
Here's how to make the smoothie booster powder step-by-step! The full recipe is at the bottom of the post for your convenience.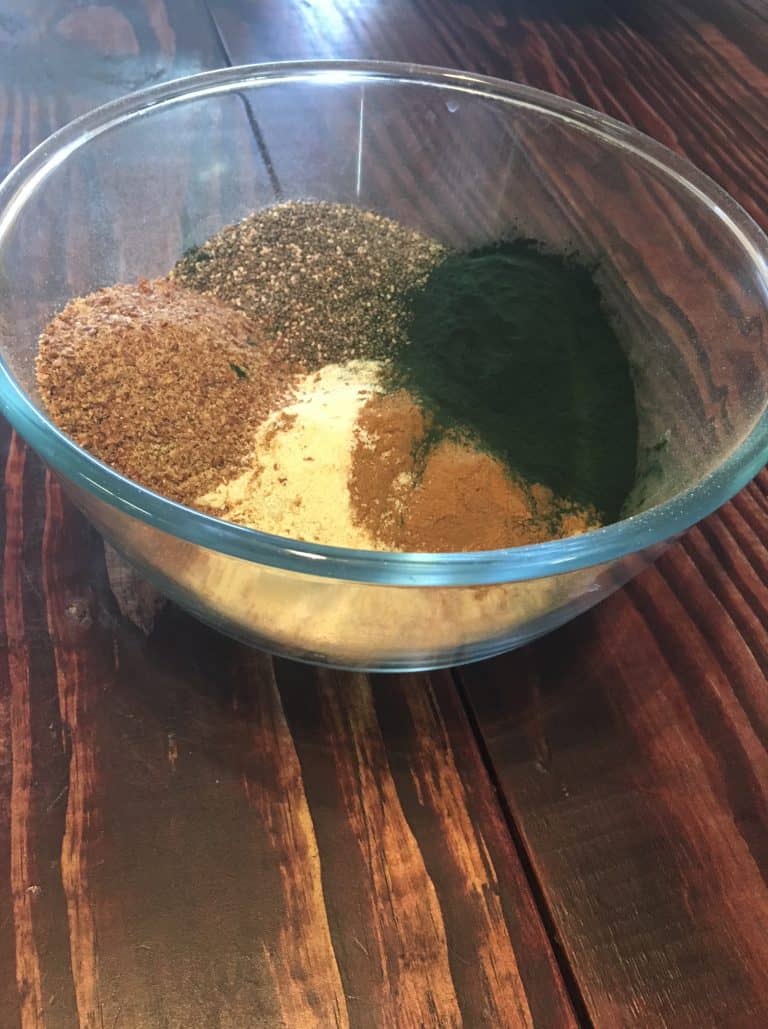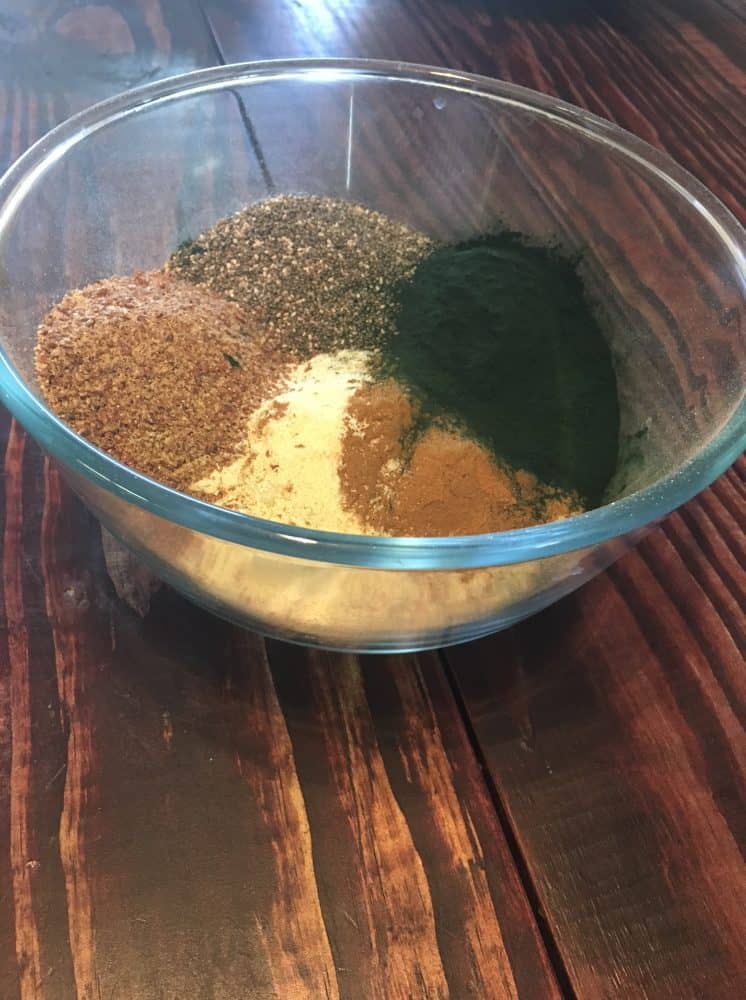 Add collagen or protein powder, chia, flax, and any other superfoods you like to a large bowl.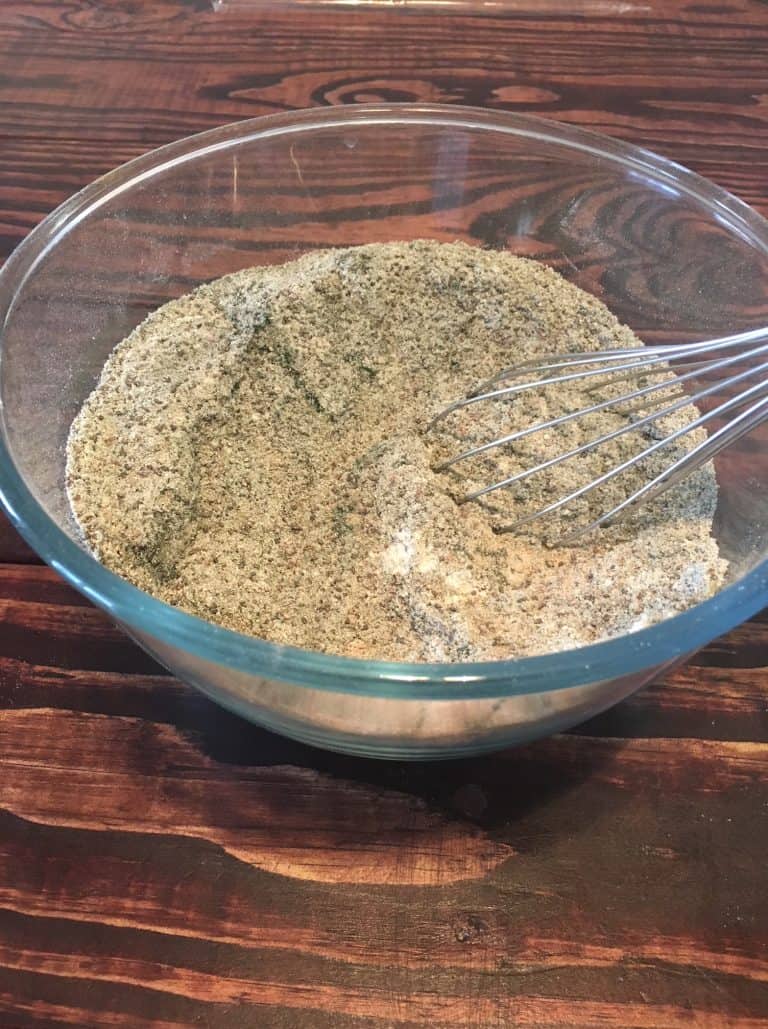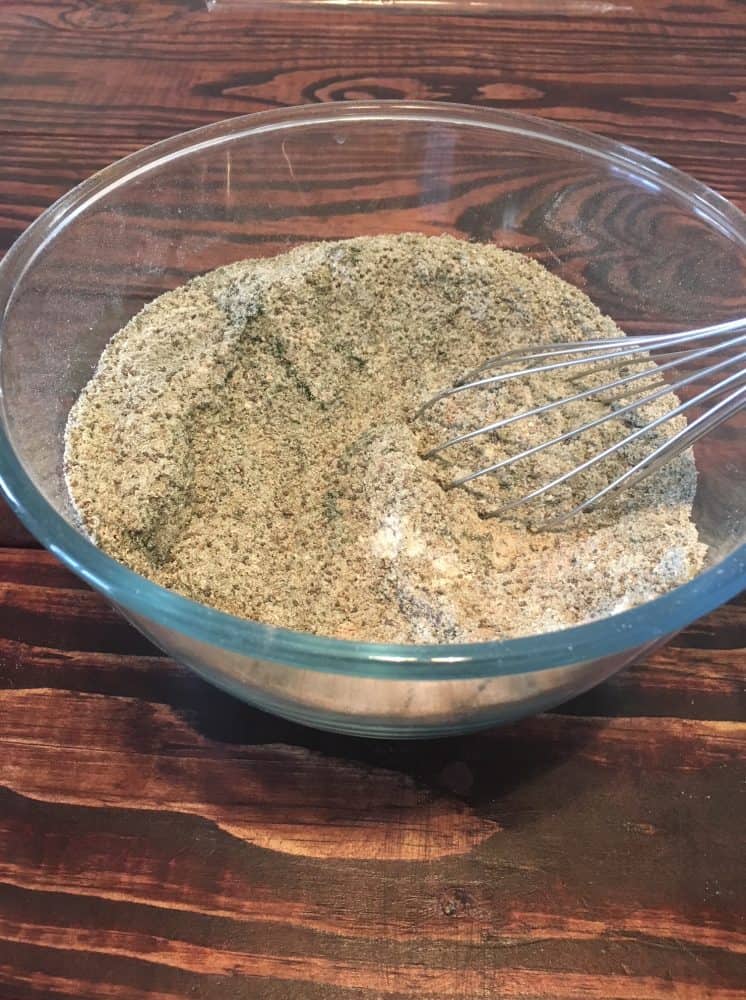 Mix together with a fork or whisk. Store in a large jar or container.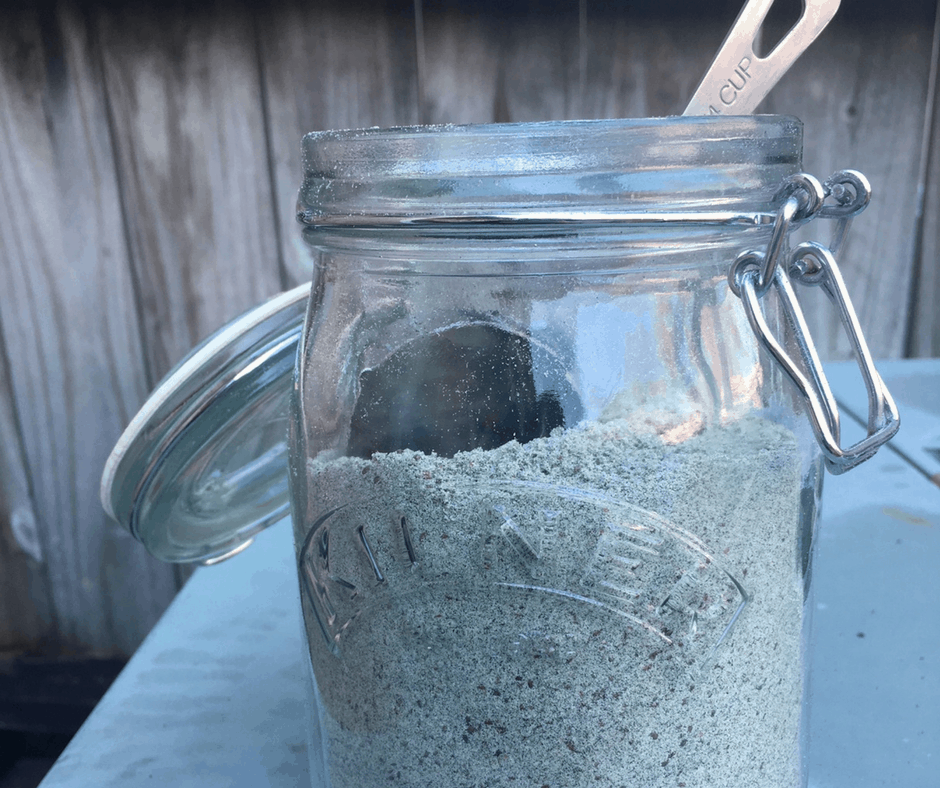 Place a scoop of the appropriate size inside (I use a 1/4 cup scoop in the blender for our family of 4).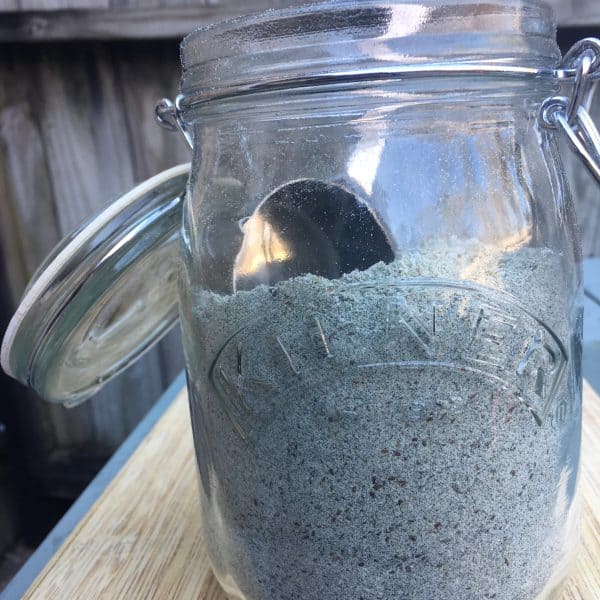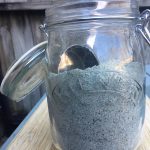 Good Morning Smoothie Booster (smoothie add ins mix)
This smoothie booster combines the best smoothie add ins and superfoods to simplify your morning and power your day.
Prep Time 5 minutes
Total Time 5 minutes
Ingredients
1 cup collagen hydrolysate protein powder
1 cup chia seeds
1/2 cup flax seeds
Optional Ingredients
1 cup Colostrum LD
1/4 cup spirulina powder
2 tbsp reishi mushroom powder
Instructions
Combine ingredients in a large bowl and mix well. Store in a large jar or container with the appropriate sized scoop.

Use 4 tbsp per person in your smoothie and blend until smooth. For an average family of 4, you will use 1/4 cup. This mix will last 2-3 weeks for an average sized family with daily use.
Do you drink smoothies on a regular basis? What are your favorite smoothie boosters?
With Joy,

PIN IT!