Discover how to get rid of a cold fast with our secret family natural cold remedy, homemade super tonic recipe! It's similar to the popular fire cider recipe or master tonic recipe, but it's very unique.
Why? It contains manuka honey, which makes the remedy more palatable and provides extra cold-fighting properties!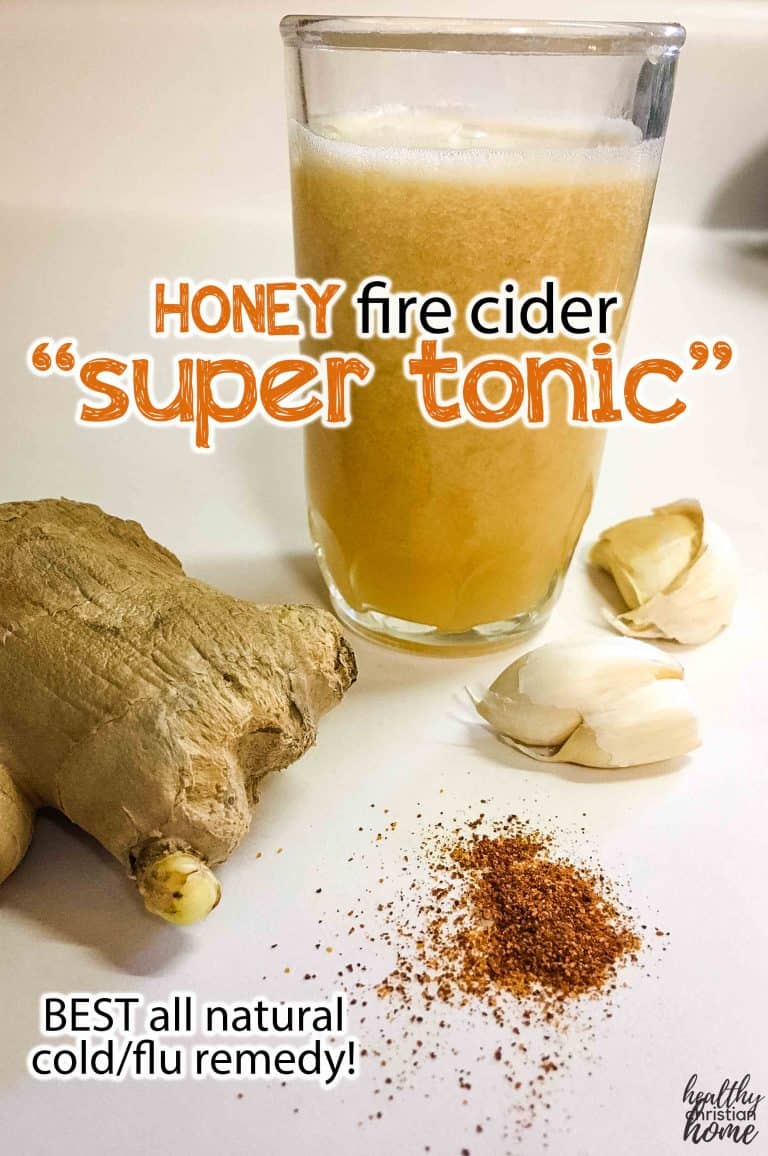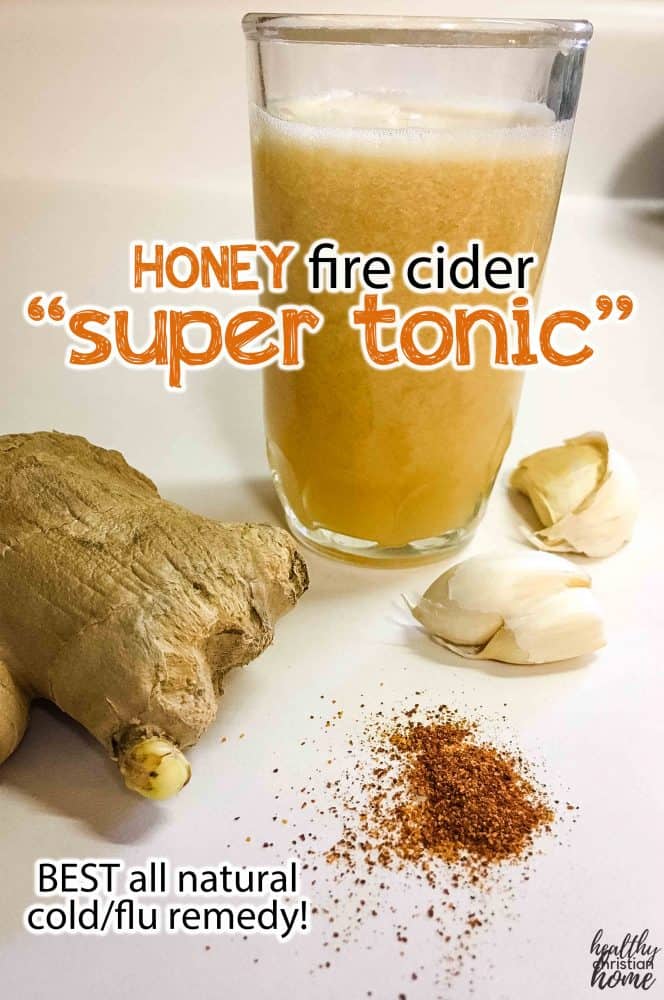 Everyone hates getting a cold, but every year it seems inevitable. The moment you feel it coming on, the first thing you probably do is search for a remedy.
When you're stuck with a terrible cold, you want something effective. This cold remedy basically combines all of the best cold-fighting compounds into one powerful blend. Of all the wonderful natural cold remedies I know, this one is the best!
Guys, this natural cold remedy is POTENT. If you're looking for something that tastes good, this may not be the right fit (*ahem*). But if you're looking for something that WORKS as a natural common cold remedy, look no further.
My Introduction to the Super Tonic Cold Remedy
When my husband and I first got married, during cold and flu season, I was introduced to this strange looking (and smelling) concoction in a dark dropper bottle. It was a special recipe created by his mother that his family had used for years.
They call it "Super Tonic," and it's their go-to. Any time my husband feels a cold coming on, he squirts this concoction in the back of his throat and gargles. It always seems to kick his cold in the teeth.
One time, he was extremely sick with a cold and fever but he had to be somewhere. So, he got in a hot bath and took several doses of super tonic while in the bath. His fever broke!
But me, being the chicken that I am, didn't want to try something that looked and smelled funny – even though I wanted to know how to get rid of a cold. So I resisted. Eventually though, I got desperate enough to try it.
At first, it was a little hard to swallow (literally). This stuff is strong. But that's why it works – germs can't survive when exposed to this super tonic.
As expected, the first few times I used it, coughing and sputtering ensued. But eventually, I got used to it and even started to like it! And guys, let me tell you, this stuff WORKS. I finally figured out how to get rid of a cold and I can literally feel the germs dying inside my throat. 
More cold remedy beverages to try:
Super Tonic (Honey Fire Cider) Ingredients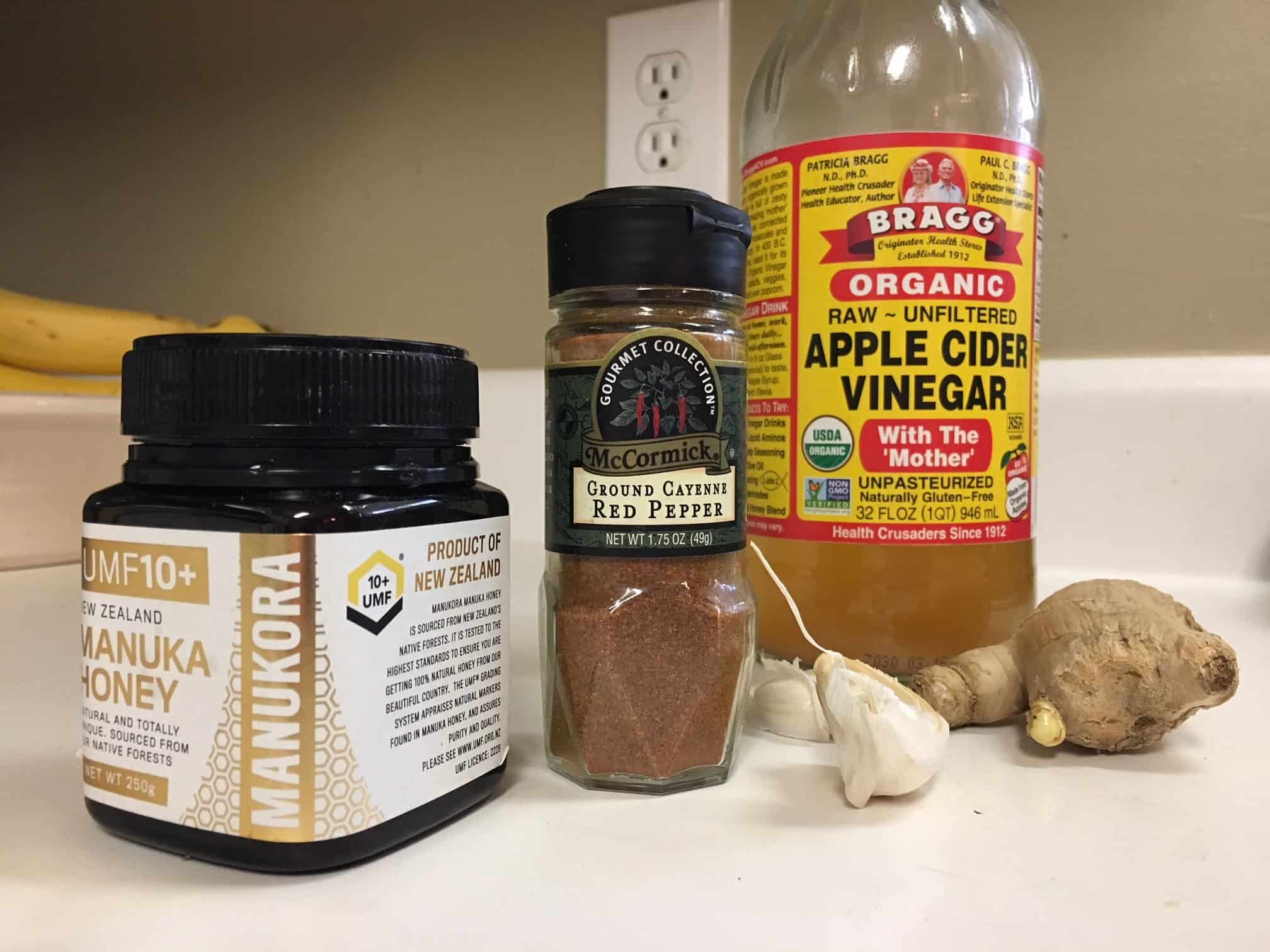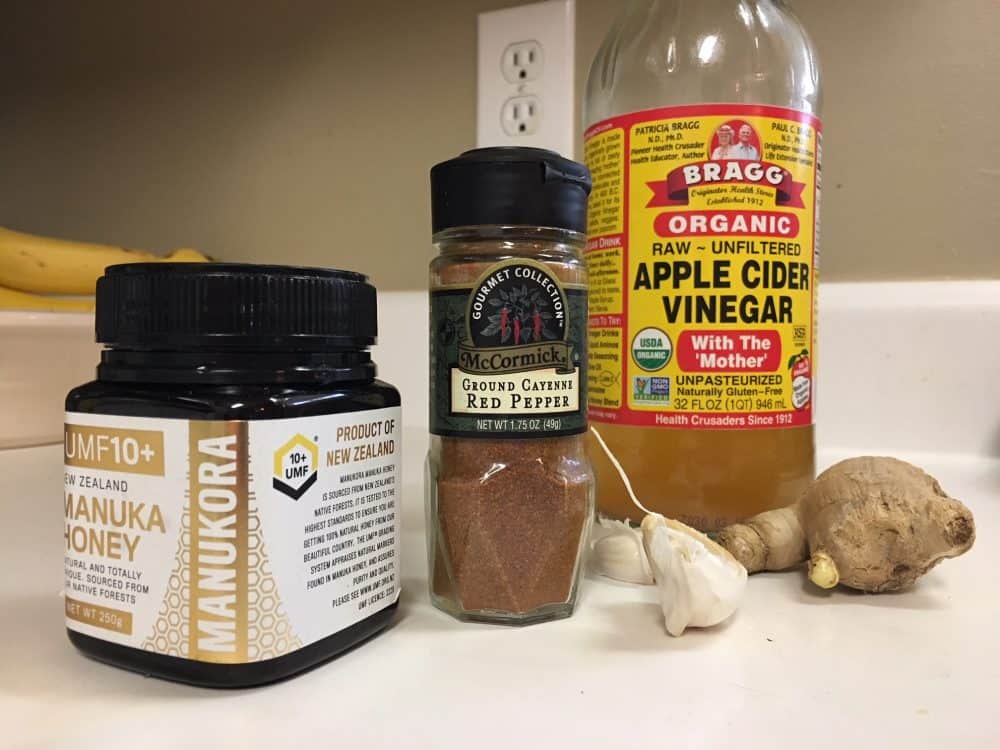 Here are my super tonic ingredients and what makes them work so well. As stated above, they're similar to what you find in homemade master tonic or fire cider which also includes onion, hot peppers, and horseradish. Feel free to experiment with this and add additional superfoods to your concoction.
Apple Cider Vinegar
The star of this recipe, apple cider vinegar (also known as ACV) is known to benefit the body in many different ways by helping to balance pH levels and provide minerals like potassium. Particularly for the common cold, it serves several different functions. It helps to thin and break up mucus, and the vinegar helps to kill off bacteria. The vitamin C and mineral content helps strengthen the immune system (source).
Raw Garlic
Garlic also helps the immune system fight germs, mainly through a compound called allicin which is produced when garlic is crushed. Allicin has sulfur in it, which is what gives garlic its famously strong smell and taste. According to HealthLine:
These compounds have been shown to boost the disease-fighting response of some types of white blood cells in the body when they encounter viruses, such as the viruses that cause the common cold or flu.
Garlic helps to shorten the duration of your cold when you take it early. It also has antibacterial properties, making super tonic a wonderful garlic antibiotic recipe to try!
Cayenne Pepper
Cayenne pepper contains a compound called capsaicin, which helps to thin mucus and break up congestion. It is also thought to stimulate blood flow to the nasal passages and make breathing easier. Cayenne also contains Vitamin A which helps to protect the body during a cold.
Additionally, cayenne pepper also helps to bring down a fever if you have one by naturally reducing your body's core temperature (source). Personally, it seemed to me that the super hot pepper helped to kill off all that bad bacteria too!
Raw Honey
Honey contains many healing and soothing benefits including enzymes, antioxidants, and antibacterial properties which strengthen the body. It is also an effective cough suppressant. According to Mayo Clinic:
In one study, children age 2 and older with upper respiratory tract infections were given up to 2 teaspoons (10 milliliters) of honey at bedtime. The honey seemed to reduce nighttime coughing and improve sleep. In fact, in the study, honey appeared to be as effective as a common cough suppressant ingredient, dextromethorphan, in typical over-the-counter doses.
Local raw honey and manuka honey are best, as they contain more of the active healing enzymes than typical honey that has been heated. Adding a powerful dose of honey is what sets this super tonic apart from other fire ciders, and its sweetness also helps make the concoction easier to take.
Fresh Ginger Root
Ginger is another powerhouse for fighting a cold, as it is full of anti-viral properties. According to Home Remedies for Life, ginger "contains chemicals called sesquiterpenes which are specifically used to target rhinoviruses (the most common family of cold viruses)…It is a natural pain and fever reducer and also a mild sedative."
When I'm sick, I also love grating fresh ginger into a mug of hot water with honey and a squirt of lemon. It's the perfect healing tea.
Related post: 20+ Best Natural Cold Remedies for Cold & Flu Season
Wow, that's a lot of cold-fighting power in those ingredients! Now, here's a step-by-step tutorial for this super tonic recipe.
All In One Master Tonic (Honey Fire Cider) Method
If you want the quick version, I've included a recipe card at the bottom of the post.
First, add 1/2 cup apple cider vinegar (with the mother, such as Bragg's) to a blender.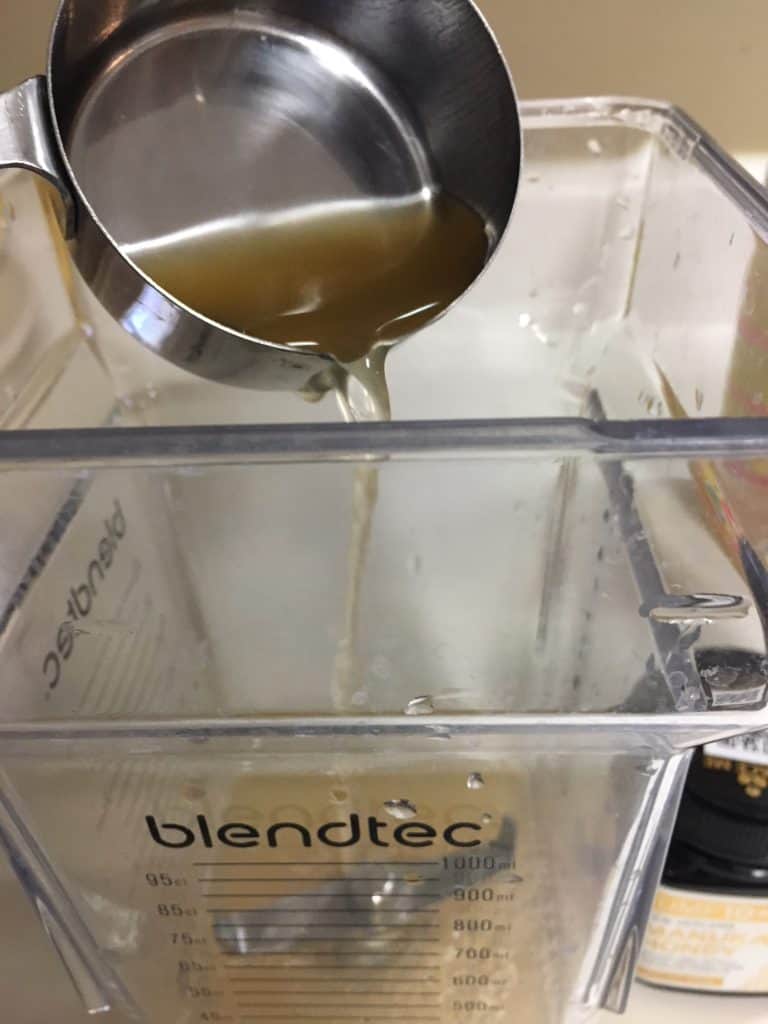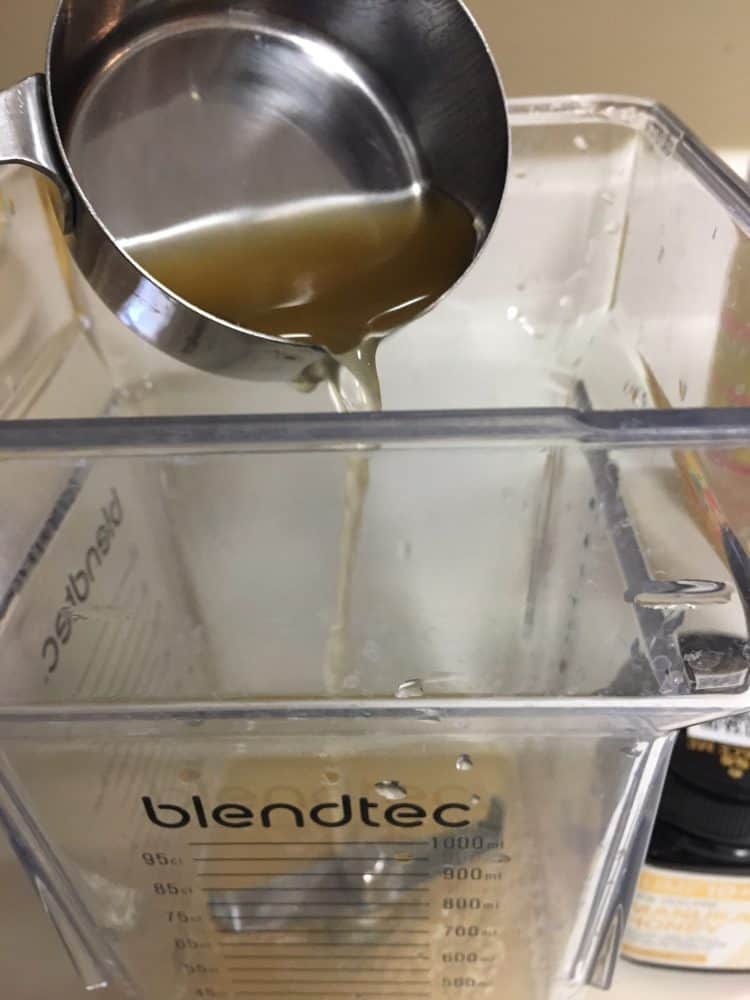 After this, add 6-8 cloves of crushed garlic, depending on the size. I love using this garlic press. Then, add 1 inch of peeled, grated ginger.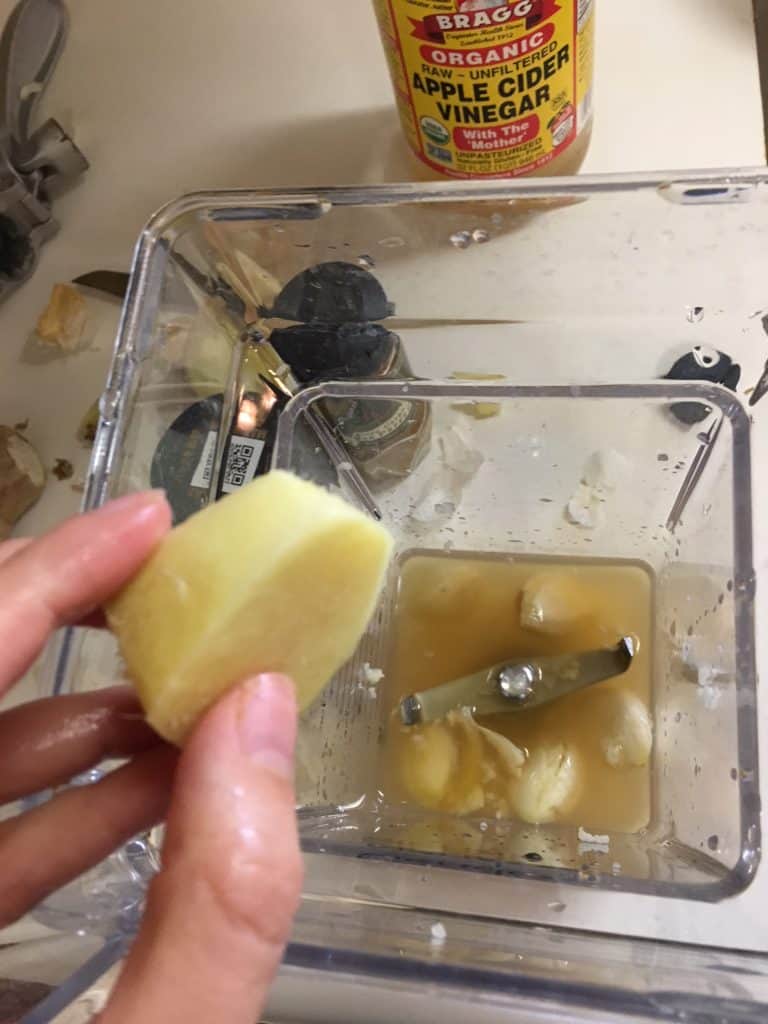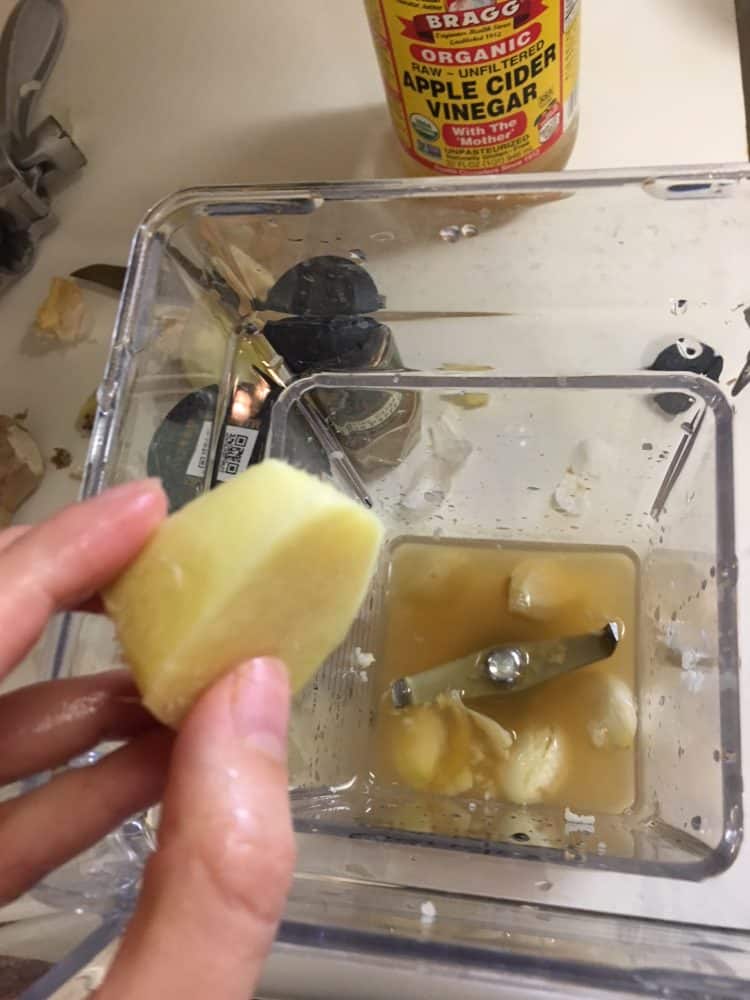 Tip: If you have a high-powered blender (like this Blendtec – I'm in love with it), you can just peel the garlic and ginger and let the blender do the crushing for you.
Next, add 1/8 up to 1/4 teaspoon of cayenne pepper. I recommend starting small and building up to the larger amount. I just had dried cayenne on hand, but feel free to use fresh peppers instead. A little goes a long way!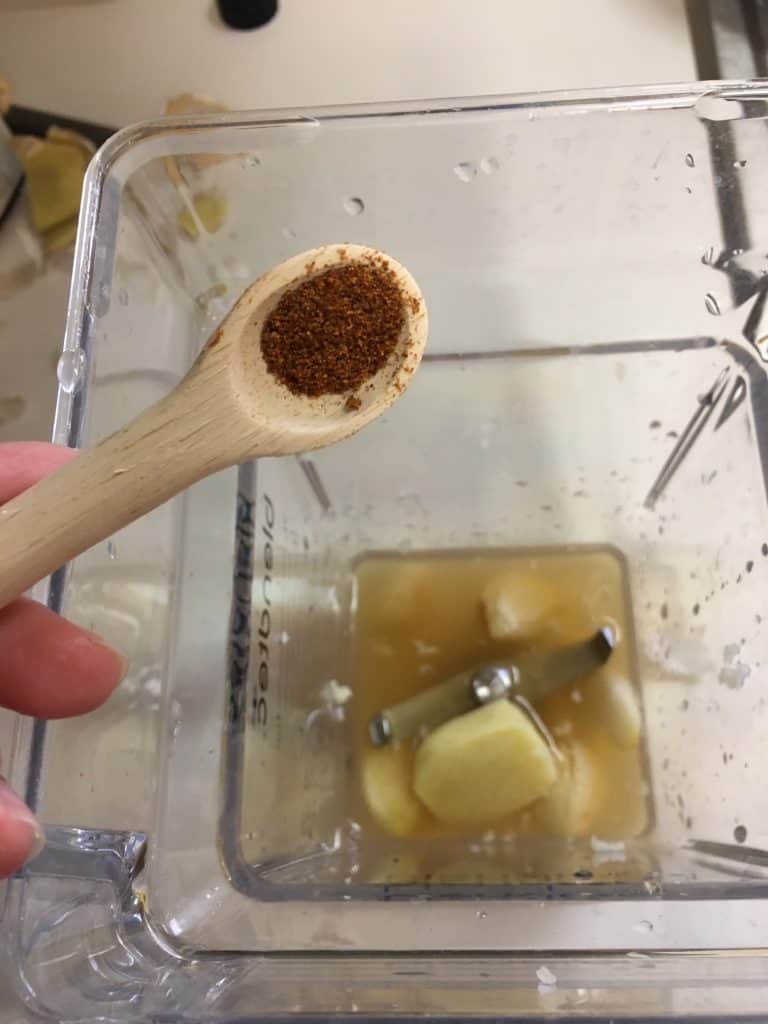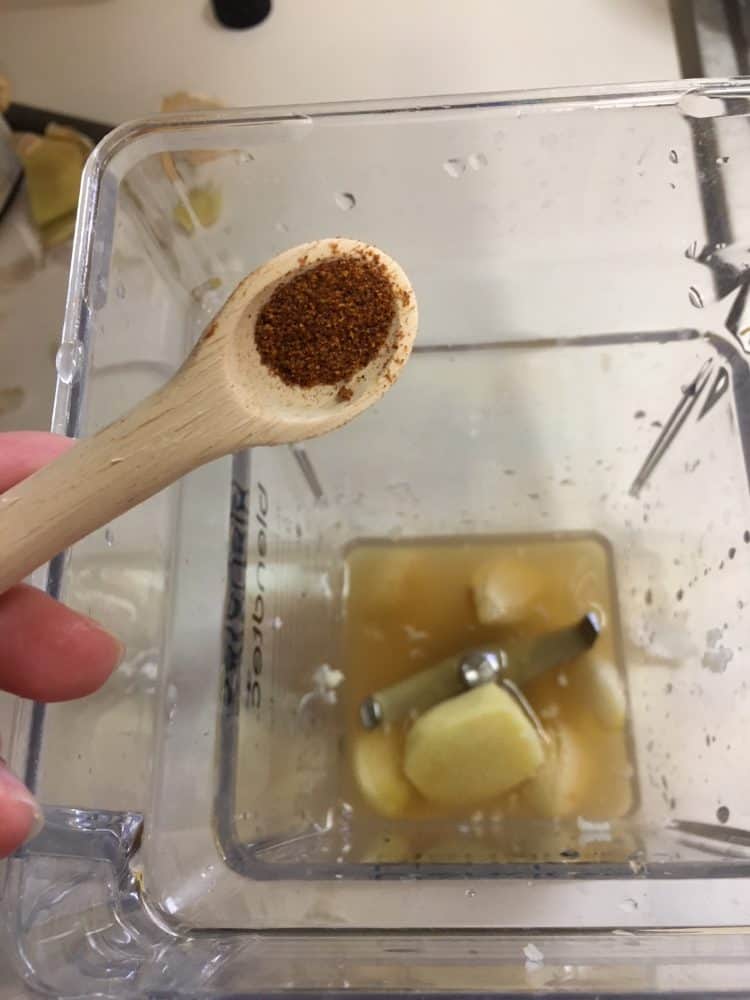 Finally, add 1 tablespoon of local or manuka honey to the blender.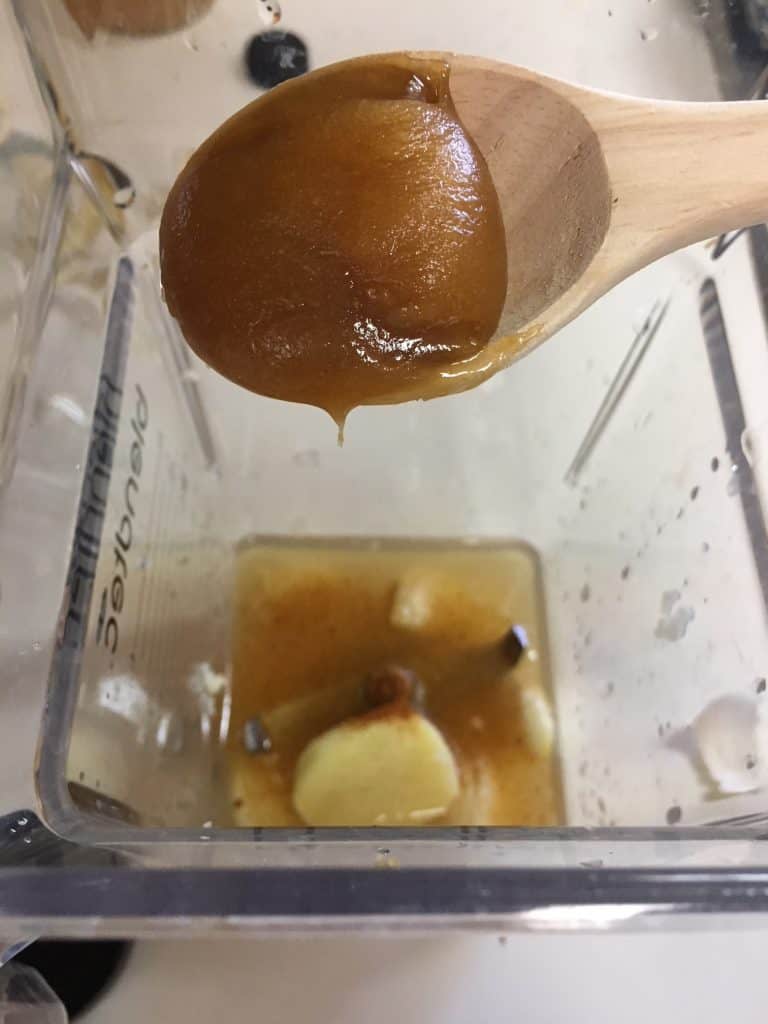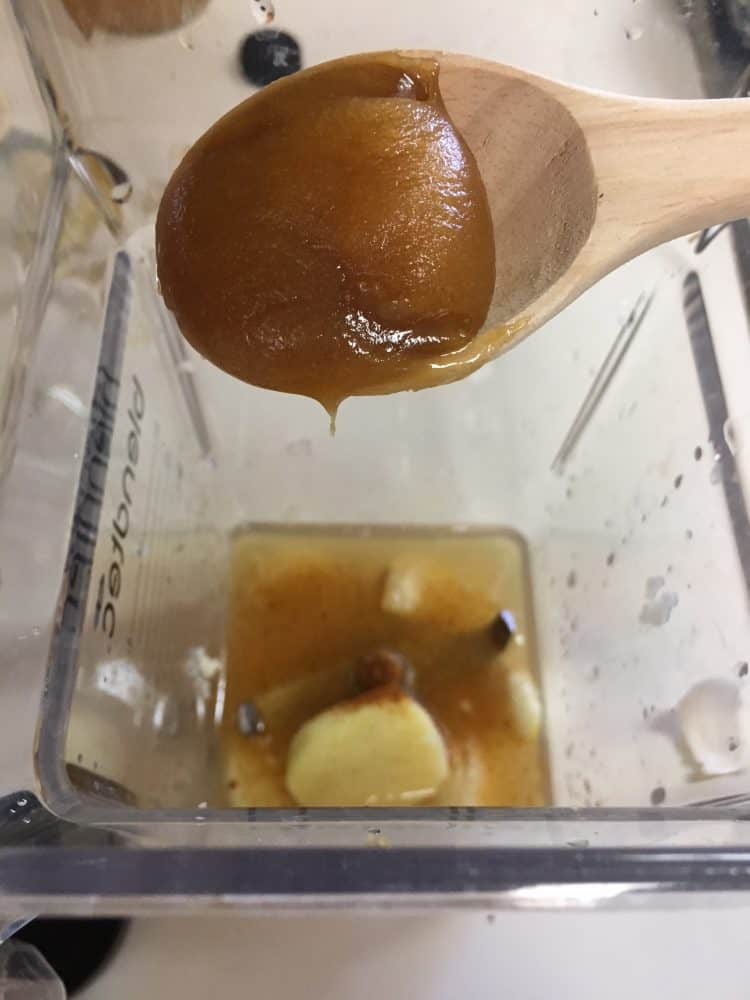 Here's what the mixture looks like before blending. Appetizing, eh? 😉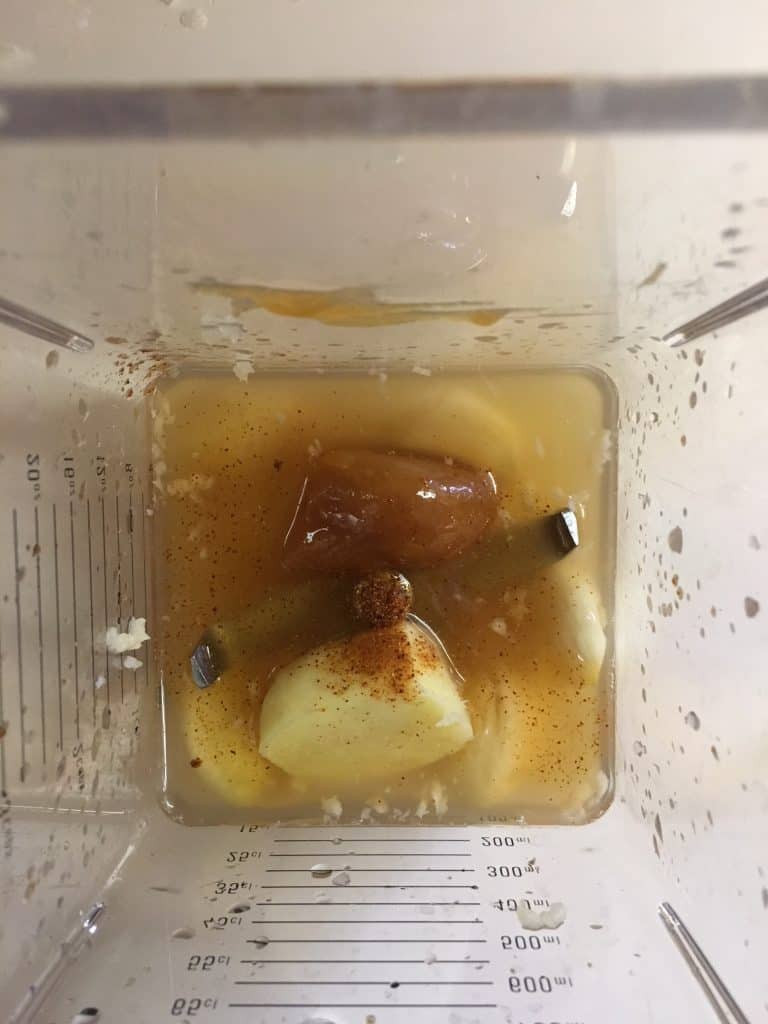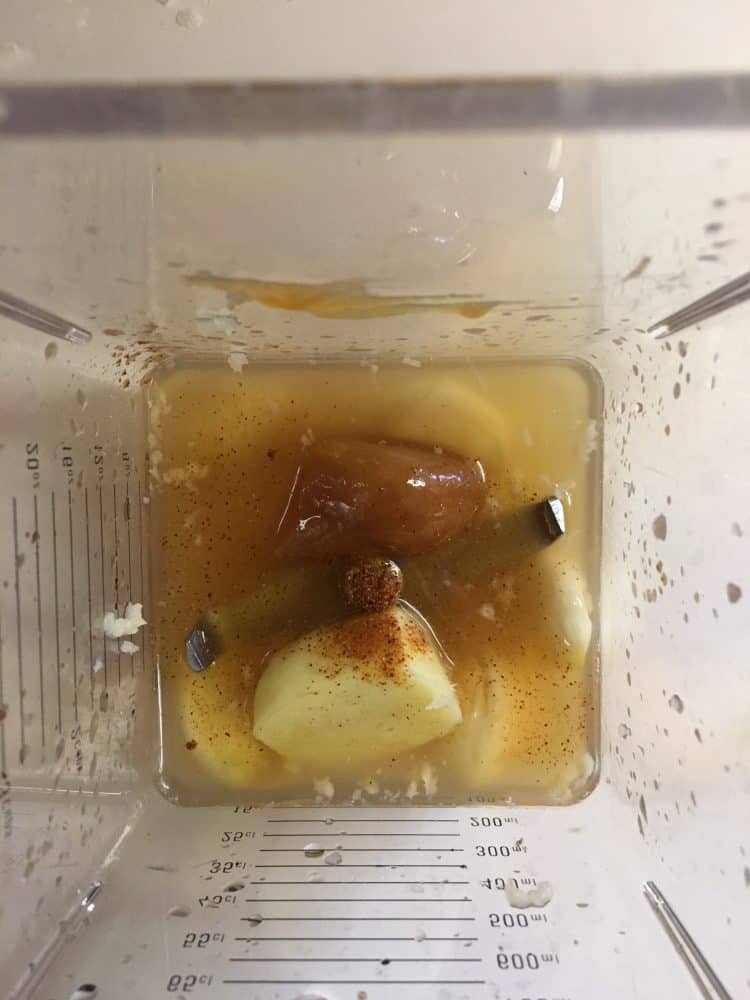 Blend for 1 minute, until the mixture is smooth.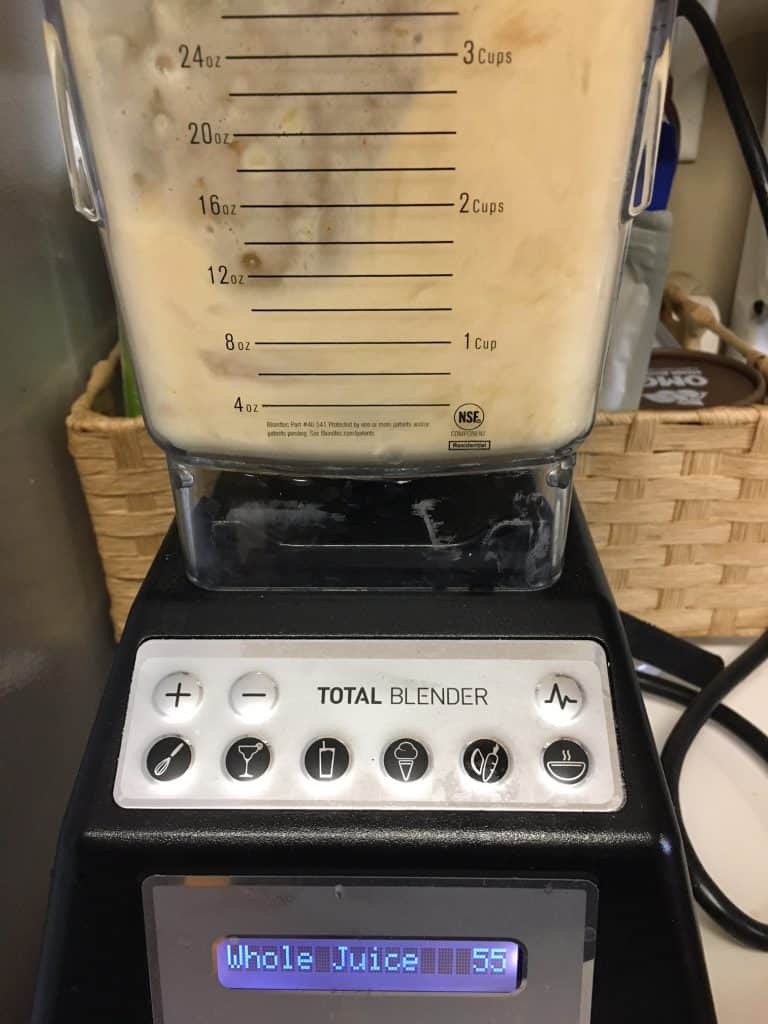 Last, strain the mixture through a small strainer into a small jar or container.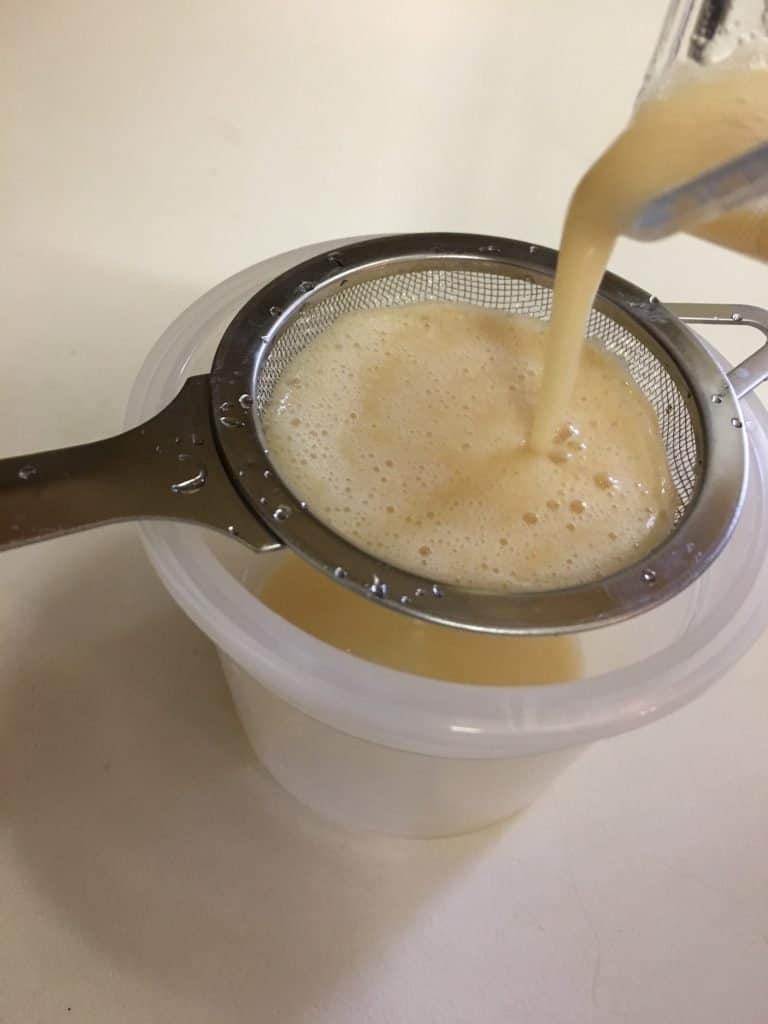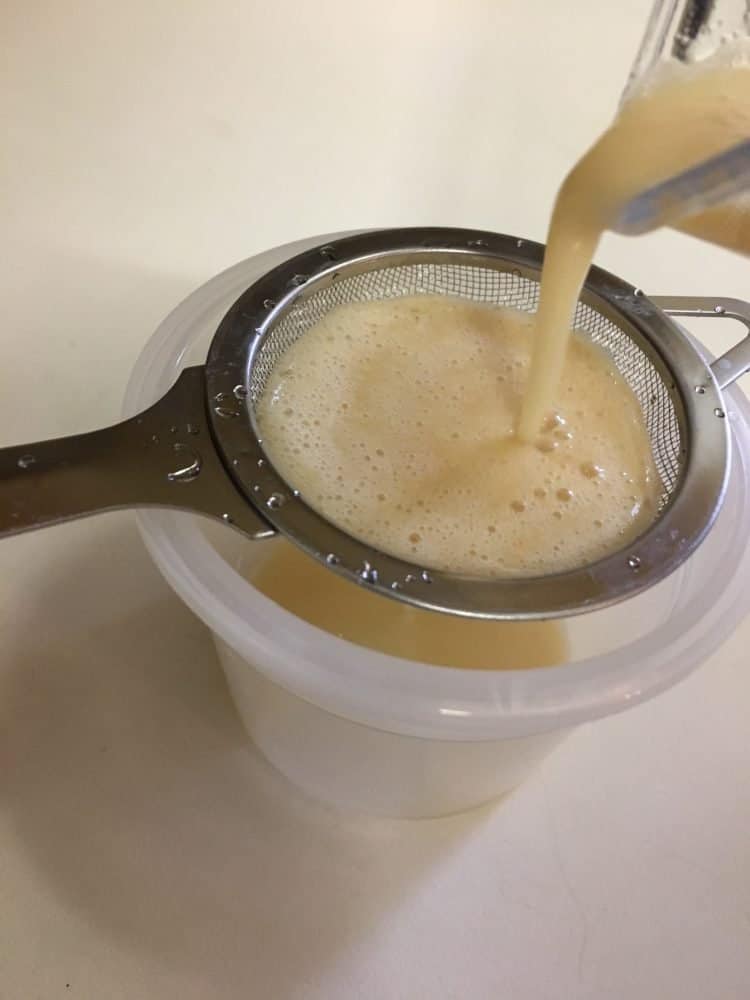 Ideally, you can store it in small dark amber dropper bottles. This is perfect for just squeezing a dose into the back of your throat to gargle throughout the day (be sure to shake it first).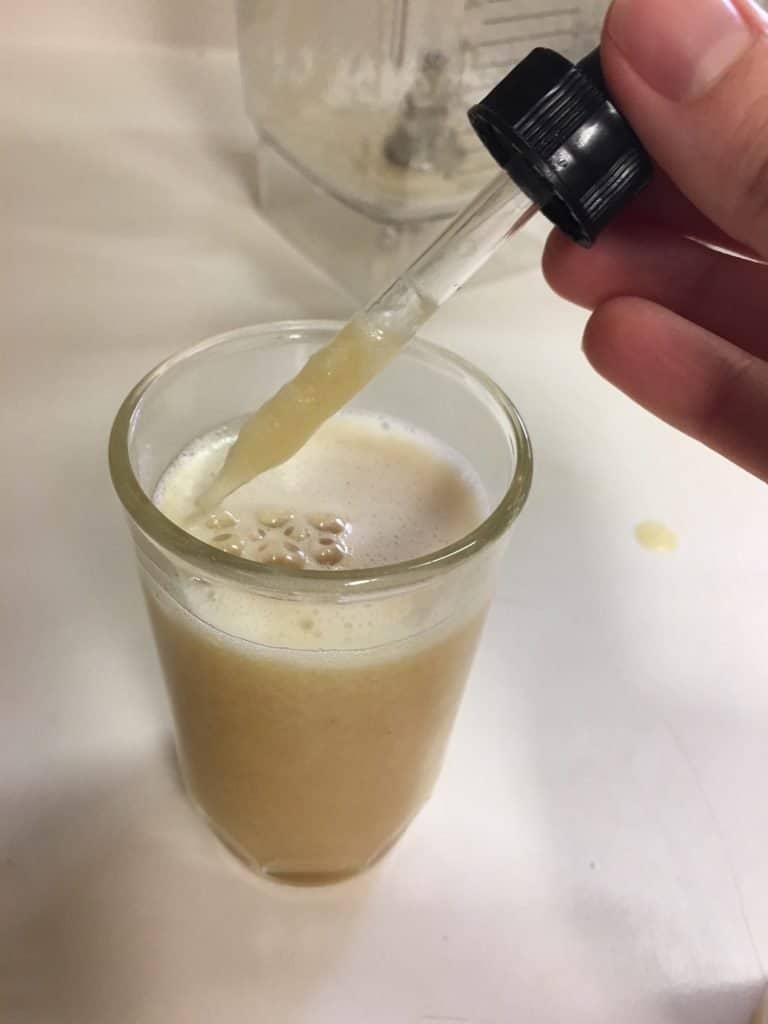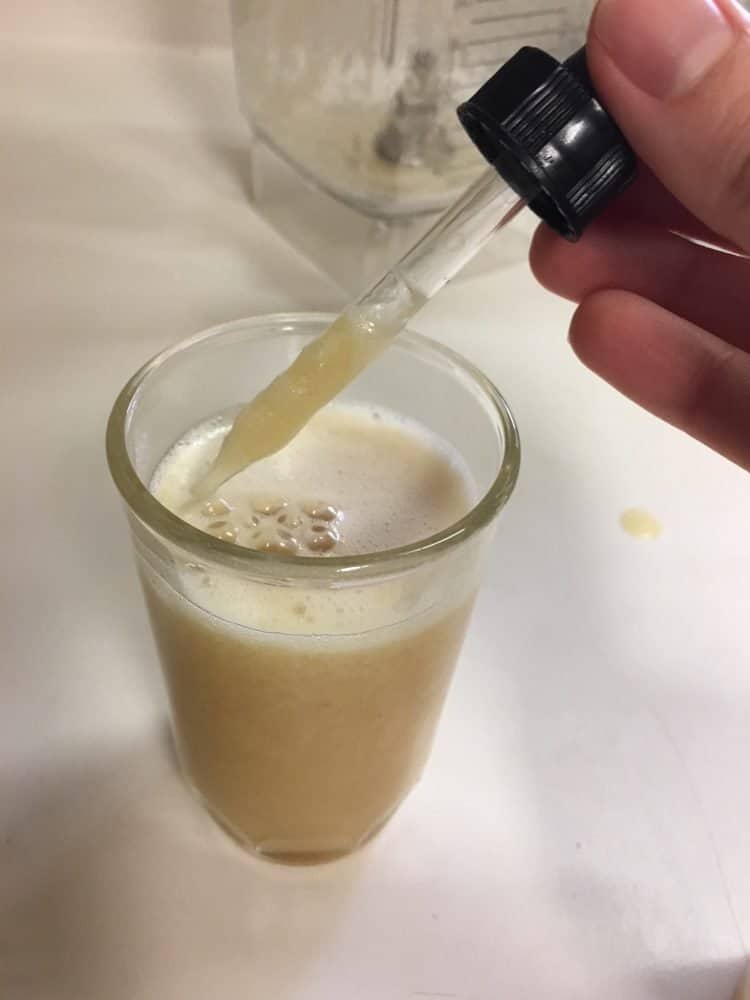 According to my mother-in-law's notes, "All the germs say, 'boys it's too hot in here, let's vamoose!'"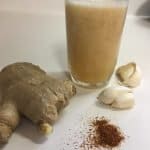 Homemade Super Tonic Cold Remedy (a.k.a. Honey Fire Cider)
A potent blend of the world's best cold-fighting ingredients. It's similar to the popular fire cider recipe or master tonic recipe, but it's very unique. Why? It contains manuka honey, which makes the remedy more palatable and also has cold-fighting properties!
Prep Time 10 minutes
Total Time 10 minutes
Ingredients
1/2 cup Bragg's apple cider vinegar (or similar)
6-8 cloves crushed garlic
1 inch peeled grated ginger fresh
1/8-1/4 tsp cayenne pepper
1 TBSP local or manuka honey
Instructions
Add all ingredients to a blender and blend for approximately 1 minute. If using a high powered blender (such as Blendtec or Vitamix), there is no need to crush the garlic and ginger. If using a regular blender, mince the garlic and ginger first (or press it in a garlic press to crush).

Strain through a mesh strainer into a small jar. Store in the refrigerator and use within 1 month.

Dosage: Take 1 teaspoon (and gargle) several times per day during illness. Best taken at the onset of a cold to shorten its duration.
Recipe Notes
Honey should not be used for infants under 1 year of age.
Super Tonic Cold Remedy Notes
Dosage: Gargle and swallow approximately 1 teaspoon several times a day during illness. Best taken at the first sign of a sore throat.
Store the super tonic in the refrigerator and use within 1 month. The vinegar helps it keep it fresh.
This recipe is not for the faint of heart. If you're not used to hot and spicy things, I recommend adding an extra half cup of boiled, cooled filtered (or distilled) water to the mixture to make it easier to take. You would just need to double the dose so you get the same amount of germ-fighting power.
If your spouse is not sick, you might recommend that they take some too. For immunity purposes, and for the fact that they might not be able to stand your breath unless they also take the Super Tonic cold remedy! 🙂
If you enjoy home remedies, here's my favorite resource for them: The Everyday Roots Book. It's over 400 pages of remedies for most minor ailments, plus DIY home & beauty products. I've never seen a resource this comprehensive for DIY recipes and remedies, and believe me, I've looked. The author, Claire, runs a really successful remedies website and is considered one of the top experts. I love having this book on hand whenever I need a quick remedy, and I can't wait to try some of the salves and lotion recipes. Check out the Everyday Roots book here!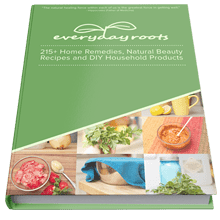 Now you know how to get rid of a cold fast with this effective and potent Super Tonic! Favor to ask: Could you leave a recipe rating in the comments section? I'd really appreciate it!
Tell me: What's your favorite remedy for how to get rid of a cold? Are you brave enough to try Super Tonic?
With Joy,

PIN IT!