If you feel like you're too busy to enjoy life, this post is for you. So many of us feel like we are drowning in a sea of busyness and consistently falling short on our commitments. Yet, we experience the guilt of not doing enough, thinking we should be "more."
It's easy to think that other people have it all together, that they are doing it all and sailing through life unaffected. The working mom who makes Pinterest-perfect lunches, keeps a spotless home and attends every activity isn't a real person. It's time we stopped holding ourselves to her standard.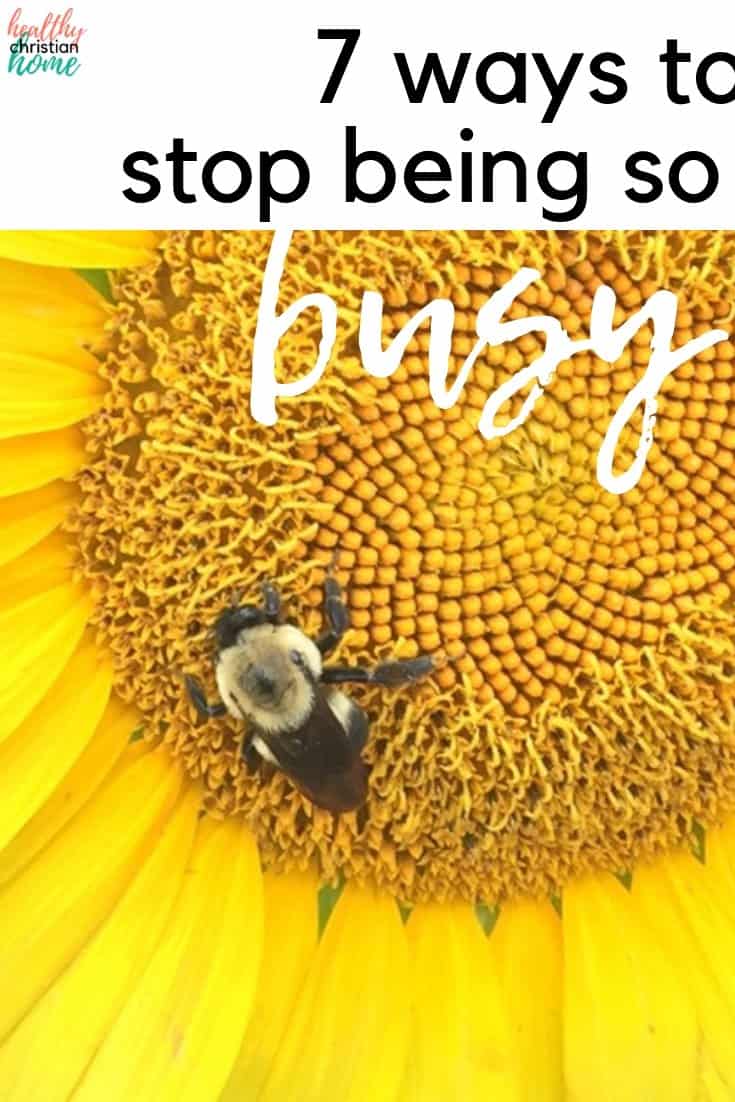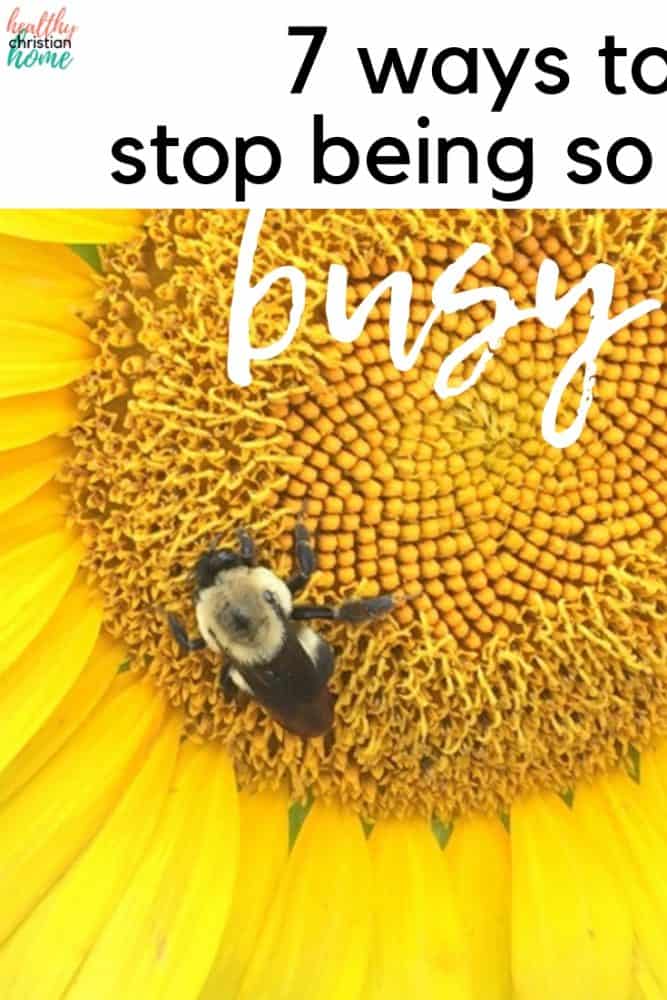 7 Ways to Stop Feeling Too Busy
The following tips will make your schedule manageable while still caring for yourself and your family well.
Let's put into practice Ephesians 5:15-17 , "Look carefully then how you walk, not as unwise but as wise, making the best use of the time, because the days are evil. Therefore do not be foolish, but understand what the will of the Lord is."
Tip: don't forget to grab your FREE printable Priority List and Basic Daily Schedule at the bottom of the post!
Too Busy Tip #1: Make a list of priorities
You can't decide what to spend time on unless you acknowledge what is important to you. Sit down and make a list of all the things you want to devote your time to. Just brainstorm and write everything down.
Don't forget to include things that seem obvious, like downtime or relaxing. Sometimes those things are the first to go when we get busy. But if we don't have them, we aren't happy (more on that later).
Then, number your list, starting with the most important thing down to the least important.
Your list will be totally different from mine and will change based on your season of life. Everything on this list is important and hopefully everything will get done at some point. But some are non-negotiable based on what I (and my family) need right now.
Of course, don't forget to include God at the top of your list. Staying close to Him will make everything else in your life fall into place.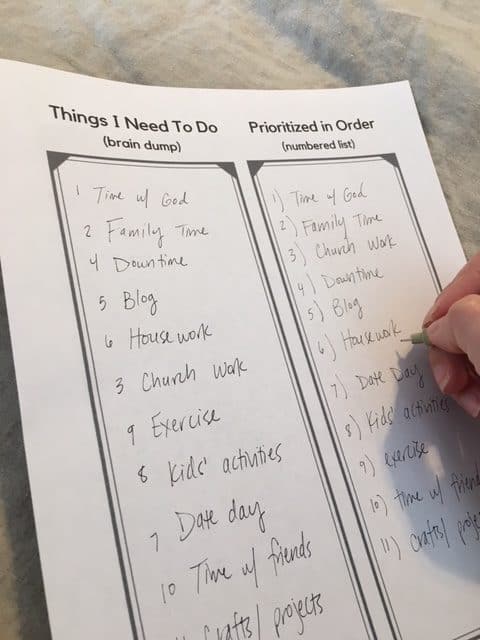 "But seek first the kingdom of God and his righteousness, and all these things will be added to you." – Matthew 6:33
Now you're ready for the next step…
Too Busy Tip #2: Stick to a routine
The next step is to create a routine based around your priority list. Write down your ideal day, making sure to factor in your MOST important things.
Is it devotional time? Family time? Exercise? Put it in your daily routine so you don't forget.
Of course, some days will be different than your planned routine. For example, Mondays my 4-year-old stays home, so we do fun Mommy-Son things and work takes a back seat. Fridays are Richard's day off, so we have a "date day" and just relax and have fun.
Right now, our kids are pretty young and don't do lots of activities and sports. We've already decided that with our priority for family time and church activities, we are limiting them to one sport. But our schedule will probably be changing in the next year or so.
This is just a basic routine based on your regular day. I'm calling it a routine instead of a schedule because, let's face it, life doesn't stick to a number on the clock. It's basically just a list of what to do next.
Try to stick to your planned routine for a week and see how you feel.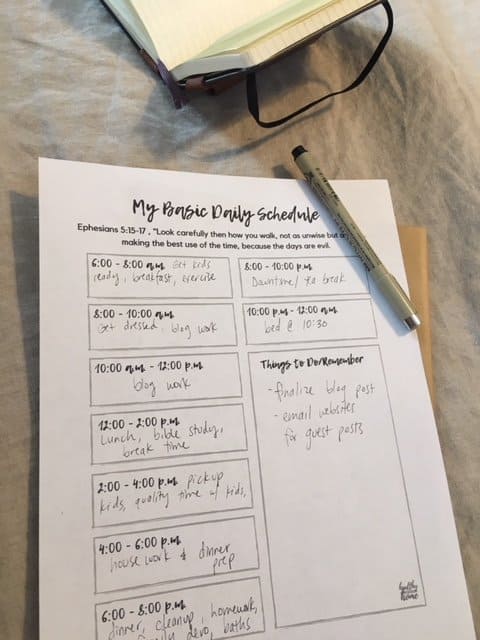 Too Busy Tip #3: Make downtime non-negotiable
This past week, I had some issues waking up in the middle of the night. This doesn't usually happen, and it's usually a clue that my stress levels are heightened and I've been overdoing it.
I'm a pretty extreme person when I get into something creative. Once our boys started school, I've been in overdrive working on this blog. We are saving for a down payment and I've had this master plan of how to create more income.
The problem is, I was working so hard that I barely took any breaks or time for myself. I didn't feel stressed because I love what I do, but I wasn't creating space for myself to just unwind and be. This was affecting my stress levels, even though I didn't realize it.
So yesterday, I resolved to slow down, relax more, and enjoy life. I shut off my computer most of the day and just played Legos with the kids, read together and watch a movie. I slept so much better last night!
It reminded me of this Bible verse: "It is in vain that you rise up early and go late to rest, eating the bread of anxious toil; for he gives to his beloved sleep." Psalm 127:2
In my mind, cutting out my downtime was a way for me to cut corners and get more things done. But in reality, it just threw my body off and made me cranky. I feel the same way when Richard and I miss our date days or when we don't get family time.
Although it might feel like a luxury, downtime is real necessity. Without it, we cannot thrive and be the best version of ourselves.
Related post: 10 Simple Living Tips for a Happier Life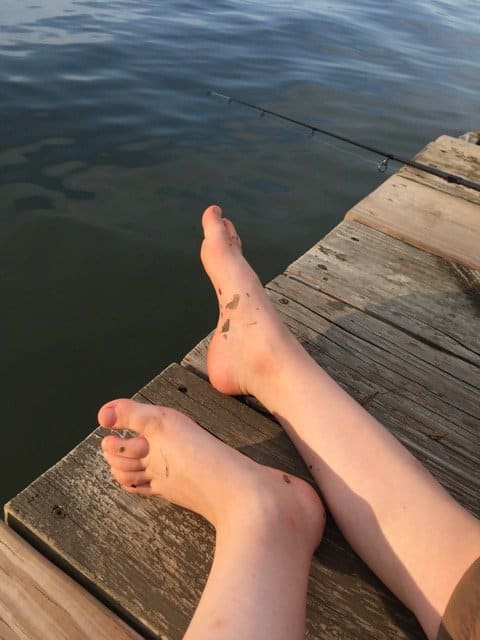 Too Busy Tip #4: Take charge of your schedule
Of all the tips in this list, for me this is the hardest one to implement. And I'm sure I'm not alone. As women, we all feel this inherent need to take care of others and make people happy. Nothing wrong with that.
But when this desire starts to encroach on your needs or those of your family, something needs to change.
It's easy to feel like complaining when our schedule gets jam-packed. But remember who made your schedule – YOU DID! So you can un-make your schedule, too.
Sometimes it feels impossible to say the word "No" when demands are made on your schedule. But it's something we must to get used to!
Instead of feeling bad for saying no to an invitation, commitment, or activity, I like to think of it as saying yes to something better.
Yes to time for the most important things. Yes to my God, yes to my family, yes to myself.
For an amazing resource on this topic, check out "The Secret to a Simplified Schedule" by NoSidebar.
Too Busy Tip #5: Ask for help
Why do we, as women, feel the need to be super-human and do all the things by ourselves?
In the past few years, I've learned to cut myself some slack and remember my limitations.
For me, it's reminding myself that I don't live near family. So, we don't get lots of breaks and help like many other young parents do.
One of the best things I ever did was ask a couple in our congregation in Ohio to be our boys' adopted grandparents. It brought all of us so much joy and relief. They sat with them if I need to go out during worship. They babysat our boys so we could go on date nights. It was life-changing!
And one day, if my budget allows, I'm going to hire an occasional housekeeper. No shame.
I used to think that strong people did everything by themselves. Nope. Strong people know when they are outnumbered and aren't ashamed admit it. They ask for help.
This article from For Every Mom has some great inspiration on asking for help when you need it.
Take action: Brainstorm some areas where you need help in your everyday life. Think of some people who are talented in that area and don't be afraid to ask them for guidance!
Too Busy Tip #6: Make a daily plan
It's true, multi-tasking is a myth. When you try to do too many things at once, it's hard to do any of them well.
Before starting your work for the day, create a plan. Ask yourself "What is the most important thing to do? What thing(s) will make the biggest impact on my life?"
Because I like to consider myself an artsy right-brained type of person, I tend to rebel against schedules and to-do lists. But ever since I forced myself to sit down and write a weekly work schedule and editorial calendar, I'm 500% more productive!
Focusing on a plan prevents the whole "running around like a chicken with your head cut off" thing.
Here are some tips from The Spruce on creating a daily routine that works for you.
Too Busy Tip #7: Be realistic about time
Am I the only one that underestimates myself?
Don't get me wrong. We should never limit ourselves and our abilities. We can do more than we ever dreamed possible when we set our minds to something.
But one universal truth I've discovered is this: Things almost always take longer than we think they will.
For example, I always linger in bed a few minutes longer than I should, and it's a mad dash to get the kids ready and in the car. I tell myself I can knock out a blog post in a couple of hours, when in reality it takes most of the day.
So before you add something else to your schedule, ask yourself: How much time will this extra activity really take? Do I realistically have time in my schedule to devote to it, without sacrificing my priorities (God, family, health, etc. as detailed above)?
As you do this, remember: Jesus didn't do it all, either. I am obsessed with this quote from Crazy Busy by Kevin DeYoung:
Jesus did not do it all. Jesus didn't meet every need. He left people waiting in line to be healed. He left one town to preach to another. He hid away to pray. He got tired. He never interacted with the vast majority of people on the planet. He spent thirty years in training and only three years in ministry. He did not try to do it all. And yet, he did everything God asked him to do.
Honestly, it is a total relief when we stop for a moment and remember what this life is really all about. It's to love God. That's it. Everything else is just details.
And if you "do it all" without doing this one thing, you've really missed out. "The end of the matter; all has been heard. Fear God and keep his commandments, for this is the whole duty of man." Ecclesiastes 12:13.
If you're doing all you can to keep the busy at bay but you're still exhausted (and we all go through seasons like that), read this post 11 Bible Verses for the Exhausted Mama by Gina M Poirier. It will help you cling to God's word amidst those seasons of crazy!
Now, don't forget to download your FREE priority list and daily schedule printables! I hope these help you in your quest to simplify your busy life.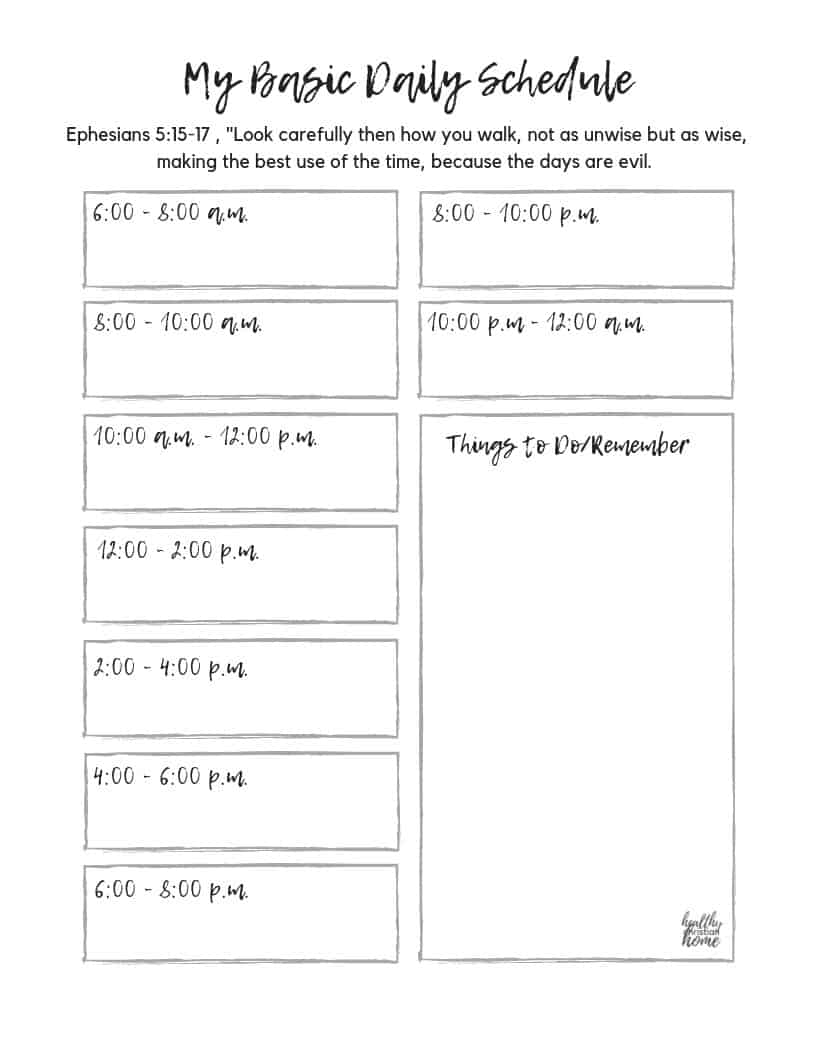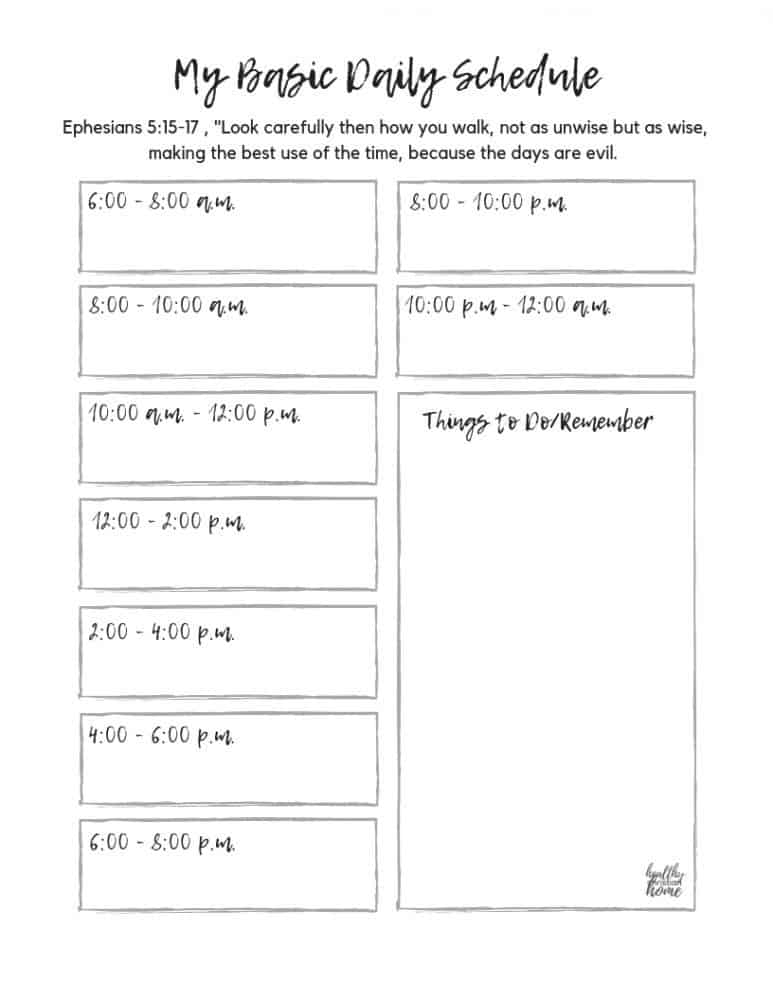 If you found this post helpful, please use the social sharing buttons at the bottom of your screen! Let's help other women simplify their busy lives!
What's your best tip for simplifying life when things get too busy?

PIN IT!