We all need a little bit of kindness, especially right now. These 30 bible verses about kindness will inspire you to spread it around!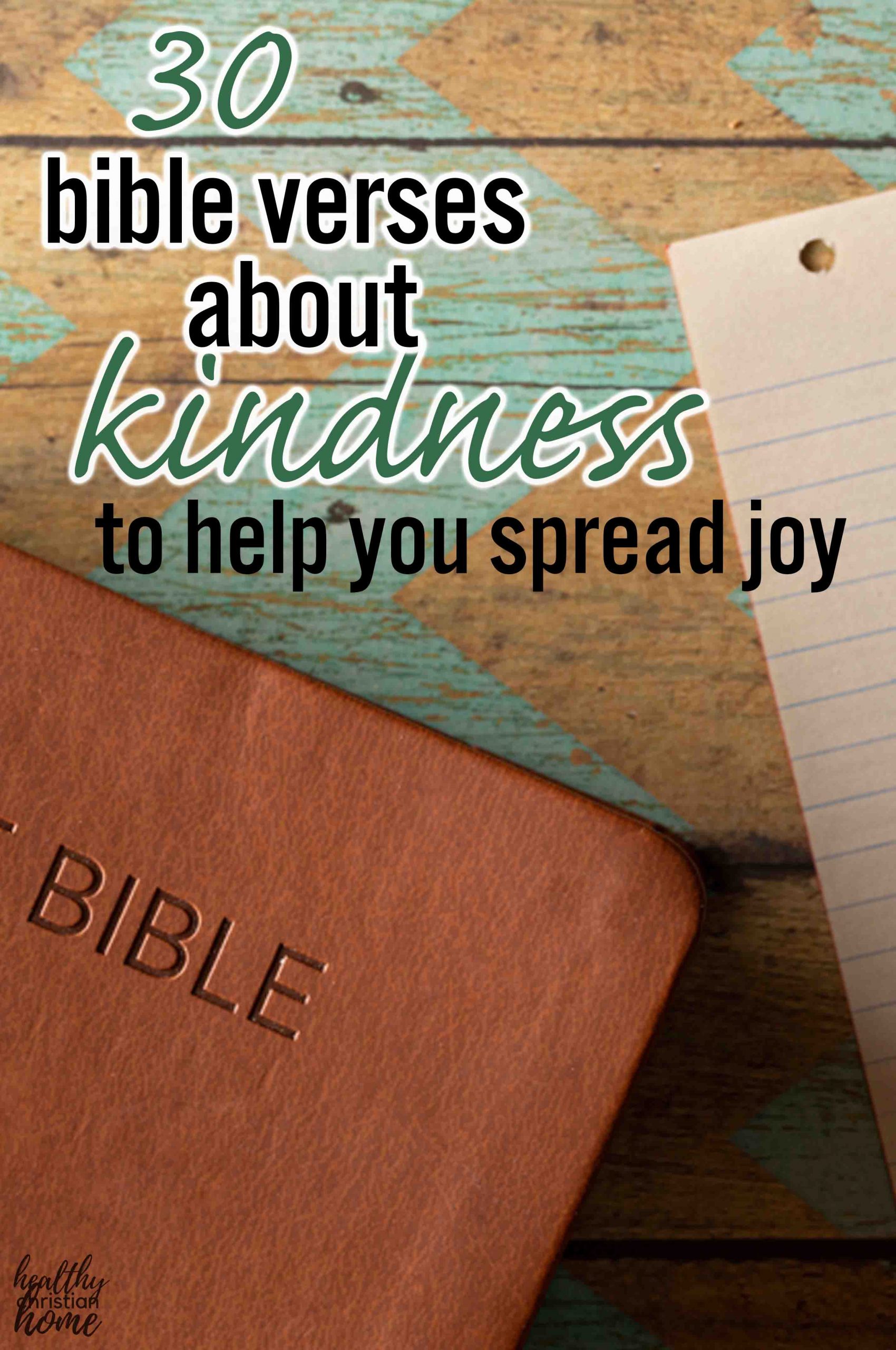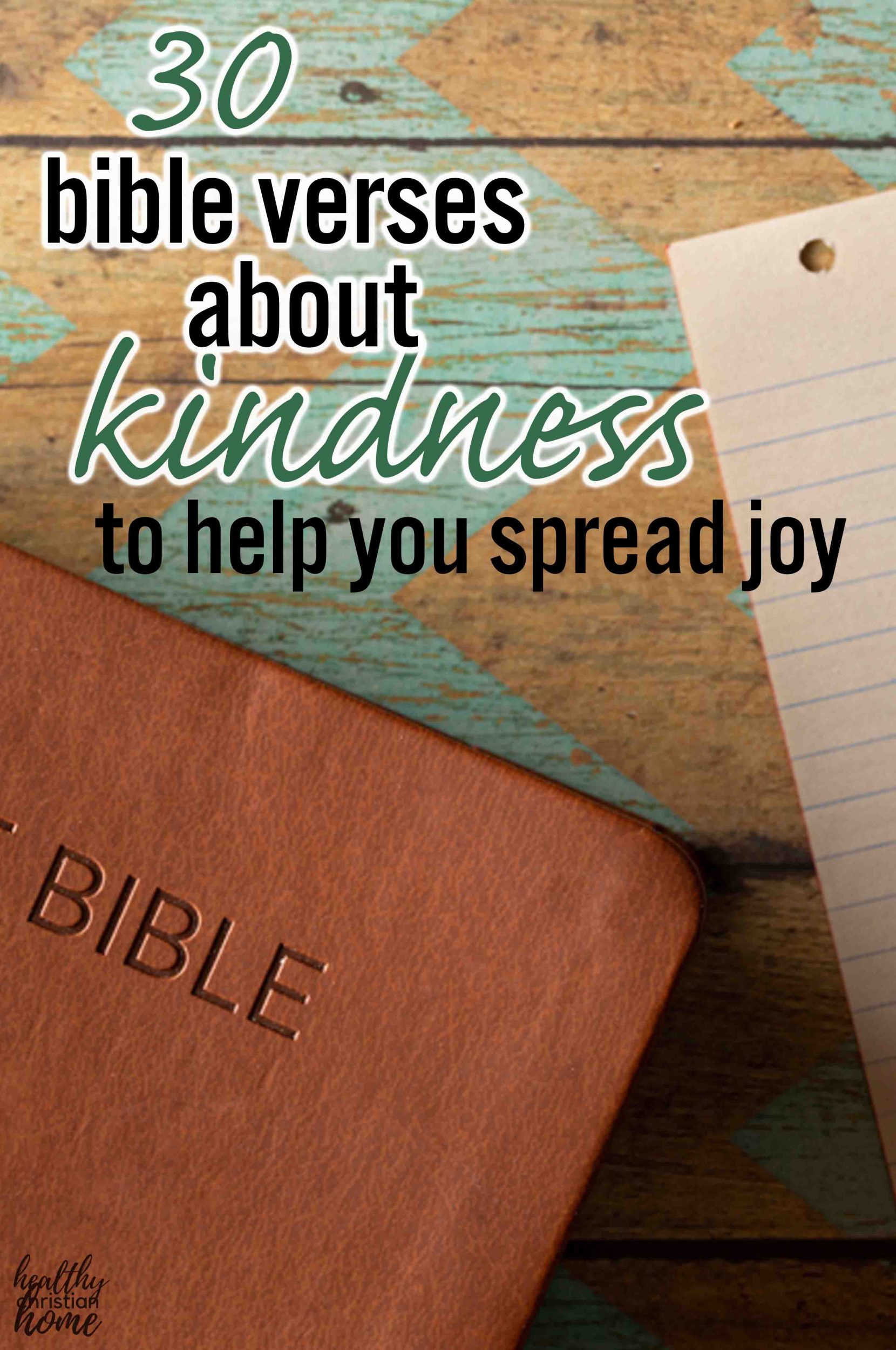 Today my lovely husband is sharing his thoughts + the best bible verses about kindness to help us spread #viralkindness, especially during this time when we could all use a little extra. Reaching out is the best antidote to fear.
Kindness: the possession that can never be lost
As a small boy, my family lived in New Zealand. I remember before we moved to America, we had an estate sale. I understood that we had a small crate coming to our new home and only a few of my small possessions could make the trip.
I watched children rummage through my toys and take them all away, one by one, until most were gone. This taught me a lesson more valuable than any of those things ever could: possessions come and go.
In an estate sale, keepsakes become "once-kept sakes." This made me search and search for possessions that could not be taken away.
In the process, I found one that can be given away but never lost: Kindness.
Kindness a possession that one can hold or withhold. "He who withholds kindness from a friend forsakes the fear of the Almighty" (Job 6:14).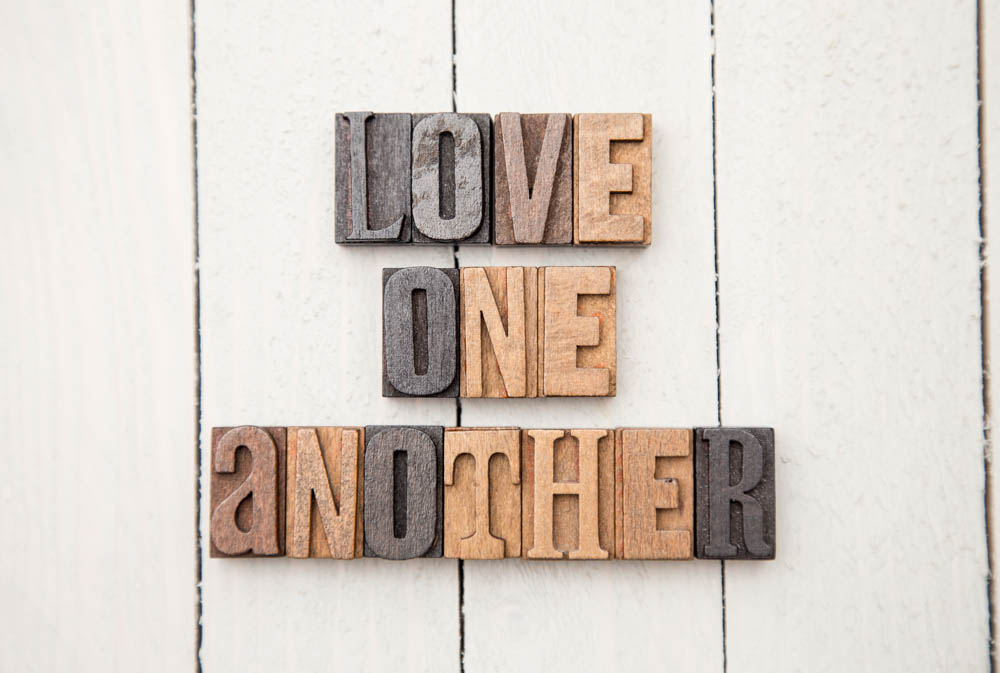 30 Best Bible Verses About Kindness
Below are 30 bible verses about kindness to inspire you in hard times or anytime! Each passage includes a short devotional thought that you can use to jump start your day and be reminded to spread kindness.
1. Psalms 31:21 -22
Blessed be the LORD, for he has wondrously shown his marvelous kindness to me when I was in a besieged city. I had said in my alarm, "I am cut off from your sight." But you heard the voice of my pleas for mercy when I cried to you for help.
The NKJV uses the words "marvelous kindness" for the "steadfast love" of God.
David is saying when he is literally unable to leave his home (besieged), he cries to God in his alarm and God shows him his marvelous kindness! This may be the most relevant passage to help us when we are walled in by isolation. We need the kindness of God more than ever.
2. Proverbs 11:17
A man who is kind benefits himself, but a cruel man hurts himself.
It may not seem to be the case, but showing kindness to others is also showing kindness to oneself.
3. Proverbs 14:21
Whoever despises his neighbor is a sinner, but blessed is he who is generous to the poor.
To show no concern for our fellow man only brings a curse, but to take care of those who cannot help themselves may just bless you more.
4. Proverbs 14:31
Whoever oppresses a poor man insults his Maker, but he who is generous to the needy honors him.
To be generous to those in need fulfills God's reason for blessing you in the first place. To deny generosity and even oppress the helpless defies the God who gave you all you have in the first place.
5. Proverbs 21:21
Whoever pursues righteousness and kindness will find life, righteousness, and honor.
If we seek to be kind, we will find ample opportunities to do so. As a result of helping others, we may just help ourselves even more.
6. Micah 6:8
He has told you, O man, what is good; and what does the LORD require of you but to do justice, and to love kindness, and to walk humbly with your God?
If you walk in kindness with your fellow man, you will be in step with God.
7. Zechariah 7:9-10
Thus says the LORD of hosts, Render true judgments, show kindness and mercy to one another, do not oppress the widow, the fatherless, the sojourner, or the poor, and let none of you devise evil against another in your heart.
Honesty, kindness, fairness, and mercy are from God. Anything less is from Satan.
8. Matthew 5:38-42
"You have heard that it was said, 'An eye for an eye and a tooth for a tooth.' But I say to you, Do not resist the one who is evil. But if anyone slaps you on the right cheek, turn to him the other also. And if anyone would sue you and take your tunic, let him have your cloak as well. And if anyone forces you to go one mile, go with him two miles. Give to the one who begs from you, and do not refuse the one who would borrow from you."
Jesus says to go above and beyond expectation, even when it hurts. Can you imagine if everyone did this? This is true Christianity.
9. Matthew 6:1-4
"Beware of practicing your righteousness before other people in order to
be seen by them, for then you will have no reward from your Father who is in heaven. "Thus, when you give to the needy, sound no trumpet before you, as the hypocrites do in the synagogues and in the streets, that they may be praised by others. Truly, I say to you, they have received their reward. But when you give to the needy, do not let your left hand know what your right hand is doing, so that your giving may be in secret. And your
Father who sees in secret will reward you."
Kindness is not to be practiced for the ulterior motive of praise. Jesus said
kindness should be done whether it is seen by those receiving it or not. If we are kind to someone and they do not know it, we will know it and so will God.
10. Matthew 19:13-14
Then children were brought to him that he might lay his hands on them and pray. The disciples rebuked the people, but Jesus said, "Let the little children come to me and do not hinder them, for to such belongs the kingdom of heaven."
For some reason it was thought Jesus had no time for children, and kindness to the smallest members of society was overlooked. Jesus, however, said they represented His kingdom. Be kind to children and they will show you the purity of Christ.
11. Luke 5:18-20
And behold, some men were bringing on a bed a man who was paralyzed,
and they were seeking to bring him in and lay him before Jesus, but finding no way to bring him in, because of the crowd, they went up on the roof and let him down with his bed through the tiles into the midst before Jesus. And when he saw their faith, he said, "Man, your sins are forgiven you."
Are you a friend that brings others to Jesus, regardless of the crowd? What lengths are you willing to go to to help others find Him?
12. Luke 6:35
But love your enemies, and do good, and lend, expecting nothing in return,
and your reward will be great, and you will be sons of the Most High, for he is kind to the ungrateful and the evil.
These words of Jesus are some of the most challenging. We are faced with the charge to give kindness to those who do not make a habit of being kind. Children of God are those who take the high road of kindness.
13. Luke 10:33-34
But a Samaritan, as he journeyed, came to where he was, and when he saw
him, he had compassion. He went to him and bound up his wounds, pouring on oil and wine. Then he set him on his own animal and brought him to an inn and took care of him.
Perhaps the most famous personification of kindness is the Good Samaritan. Jesus told this story in response to a Pharisee who asked Him, "Who is my neighbor?" Someone who helps an adversary is "a true neighbor."
14. Luke 15:19-20
I am no longer worthy to be called your son. Treat me as one of your hired
servants."' And he arose and came to his father. But while he was still a long way off, his father saw him and felt compassion, and ran and embraced him and kissed him.
Kindness is recognizing repentance and forgiving immediately beyond expectation.
15. Acts 4:34-35
There was not a needy person among them, for as many as were owners of
lands or houses sold them and brought the proceeds of what was sold and laid it at the apostles' feet, and it was distributed to each as any had need.
For God's people in the first century, kindness was an everyday occurrence. To them, showing kindness (especially to their church family) was a natural way of life.
16. Romans 2:4
Or do you presume on the riches of his kindness and forbearance and
patience, not knowing that God's kindness is meant to lead you to repentance?
God's kindness has an ultimate purpose – to bring us to repentance. When we are kind to others, it gives us an opportunity to share God's love with them.
17. Romans 11:22
Note then the kindness and the severity of God: severity toward those who
have fallen, but God's kindness to you, provided you continue in his kindness. Otherwise you too will be cut off.
As Christians, it is our duty to show kindness — if not, we will miss out on God's blessings.
18. Romans 12:9-11
Let love be without deceit. Be haters of what is evil; keep your minds
fixed on what is good. Be kind to one another with a brother's love, putting others before yourselves in honor; Be not slow in your work, but be quick in spirit, as the Lord's servants…
Servants of God literally help others as the hands and feet of God. Kindness
comes from this divine responsibility.
19. Romans 12:18
If possible, so far as it depends on you, live peaceably with all. Beloved,
never avenge yourselves, but leave it to the wrath of God, for it is written, "Vengeance is mine, I will repay, says the Lord." To the contrary, "if your enemy is hungry, feed him; if he is thirsty, give him something to drink; for by so doing you will heap burning coals on his head."
Heaping burning coals on an enemy should never be a purpose, but it can be the result of kindness.
20. Romans 12:21
Do not be overcome by evil, but overcome evil with good.
It's difficult to be kind in the face of persecution, but with God we can do it!
21. 1 Corinthians 13:4
Love is patient and kind; love does not envy or boast; it is not arrogant
or rude. It does not insist on its own way; it is not irritable or resentful; it does not rejoice at wrongdoing, but rejoices with the truth. Love bears all things, believes all things, hopes all things, endures all things.
Love and kindness are interchangeable. But sometimes we take those we love the most for granted. Be kind to those you love.
22. Galatians 5:22-23
But the fruit of the Spirit is love, joy, peace, patience, kindness,
goodness, faithfulness, gentleness, self-control; against such things there is no law.
Kindness is a fruit of the Spirit; therefore, kindness is a result of dwelling in the Spirit.
23. Ephesians 2:4-7
But God, being rich in mercy, because of the great love with which he
loved us, even when we were dead in our trespasses, made us alive together with Christ—by grace you have been saved— and raised us up with him and seated us with him in the heavenly places in Christ Jesus, so that in the coming ages he might show the immeasurable riches of his grace in kindness toward us in Christ Jesus.
The kindness of God is immeasurable, yet summed up in one name: Jesus.
24. Ephesians 4:31-32
Let all bitterness and wrath and anger and clamor and slander be put
away from you, along with all malice. Be kind to one another, tenderhearted, forgiving one another, as God in Christ forgave you.
Be kind. This is a command from God, and it brings a smile to all involved.
25. Ephesians 5:1-2
Therefore be imitators of God, as beloved children. And walk in love, as
Christ loved us and gave himself up for us, a fragrant offering and sacrifice to God.
When we walk in love, kindness will influence every room we enter and remain once we've left it.
26. 1 Thessalonians 4:9-12
Now concerning brotherly love you have no need for anyone to
write to you, for you yourselves have been taught by God to love one another, for that indeed is what you are doing to all the brothers throughout Macedonia. But we urge you, brothers, to do this more and more, and to aspire to live quietly, and to mind your own affairs, and to work with your hands, as we instructed you, so that you may walk properly before outsiders and be dependent on no one.
Working with your hands and living a quiet life is one powerful way to make kindness happen.
27. 2 Timothy 2:23-26
Have nothing to do with foolish, ignorant controversies; you know that they breed quarrels. And the Lord's servant must not be quarrelsome but kind to everyone, able to teach, patiently enduring evil, correcting his opponents with gentleness. God may perhaps grant them repentance leading to a knowledge of the truth, and they may come to their senses and escape from the snare of the devil, after being captured by him to do his will.
Do you want to serve God? Avoiding quarrels and drama is one way to do it. Serve mankind by being kind.
28. Titus 3:3-5
For we ourselves were once foolish, disobedient, led astray, slaves to various passions and pleasures, passing our days in malice and envy, hated by others and hating one another. But when the goodness and loving kindness of God our Savior appeared, He saved us, not because of works done by us in righteousness, but according to His own mercy, by the washing of regeneration and renewal of the Holy Spirit.
The saving kindness of God transforms the world, through His mercy and plan of salvation.
29. James 1:27
Religion that is pure and undefiled before God the Father is this: to visit
orphans and widows in their affliction, and to keep oneself unstained from the world.
To help the helpless is the purest form of religion in the eyes of God!
30. 1 John 4:19
We love because he first loved us.
Because the greatest kindness has been shown to us (John 3:16), we desire all people to experience the kindness of God. Kindness to others is the natural result.
Read next:
How kindness helps us through difficult times
Kindness is what we need right now more than ever. It is a powerful tool that will help us navigate these trying times.
When we spend our energy being kind to others, it powerfully replaces fear, worry, and panic.
Just one small act of kindness starts a ripple effect around the world, like this UK woman who created a simple postcard neighbors can use to help each other.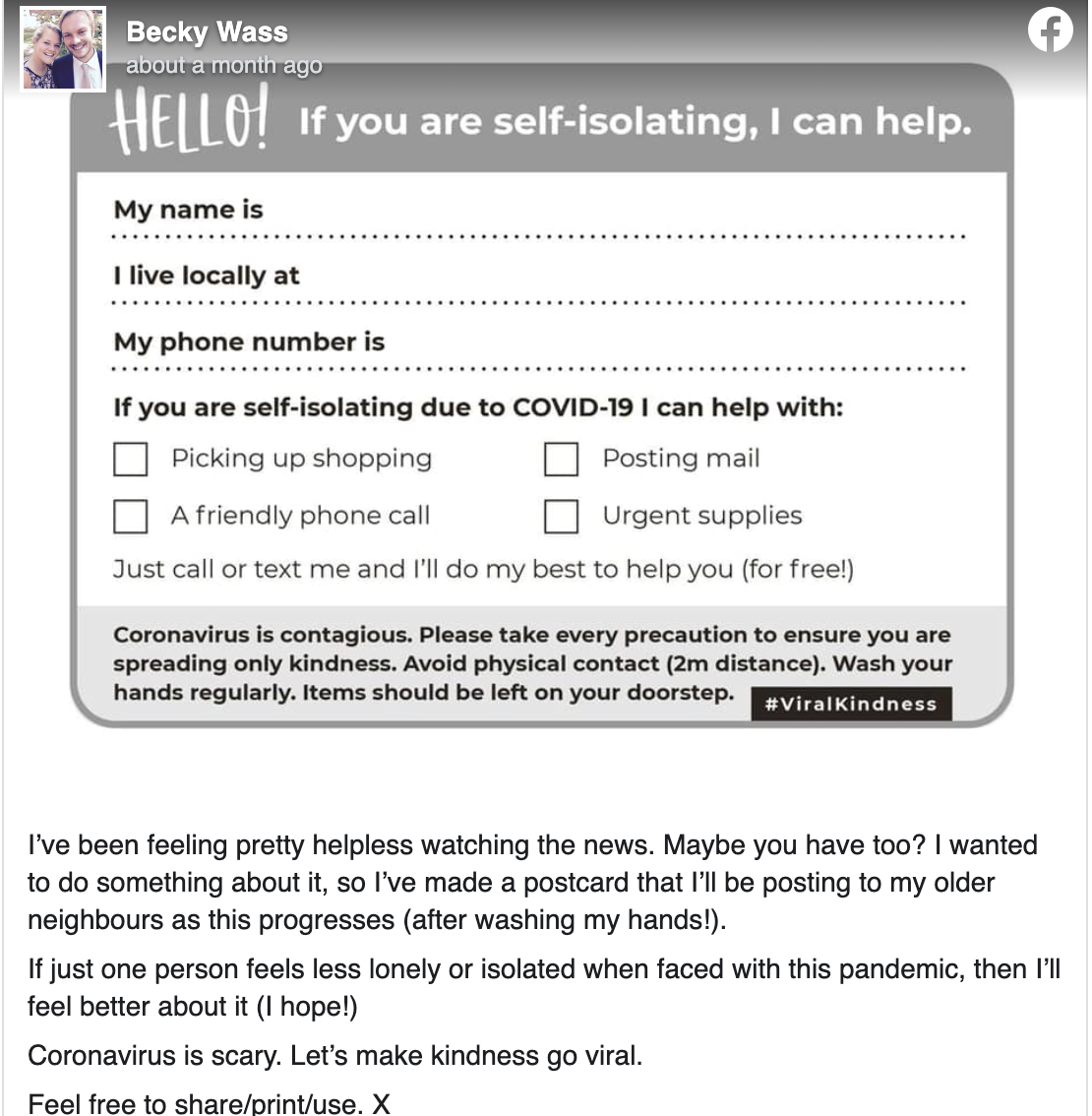 We realize just how fast diseases are spread from person to person, yet how quickly can the world be filled with viral kindness, too?
Let's spread #viralkindness and use God's Word to propel us forward!
Read Next: 50 Bible Verses About Pride (& How Pride Steals Your Joy)
Acts of Kindness to Inspire You
Now that we've looked at what the Bible says about kindness, let's look at some real life examples. On Facebook, I started a thread to find out how people were using their talents to show kindness during these trying times. Here are some creative acts of kindness to inspire you!
Mask-making…
"It started with making some masks for a friend who asked if I was able to. After searching online for a pattern and ideas I found several groups making masks for healthcare professionals and realized the need was great. I then posted on my personal FB page asking if anyone I knew personally needed masks and if people had specific materials they could donate." – Tonya
"My 16 year old daughter is making masks for people that need them that aren't in healthcare work but have to go out for necessities and appointments, and other essential employees. " – Gwendolyn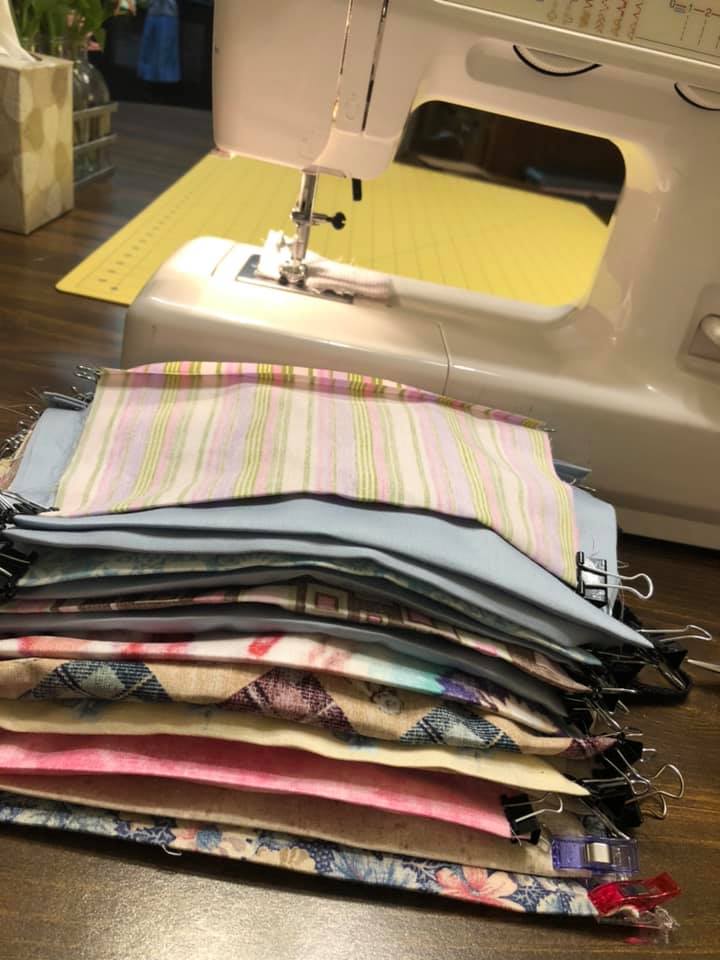 Sharing food…
"Proud parent story: We have chickens. My daughter usually sells the eggs and that is her spending/saving money. Since all this she has given them away as needed." – Janine
"We are also doing food deliveries for our church's food pantry for those that can't come and get it. The church normally holds it twice a month for our small town but we have been trying to help everyone who calls that is in the county. Many of our local restaurants are feeding first responders, essential workers, and the elderly or disabled in need of a hot meal. We also have several Blessing Boxes set up in our area where people put food in so people can come get it if they need food." – Gwendolyn
"I know of one lady, out of her own pocket, that supplied over $200 worth of food for a family. Then signed up for the dog food give away, went and picked it up and delivered it to people that cannot buy food for their pets." – Priscilla
"My sister has a box on her driveway that people can put food donations in. She then takes it to her towns food bank." – Samantha
Displays of love…
"In our household, we are calling & sending cards to some of our elderly members. We've also started going to the homes of members of our congregation and drawing on their driveways with sidewalk chalk. We started with the ones that we knew were really struggling, but will probably do it for as many as we can because people have loved it." – Casey
"Our neighbour handed Easter eggs over our fence so that the kids could have a hunt at home." – Rachel
"A sweet lady in our church family has dropped off a few envelopes full of activities for our kids to do as well as gave us some masks she made." – Jennifer
How has kindness impacted your life, or how are you planning to use these bible verses about kindness in your community?
PIN IT!