Find encouragement from God's word to help you cope depression. These 30 bible verses for depression are here to help light the way in times of darkness.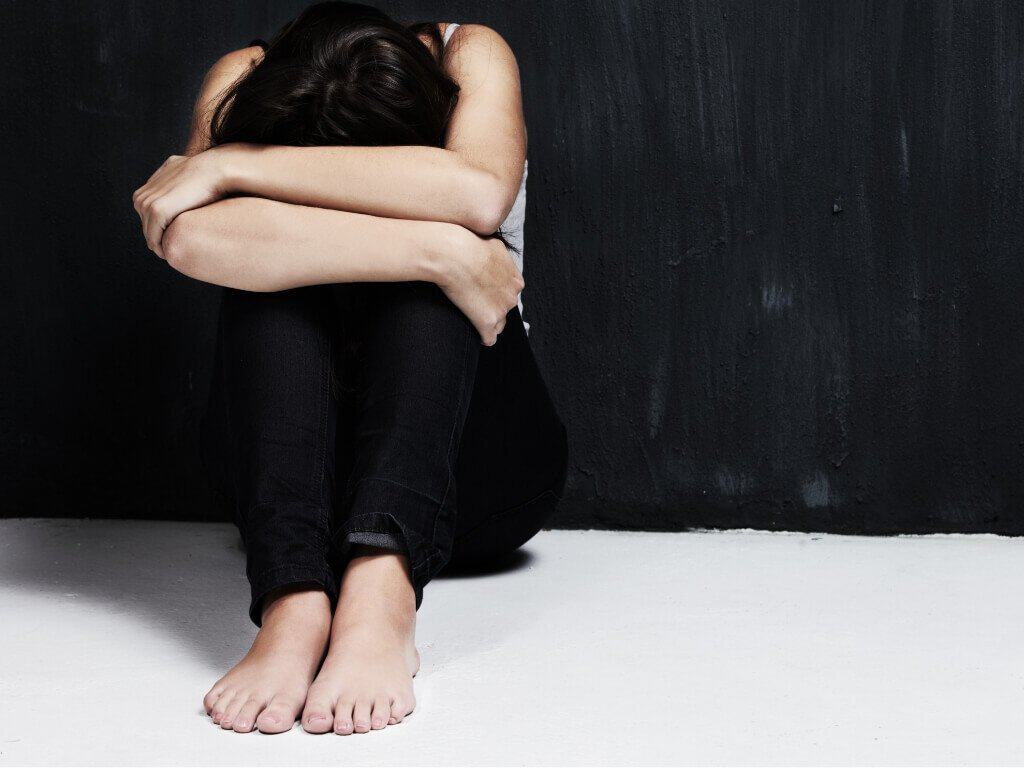 How I Found Hope In Depression
I was that person – the one who condescendingly said about people dealing with depression, "They just need to get over it." It is so very true that pride goes before a fall. Without going into too much detail, let's just say that soon thereafter, I would battle this exact difficulty for several years.
While I knew the bible verses for depression mentioned below, I didn't know how much I would need to cling to them.
I've been hesitant to write this post. Why? Because of the stigma attached to mental illness. As Christians, perhaps our honesty can help to end some of this stigma.
This post is not meant to be a sob story about what I went through. In fact, I don't want that to be the focus at all! I want the focus to be on the light, the light that is most assuredly at the end of the dark tunnel.
To those readers dealing with depression and/or anxiety, I want to give you hope! There is so much hope, more than you think possible.
*Important note:
Please know that while grounding yourself in these bible verses for depression gives you confidence, it won't necessarily change the way you are feeling. It is paramount for those dealing with depression to seek treatment from a health care professional and/or therapist. There are often neurotransmitter imbalances at play that need to be attended to.

During my season of depression, I was able to keep hope alive by deciding not to listen my chaotic thoughts, and instead focus on what God tells me in His Word. In the midst of this trial, keeping God's word in my heart was paramount, no matter how long the road seemed. That's why these bible verses for depression are everything to me.
Your thoughts and feelings may be chaotic. Satan constantly puts lies in your mind to trick you. Depression is a humbling problem to admit – no matter how strong we may seem on the outside, our thoughts are often a swirl of darkness and turmoil.
We need to talk about this issue, especially in the church, because we (God's people) have so much encouragement to offer the hurting.
What is this encouragement? The Word of God!
Another great tip if you are dealing with depression: Read the book of Psalms! I'm convinced God put the book of Psalms in the bible to specifically help people dealing with depression, anxiety, & despair.
What Scripture is good for depression? Best Bible Verses for Depression
Below are my personal favorite comforting & strengthening Bible verses for depression. These are the verses I clung to in the midst of the storm, and I pray they bring comfort to your heart as well.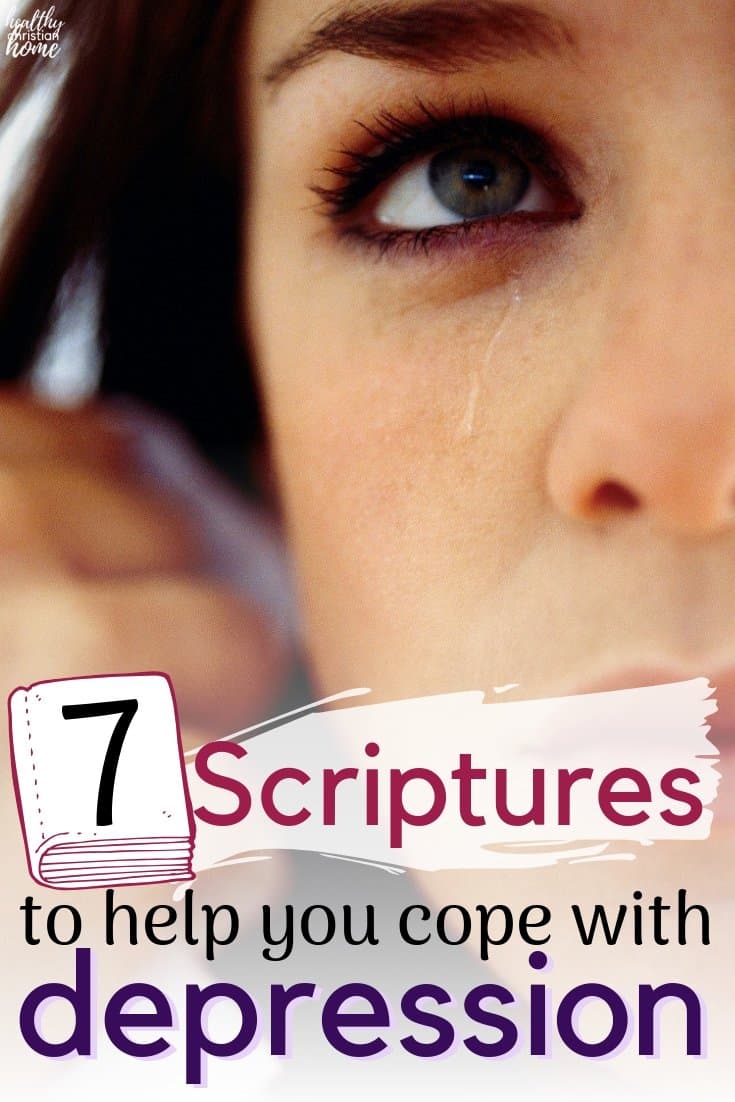 1. My God will supply every need of yours according to his riches in glory in Christ Jesus. – Philippians 4:19
God's provision reaches into even the darkest of times. When you cannot see the light, trust His promises of care and comfort.
2. The steadfast love of the Lord never ceases; his mercies never come to an end; they are new every morning; great is your faithfulness."The Lord is my portion," says my soul, "therefore I will hope in him." – Lamentations 3:22-24
Please go back and read the beginning of the chapter. The writer is in despair and feels like there is no hope, until he remembers the above verse. You may feel awful, but your feelings are not the truth. God IS faithful and he IS enough to get us through the hardest of times. His mercies are literally new every morning.
3. I can do all things through Christ who strengthens me. – Philippians 4:13
This is a verse that most people can quote by heart, but do you truly know it? You are equal to any task or obstacle placed in your path – not through your own strength, but through the strength of Christ.
4. My flesh and my heart may fail, but God is the strength of my heart and my portion forever. – Psalm 73:26
Sometimes we seriously feel like we have no strength left, and that is okay. When our body is exhausted and our mind is frazzled, we do not give up – because God's strength never runs out, and His provisions are unending.
5. "No temptation has overtaken you that is not common to man. God is faithful, and he will not let you be tempted beyond your ability, but with the temptation he will also provide the way of escape, that you may be able to endure it." – 1 Corinthians 10:13
When you're depressed, it is tempting to believe that "it's just too hard." No, it's not. God has promised you a way of escape from any temptation. If you are brought to it, God will bring you through it.
6. "His divine power has given to us all things that pertain to life and godliness, through the knowledge of Him who called us…" – 2 Peter 1:3
Feel like you lack something? This verse says He has already given it to you. Everything. To live your life and to live it in a godly fashion. How? Through the knowledge of Him (Jesus). In the Bible, you will find everything you need to face any challenge.
7. God has not given us a spirit of fear, but of power and of love and of a sound mind. – 2 Timothy 1:7
Although your feelings may be tumultuous right now, God's spirit is within you as a Christian and you have his help and strength, always.
8. "I have said these things to you, that in me you may have peace. In the world you will have tribulation. But take heart; I have overcome the world." – John 16:33
I love how this verse reminds us that no trial we endure on earth is permanent. We will have the ultimate victory as children of God.
Check out this related post: How to Be Patient & Wait on the Lord
More Depression & Anxiety Scriptures
9. "Fear not, for I am with you; be not dismayed, for I am your God; I will strengthen you, I will help you, I will uphold you with my righteous right hand." – Isaiah 41:10
10. "Trust in the Lord with all your heart, and do not lean on your own understanding. In all your ways acknowledge him, and he will make straight your paths." – Proverbs 3:5-6
11. "Casting all your anxieties on him, because he cares for you." – 1 Peter 5:7
12. "The thief comes only to steal and kill and destroy. I came that they may have life and have it abundantly." – John 10:10
13. "It is the Lord who goes before you. He will be with you; he will not leave you or forsake you. Do not fear or be dismayed." – Deuteronomy 31:8
14. "But they who wait for the Lord shall renew their strength; they shall mount up with wings like eagles; they shall run and not be weary; they shall walk and not faint." – Isaiah 40:31
15. "Do not be anxious about anything, but in everything by prayer and supplication with thanksgiving let your requests be made known to God. And the peace of God, which surpasses all understanding, will guard your hearts and your minds in Christ Jesus." – Philippians 4:6-7
16. "And we know that for those who love God all things work together for good, for those who are called according to his purpose." – Romans 8:28
17. "He will wipe away every tear from their eyes, and death shall be no more, neither shall there be mourning, nor crying, nor pain anymore, for the former things have passed away." – Revelation 21:4
18. "May the God of hope fill you with all joy and peace in believing, so that by the power of the Holy Spirit you may abound in hope." – Romans 15:13
19. "Come to me, all who labor and are heavy laden, and I will give you rest. Take my yoke upon you, and learn from me, for I am gentle and lowly in heart, and you will find rest for your souls." – Matthew 11:28-29
20. "For I am sure that neither death nor life, nor angels nor rulers, nor things present nor things to come, nor powers, nor height nor depth, nor anything else in all creation, will be able to separate us from the love of God in Christ Jesus our Lord." – Romans 8:38-39
Comforting Psalms for Depression & Anxiety
21. "But you, O Lord, are a shield about me, my glory, and the lifter of my head." – Psalm 3:3
22. "The Lord is a stronghold for the oppressed, a stronghold in times of trouble." – Psalm 9:9
23. "Even though I walk through the valley of the shadow of death, I will fear no evil, for you are with me; your rod and your staff, they comfort me." – Psalm 23:4
24. "For his anger is but for a moment, and his favor is for a lifetime. Weeping may tarry for the night, but joy comes with the morning." – Psalm 30:5
25. "You have turned for me my mourning into dancing; you have loosed my sackcloth and clothed me with gladness…" – Psalm 30:11
26. "I will rejoice and be glad in your steadfast love, because you have seen my affliction; you have known the distress of my soul…" – Psalm 31:7
27. "You are a hiding place for me; you preserve me from trouble; you surround me with shouts of deliverance." – Psalm 32:7
28. "Why are you cast down, O my soul, and why are you in turmoil within me? Hope in God; for I shall again praise him, my salvation and my God." – Psalm 42:11
29. "When the righteous cry for help, the Lord hears and delivers them out of all their troubles. The Lord is near to the brokenhearted and saves the crushed in spirit." – Psalm 34:17-18
30. "Answer me quickly, O Lord! My spirit fails! Hide not your face from me, lest I be like those who go down to the pit. Let me hear in the morning of your steadfast love, for in you I trust. Make me know the way I should go, for to you I lift up my soul." – Psalm 143:7-8
The challenge: don't just read these verses. Meditate on them continually (think about them over and over, all day long). Pick one per day – or find another one that resonates with you. These bible verses will help infuse you with hope to face your daily battles.
A Side Note on Depression & Anxiety for Christians
If you've experienced mental health issues, you are far from alone.
According to CDC
, more than half of the population will experience a mental illness diagnosis in their lifetime.
Yes, Christians, you aren't exempt from this. Keeping your mind on spiritual things is crucial but cannot make up for a lack of neurotransmitters.
But, there is hope! Many times, low nutrient status is a factor in mental illness. Find a nutrition savvy functional MD, and keep digging for answers.
Anxiety, depression, and mental health issues often stem from or are exacerbated by nutrient deficiencies. Including: B12, vitamin D, iron, magnesium, omega 3s. Thyroid, adrenal, and hormone levels also play a role.
Low iron
was a major factor in my postpartum depression, but there are a number of nutrients that can also affect neurotransmitter production.
If you're struggling mentally, please ask your doctor to run some tests. Also do some research on optimal nutrient levels vs. "out of range." Reference ranges are often too broad and if your levels aren't optimal, it can still cause issues.
In order for your brain & body to produce sufficient neurotransmitters & hormones, it must have the building blocks to do so.
I'm no doctor, but I am a patient who has experienced this first hand and reversed these issues with adequate nutrition. Other patients have experienced similar stories. Don't give up!
While you work on nutrition status, PLEASE seek help in whatever way you need. Medication and therapy can be wonderful tools where necessary.
IF YOU FOUND THIS POST HELPFUL, PLEASE SHARE IT WITH SOMEONE YOU LOVE! WHICH BIBLE VERSES WOULD YOU ADD TO THIS LIST?
MEDICAL DISCLAIMER: This content is not intended to diagnose or treat any disease, or as a substitute for medical advice. Please consult with your advising physician before starting any treatment for a medical condition. Healthy Christian Home shall not be held liable or responsible for any misunderstanding or misuse of the information contained on this site or for any loss, damage, or injury caused or alleged to be caused directly or indirectly by any treatment, action, or application of any advice given on this site. Read more on my disclosure policy.
PIN IT!