Dear Christian living with doubt: You are not alone. God still loves you. And He's reaching out His hand to You. If you're dealing with Christian doubt, let Jesus pull you up when you're sinking.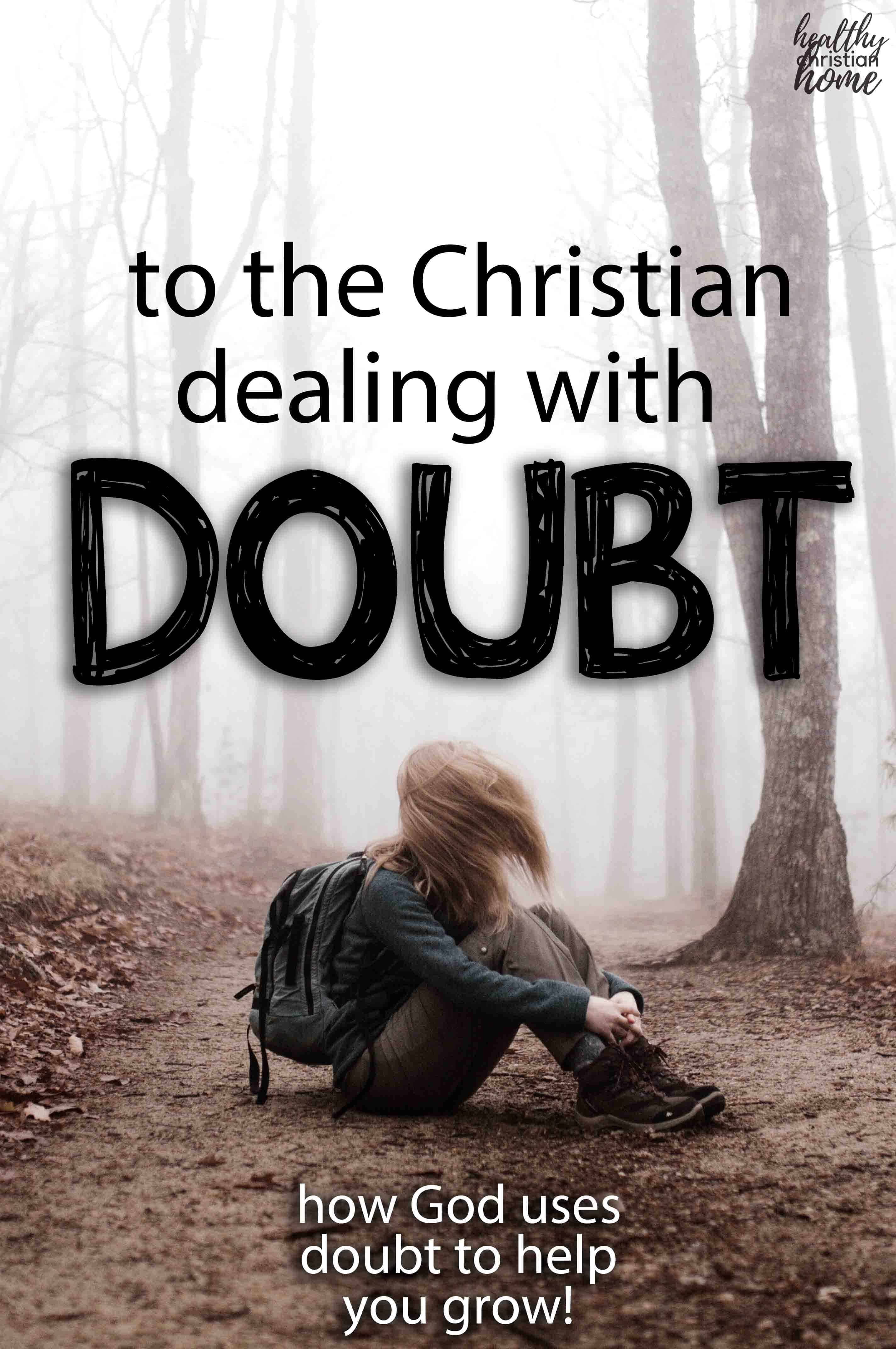 When Faith & Doubt Intersect
I step out of the boat. Secretly pat myself on the back, thinking I'm brave. But in reality, I'm not. ‍
Because my world is calm and I can see Jesus standing there, clear as day. Skies are sunny with full visibility. So, I'm totally at peace getting out of my comfort zone and walking towards him, fearless. ️
But then, the wind. The waves. The rain. Storms around me start raging. Life isn't going the way I thought it would and Jesus isn't as clear to me anymore, so I start faltering. I doubt.
➡️ Yes, I admit it: I AM PETER. ⬅️
When storms of life break around me, I doubt my sweet Savior but with the little bit of faith I can muster I cry out, "Lord! Save me!"
And there He is. Still loving me, although surely shaking His head, saying "Mary [insert your name here] with little faith, why did you doubt?"
Thank goodness Jesus doesn't wait around for me to get my act together. He doesn't allow me to sink deeper due to my wobbly faith.
He reaches out his hand to me.
The Scripture says He does so immediately. And He wants to catch you in your sea of spiritual doubt, too.
Lots of Christians struggle with seasons of intellectual doubt (wanting evidence for God) or emotional doubt (feelings of hurt and woundedness). And when we feel this way, we feel ashamed to admit it because we don't want to be viewed as having a weak faith.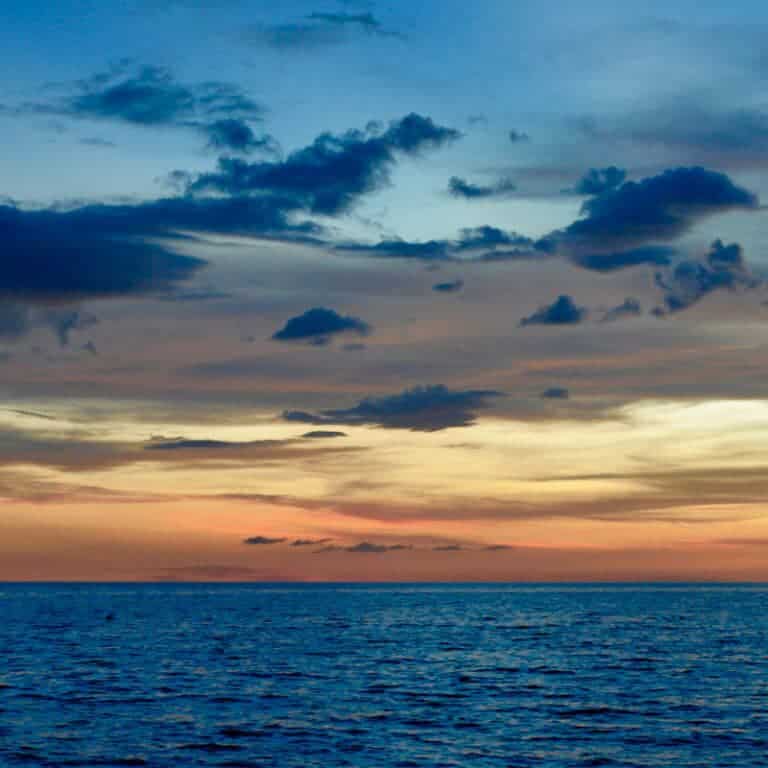 Doubting God in Hard Times: My Story
I've just emerged from a season of struggling with my faith in God. Not doubting that He exists, really, but struggling with emotional doubt: reconciling His goodness with the pain of this world.
Personal painful experiences left me questioning Him, saying, "Where are you, Lord?" and "Don't you see what I'm going through?" It also left me wondering about the many people hurting worse than I was, and how God's good, sovereign plan reigns over it all.
Even worse, I grappled with what doubt really meant for me as a daughter of God.
"Am I still a true Christian?" I wondered. "Does struggling with this mean I don't love God or believe in Him anymore?"
Meanwhile, Satan was standing by, smiling. He loves it when our moments of doubt cause us to question our faith.
Is it normal for a Christian to have doubts?
I can now see that grappling with doubt made my faith stronger and helped me experience God on a deeper level than ever before. Satan, however, wanted it to undermine the genuineness of my faith.
Christians need to talk about the painful experience of doubt — to realize it's a normal part of growing a mature faith in the storms of life.
If, every time we experience doubt, we feel guilty and think that our faith is nothing, Satan has us right where he wants us!
I think God has been teaching me this lesson in many ways and preparing my heart to write this post for a few months now.
Spoiler alert: God used that period of doubting to strengthen my faith in ways I never imagined. Now, I'm actually thankful for that experience because it helped me grow closer to God!
So friend, if you're wondering, "Why do I doubt God sometimes?" read on. Learn how to grow through your doubts, instead of allowing them to destroy you.
Disclaimer: This post is written from the perspective of Christians who believe in God's existence but are simply struggling with certain aspects of faith. If you're unsure whether God exists, visit Apologetics Press for evidence-based research.
How Christian Doubt Builds Our Faith
You may be wondering, "Where in the Bible does it talk about doubt?" Let's look at the account of Peter and see the process from faith to doubt and back again. It shows us how God uses faith and doubt in tandem to help us realize His loving care.
"And Peter answered Him and said, "Lord, if it is You, command me to come to You on the water."

So He said, "Come." And when Peter had come down out of the boat, he walked on the water to go to Jesus. But when he saw that the wind was boisterous, he was afraid; and beginning to sink he cried out, saying, "Lord, save me!"

And immediately Jesus stretched out His hand and caught him, and said to him, "O you of little faith, why did you doubt?"

– Matthew 18:28-31
1. Faith often precedes doubt.
First off, notice that Peter was already one step ahead of everybody else on the boat: He had enough faith to step out!
Kudos to Peter! His boldness does him credit.
In life, we are often given opportunities to exercise our faith (i.e. step out of the boat). These exercises are rarely easy. They require spiritual muscle + a complete and total reliance on God.
When we take these risks, we are often met with struggle.
In the book of Job, we see the suffering he endured is preceded by a massive display of faith through his devout lifestyle. God was so impressed with Job, he says to Satan: "Have you considered my servant Job, that there is none like him on the earth, a blameless and upright man, who fears God and turns away from evil?" (Job 1:8).
In essence, although God did not inflict Job's suffering upon him, He allowed it to happen because of his strong faith — knowing this experience would be a true test of that faith.
Have you ever thought that maybe God allowed you to go through some hardship in order to help grow you, shape you, or fulfill His plan on earth?
Realize that you've been given an opportunity to exercise your faith muscles, and hardship is a part of this process.
2. Doubt is a natural response to the pain of faith-testing.
When these challenging moments descend on us, we can do one of two things: trust God in the pain or question His goodness.
Most of us, as Christians, start out the way Job does when disaster strikes: "Naked I came from my mother's womb, and naked shall I return. The Lord gave, and the Lord has taken away; blessed be the name of the Lord" (Job 1:21).
We start out confident, trying our best to put our faith in God. But as our circumstances grow increasingly scary and difficult, doubt starts to creep in over time.
We become like Peter and, instead of having our eyes fixed on Jesus, the waves crash around us and distract us.
Let's be real — the waves just plain scare us. So, our human nature causes us to doubt whether God is taking care of us.
This doubt is a natural, human response. But God doesn't leave us there — here's what happens next.
3. God cares for us in our moments of doubt.
The biggest lesson God is teaching me lately is this:
He doesn't expect you to have all your doubts figured out before He's willing to rescue you.
Yesterday I heard the story of a young boy who was crossing the street with his father. As they held hands, the father gripped so tightly that the boy's feet didn't even touch the ground for part of the journey. When they reached the other side, the boy exclaimed proudly, "Boy, I sure held on tight, didn't I dad?"
This boy is like us. We think that staying true to God means it's all based on our own efforts.
Sometimes we fail to see that God is holding onto us even tighter than we are holding onto Him.
I love Psalm 34:
The steps of a man are established by the Lord, when he delights in his way; though he fall, he shall not be cast headlong, for the Lord upholds his hand.
Did you catch that? The Lord upholds our hand.
When our faith is wobbly, when we're struggling, God is holding onto us even tighter than before.
He also uses these times to minister to us in beautiful ways through providence, answered prayers, the encouragement of other Christians, and teaching us specific truths that we need at just the right moment.
That's God reaching out His hand! He doesn't want you to sink!
When you see God taking care of you in the midst of pain, your doubt begins to crumble and is replaced by an even stronger faith.
4. When we emerge from a season of doubt, we can use it to strengthen the faith of others.
The wonderful thing about going through a season of doubt is that afterward, when our faith is strengthened, we can use this experience to encourage others. Let's look at Peter's friends in the boat:
And when they climbed into the boat, the wind died down. Then those who were in the boat worshiped him, saying, "Truly you are the Son of God."

Matthew 14:32-33
Everyone in that boat saw what happened to Peter. They saw how Jesus, in His sovereignty, rescued him. And it resulted in praise.
Tell your story about God's faithfulness in your life storm. It will cause others to believe!
How to Overcome Doubt (3 Practical Steps)
Now that you've learned that doubt isn't something to be feared, but rather a process God can use to strengthen you, you can start dealing with it in a constructive way.
Remember, God is the only one who can truly help you overcome doubt. But there are some steps to take to help you stay the course, not give up, and keep trusting God in the meantime.
1. Don't allow doubt to weaken your prayer and study time.
When you're struggling with your faith, it's tempting to ignore prayer and bible study because you're less likely to feel like doing it. Realize that it's even more important to nurture your relationship with God at this time.
Here's a practial guide for spiritual growth in the midst of hardship – it has a step by step plan to help you study.
2. Study about doubt in the bible (character study).
Realizing that heroes of faith in the bible are just regular people who struggled encourages us to keep the faith when we doubt.
I love the following quote:
As we study Scripture and read about the most exceptional people of faith, one fact we learn is that their faith wasn't always what we might call, "rock solid." There's an entire chapter dedicated to men and women of faith who frequently slipped, yet our Father still recognized them as people of great faith. This fact alone should be a great comfort and source of strength for everyone who is trying to live the Christian life.

These beautiful people were known for their faith, not only because they listened to the Word of God, but they also got to know the God of the Word. Both are necessary for our spiritual growth.

– Jeff Jenkins, The Jenkins Institute
Pick someone in the Bible to study who also doubted: Job, David, Gideon, Thomas, Sarah, and more. Meditate on the fact that God used them and He can also use you!
Even the apostles doubted Jesus in Matthew 28:17, "And when they saw him they worshiped him, but some doubted." But God doesn't want you to stay there. He helps you get to a place of stronger faith when you trust in Him.
Let your cry be like the man in Mark 9:24, "I believe; help my unbelief!" Gain encouragement by seeing how far these people came with God's help.
And remember, God can help you through these doubts and keep you from stumbling:
Now to him who is able to keep you from stumbling and to present you blameless before the presence of his glory with great joy

– Jude 1:24
3. Be honest about your doubts with a mature Christian you trust.
When I was dealing with doubt, one of the ways God helped me through it was by providing a faith-based counselor for me to talk to. This helped me process what I was going through and discover truths I hadn't considered before.
It's scary to admit our doubts out loud because we feel ashamed of them, but if we don't confront them, they only fester and grow! And if that happens, they can eventually grow into unbelief. In contrast, naming our doubts truly helps us in breaking the spirit of unbelief.
Find a mature Christian you trust and respect to talk to about your struggles. Someone who is mature in the faith has probably experienced their own doubts at one time or another. And remember that overcoming doubt is a process – it takes time to get through them. Strive to be patient with yourself and the process.
By sharing our struggles with one another, it's much easier to heal! I love the following quote:
Have the strength to explore the things you don't know, all the while holding on the the things you do know.

– Jeremy Hall, #DOUBT
If you're dealing with faith vs. unbelief, I hope you'll remember how God strengthens you through doubt and take the steps necessary for overcoming doubt.
Have you experienced seasons of Christian doubt? How did Jesus reach out to you?
PIN IT!