In need of an easy greek salad recipe to shake up your salad routine? This ultimate greek salad with mini sweet peppers is sure to impress! It's filled with a variety of colorful veggies, feta cheese, olives, and topped with homemade greek salad dressing with lemon.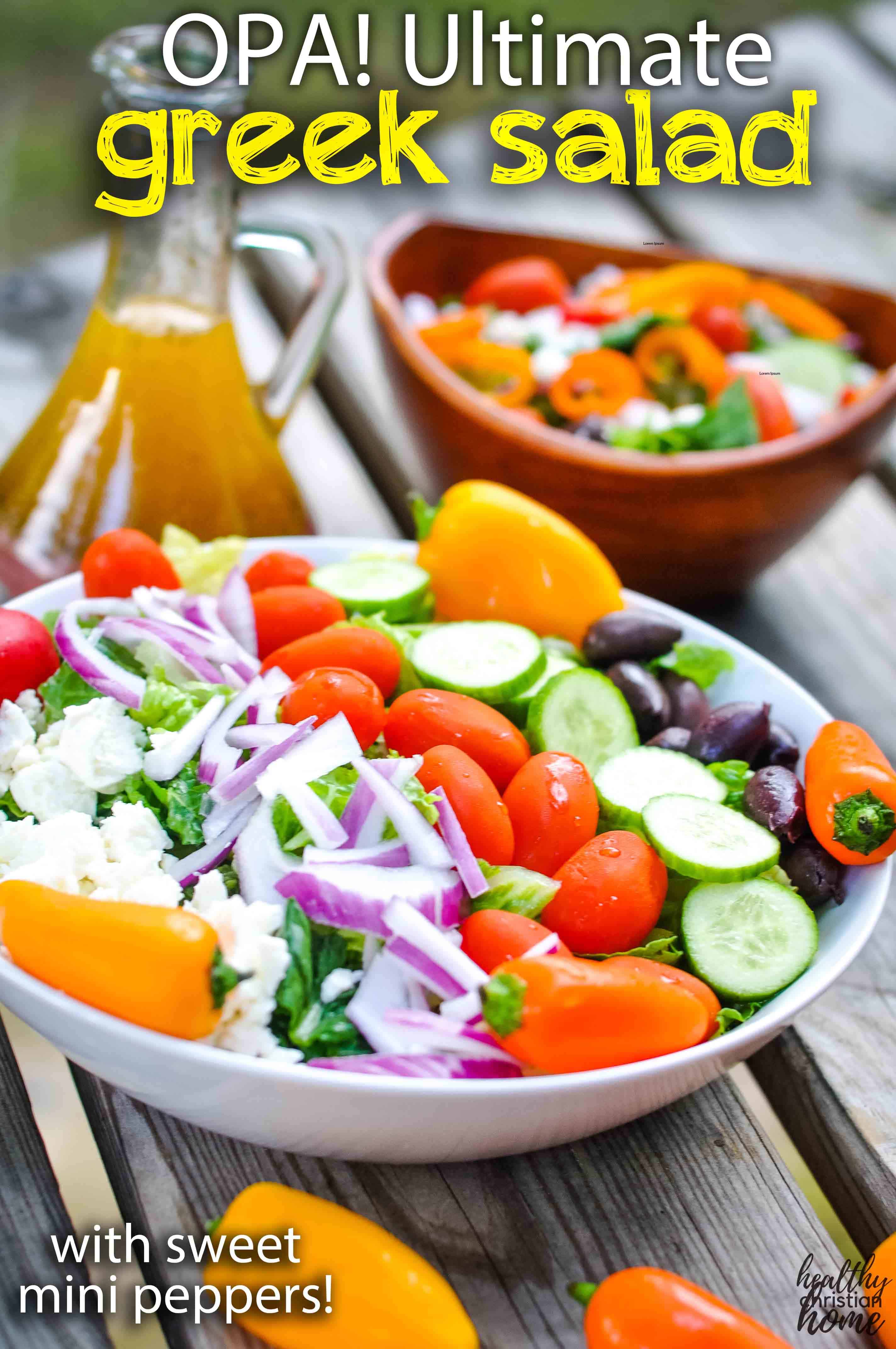 My love affair with Greek salad
Exactly eight years ago, the hubs and I set off on our favorite adventure to date: a babymoon in Greece before our first was born. While there, we toured ancient Athens and explored the islands of Mykonos and Santorini.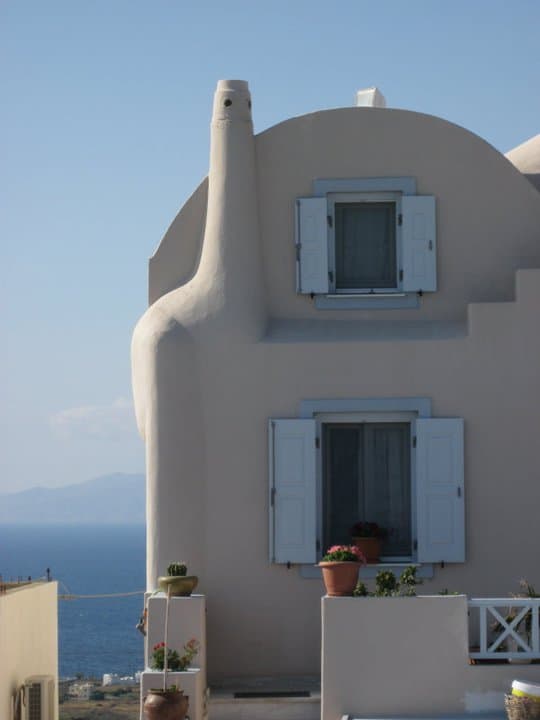 Those dreamy days were spent meandering through Greek villages and attempting to sketch quaint white-and-blue buildings. And my most vivid memory?
Gobbling more greek salad than you can shake a stick at.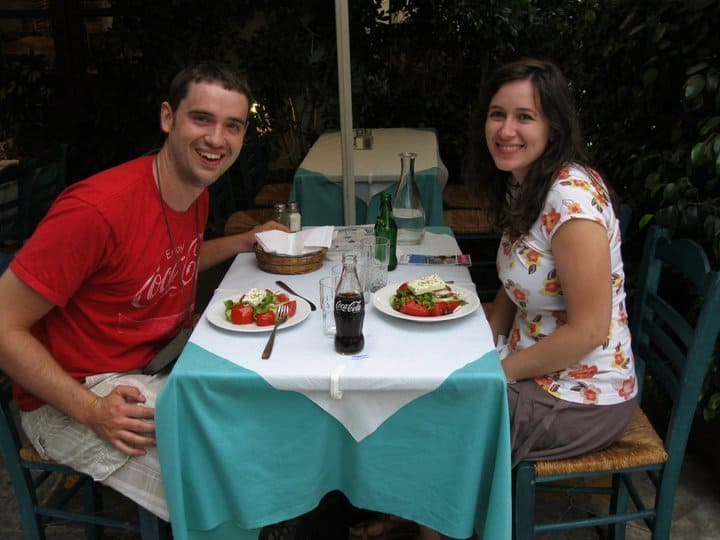 Of course, pregnancy cravings gave me license to feast heartily on my favorite Greek fare. Thus my love for Greek salad was born, and has not dimmed one bit since.
Making a traditional Greek salad recipe (with a mini peppers twist)
In honor of that special trip, I'm recreating the memory with this traditional Greek salad recipe. And I'm adding one unique and special ingredient: mini sweet peppers!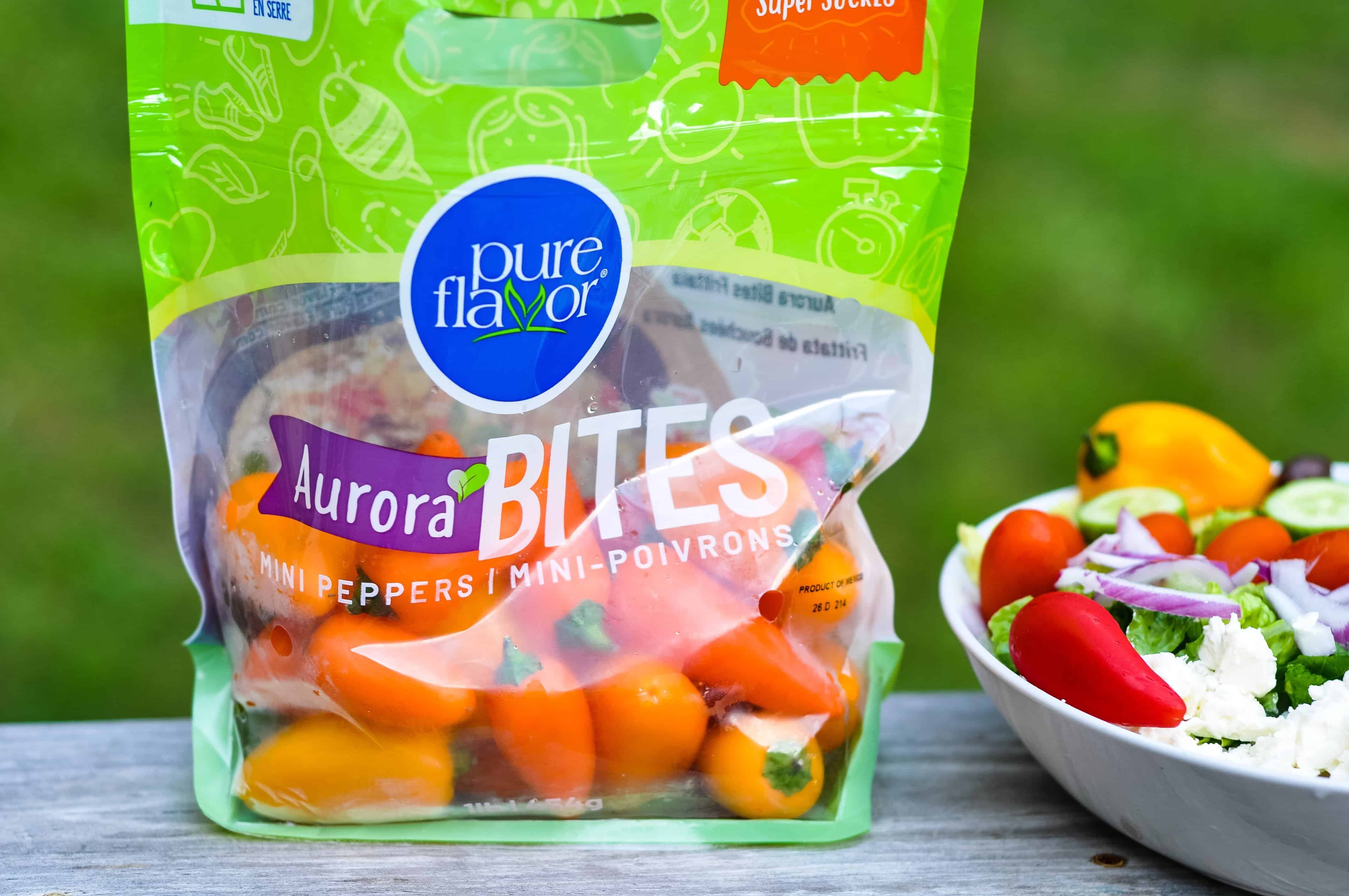 Can I just say how obsessed I am with these little darlings? My friend introduced me to them, and I'm not typically a huge bell pepper fan, so I was a bit skeptical.
But after grabbing a bag of Pure Flavor Aurora Bites at my local Wal-Mart, I immediately fell in love. They are sweeter than run-of-the-mill bell peppers, and just look at those colors!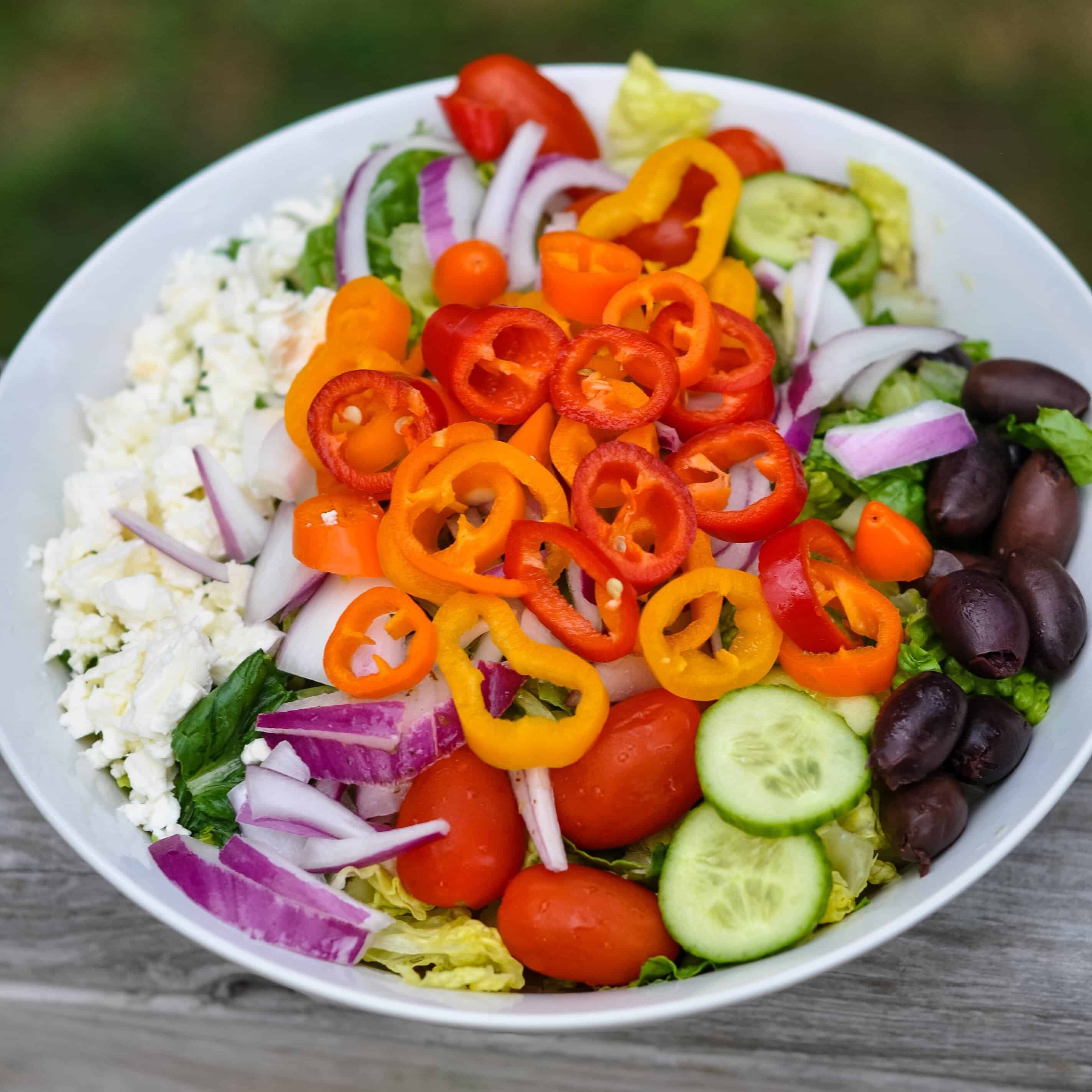 I mean, really. How cute are they?!
This post is sponsored by Pure Flavor, but we had been buying these on repeat for several months before this post even came to mind. They are seriously amazing!
I also love how easy they are to grab and add to the kids' plates and lunchboxes for a healthy veggie side. No chopping or slicing required. My boys love them just as much as I do – plus, they have more vitamin C than citrus!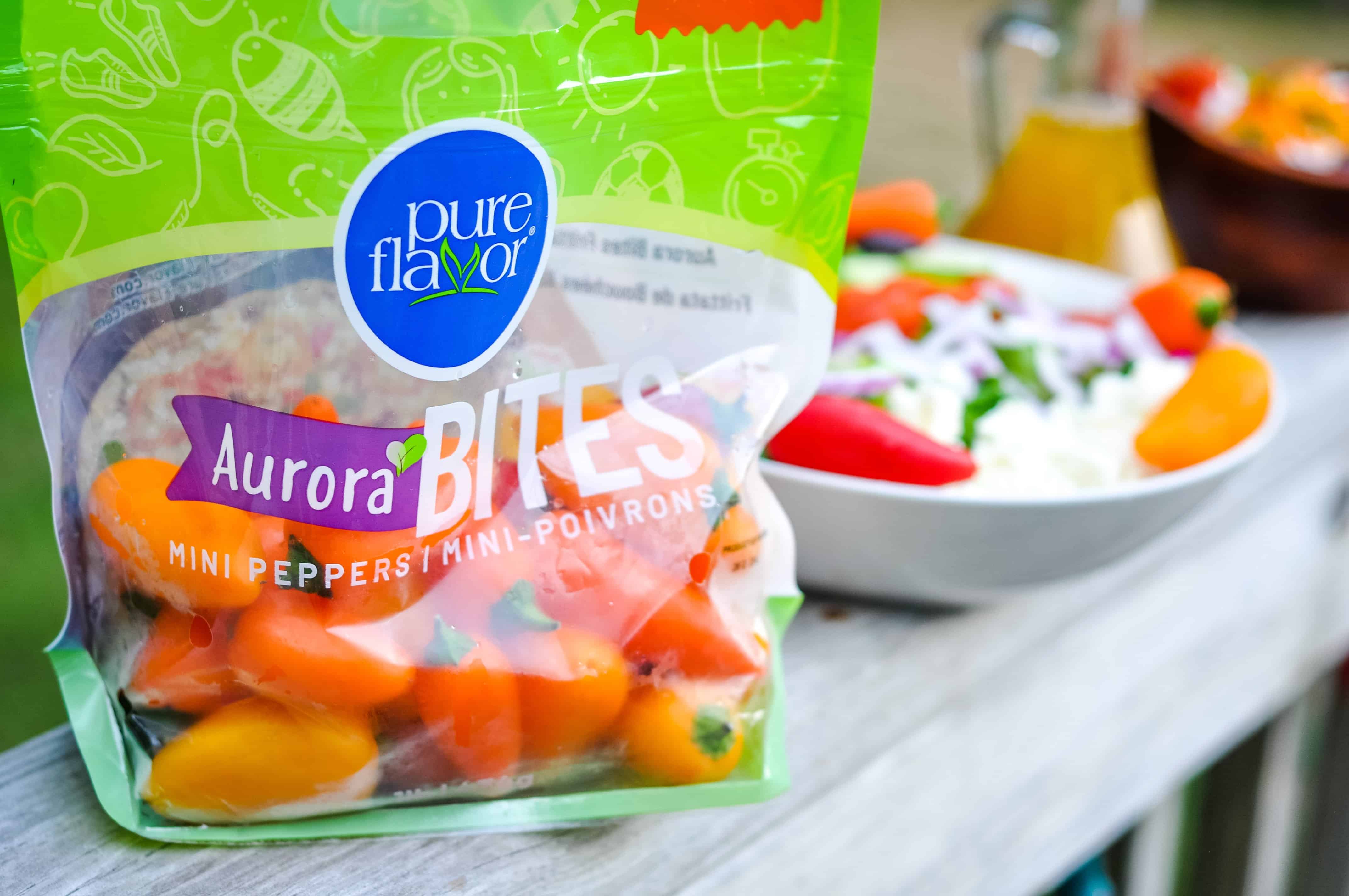 How to make the best Greek salad (key ingredients)
Traditional Greek salad (called "horiatiki salata" by locals) contains no lettuce, and modern interpretations might even include a starch like quinoa or pasta. But there aren't that many types of Greek salad – all the best recipes contain the same basic elements listed below.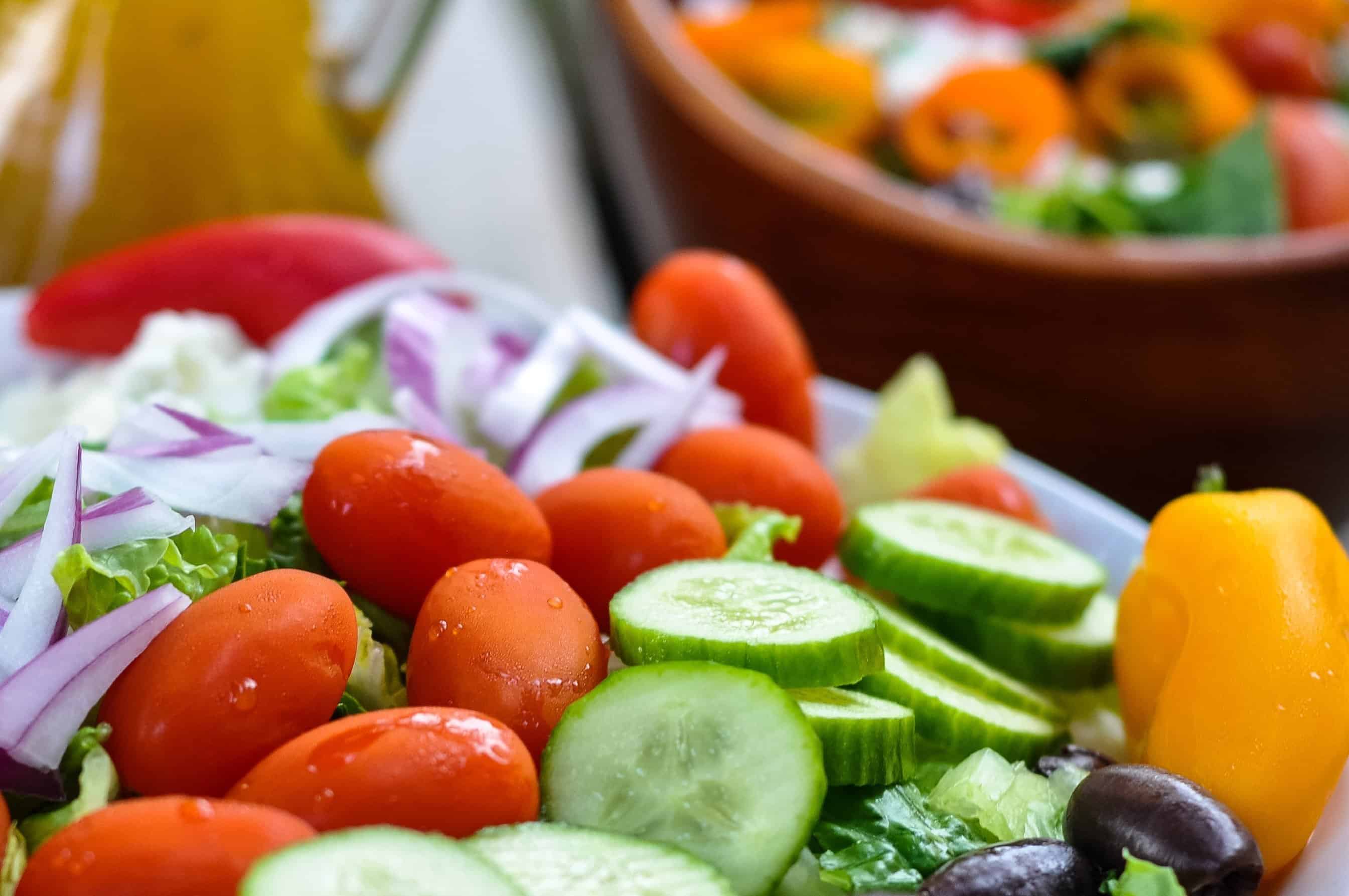 The key to a perfect mediterranean Greek salad is super fresh ingredients and a homemade dressing. Here's what ingredients to add to the salad bowl:
Romaine lettuce. If you're wondering what type of lettuce to use for Greek salad, romaine is the perfect go-to salad base. I love using romaine for every salad I make actually, because it stays crunchy for a super long time and has a mild flavor which allows all the yummy Greek flavors to really shine.
Fresh tomatoes. If tomatoes are in season, you can truly use any type you fancy. (Side note: is there anything better than a homegrown tomato?) But if you can't get great quality tomatoes, I recommend bite size cherry tomatoes for this easy Greek salad.
Red onion. The purple/red variety of onion is a bit sweeter and milder than the more popular yellow onion, which makes it the ideal addition to this Greek salad. I personally love the strong flavor and added crunch. Here's the difference in all six types of onions and how they are best used.
Fresh cucumbers. Any variety of cucumbers can be used in Greek salad. Buying tip: when choosing cucumbers, the smaller ones usually have more crunch, better flavor, and smaller seeds – perfect for salads.
Kalamata olives. If you're wondering which olives for Greek salad are best, kalamata is your answer! Good quality kalamata olives can be found in most grocery stores and are key to the flavor of Greek salad (we really like this kind!) . Grown in the Peloponnese region of Greece in the town of Kalamata, these small almond-shaped fruits are dark brown or purplish in color and have lots of health benefits like antioxidants, vitamins/minerals, and healthy fats. Here are some more health benefits of kalamata olives. (Also, a pet peeve side note: A certain restaurant that shall not be named, which has this specific fruit in its title, only serves cheap black olives in their salad. No quality kalamata or any special variety. What's up with that? Has anyone else noticed this?)
Feta cheese. Another key component of the out-of-this world flavors in Greek salad is quality feta cheese. Feta is a soft, crumbly cheese originating in Greece. It's very salty and flavorful and is traditionally made using goat's or sheep's milk, which imparts a richer flavor. It's also wonderful sprinkled on roasted veggies or homemade pizza. Buying tip: get feta in a block, not pre-crumbled, as the pre-crumbled kind usually contains more additives to prevent caking.
Mini peppers. Traditionally and at many Greek restaurants, pepperoncini peppers (also known as banana peppers) are used to add spice to this salad. Instead, we are using these fun miniature sweet peppers. I love the variety they give!
Homemade Greek salad dressing. Need I say more? Making your own dressing really makes this salad taste authentic. Visit my post for the full run-down on how I make this super simple homemade Greek dressing.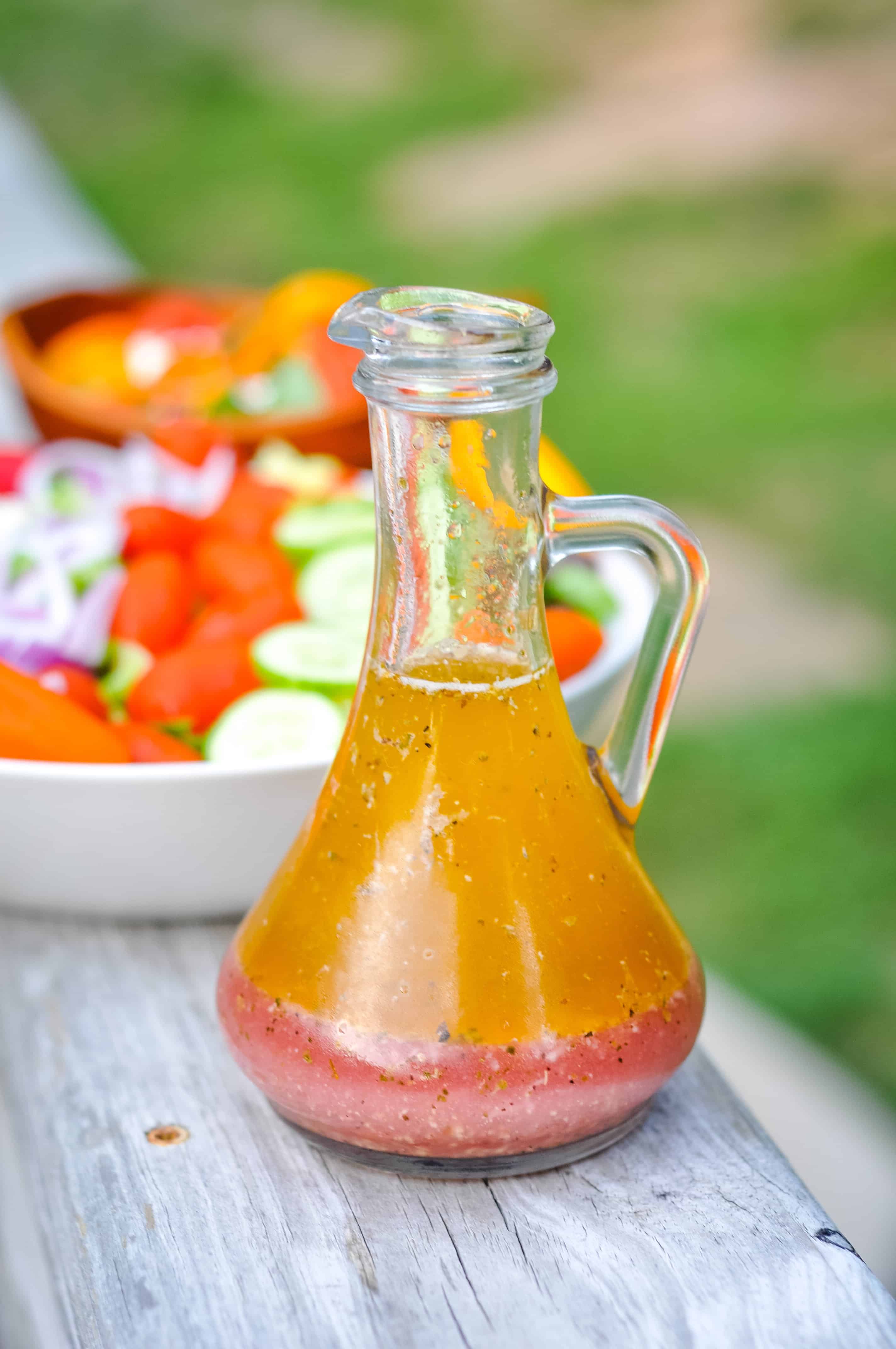 Can Greek salad be made ahead? How long will Greek salad keep?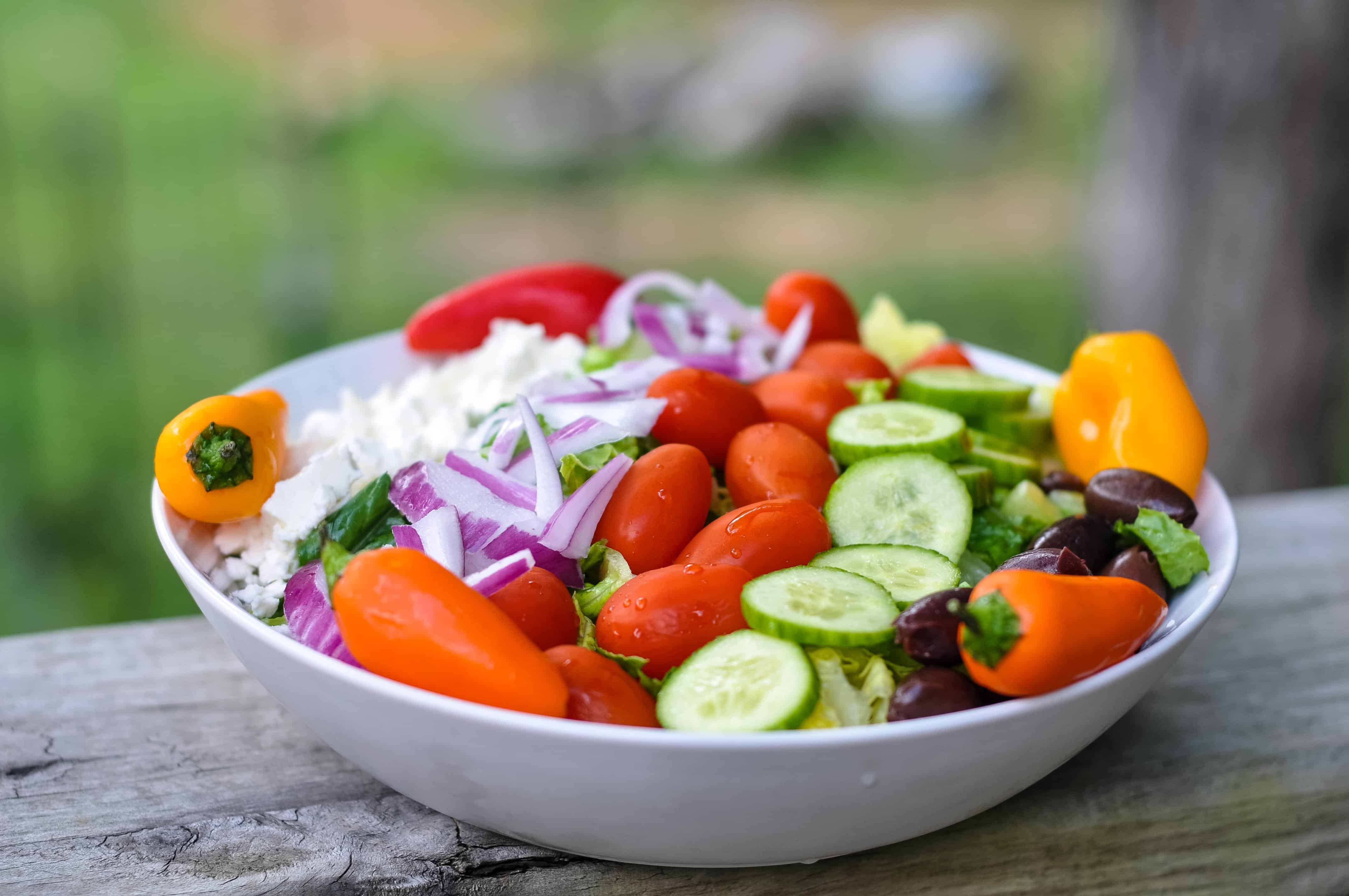 You can absolutely make this salad ahead and keep it fresh in the fridge for up to 4 days, as long as you don't coat it in dressing first. Since dressing on lettuce leaves causes them to wilt, be sure to dress your salad by the serving (not the entire bowl at once).
That said, it IS possible to make this salad without romaine or leaf lettuce. If you want to make a salad with no lettuce, simply add more tomatoes, cucumbers, peppers, and onions. You can add your dressing to a lettuce free salad and let it marinade in the fridge without wilting worries – very similar to my Tomato, Cucumber, & Onion Salad. Doing it this way actually intensifies the flavor over time.
Wondering what to serve with greek salad?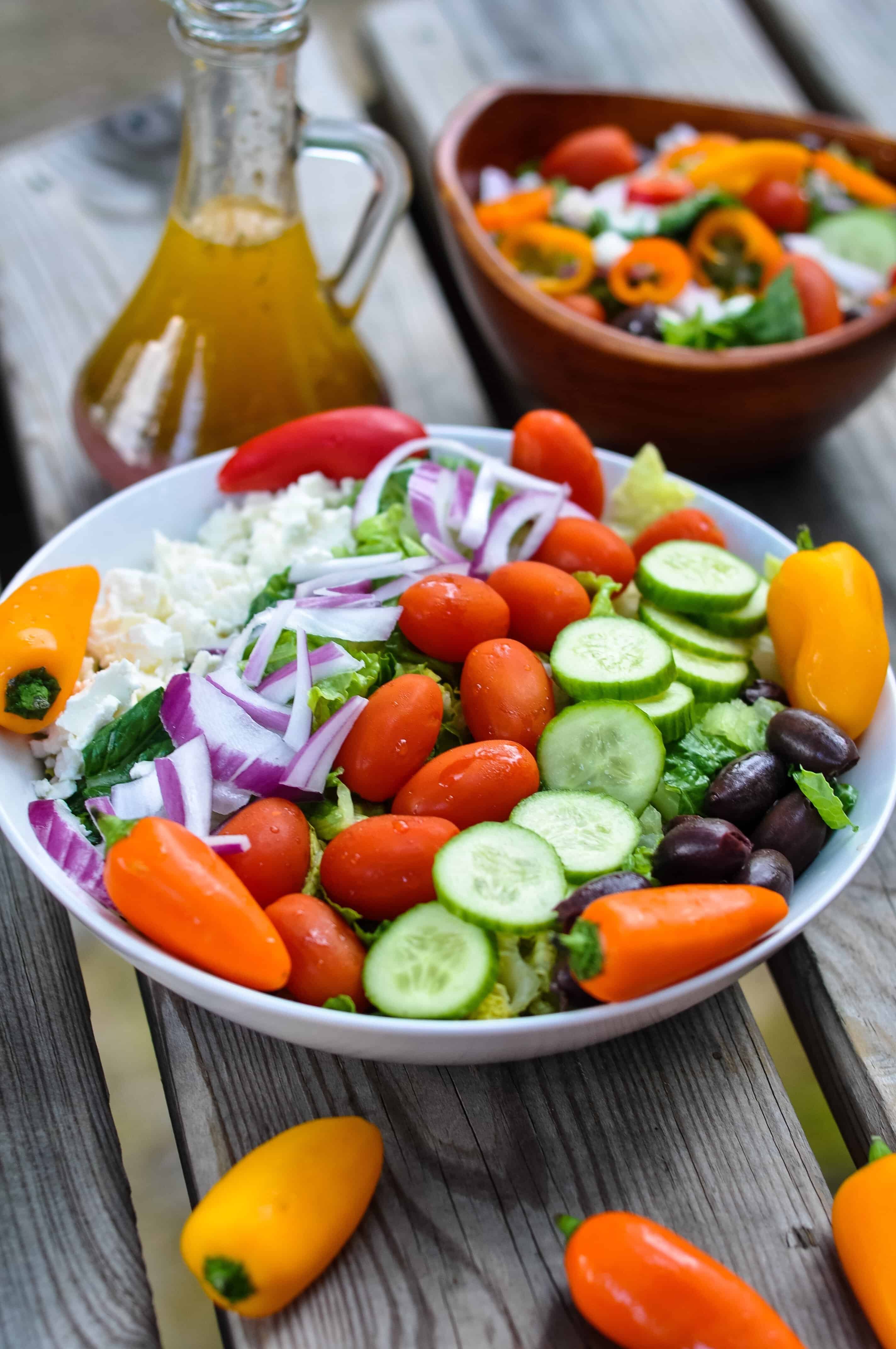 Greek salad works beautifully as a stand-alone meal, but also pairs perfectly with savory Italian pot roast or hearty soup like this Chuy's chicken tortilla soup. We also love it with chili.
Or, if you really want to Greek-out, try these Greek-inspired recipes for a serious feast!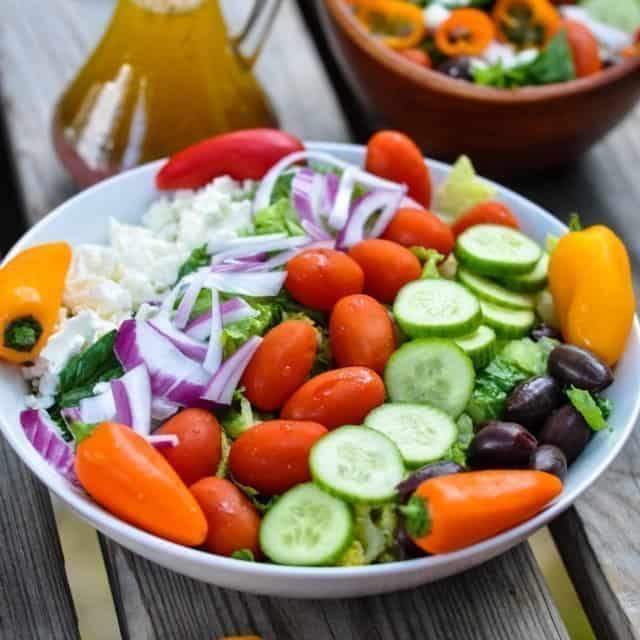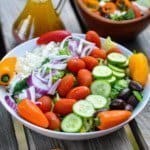 OPA! Ultimate Greek Salad (with mini sweet peppers)
In need of an easy greek salad recipe to shake up your salad routine? This ultimate greek salad with mini sweet peppers is sure to impress! It's filled with a variety of colorful veggies, feta cheese, olives, and topped with homemade greek salad dressing with lemon.
Ingredients
1 head romaine lettuce chopped
8 Pure Flavor mini sweet peppers sliced
1 cucumber sliced
1 cup grape tomatoes
¼ red onion thinly sliced
4 ounces feta cheese crumbled
1 cup kalamata olives pitted
Greek Salad Dressing:
½ cup olive oil
¼ cup red wine vinegar
¼ cup lemon juice freshly squeezed
1 tsp. dijon mustard optional
2 cloves garlic minced or crushed
1 tbsp. dried oregano
1-2 tsp. salt to taste
1 tsp. pepper
Instructions
Thoroughly wash all produce and vegetables. Roughly chop romaine lettuce and add to a large bowl.

Next add mini peppers, cucumbers, tomatoes, onion, and olives to the bowl. Crumble feta cheese on top and toss salad thoroughly.

To make the salad dressing, add all dressing ingredients to a small jar. Use 1 tsp. salt, taste dressing, and add more if needed. Shake thoroughly to combine and pour over salad.
Recipe Notes
Salad keeps up to 4 days in the fridge (without dressing). Keep dressing in a separate container in the fridge for up 2 weeks.
Visit this post for all the details on making the best greek salad dressing.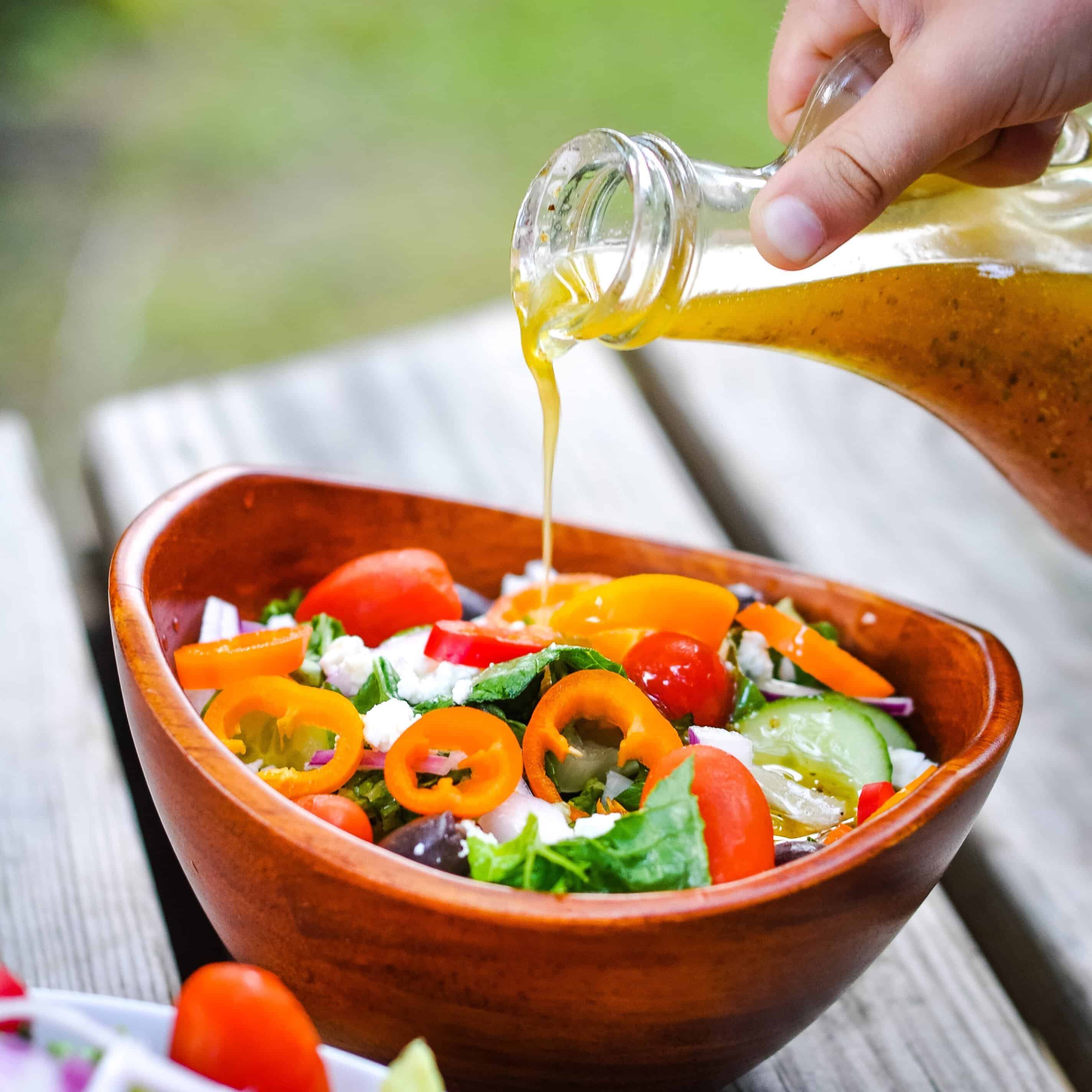 Are you a fan of Greek-inspired salads? Please leave a recipe rating in the comments if you enjoy this recipe!
PIN IT!