Classic creamy alfredo sauce is the decadent comfort food of your dreams. Made with real butter, cream, and parmesan cheese, this really is the BEST alfredo sauce recipe, so be sure to save it for later!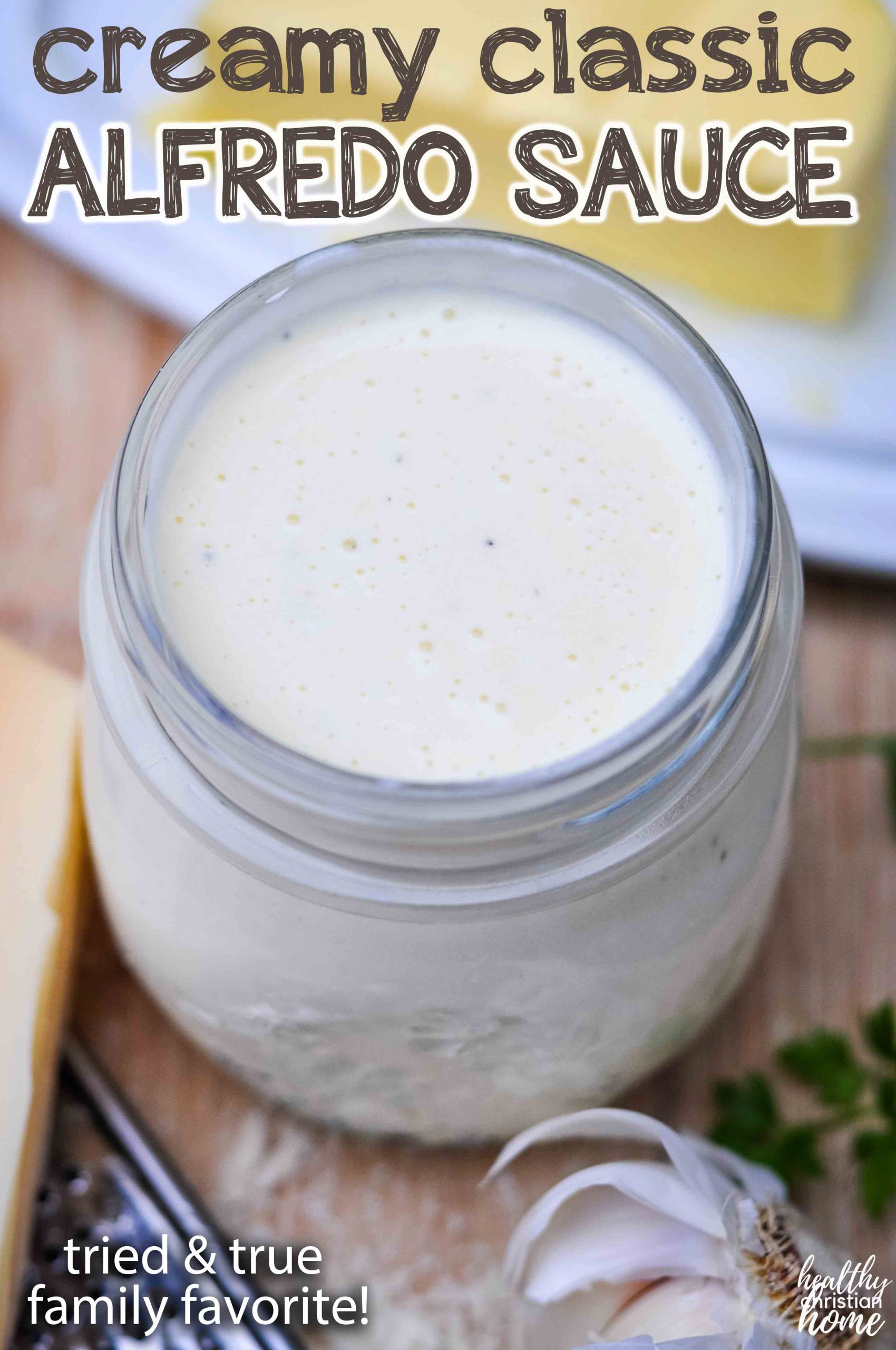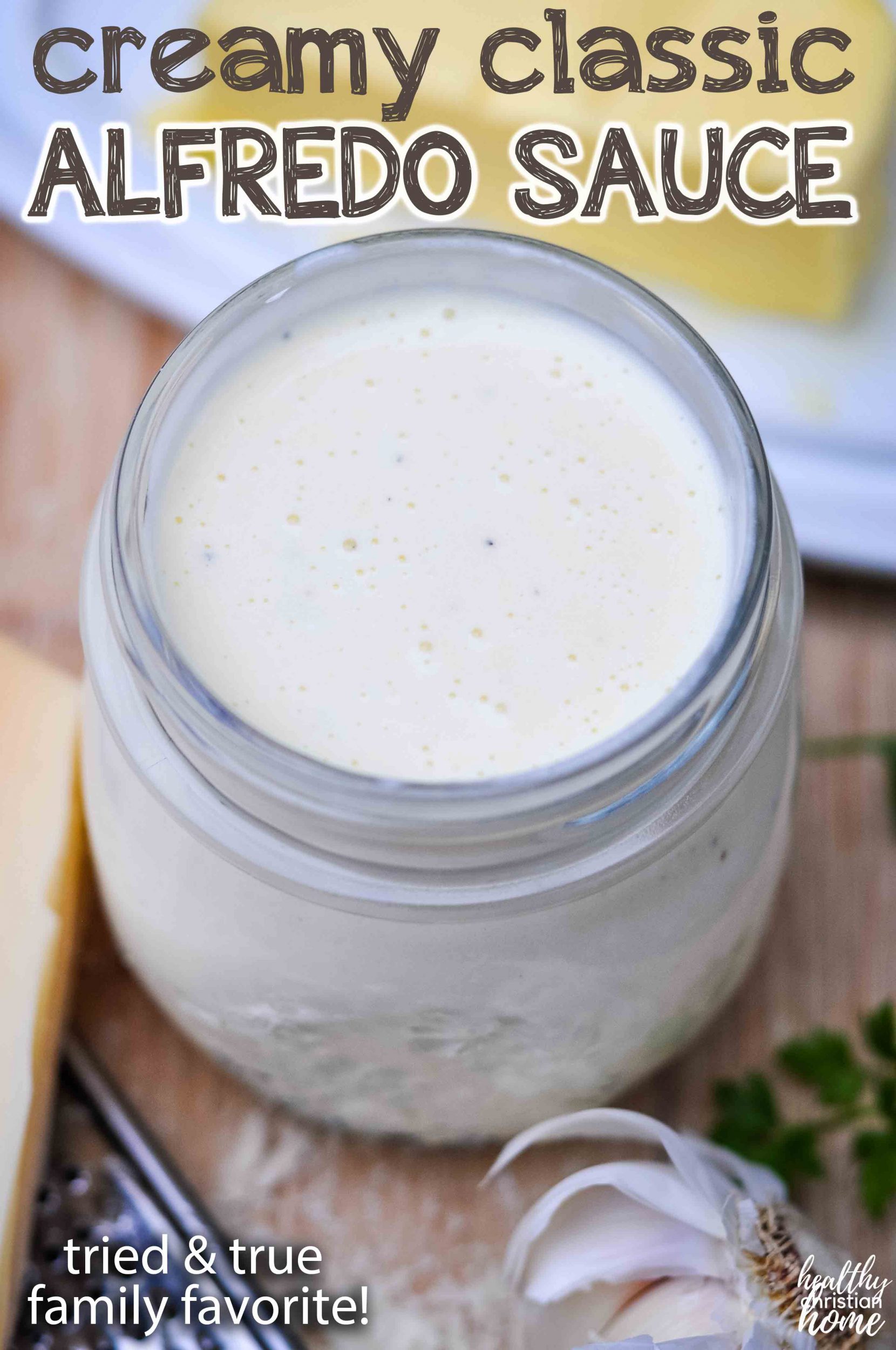 This is probably the most well-worn memorized recipe in the Harp kitchen, circa 2007. It was the first recipe I learned to make as a newlywed without my mama (thankfully, she had already taught me tried-and-true favorites like crispy southern cornbread).
For a while, Richard and I ate this meal once per week, usually during a viewing marathon of The Office. Oh, for the days of minimal responsibility, when we could sit for hours and linger over dinner (and ignore the dishes)!
Although not quite as leisurely, our alfredo nights now are filled with even more joy as our boys exclaim "Pasta!" and run eagerly to the dinner table. It's still one of our favorites, 12 years later!
What is alfredo sauce?
Alfredo sauce is a traditional Italian pasta white cream sauce made with butter, cream, garlic, and parmesan cheese. Arguably the most popular of all Italian sauces, including marinara! It's the perfect topping for any pasta dish, or to top pizza or use as a dip.
Trust me, the jarred kind from the grocery store doesn't even resemble the real thing. You'll never go back once you realize how easy this is to make!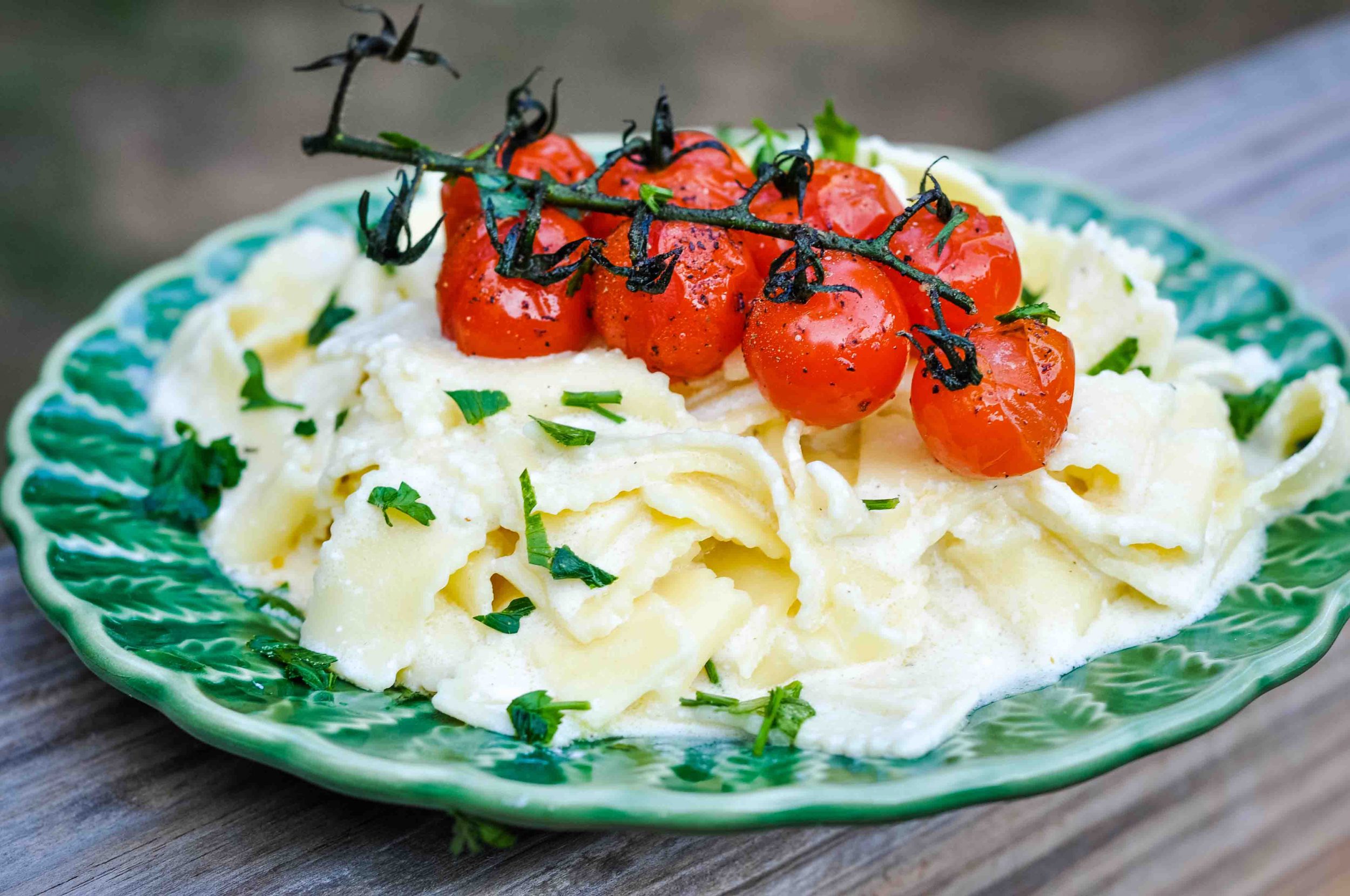 This post is sponsored by Pure Flavor. All opinions are 100% my own.
Our most recent alfredo night was made even better by these roasted Pure Flavor cherry on the vine tomatoes I topped the pasta with!
I mean….wow. Never thought I'd say another tomato is as good as my parents' home-grown ones. But I'm saying it.
These RedRoyals are a specific variety of tomato I've never tasted before – super sweet and literally bursting with flavor. When I tried the first one, I couldn't believe how delicious they are, and the fact that they taste like home grown! They're so good that I can eat an entire bowl of them all by themselves!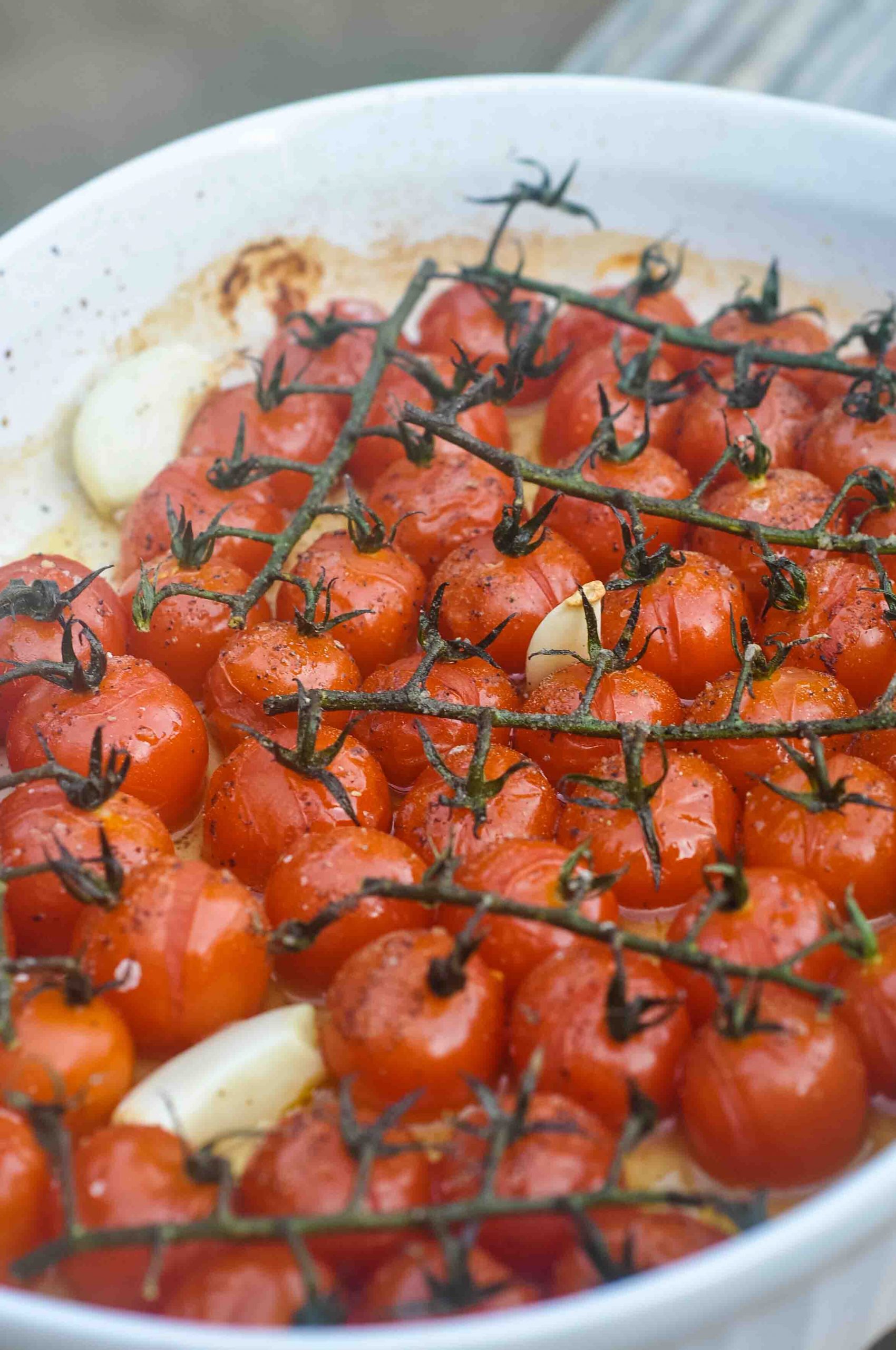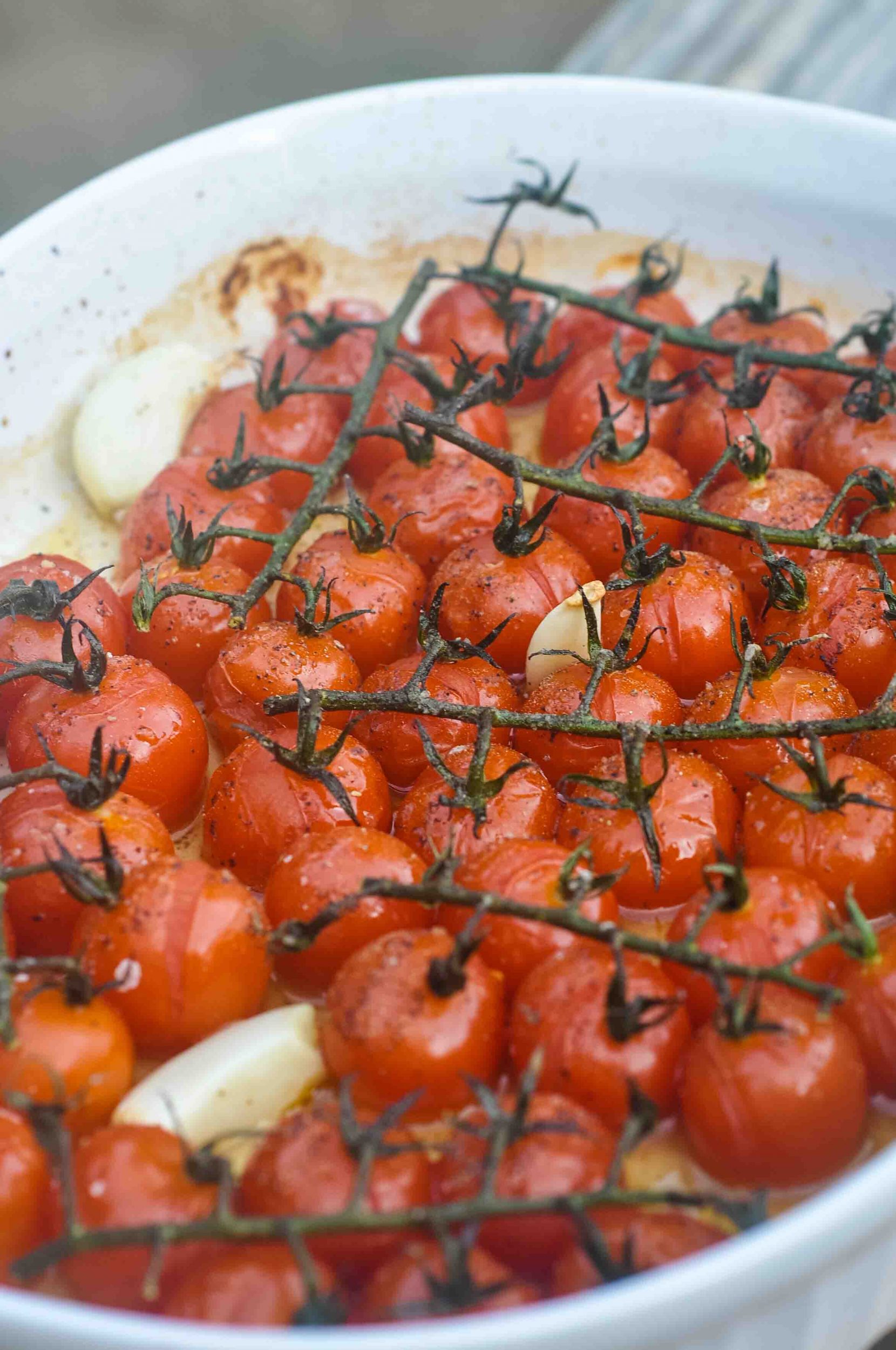 For the pasta, I drizzled the tomatoes with olive oil, salt, and pepper, then added some garlic cloves. I roasted them at 400 for 10-15 minutes, until tomatoes began to burst.
There are so many possibilites for topping your alfredo sauce – grilled chicken, baked fish or shrimp, sauteed mushrooms… my mouth is watering!
Authentic Alfredo sauce main ingredients
You need good quality ingredients to make alfredo sauce that will knock your socks off!
Butter – Real, unadulterated butter. Nothing artificial allowed. I like using salted, but you can always add salt to the final dish if you don't have any.
Cream – This recipe calls for heavy cream, but half & half is permissible too.
Garlic – Not the jarred or powdered kind. Get some real garlic and mince it or use a garlic press. I promise, it makes such a difference in the flavor of this sauce!
Parmesan cheese – It's paramount that you don't use pre-grated paremesan for this recipe. If you do, it won't melt into the sauce properly and you'll be stuck with a grainy sauce! Just buy a wedge of real parmesan and grate it yourself.
Cream cheese – The addition of cream cheese makes the sauce thicker and richer, without the need for any thickening agents like flour or cornstarch. Plus, it's more cheese! You can't go wrong.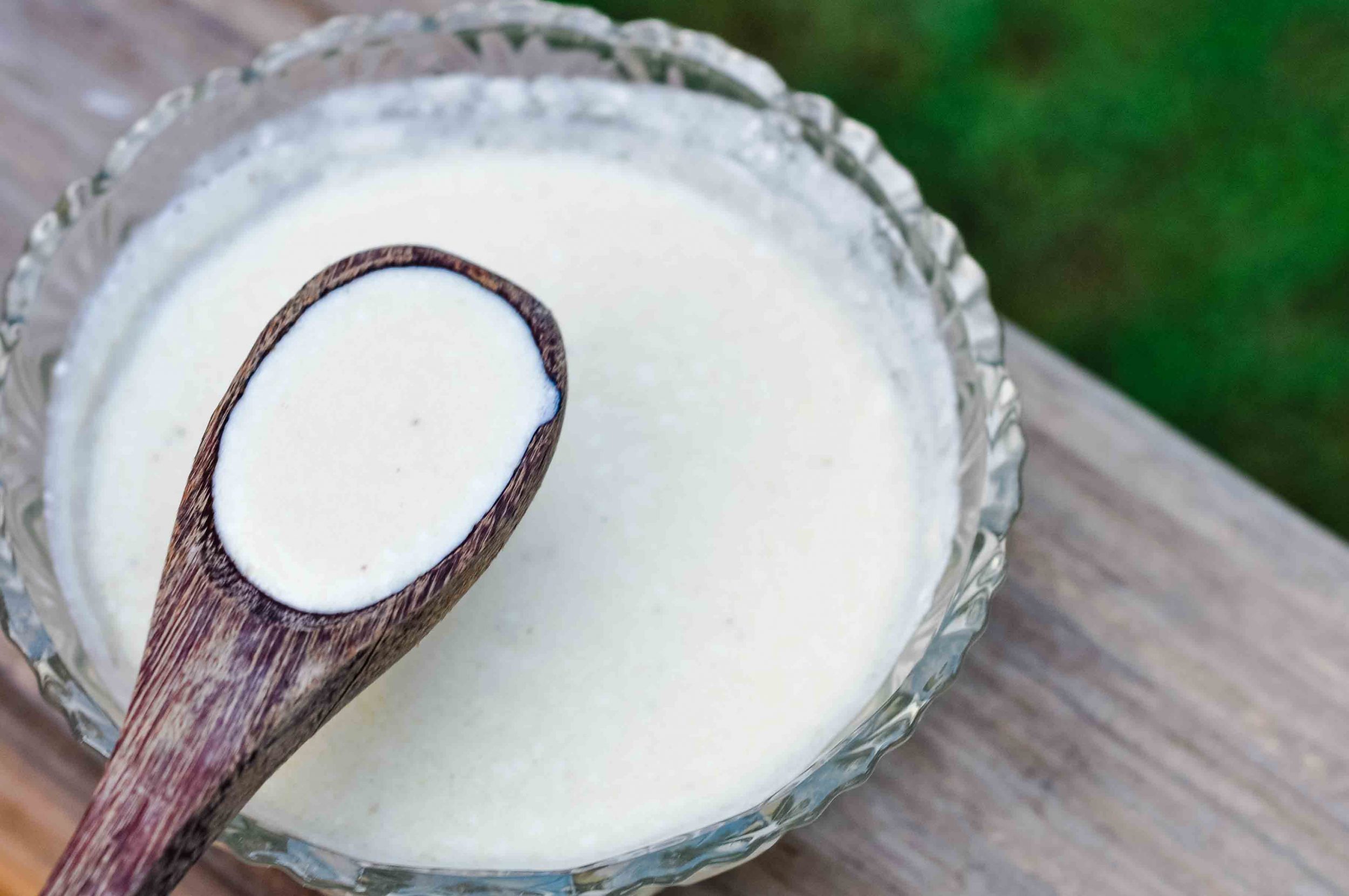 More Italian recipes to love:
Can I make alfredo sauce with milk instead of cream?
Yes, you can! Actually, I've done this for years until I recently realized that alfredo sauce actually tastes better with heavy cream since it makes the sauce thicker and richer.
But if you prefer a thin alfredo sauce recipe, feel free to use milk (just make sure it's whole milk) or even chicken broth!
Dietary information on alfredo sauce
This specific alfredo sauce recipe is gluten-free, low carb, and keto simply because it omits flour that many other recipes include. While other recipes use flour to thicken the sauce, we are using cream cheese for the same result and an even more decadent flavor!
While of course this alfredo sauce is high in fat, it's good-for-you, real fat. We now know how important healthy fats are for the brain and all the body systems. Plus, eating satiating fats keeps you fuller longer so you're less prone to snacking.
Alfredo sauce is a great source of fat soluble vitamins A, D, E, & K (in butter) and calcium (in the cheese and cream). Yum!
To make this a truly gluten free meal, serve with your favorite gluten free pasta (brown rice or lentil pasta are the most nourishing options). For keto, you obviously can't have pasta with this, but it's amazing drizzled over all kinds of meats and vegetables!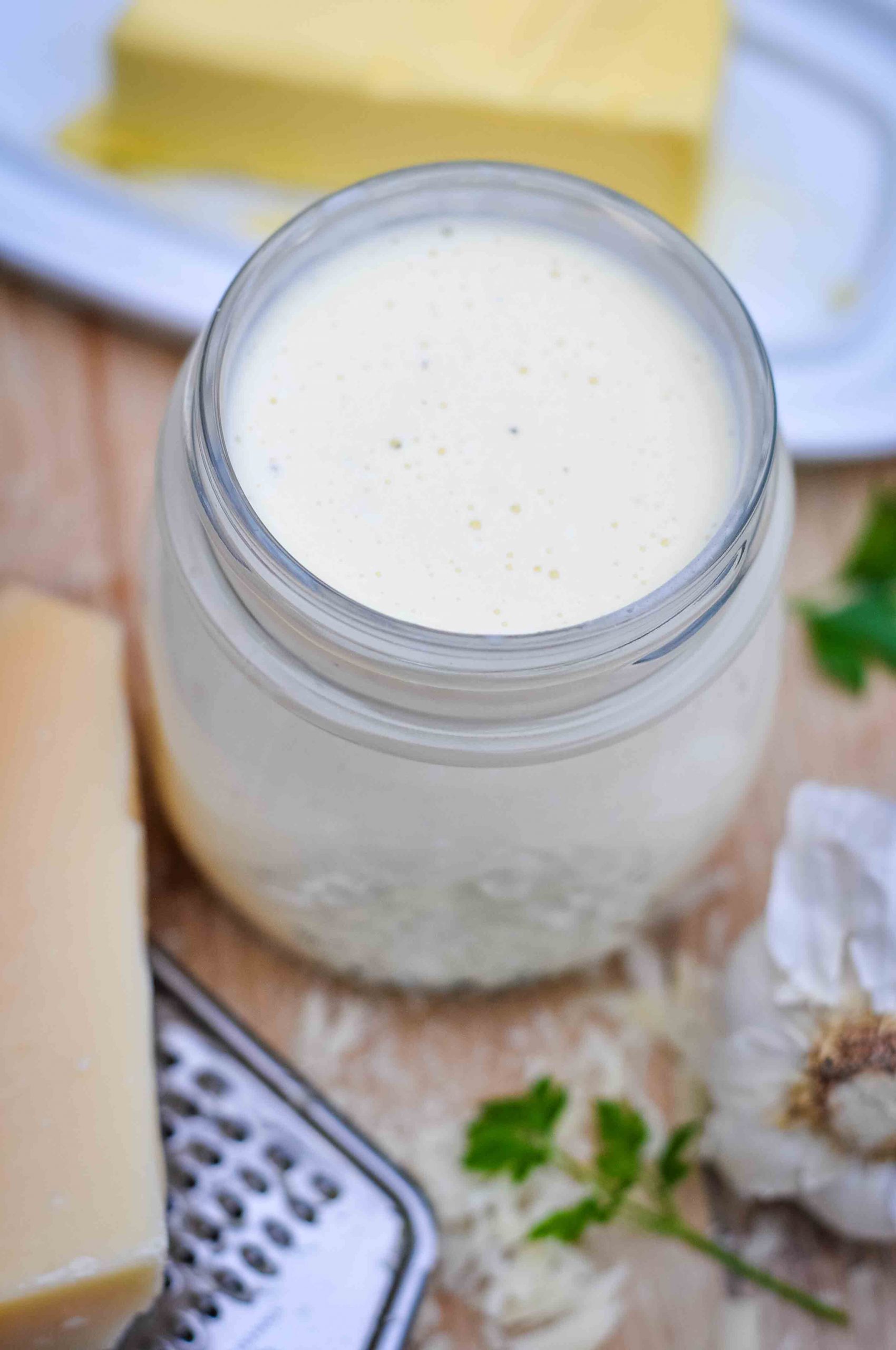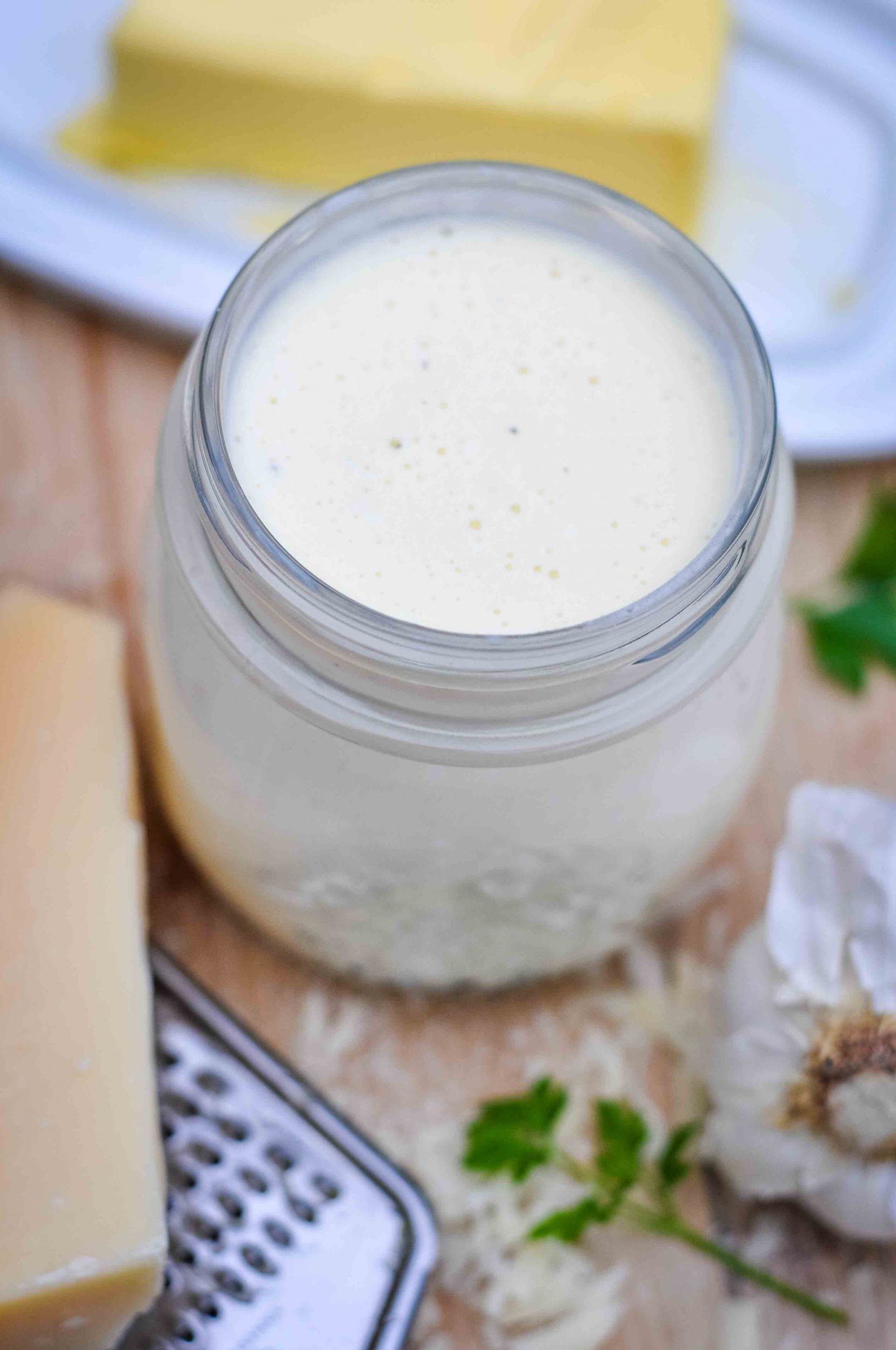 How to make classic alfredo sauce
One of the things I love most about alfredo sauce is how EASY it is to make! It only takes about 10-15 minutes from start to finish.
First, melt butter on medium low heat in a large saucepan. Once butter is melted, add minced garlic.
Cook garlic for 1-2 minutes to allow the flavor to infuse throughout the butter. This is key to the flavor of your sauce!
Next, add cream cheese and allow to melt for 2-3 minutes, whisking continuously. As cream cheese begins to break apart and melt, add heavy cream and parmesan.
Continue to heat the sauce until thick and smooth, stirring frequently with a whisk. Add salt and pepper to taste. Do not overcook or allow to boil, as this will make the milk and cheese proteins clump together.
Serve! Top your favorite pasta with it, or try some of these other unique serving ideas below.
Recipes to use alfredo sauce (get creative!)
There are so many ways to eat alfredo sauce besides just pasta! Try some of these ideas: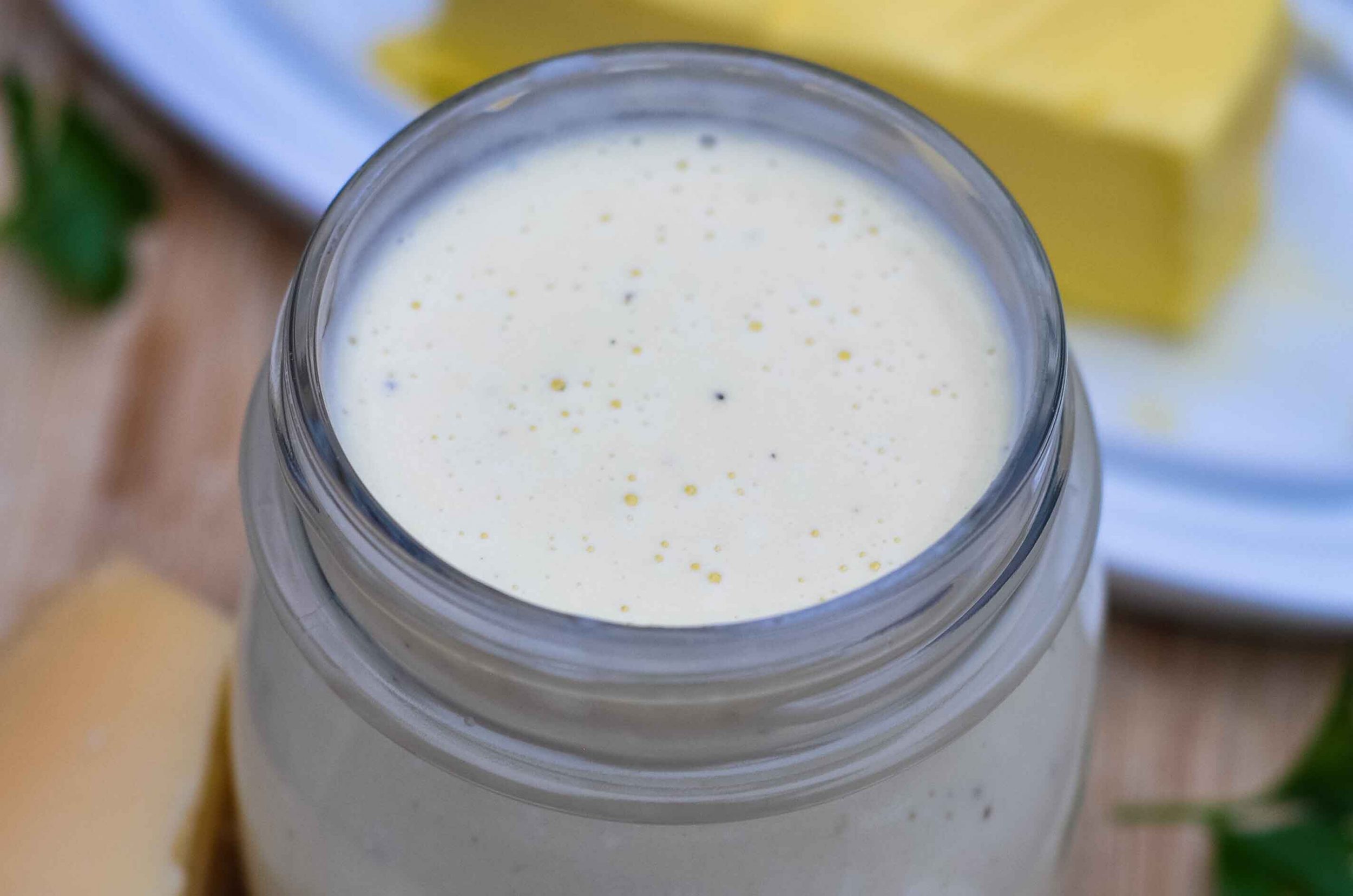 Alfredo Sauce Cooking Tips & Variations
If you have a tendency to cook everything in a cast iron skillet (like me), skip it for this recipe. Alfredo sauce does best in a stainless steel saucepan. If you use cast iron, the sauce takes on a bit of the flavor and color which doesn't mix well with a white cheese sauce.
If you want to know how to make alfredo sauce less thick, you can make an alfredo sauce recipe with milk instead of cream (in fact, we've done this for years). You can also try half cream, half chicken broth, which imparts a lovely flavor to any dish!
Don't cook this sauce on high heat – medium low is best. And be sure to stir frequently and keep an eye on the sauce until it's finished. This is because the cheese proteins clump together when they get too hot, resulting in a grainy sauce that's not smooth. I'm guilty of multi-tasking only to turn around and find a boiling cheese sauce – NOT cool!
If you want to make this but don't have any parmesan, not to worry. It's possible to make a cream pasta sauce without parmesan, it will just have a slightly different flavor. You may sub any type of mature cheddar instead (remember to grate it yourself!). In fact, we do this about half of the time if we've forgotten to pick up parmesan at the store.
Tips for Storing Alfredo Sauce
You may be wondering, "How long is homemade alfredo sauce good for?" It stays fresh in the fridge for around 5 days in an airtight container or jar.
I've never tried freezing alfredo sauce, so I don't know if the milk/cheese proteins would hold up well to this.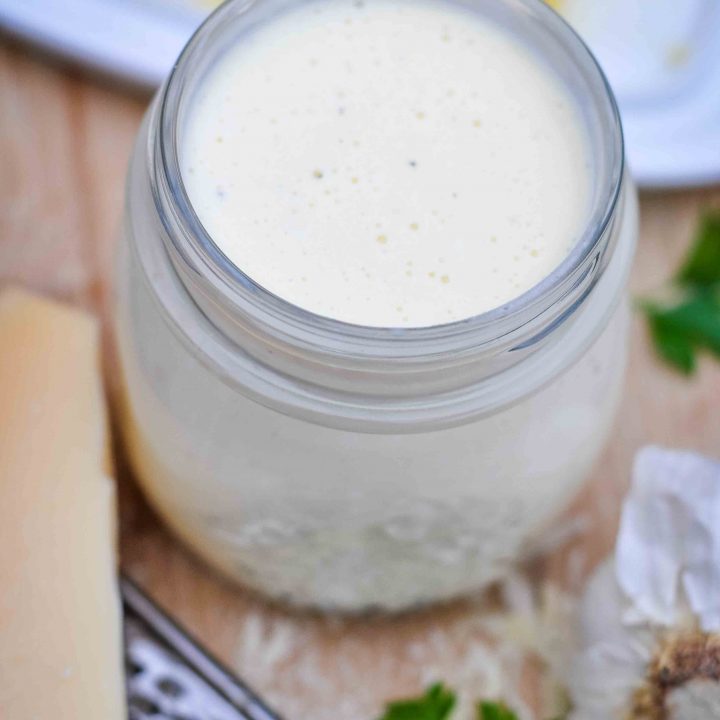 Yield: 6 servings
Classic Creamy Alfredo Sauce
Prep Time: 5 minutes
Cook Time: 10 minutes
Total Time: 15 minutes
Ingredients
1 stick butter
2 cloves garlic, minced
2 cups heavy whipping cream (or half & half)
4 ounces cream cheese
1/4 teaspoon black pepper
2 cups parmesan cheese, not pre-grated
Salt, to taste
Instructions
Melt butter in a large saucepan on medium low heat.
Add garlic and saute for about a minute until fragrant.
Add cream cheese and break up with a whisk or spoon. Cook for 1-2 minutes until cream cheese breaks apart and begins to melt.
Add heavy cream, parmesan cheese, and pepper. Whisk continuously until sauce melts together thoroughly. Do not boil or sauce may separate.
Add salt to taste, if needed. This may be unnecessary since butter and cheese are already salty. Serve with your favorite pasta, meat, or vegetables.
Nutrition Information:
Yield:
6
Serving Size:
1
Amount Per Serving:
Calories: 613
Total Fat: 60g
Saturated Fat: 37g
Trans Fat: 2g
Unsaturated Fat: 18g
Cholesterol: 178mg
Sodium: 900mg
Carbohydrates: 8g
Fiber: 0g
Sugar: 3g
Protein: 13g
Have you tried homemade alfredo sauce yet? What will you eat it with?
PIN IT!