Need to use up the rest of that can of pumpkin from your fall baking session? No problem! This pumpkin pie smoothie is just the thing – it's a healthy pumpkin treat that's almost like eating pie for breakfast.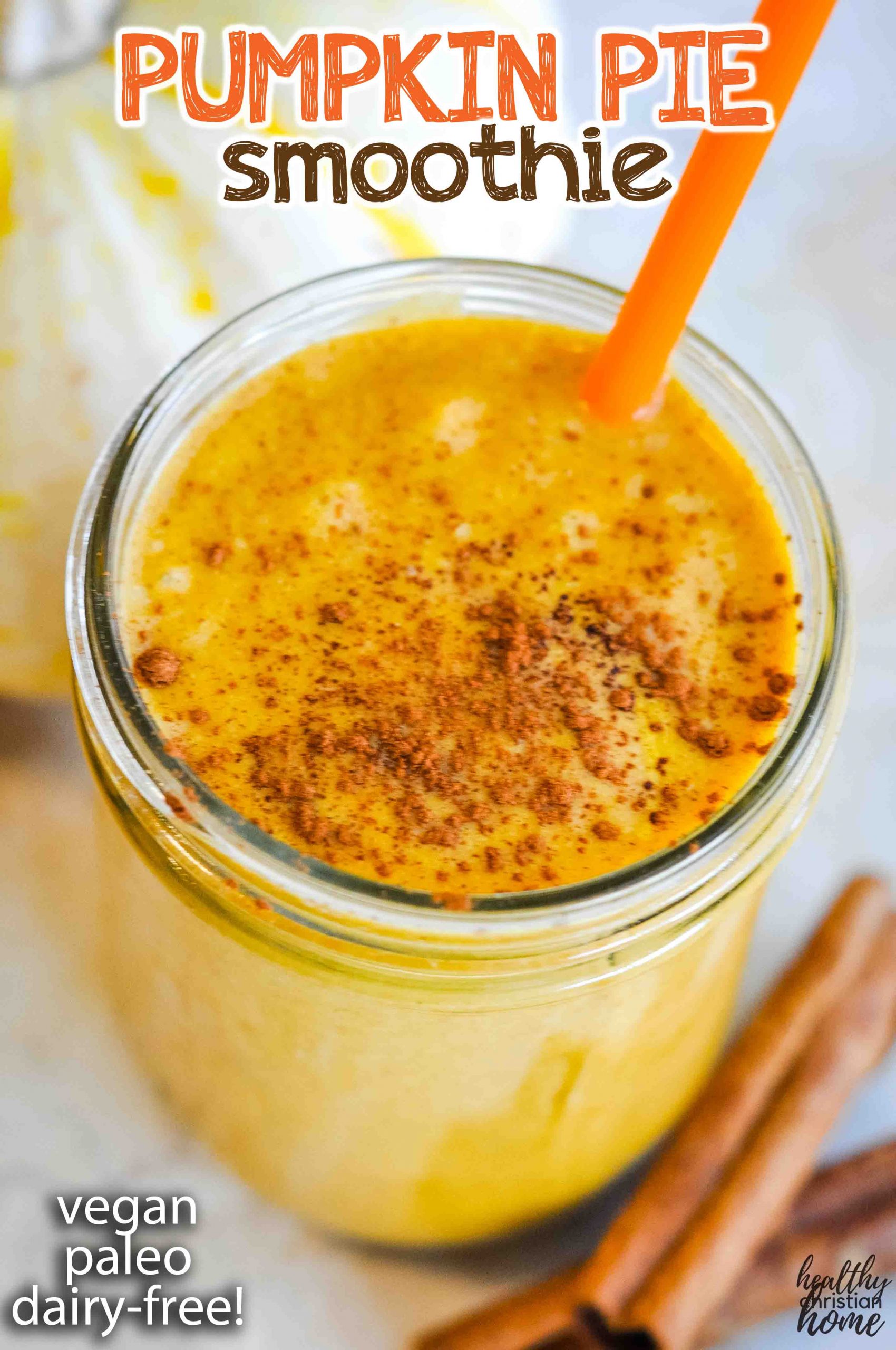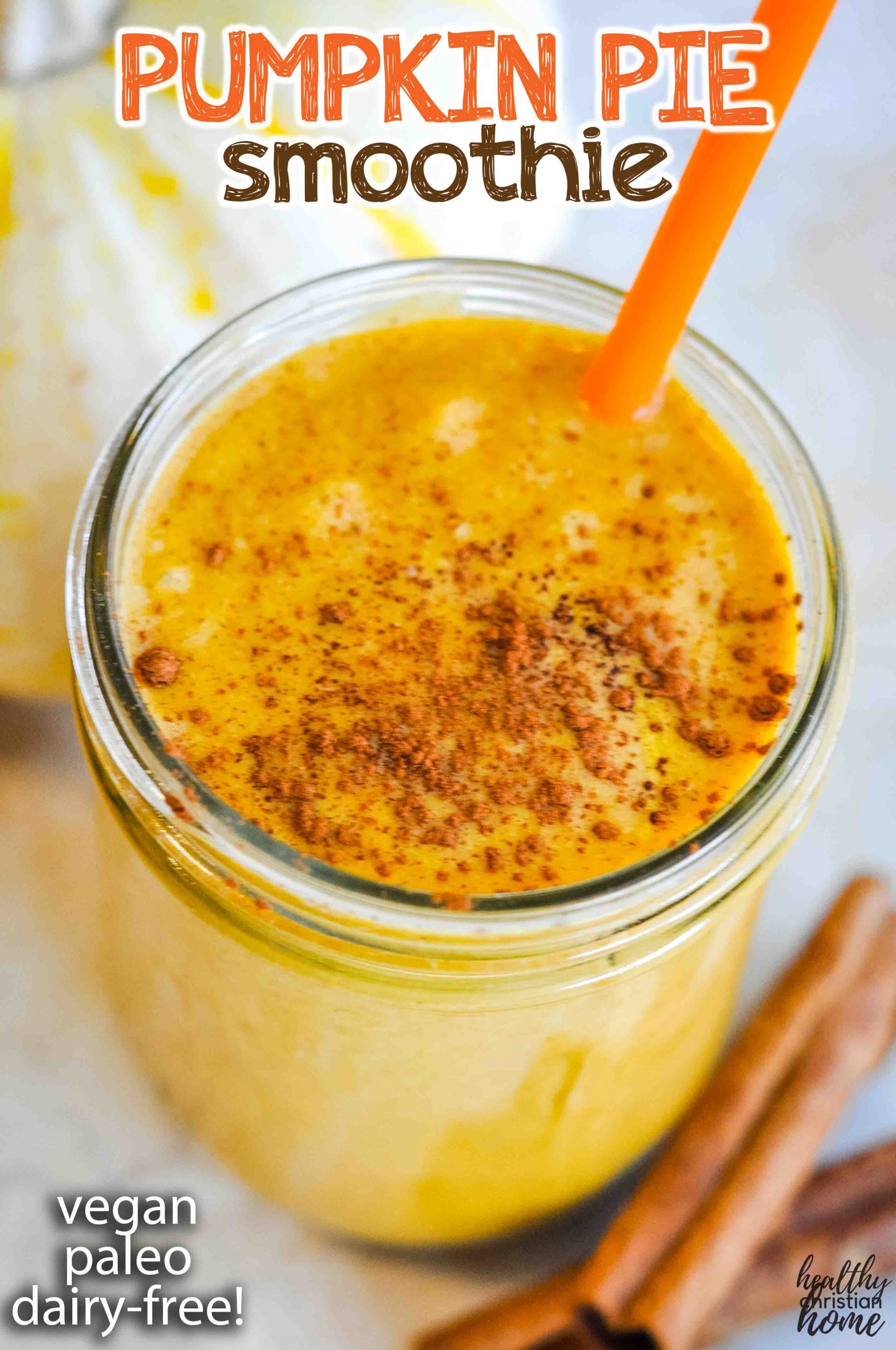 It's no secret that pumpkin and I are BFF. As soon as the air turns crisp, it's the perfect excuse to meander into my cozy kitchen and begin baking. Healthy Pumpkin Roll, Pumpkin Chocolate Chip Muffins, Pumpkin Cream Cheese Bread…. doesn't matter. Baking simple pumpkin treats is my happy place.
But then there's the problem of that leftover can of half-used pumpkin puree. Most recipes don't call for an entire can, and then I'm stuck with a random cup of pumpkin.
I've tried freezing it, but it's a pain to thaw and I usually forget. If I stick it in the fridge, it's sure to go bad before I have a chance to bake something else.
So I figured, why not make a smoothie out of the extra pumpkin?
We're smoothie crazy around here – fruit smoothies, green smoothies, chocolate smoothies, you name it. So why not create a pumpkin version?
Even better, this is a healthy breakfast or snack that tastes sneakily like you're eating pie! But it's waaaaay better for you.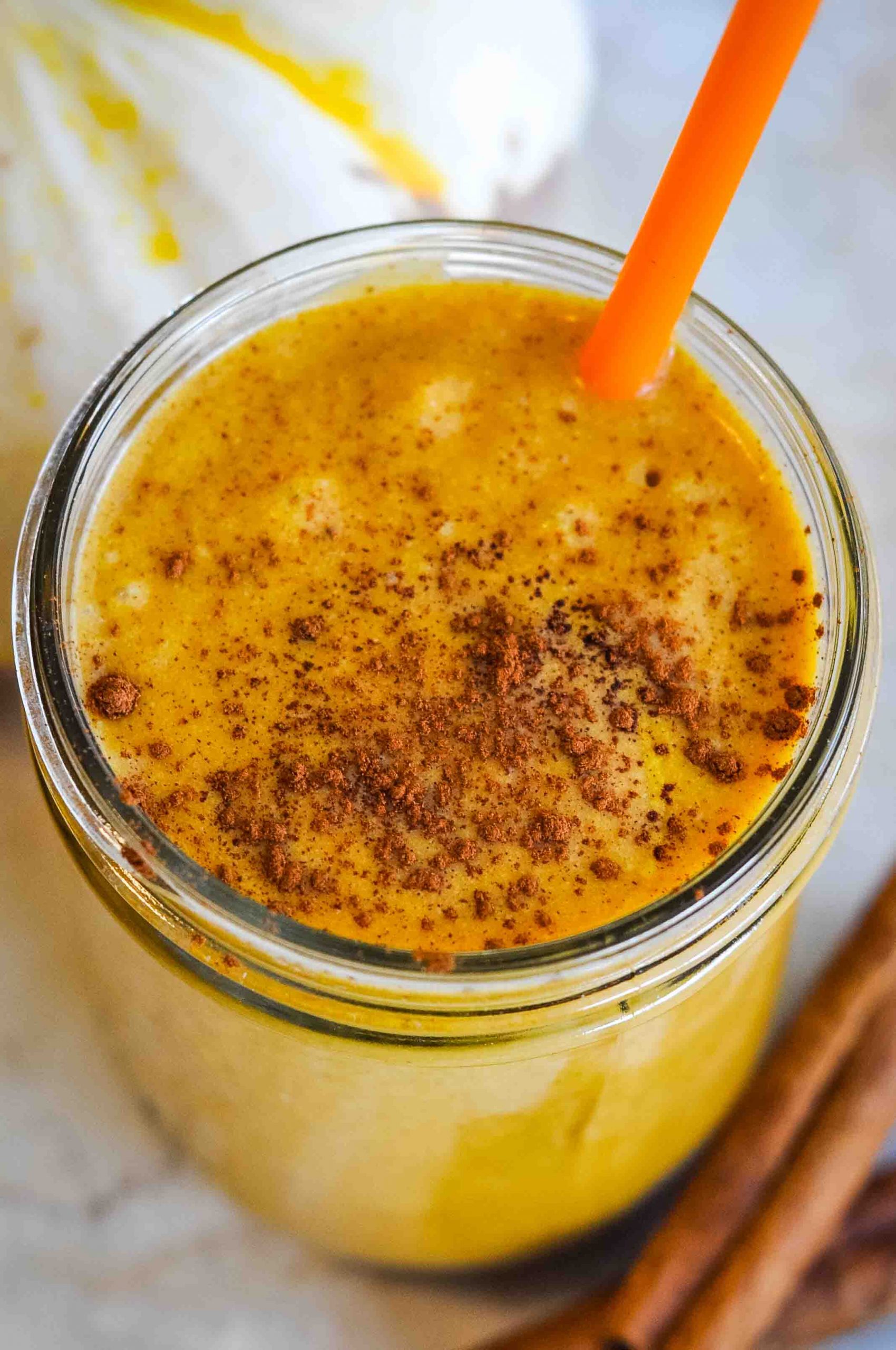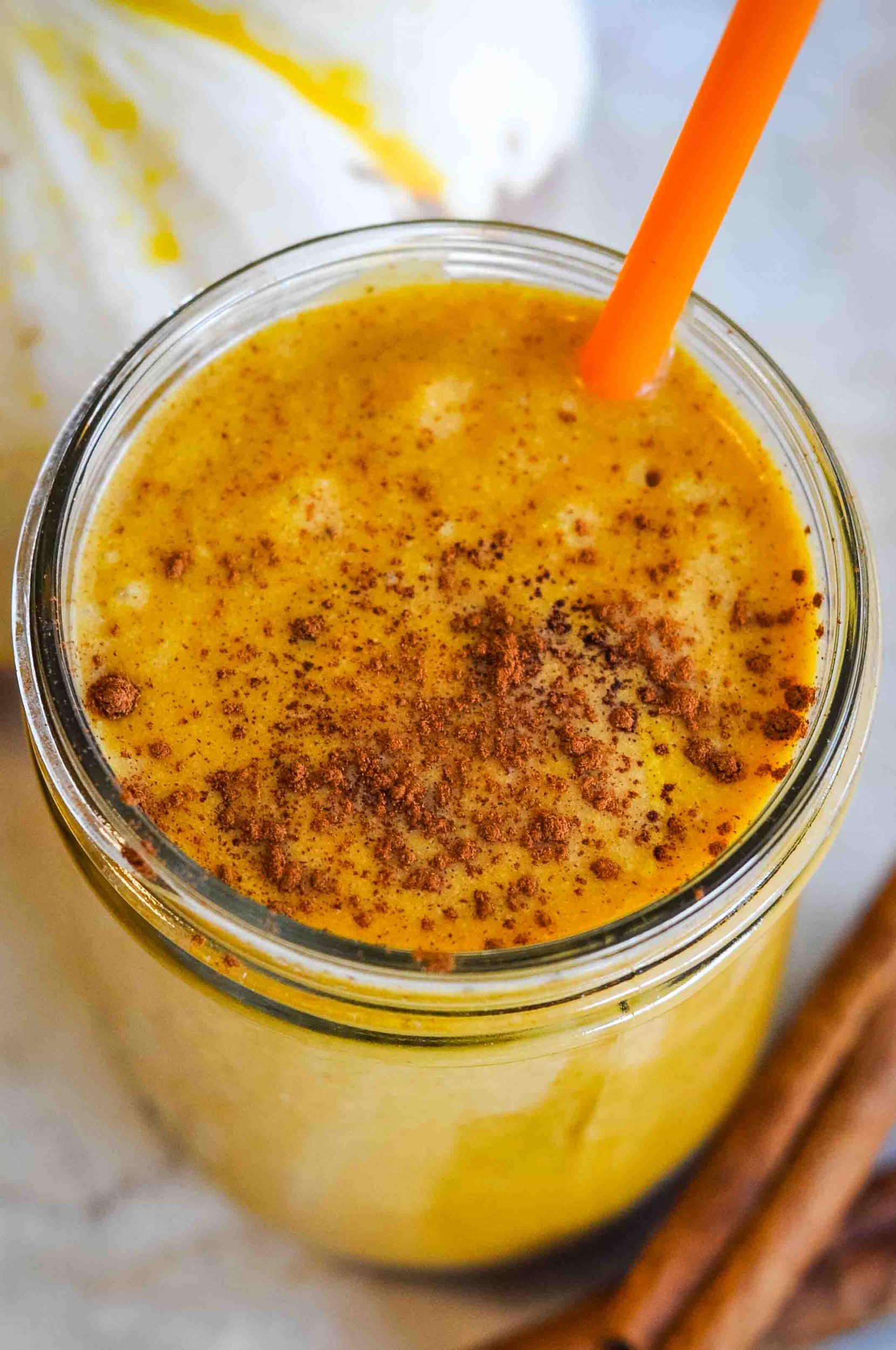 Healthy Pumpkin Pie Protein Smoothie Nutrition
This is one of the best low calorie pumpkin puree recipes! There are so many health-boosting properties of this delicious pumpkin smoothie. Including:
How to Make this Easy Healthy Pumpkin Pie Smoothie
This recipe couldn't be simpler! Only 5 minutes from start to finish.
It adds very little extra work to your holiday baking session, and gives the cook a boost much-needed energy 😉 Or, make this your Thanksgiving Day breakfast to get you into the festive mood!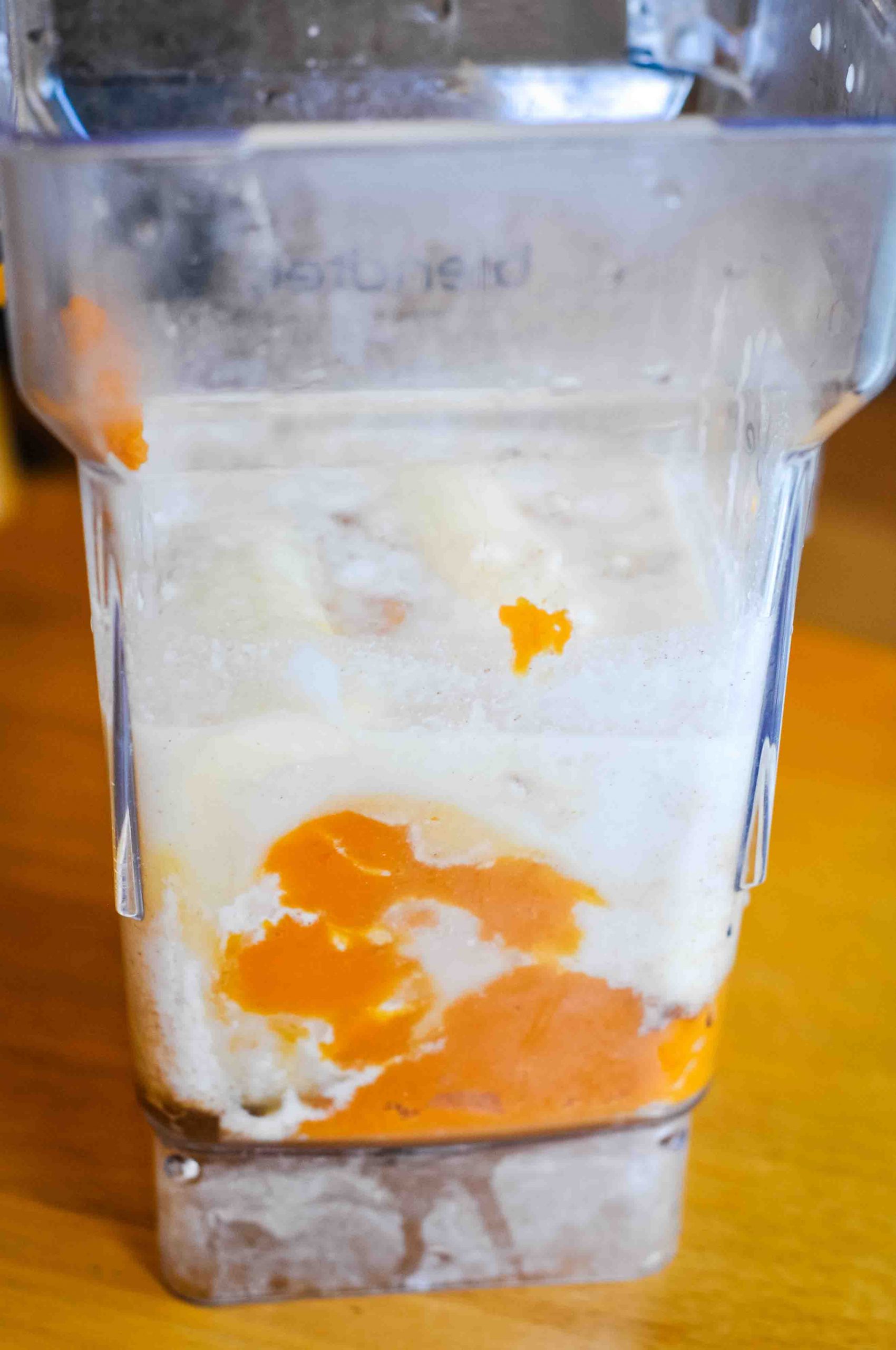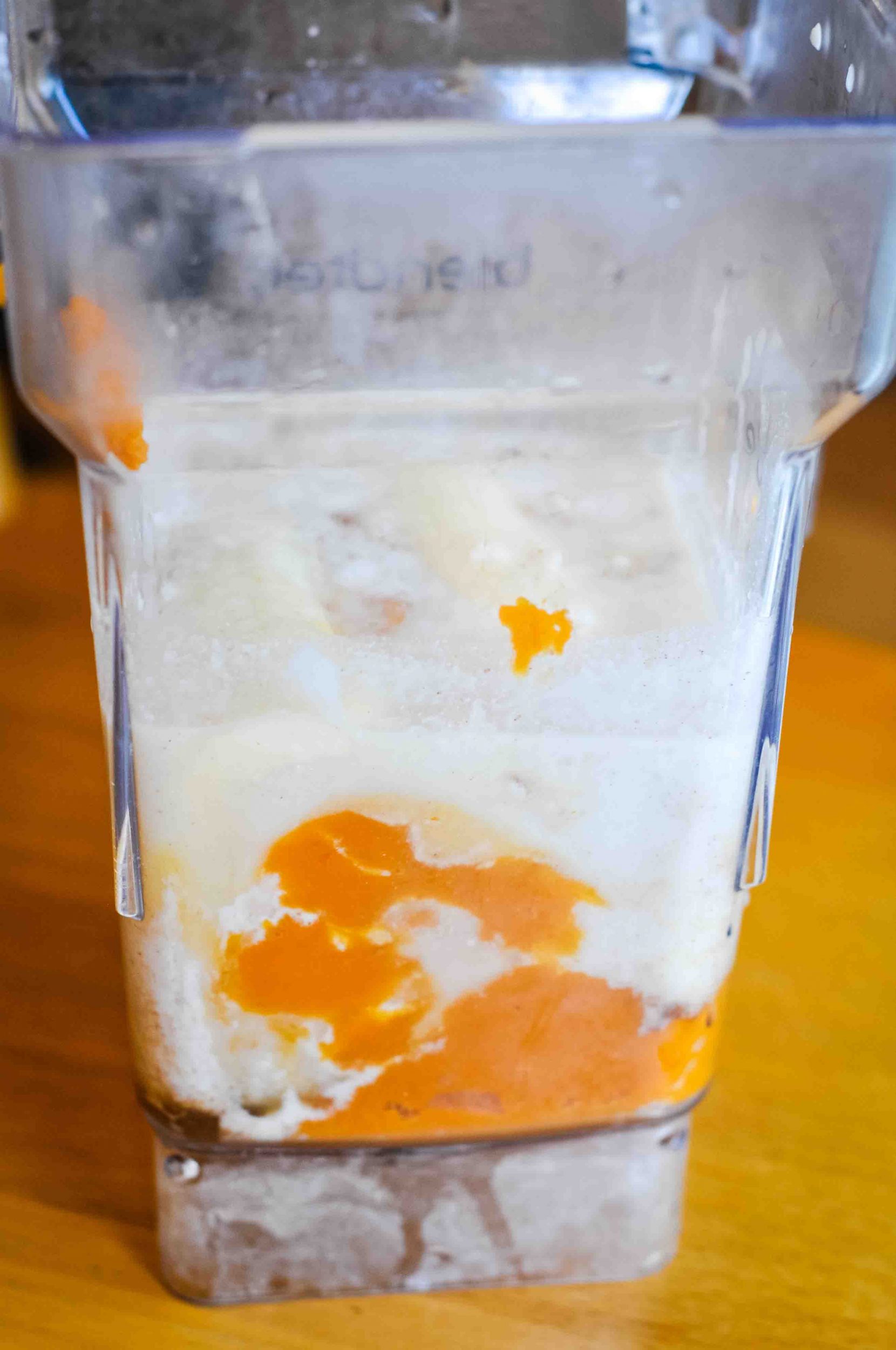 First, add coconut milk (or other milk of choice) to the bottom of your blender.
Next, add pumpkin puree, frozen bananas, pumpkin pie spice, collagen powder, and maple syrup.
Blend on HIGH until smooth. Sprinkle with cinnamon, if desired. If you're feeling fancy, add some homemade whipped cream. Yum!
How to Sweeten This Paleo Pumpkin Pie Smoothie
There are several different options for adding sweetener to this smoothie.
I'm using real, pure maple syrup – such an amazing flavor with health benefits, too!
You can also use raw honey. Delicious and super healthy.
If you're reducing calories and even natural sugars, stevia is a great option.
For Keto, omit the banana and use erythritol.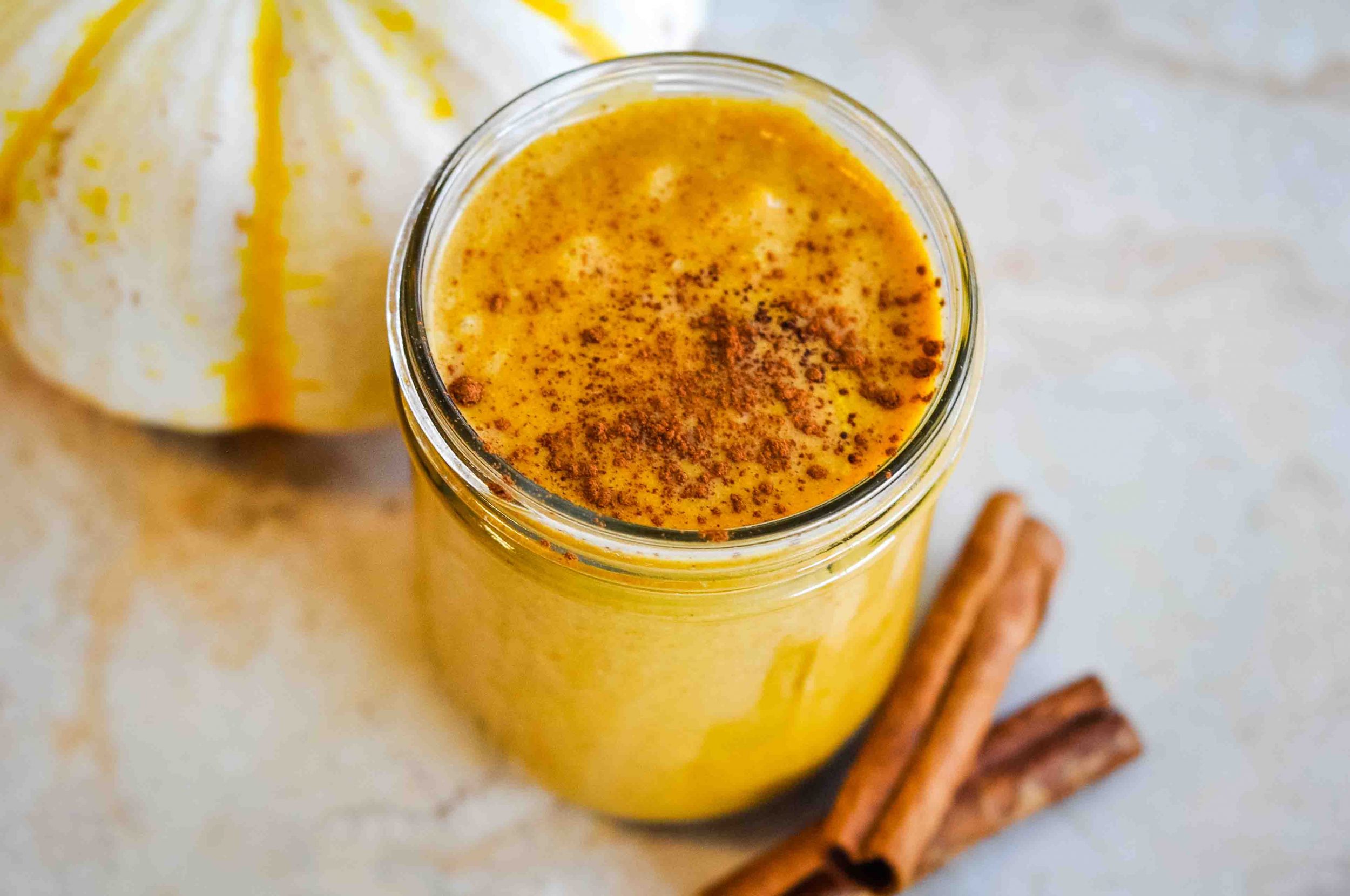 Pumpkin Pie Smoothie Variations
It's so easy to tweak this pumpkin smoothie recipe based on your dietary needs & preferences.
For a non-Vegan version, you can sub any type of dairy milk or yogurt for the coconut milk. If you don't have any coconut milk, make this a pumpkin smoothie with almond milk!
Any type of sweetener works in this recipe (see above). Or, leave sweetener out altogether since the banana provides some sweetness.
Collagen protein powder is optional if you want this smoothie to be vegan. But it has so many health benefits, I definitely recommend it!
If you don't have frozen banana, use a regular banana and add a handful of ice cubes instead.
It's possible to make this pumpkin smoothie with no banana, but the banana adds a wonderful texture and sweetness. I promise you can't taste it, with all the pumpkin and spice flavors! If you don't have any banana, just increase the amount of sweetener in the recipe.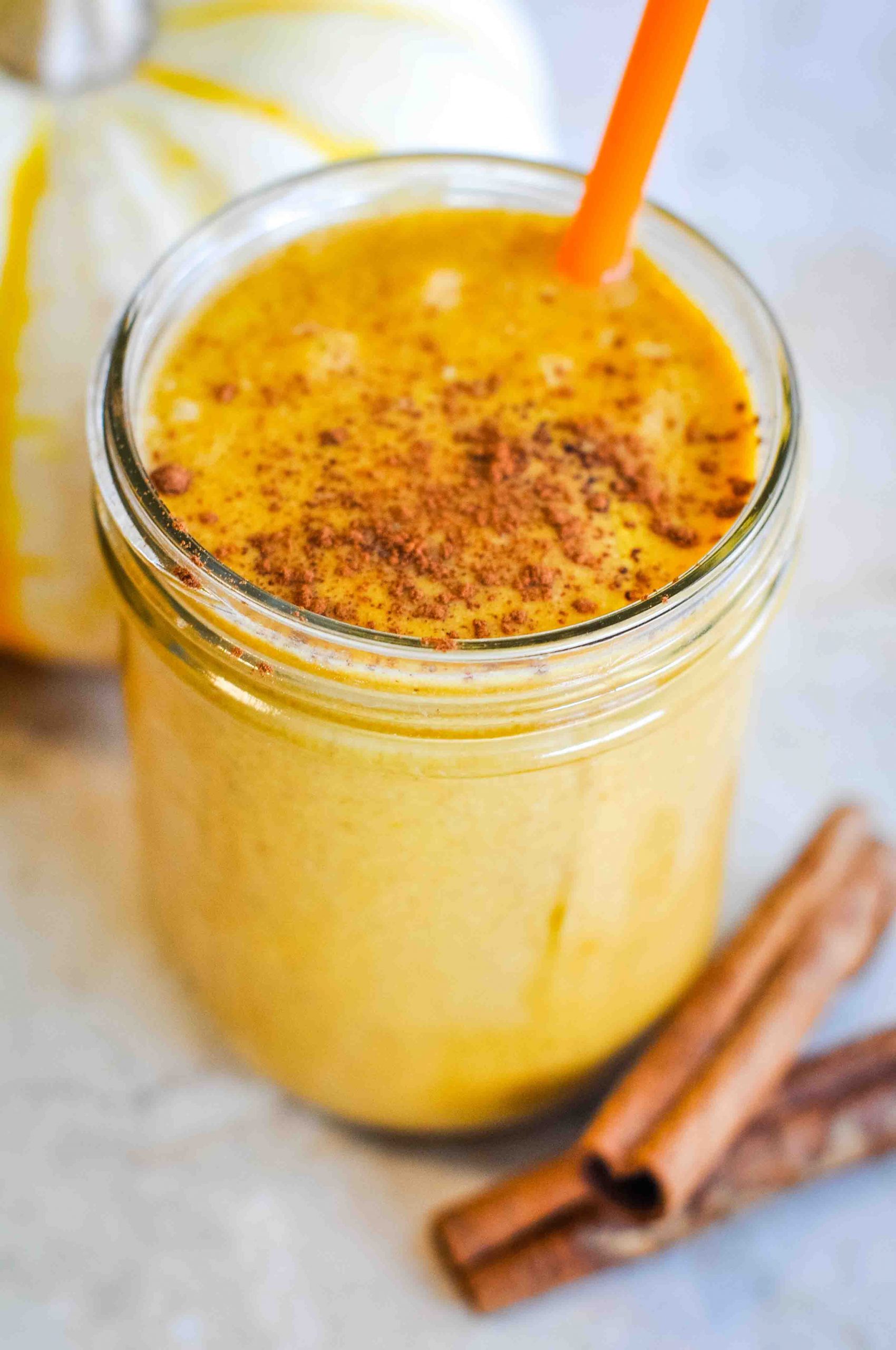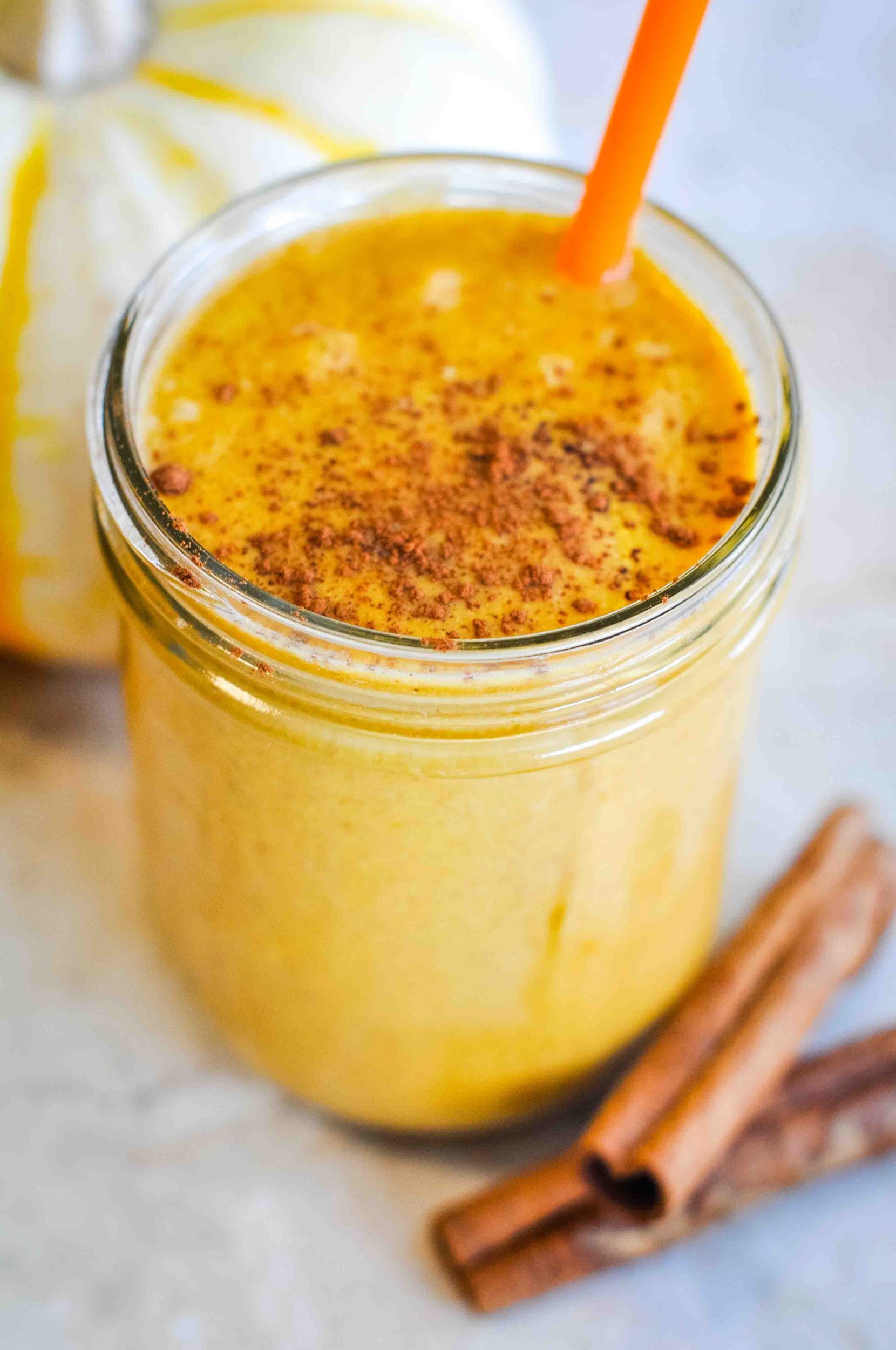 If you enjoy this recipe, please consider leaving a star rating! Do you have any other clever ideas for using leftover pumpkin?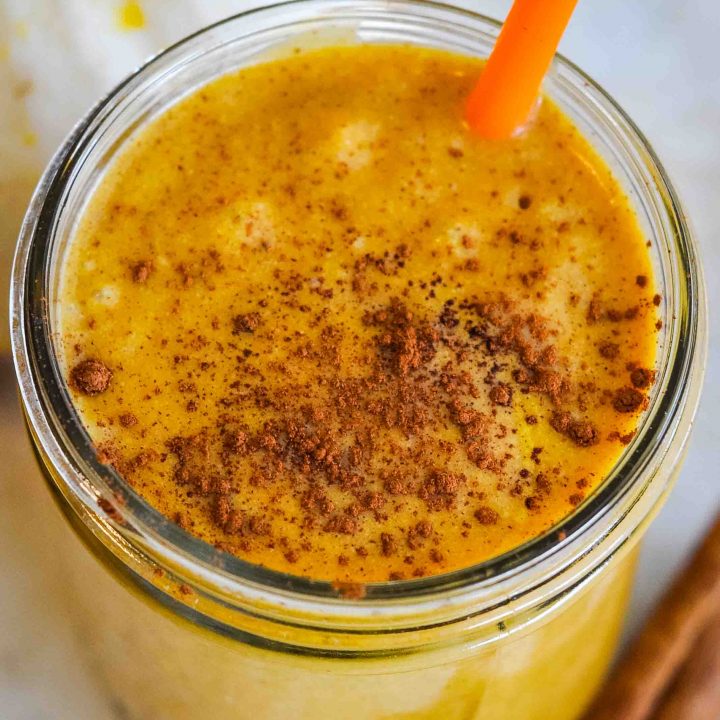 Yield: 3 servings
Pumpkin Pie Smoothie (Paleo, Vegan, Dairy-Free)
Prep Time: 5 minutes
Total Time: 5 minutes
Need to use up the rest of that can of pumpkin from your fall baking session? No problem! This pumpkin pie smoothie is just the thing - it's a healthy pumpkin treat that's almost like eating pie for breakfast.
Ingredients
1 tsp. pumpkin pie spice
1 banana, frozen (or regular banana with ½ cup ice)
3 Tbsp. maple syrup, to taste (or raw honey, or other sweetener, optional) *
Instructions
Add coconut milk to blender, then add remaining ingredients.
Blend on HIGH for 1 minute, or until smooth.
Serve with a sprinkle of cinnamon or whipped cream, if desired.
Notes
*Feel free to sub alternate sweeteners including raw honey, stevia, erythritol, etc.
Recommended Products
As an Amazon Associate and member of other affiliate programs, I earn from qualifying purchases.
Nutrition Information:
Yield:
3
Serving Size:
1
Amount Per Serving:
Calories: 139
Total Fat: 2g
Saturated Fat: 2g
Trans Fat: 0g
Unsaturated Fat: 0g
Cholesterol: 0mg
Sodium: 16mg
Carbohydrates: 30g
Fiber: 3g
Sugar: 20g
Protein: 4g
PIN IT!