Are you overrun with blackberries this summer? Then this old-fashioned blackberry cobbler recipe is just what you need! Even better, it only takes 10 minutes to prep and is perfect for church potlucks and laid back dinner parties!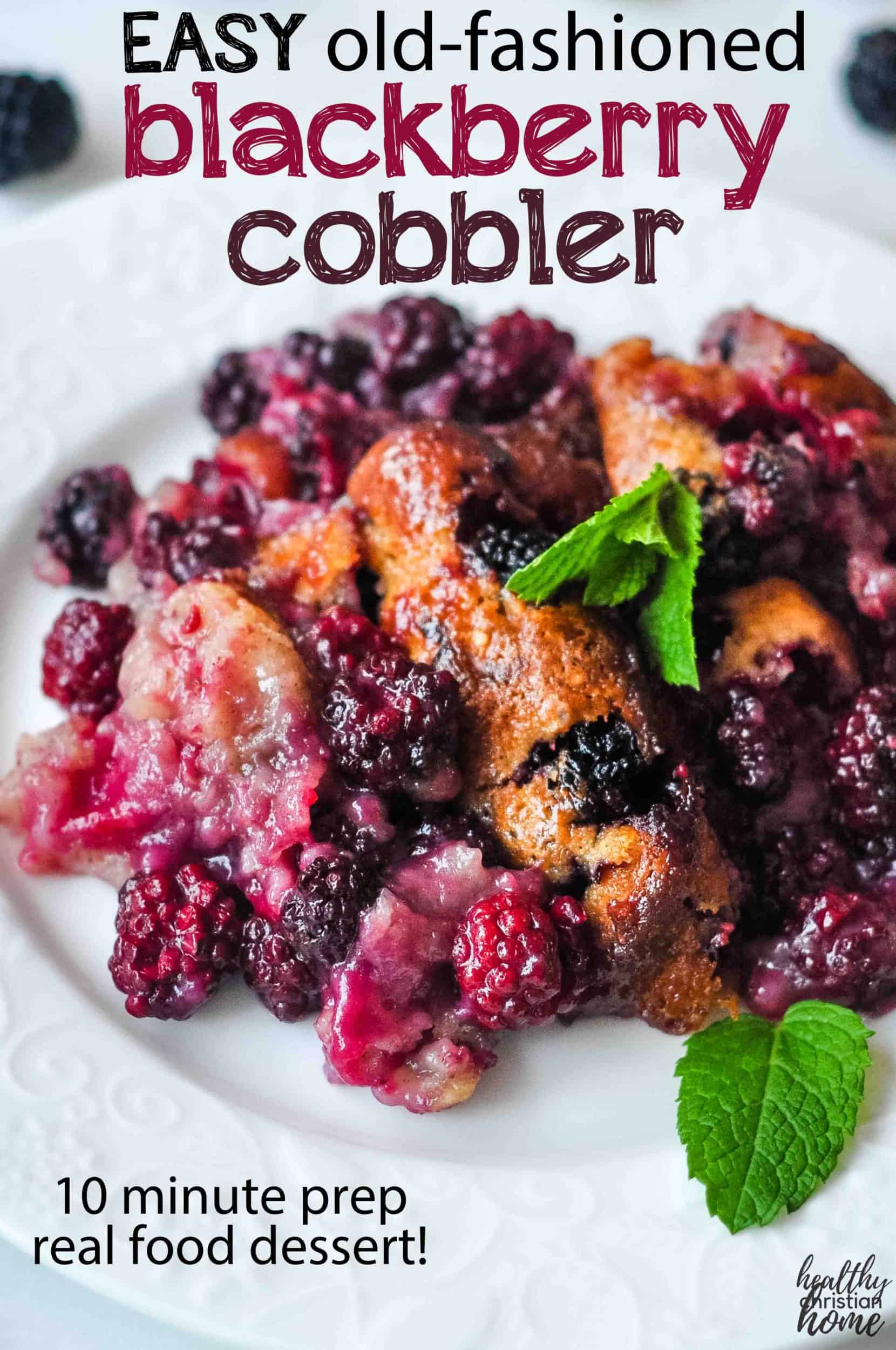 June in the Harp household has a definite blackberry theme. Allow me to explain…
When we moved into our new (to us) house this spring, imagine our excitement in finding a massive, fully mature thornless blackberry bush in our yard. We've already gotten 2 gallon-size ziploc bags full, and it's only mid-June.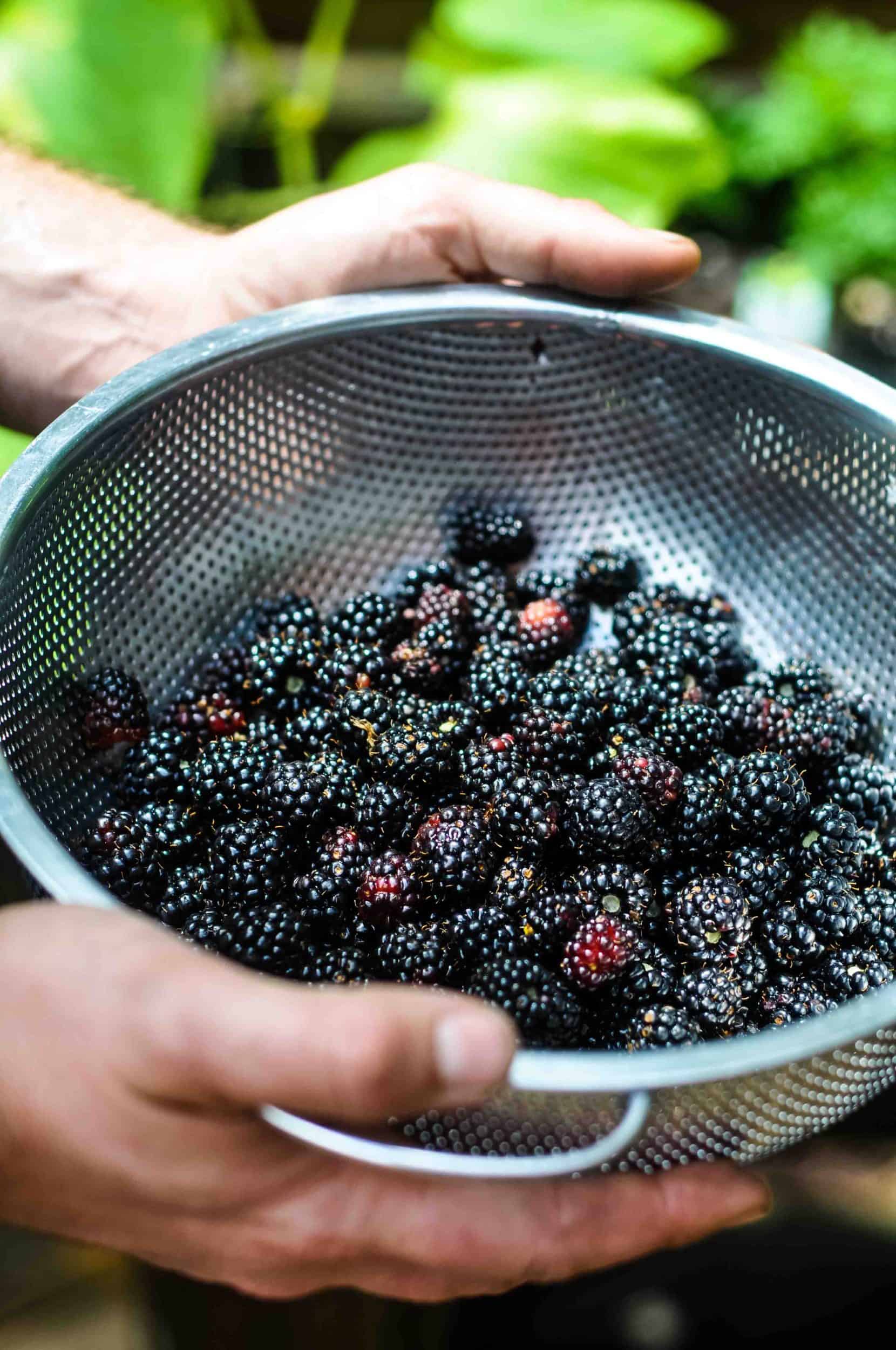 Even better, this month we adopted a new mostly chocolate lab, part collie puppy. Her name is Bramble, which is the British word for blackberry.
She is now my official blackberry-picking pal. She even ate one to make it official. Now, isn't she the prettiest blackberry-loving creature you've ever laid eyes on??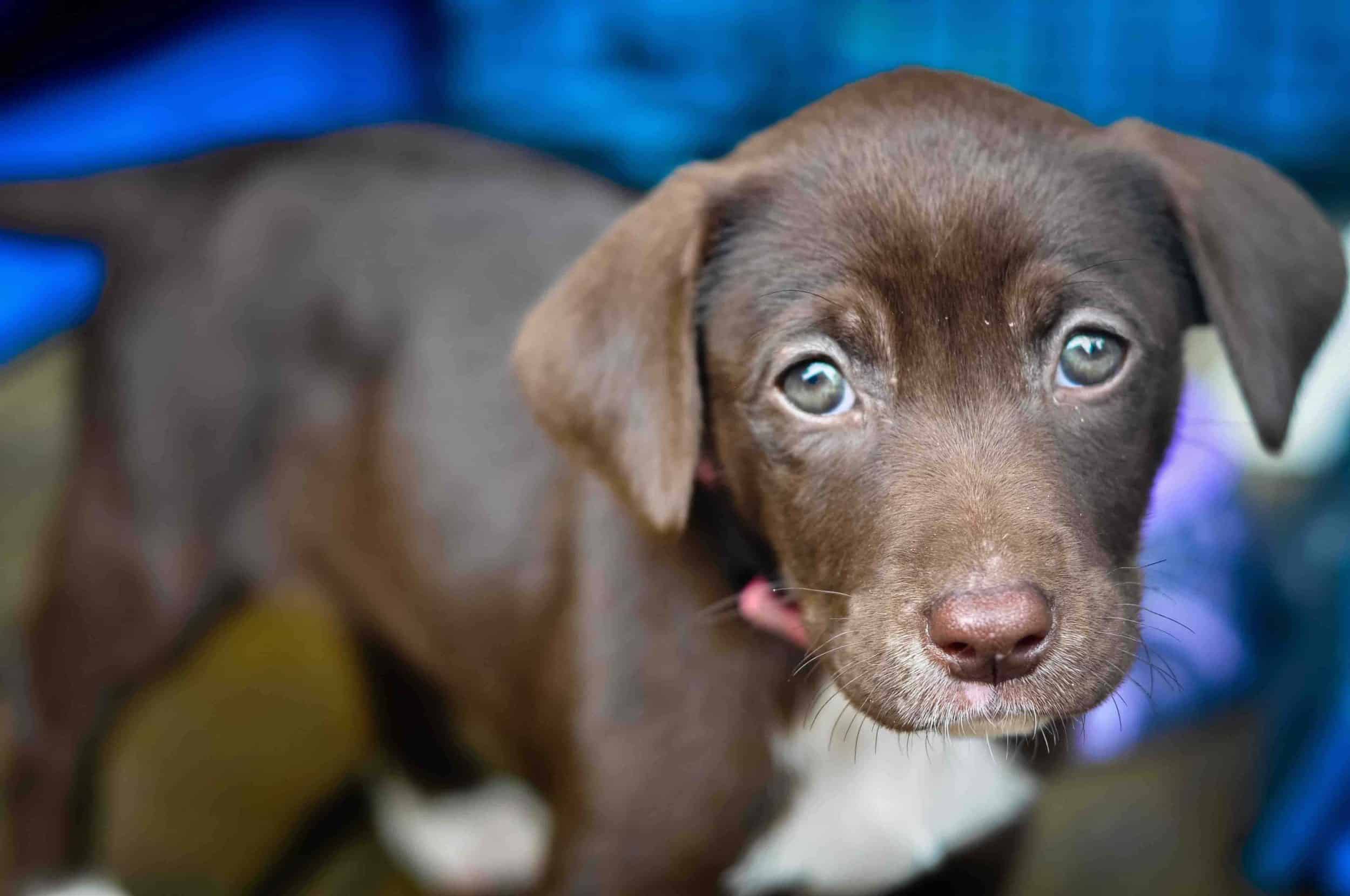 So I realized, I couldn't let this month pass without making blackberry cobbler. For this one, I pulled out a recipe my mom copied from her old college cookbook. I've made this approximately 1347 times, without writing the recipe down or saving it….
So, I always call Mama to tell me the recipe…. again. (That's what moms are for, right?)
I decided that based on the frequency of its creation, it's definitely worthy of a spot on the blog. Plus, now I won't lose the recipe!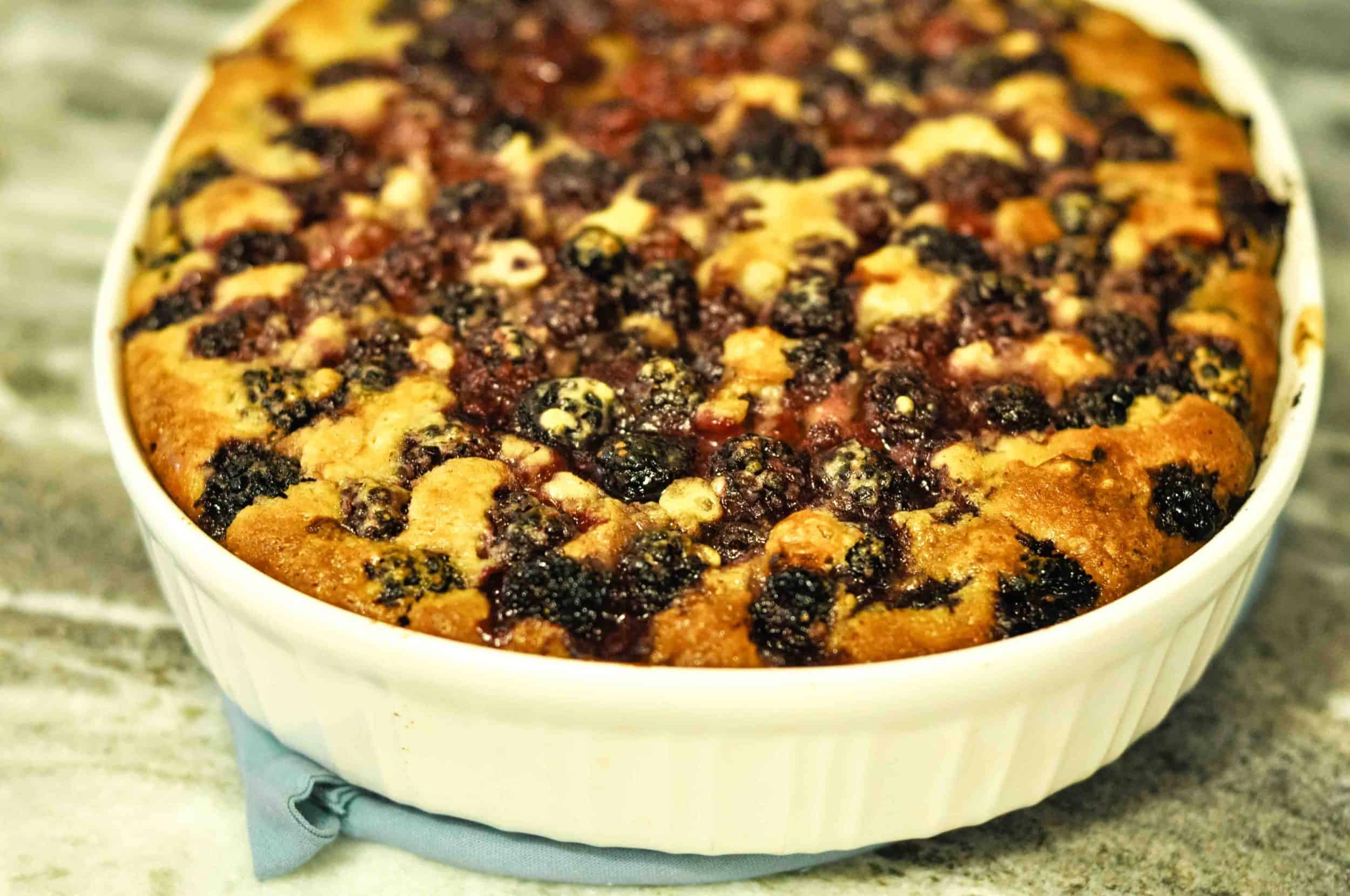 What Makes this Blackberry Cobbler Recipe So Easy?
The thing that sets this blackberry cobbler apart from other recipes out there is that is a true dump-and-mix dessert. Simply melt butter in the dish, add berries, and mix the cobbler batter together and pour over the top before baking.
No need to slave over a perfectly-made homemade crust for the topping. We're going simple and super rustic. My personal preference!
Tips for the Best Blackberry Cobbler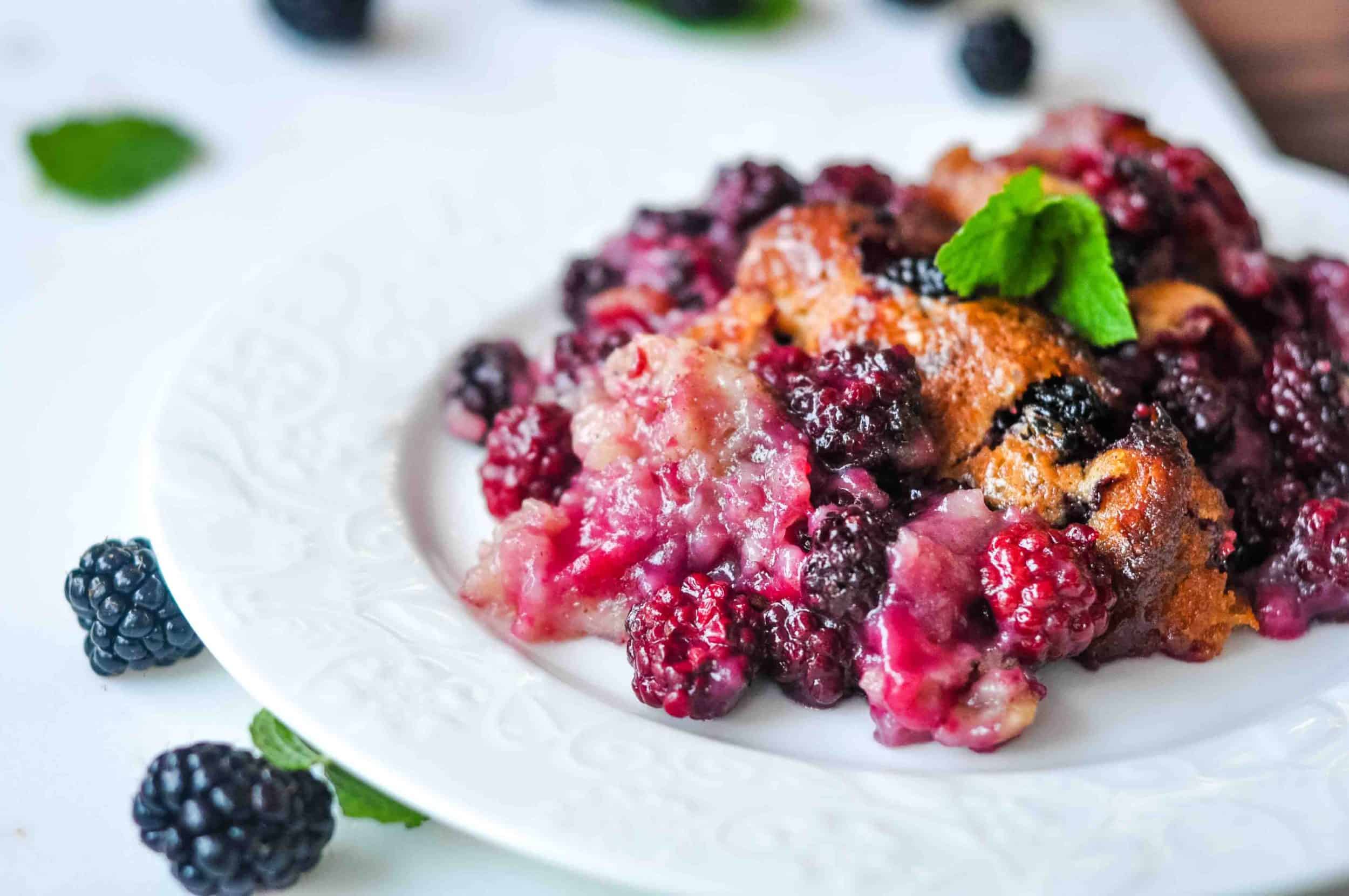 This post is sponsored by Wheat Montana. All opinions are 100% my own.
The tips below will help you bake the best blackberry cobbler!
Versatile Healthy Blackberry Cobbler Ingredient Swaps
To make this a healthier cobbler that fits your dietary needs, there are several swaps you can make.
First off, we are using Wheat Montana flour instead of regular all-purpose because it's Non-GMO Project Verified. I hate worrying about the Roundup that's sprayed on conventional wheat, plus many people who are gluten intolerant are reacting to the Roundup-soaked wheat. Ick.
I use this Wheat Montana flour for all my baked goods, from healthy pumpkin roll to soaked blueberry yogurt pancakes and everything in between.
(Find Wheat Montana at some TJ Maxx, Marshall's, or HomeGoods locations. Or, ask your local Wal-Mart to start carrying it – they're in the Wal-Mart system.)
If you're strictly gluten-free, you can sub coconut flour instead.
To sweeten, I love using Sucanant (sometiemes called Rapadura) in baking – it's evaporated cane juice that still retains the minerals of the sugar cane. It's not stripped of all its nutrients like refined sugar. Alternatively, you can use organic cane sugar.
If you want to make this a sugar free blackberry cobbler, simply sub honey or maple syrup for sugar and reduce the milk in the recipe to 3/4 cup.
Or for a low carb sweetener option, try Monk fruit erythritol sweetener and reduce the amount to 2/3 cup.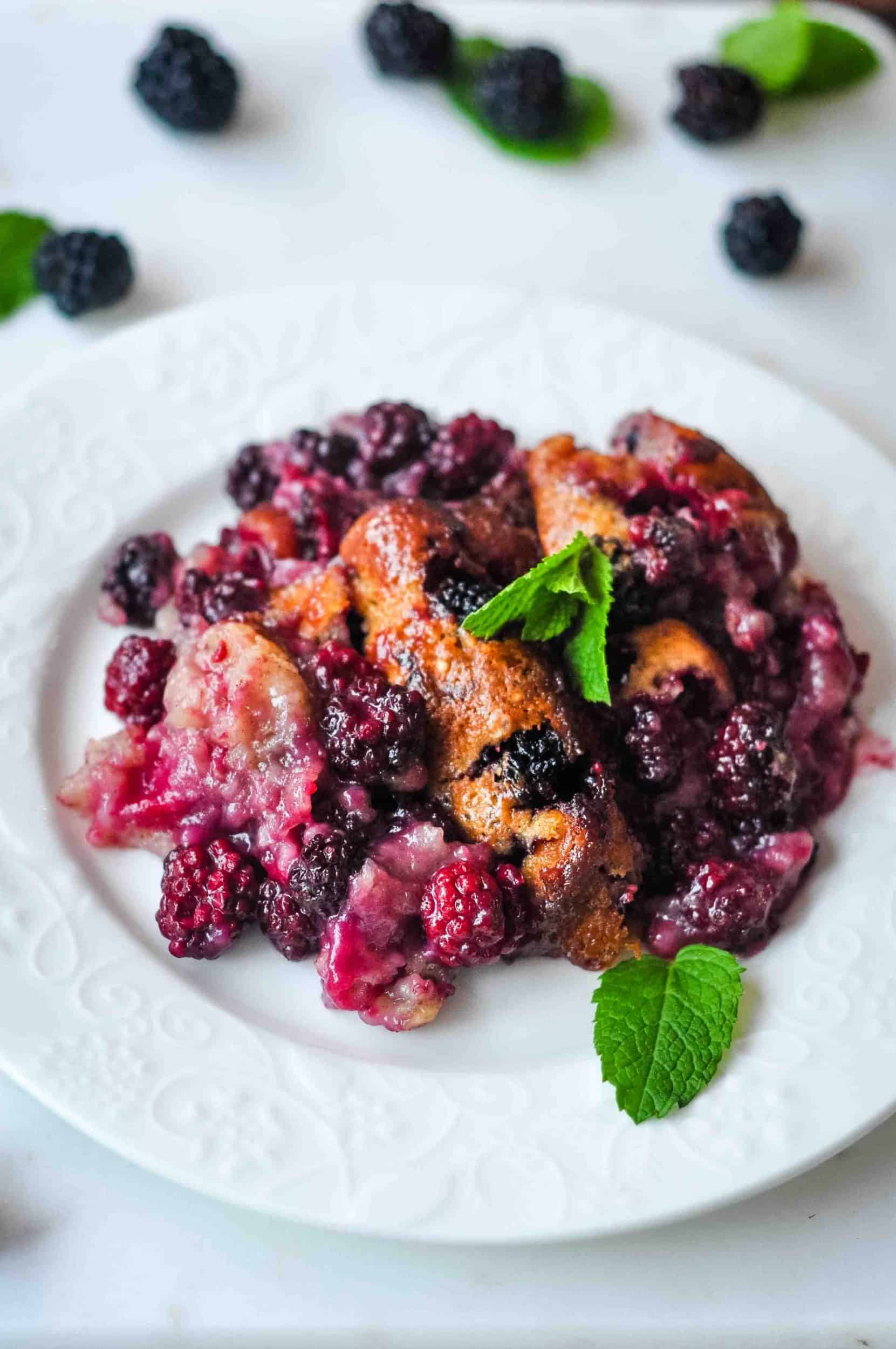 Try Different Types of Fruit or Spices
This easy cobbler recipe works perfectly with more than just blackberries – sub any type of fruit you like!
It's wonderful with peaches, mixed berry blend, apples…. the possibilities are endless! (But blackberry is my personal fav.)
You can also spice things up with cinnamon, clove, vanilla… mmmmm.
Ways to Serve Southern Blackberry Cobbler
Of course, this blackberry cobbler is wonderful all by itself (you could even have some for breakfast with a cup of coffee!).
But my favorite way to eat it is with a huge dollop of homemade vanilla maple whipped cream (my mom's recipe). Nothing beats it!
Or, you could try your hand at making homemade ice cream. Try these 8 tips for perfect homemade ice cream every time.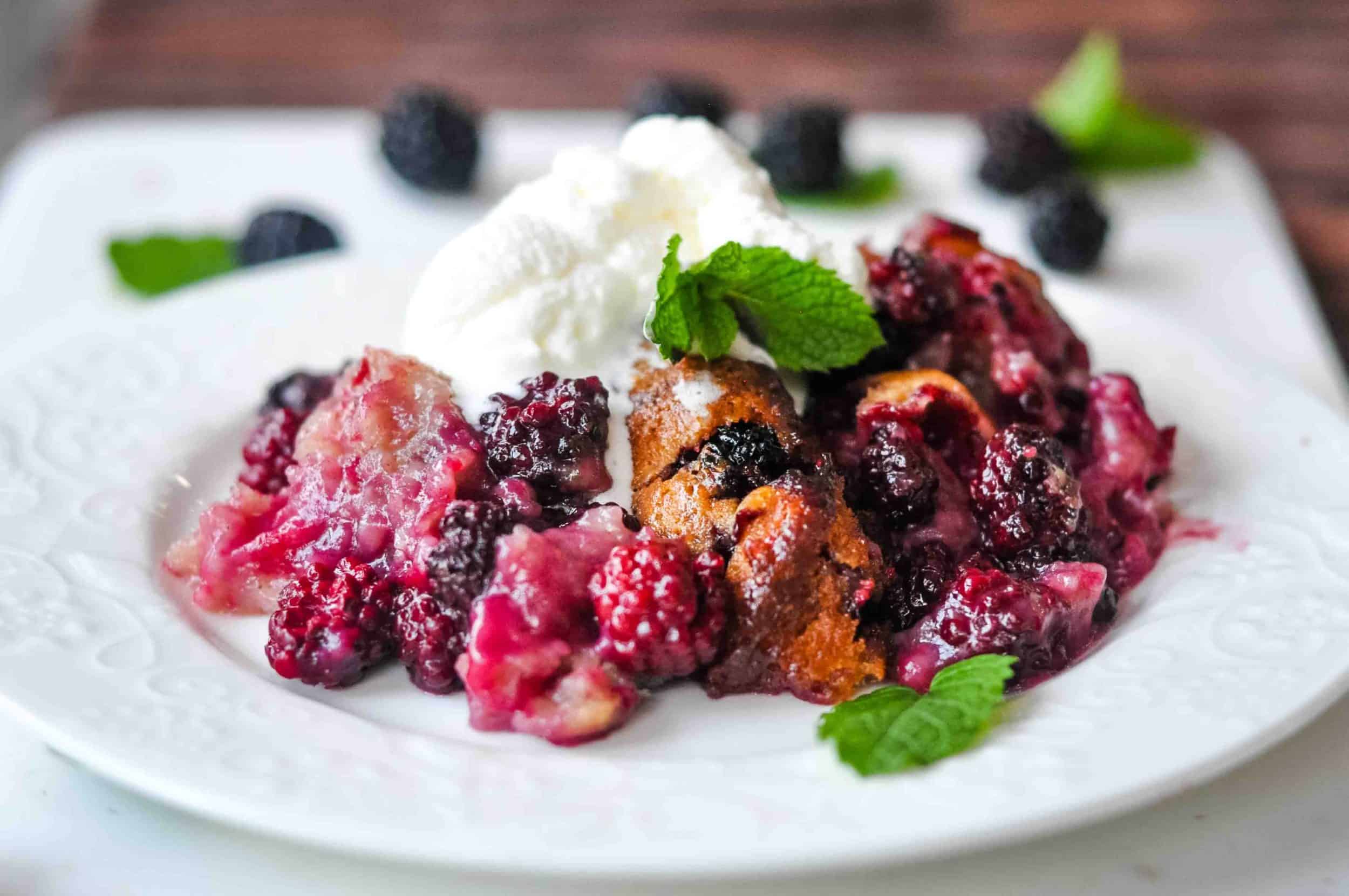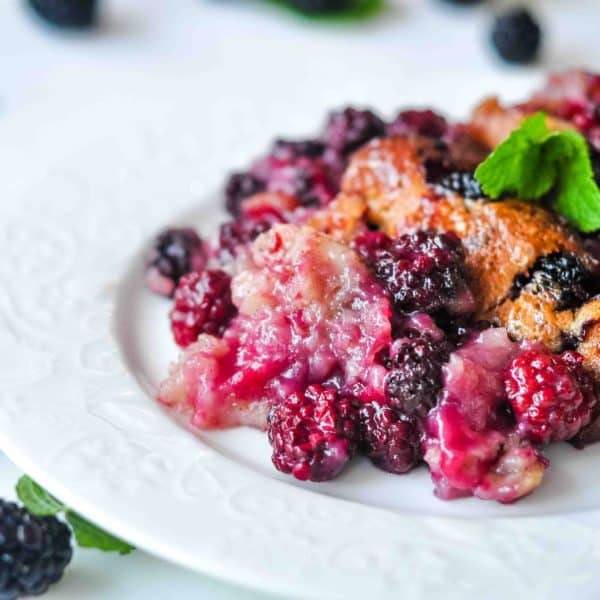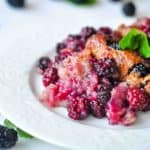 Old-Fashioned Easy Blackberry Cobbler
This easy blackberry cobbler assembles in minutes and is full of summertime sweet, bubbly goodness! Filled with tart blackberries and topped with a simple batter, this is the perfect simple dessert for potluck and dinner guests.
Prep Time 10 minutes
Cook Time 45 minutes
Ingredients
1 stick butter
1 lb. blackberries fresh or frozen
1 cup Wheat Montana natural all-purpose flour
1 cup sucanat (evaporated cane juice) or organic sugar
1 tsp. cinnamon
1 ½ tsp. baking powder
¼ tsp. salt
1 cup whole milk
Instructions
Preheat oven to 375 F. Melt butter in a large casserole dish as the oven heats, or in the microwave.

Pour blackberries over butter, spreading evenly.

In a separate bowl, mix together flour, baking powder, sucanat (or sugar), cinnamon, salt, and milk.

Pour mixture over the top of blackberries.

Bake at 375 F for 45 minutes, until golden brown and bubbly. Serve warm with a dollop of whipped cream or homemade ice cream.
Recipe Notes
For a refined sugar free version, swap sugar/sucanat for honey or maple syrup. Reduce the amount of milk to 3/4 cup. For a low carb sweetener option, try Monk fruit erythritol sweetener and reduce the amount to 2/3 cup.
What's your favorite summer dessert?
PIN IT!