This energizing green smoothie recipe – affectionately dubbed "Hulk smoothie" by my boys – is packed with the raw materials your body needs for any busy day.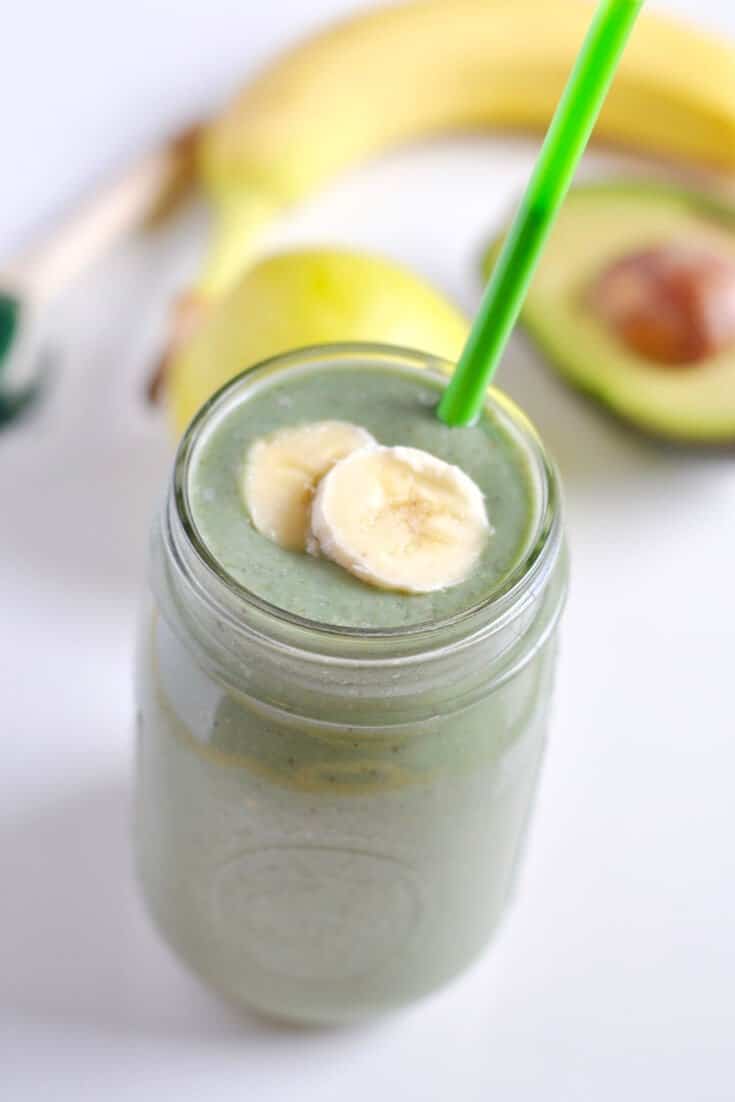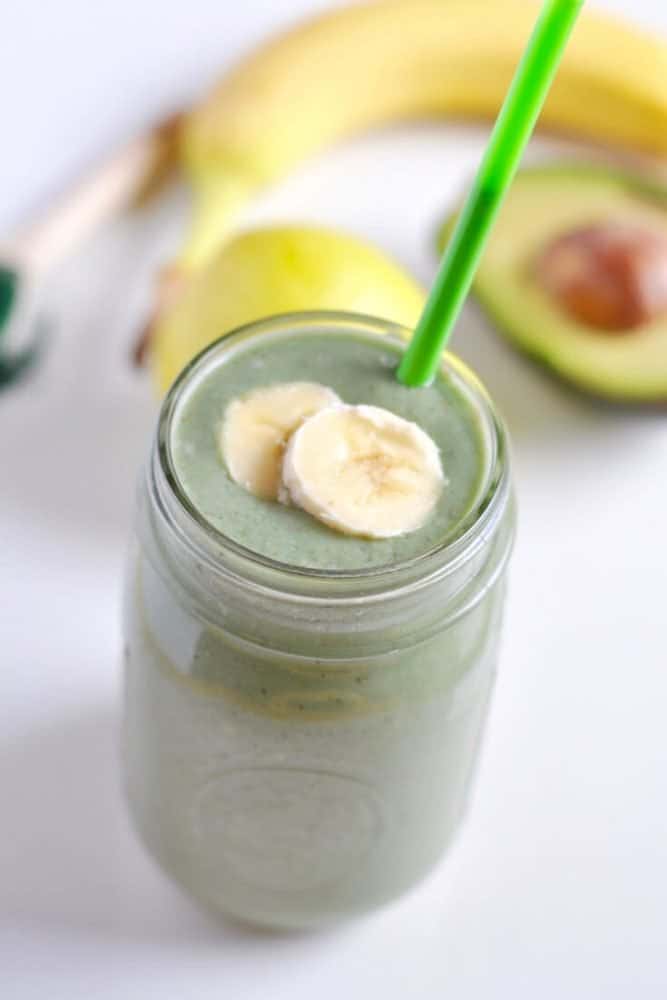 In the morning, we all need that extra bit of energy to get the day started. Most people reach for coffee first thing (I'm often guilty of this), but a better way to get that important boost is through a nutrient-dense green smoothie.
I sometimes struggle to get the amount of vegetables in my diet that I should, so this is a great way to pack in those veggie and fruit servings. My boys don't eat a lot of fresh greens, so this recipe is a perfect way to 'disguise' those nutritious leaves!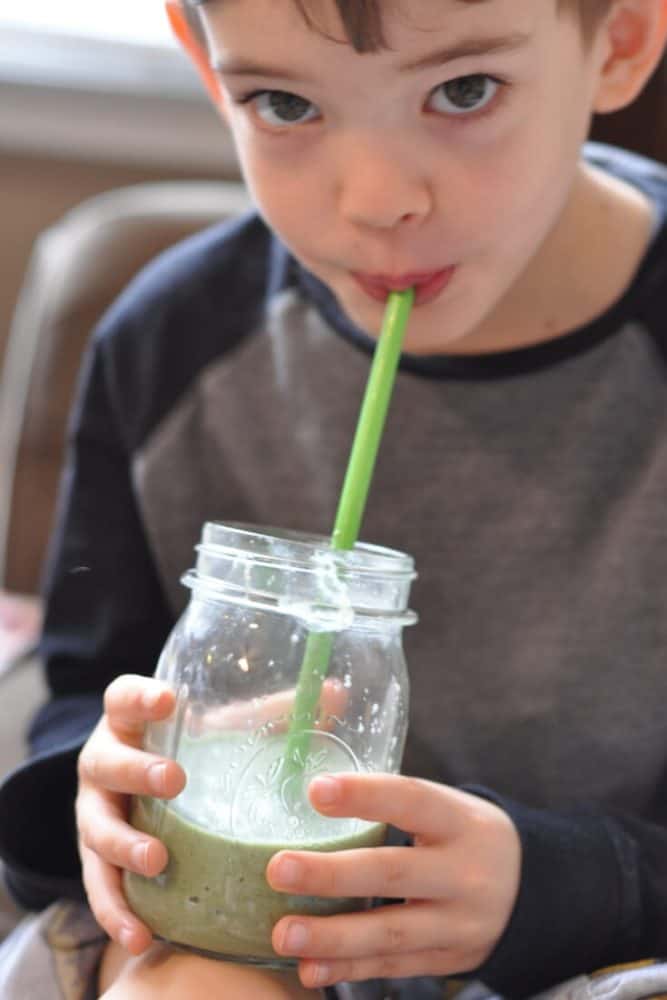 In fact, when I first started serving this smoothie, I was a bit nervous my boys would turn up their noses because of its color. They were already used to drinking my delicious basic fruit smoothie and chocolate smoothie, so I wasn't sure how they would react to a green version.
But, I was pleasantly surprised when they heartily approved by calling it the "Hulk smoothie." I guess it makes them feel extra-strong, which is no wonder with all the veggies and fruit packed in!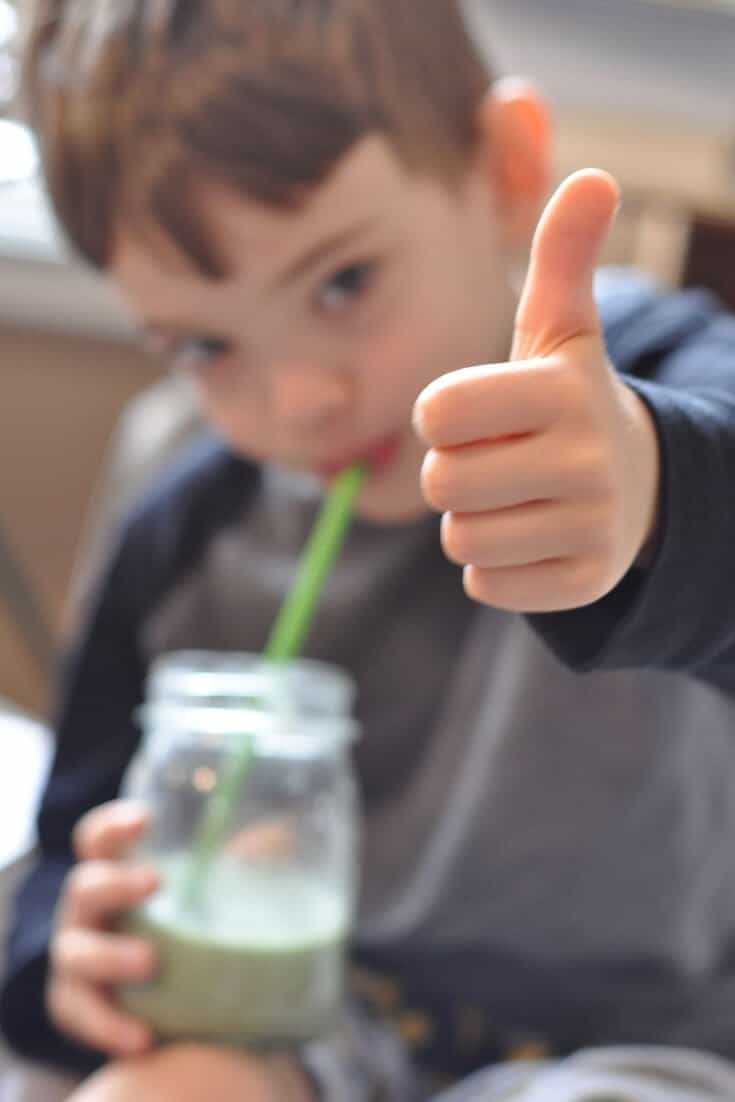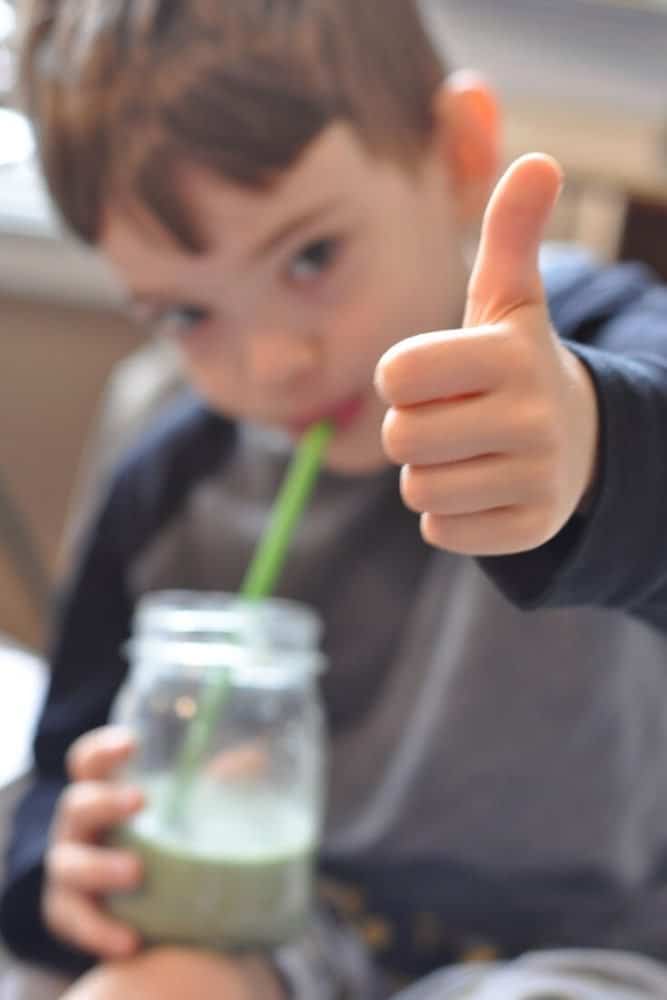 Why is it so important to get enough fresh fruit and veggies? When your body has enough building blocks like vitamins and minerals, it's going to function SO much better. It also prevents all manner of health issues from popping up.
The star green ingredients in this smoothie are avocado, leafy greens, spirulina algae and green pear. The finished product is wonderfully refreshing and mildly sweet!
Pair this smoothie with gluten-free pancakes, an egg on organic whole grain toast, or a homemade muffin for best results!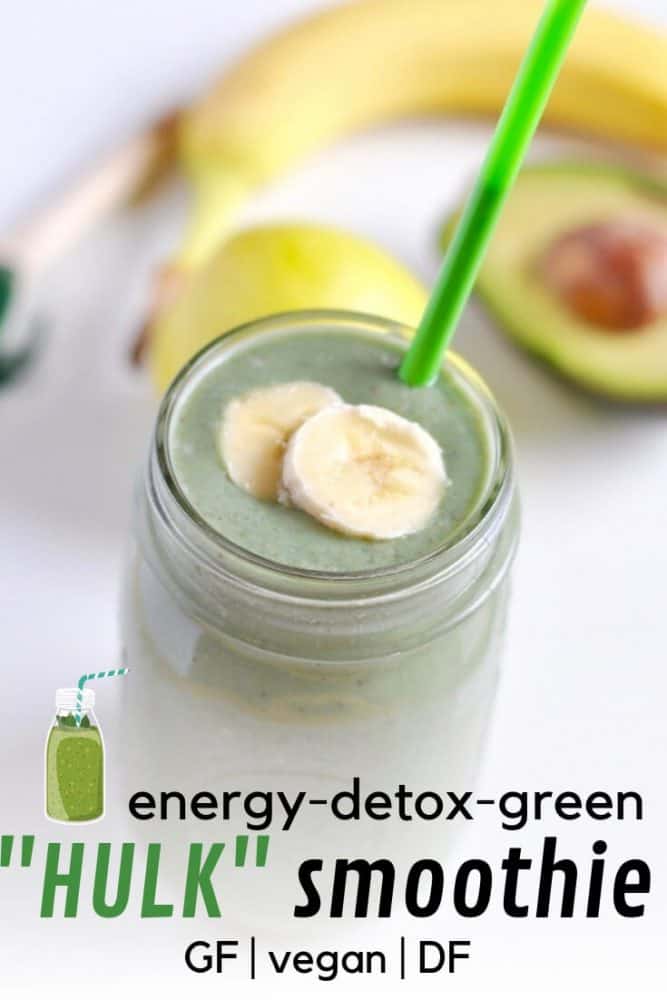 Green smoothie benefits
This smoothie is a nutrition POWERHOUSE. It contains healthy fats, vitamin B6, magnesium, potassium, and lots of micronutrients in the greens like chlorophyll and iron.
The idea behind green smoothies is packing lots of nutrients in to a small drink to provide extra building blocks of nutrition for your body. Green smoothies also help aid your body's detoxification process.
According to Whole New Mom, fruits and veggies work by "supporting your natural detox mechanisms. It's not really about the juice itself. Now that your body's hopped up on healing nutrients, all of your internal mechanisms start working better. And now you can flush out some toxins you haven't been able to before" (read more in Does Juicing Work for Detox?).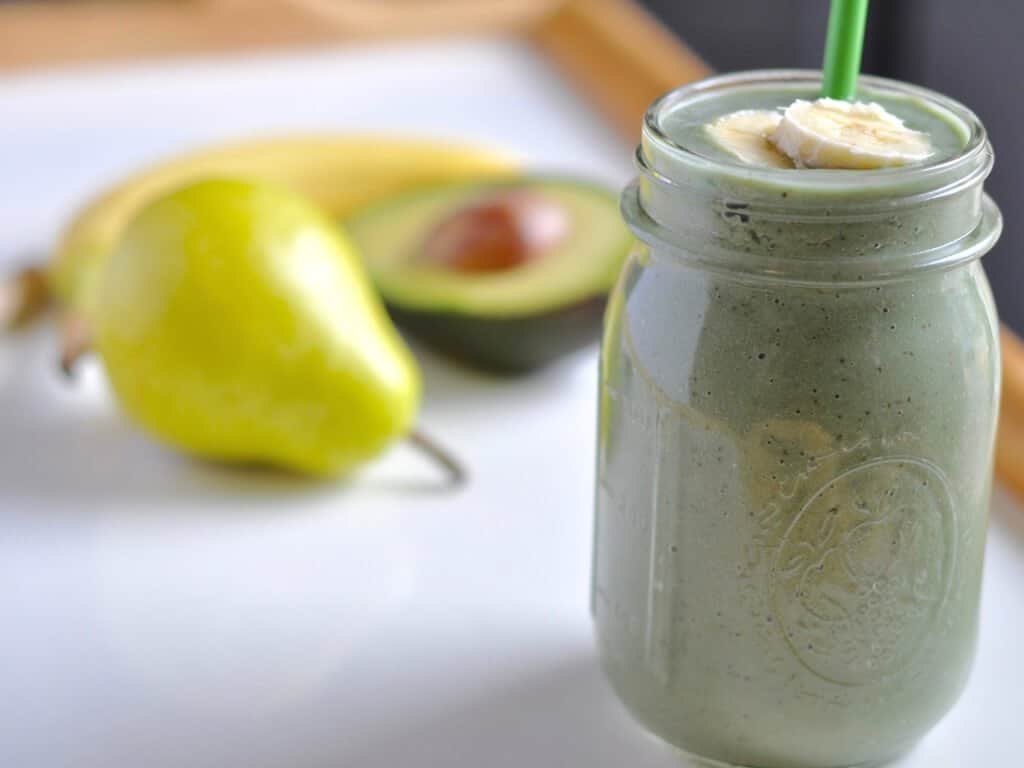 Green smoothie ingredients
Avocado – loaded with healthy fats, magnesium, and potassium.
Banana – fiber, potassium, magnesium and adds sweetness to the smoothie.
Mango – a mango has over 200% of your daily vitamin C quota!
Pear – one of the best sources of fiber along with vitamin K and boron.
Spirulina algae – packed with protein with huge amounts of iron and copper.
Romaine or spinach – romaine has tons of vitamin K and A. Spinach is loaded with vitamin C, iron, and magnesium.
Nettle tea – great for detox and a boost of calcium & iron.
Optional add ins – I add what I like to call "power ups" to all my smoothies for a nutrition boost. We enjoy things like chia seeds, collagen powder, coconut oil, and flax seeds. You can make your own add ins mix with this smoothie booster powder!
Here's an amazing place to get your coconut oil, collagen powder, spirulina, and lots of other nutrient dense power ups: Perfect Supplements! They only use the highest-quality ingredients like organic, grass-fed, etc.
Related post: 15 Weird & Wonderful Ways to Use Chia Seeds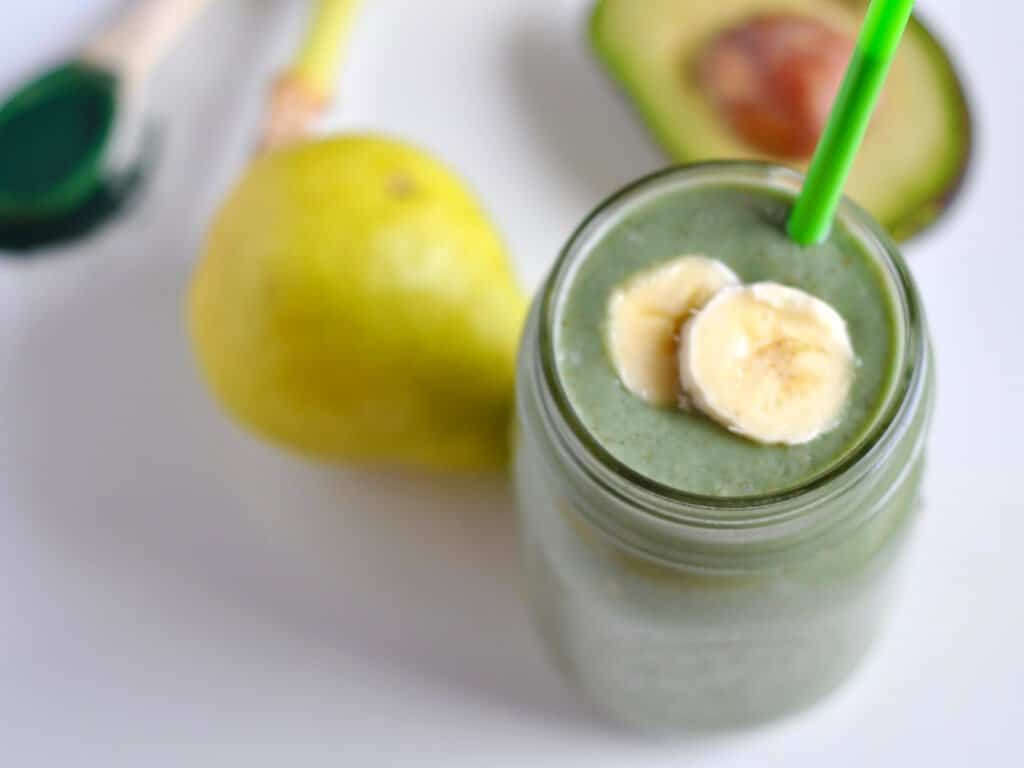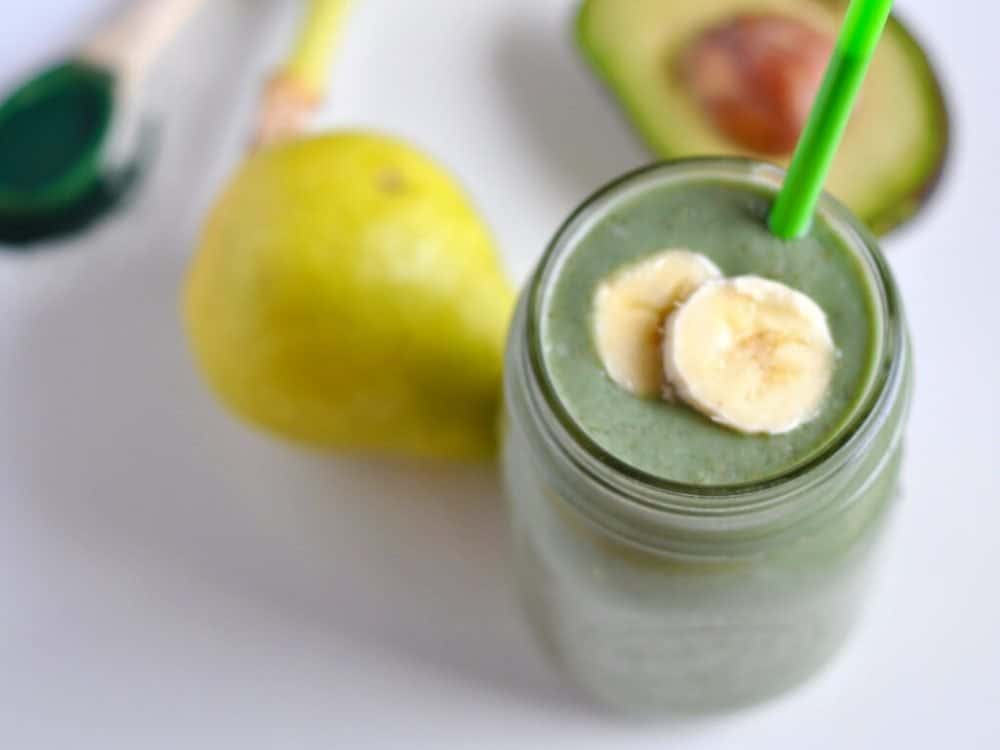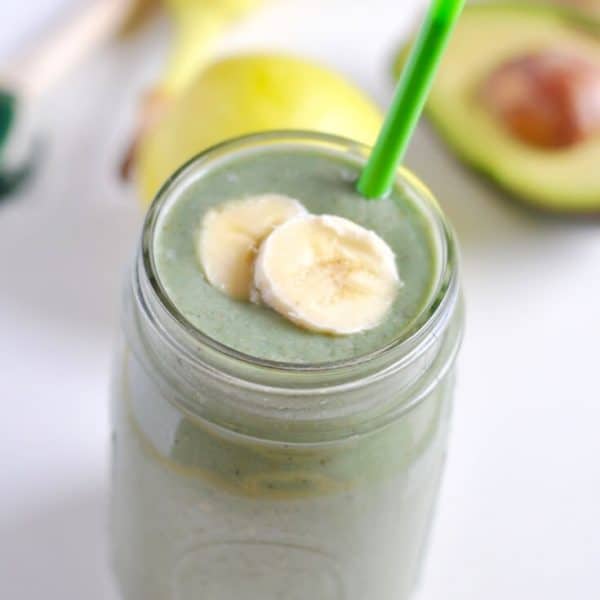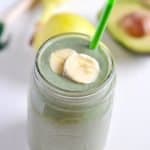 Energizing Green Smoothie (HULK Smoothie)
This energizing green smoothie recipe - affectionately dubbed "Hulk smoothie" by my boys - is packed with the nourishing green ingredients like avocado, leafy greens, and spirulina for detox.
Prep Time 5 minutes
Total Time 5 minutes
Ingredients
1 avocado
1 pear cored
1 banana frozen
1 cup frozen mango
1 cup romaine or spinach
2 cups nettle (or other herbal) tea cooled
1 cup filtered water
1 tsp. spirulina powder
Smoothie "Power-Ups" (optional)
2 TBSP collagen powder
1 TBSP chia seeds
1 TBSP flax seeds
1 TBSP coconut oil
Instructions
Add all ingredients to a high-powered blender. Blend on HIGH for one minute and serve.



Do you drink morning smoothies? Comment below with your favorite recipe!
With Joy,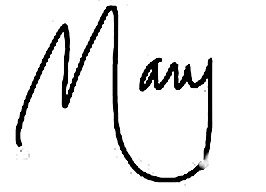 PIN IT!