Learn how to create this adorable fall leaf craft for kids using a colorful paper Batik process. You'll want to keep this project for years to come!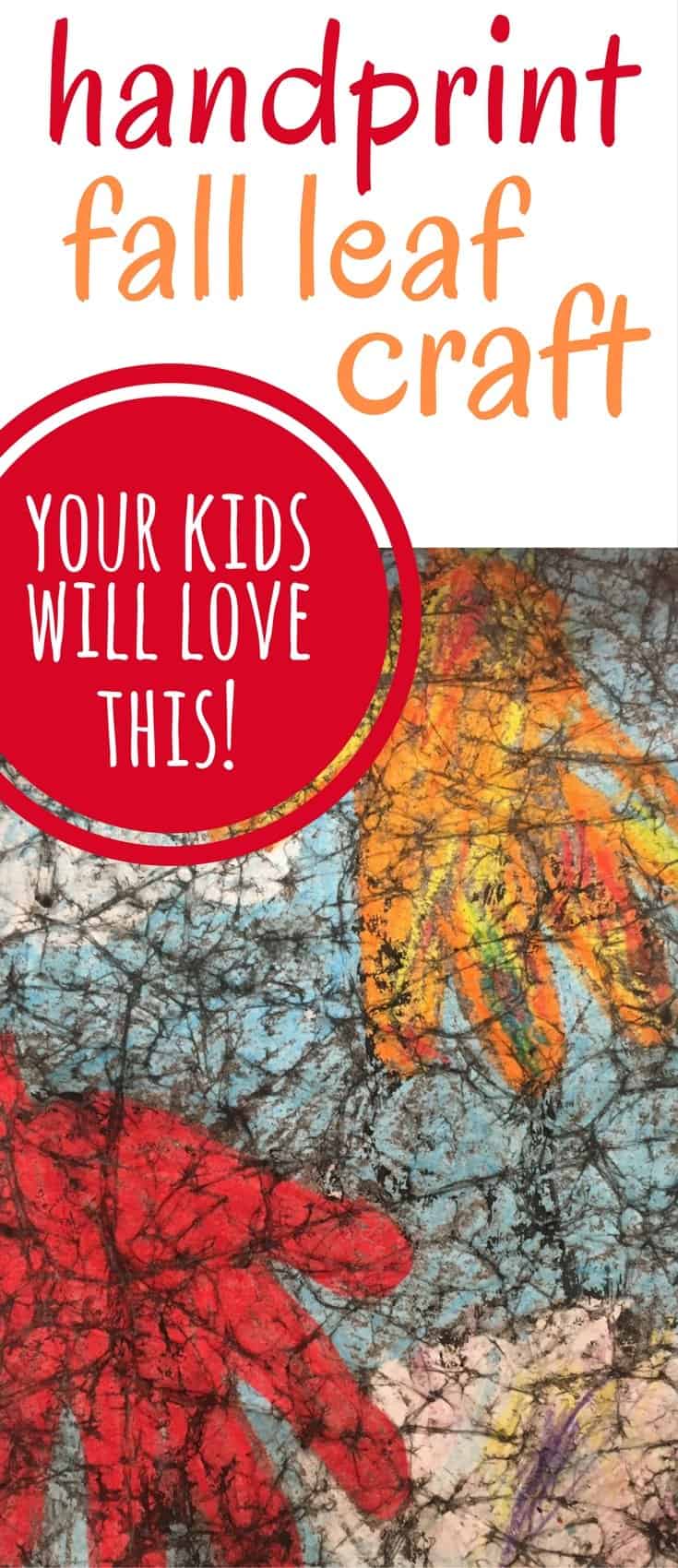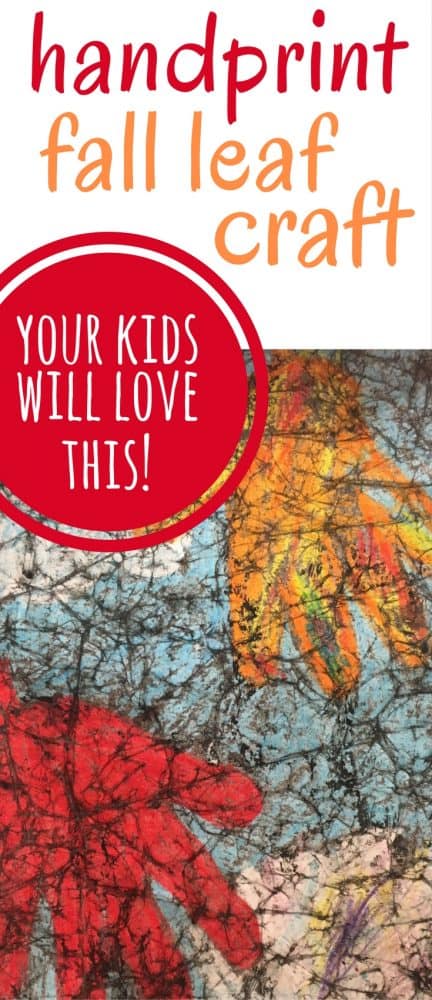 As a former art major in college, I got the opportunity to do lots of kids art projects in schools. This paper Batik process was my favorite, hands-down (no pun intended).
Batik is an art process usually done with textiles. It uses wax to help create the design. Wax is applied to the places to be left undyed and the rest of it is dyed the desired color, leaving a beautiful motif behind.
In this simple fall leaf craft for kids, we are using paper instead of cloth, and crayons act as our wax. Another name for this method is called "crayon resist." It sounds complicated, but actually this process couldn't be simpler! You probably already have all the materials on hand to make this, as no special items are needed.
Fall Leaf Craft for Kids Handprint Paper Batik Step-by-Step Tutorial
You will need:
First, trace your child's hands anywhere on the paper you desire. For this project, I traced both hands. Add a small stem at the base of each hand so it resembles a leaf. Once finished, I like to flip the paper upside down so it looks like the leaves are falling.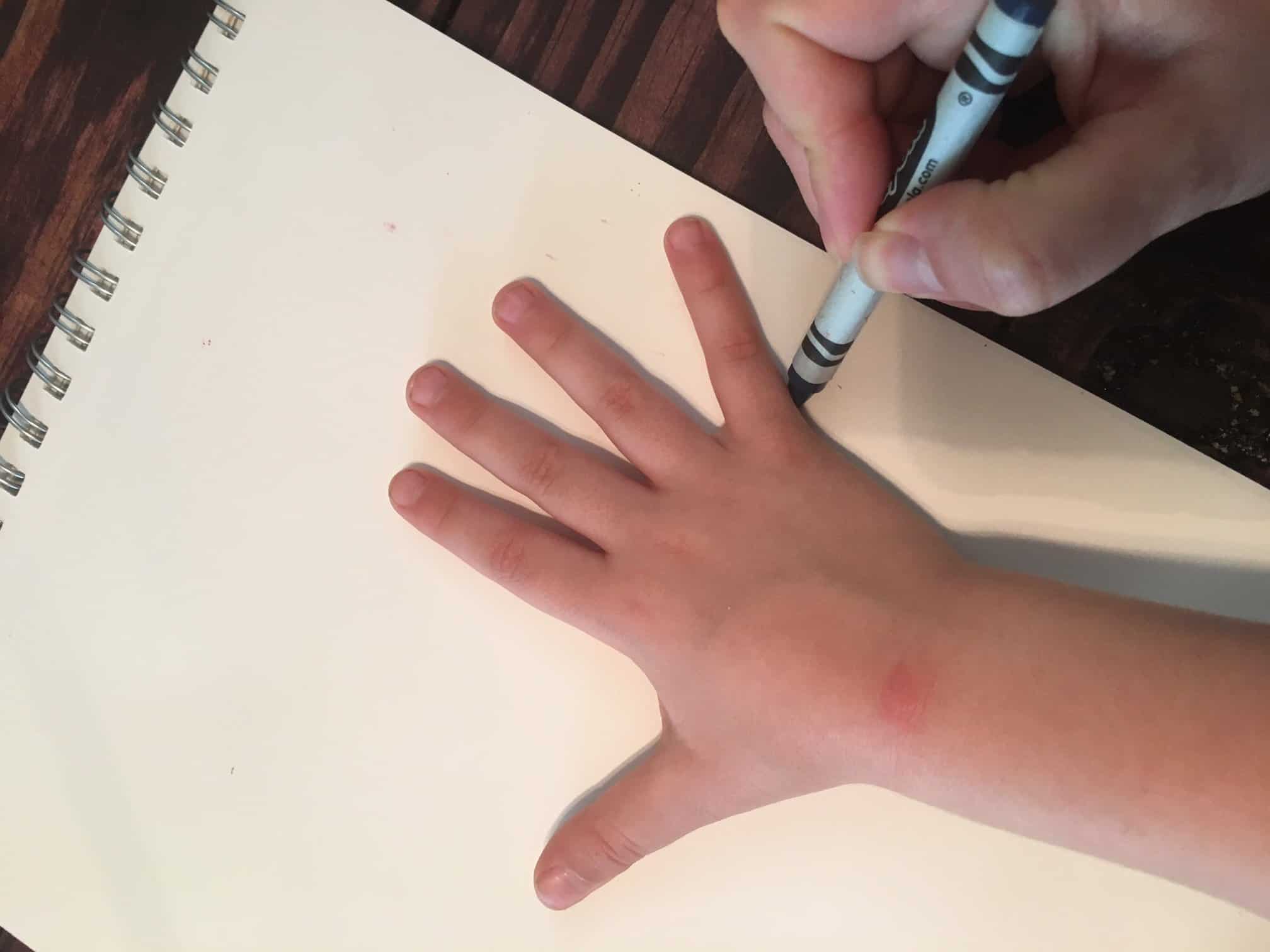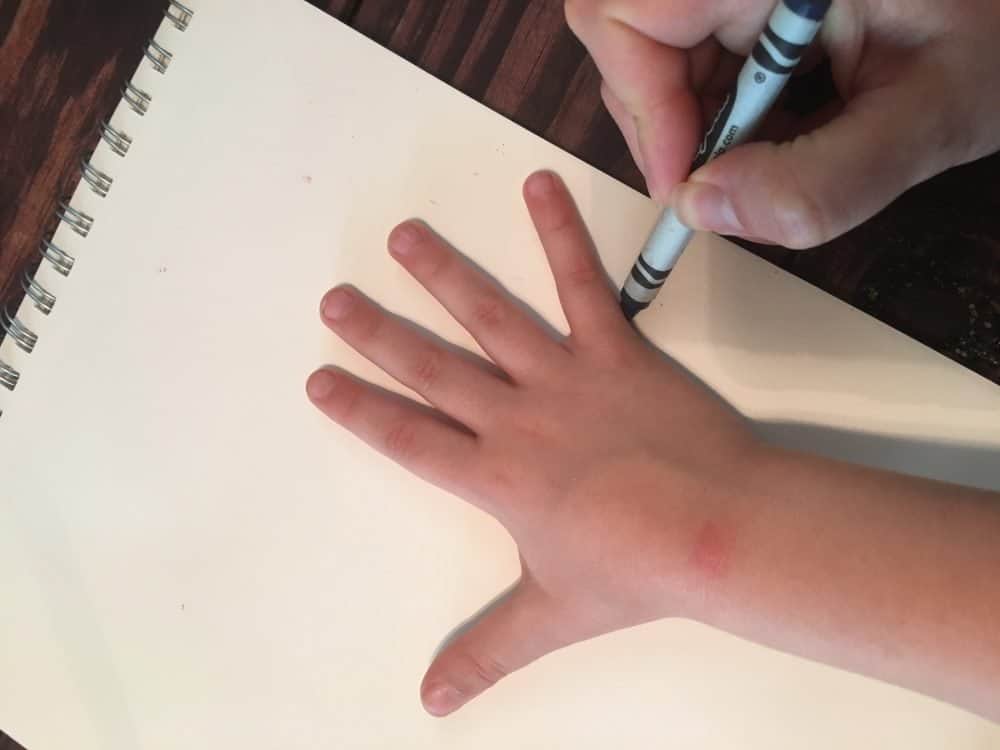 Then, get your child fill in the "leaves" with autumn colors – any variation of red, orange, yellow, green, or brown will do. Get creative! The most important thing to remember is to press HARD with the crayon as you color. Any bits of white that show through the crayon will be dyed black later. So, it is imperative that if you want a spot to be color instead of black, you press down hard with the crayon.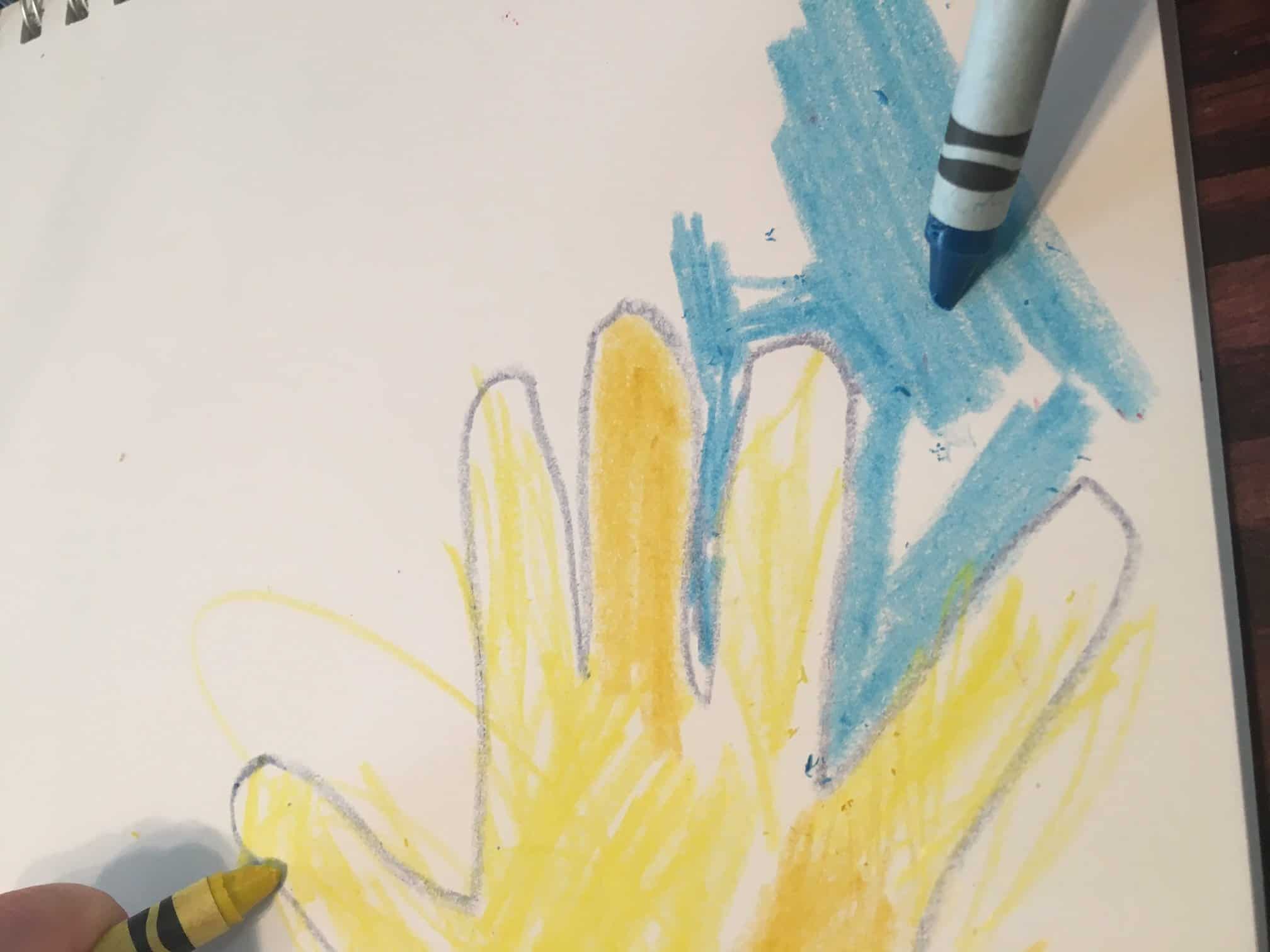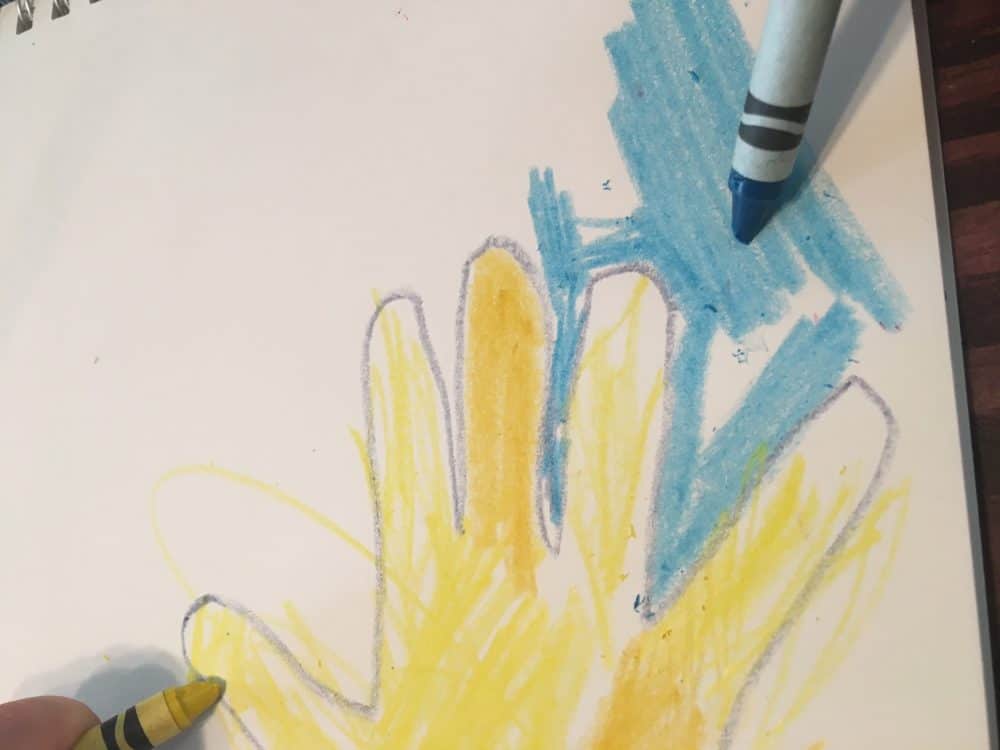 Next, color the background however you desire. You can encourage your kids to color theirs like a sky, so it will look like leaves falling down. But you could do whatever kind of background you like. Actually, I tried to control the process here a little too much. The random colors mixed in with the sky of my 3-year old's artwork is my favorite part.
Remember to press down hard with those crayons!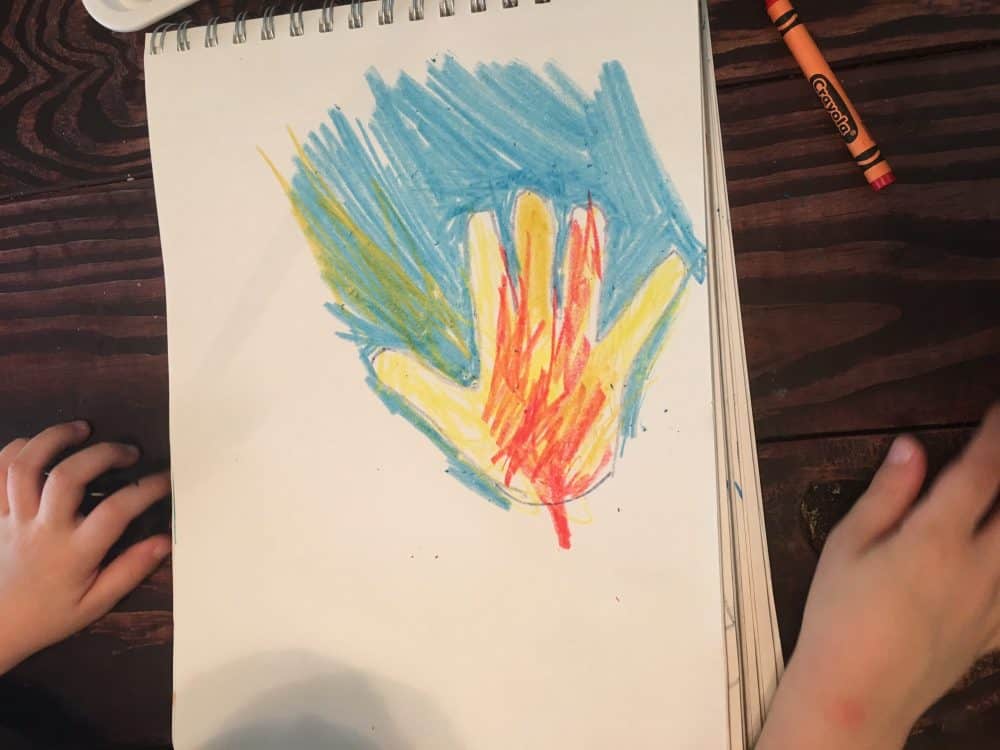 Once the entire page is filled with crayon, the fun part begins! Crumple your finished drawing into a ball. Yes, really! Do it gently to be sure you do not tear the paper. I like to repeat this step several times. You want plenty of "cracks" and wrinkles in the crayon. The kids always have fun "destroying" their page!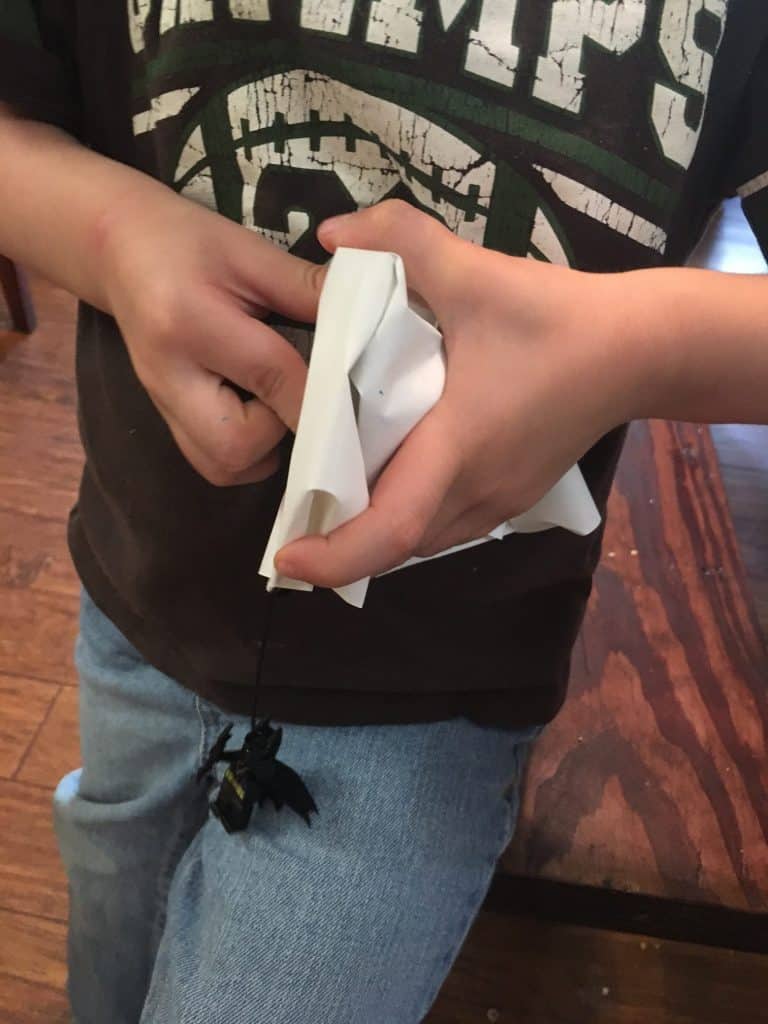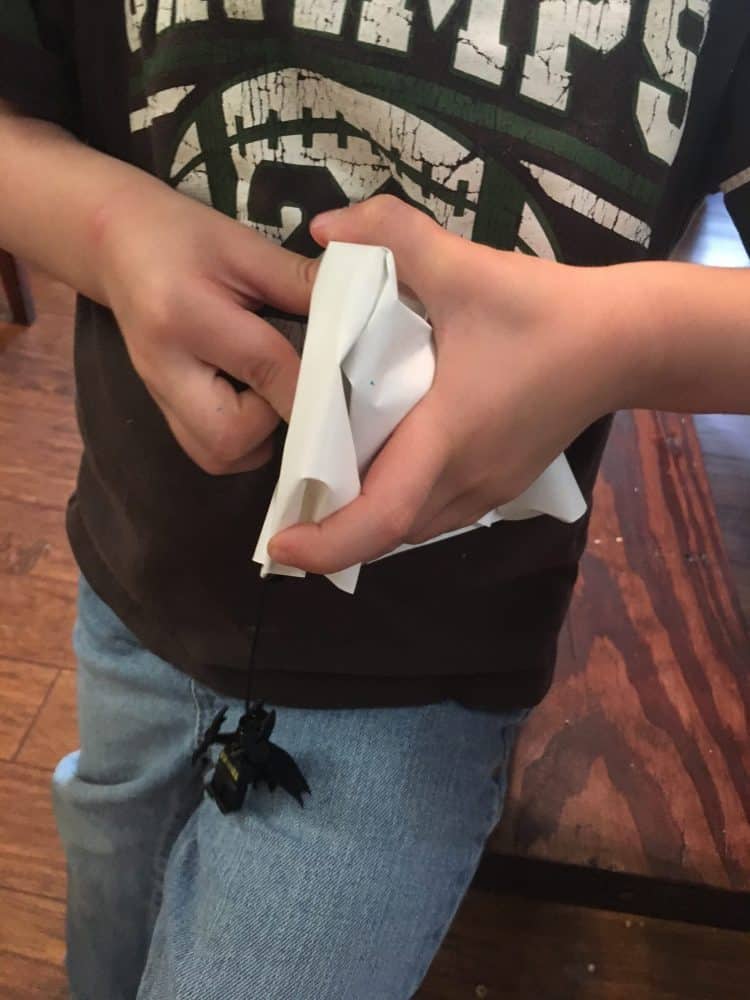 Now, unroll the paper ball and smooth it out. Using the paintbrush, coat the entire page in black acrylic paint.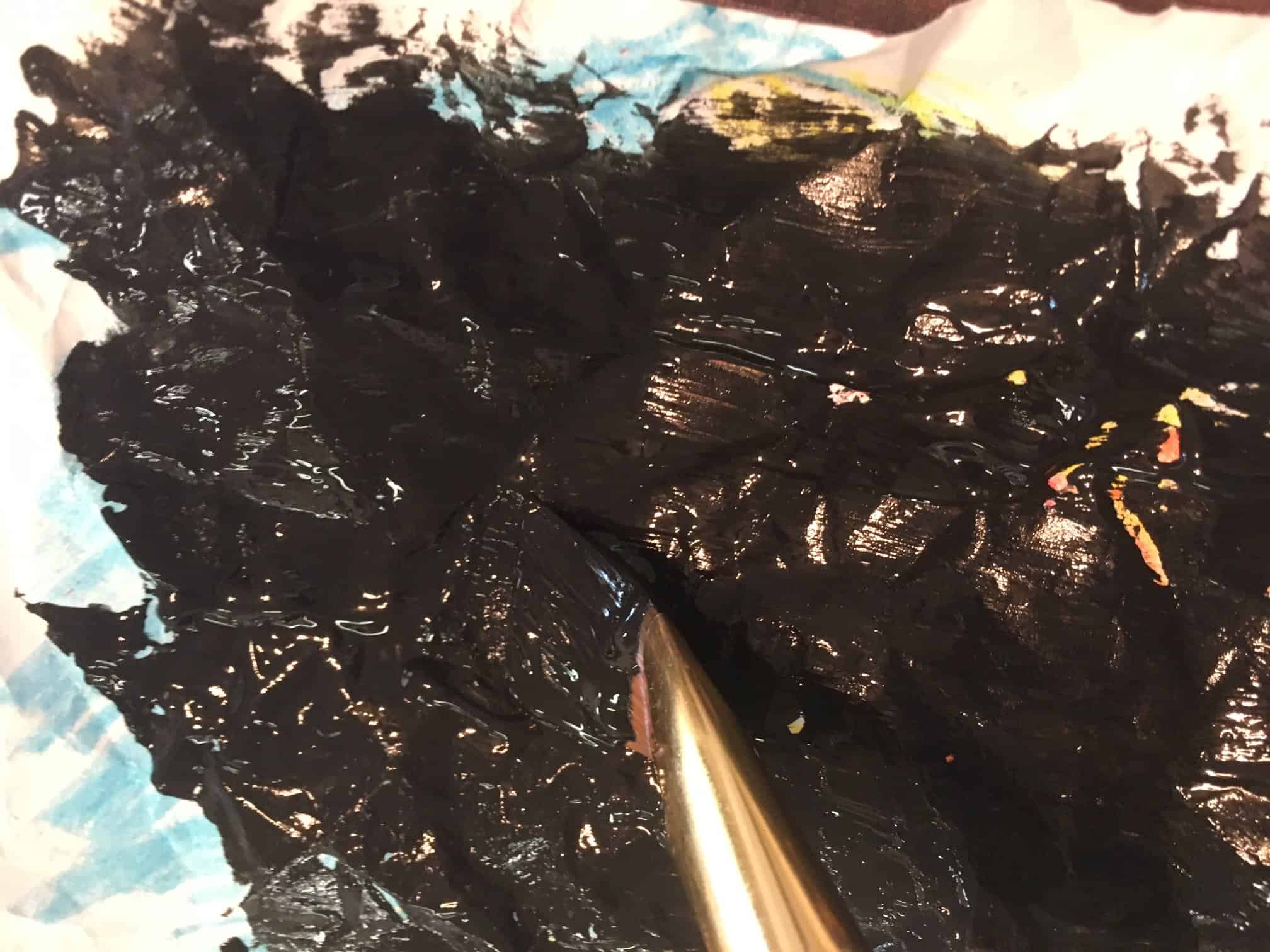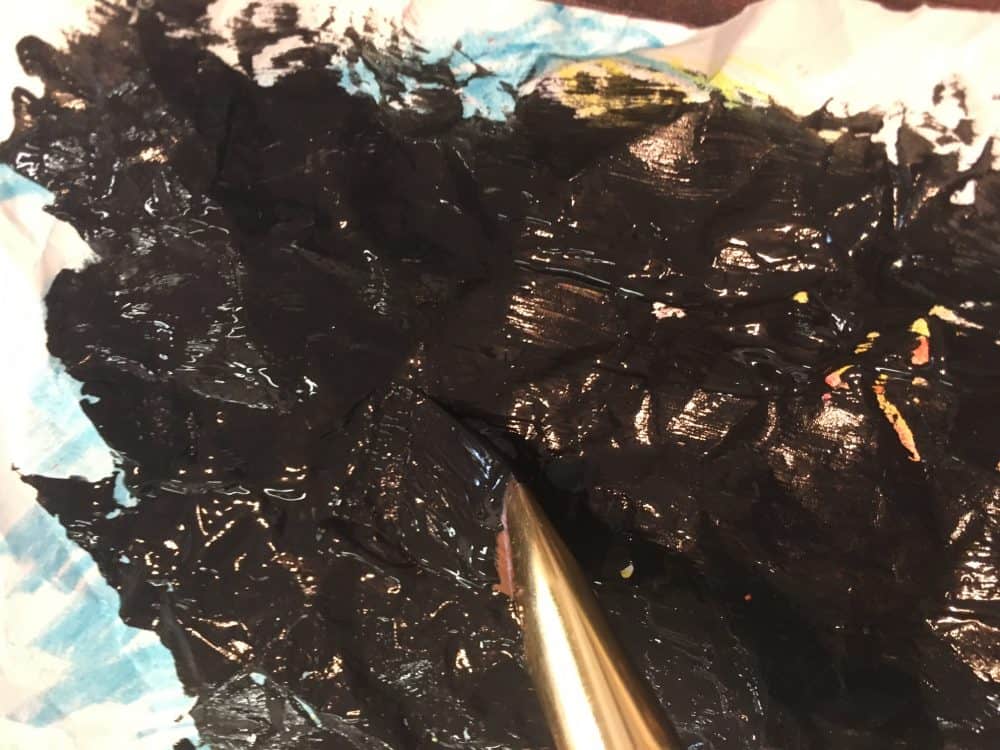 Now, this is the REALLY fun part! Make sure your sink is cleaned out for the next step. Carefully carry your painted paper over to the sink. Run it under cold water, gently rubbing the black paint away as you rinse. You will begin seeing your bright wax crayon design peeking through!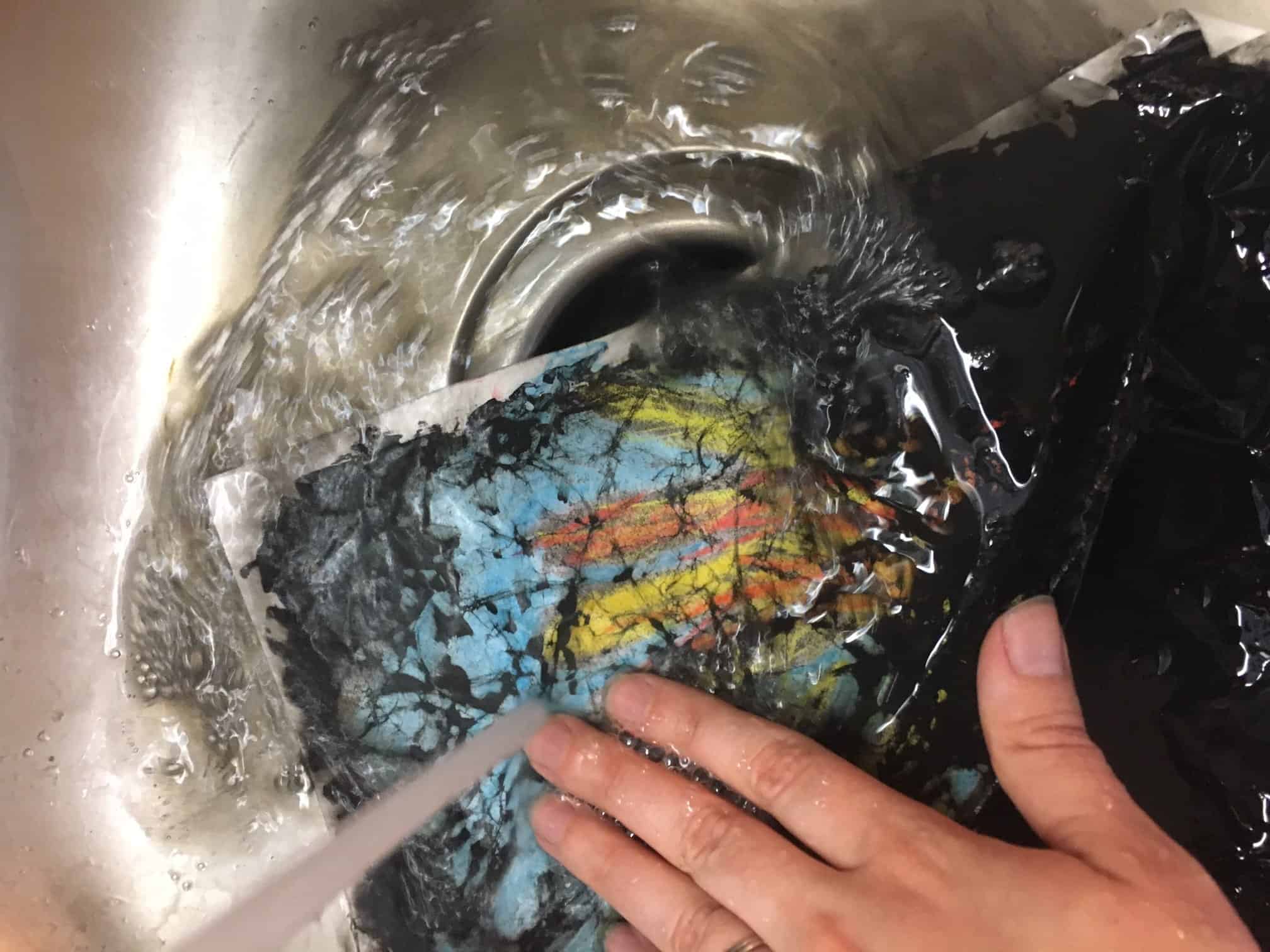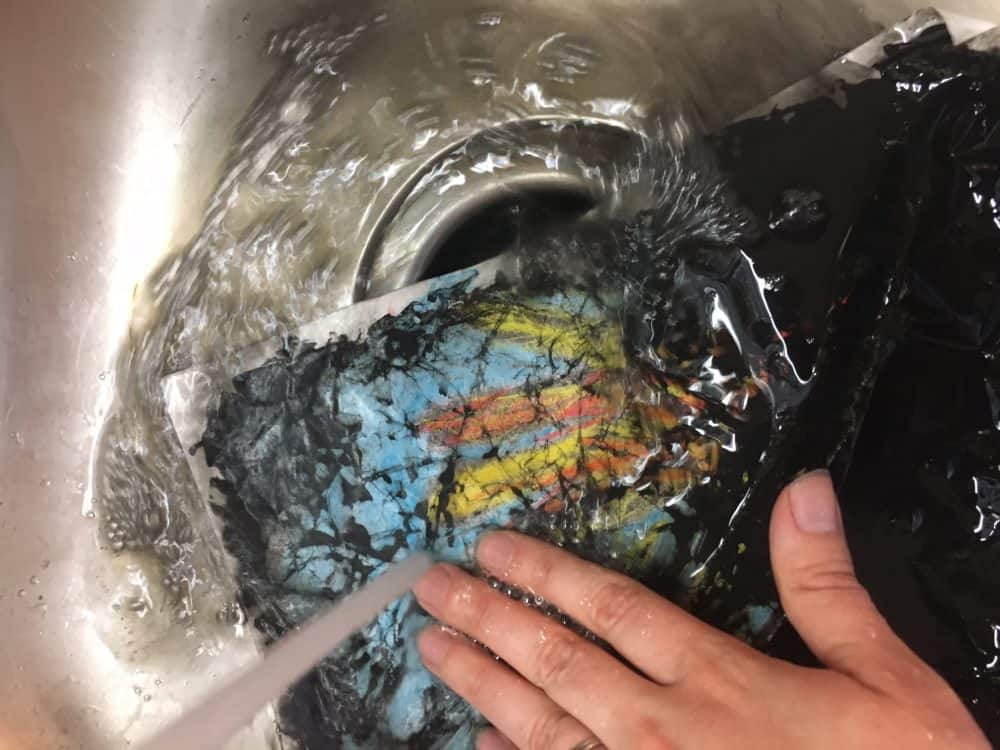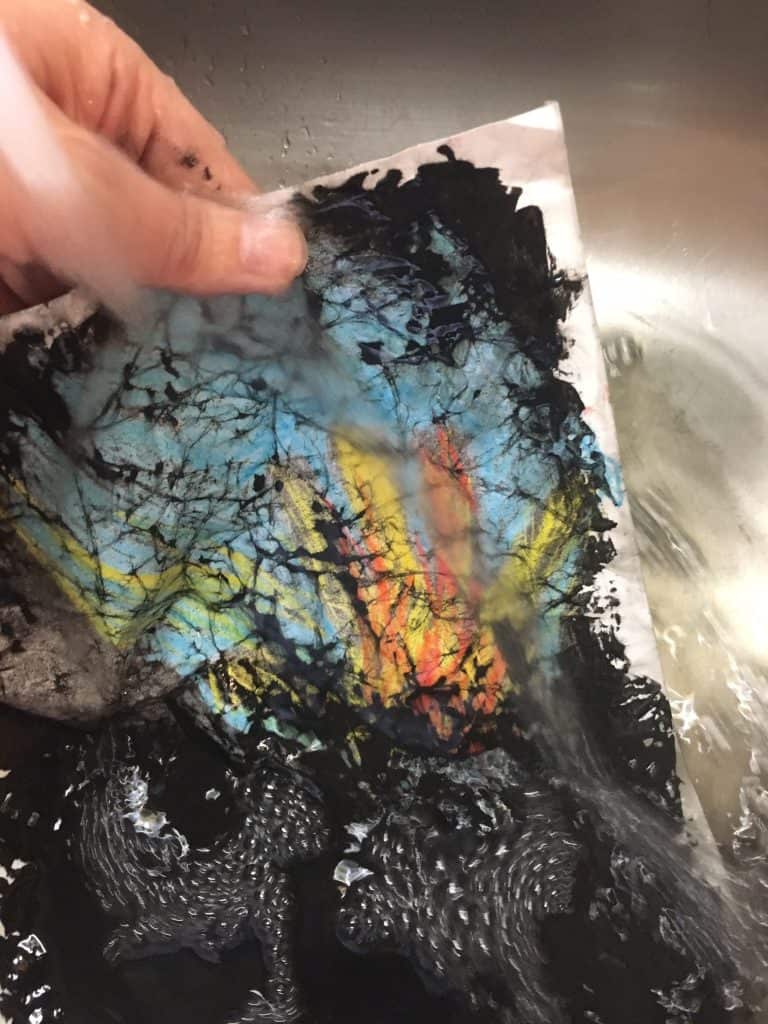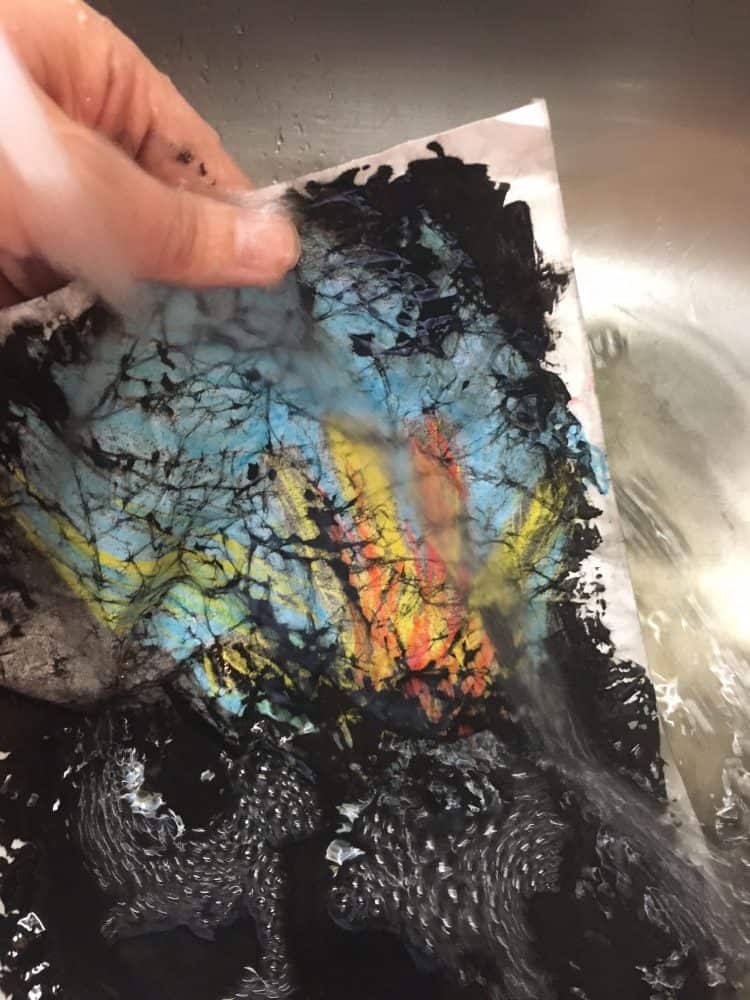 Continue rinsing gently until the black paint is mostly gone and has settled into all the cracks of your artwork. Allow to dry.
Admire your masterpiece. Now, wasn't that EASY and just plain fun?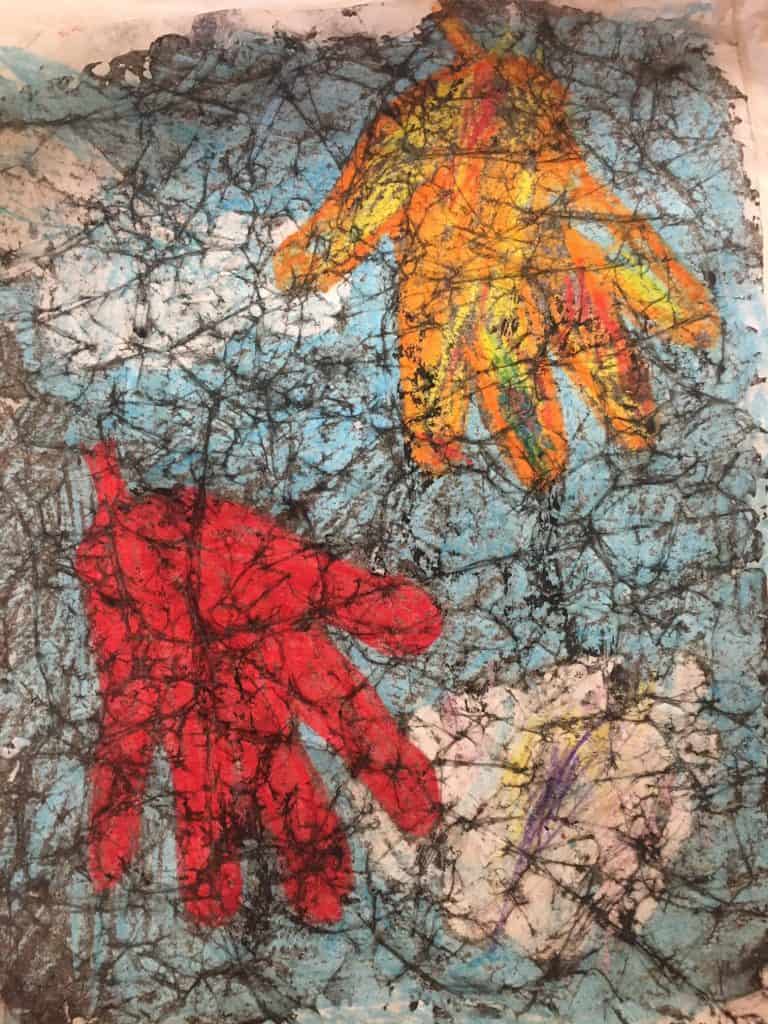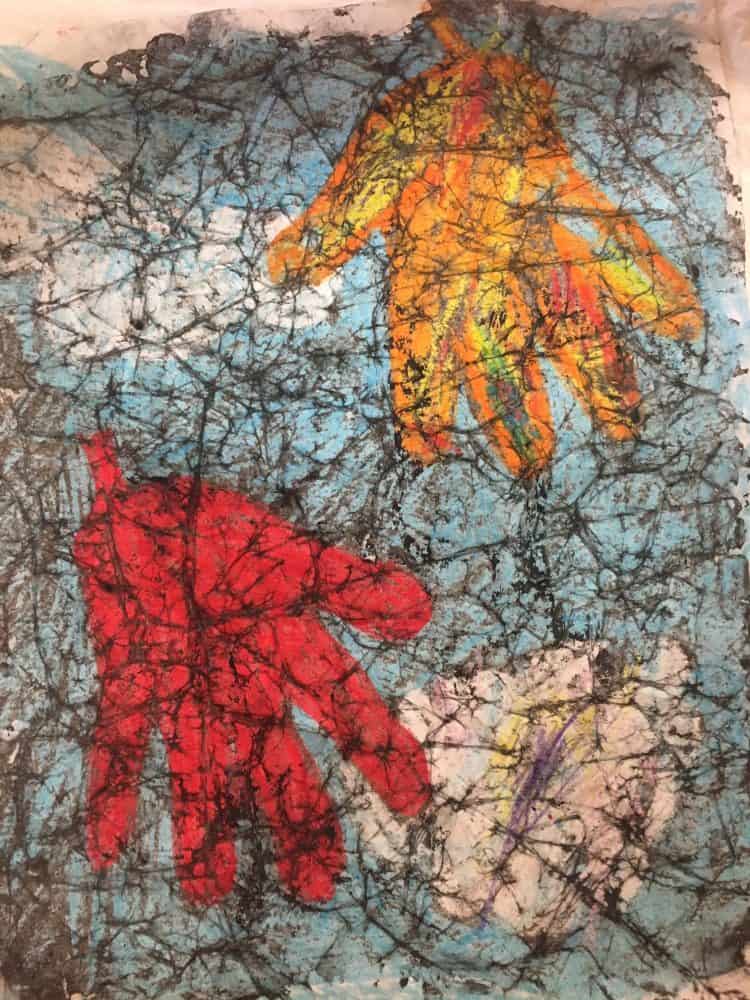 Note: This project can obviously be done with any subject matter, and is perfect for any time of the year. It is very forgiving and great for all ages. Even "mistakes" turn out beautiful with this process. As long as you use plenty of bright colors and press down hard with the crayon, it will turn out lovely.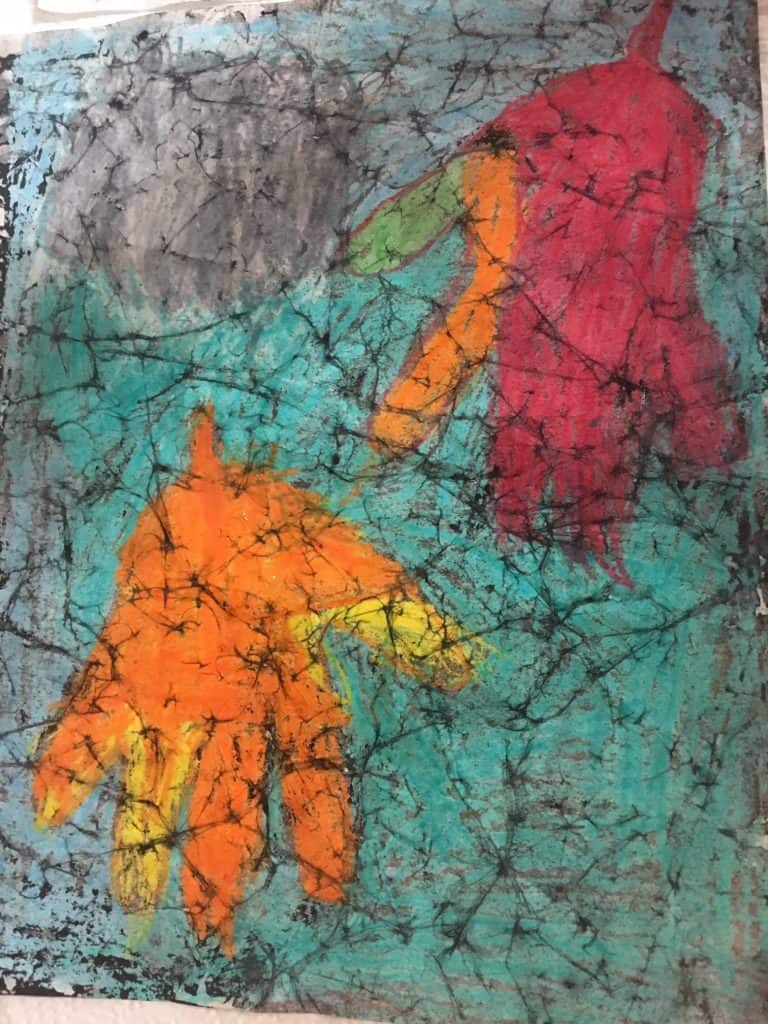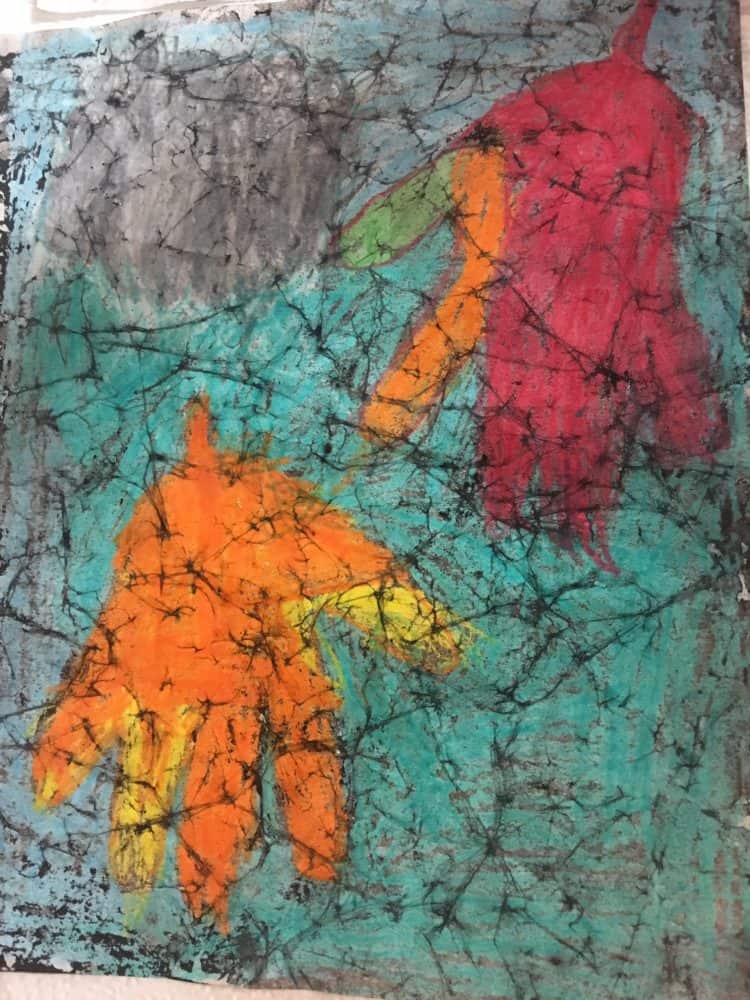 No matter what the level of artistic ability, anyone can do this fall leaf craft for kids and it will look beautiful.
You may also like: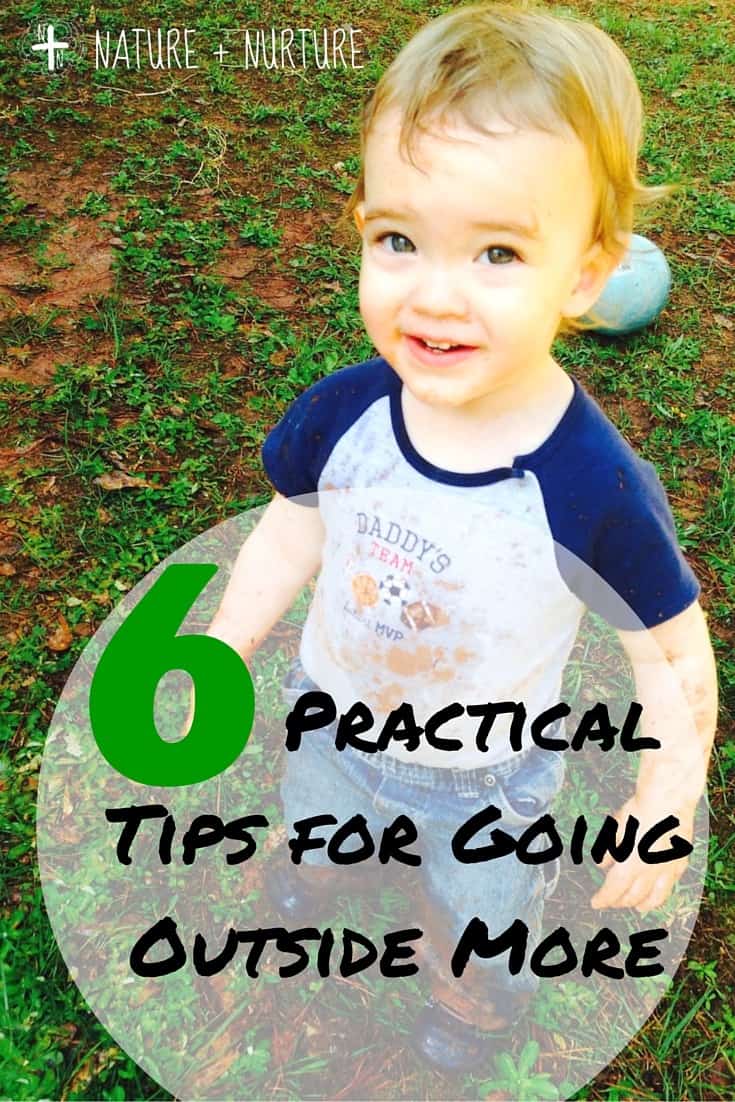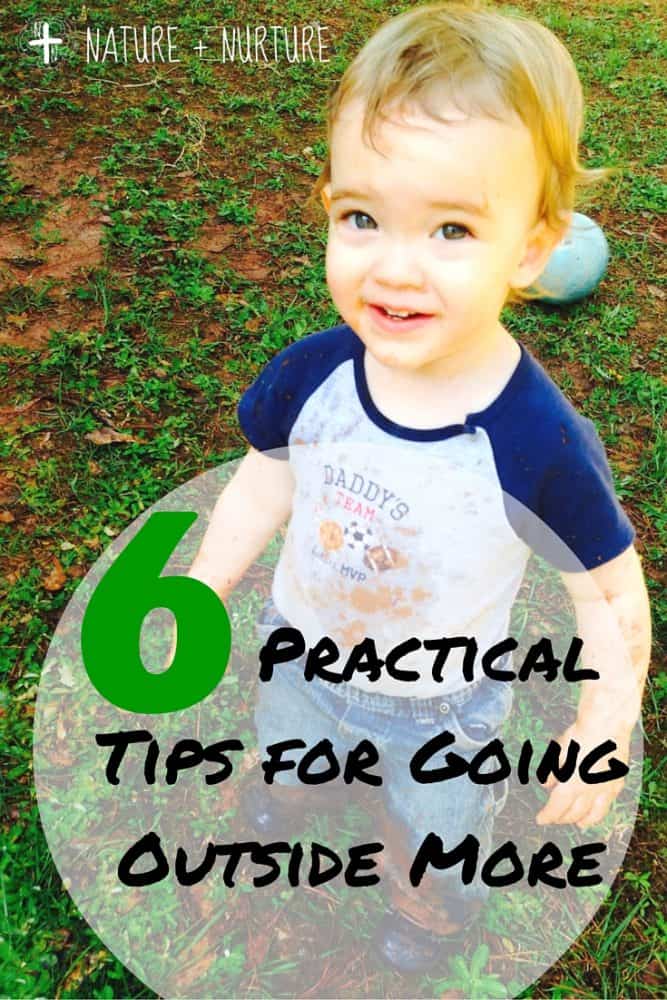 Post pictures of your finished project on Pinterest or in the comments below! Happy fall, y'all!
With Joy,