"I feel invisible," is a thought you've probably had at some point in your life.
Feeling unappreciated by family, friends, or society is a tough place to be. Every person wants to feel important, respected, and valued in their own right. We all need recognition and a pat on the back every now and then.
But for many people, that's not real life. Your days (especially as a mom) are probably filled with thankless jobs of what you perceive to be a boring or insignificant life. But that couldn't be further from the truth. Let's evaluate why the lowliest of roles are often times the most important.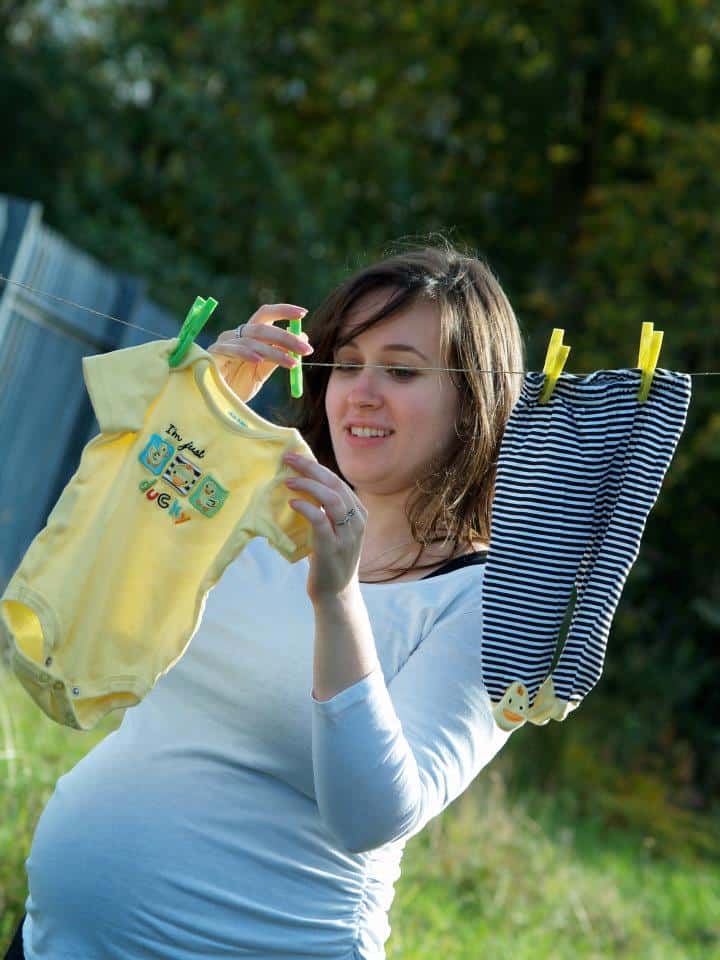 The Day I Realized Life Wasn't About Me Anymore
"I feel invisible," I thought as yet another person stared at my pregnant belly instead of my face. Comments from passers-by in Walmart went something like, "You look like you're ready to pop!" Church friends asked, "You're still pregnant?" And little kids thought they had a free pass to rub my belly.
Thoughts of feeling like an incubator instead of a person frequently filled my head at nine months pregnant, and I'm sure I'm not the only woman who has felt this way.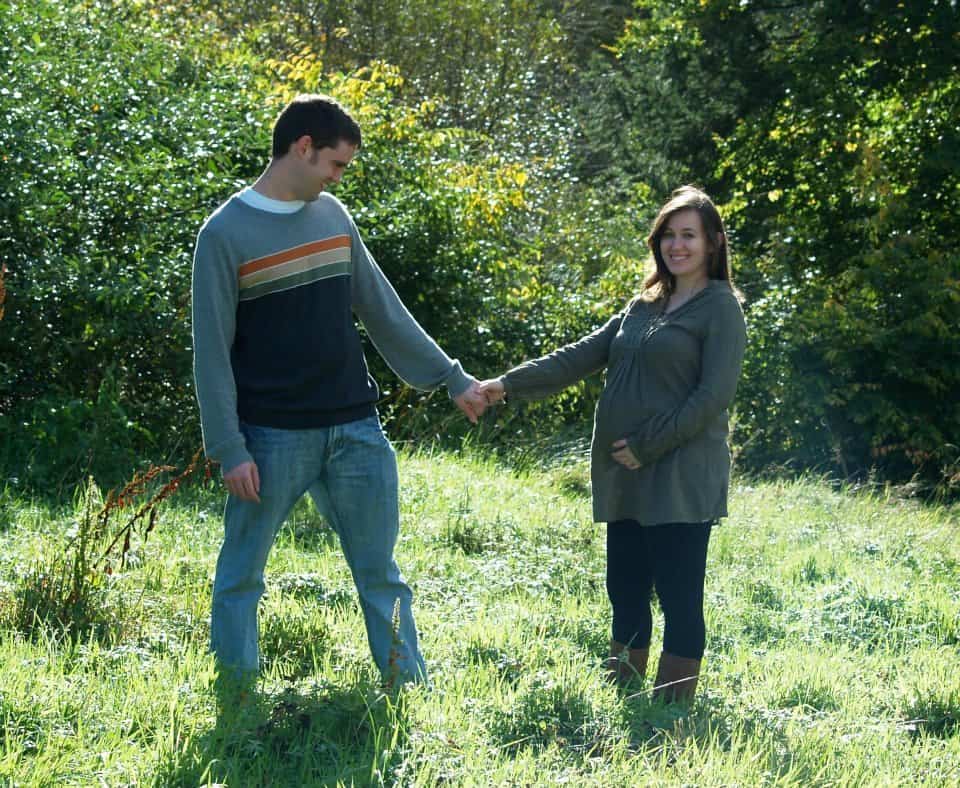 I look back and smile. Because it was only the beginning.
When motherhood begins, life is not about you anymore. It never really was, if you're a Christian. But you catch my drift. Everything you do B.C. (before children) is focused on your goals, passions, and dreams. Then suddenly, everything shifts to taking care of a tiny human and meeting their every need.
Parenthood gives us a big slice of "humble pie" (usually much-needed). It's so rewarding to put another's needs before your own as you watch your child grow. There's nothing we, as moms, would rather do.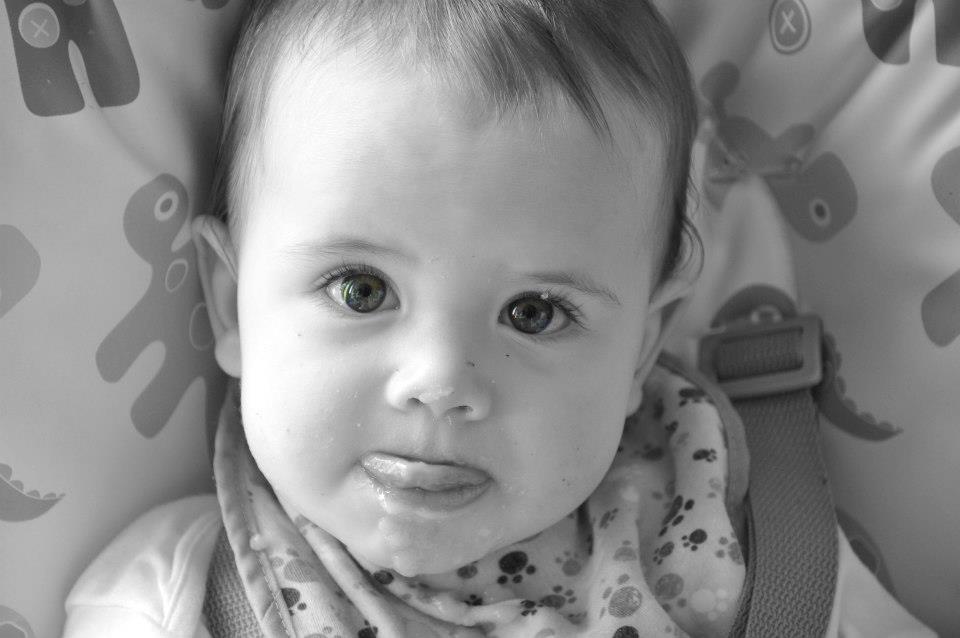 But.
It's also completely normal to feel a little invisible and unappreciated at times.
The World Doesn't Notice, but Your Little One Does
When you lived life among society, in school, or the workplace, you had the gratification of accolades for a job well done. People used to notice you and give you compliments on your nicely completed tasks.
Now, as a mom, your pats-on-the-back come in the form of late night feeding snuggles, kisses on the cheek, and that little voice saying, "One more book please, Mommy?"
Rest assured – your little one notices everything you do. But the outside world probably doesn't.
The world doesn't see the stacks of dishes scrubbed, the laundry folded, the toilets cleaned, the lullabies sung and the snacks prepared. It doesn't see the Bible stories read and the morning walks taken.
Related post: Mama, You are Irreplaceable – Bible Verses About Mothers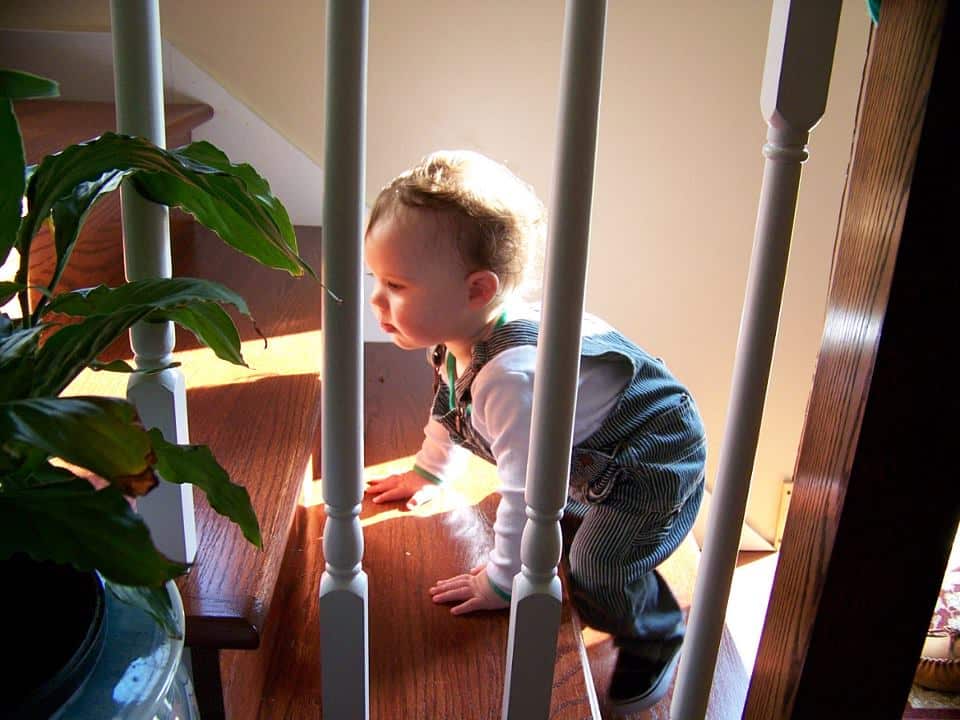 Even if you're not a mom, at some point in your life I'm sure you've felt less important than you used to. When living a seemingly quiet and boring life, it's easy to feel like you aren't making an impact on the world.
Last week, I heard a quote from this BBC series that left me speechless. (Anyone else an avid PBS Masterpiece or BBC series junkie?) Really, it's a quote from the classic novel Middlemarch by George Eliot.
The quote is speaking of the main character Dorothea, who is kind and unassuming in all her ways. She longs to do a "great good" in the world but ends up living a quiet life. The book says she made no great name for herself.
Take a moment and read (then re-read) the following quote. I hope it will change your perspective like it did mine.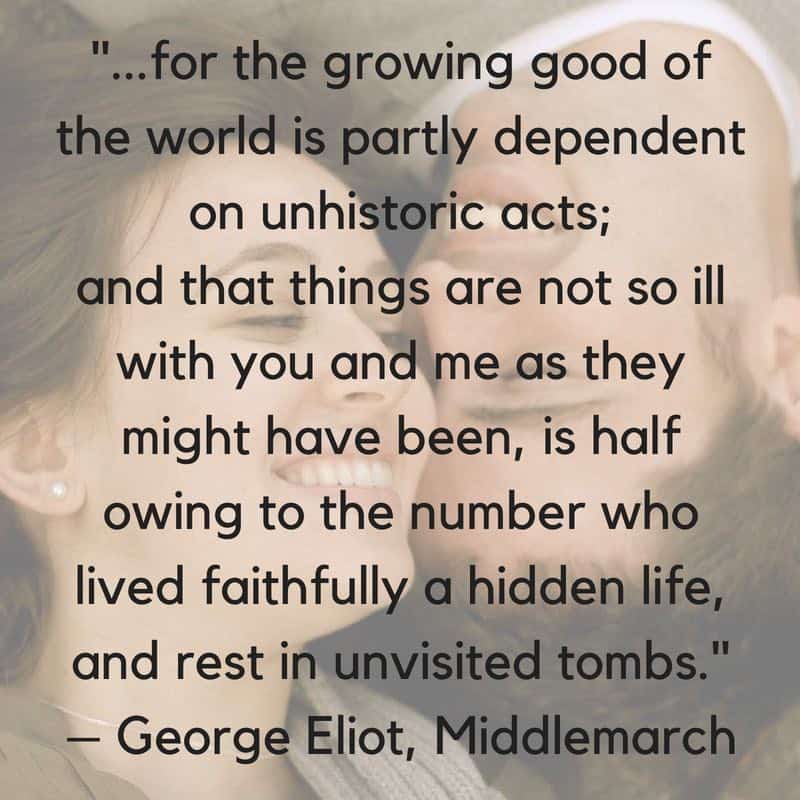 …the effect of her being on those around her was incalculably diffusive: for the growing good of the world is partly dependent on unhistoric acts; and that things are not so ill with you and me as they might have been, is half owing to the number who lived faithfully a hidden life, and rest in unvisited tombs. – George Eliot, Middlemarch
Did you catch that? Most of the good things we experience are because of people who received no accolades or fanfare. Things in this world are better because of the many faithful who did the right thing, day in and day out. No one visits their graves, but their mark on the world forever remains.
This concept blew my mind. Every action you do matters to the world. Even the seemingly unimportant ones.
Things to Remember When Feeling Unappreciated
Here are a couple of things to keep in mind when you have that "I feel invisible" feeling. These concepts will keep you going when life feels boring and your work goes unnoticed.
Basic Tasks Have a Big Impact
Because you washed those dishes and laundry, your child felt cared for and safe.
Because you prepared nutritious meals, your child grew strong.
Because you sang songs and read stories, your child's mind opened up to a new world of ideas and imagination.
The impact on a child who feels loved and safe in this world cannot be measured.
Take a look at this list from a foster child of all they want in a family.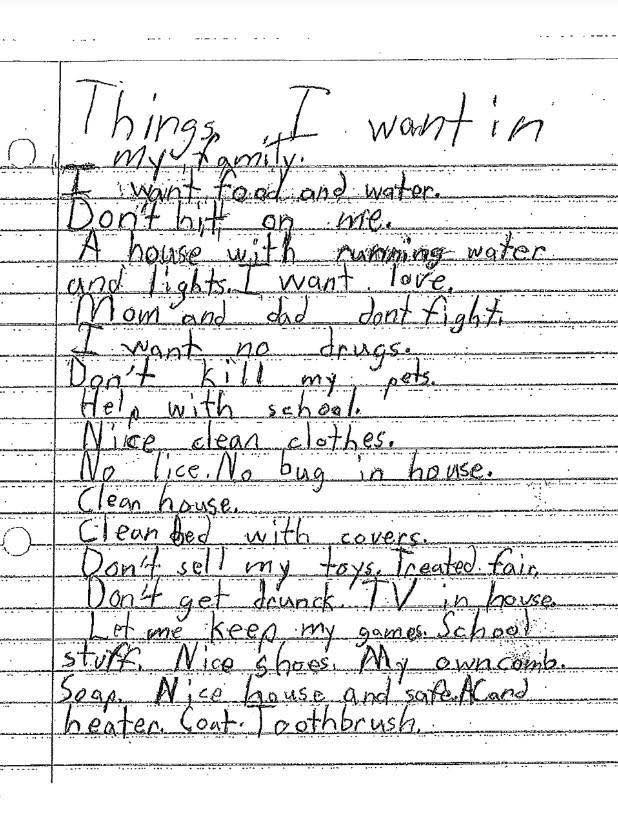 Photo shared by Foster Care & Adoption via Facebook.
If you are feeling unappreciated by family, think about this child's wish for basic necessities. Having basic needs met is truly life-changing. Your family trusts and relies on you for their care, which impacts their life forever. Consider this thought by Gretchen Rubin:
Remember that being taken for granted is a form of praise. It's ironic: the more reliable you are, and the less you complain, the more likely you are to be taken for granted. If you always meet deadlines, if you never lose your temper, if you're always prepared, people overlook your efforts. Really, that's a compliment.
Your consistency and faithfulness in everyday matters is expected. But that is a true compliment to your character.
Related post: 10 Powerful Prayers for Children Your Kids Need You to Pray
A Quiet Life Doesn't Equal Less Fulfillment
The desire to "be somebody" is tempting. It's easy to think that to be truly fulfilled in this life, we need people to notice us. But God actually says the opposite. 1 Timothy 2:1-3 says,
…I urge that supplications, prayers, intercessions, and thanksgivings be made for all people,for kings and all who are in high positions, that we may lead a peaceful and quiet life, godly and dignified in every way.This is good, and it is pleasing in the sight of God our Savior…"
God made it so that those who lead a peaceful, quiet life can influence KINGS. God describes a quiet life as dignified. Rest assured that God sees and values all your work. God does not see as humans see and places the greatest value on servanthood.
Matthew 20:27-28 says,
But whoever would be great among you must be your servant, and whoever would be first among you must be your slave, even as the Son of Man came not to be served but to serve, and to give his life as a ransom for many.
When you're in the trenches of the mundane, remember Christ, the most powerful being on earth, washing feet.
God also says in 1 Thessalonians 4:11-12, "…aspire to live quietly, and to mind your own affairs, and to work with your hands, as we instructed you,so that you may walk properly before outsiders and be dependent on no one."
There is something to be said for a "boring life." Growing up, I aspired to travel and go to new and exciting places. But, living overseas for 3 years taught me the value of the quiet, country life I was brought up in. A shift in perspective caused it to become anything but "boring" to me.
Jonathan Wheeler of Tiny Buddha says,
I thought I wanted to be special and important, but life led me to something very normal and a little boring. I could try to change it, but it is the perfect life for me. So if we haven't made it to some dream life that is fueled by passion, there can be great peace in learning to find the joy in being ordinary. To those of us that are led to follow our dreams, just love the dream, and surrender the result. Maybe your dream will come true, but if not, being boring is pretty great too.
If you start thinking, "I feel invisible," remember this. No matter where God places you, whether the highest position or the lowest, He has a plan for your life. And He sees you.
Related post: How to Stop Comparing Yourself to Others
Meditate on Psalm 131:1-2, "O Lord, my heart is not lifted up; my eyes are not raised too high; I do not occupy myself with things too great and too marvelous for me. But I have calmed and quieted my soul, like a weaned child with its mother; like a weaned child is my soul within me."
With Joy,

PIN IT!