Raising godly sons has never been an easy task, but with God's help, we CAN do it! Here are 5 godly character qualities I want to instill in my sons.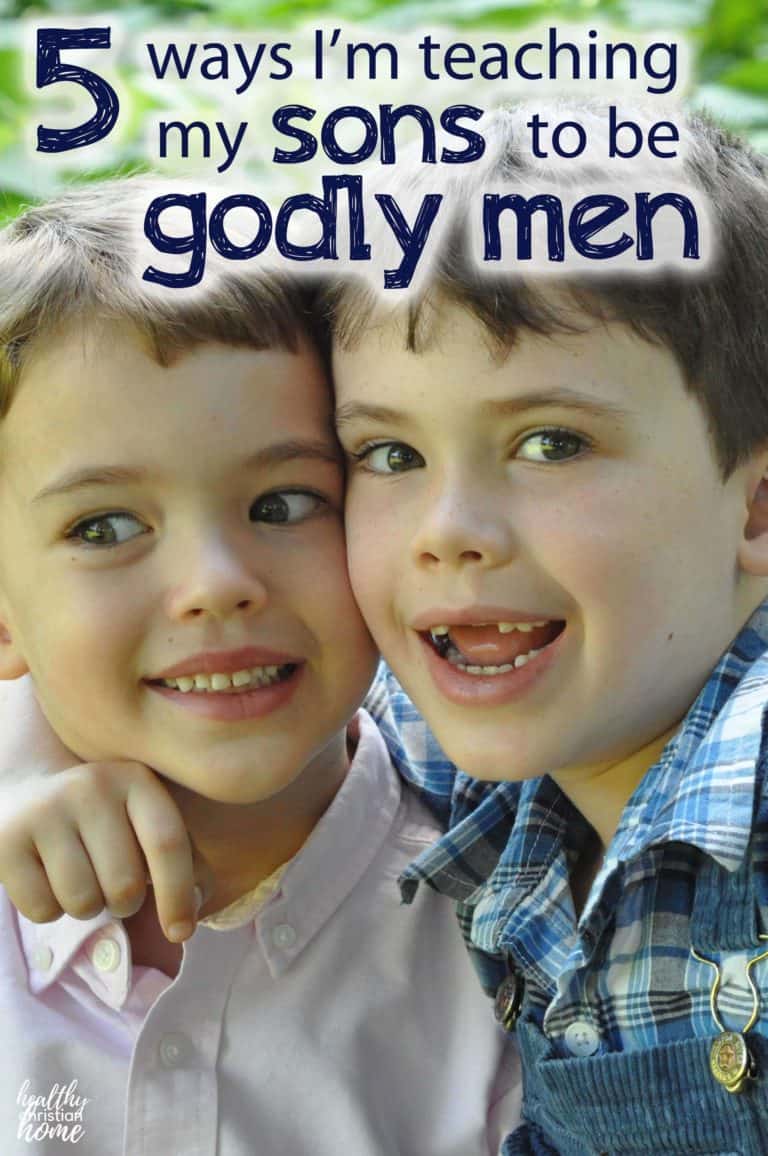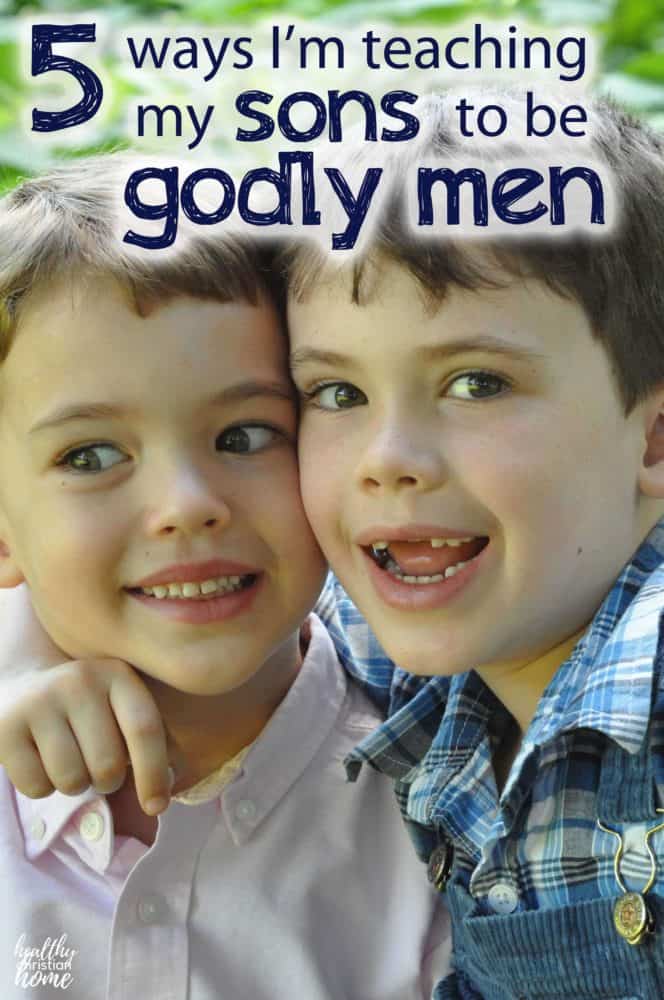 With Mother's day fast approaching, it got me thinking about the type of men I want to encourage my sons to become. If they turn out to be 100% carbon copies of their dad, I'd be more than okay with that.
But, we all know that every child has their own will, ideas, and sensibilities. We can't make and mold them into carbon copies of ourselves. Even if we could, we'd be doing the world a disservice because God gave them very specific gifts for very specific purposes.
And sadly, we can't even determine whether our kids will choose to follow Jesus or not as they grow. Sure, there are plenty of things we can do to teach kids to love God, but we aren't in control of their hearts. Lack of parental control in this area is tough!
While we need to trust Jesus with the hearts of our boys, there are some big character traits we can and should encourage in their lives. Let's look at 5 biblical character traits for raising godly sons!
(And don't forget to grab your FREE "Man of God" printable at the bottom of the post! Display this wall art in your son's bedroom and encourage him to fulfill his potential as a man of God!)
5 Godly Character Traits I Want to Teach My Sons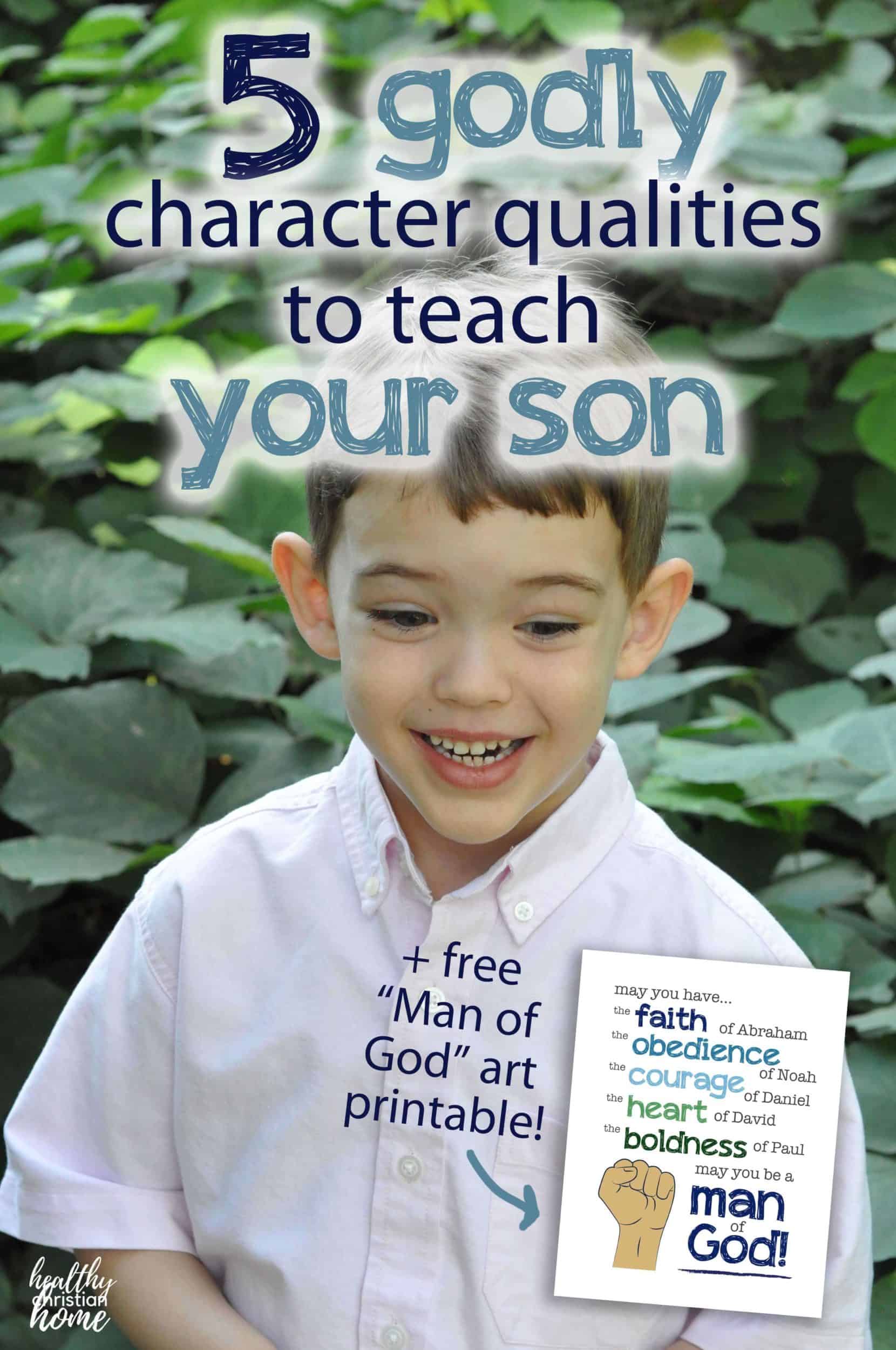 Each character trait is based on a different godly man from the bible and includes action steps to help you cultivate this quality in your son.
1. Have FAITH when life doesn't make sense
It's much easier to have faith in God when life is going well. It's a lot tougher when dealing with personal trials, and what God is doing doesn't make sense.
This makes me think of Abraham. Boy, was his faith ever tested!
First, when he waited until age 100 for the birth of his first son, the son God had promised him would be made into a great nation. Next, Abraham had faith when God asked him to sacrifice this long-awaited son. Let's look at Hebrews 11:17-19,
By faith Abraham, when God tested him, offered Isaac as a sacrifice. He who had embraced the promises was about to sacrifice his one and only son, even though God had said to him, "It is through Isaac that your offspring will be reckoned." Abraham reasoned that God could even raise the dead, and so in a manner of speaking he did receive Isaac back from death.
I want my sons to know that in life, they WILL experience times where they have no idea what God is doing. They will have doubts. But that is the exact moment when they need to keep the faith, because God is faithful!
Action step→ Talk to your son about types of hardships he may experience in life. Study what the Scriptures say about how God takes care of us during these times. Here are some great memory verses for kids to get you started. Talk about how Satan is going to try to discourage him in moments of weakness. Help him be prepared for battle!
2. Always OBEY God, even when you don't understand why
As a follower of God, I am not going to understand 100% of the things God tells me to do and why. I might not even agree.
But as His child, it's my duty to obey – like Noah.
You know, I wonder if there were days when Noah was like, "Okay God, I've been working on this boat for decades! What am I doing with my life?"
But we know he obeyed and persevered, based on Hebrews 11:7,
By faith Noah, when warned about things not yet seen, in holy fear built an ark to save his family. By his faith he condemned the world and became heir of the righteousness that is in keeping with faith.
Action step→ Practice having your kids obey without you having to explain why. Discuss with them the importance of obedience to God, and that we won't always understand God's reasons but that He ultimately wants what is best for us.
3. Demonstrate COURAGE in the face of danger
One thing I struggle with, but I want my boys to be good at, is showing courage in challenging situations. I'm definitely a comfort seeker, and **sometimes** that's okay. But we all need to stretch and grow. My boys will, at times, face challenges that demand courage. Courage needs to be exercised!
Daniel is a prime example of demonstrating courage in the face of danger. When the king's advisors suggested he issue a decree to throw anyone into a den of lions if they prayed to any god, Daniel was unwavering. Let's see his reaction after he learns of this decree in Daniel 6:10,
Now when Daniel learned that the decree had been published, he went home to his upstairs room where the windows opened toward Jerusalem. Three times a day he got down on his knees and prayed, giving thanks to his God, just as he had done before.
Daniel knew his devotion to God was more important anything, even his physical safety. May our boys have courage like Daniel when life tries to convince them to abandon God!
Action step: Practice doing something outside your child's comfort zone (ride a bike without training wheels, sit beside a new kid at school, etc.). Talk to them about how hard things help us grow stronger courage. When they express fears, reassure them and encourage them to pray their fears also.
4. Cultivate a HEART that seeks the Lord
If nothing else goes right in this life, as long as my heart is turned toward the Lord, everything will be okay.
This is the #1 thing I want to impress upon my kids. They might lose everything – wealth, health, even family or friends. But if they have God, they win.
And the only way my boys can keep a strong relationship with God is by seeking Him continually, especially in the midst of temptation. I pray they may be "men after God's own heart" as David was described in Acts 13:22. And may they feel the way David felt when he penned Psalm 63:1,
You, God, are my God,
earnestly I seek you;
I thirst for you,
my whole being longs for you,
in a dry and parched land
where there is no water.
Action step: Begin daily family devotionals, where you can demonstrate faith in a tangible and consistent way. Encourage them to ask questions and talk about their faith. Promote Christian youth camps and other opportunities where kids can really stretch and grow their faith.
Want to help your child grow spiritually?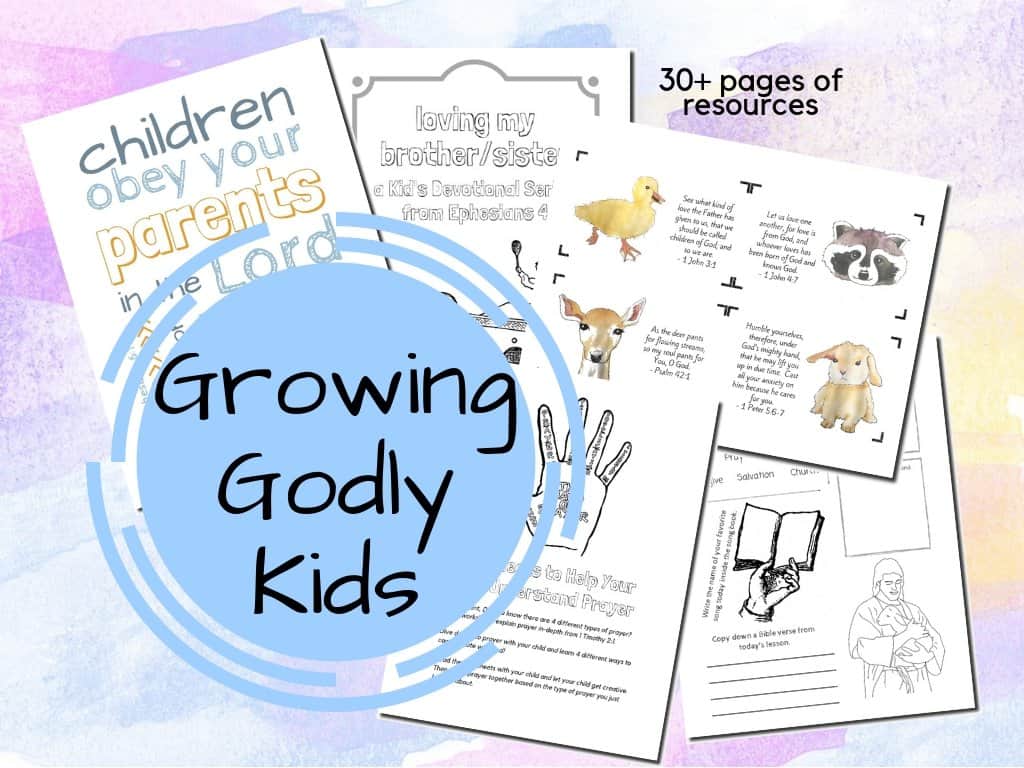 Often, our kids receive plenty of head knowledge but lack the heart knowledge of a true relationship with God. This kind of relationship takes time to cultivate and grow.
If you want a practical resource for helping kids grow their love for God, the Growing Godly Kids printable pack is here to help with prayer and bible study resources on their level!
5. Show BOLDNESS in sharing Christ
I honestly can't think of anyone better to model the concept of boldness in evangelism than my husband Richard. He shows love to literally every person he meets with the goal of sharing Christ with them. As a newlywed, it used to bother me when he spent an hour talking to the Walmart greeter or 5 hours (not kidding!) in the hot sun in our yard conversing with an older gentlemen in our community. But witnessing his passion for the lost changed me. Now, I praise God for the fact that our boys get to see this display of boldness every day.
If more of us took the Great Commission seriously, think where our world would be! I want my boys to be unafraid when it comes to telling their friends and acquaintances about God's love.
The person we think of as having the highest level of boldness in sharing Christ is undoubtedly the apostle Paul. He was imprisoned, beaten, flogged, stoned, endangered in travels, and even went hungry for the cause of Christ (2 Cor 11:16-33). Yet, he still asks the Ephesian congregation to pray for him specifically:
Pray also for me, that whenever I speak, words may be given me so that I will fearlessly make known the mystery of the gospel, for which I am an ambassador in chains. Pray that I may declare it fearlessly, as I should.

Ephesians 6:19-20

Action step: Help your kids learn the gospel fully for themselves so they can share it with others in the future. To help them get comfortable with starting conversations, have them greet people they don't know in a safe environment whenever you are with them. (Of course, for safety of young kids, remind them that they are never to talk to strangers when they are alone).
Now, don't forget to grab your printable below! It says,
"May you have the faith of Abraham, the obedience of Noah, the courage of Daniel, the heart of David, the boldness of Paul…May you be a man of God!"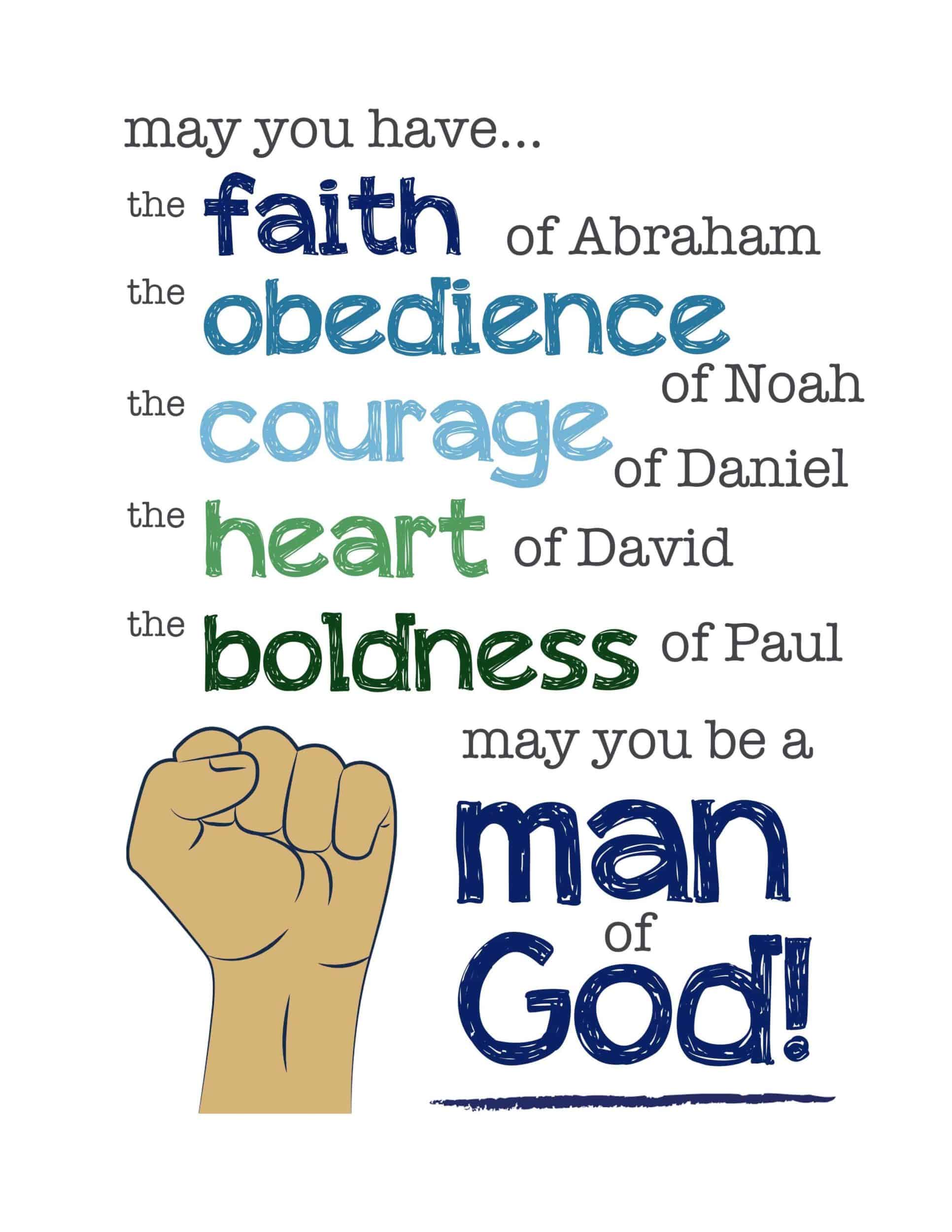 If you found this post helpful, please SHARE and spread God's word! And please, leave a comment. How are you raising godly sons? Any character traits add to this list??
PIN IT!