Everything you need to know about cast iron in one place! Learn how to season and re-season a cast iron skillet, plus tips for care and cooking with cast iron. With the right care, your cast iron skillet will be your most loved cooking companion for generations to come.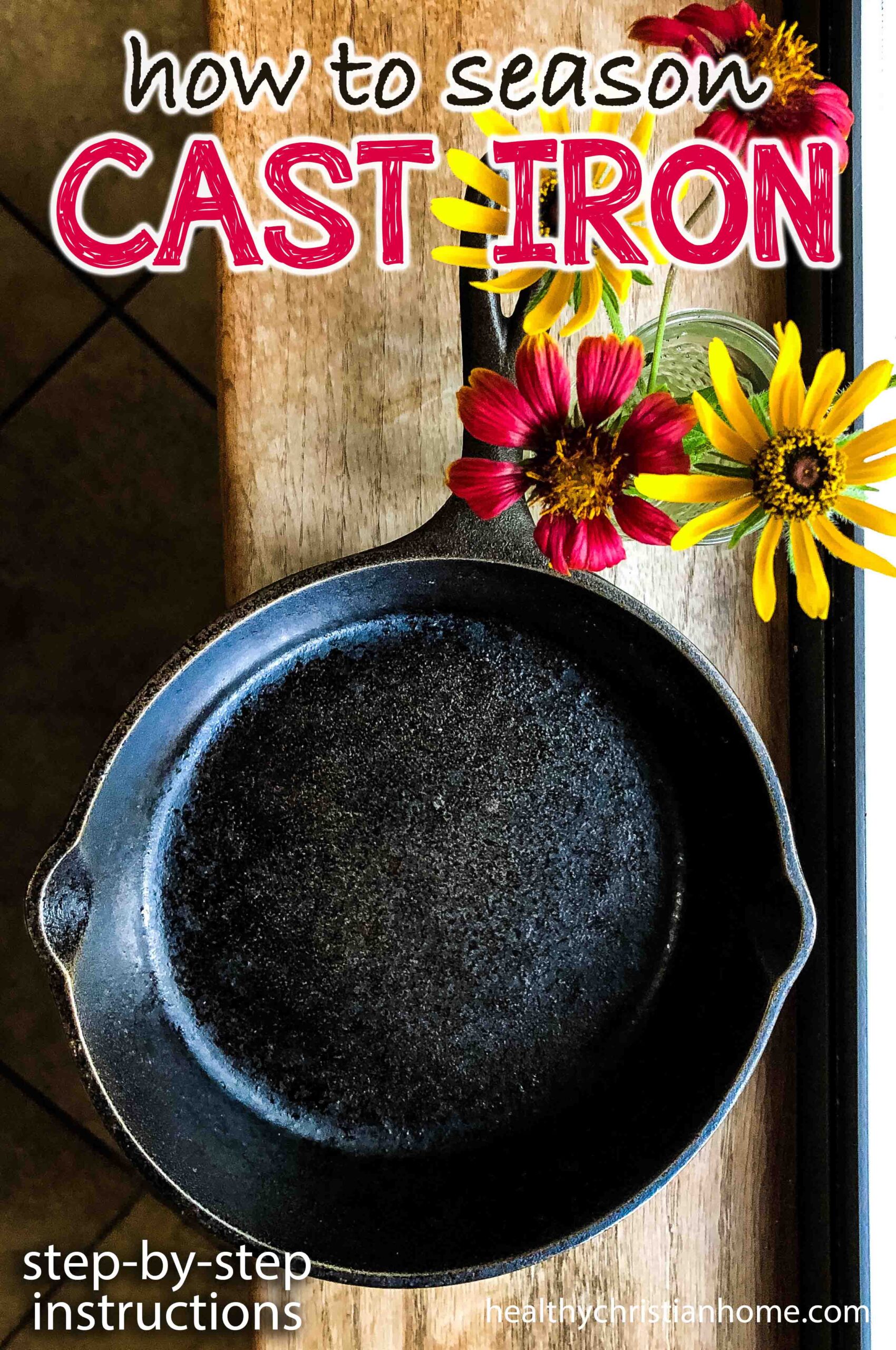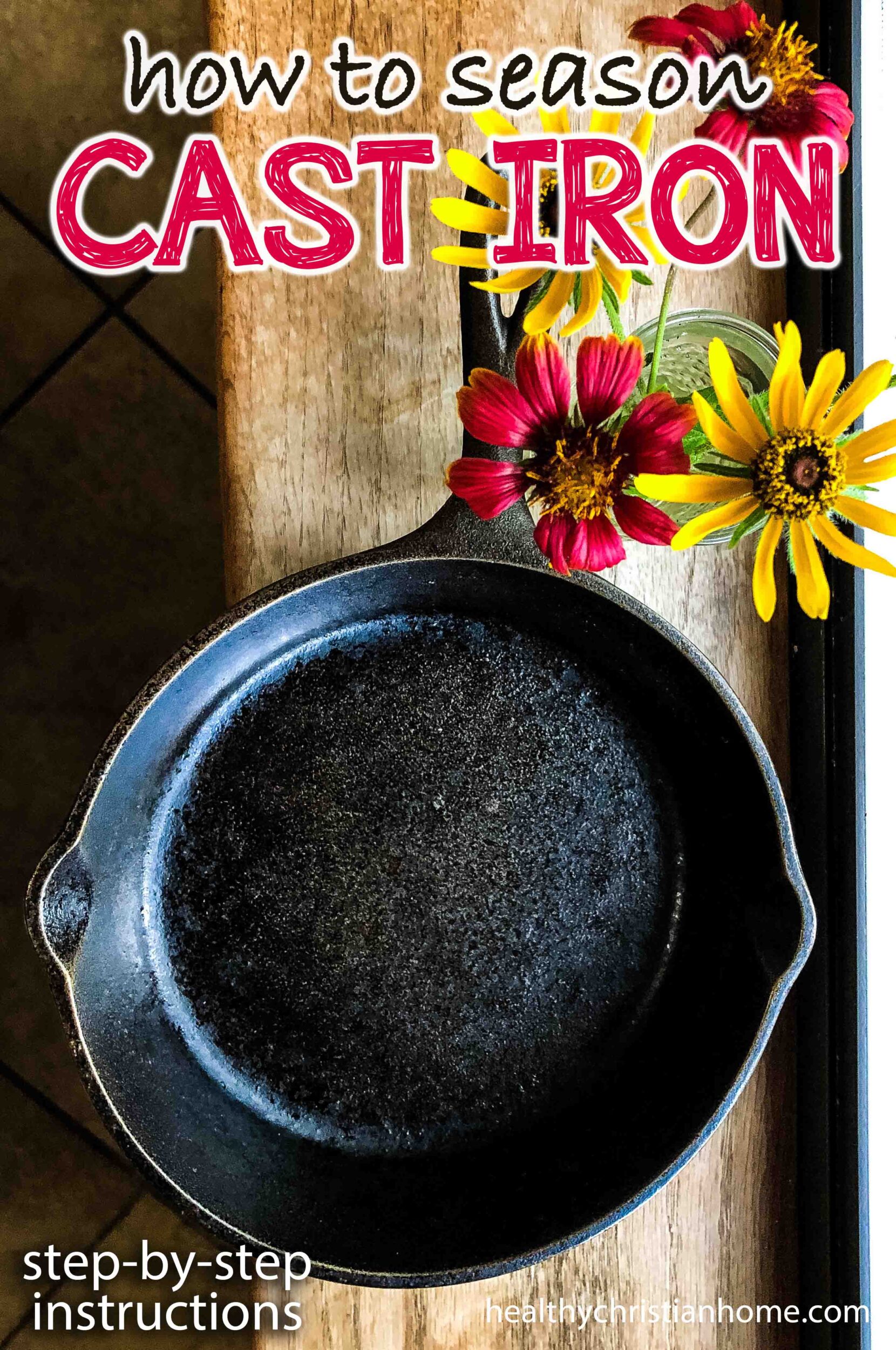 Cast Iron — Versatile, Durable, & Healthy!
I grew up using cast iron. In fact, I can probably count on my fingers the number of times I have fried anything in a non-cast iron frying pan. I can also tell you that those few times I deviated from cast iron, I did not have a good experience.
Sure, I could use steel wool and put those other pans in the dishwasher and wash them with soap (we'll cover why you DON'T do that with cast iron in a little bit), but the downside to that is that I actually had to. Things stick to those other pans so easily!
These experiences made me realize that despite the fact that cast iron is treated differently from other cookware (seasoning, oiling it, etc), it is actually lower maintenance and way easier to take care of than your typical stainless steel skillet.
Truly, despite the dirty rumors that make it seem fussy, cast iron is the most versatile and durable cookware you'll ever use, and if you take care of it (which you'll see isn't hard), it will even outlive you.
Only within the last few years, as I was exposed more to other families and other ways of doing things, I realized that not everyone uses cast iron. And, many folks find the thought of using cast iron to be intimidating and have a lot of questions about it. Is that you?
If so, I'll answer your questions about why cast iron is so great, how to choose good cookware without breaking the bank, and how to re-season cast iron skillet. Plus, I'll throw in some tips on how to care for and clean it so that it will last you the rest of your life (and your children's, and your grandchildren's).
Health benefits of using cast iron for cooking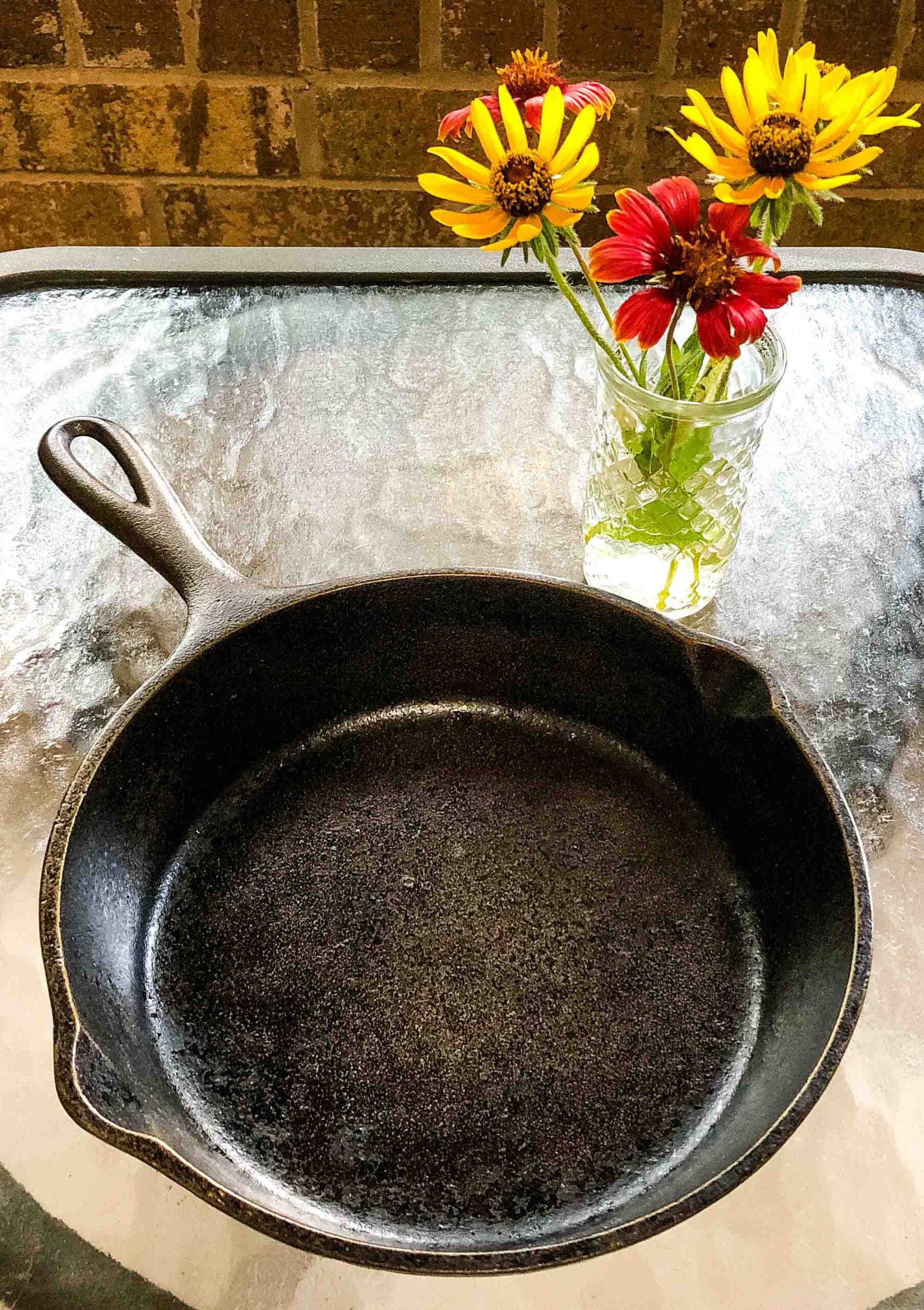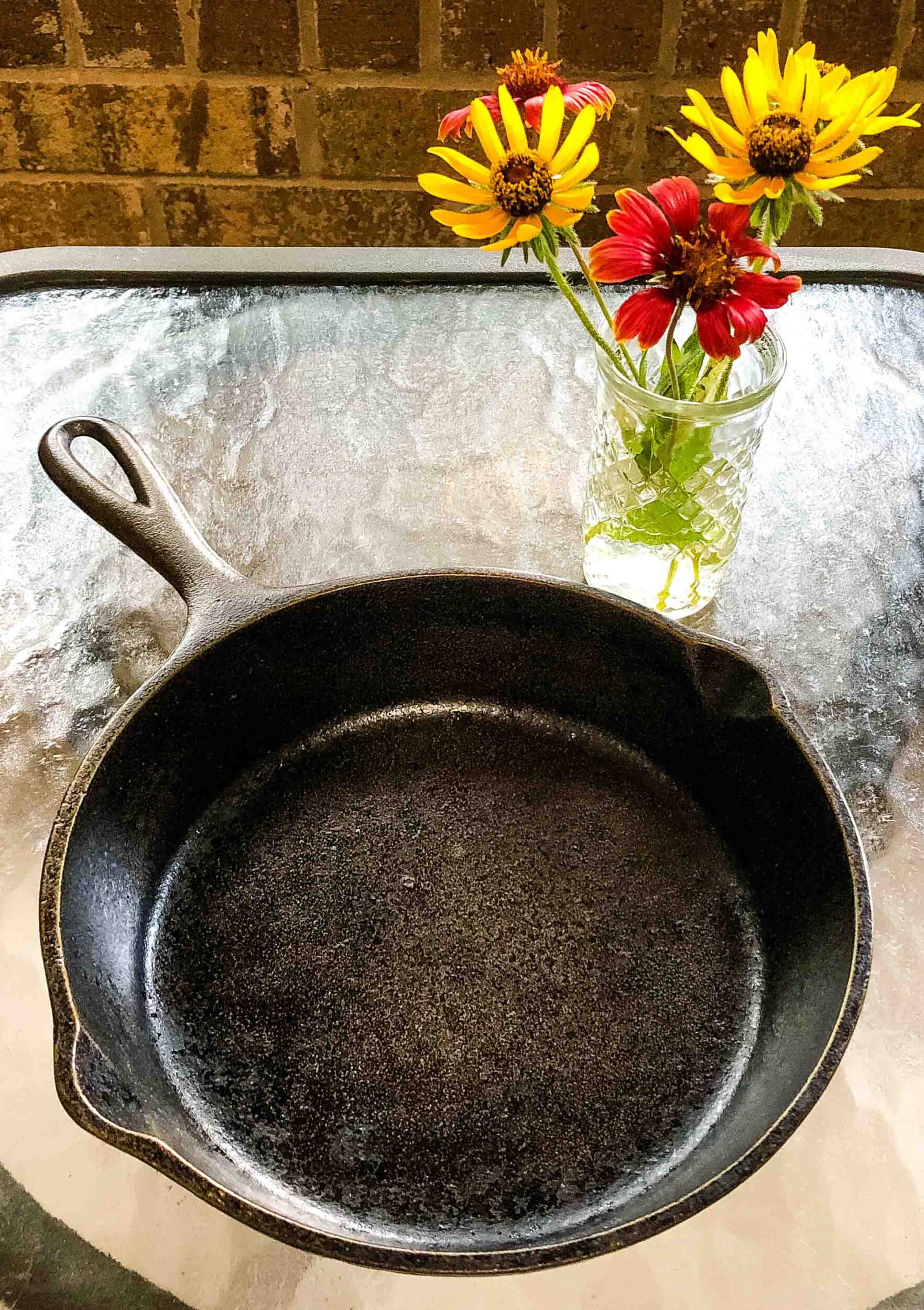 The greatest benefit to using cast iron cookware is the avoidance of toxic chemical exposure. Nonstick cookware alternatives, like Teflon, are very toxic to your body and should not be used under any circumstances (I am not exaggerating!).
Another health benefit of cooking with cast iron is that it transfers a small amount of iron content into your food (this is especially helpful if you struggle with iron deficiency). This happens in different amounts based on what it is you're cooking (the more acidic the food is, the more iron it will pull from the pan. More on this soon.)
This is a good thing for most of us, as many of us (as much as 80% of the world's population, according to the World Health Organization) do not have enough iron in our bodies. It should be noted that if you have an iron overload, it may be best to use stainless steel instead, especially when cooking more acidic food.
Outside of the risk of exacerbation of iron overload (if you have that), there are no toxicity risks associated with cast iron, making it the healthiest cookware option.
Thrift store hunting for cast iron (what to look for)
Now that you definitely want to get your hands on some good cast iron, you're probably wondering how to go about doing so (and preferably without breaking the bank). My husband and I have acquired most of our cast iron at garage and estate sales over the years. We've caught on to some patterns that help us recognize the best pieces.
Here are a few things to consider when looking for good used cast iron:
Make sure it sits flat by putting it down on a hard floor or countertop and spinning it. If it rocks at all, you should probably pass on it.
Make sure you don't buy a cracked pan! Hold the pan by the handle between your fingers (if it's not too heavy!) and give the pan a good tap. If it doesn't ring (like a gong), it may have an invisible crack and you should probably move on.
Vintage cast iron (made before 1957) tends to be of much higher quality than modern cast iron. You will notice that it isn't as heavy and the cooking surface tends to be very smooth.
Our favorite vintage brands are Griswold, Wagner, and Sperry. Griswold and Wagner merged in 1957, so you may find some pieces that bear both companies' names (I have a cast iron muffin pan like this). Lodge (the older the better), LeCreuset, and Staub are also good brands to look for.
More modern brands of cast iron (like newer Lodge cookware, for example) tend to have a rougher surface. This is because most foundries no longer take the time to sand the cookware after casting it. They are still functional, just not quite as nice as a good smooth pan. You may find that they are more likely to have things stick to them.
Check out this video (originally posted on my Instagram, @holistic_homemaking) to tour my cast iron collection and learn more from my husband, Kevin!
What Does It Mean to Re-Season Cast Iron Skillet?
Now that you have your cast iron, it's time to make sure it's seasoned properly. Seasoning, put briefly, is the process in which raw cast iron is coated with a fat and heated, causing the fat to bond to the cast iron at a molecular level and create a polymer coating.
This process is called polymerization, and it is what gives seasoned cast iron its non-stick property. The nonstick and aqua phobic (water repelling) properties of polymers is the mechanism behind Teflon cookware as well.
The difference is that cast iron's biopolymer is made up of a nourishing fat and a safe metal, while Teflon is a synthetic polymer (called polytetrafluoroethylene) with known side-effects and association with illnesses. Learn more about the dangers of Teflon and non-stick cookware.
Best Types of Oil to Use
Let's choose an oil! When choosing an oil to season your cast iron with, there are a few things to consider.
Ask yourself: Would you eat it? Modern cast iron producers (like Lodge) use industrial seed oils (aka vegetable oils) like canola to season new pans. This is problematic, as these oils are highly unstable due to their polyunsaturated fat structure. They go rancid during the high-heat production process. Then, they are further processed to remove their odor so that people will still buy it (isn't that just lovely?).
While the more reactive nature of these oils does make them bond more quickly to the cast iron, making them an expedient option, they are known to cause a slew of health problems including chronic inflammation. If that information doesn't appetize you, you'll probably want your cast iron seasoned with something else.
Rather, when choosing the oil you will use to season your pan, look for one that is both nourishing and has a high smoke point (to 400 degrees). The most common fat used to season cast iron in the 19th century was lard.
Lard is great because it is a nourishing fat (when coming from healthy swine, that is). It is heat stable, and does well in polymerization. Other good options include avocado oil, extra virgin olive oil, coconut oil, and tallow. (I'm using tallow a.k.a. beef fat in this tutorial.)
Learn more about choosing healthy fats & oils here.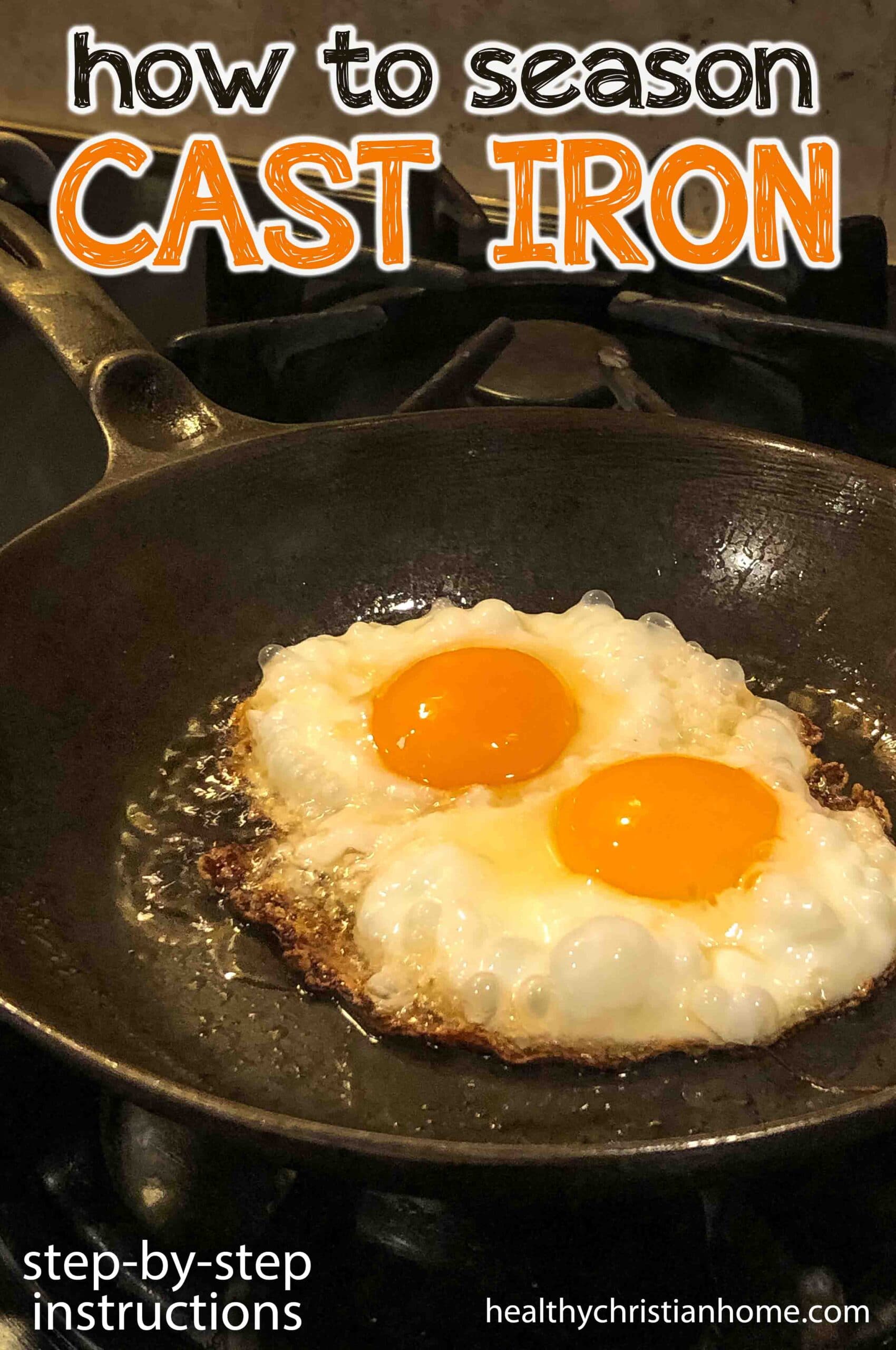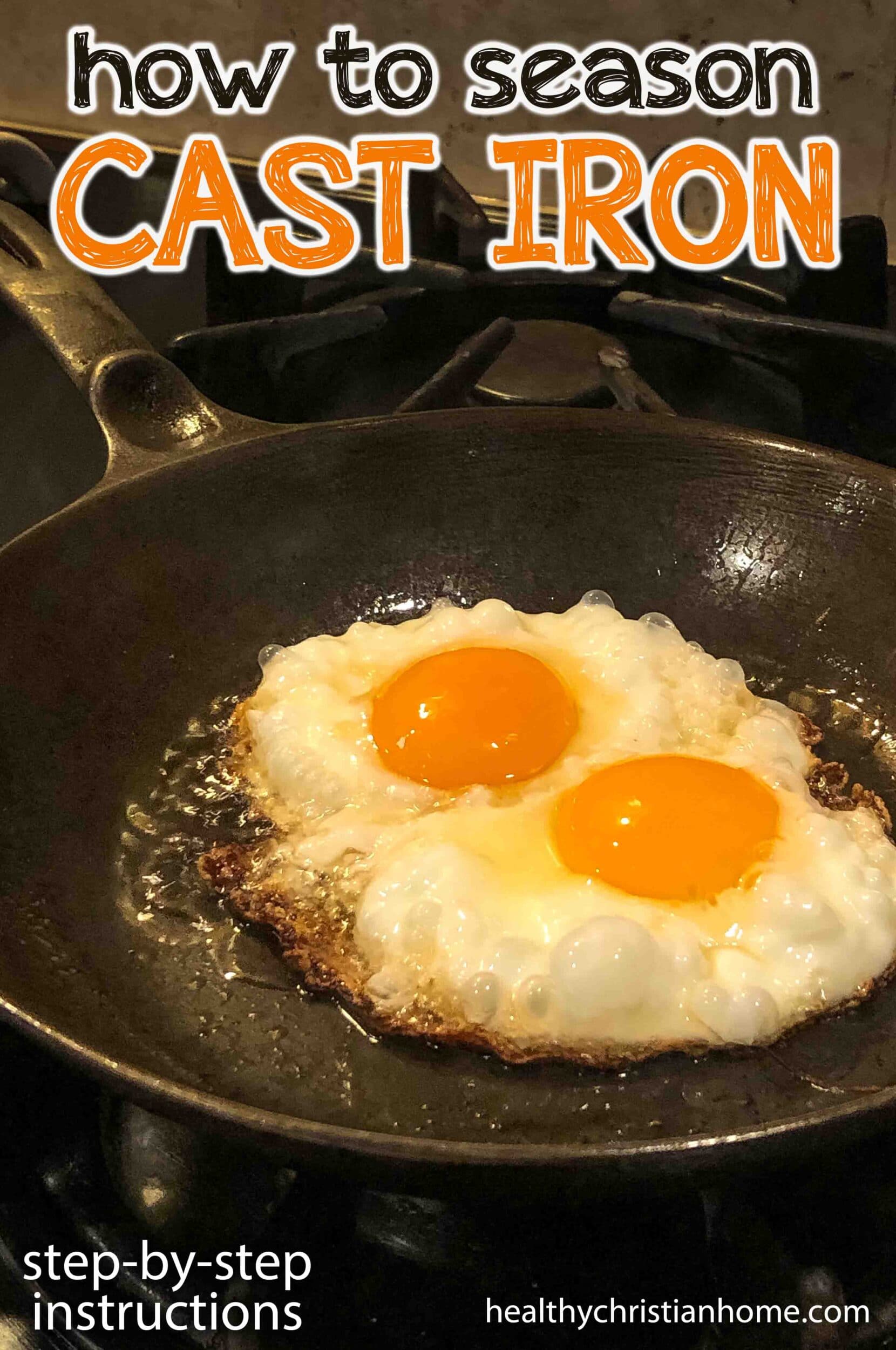 How To Re-Season Cast Iron Skillet, Step By Step
1. Start with clean, raw cast iron: Strip the current seasoning by vigorously scrubbing the entire inner and outer surface of the pan with something abrasive. Cutting the end off a potato and dipping it in sea salt makes a perfect scrubbing tool for this task.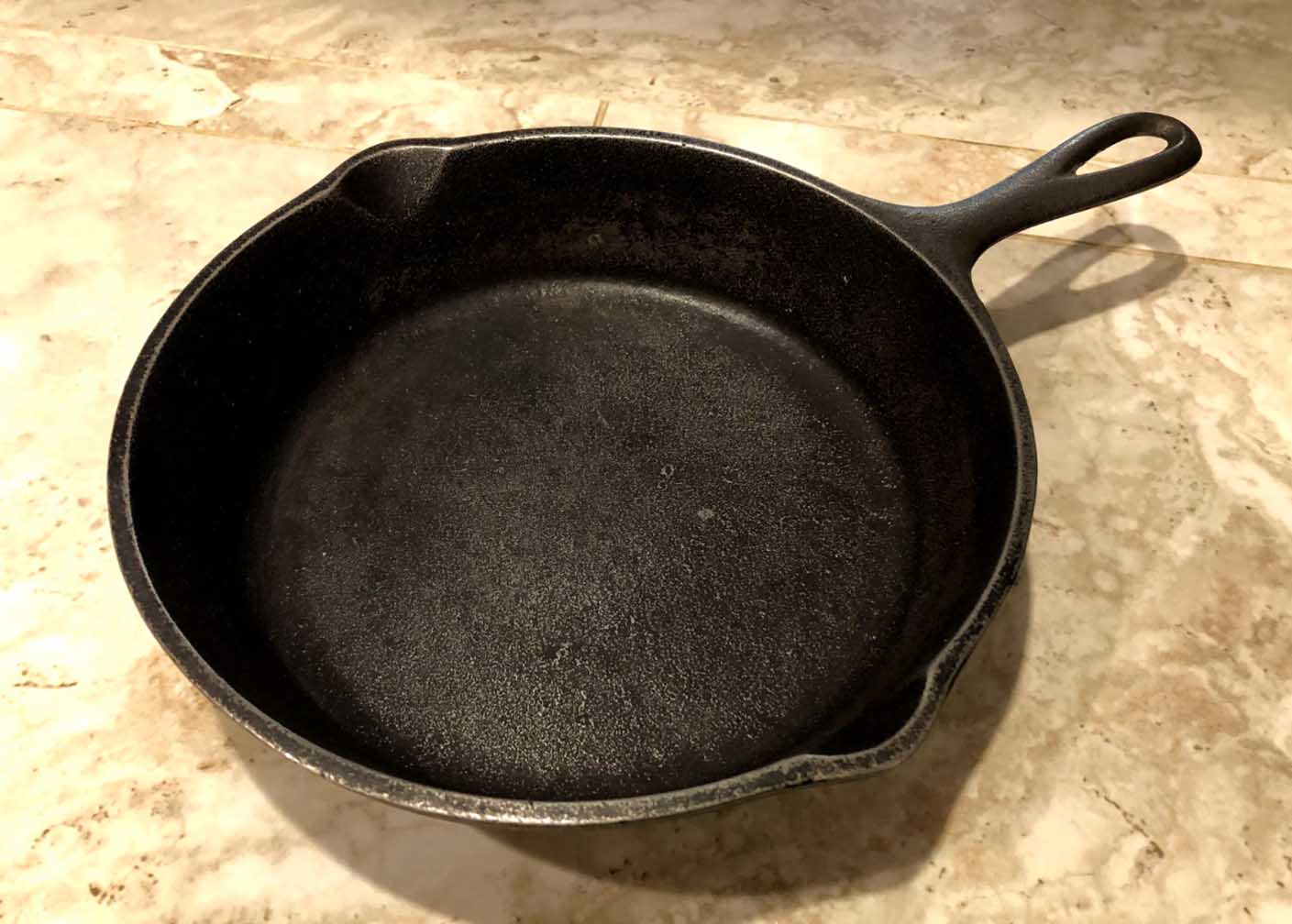 Personally, I find that delegating this task to a husband with power tools (a wire wheel or a sander, to be exact) is the quickest option. 😉 At this point, if your cast iron was not sanded by the manufacturer, you can sand it down using a whetstone or sandpaper to get a smooth surface.
Once the old seasoning is stripped, wash your pan with hot soapy water. Then rinse and dry (this is the only time you will use soap on your cast iron!). Proceed with the next steps immediately to avoid oxidation.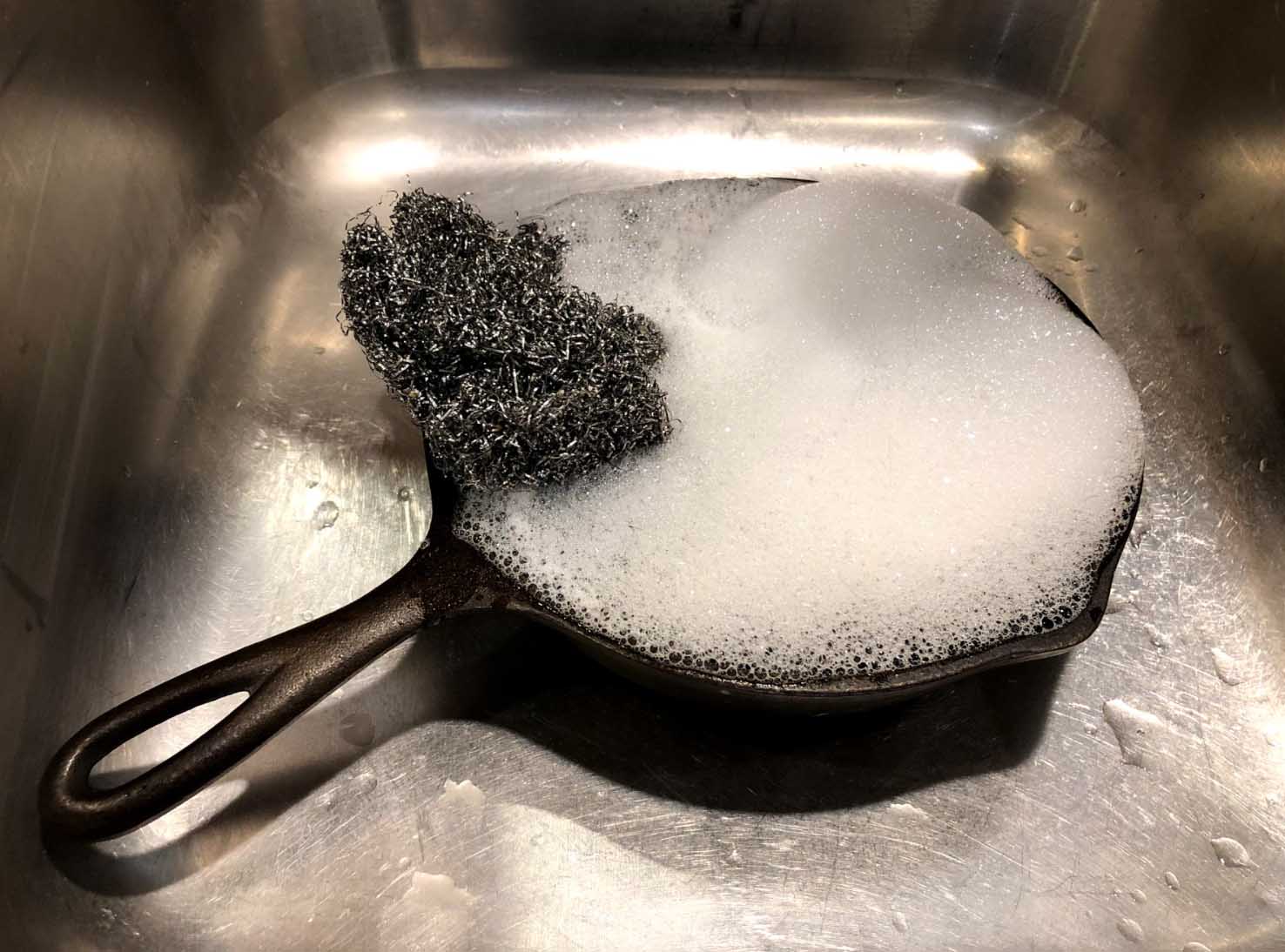 2. Re-Season: Use a paper towel to rub your choice of fat over the entire surface of the pan, inside and out (I used tallow).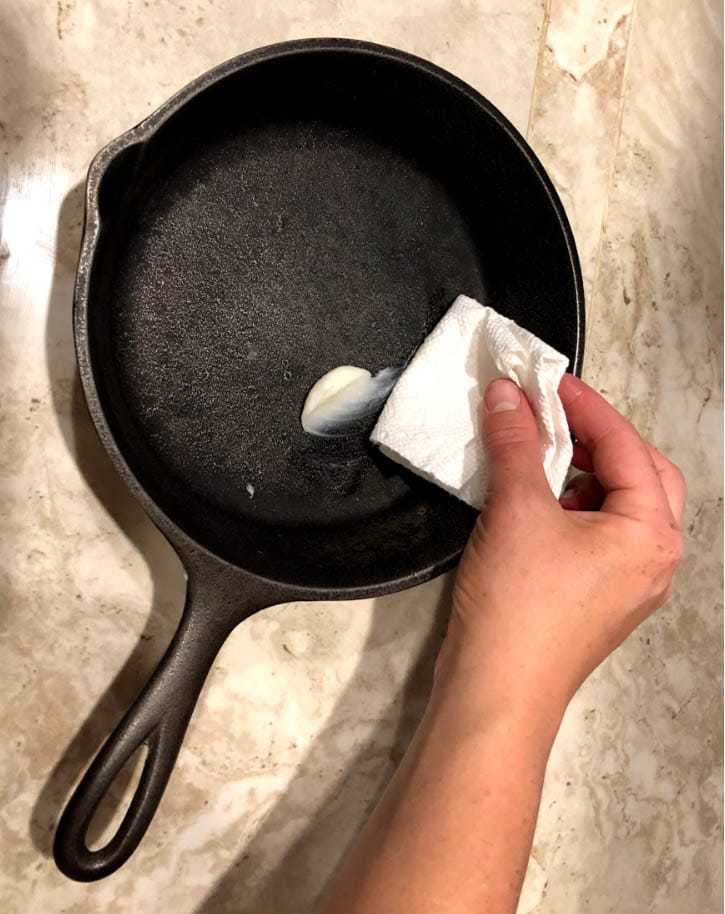 Use another one to wipe off any excess oil, leaving only a very thin layer.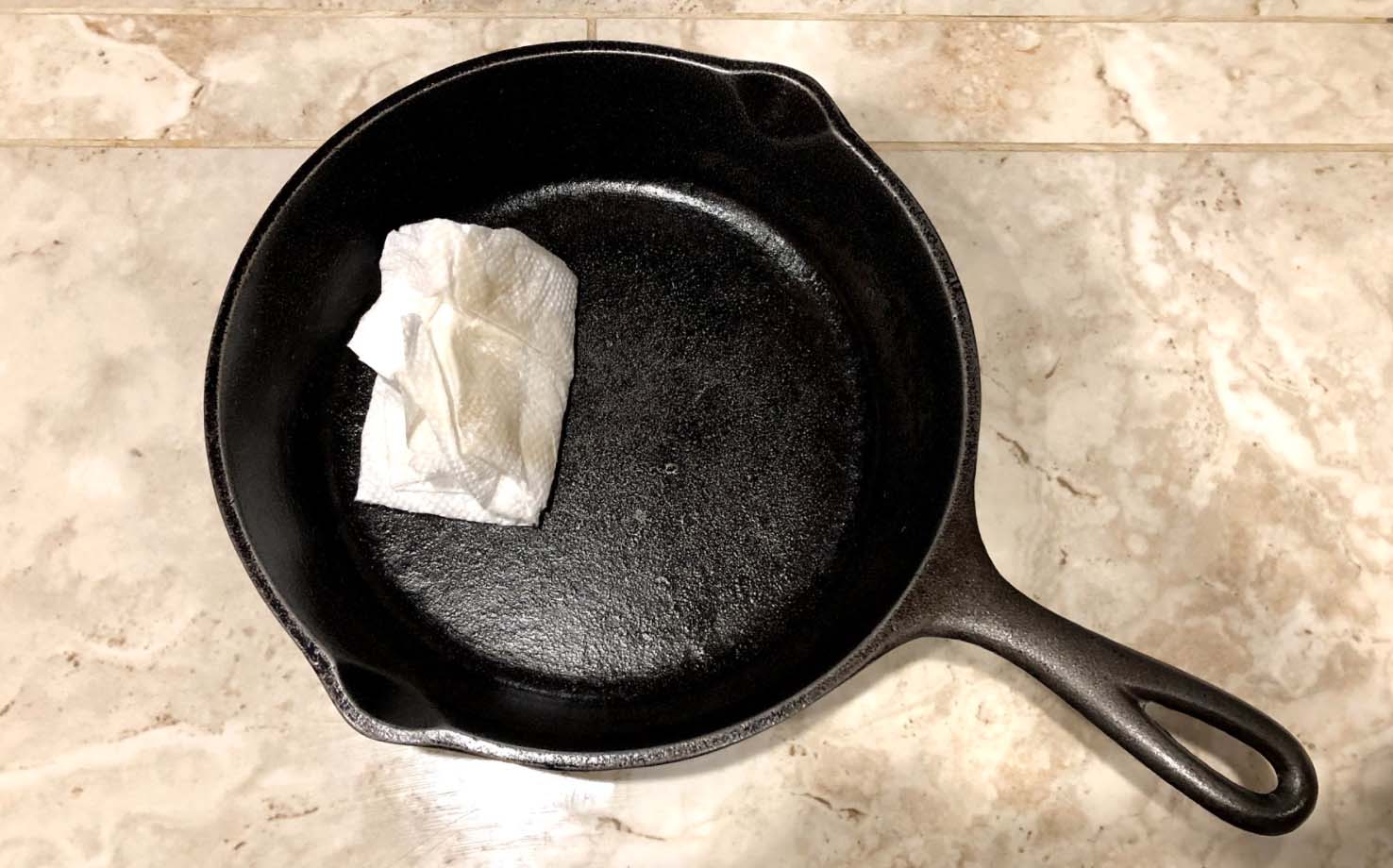 Place your pan upside down in a cold oven with the rack set in a middle position. Put a baking sheet on the bottom rack to catch any oil drips.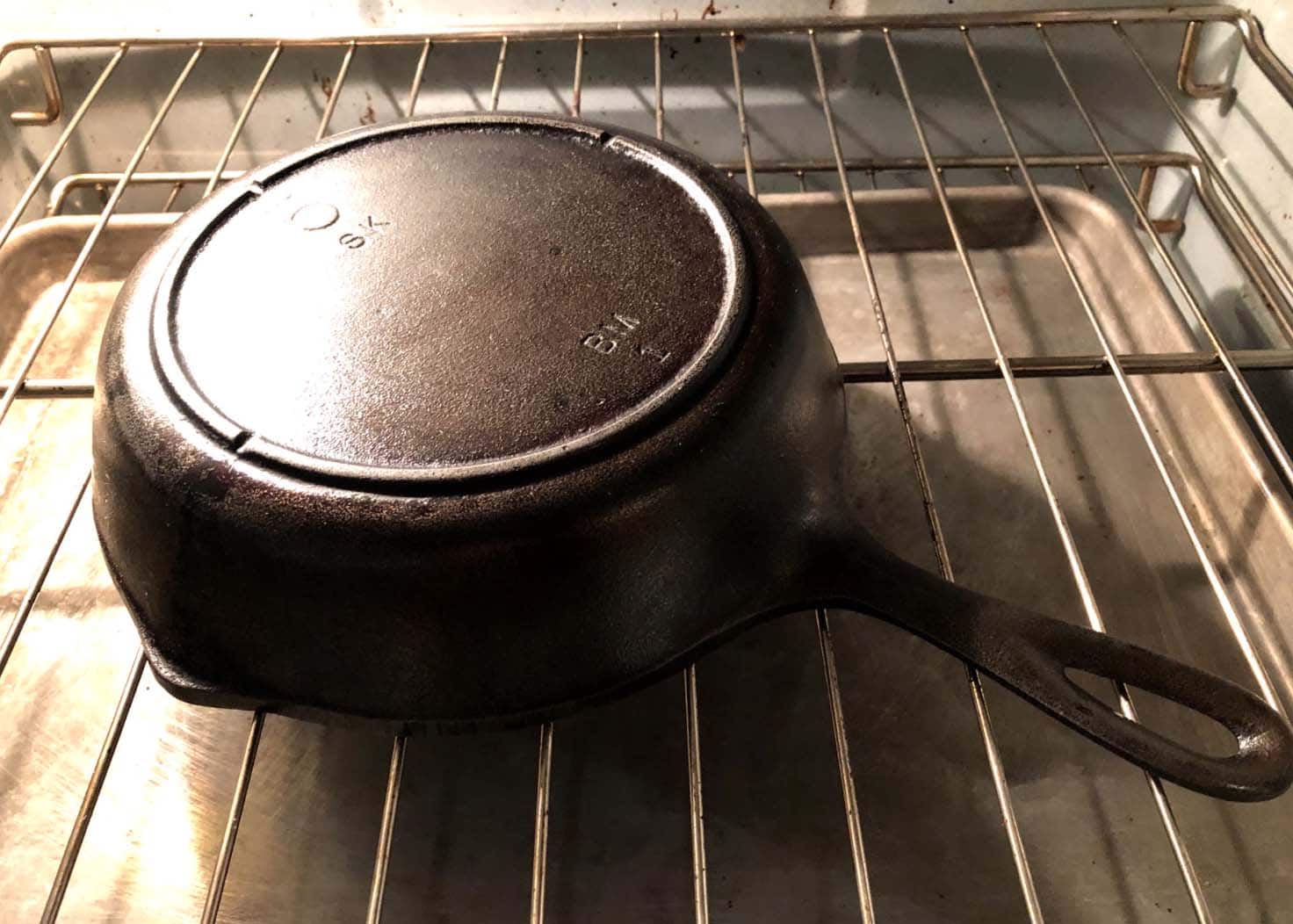 Turn the oven on to 400 degrees Fahrenheit. Once the oven reaches that temperature, take the pan out and quickly (and carefully!) wipe it down with your oily paper towel again. This helps redistribute the oil, so that the seasoning layer is smooth and even.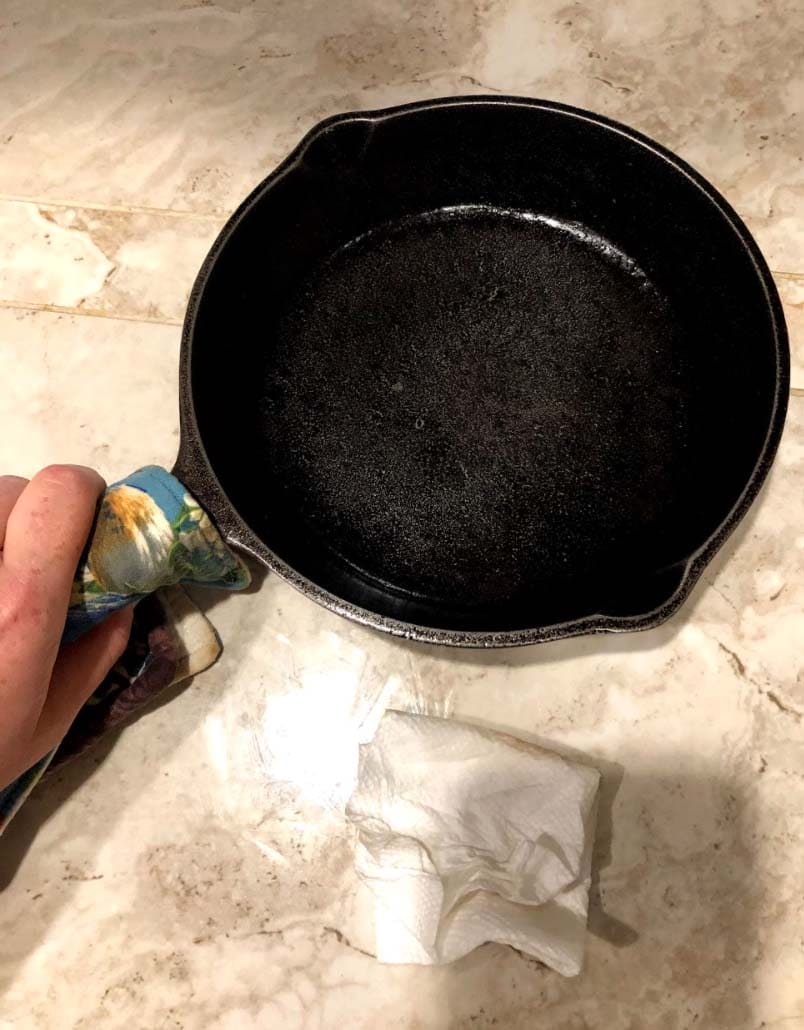 Put the pan back in the oven (upside down again) and set a timer for an hour. After an hour, turn off the oven, but do not open it. Allow the pan to cool in the oven for two hours.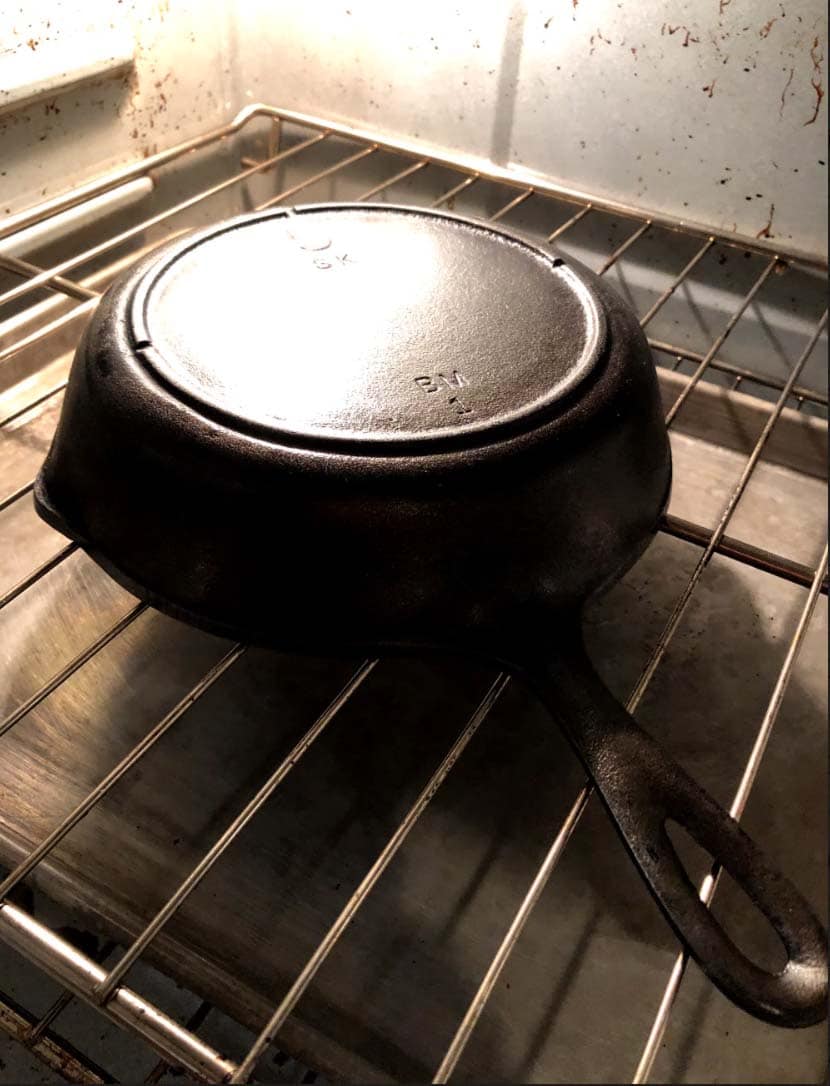 3. Test your new seasoning: Put your pan on the stove and heat it up. Once hot, add your favorite cooking fat and fry an egg in it. If it sticks, clean your pan off and the follow steps above again.
Some pans will take multiple seasoning cycles before they are properly seasoned. Raising the heat to a higher temperature may be necessary after a few cycles if the pan still isn't fully seasoned, depending on what kind of fat you used. Look for the smooth, shiny, black coating characteristic of good seasoning.
4. Enjoy your seasoned cast iron! Now that you have a fully functional piece of seasoned cast iron, you can spend more time enjoying cooking and eating, and less time scouring pans. You will still need to cook with plenty of your favorite fat to avoid sticking. But, I'm sure you were doing that anyway since that is also what makes your food delicious, satisfying, and nourishing!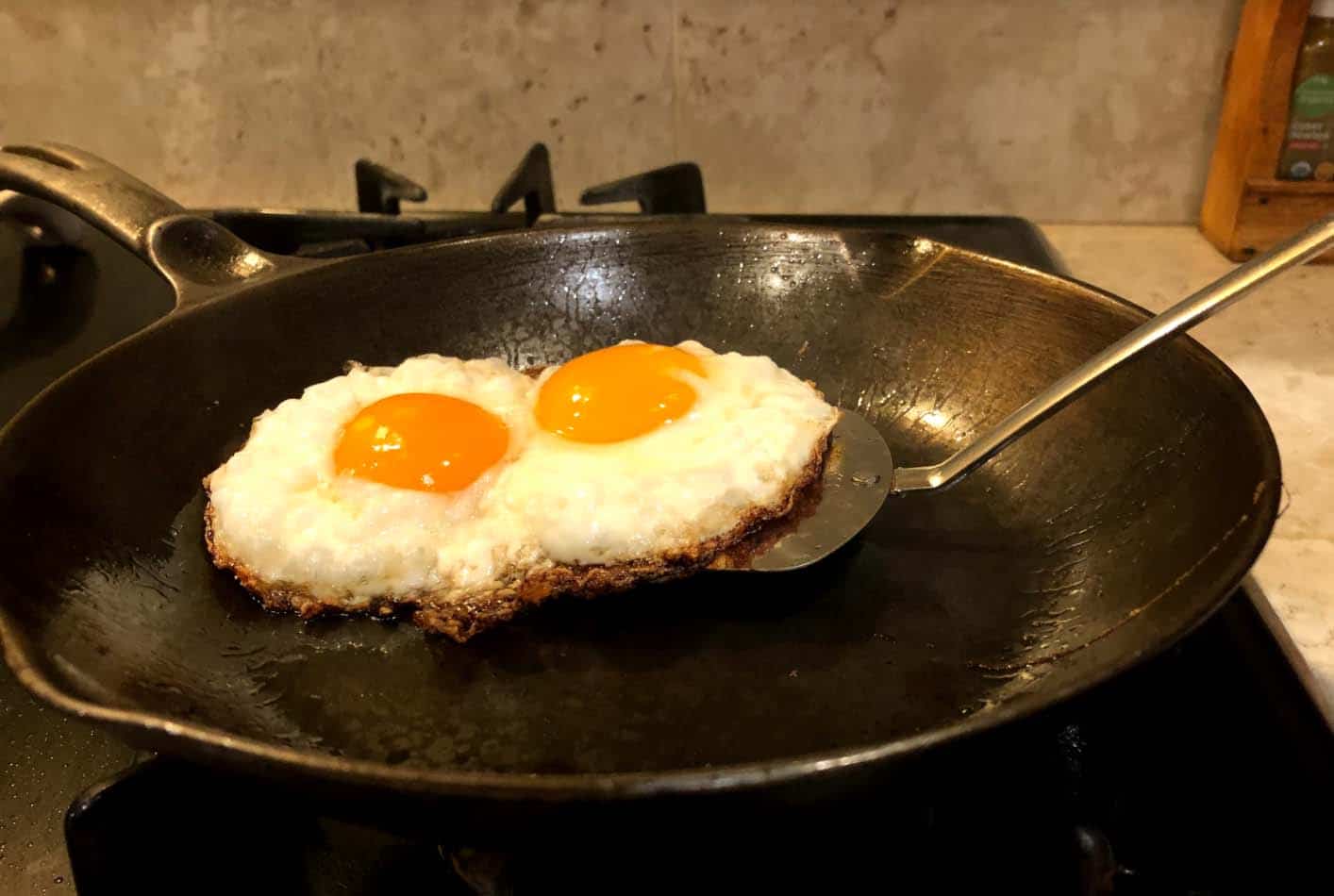 How often should I re-season?
Over the years (seriously, oftentimes years), if you notice that your seasoning has deteriorated and your pan has lost its lovely black luster, you may want to reseason it. That said, unless you somehow damage your seasoning, you may never need to re-season your cast iron. Especially if you cook with plenty of fat.
Since heating fat is what creates the polymer coating to begin with, cooking with lots of fat will simply build on that and maintain it.
Things that damage your seasoning include very rough abrasives (steel wool, for example), soap, and cooking highly acidic foods, like tomatoes or vinegar pickling brines. Save those things for your stainless steel or enameled cookware.
How to Season a Brand New Skillet
Although most brand new skillets are pre-seasoned, they are most often seasoned with a less than satisfactory oil. Follow my step-by-step instructions above to re-season your new cast iron. The same instructions apply.
Difference between seasoning & re-seasoning
Seasoning, as you've now learned, involves adding a seasoning (oil or fat) layer to clean, raw cast iron. Re-seasoning involves stripping off an existing seasoning layer and replacing it. For example, we bought an old cast iron dutch oven, and the oil in it had a foul odor. So, we stripped it and re-seasoned according to these directions.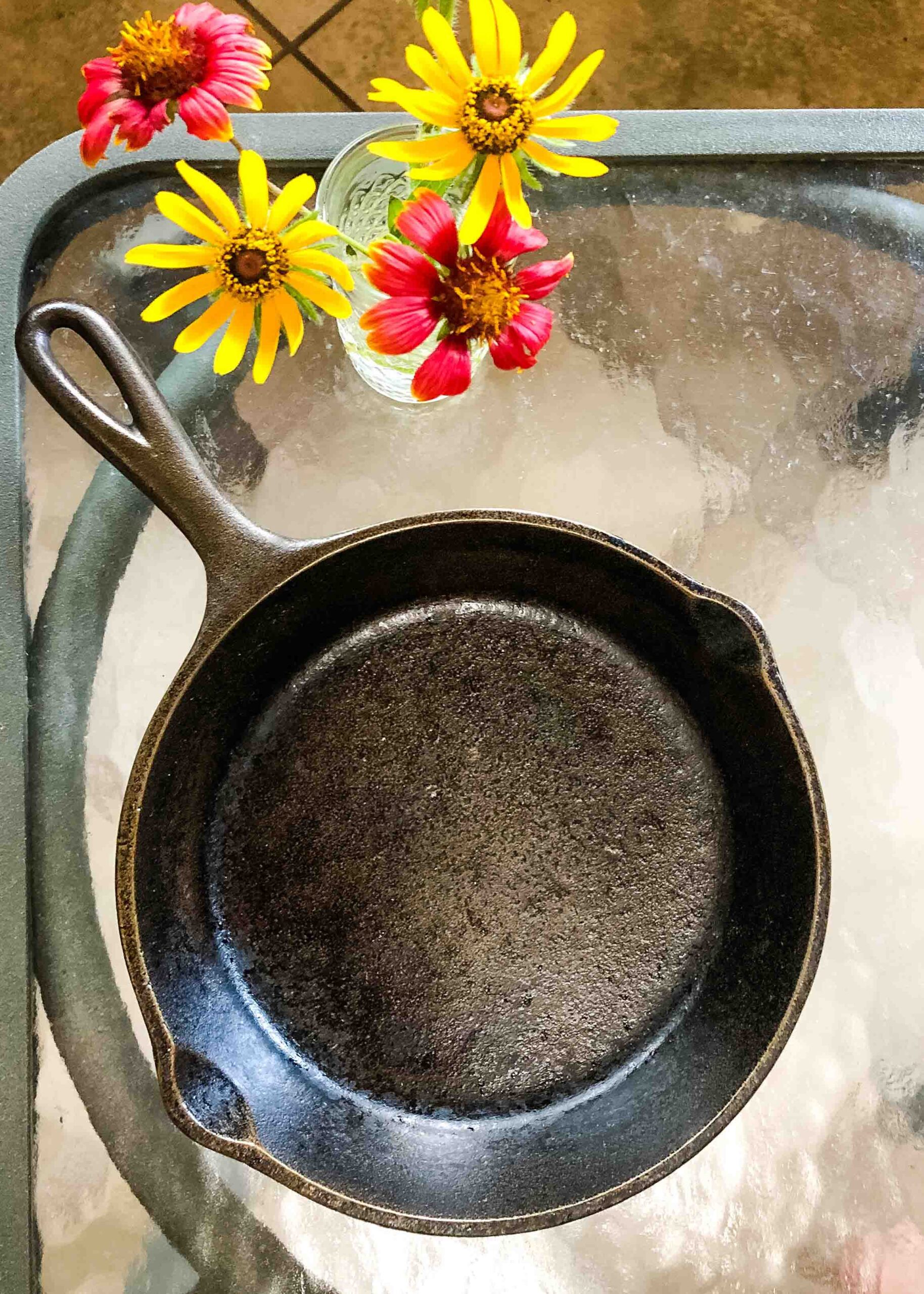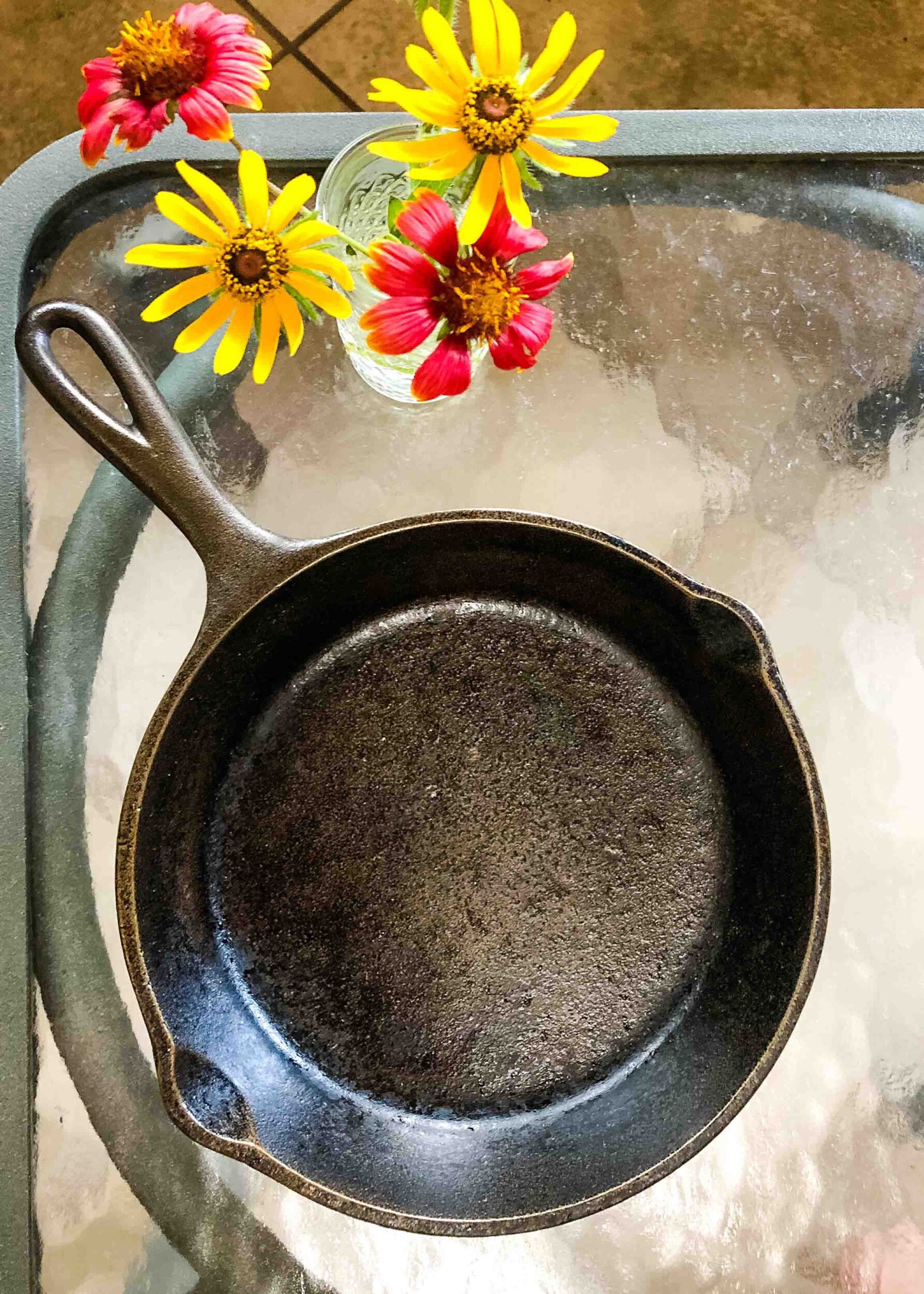 How to Care for Cast Iron
You've cooked a meal in your beautifully seasoned cast iron. Now what?
If you used enough fat, chances are there is very little (if any) food residue left in the pan. If this is the case, just wipe the pan down with a clean paper towel and put it away. I keep one of my pans on the stove at all times, so it's always ready to cook and oftentimes still has some cooking fat in it.
If there is food stuck to your pan, wash it out using some water (no soap!) and a gentle abrasive pad (like the rough green side of a sponge, for example). Immediately afterwards, dry your pan very well.
I'll very often put it on a hot stove and keep an eye on it, taking it off once all of the water has evaporated. Once the pan is dry, use a paper towel to rub a thin layer of oil all over it. This will protect your pan from rusting. Speaking of which…
Rust Prevention Tips
As I just mentioned, rubbing a thin layer of oil into your pan after cleaning it is the best way to prevent rust. The only advice I can add to that is to never, ever let water sit on your cast iron.
Keep your pans clean and oiled. Keep an especially close eye on your cast iron lids; I have noticed they are prone to rusting if they are kept on a warm pot of food for too long. The steam condenses on the inside of the lid, sometimes causing it to rust within a couple hours.
Is it okay to use soap on cast iron?
The simple answer to this is, NO! But with that being said, I have been known to use a drop or two under extenuating circumstances. For example, when I've cooked fish or some other "especially aromatic" food.
If you (on very rare occasion, of course) use a little bit of soap on your cast iron, just give it some love after drying it. Rub it down with oil and continue to cook with lots of fat in the future. If you find that your seasoning has deteriorated and food is sticking more than it should be, you know what to do. Just re-season it!
Cooking acidic foods in a cast iron pan
Cooking acidic foods has a tendency to break down your seasoning layer and draw iron into your food (sometimes imparting a metallic taste, if the food is acidic enough).
From my experience, a quick meal involving tomatoes, like chili, shouldn't be much of an issue (I have been making chili in a cast iron dutch oven my entire life with no problems). However, if you're trying to cook down a tomato sauce or make tomato paste, which takes more time and involves a lot of acid, I would stick to a stainless steel pot or an enameled cast iron.
Do you cook with cast iron? Tell me about your favorite thing to make in your cast iron skillet!