Do you long for more purpose in your (seemingly) mundane homemaking tasks? Learn what the Bible says about homemaking, and 8 ways you can pursue excellence in this home-loving life.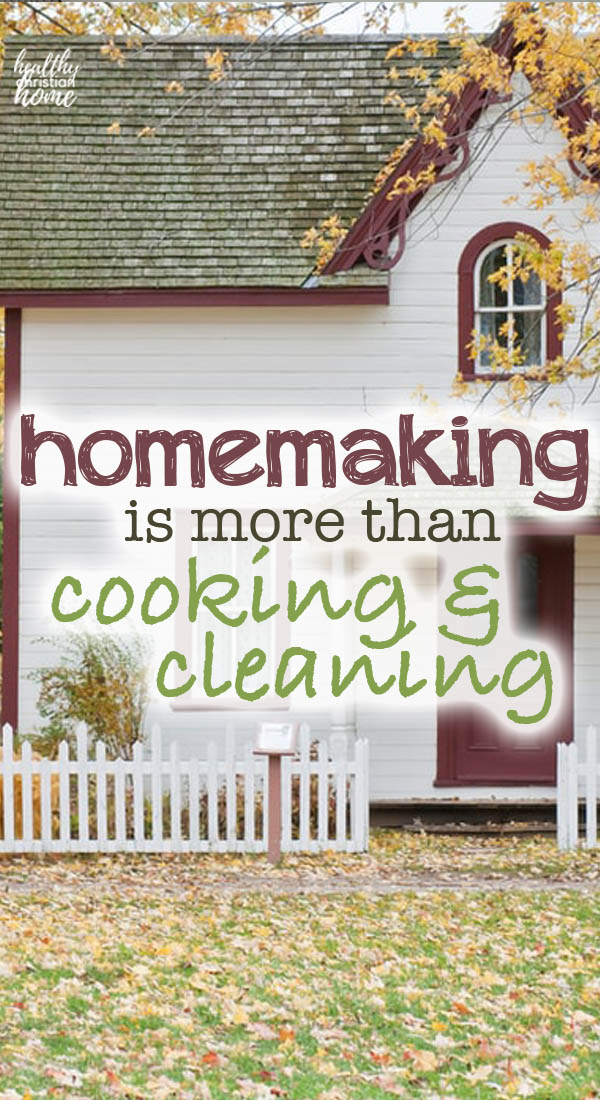 What do homemakers do? Countering Culture by Embracing Family & Home
Being a homemaker is so much more than just cooking and cleaning for your family. It is a beautiful picture of God's design for the family, which is countercultural in this day and age.
I'm seeing a lot more contempt than usual (is that possible?) for the idea that a woman would willingly and lovingly serve a man and be a keeper at home. For some reason, it really provokes people. So be it, it's just gonna make all of us want to love our men even harder 🙌🏻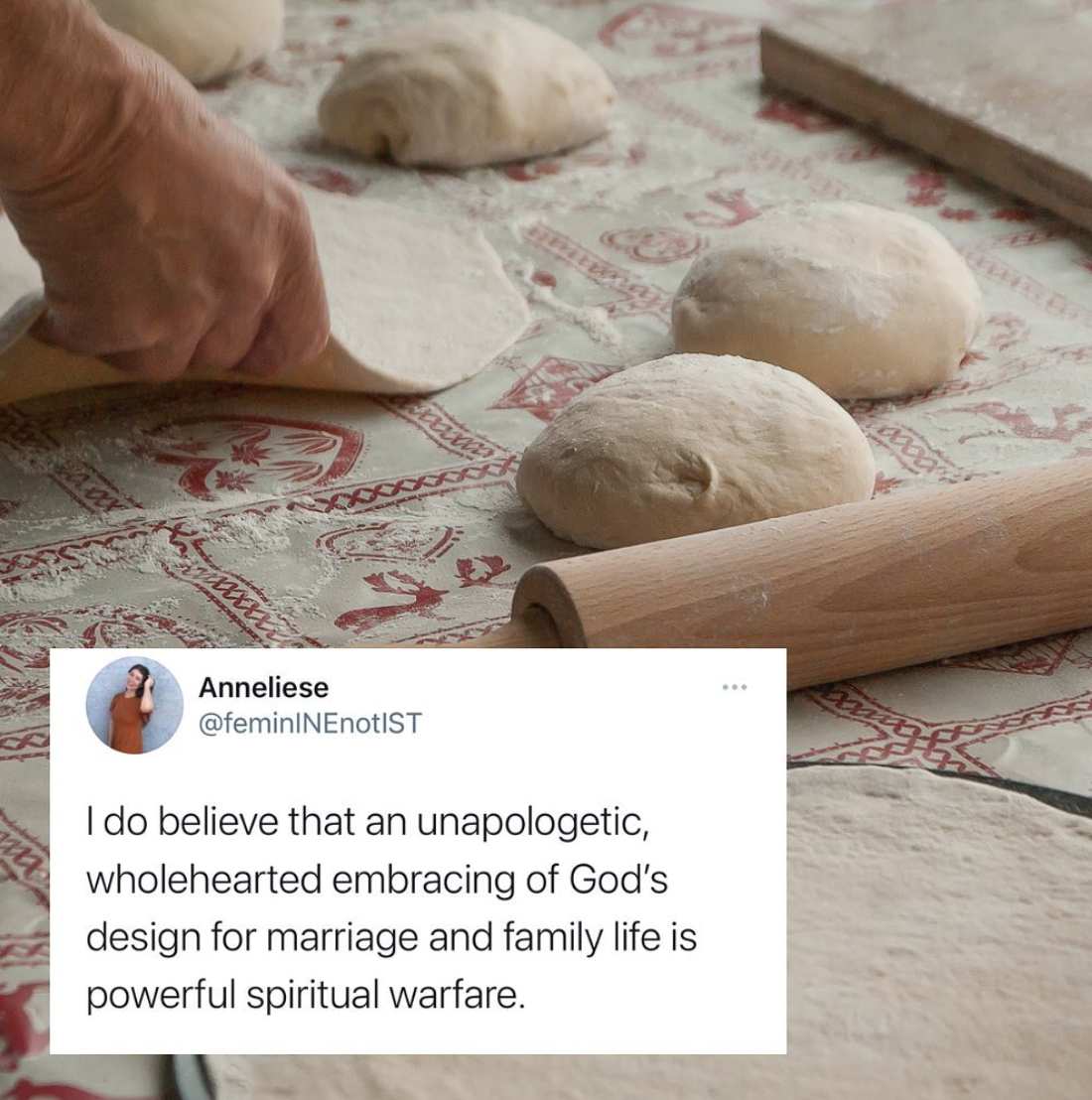 What is difference between homemaker and housewife?
The term "housewife" may seem derogatory to some, so thankfully the term "homemaker" better describes the irreplaceable role we fill. As homemakers, we wage spiritual battles for the souls of our family — the very fabric of society.
I do believe that an unapologetic, wholehearted embracing of God's design for marriage and family life is powerful spiritual warfare. The beautiful thing about rebelling against modern degeneracy is you don't have to go marching, make yourself heard or be obnoxious to take a stand against it.
Your battles are fought at home, in loving your husband sacrificially and raising your children in the fear of God.
If you don't think you're fighting battles in the heavenly places at home, look around you. The darkness is provoked by these glimpses of light. Get comfortable with being a fool in the eyes of the world.
"… to be self controlled, pure, working at home, kind, submissive to their own husbands, that the word of God may not be reviled." – Titus 2:4-5
Homemakers do take care of their families by filling bellies with nourishing food and creating an orderly and cozy environment. But we do so much more. In a quiet, humble way, we point our families (and subsequently the world) to our Creator.
8 Ways to Pursue Homemaking Excellence
To pursue excellence as a keeper at home, we need to go deeper. That's why I'm thrilled to have Anneliese from Feminine Not Feminist (be sure to follow her on Instagram) sharing her wisdom today. Her words will inspire you to take your calling as a homemaker seriously and to pursue excellence.
1. Realize your value & reject laziness.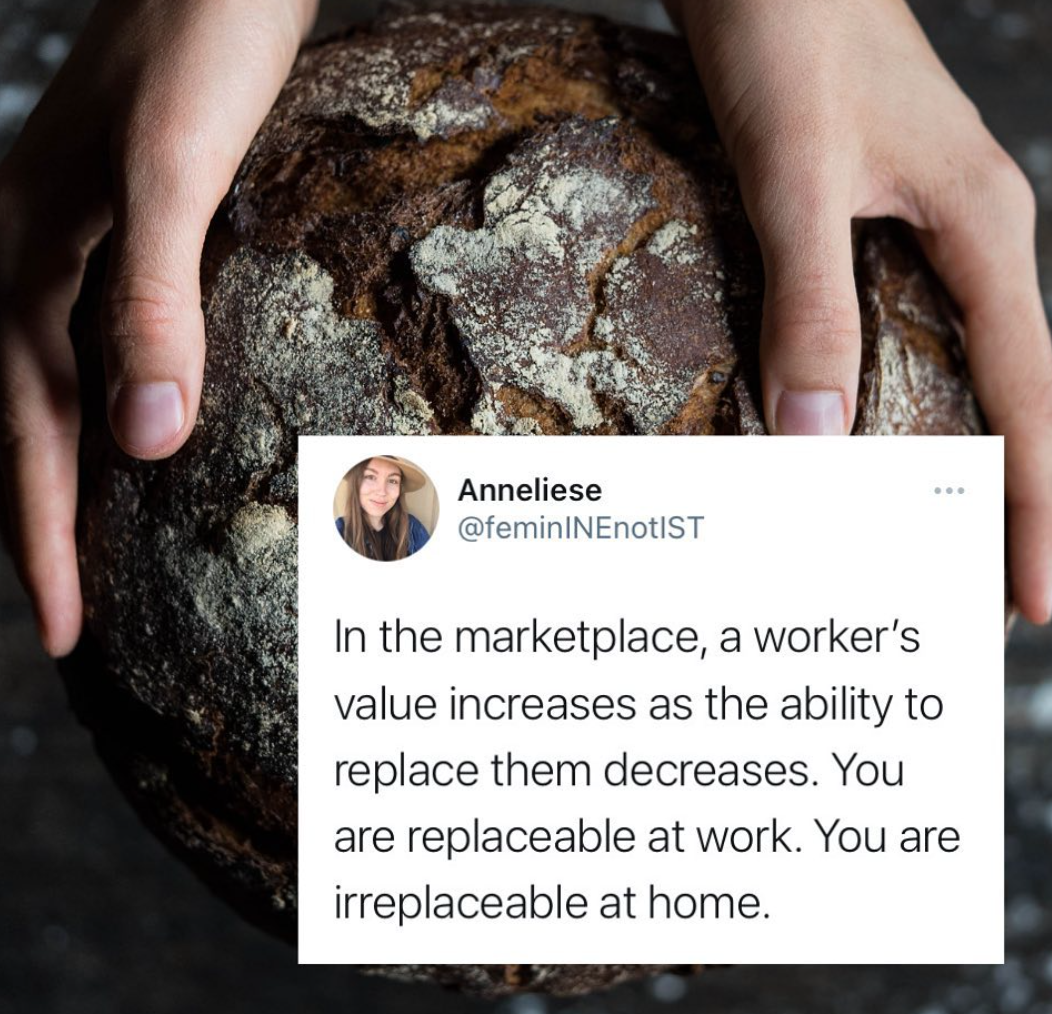 Our culture has a narrow understanding of value, largely reducing it to the contents of a paycheck. As Christians however, we have a very different metric for determining worth. We measure actions by their love.
In the marketplace, workers value increases as the ability to replace them decreases. You are replaceable at work. You are irreplaceable at home.
Don't believe the lie that you need to make money to be valuable.
Maintaining a pleasant and orderly home may not feel like much, but imagine for a moment if the fruits of your labor suddenly vanished from the house. You would have a very different house, and probably not a home.
Cultivating a beautiful home doesn't always mean spending more money. Creativity is more valuable than a big budget.
Being a homemaker allows you to take things from "good enough" to "excellent". This is a joy and a privilege.
Laziness is a very real danger in homemaking. Knowing our value is not found in monetary goods does not mean we grow complacent in bringing value to our homes. Rather, we learn to be creative. We establish routines and structures that benefit us. All of this takes time.
What cannot be replaced is your love. Give it generously.
2. Reawaken a love for practical homemaking skills.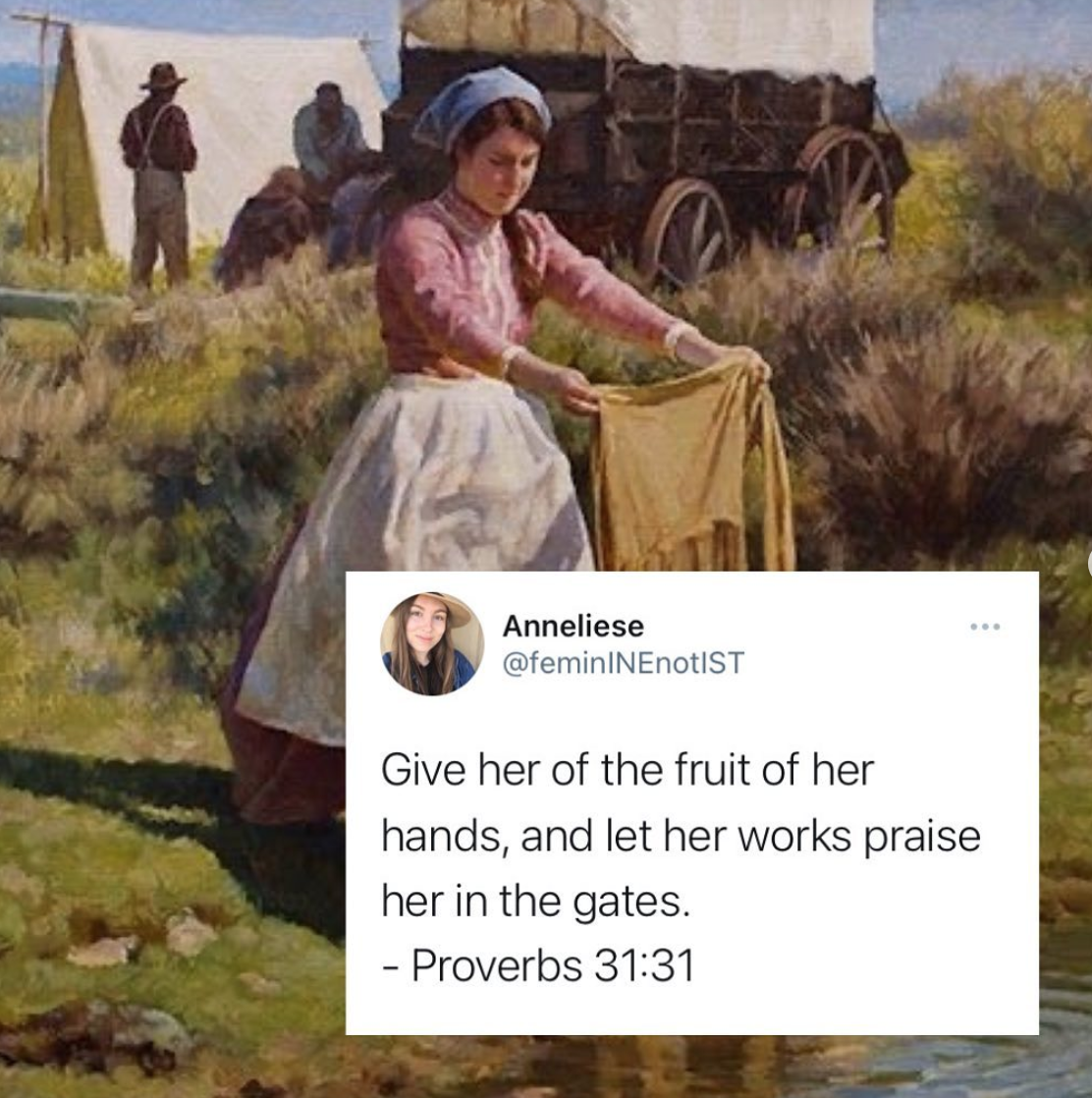 Can we bring back the cultivation and passing on of practical, domestic skills? I long to see a revived interest in homemaking skills in the days to come, and for God to raise up mothers and sisters to pass them on.
In creating nutritious, delicious meals on a budget, in growing one's own food, in fixing items which we might otherwise replace, in quilting, in repurposing, in home remedies, in every manner of domestic skill which has been deemed "unnecessary" in an age of fast food and convenience.
I long to see people who genuinely and quietly steward God's earth, rather than merely pretending to by association with a vague cause. To see mothers ACTUALLY empowered to take care of their children, not shamed or gaslighted. I long to see wives, not independent from their husbands, but independent from the expectations of a godless world, and dependent on Christ. And I long to see this in myself first. This is my prayer today.
"…and so train the young women to love their husbands and children, to be self-controlled, pure, working at home, kind, and submissive to their own husbands, that the word of God may not be reviled."
– Titus 2:4-5
Read Next: How Quarantine Helped Me Rediscover Homemaking
3. Invest faithfully in the present.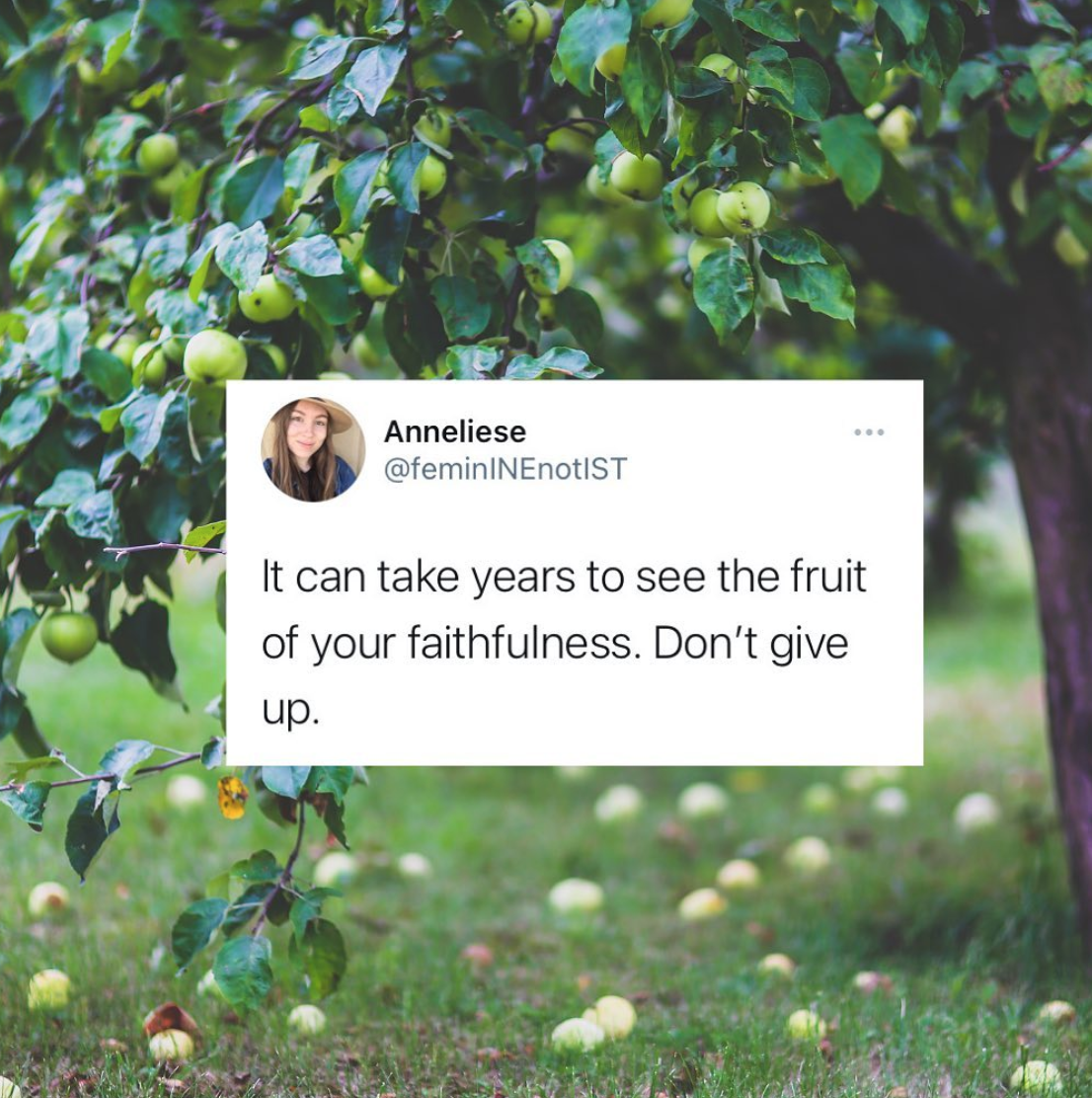 It can take years to see the fruit of your faithfulness. Don't give up. Seek lasting results over immediate results. You cannot have a harvest season without a waiting season.
Invest in what God has given you, whether it is for a day or a decade. We cannot postpone stewardship until things feel more permanent. We're not promised tomorrow, yet we still plan and prepare and hope for it. Hold what is temporary loosely, but don't neglect it in the process.
Beautify your homes, walk a little longer, put a little extra effort into a special dinner. The fact that things are temporary does not make them worthless. The knowledge of our eternal home fills our temporal homes with even greater hope and warmth.
Don't make certainty your idol that you rely on for permission to invest in anything. Work unto the Lord, and not unto men, and your entire perspective will change. Every single day is another day in which to be faithful.
Don't neglect your home because you'll be moving in a year. Don't shy away from getting involved in your church family because it's not your permanent choice. Investing faithfully in the present will prepare you for more long-term circumstances in the future.
Because my eternal home is secure, I don't fear when my earthly home isn't. Good meals and inviting homes are fleeting displays of lasting love.
Galatians 6:9 – "Let us not become weary in doing good, for at the proper time we will reap a harvest if we do not give up."
1 Corinthians 15:58 – "Therefore, my dear brothers and sisters, stand firm. Let nothing move you. Always give yourselves fully to the work of the Lord, because you know that your labor in the Lord is not in vain."
Read Next: We Moved 6 Times in 10 Years. Here's What I Learned About Life.
4. Cultivate discipline for everyday tasks.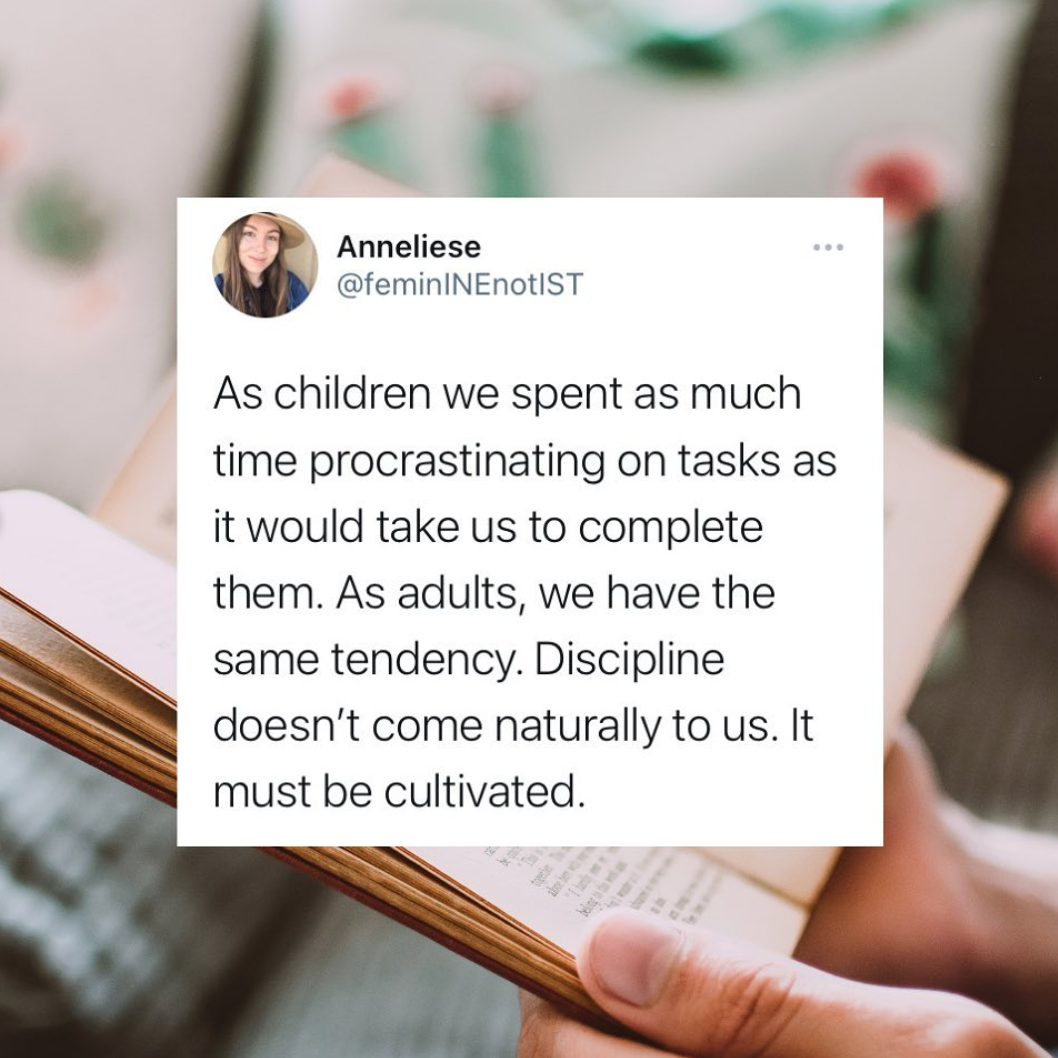 Your unwillingness to start small is keeping you from starting at all.
If you are overwhelmed with all that you want/need to do as a homemaker, write a list, pick one thing, and spent 15 minutes on that. Set a timer. Remove avoidable distractions and focus. There are no shortcuts and it isn't glamorous, but it works.
As children we spent as much time procrastinating on tasks as it would take us to complete them. As adults, we have the same tendency. Discipline doesn't come naturally to us. It must be cultivated.
Perpetually starting things without completing them is just a busy form of laziness. We were not made it to house infinite projects in our finite brains. Slow down, rest when needed, and take things one at a time.
For example, my first half marathon began years before when I ran my first mile. The latter is indispensable to the former. An intentional, focused 15 minutes of work will take you much farther than a distracted, half hearted hour.
One thing done well and completely is better than a hundred poorly executed attempts. God finishes the work he begins. He is patient and steadfast.
5. Work joyfully with thankfulness.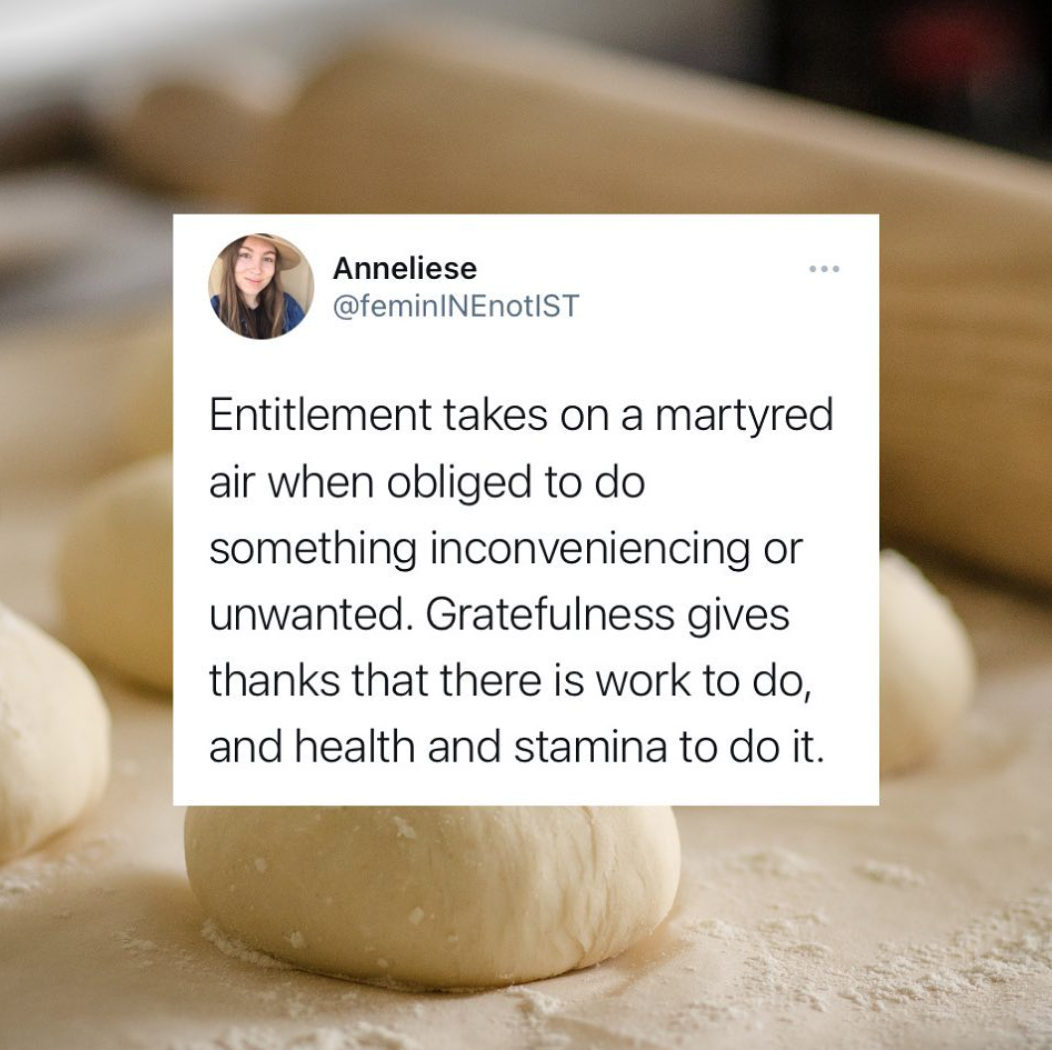 If you are wondering "How can I enjoy homemaking?", this section is for you.
Entitlement takes on a martyred air when obliged to do something inconveniencing or unwanted. Gratefulness gives thanks that there is work to do, and health and stamina to do it.
The gift of work has been tarnished by the fall. The world resents and avoids it. The Christian reclaimes it by working well and joyfully. "Do everything without grumbling or arguing…" Philippians 2:14.
There is nothing special about doing something you don't like. It does not make you a martyr to go about your daily duties. What's rare is rejoicing and giving thanks throughout them all — that is what sets you apart from the world.
Having joy in your every day toil is not a function of what you do, it's a choice you make. Grumbling will not take away your work, but it will take the joy away from your work.
In a culture so disgusted by the slightest inconvenience, it is truly radical to be thankful for the work that God has given you. The first step in learning to rejoice in your work is to give thanks for it.
"So you also, when you have done everything you were told to do, should say, 'We are unworthy servants; we have only done our duty.'" – Luke 17:10
6. Limit social media.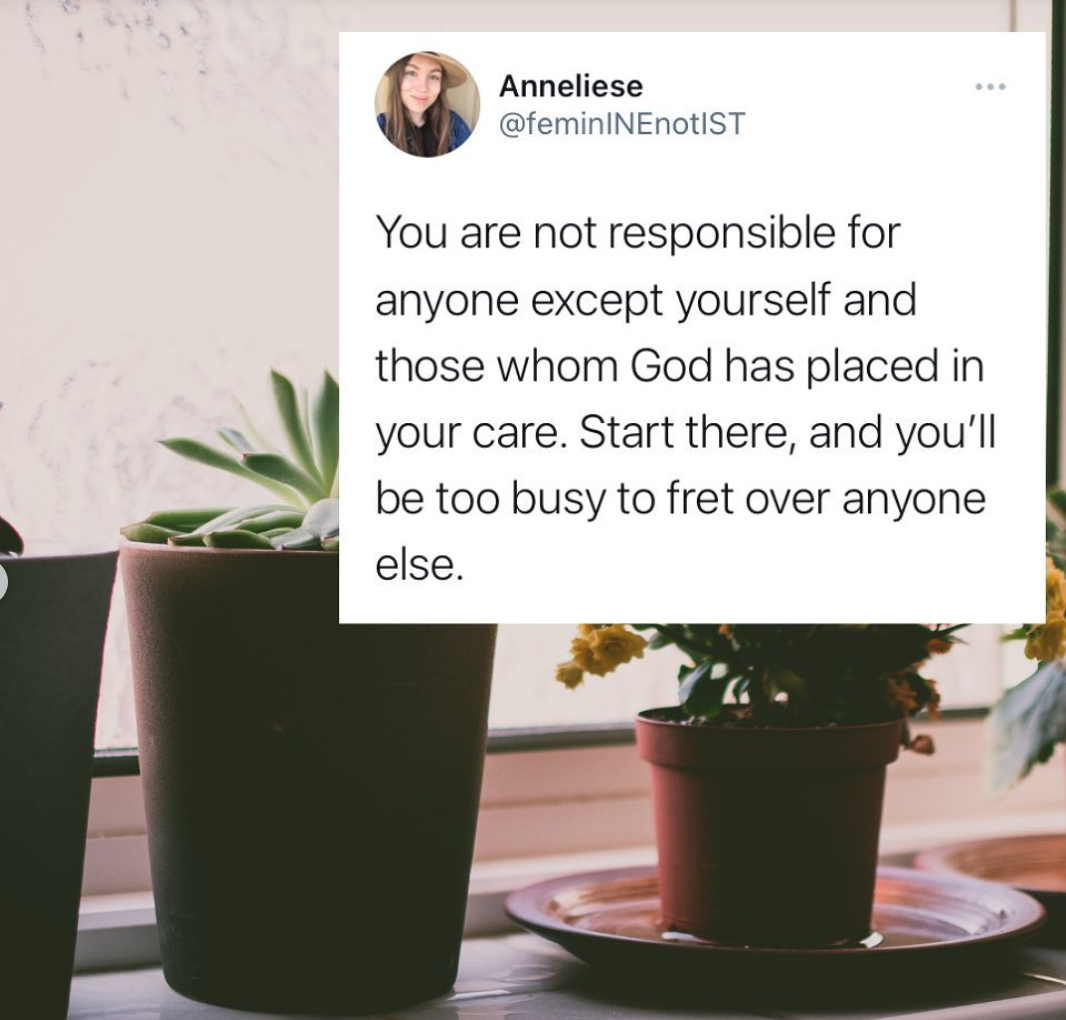 One of the biggest obstacles to efficient homemaking is being there in body, but not in mind. It's challenging not to leave our homes through devices & social media.
Who gets more of your attention? Strangers online or your precious family? The answer to this question reveals our priorities, and it's not too late to reorder them.
Get some sleep. Enjoy your family. The angry people on the internet will be there tomorrow.
If a comment from a stranger on the internet can ruin your day, you've given them too much power. Part of maturity is being able to see something you wholeheartedly disagree with without getting flustered and feeling personally attacked.
Truly joyful people are not constantly caught up and what others are doing. It is a sad existence that expends more energy into observing others' lives than into cultivating one's own.
There is nothing online worth draining your emotional availability on. Your family matters more than proving a point or winning an argument.
Another issue is the social media comparison game, which we are all too familiar with as women.
Try as you might, you cannot copy and paste anyone's marriage, looks, house, or finances into your own life. Stop living vicariously through others and live the life God has given you. You are not responsible for anyone except yourself and those whom God has placed in your care. Start there, and you'll be too busy to fret over anyone else.
Taking inspiration from others without envying them is truly a balancing act. God's gift to someone else does not change his goodness towards you. God deals with all of us justly, but differently. We want "fairness", God acts in wisdom.
"But when they measure themselves by one another and compare themselves with one another, they are without understanding." – 2 Corinthians 10:12b
Read Next: How to Stop Comparing Yourself and Start Being Content
7. Learn to do more with less.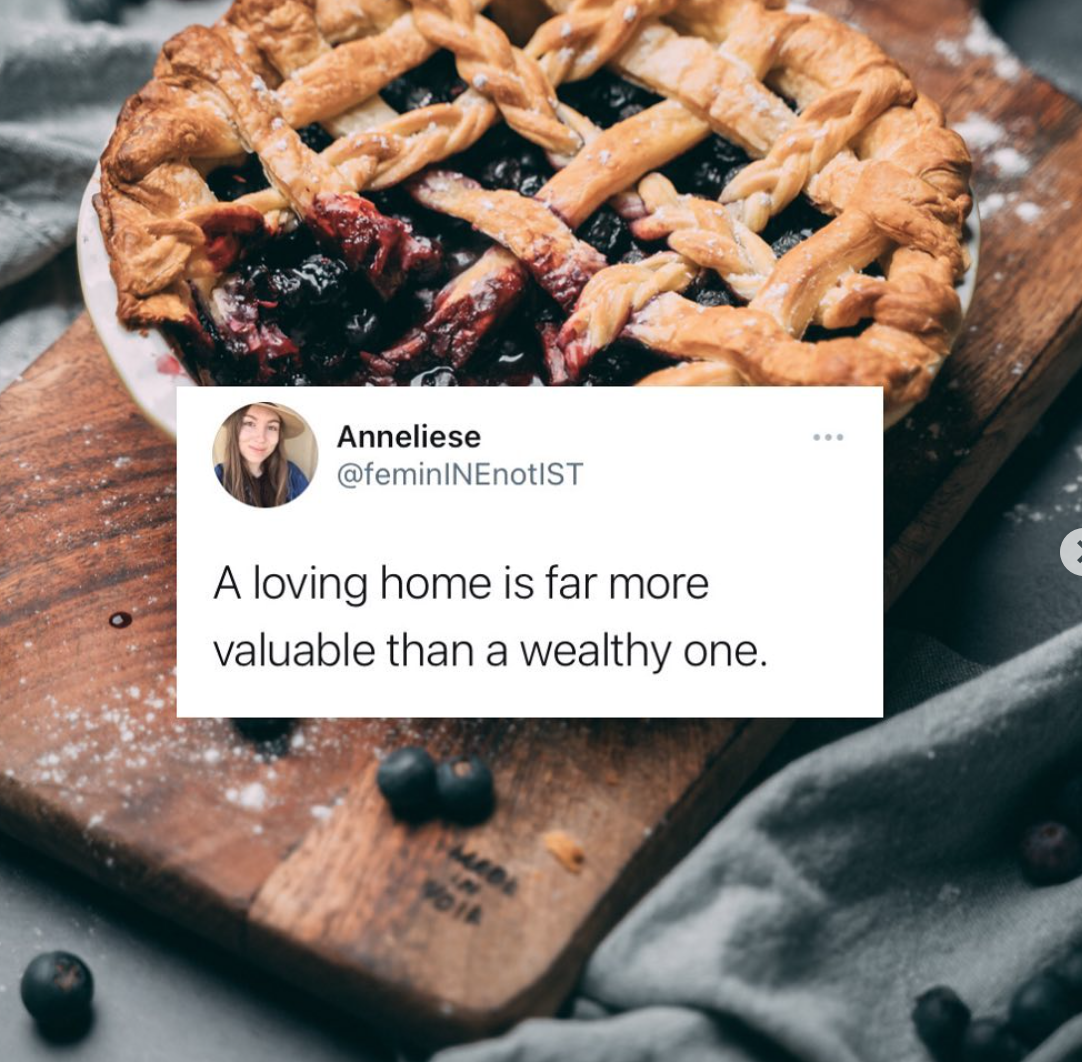 Resourcefulness and creativity will always be better homemaking assets than money. Let your meager means teach you thriftiness, creativity, time management and innovation.
Money can't fix problems that are caused by laziness. A wise woman makes much out of little. A foolish one never has enough.
A loving home is far more valuable than a wealthy one. Don't measure your homemaking by what works for a stranger online. Be inspired without being envious.
"Better is a dinner of herbs where love is than a fattened ox and hatred with it." – Proverbs 15:17
"Better is a little with fear of the Lord than great treasure and trouble with it." – Proverbs 15:16
"The wisest of women builds her house, but folly with her own hands tears it down." – Proverbs 14:1
Read Next: 12 Characteristics of a Godly Woman
8. Use creativity & intuition.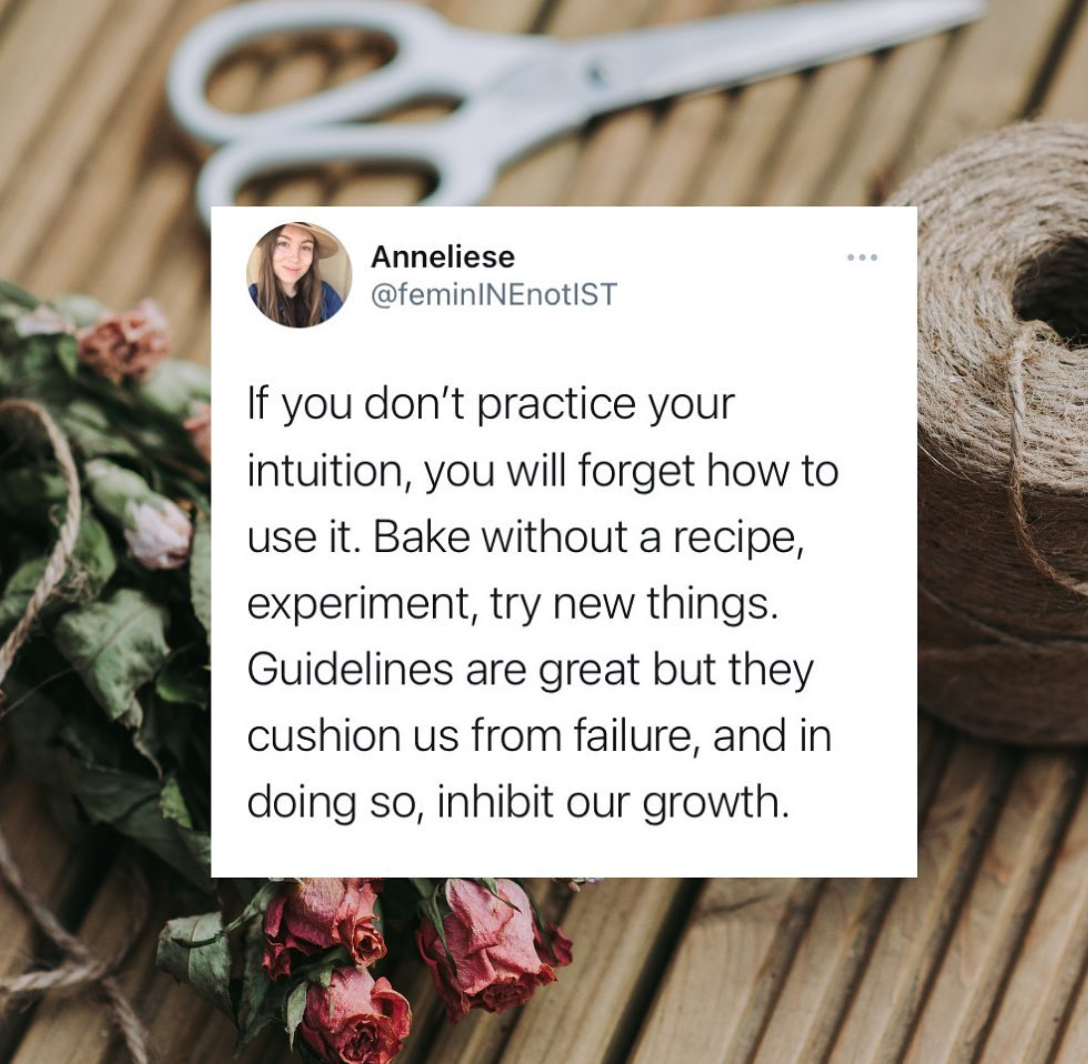 Homemaking is a wonderful vocation for cultivating intuition and initiative. Exercise your God given ability to discover, not just inhale information that has been discovered by someone else and neatly repackaged for you. The process is delightful and brings greater appreciation to the final product. ♥️
If you don't practice your intuition, you'll forget how to use it. Bake without a recipe, experiment, try new things. Guidelines are great but they cushion us from failure, and in doing so, inhibit our growth.
We are so accustomed to how-to manuals and specific instructions in order to accomplish simple tasks. Maturity involves the ability to try new things without someone holding your hand.
Get back your creativity and common sense that years of being coddled stole from you.
Looking into a situation and identifying how it can be made better and more beautiful is a very feminine trait. Many of us never learned the skill of taking initiative; of looking into a situation and identifying ways to be useful and contribute meaningfully.
There's learning, and then there's knowing HOW to learn. Anyone can inhale information, but true competence is more than the ability to understand what you're reading. Initiative is the active result of intuition.
Proverbs 31:31 "Honor her for all that her hands have done, and let her works bring her praise at the city gate."
Read Next: You Can Be a Proverbs 31 Woman
What are homemaking skills I need to cultivate? Daily Routines for the Homemaker
While listing specific homemaking skills is a bit beyond the scope of this blog post, here is a basic daily routine to get you started:
Pick up clutter in main living areas daily
Plan a home-cooked meal for each night of the week, with maybe one set "rest day" each week to eat out if budget allows
Ensure the dishes are done and kitchen cleaned up each night before bed
Do one load of laundry a day
Pick a specific chore for each day of the week to stay on top of "extra" chores, such as vacuuming, dusting, etc.
Each year, choose one specific "skill" to work toward to help you become a better homemaker. For example, one year I learned how to make fermented foods, the next year I learned sourdough, etc. You might be more interested in sewing or decorating instead. Hone your skills in what you love!
To dive deep into the topic of creating home routines and making your home more efficient, I highly recommend the book "Sink Reflections" by Marla Cilley, a.k.a The FlyLady. Her method is especially helpful for those of us who struggle with house cleaning!
Are you a homemaker? What skills and attitudes are most important to you?
PIN IT!