If you've begun your own sourdough routine, you NEED this delectable sourdough oatmeal pancake recipe! They are super tender & fluffy, made with hearty nourishing oats and fermented overnight with sourdough starter.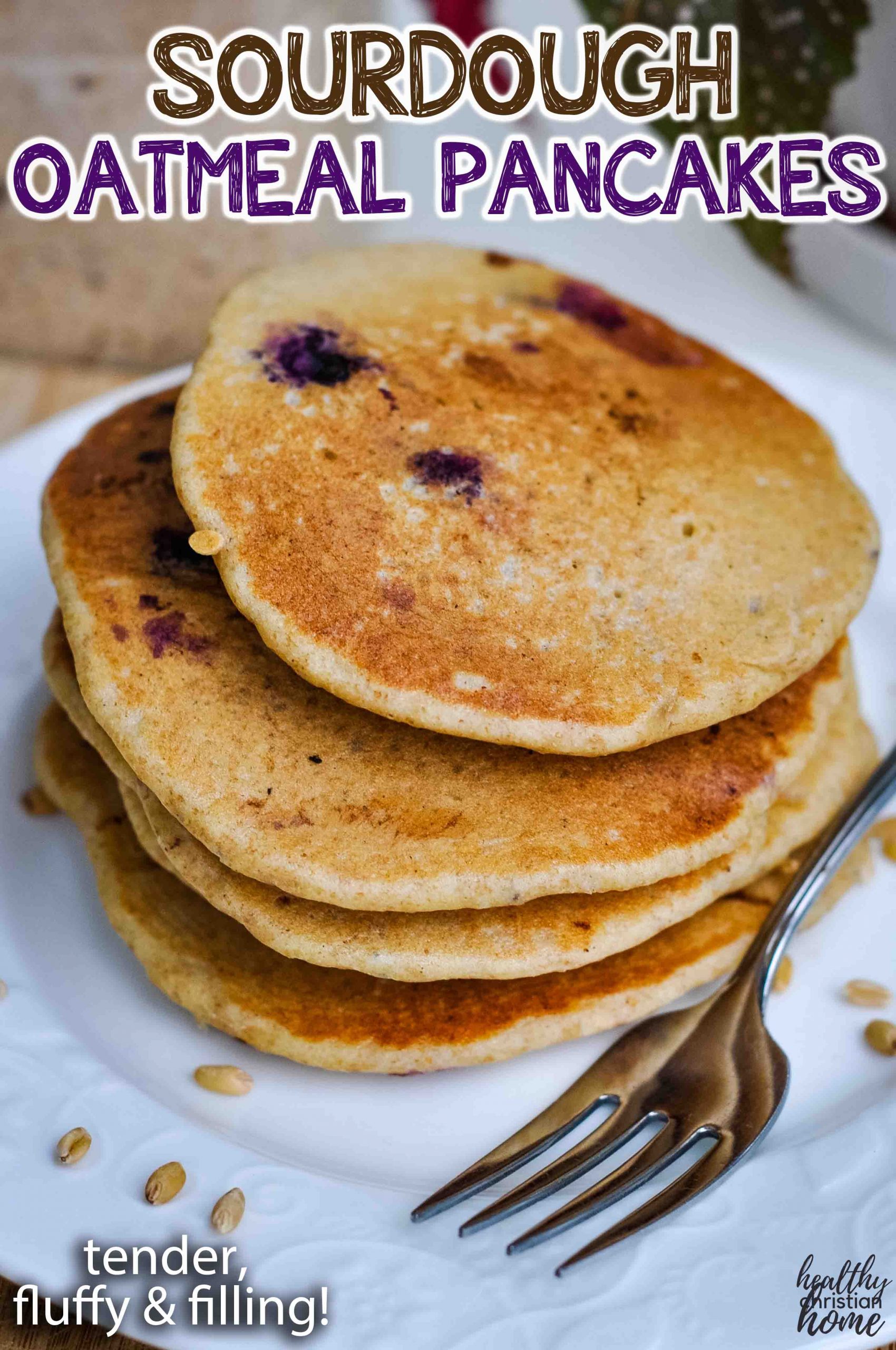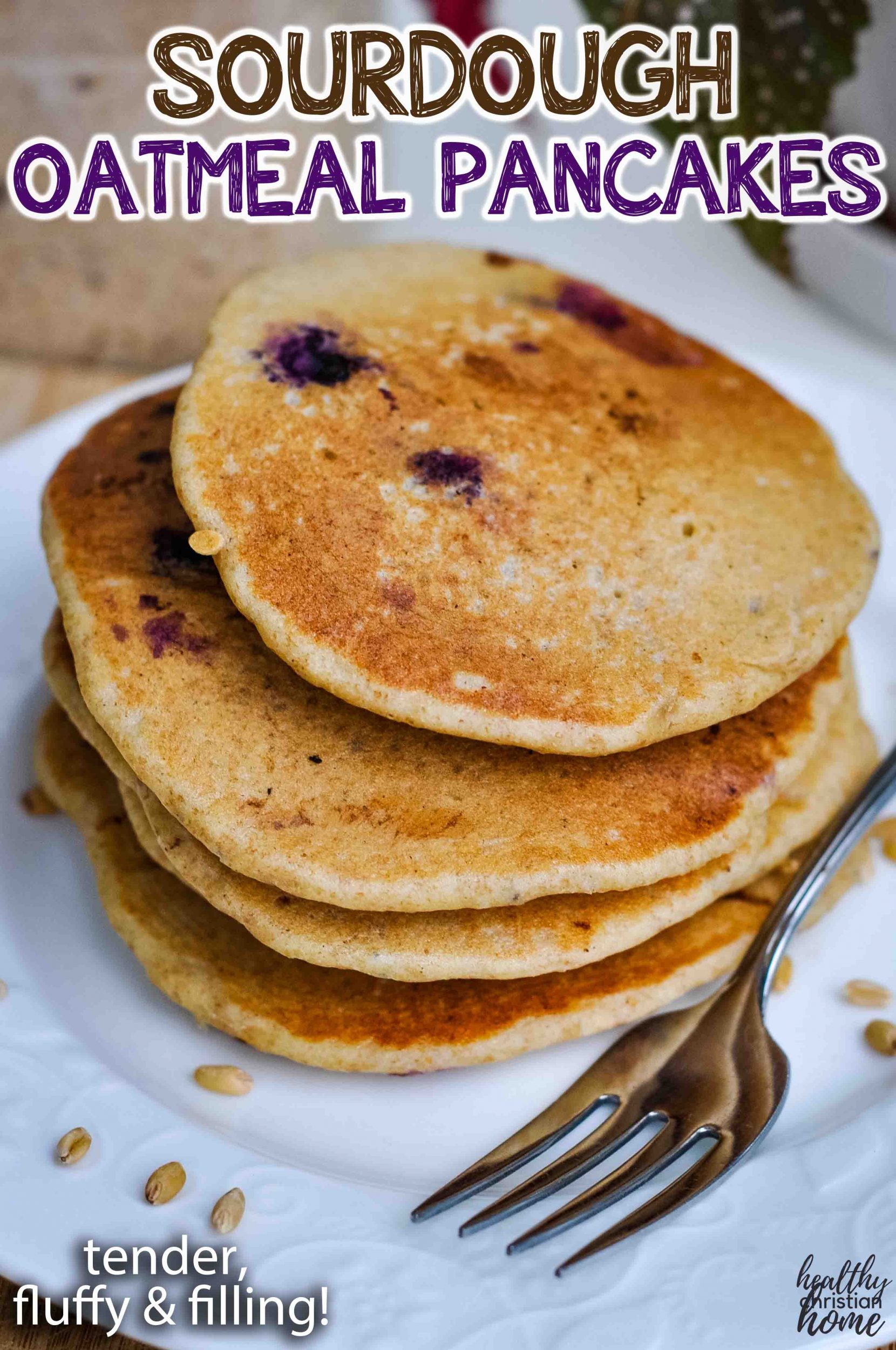 Since we've been home a lot more lately, I determined I was finally ready to check the next traditional cooking challenge off my list: mastering sourdough.
And if you've ever activated a sourdough starter, you know it takes a bit of time and discarded flour to make it happen. (I purchased a San Francisco sourdough starter. Highly recommend!)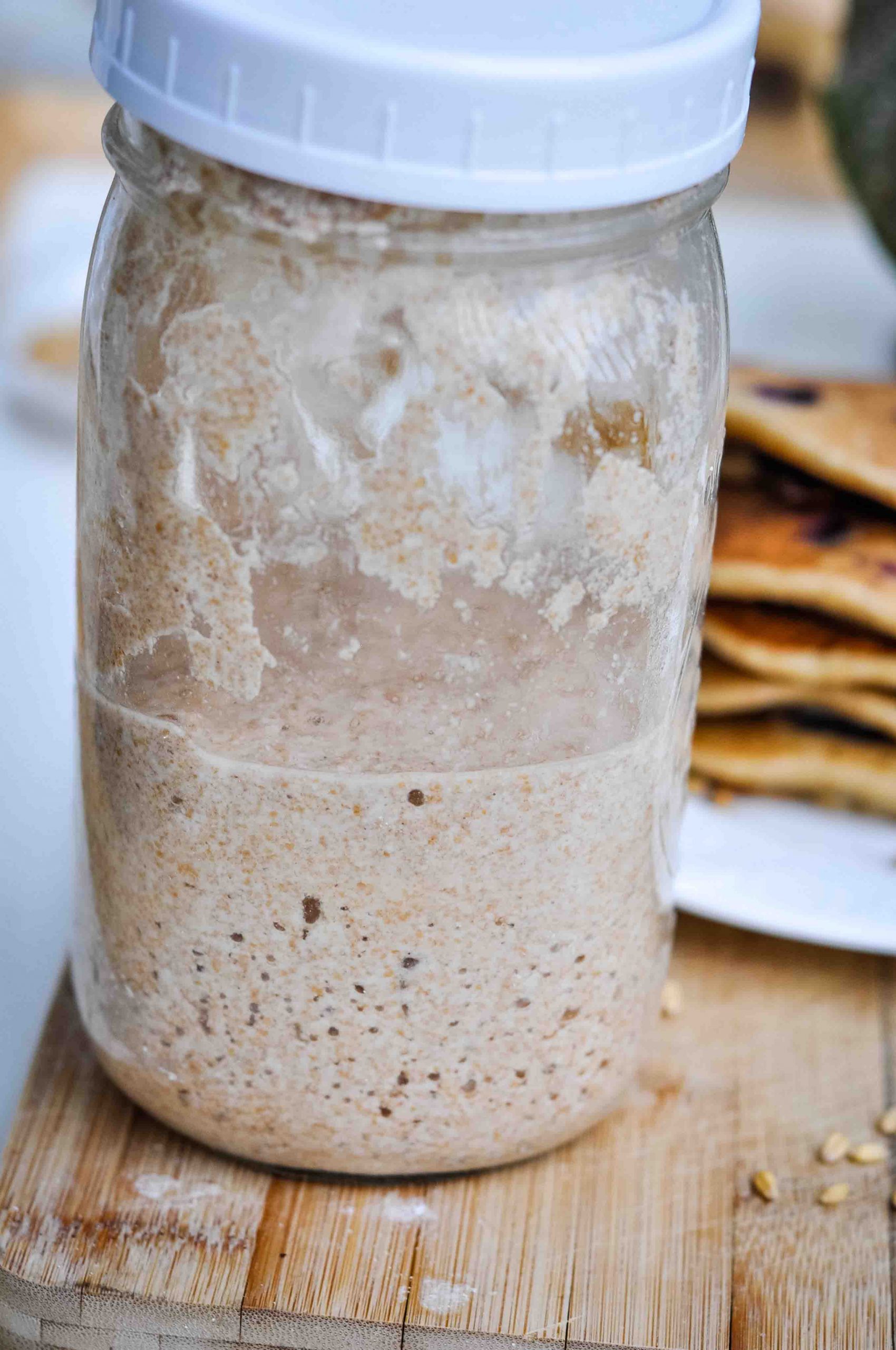 With sourdough starter, you have to keep feeding it to keep it alive. And every time you feed it, you have to discard some of the starter.
That's why you need a few great recipes up your sleeve to use up all the sourdough discard you'll inevitably acquire. I hate throwing good food in the trash!
And since we love starting our day with oatmeal, I thought up the perfect solution with these sourdough oatmeal pancakes.
Try next: Whole Grain Sourdough Bread
Can you use oatmeal to make pancakes?
Yes! Oatmeal works great in pancakes! In fact, making oatmeal pancakes is one of my favorite ways to use oatmeal.
We were on an oatmeal kick for a couple of years, and we all got a little burned out on boring soaked porridge. Pancakes are a fun way to eat your oats!
All you need to do is soak the oatmeal and flour overnight with your sourdough starter, then add the rest of your pancake ingredients in the morning.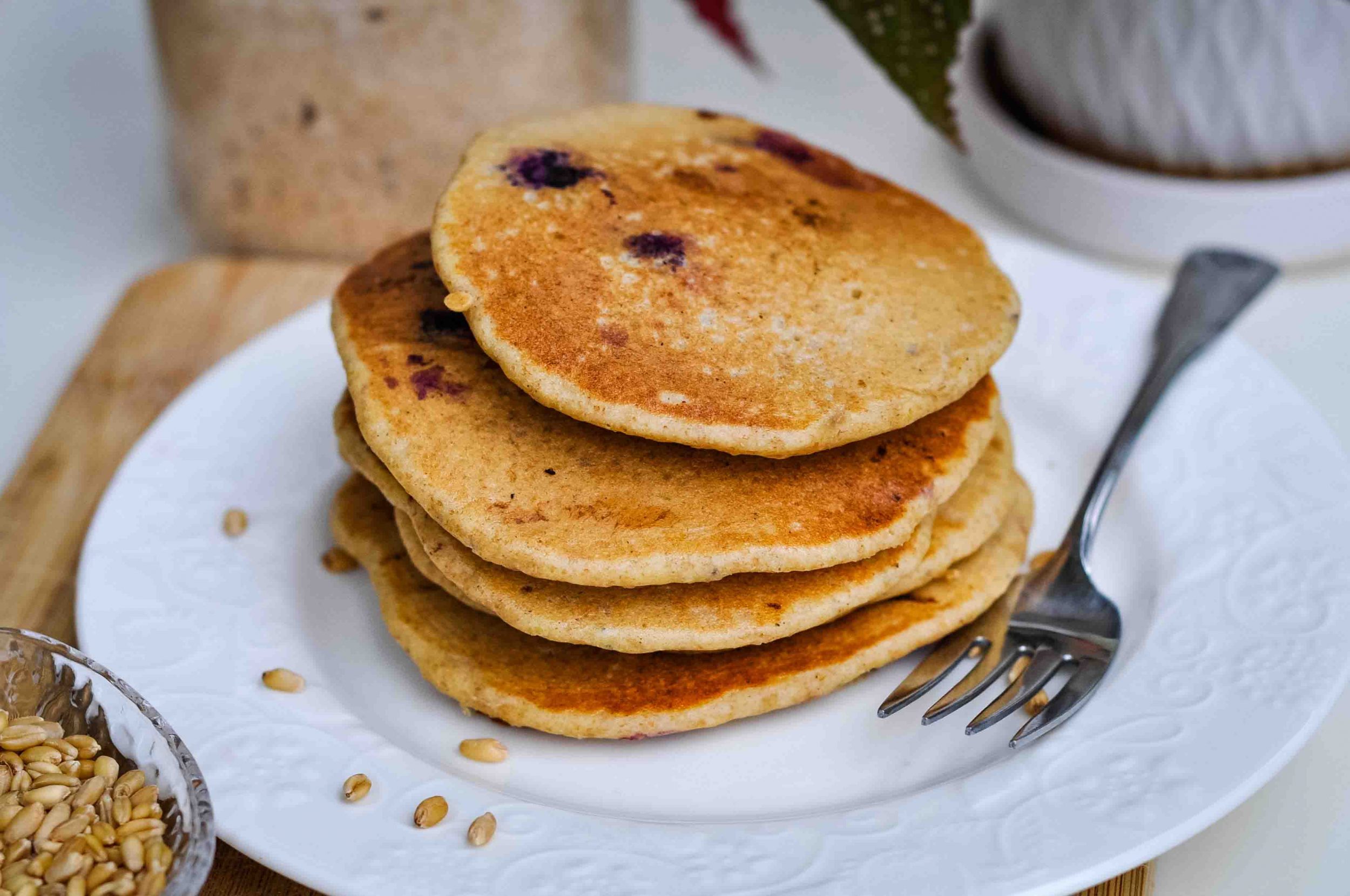 Are oatmeal pancakes good for you?
These pancakes are so nourishing! Whole grain oatmeal has lots of slow-releasing complex carbohydrates for sustained energy, plus they're rich in B vitamins and trace minerals like magnesium, manganese, iron, and zinc.
And, since the batter is fermented/soured overnight, these pancakes are super easy to digest and the nutrients are more bioavailable.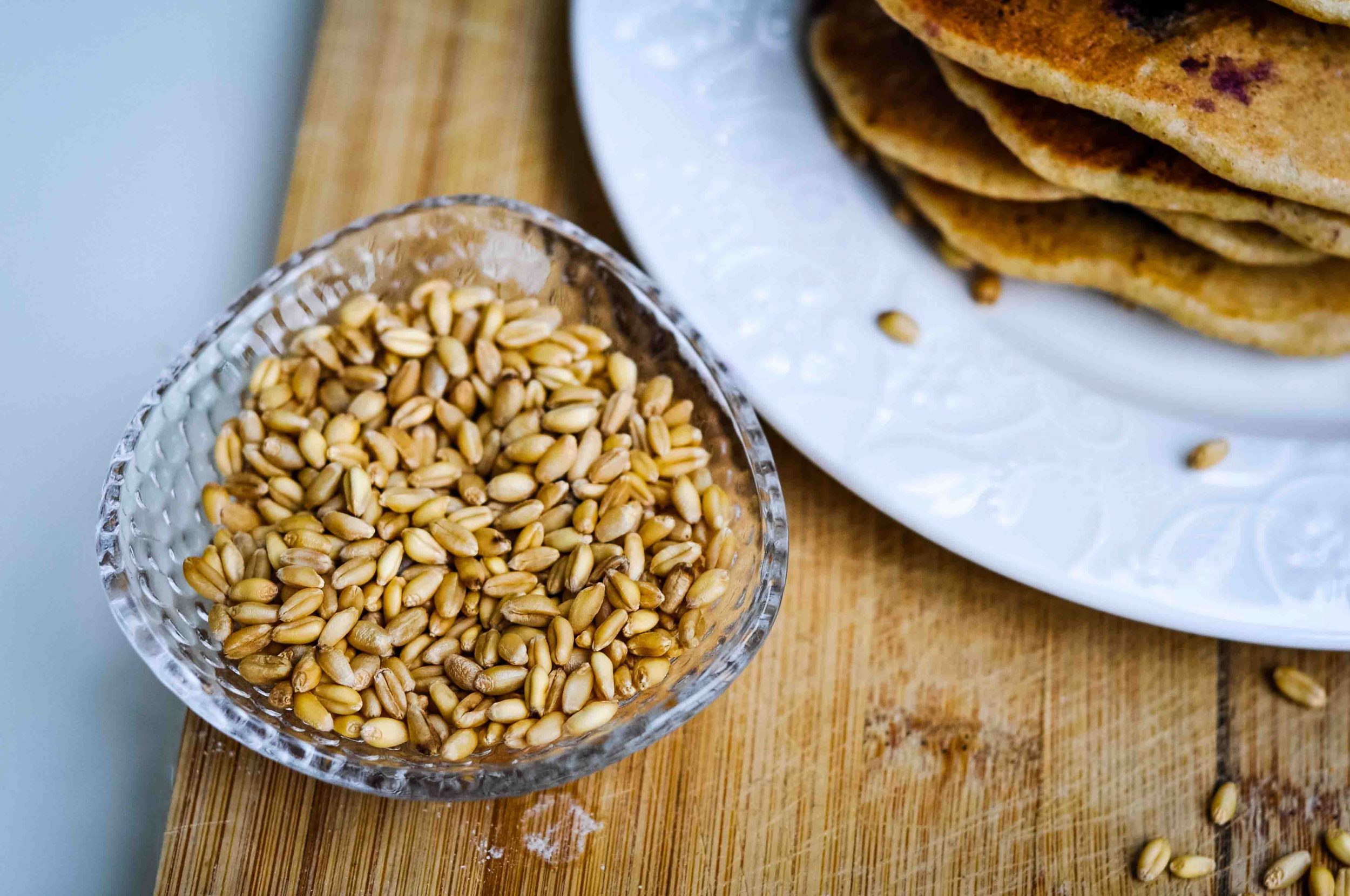 I've also started grinding my own flour (whole wheat berries pictured above), which has so many benefits I could talk your ear off about it! Basically, fresh ground flour has TONS more nutrients (especially vitamin E) and tastes incredible compared to store bought flour. I highly recommend the Home Ground Flour Book by Sue Becker.
How to make fluffy sourdough oatmeal pancakes
These pancakes are so simple to make, and I love how nourishing they are! For optimal nutrition & fluffier pancakes, mix up the oatmeal & sourdough starter mixture the night before.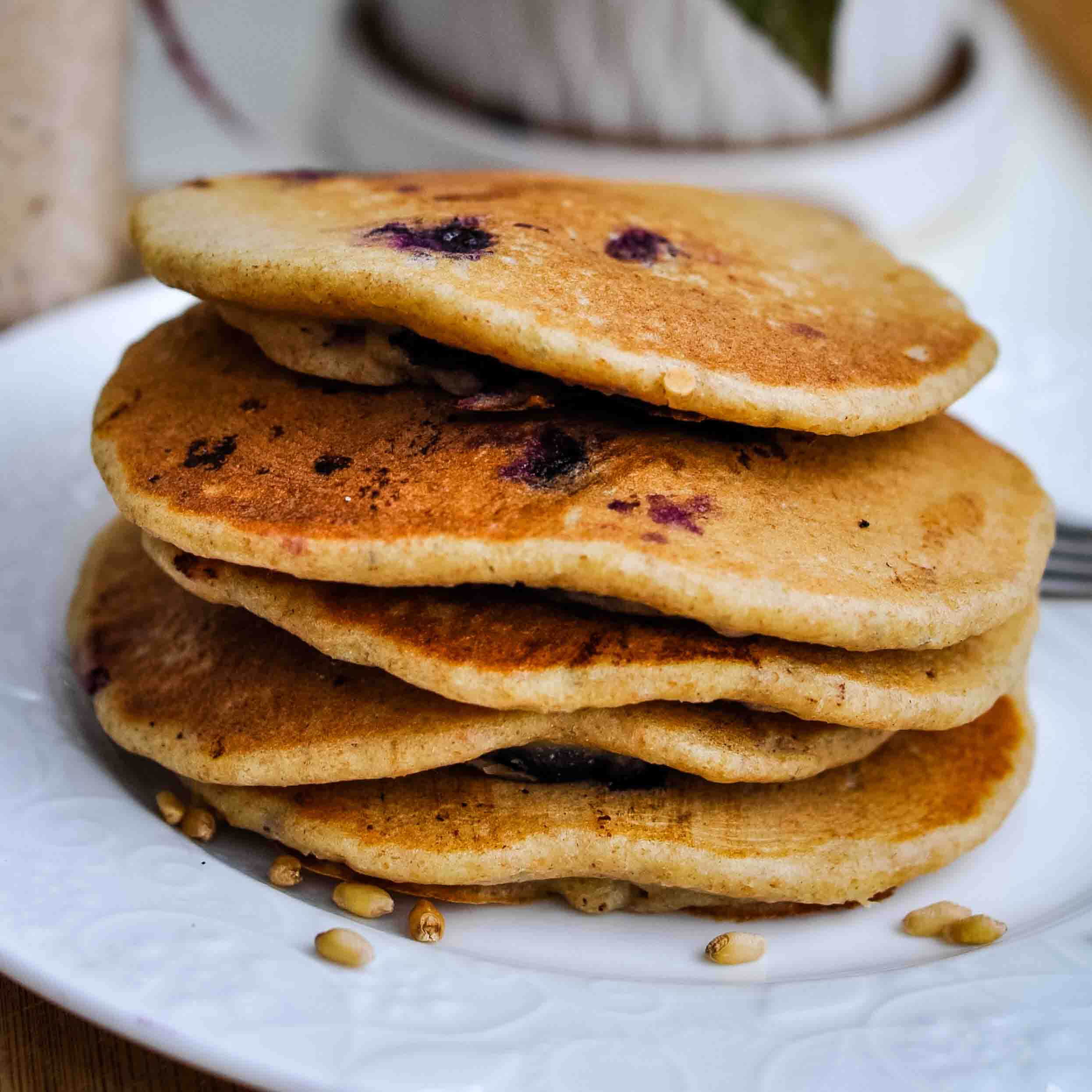 Allow to soak & the batter will rise and get bubbly – this indicates the starter is doing it's thing & pre-digesting the grains.
In a large bowl, mix together sourdough starter, whole wheat or buckwheat flour, and oatmeal with liquid of your choice – kefir, dairy or non dairy milk, or plain water.
Mix thoroughly and allow to sit on the counter for 8-12 hours (overnight). In the morning, the batter will look a bit bubbly and partially risen.
When you're ready to cook the pancakes, preheat your skillet or griddle. To the batter, add eggs, granulated sweetener/honey, vanilla, cinnamon, fruit (if using) and a bit more liquid if needed to reach a pancake batter consistency. Whisk everything together thoroughly (you may want to use a stand or electric mixer for this).
No rising agents like baking powder/baking soda are necessary, since the starter gives these pancakes just the right amount of rise. However, I still like adding a tablespoon or so of baking powder because it adds a wonderful tender, soft texture to the pancakes.
Cook for several minutes until bubbles start to form and pop, then flip and cook until underside is golden brown. Serve warm with maple syrup and butter, or toppings of your choice.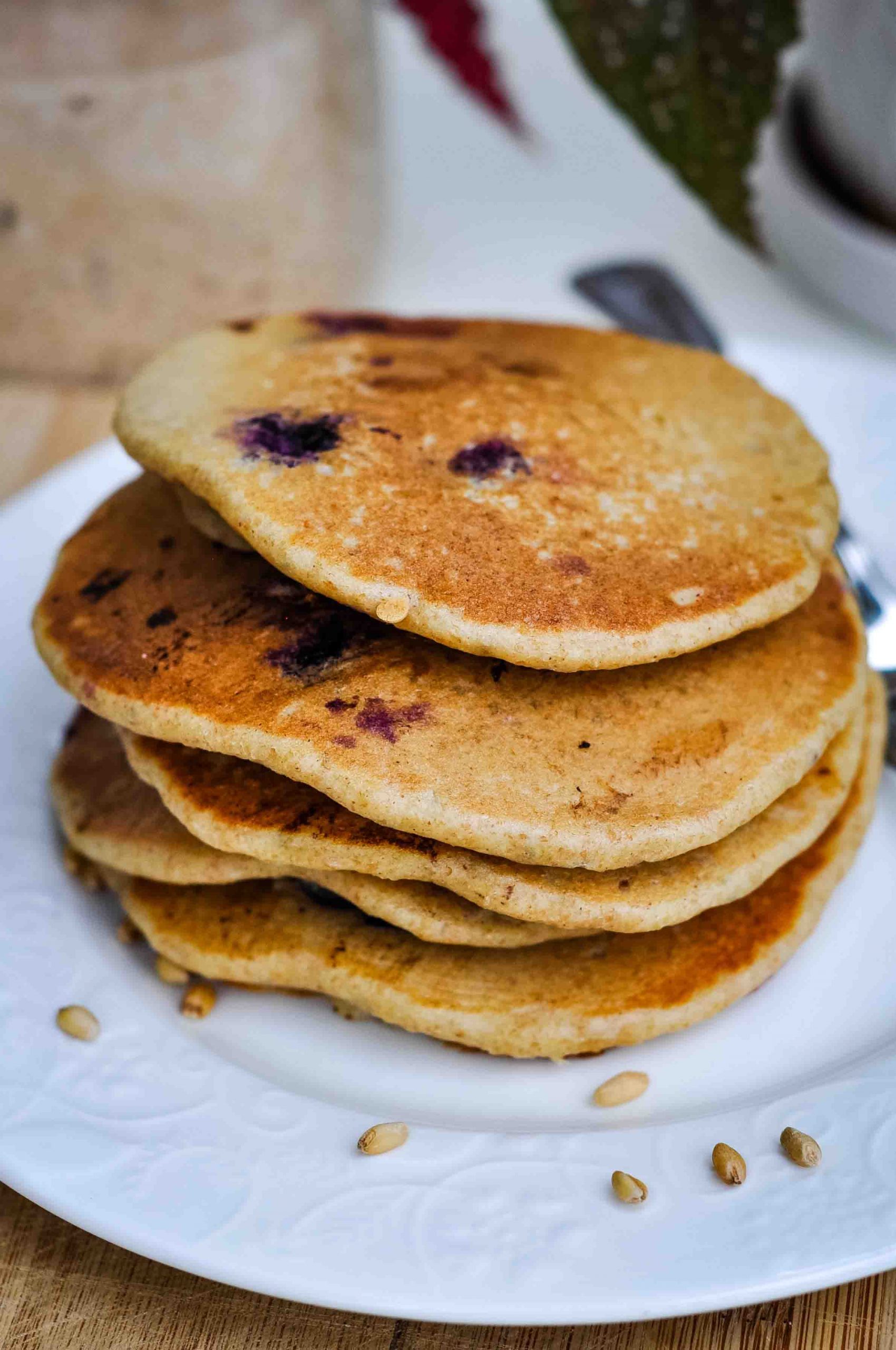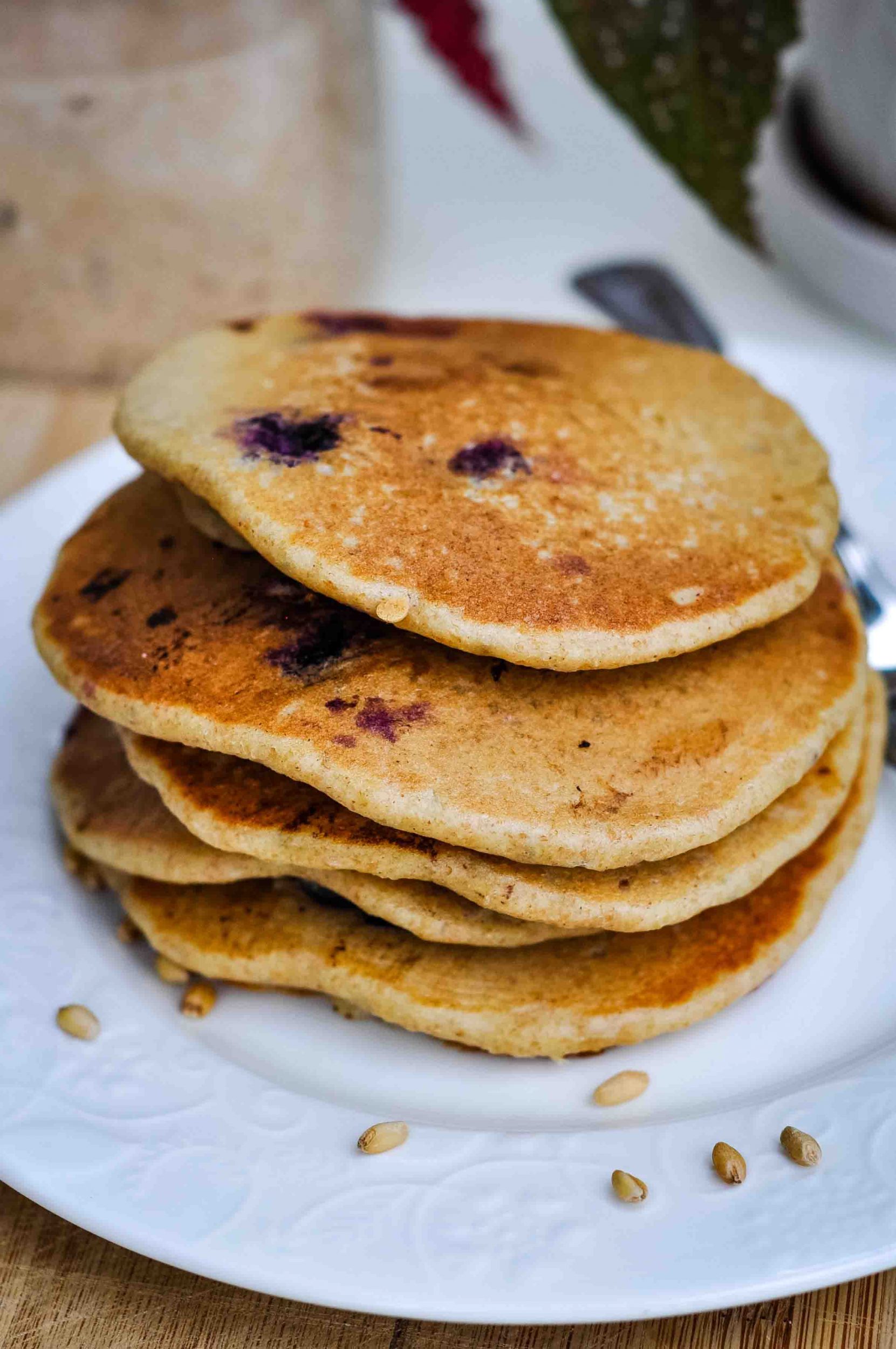 Sourdough oatmeal pancakes tips & recipe variations
Be creative with the grains you use in these pancakes. Other options besides whole wheat sourdough pancakes include rye, buckwheat, or spelt.
The recipe calls for a 1:3 ratio of flour to oats. You can vary the ratios here – use more or less flour or oatmeal to suit your tastes.
You can use old fashioned rolled oats or quick cook. I like quick oats since they're ground into smaller pieces, which in my opinion makes for a nicer texture in the finished pancakes.
We love adding fresh blueberries to this pancake batter! You can try any fresh fruit you have on hand, or even chocolate chips. Yum.
Try melted butter instead of coconut oil in the batter.
Mash bananas and add to the batter to make sourdough banana pancakes!
Make sure the skillet is nice and hot before adding pancakes. Batter can be slightly lumpy – no need to over mix.
For soaking the oat/starter mix, I like using discarded milk from storing my kefir grains. You can use any type of milk you like (including non dairy), or just water. Kefir is a good option too but might be too sour when combined with the sourdough starter.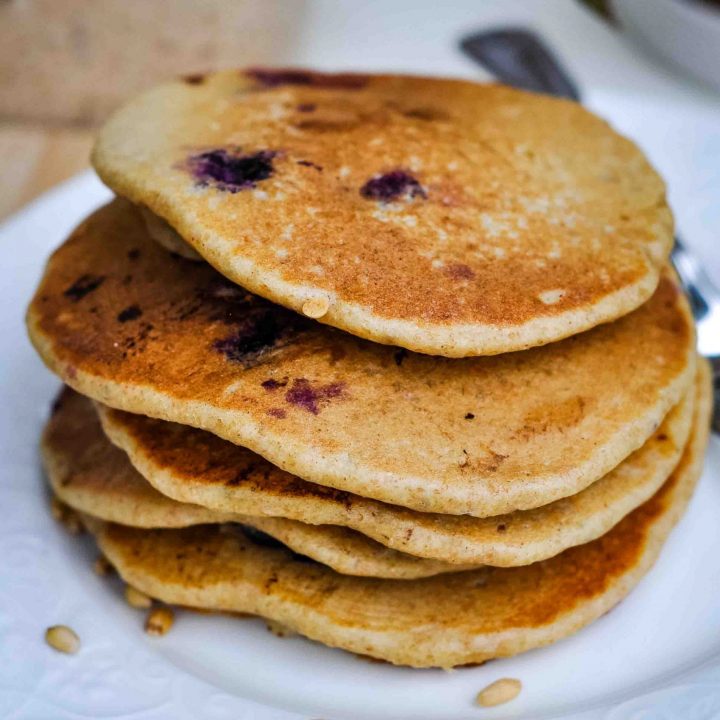 Yield: 30 pancakes
Sourdough Oatmeal Pancakes
These sourdough oatmeal pancakes are super tender & fluffy, made with hearty nourishing oats and fermented overnight with sourdough starter.
Ingredients
1 cup sourdough starter
1 cup whole wheat flour (or other variety like buckwheat or spelt)
3 cups rolled or quick cook oats
3 cups dairy or non-dairy milk or water (for soaking), plus more to thin batter
1/2 cup coconut oil, melted
3 Tbsp. organic sugar, honey, or granulated sweetener of choice
2 eggs
1 tsp. vanilla extract
1 tsp. cinnamon
1 Tbsp. baking powder (optional)*
Fresh fruit to add to batter (optional)
Instructions
In a large bowl, combine sourdough starter, flour, oatmeal, and liquid of choice (milk or water) in a large bowl. You may need to add more or less liquid - simply add enough to moisten all the dry ingredients. Stir thoroughly, cover, and allow to ferment overnight.
When ready to cook, heat your skillet or griddle. To the pancake batter, add eggs, granulated sweetener (or honey), coconut oil, vanilla, cinnamon, baking powder, and extra milk to thin the batter to your desired consistency. Mix well with a stand or electric mixer. Batter should be about the consistency of a thick milkshake.
Grease your skillet or griddle, and cook for several minutes until bubbles begin to form and pop on the surface. Flip and cook for several more minutes until underside is golden brown.
Serve warm with butter and maple syrup or toppings of your choice.
Notes
* The baking powder is optional, but it adds a wonderful soft and tender texture to the pancakes.
Recommended Products
As an Amazon Associate and member of other affiliate programs, I earn from qualifying purchases.
Nutrition Information:
Yield:
15
Serving Size:
1
Amount Per Serving:
Calories: 187
Total Fat: 9g
Saturated Fat: 7g
Trans Fat: 0g
Unsaturated Fat: 2g
Cholesterol: 29mg
Sodium: 34mg
Carbohydrates: 22g
Fiber: 2g
Sugar: 7g
Protein: 5g
PIN IT!