If you want to create a fun "green eggs & ham" breakfast for Dr. Seuss week, or festive green eggs for St. Patrick's Day, these spinach green eggs are perfect! They are 100% real food ingredients with ZERO food coloring! Nutritious, festive, & fun!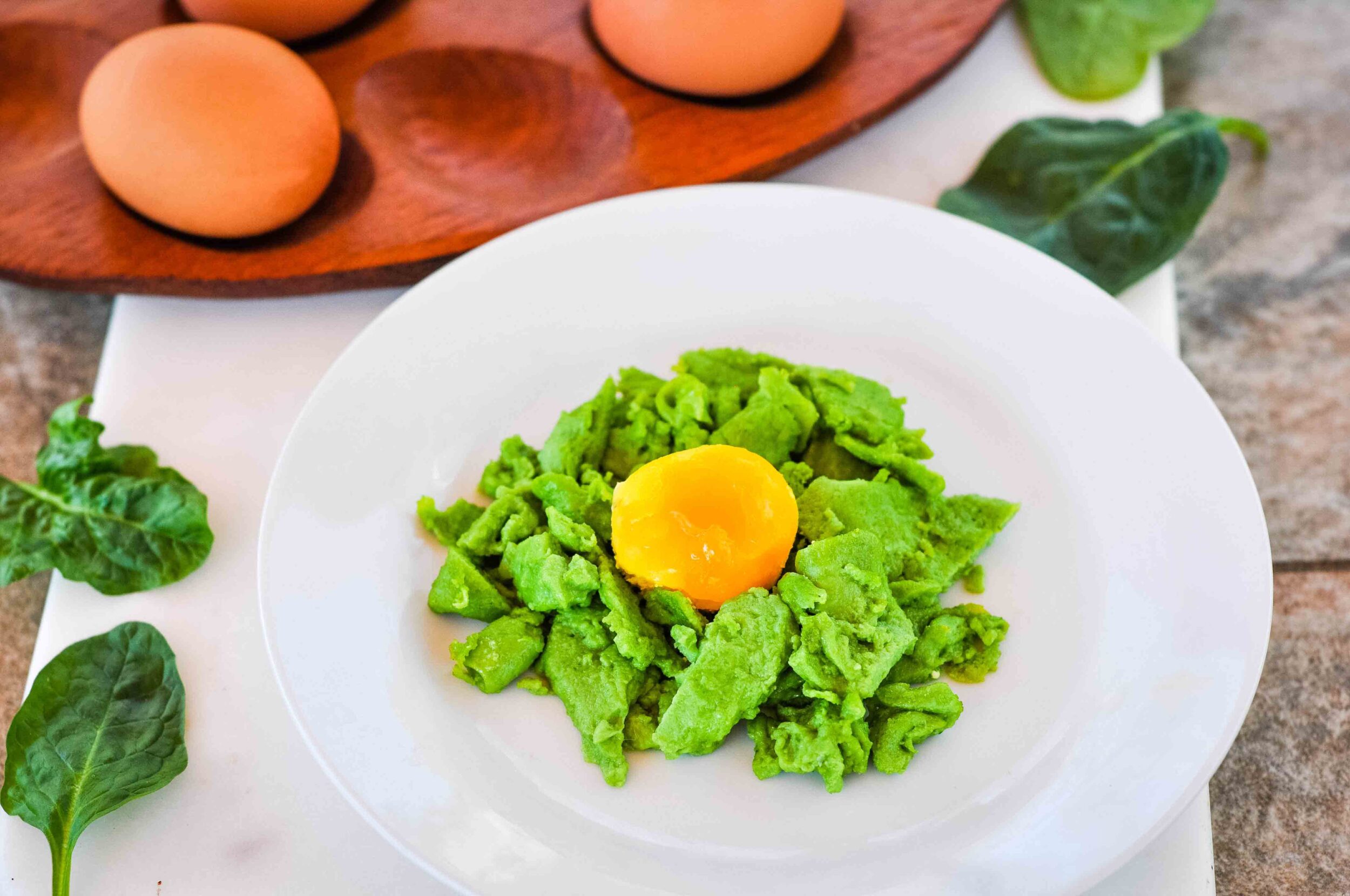 Megan at Mama of Whole Littles is sharing this brilliant idea with us today… be sure to give her a follow on Instagram for more ideas like this!
Green Eggs & Ham for Dr. Seuss Week or St. Patrick's Day!
Kicking off this month with some 💚 Green Eggs & Ham 💚 that is perfect for all things green this month! This green eggs recipe is perfect for celebrating Read Across America Day or Dr. Seuss week at your child's school… AND it gets some veggies in!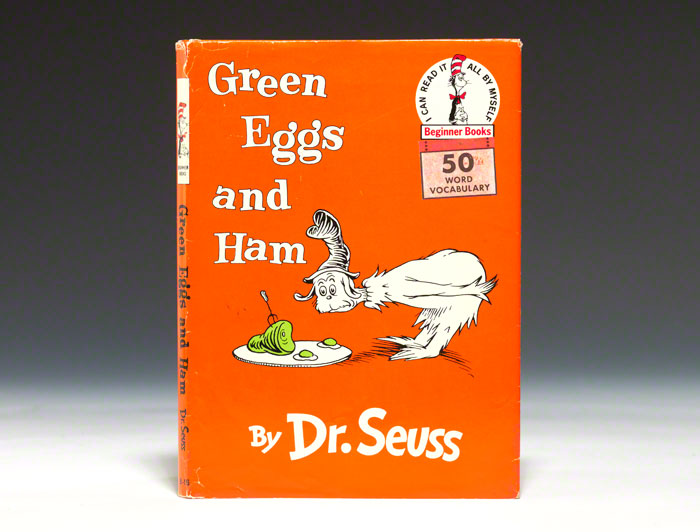 You do not like them. So you say.

Try them! Try them! And you may.

Try them and you may, I say.

Sam! If you let me be,

I will try them. You will see.

Say! I like green eggs and ham!

I do! I like them, Sam-I-Am!

– Dr. Seuss, Green Eggs & Ham
All you need is a few eggs, a handful of spinach, and a blender to create a memorable Sam-I-Am breakfast for your child!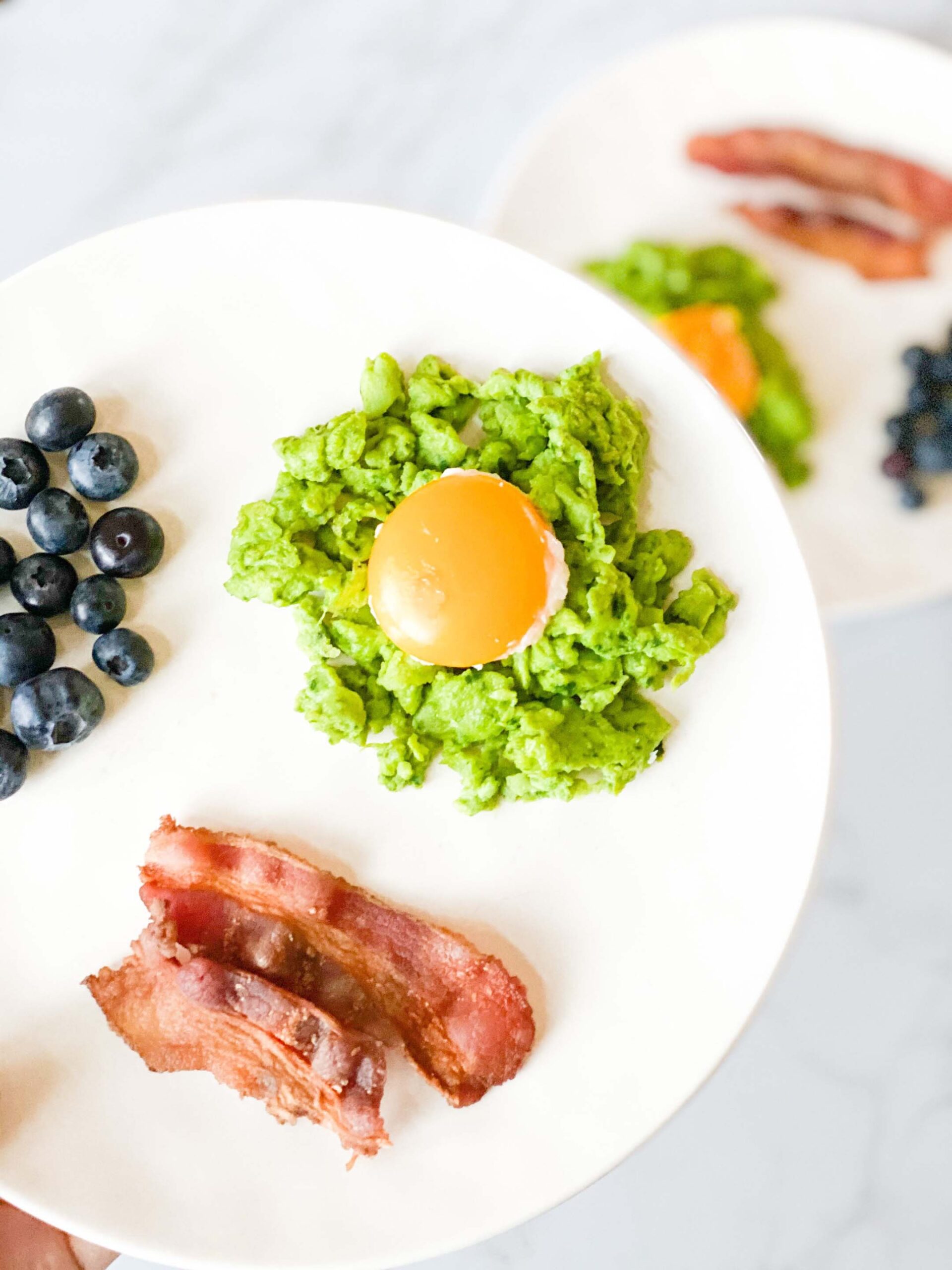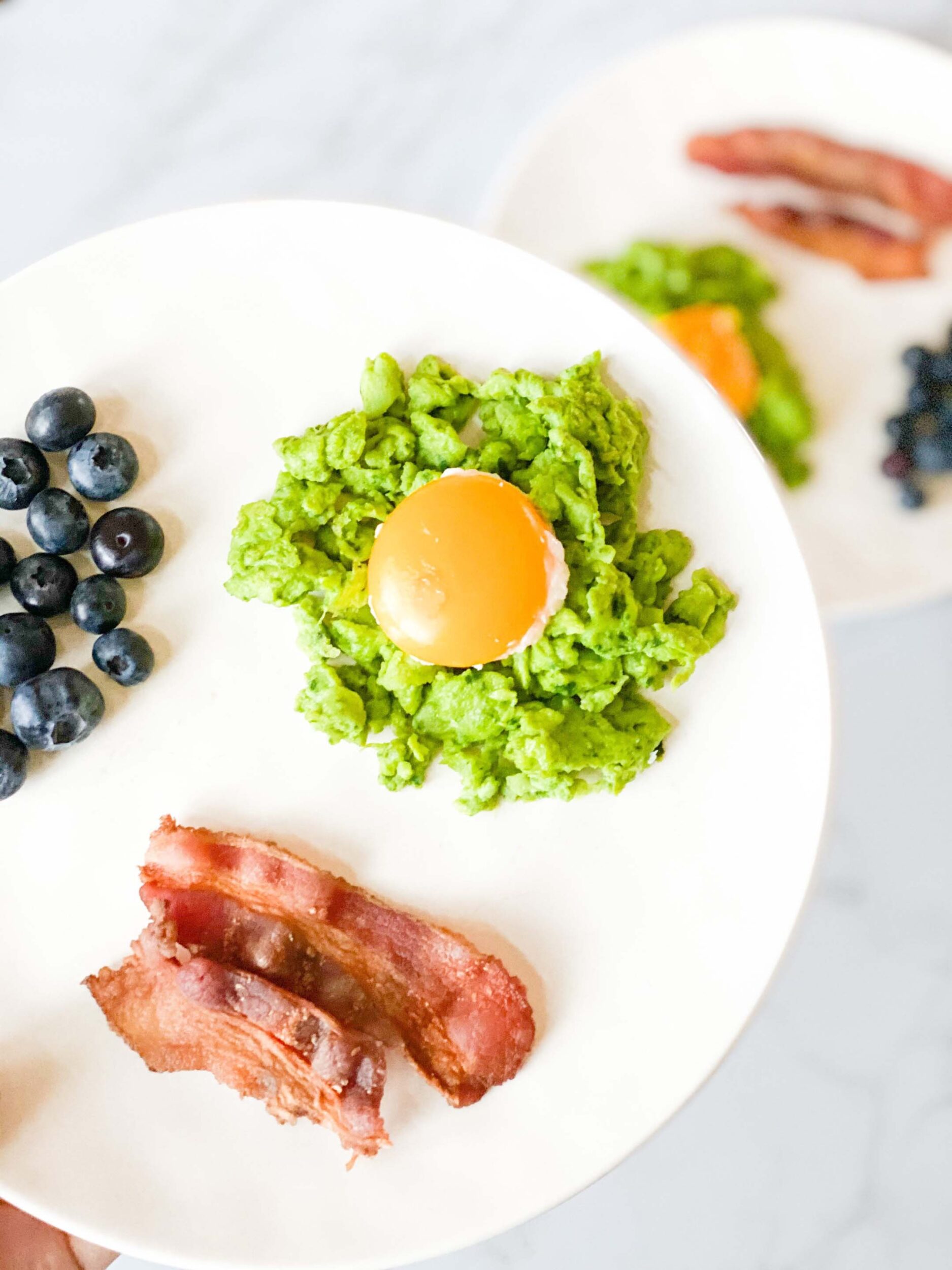 Why use spinach instead of green food coloring?
As fun as they might seem, food dyes are far from harmless.
According to Cleveland Clinic, food dyes are linked to hyperactivity, hives & asthma, behavioral changes, and even possible tumor growth. Lots of parents notice changes in their child's behavior when consuming food colorings & dyes.
Thankfully, there are lots of natural alternatives. Here's a cool guide on how to make a whole rainbow of natural food dyes from whole food ingredients.
For this recipe, blending spinach with the eggs creates a super bright fun color, plus you get the added nutrition from the spinach such as iron, vitamin A, vitamin C, and calcium.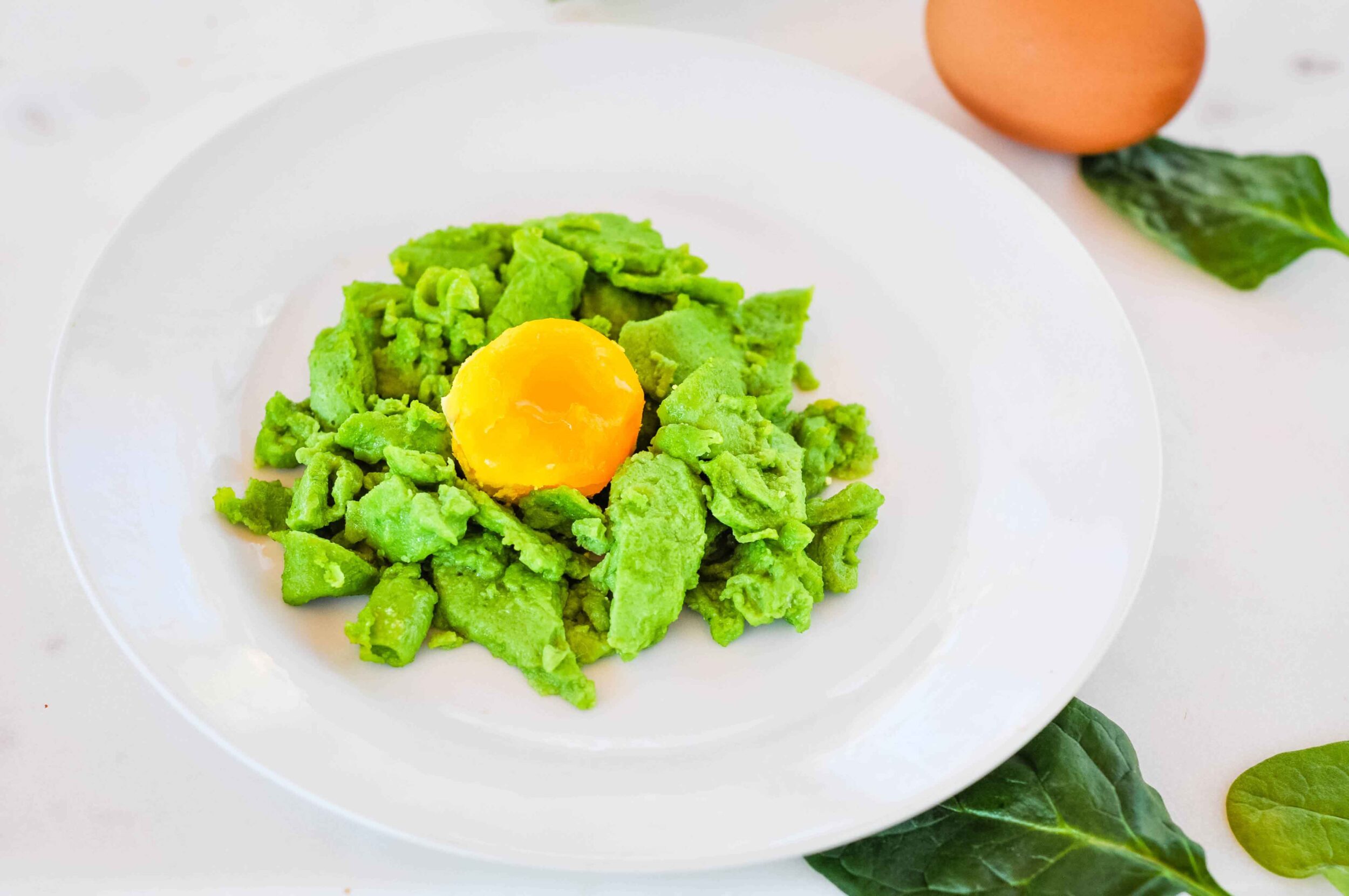 Why blend in the spinach?
My kids won't touch scrambled eggs with pieces of spinach in it, but they LOVE these green eggs with spinach blended in! Instead of little pieces/chunks of spinach in the eggs, blending the two together creates a seamless green liquid that can be easily scrambled.
Skip the artificial food coloring and make some FUN green eggs with me! 💚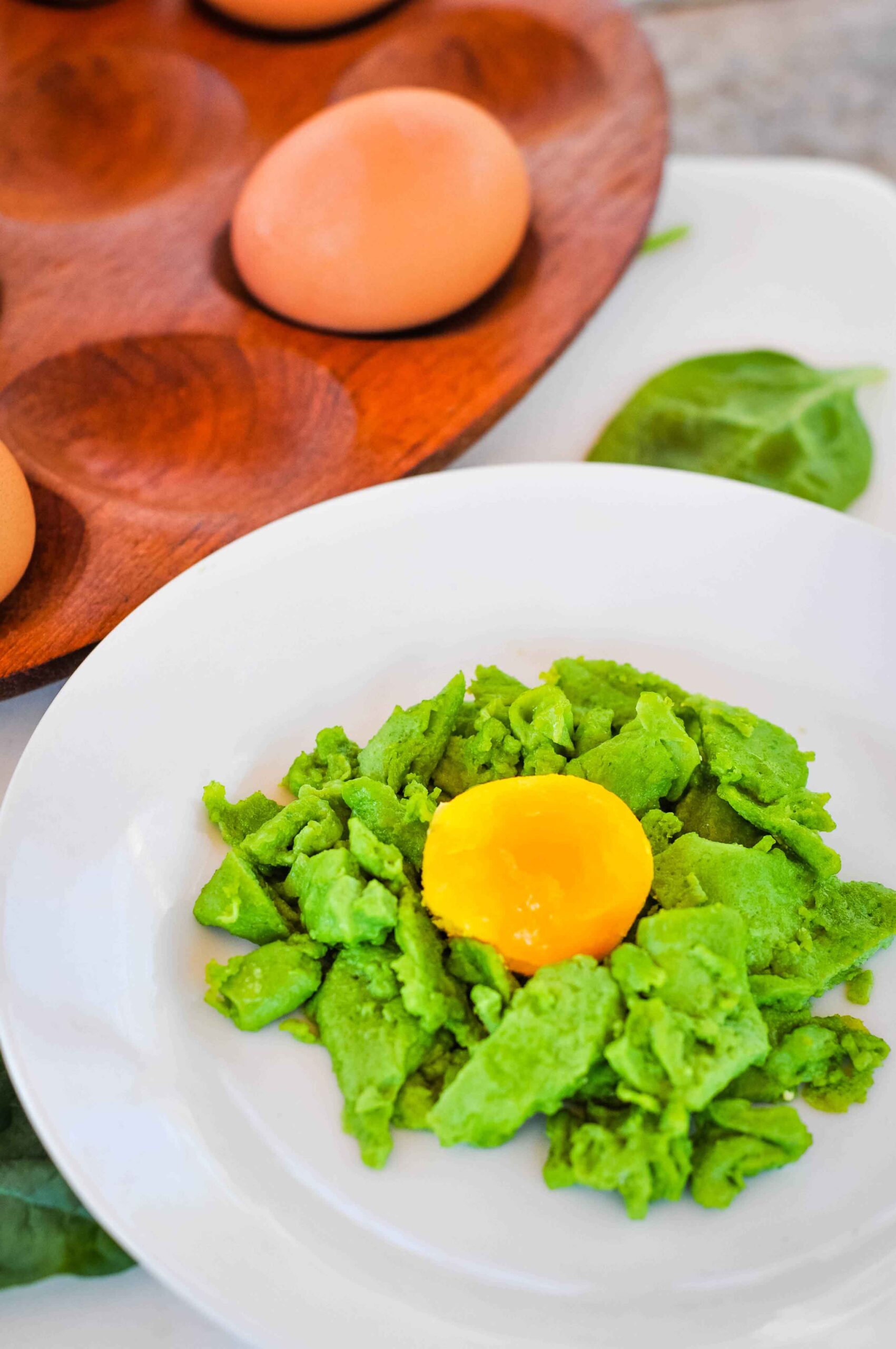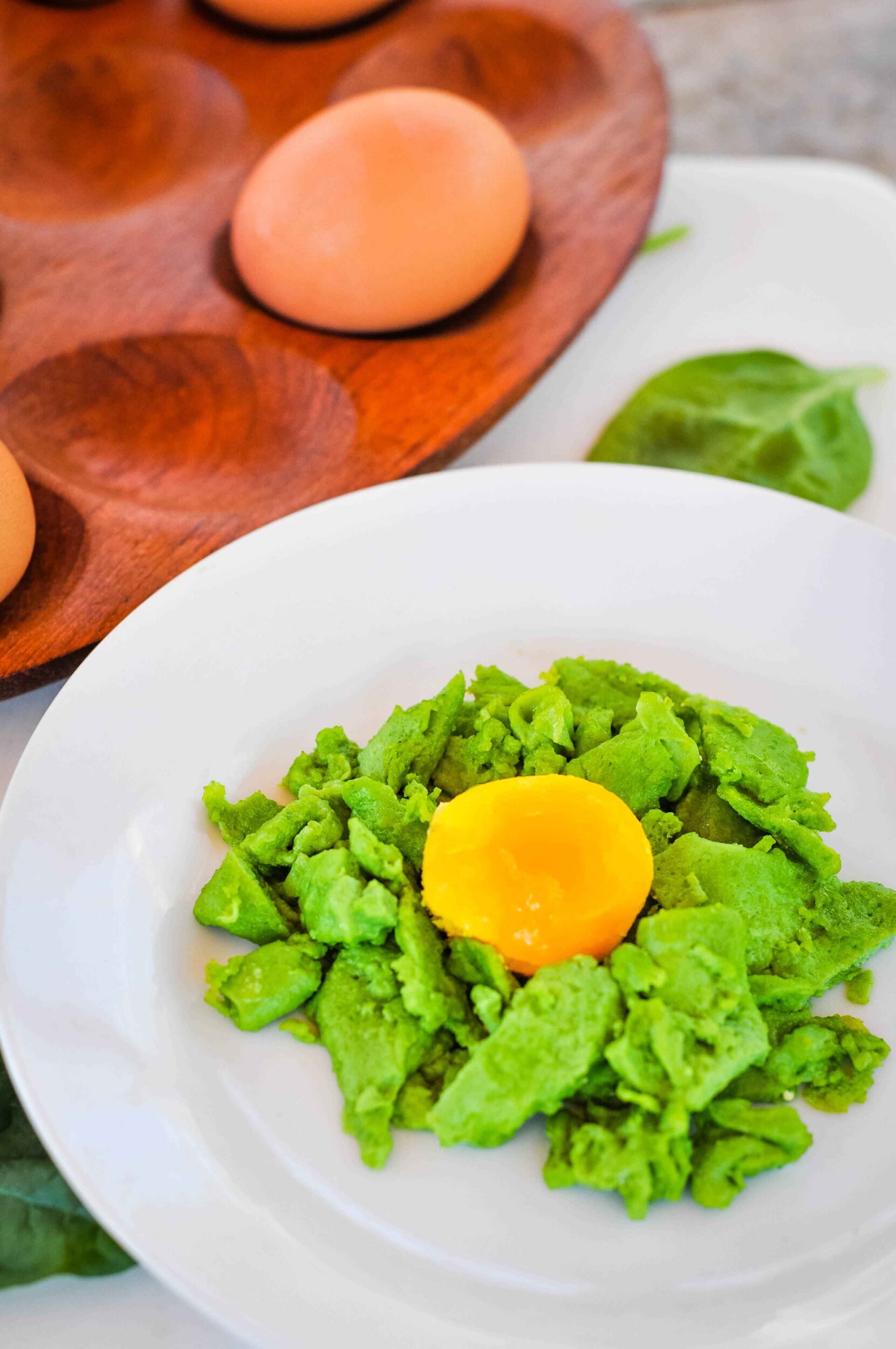 Does adding spinach change the taste?
The spinach adds a hint of earthy veggie taste, but it's very mild. Overall, these taste just like classic scrambled eggs. I just add a pinch of salt — you could add some shredded cheese to make them taste even better.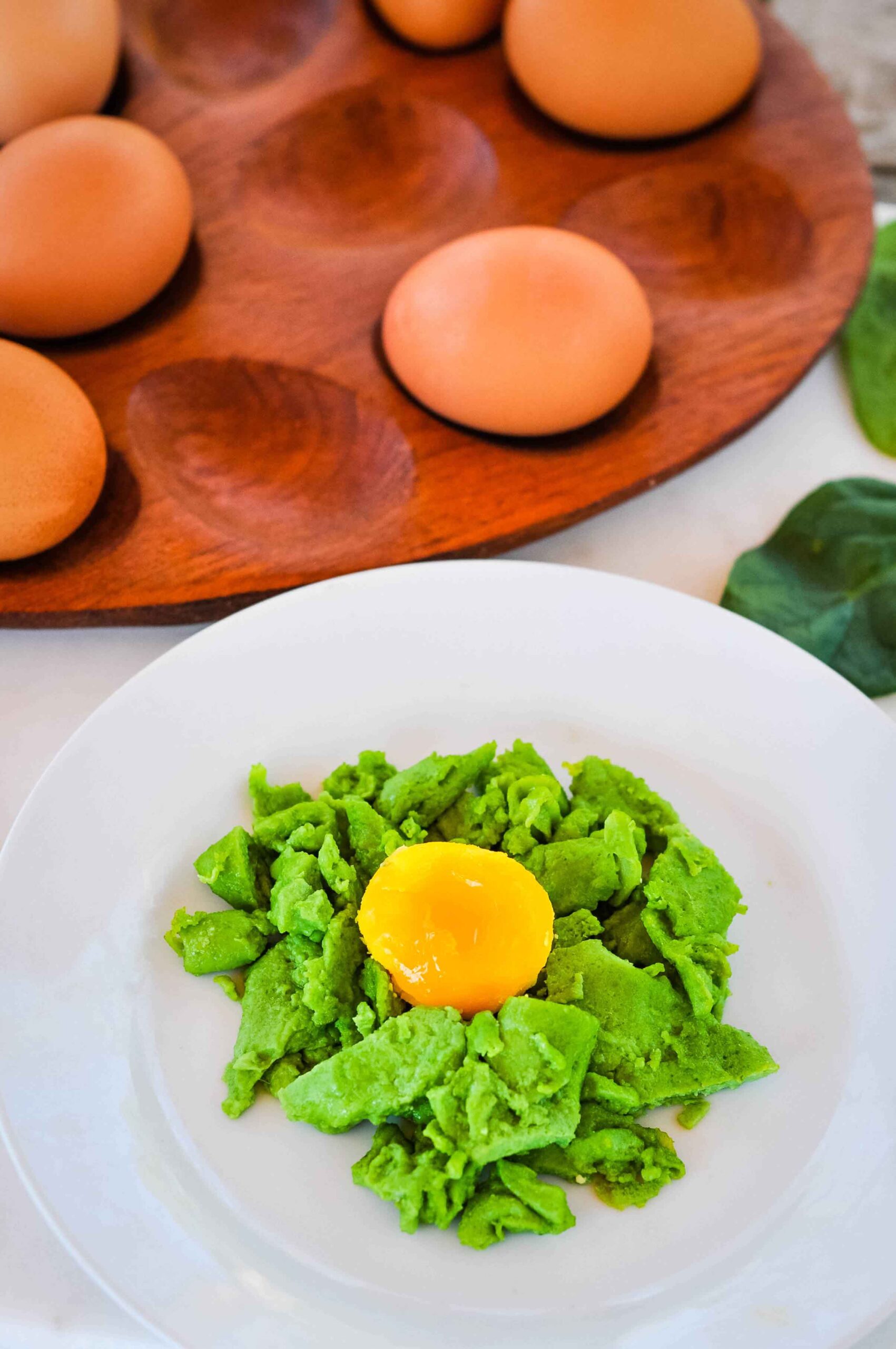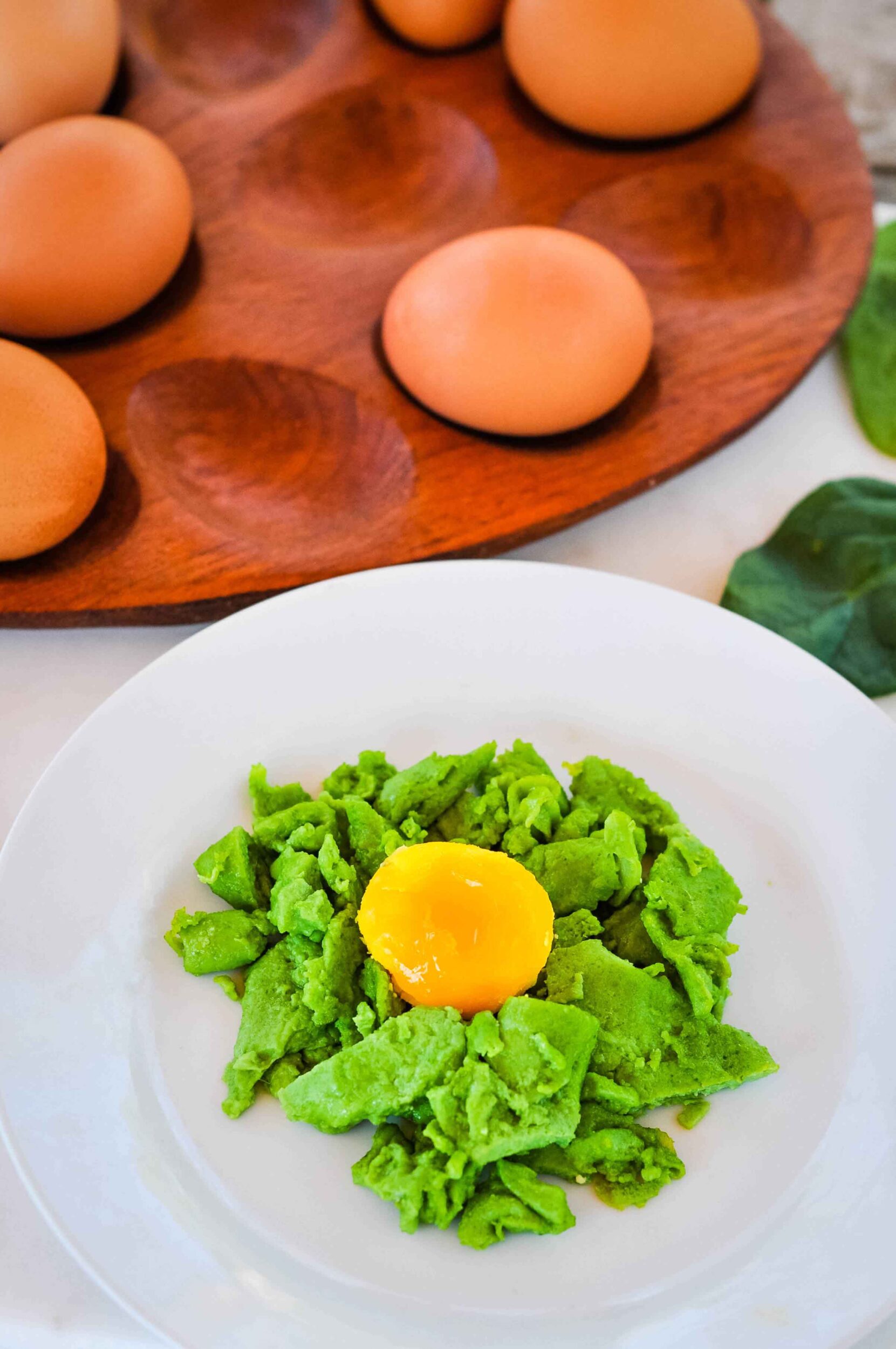 Cute egg yolk topping
To make this breakfast even more fun, I added this cute egg yolk topping to a pile of scrambled eggs. It kind of creates a "fried egg" look, quite quirky like something Dr. Seuss would have on his plate.
To do this, I made oven baked eggs. Simply grease a muffin tin and crack in a few eggs. Bake at 350° F for 10-12 minutes, until eggs are firm. Carefully cut around the yolk and separate it from the egg, then add it to the top of your green scrambled eggs!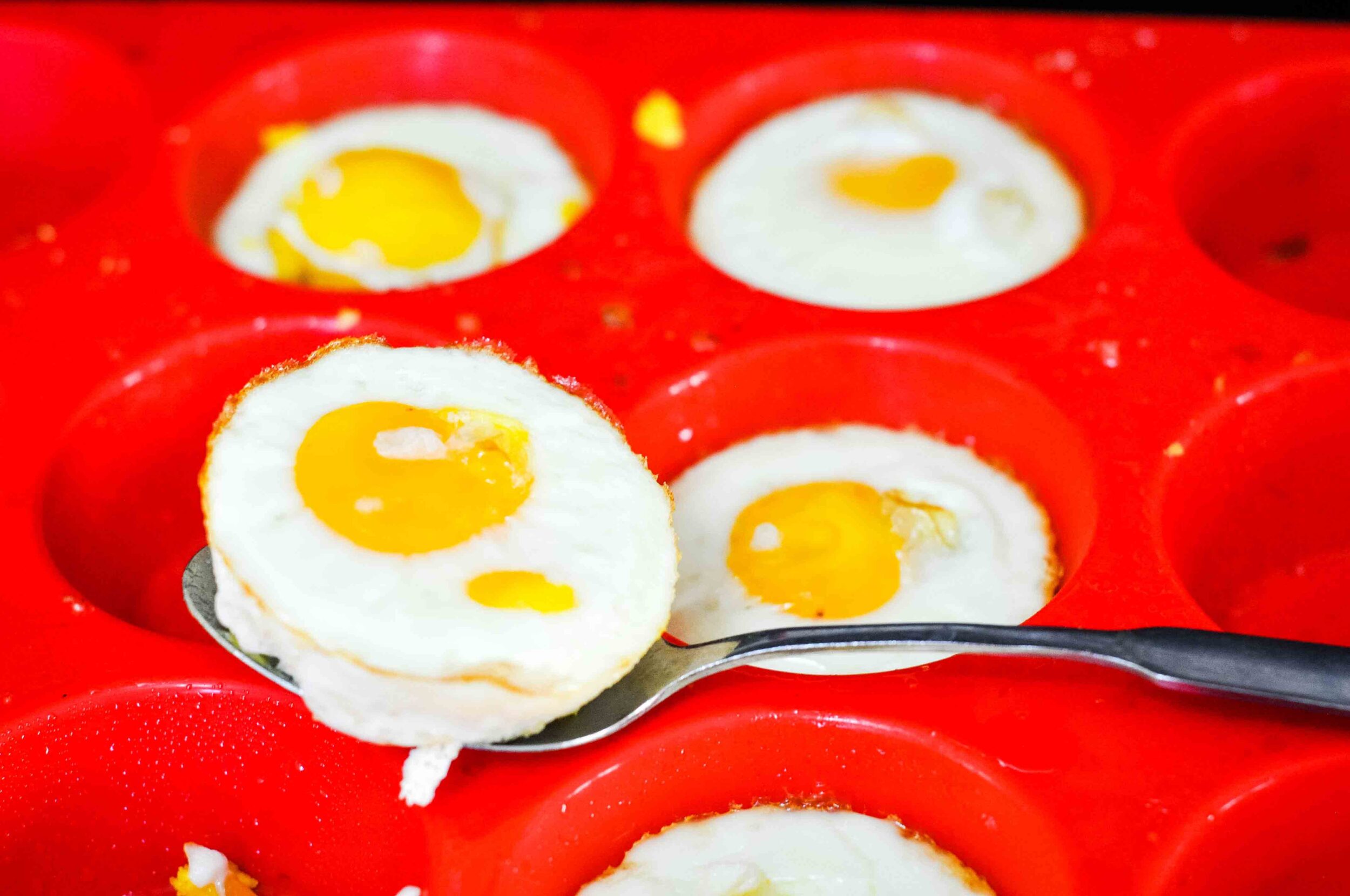 What kind of ham should I use?
I like buying pre-cooked, pre-sliced ham at the grocery store. You can also use your favorite bacon, as I'm doing today! (It still qualifies as ham, in my book.)
Just please, don't dye the ham with green food coloring like some recipes do. Ick. We're trying to avoid that, remember?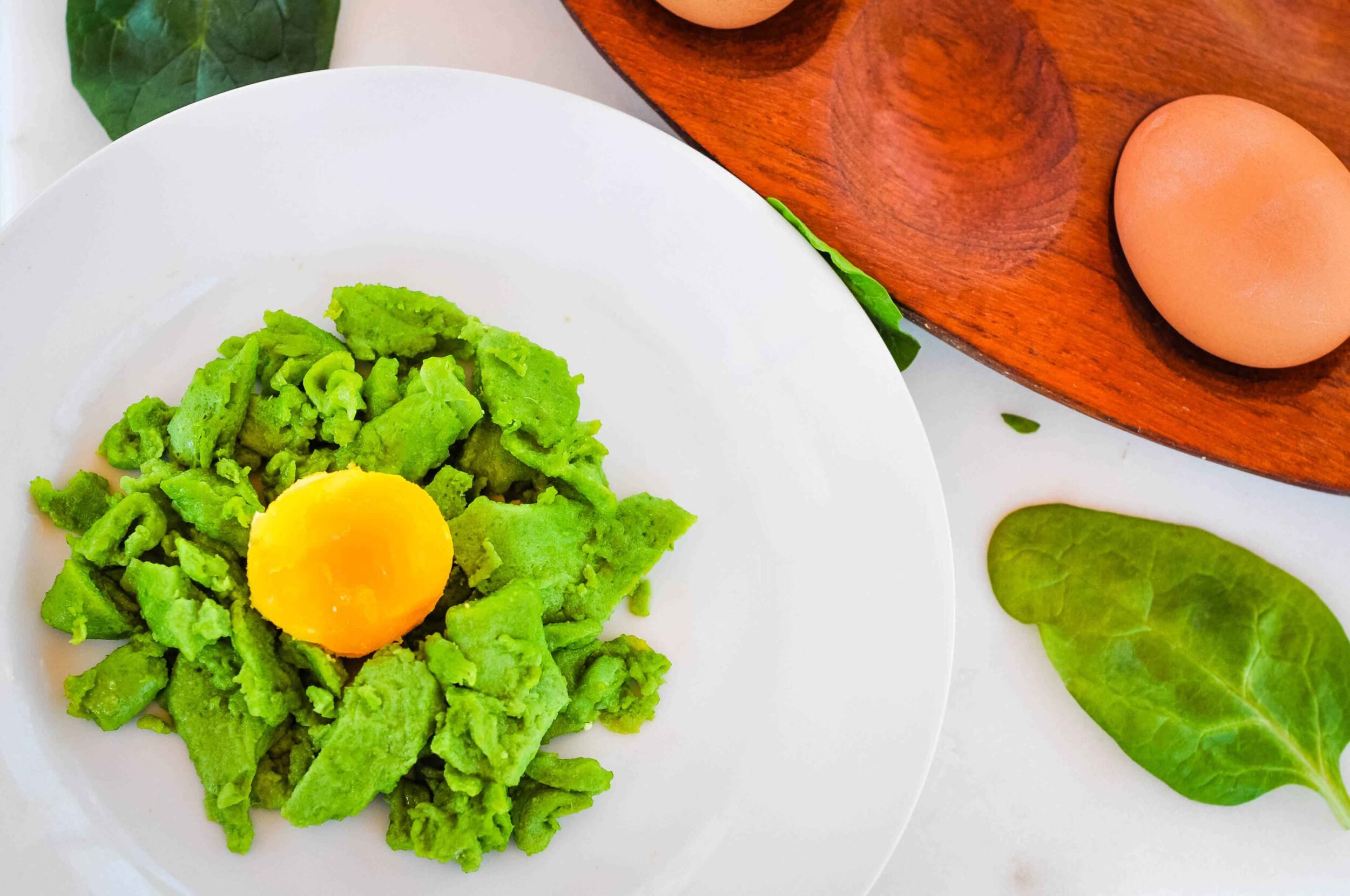 How to Make Green Eggs & Ham
This recipe is super simple and comes together in just minutes!
First, heat ham in the oven on 350° F in a small covered dish until hot, around 10-15 minutes. Or, cook your favorite bacon to your liking.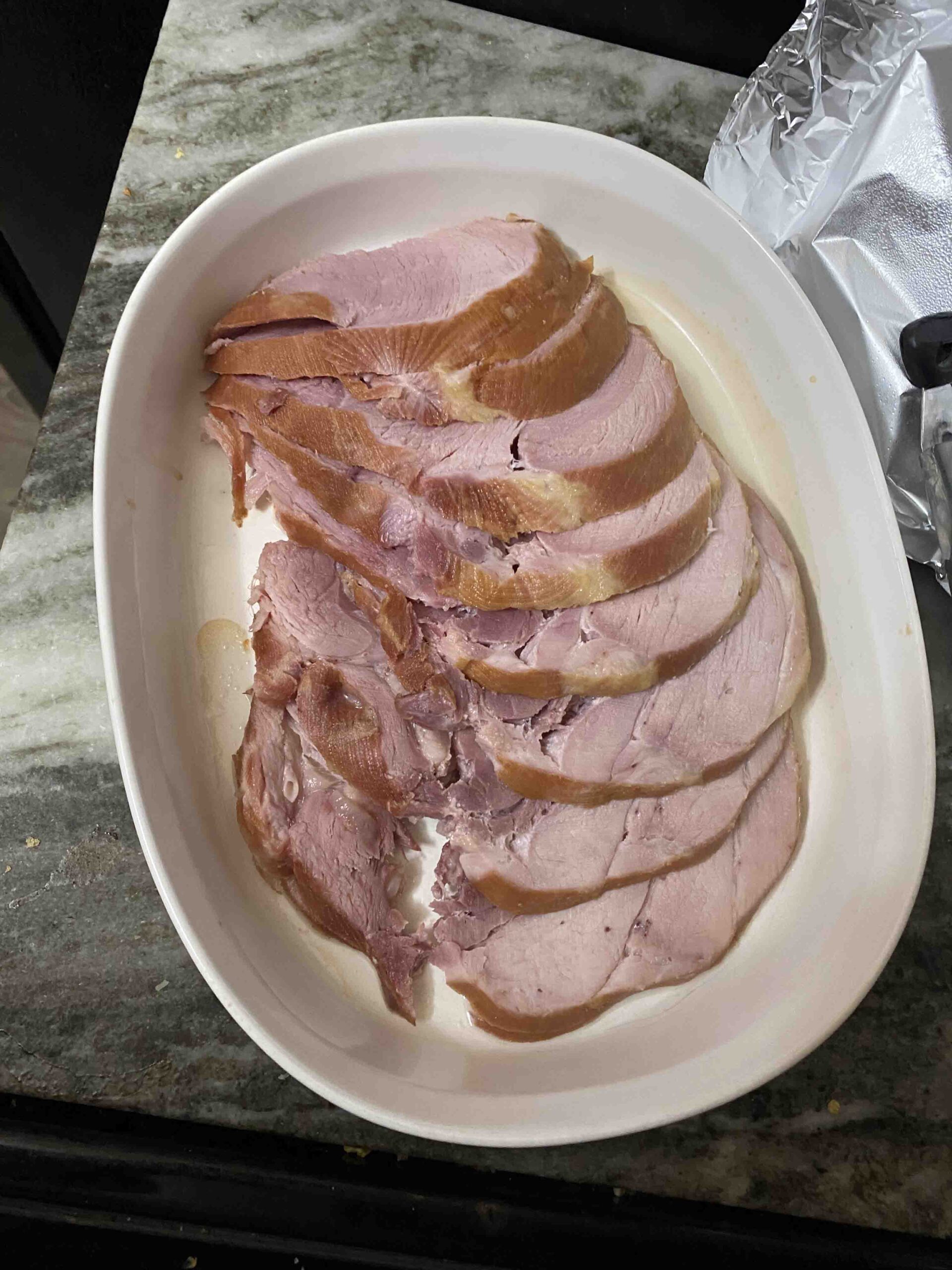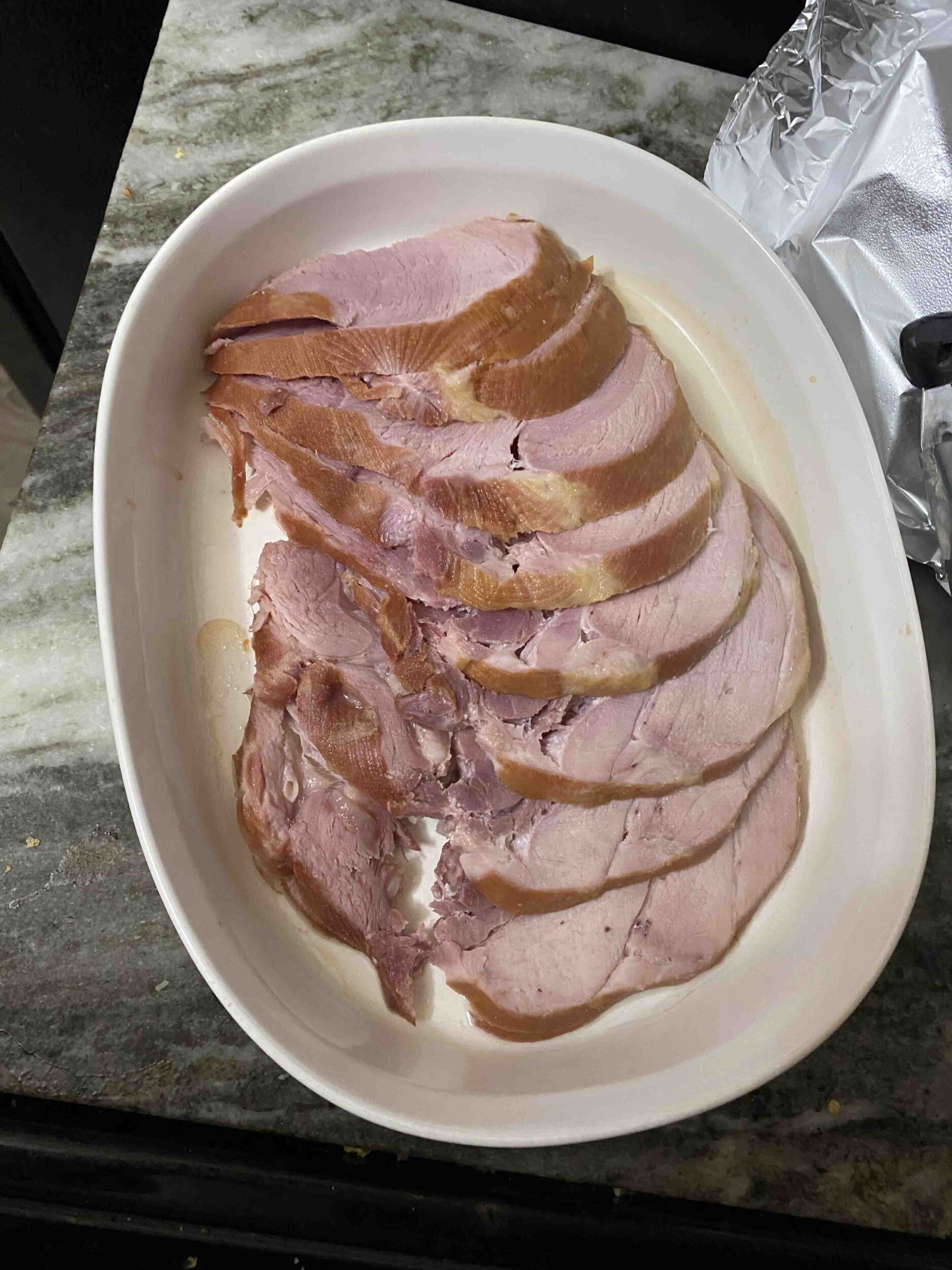 If using bacon, I like covering a baking pan in aluminum foil or parchment paper, arranging the bacon on top and baking at 400° F until crisp.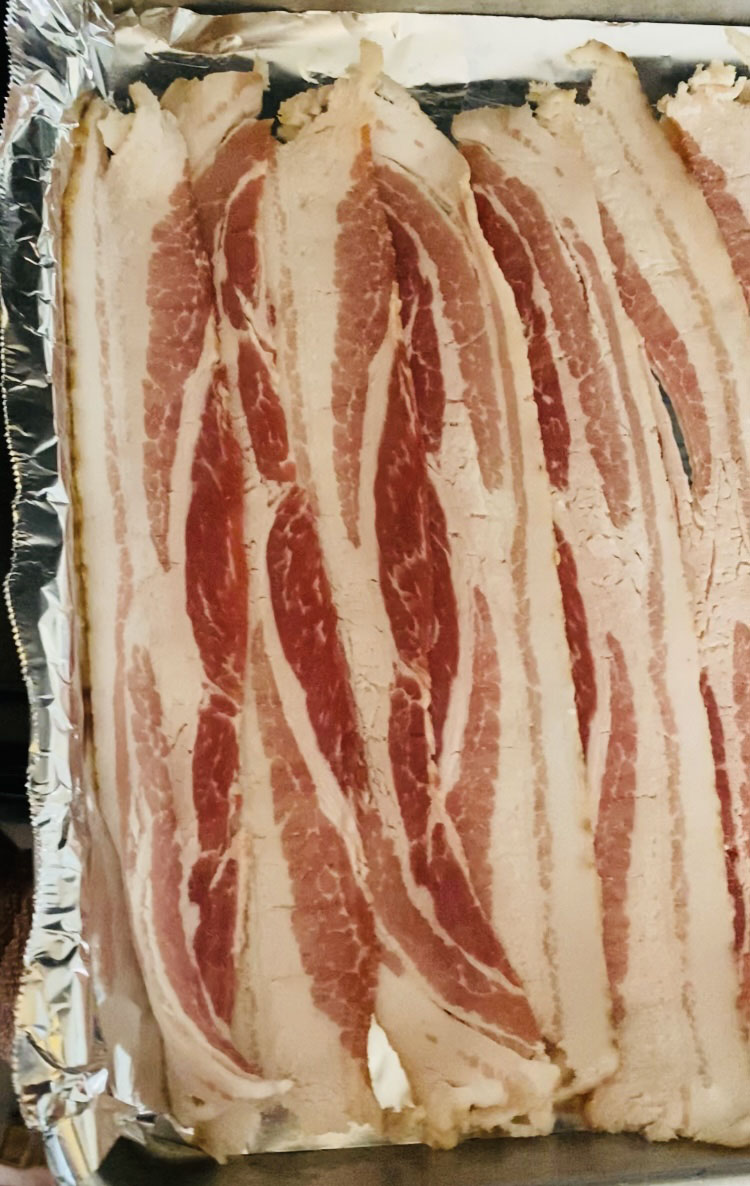 For the eggs, you will need: 2 eggs & a small handful of spinach per person.
Simply add the number of eggs you want to a blender along with a small handful (about 1/4 cup) of spinach per person.
For example, for my family of 4, I used 8 eggs and 1 cup of spinach. Blend the eggs and spinach in the blender on high for about a minute until the combination is totally smooth.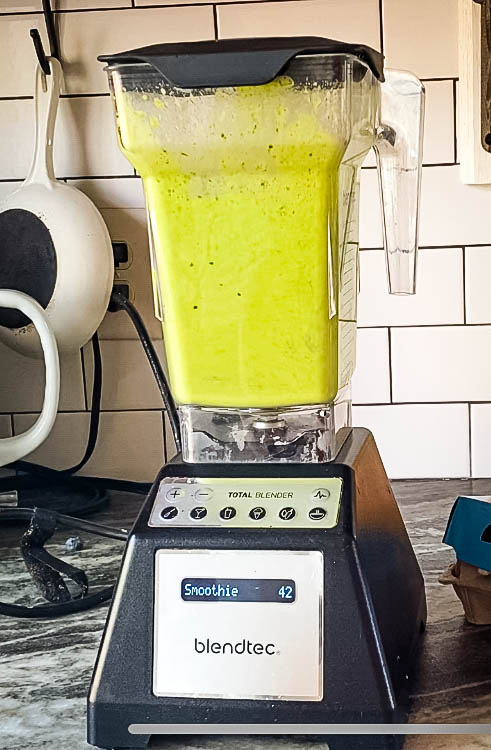 Meanwhile, heat a greased skillet over medium heat. When hot, pour in the egg mixture.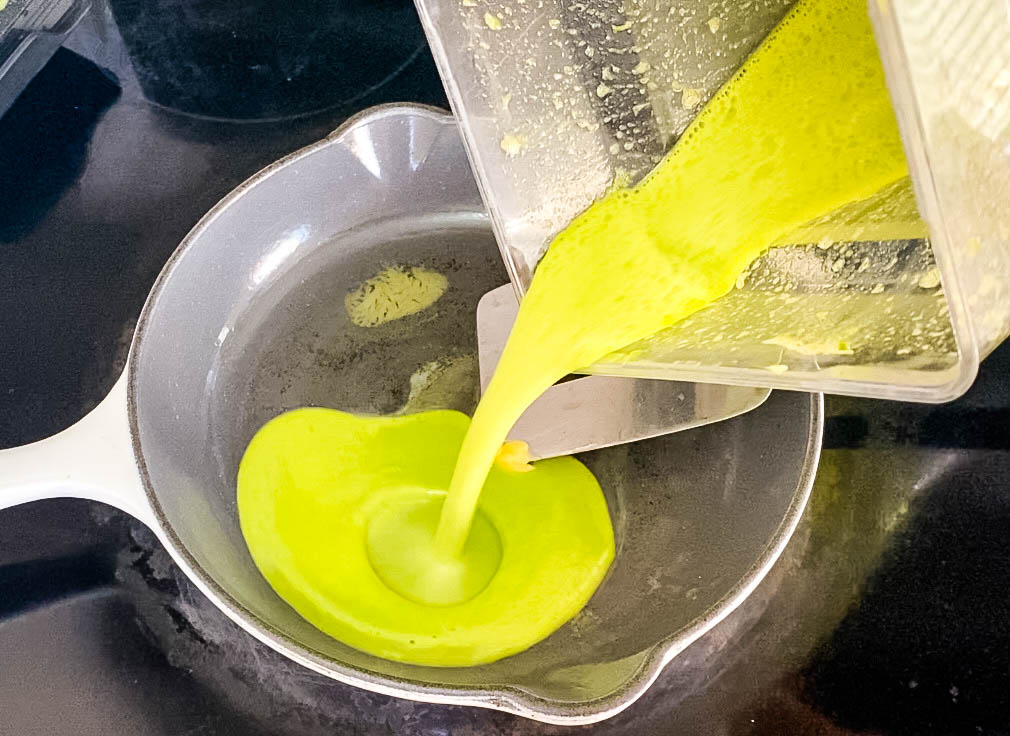 Cook 2-3 minutes on the stove, stirring occasionally. It's frothy from the blender, but this is ok. The eggs will turn out normal.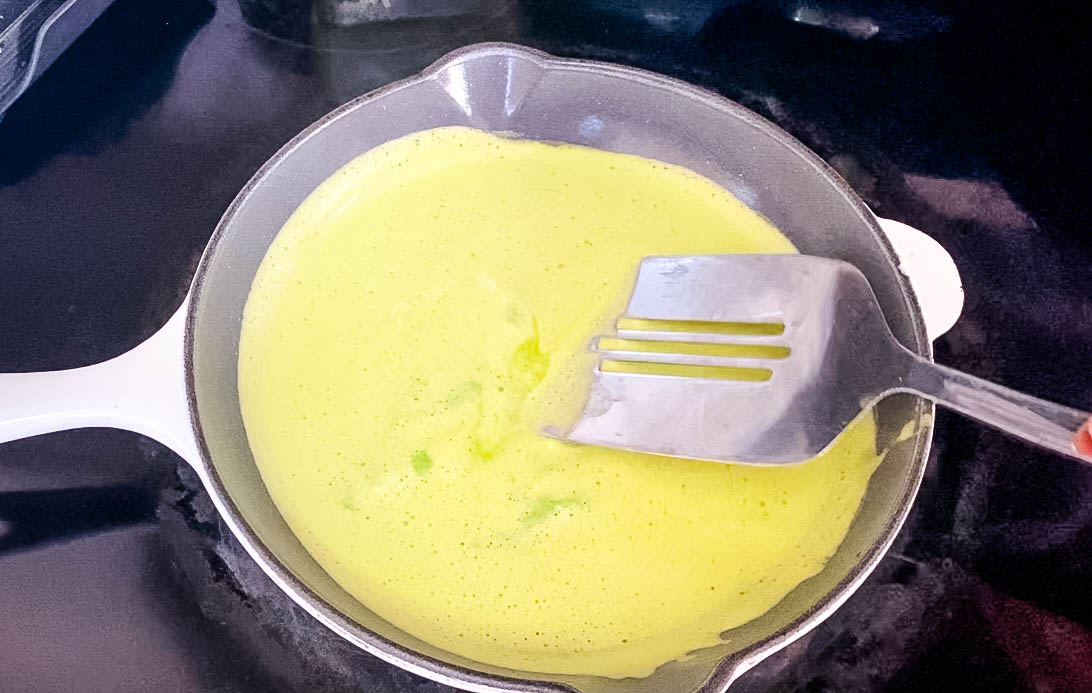 Remove from heat when eggs are cooked to your liking and fluffy! (Here are the details on how to make PERFECT scrambled eggs every time.)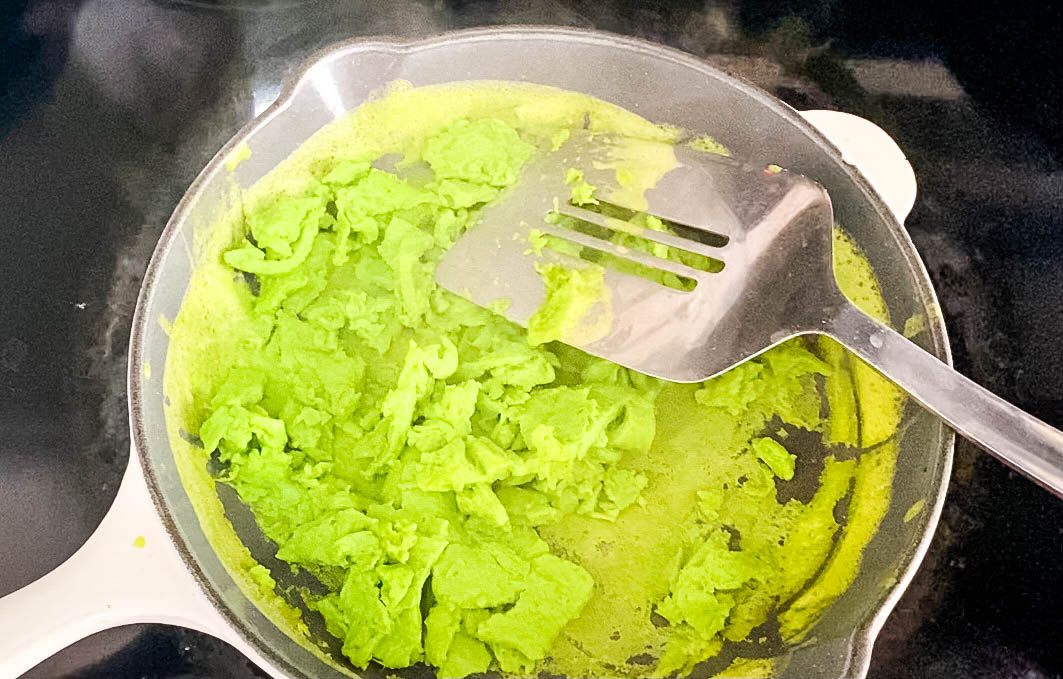 Served with fresh fruit like blueberries, baked egg yolk on top (optional), and your favorite ham or bacon 🥓💚 Or, try adding them to a tortilla wrap to make breakfast burritos!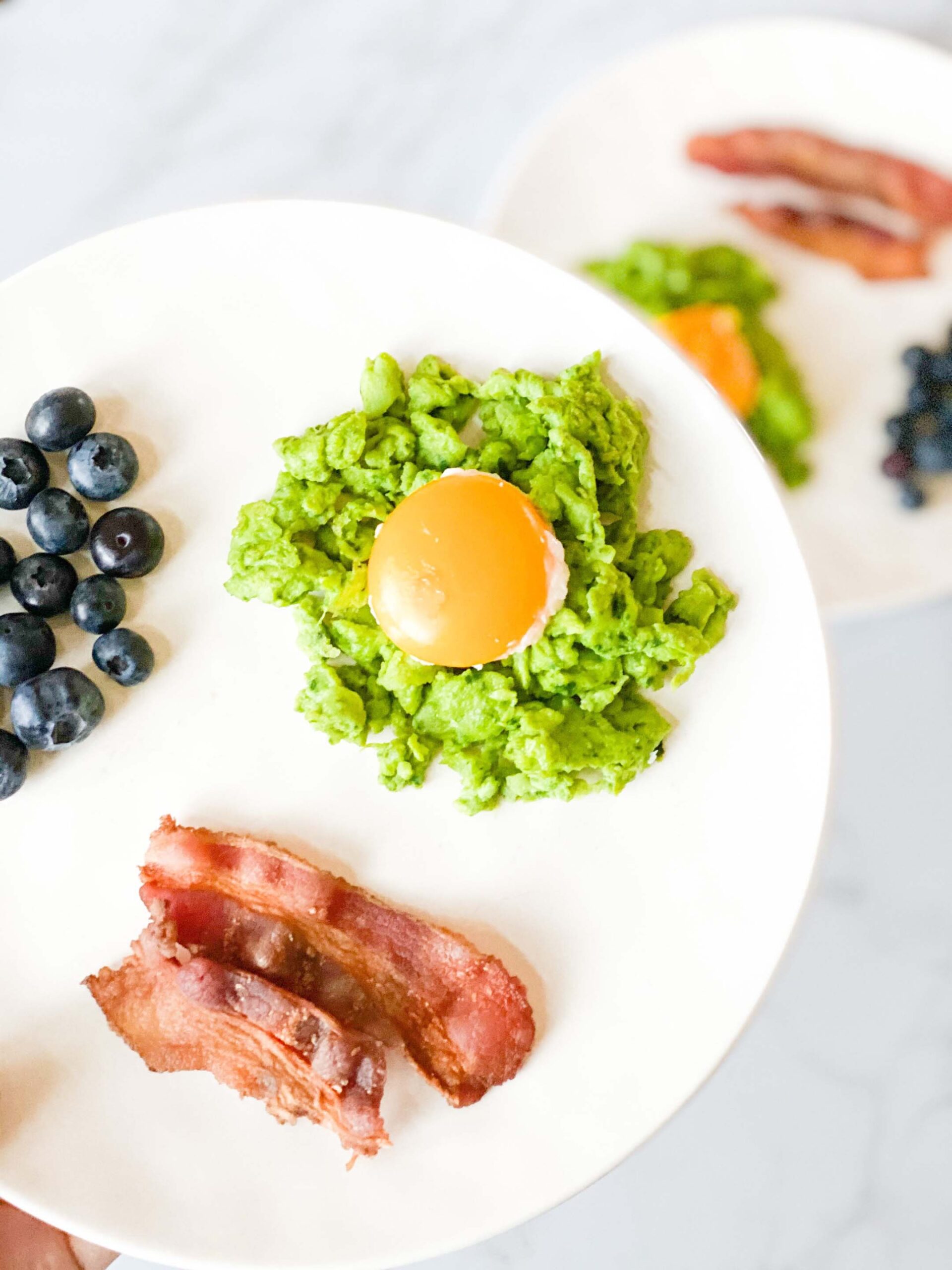 Yield: 4 servings
Spinach Green Eggs & Ham
Prep Time: 3 minutes
Cook Time: 2 minutes
Additional Time: 1 minute
Total Time: 6 minutes
A fun "green eggs & ham" breakfast for Dr. Seuss week or St. Patrick's Day! Blended with spinach, these eggs are 100% real food ingredients with ZERO food coloring! Nutritious, festive, & fun!
Ingredients
4 slices cooked ham (or bacon)
8 eggs
1 cup baby spinach
1/2 tsp. salt
4 baked egg yolks (optional)
Instructions
Heat ham in a covered dish at 350° F for about 10 minutes (until hot), or cook bacon to your liking.
Add eggs and spinach to a blender. Blend on HIGH for 1 minute or until completely smooth.
Heat a greased skillet on medium heat. Once hot, add the egg-spinach mixture. Cook 2-3 mintues, scraping the pan continually.
Once eggs are cooked to your liking and fluffy, remove from heat and serve with ham or bacon.
Optional: Bake additional eggs in a greased muffin tin at 350 °F for 10-12 minutes. Remove yolk and serve a baked yolk on top of the green eggs for a festive look.
Nutrition Information:
Yield:
4
Serving Size:
1
Amount Per Serving:
Calories: 294
Total Fat: 18g
Saturated Fat: 5g
Trans Fat: 0g
Unsaturated Fat: 10g
Cholesterol: 600mg
Sodium: 1109mg
Carbohydrates: 2g
Fiber: 0g
Sugar: 1g
Protein: 31g
Do you like green eggs & ham? Do you, do you, Sam-I-Am? Sorry, I couldn't resist 😉