This mega-flavorful chicken recipe is elegant enough for company and simple enough for a weeknight dinner. Crispy, juicy chicken thighs coated in a balsamic glaze and smothered in sweet cherry tomatoes. It's a one-pan wonder!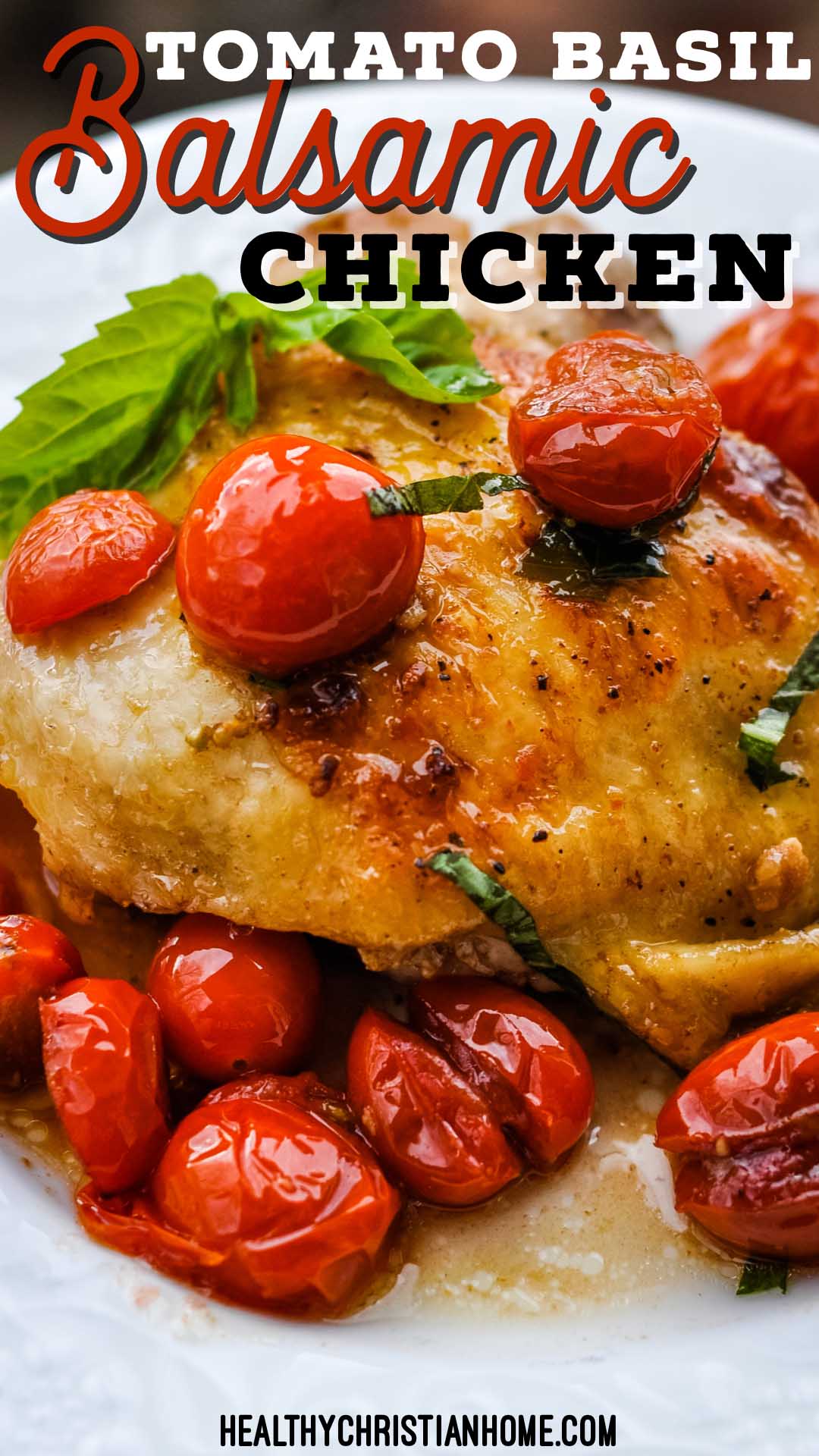 Tomato Basil Chicken – easy & elegant!
Do you need a recipe that is fancy and impressive, but is incredibly easy to make (we're talking one-pan wonder)?
Look no further than these elegant tomato-basil balsamic chicken thighs!
My tastebuds were so happy when I took my first bite of this juicy, delectable chicken. And this dish literally takes 10 minutes to prep, then just stick it in the oven to finish baking.
Elegant enough for a dinner party, special enough for a romantic meal for two, or great as simple as a weeknight dinner with the family.
I'm always looking for new ways to use chicken besides chicken pot pie casserole and chicken wings (our favorites), and this one is so good it's going on our regular rotation!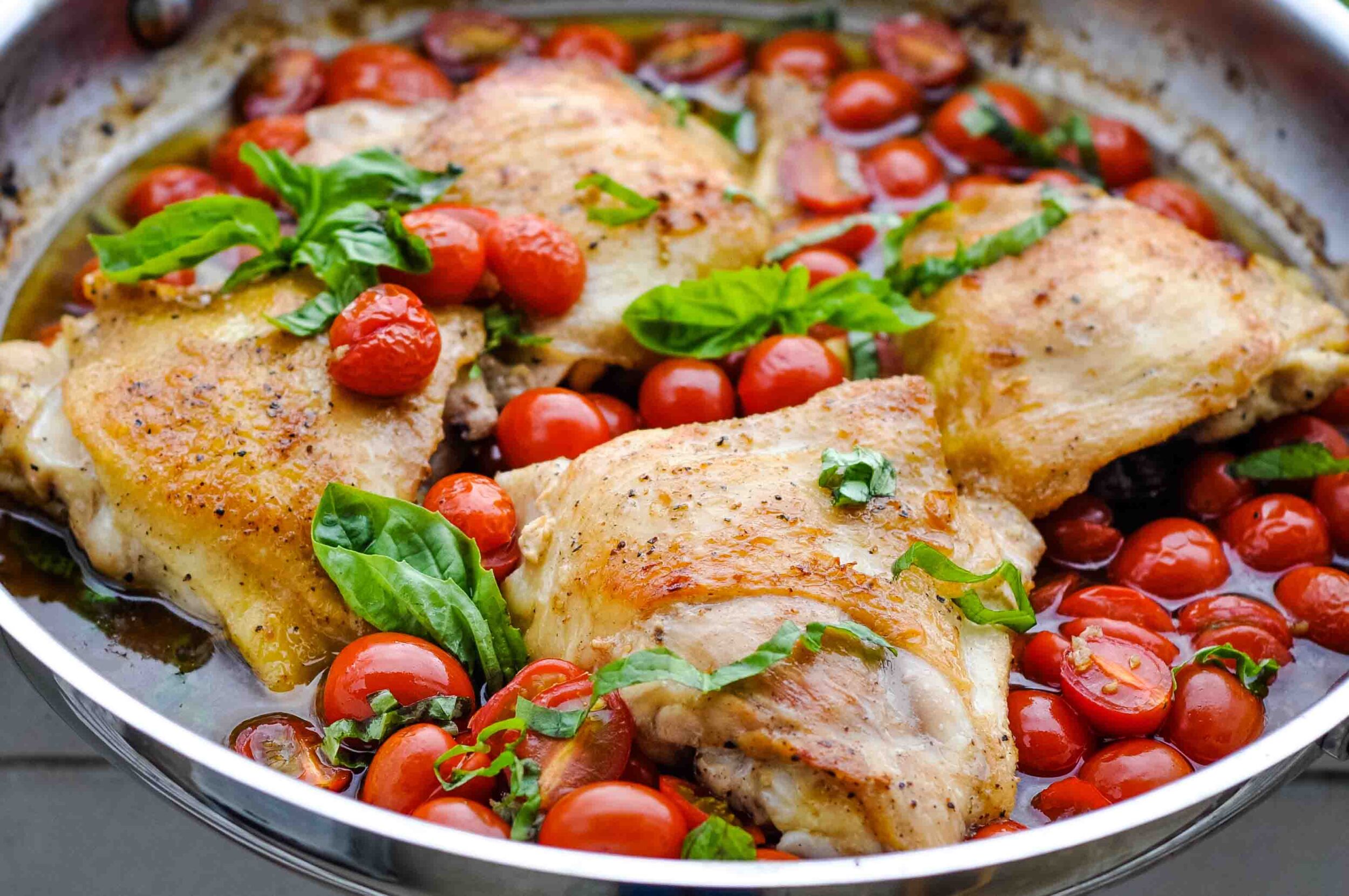 What's so great about these easy chicken thighs?
Another plus is that this recipe is naturally gluten-free, dairy-free, Paleo, Whole30, and even Keto compliant! It ticks all the boxes for my friends with special dietary needs and is super yummy.
And did I mention that tomatoes and basil are literally a match made in heaven? This dish actually inspired us to plant basil in our herb garden so we can also make homemade pesto. It's incredible!
And the type of tomatoes I'm using in this recipe really makes it sing. They're the Cloud 9 Tomatoes from Pure Flavor. These are the sweetest grape tomatoes I've ever tasted, and they add an incredible sweetness to this dish.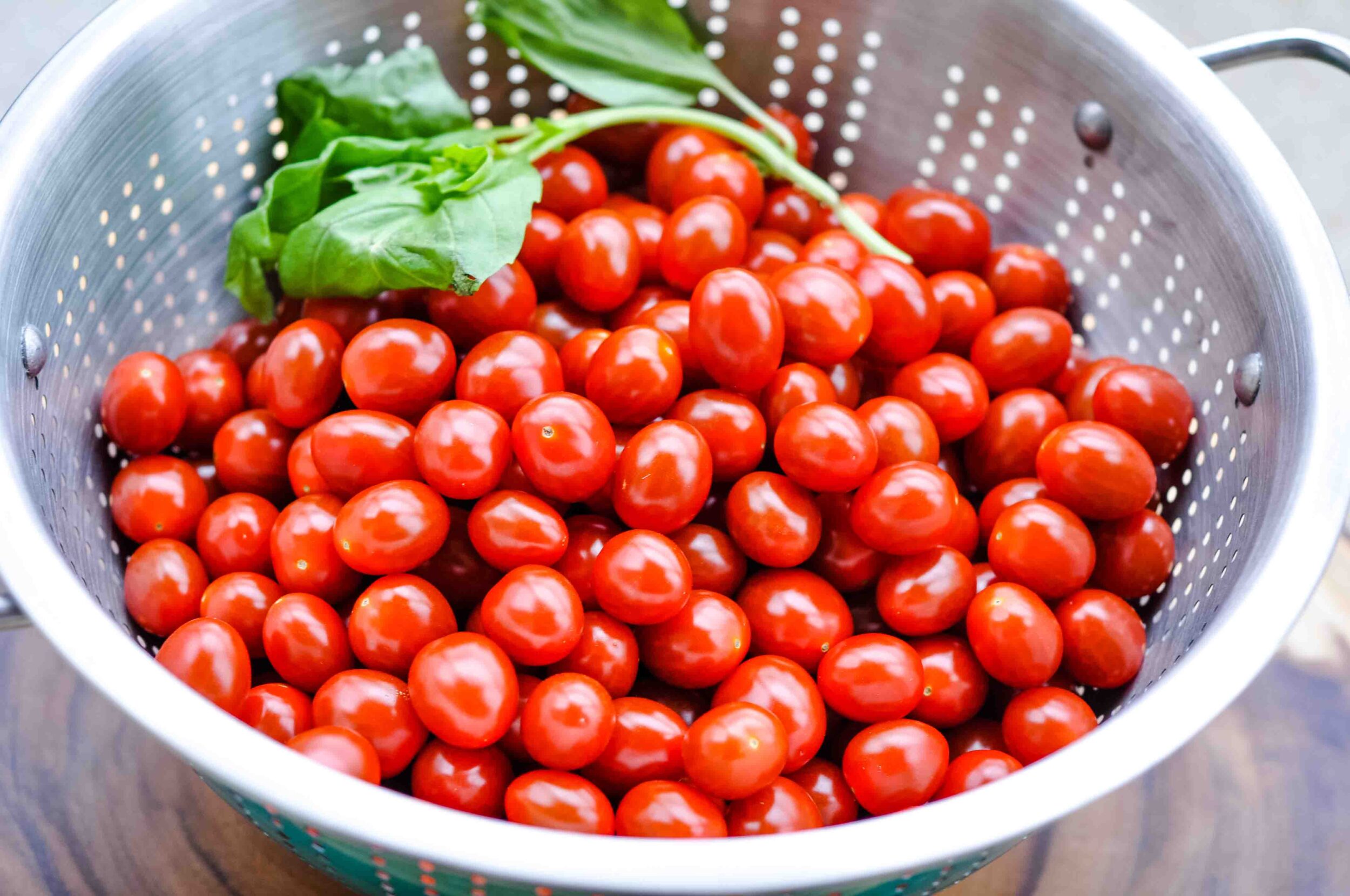 The balsamic vinegar adds a sweet and tangy element and pairs so well with the cherry tomatoes and basil. Plus, chicken thighs are incredibly juicy and this cooking method makes the skin extra crispy.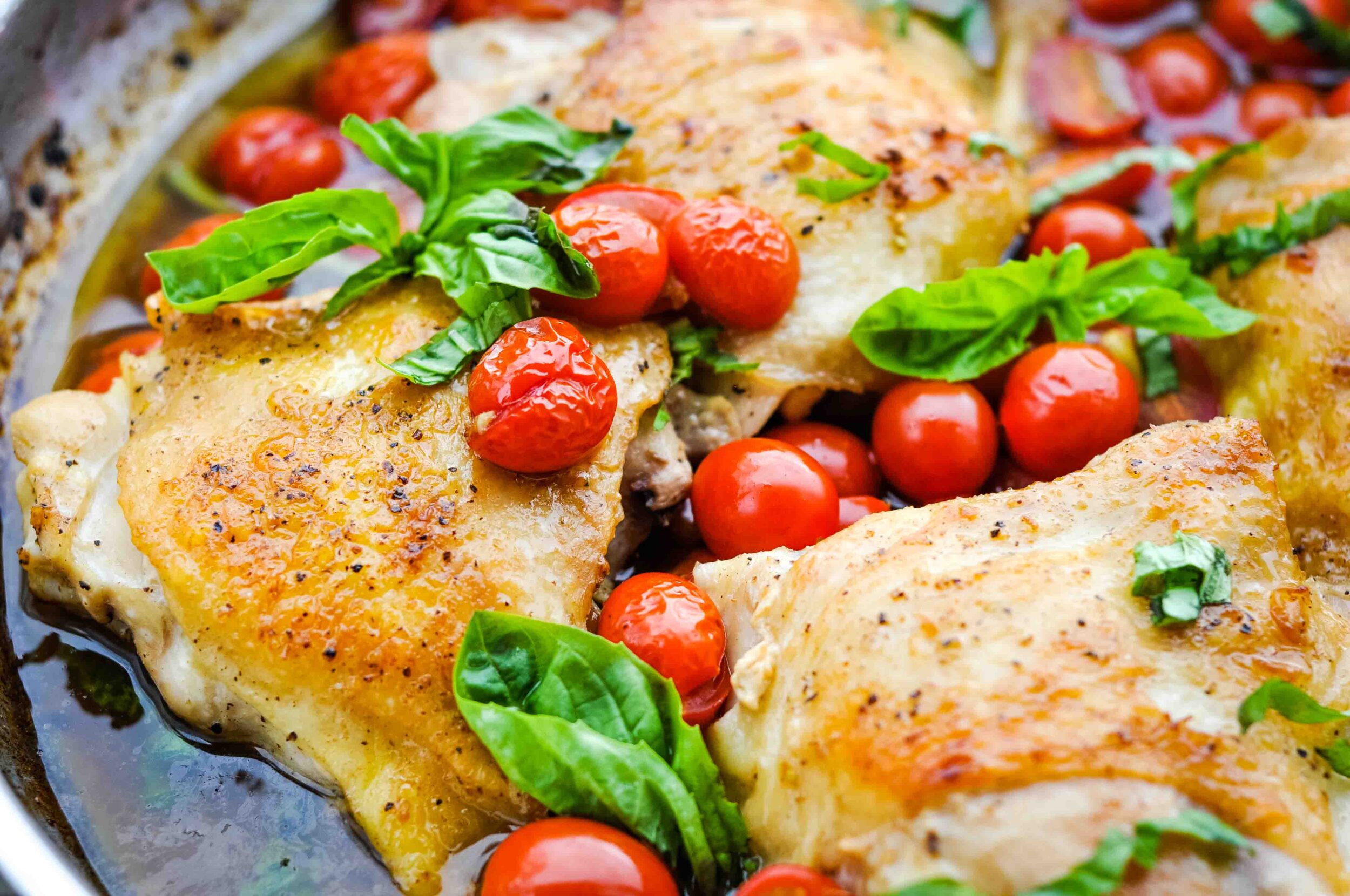 Tips for making the perfect Tomato-Basil Balsamic Chicken Thighs
Since this recipe is so simple and uses just a handful of ingredients, it's really important that each ingredient is high quality:
Use the sweetest, best quality grape tomatoes you can find, like Cloud 9 tomatoes from Pure Flavor!
Fresh basil is an absolute must.
Use a nice aged balsamic vinegar.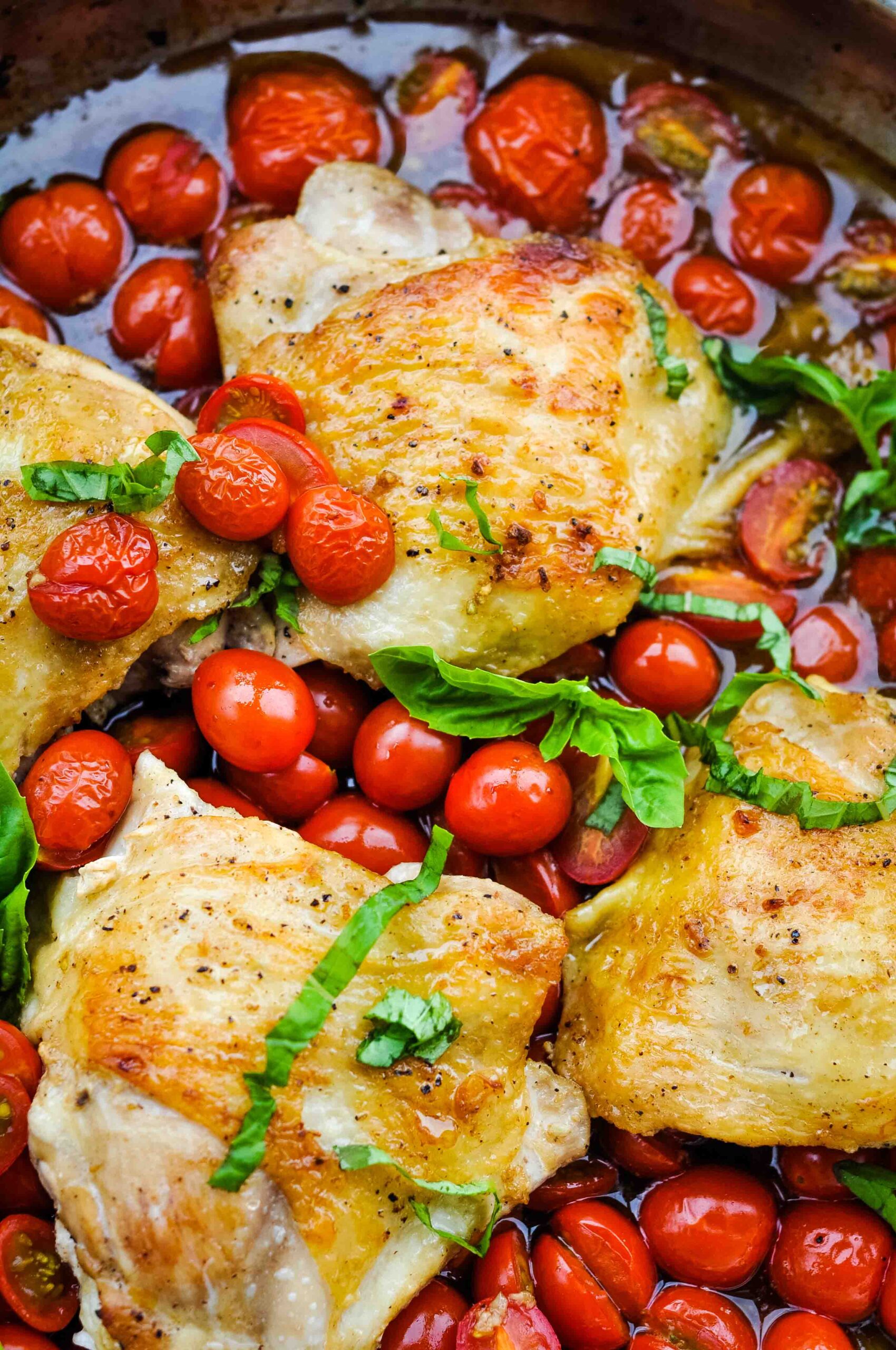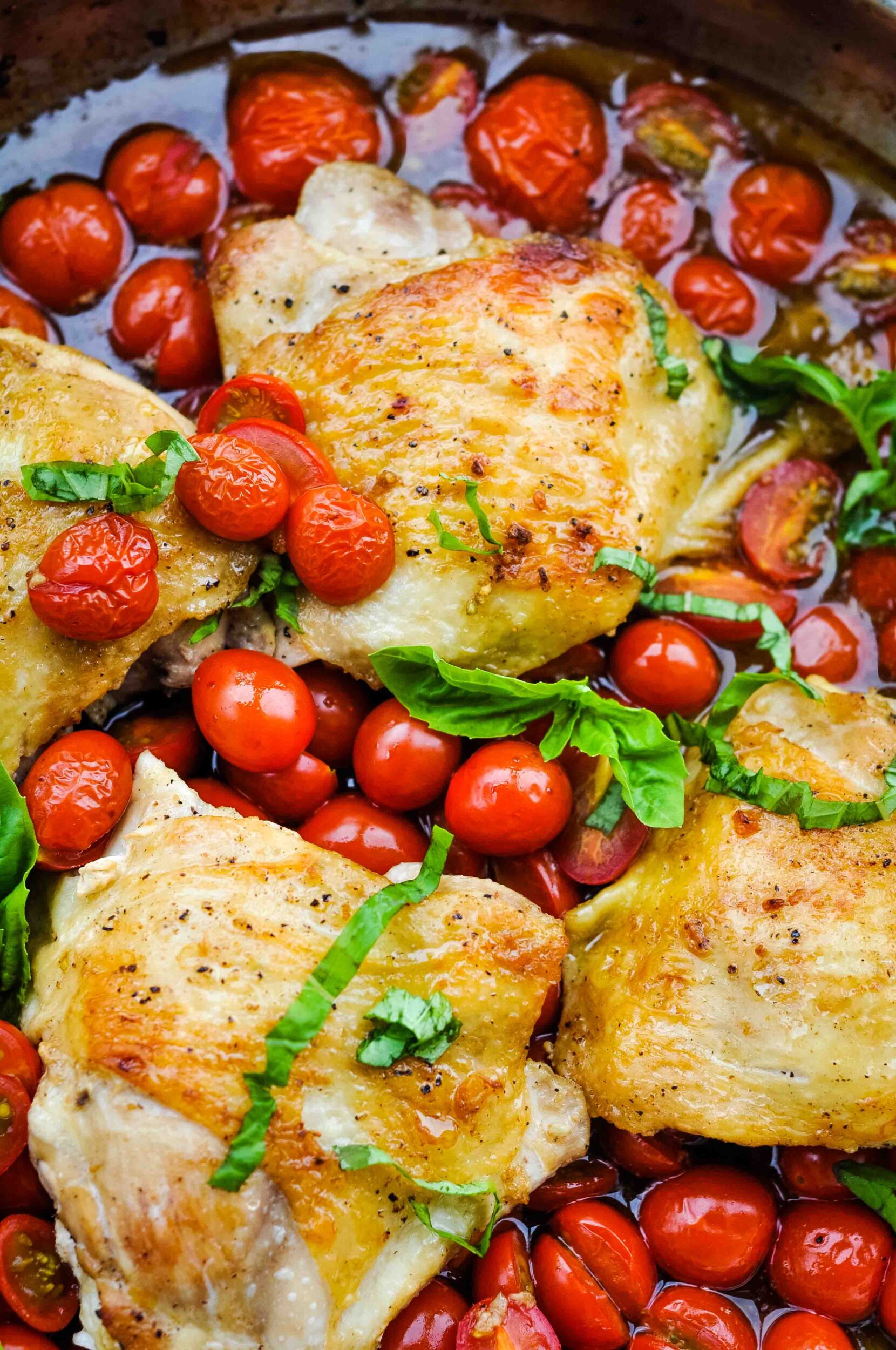 How to make Tomato Basil Balsamic Chicken
First, you'll need a large skillet — cast iron or stainless still will do. Make sure it's nice and big to fit everything, and oven safe also. Preheat the oven to 425° F.
Heat butter and oil in the skillet on medium heat, and pat the chicken thighs dry with a paper towel. You want to remove moisture from the chicken skin so it will get nice and crispy. Season them with salt, pepper, and garlic powder.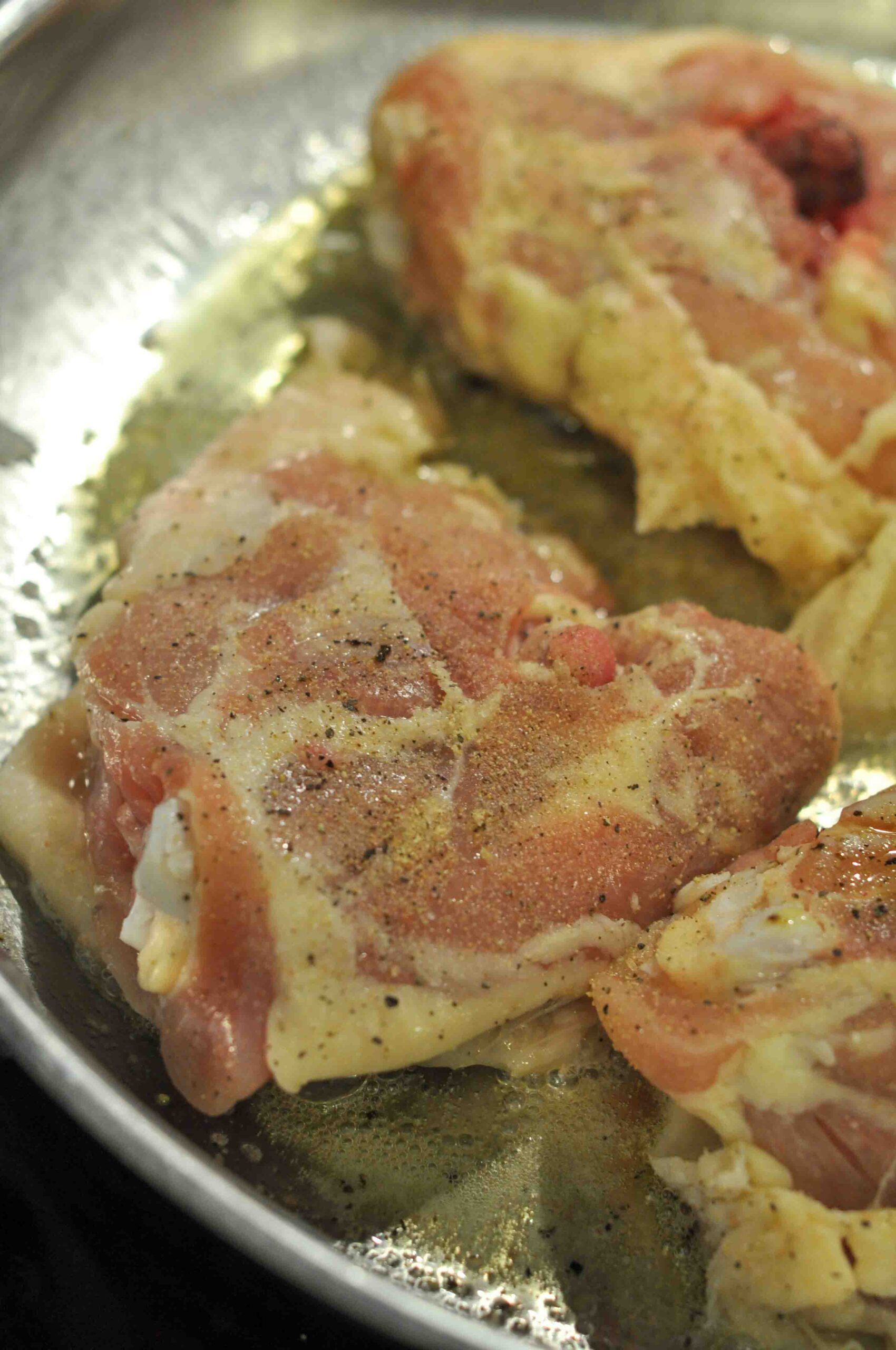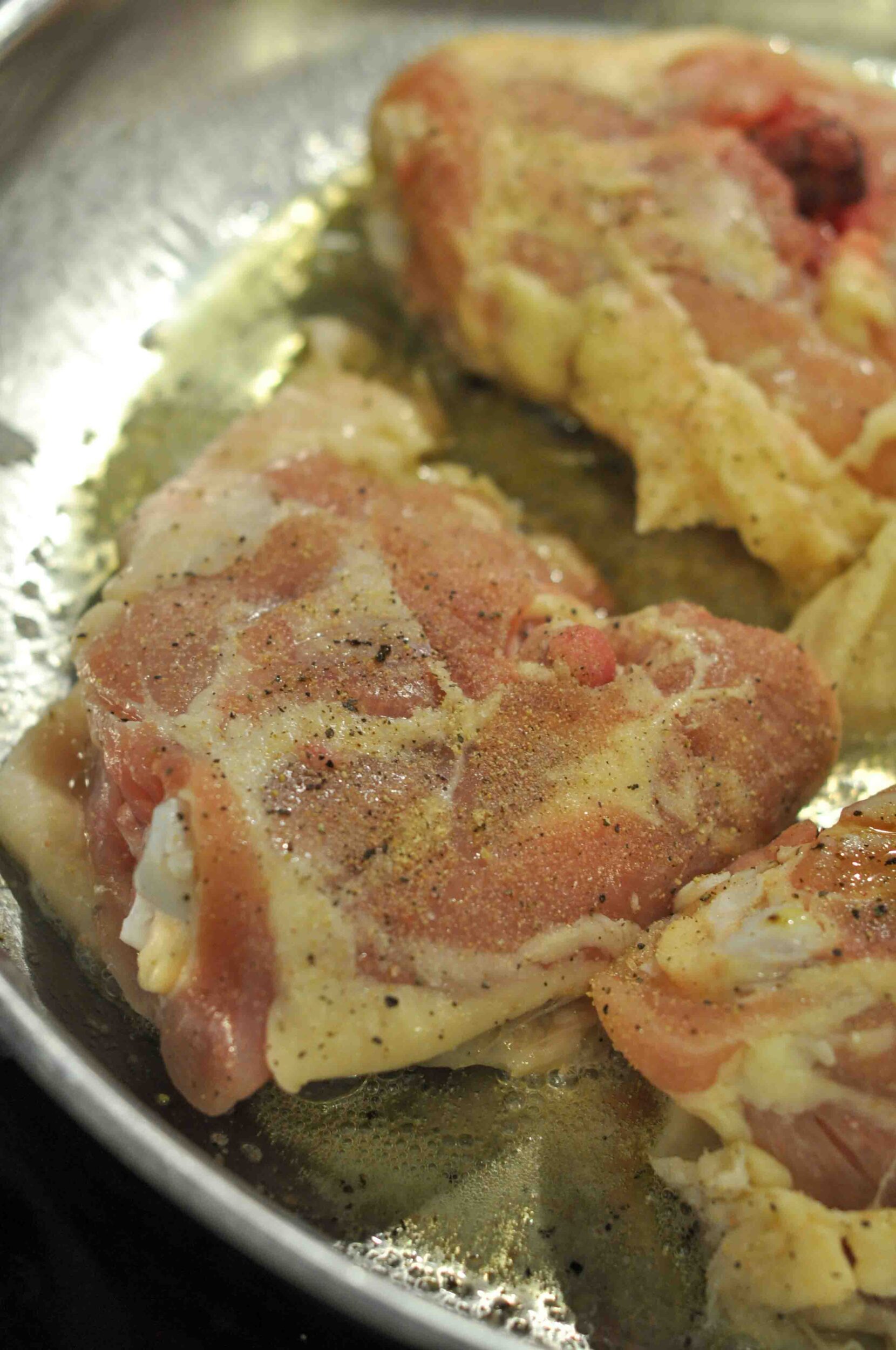 Allow the chicken thighs to cook, undisturbed, skin side down for 7-9 minutes until the skin is golden brown. Cook with a lid on top to render the fat and make the chicken nice and juicy.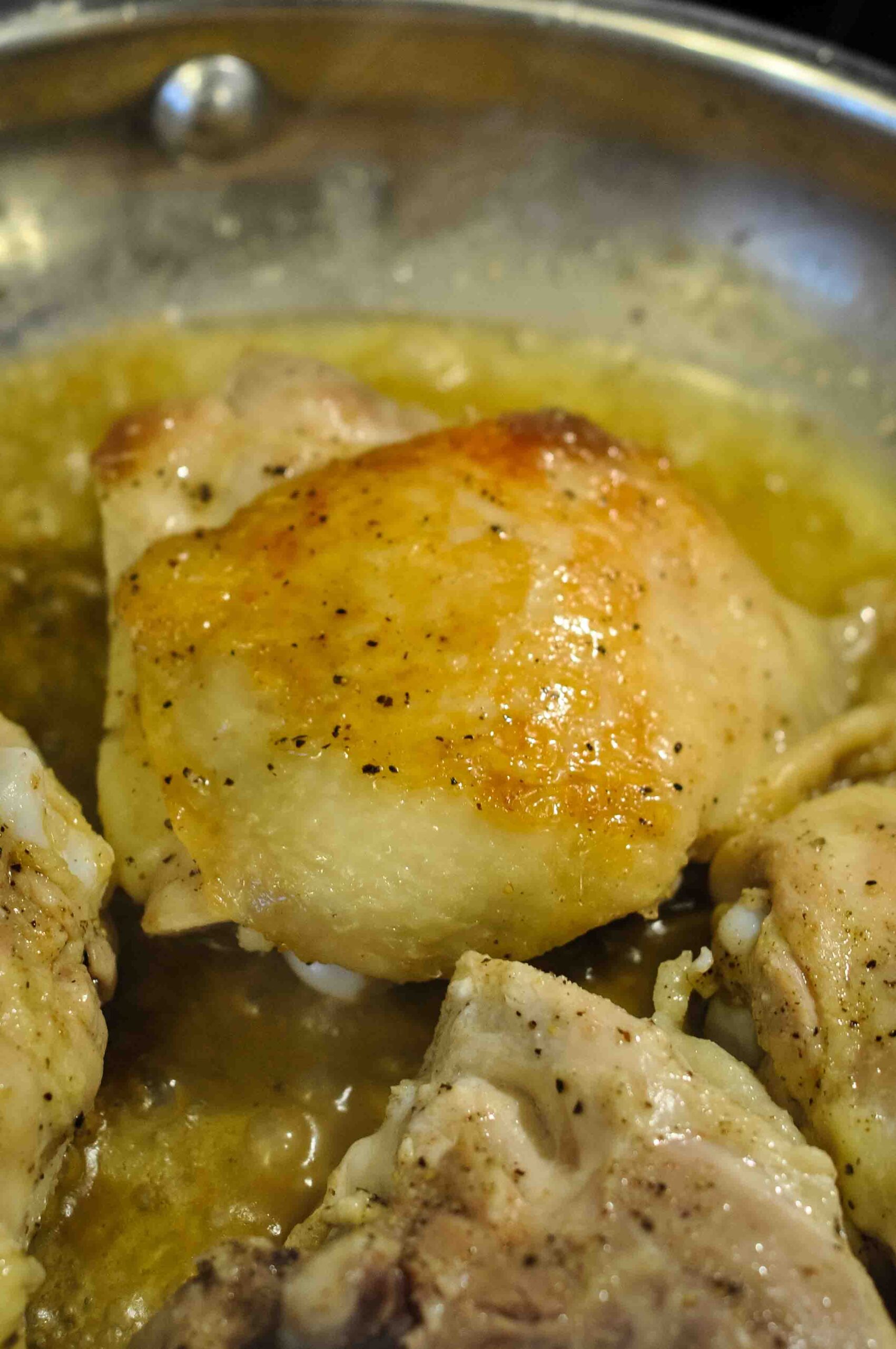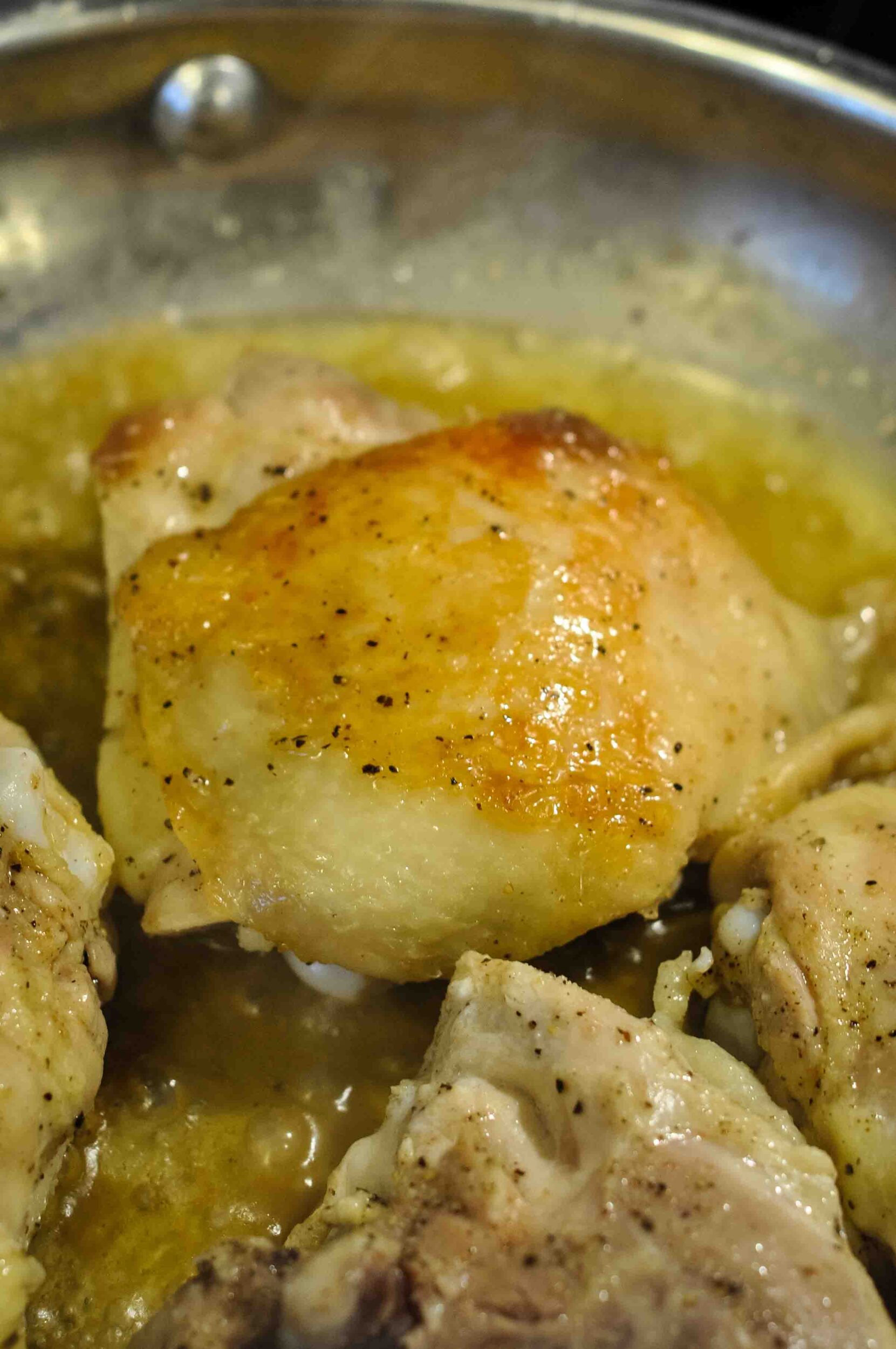 Assemble the tomato mixture while the chicken cooks. In a medium bowl, combine tomatoes, minced garlic, and balsamic vinegar. I like leaving some of the tomatoes whole and cutting some in half lengthwise.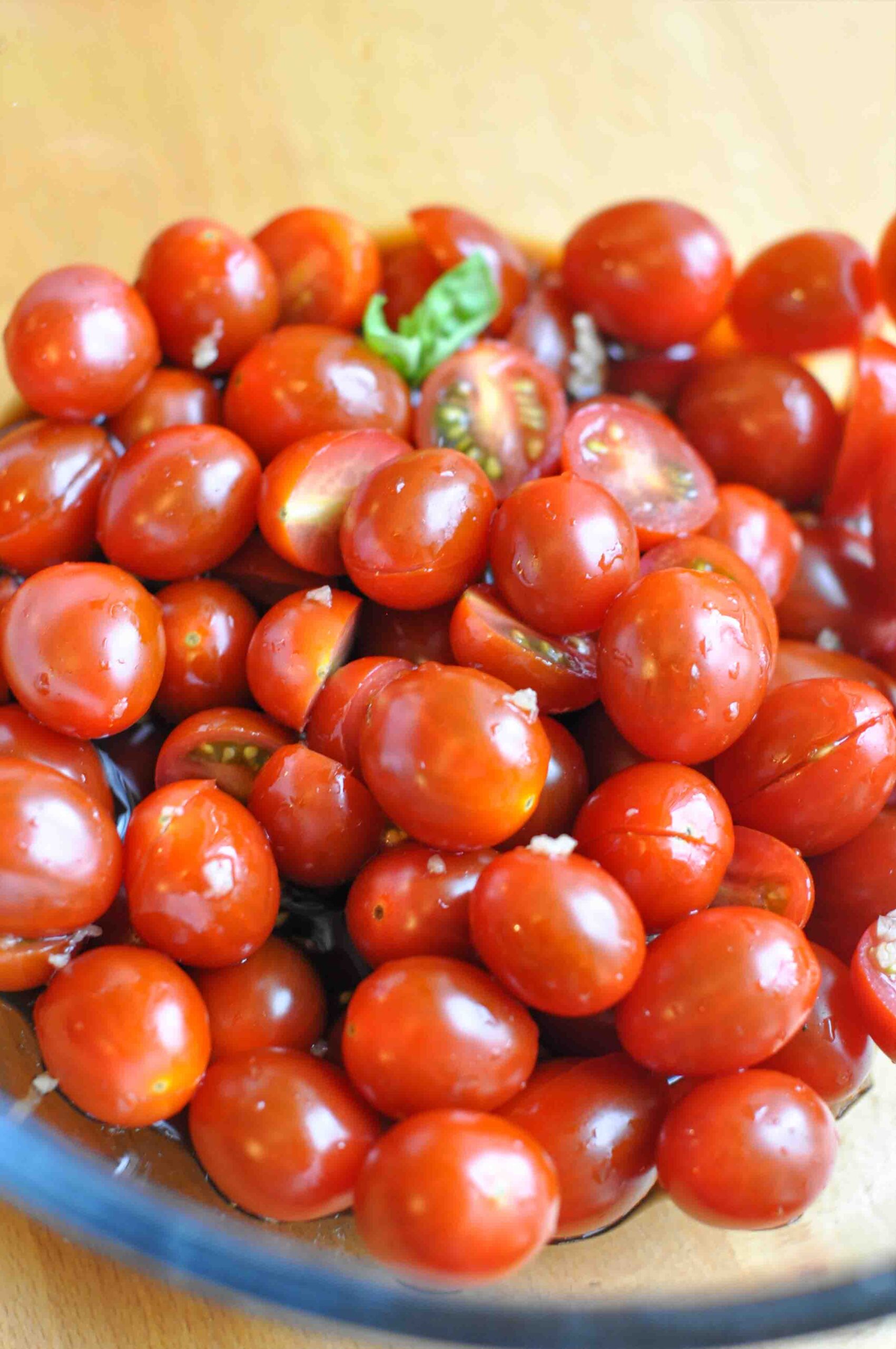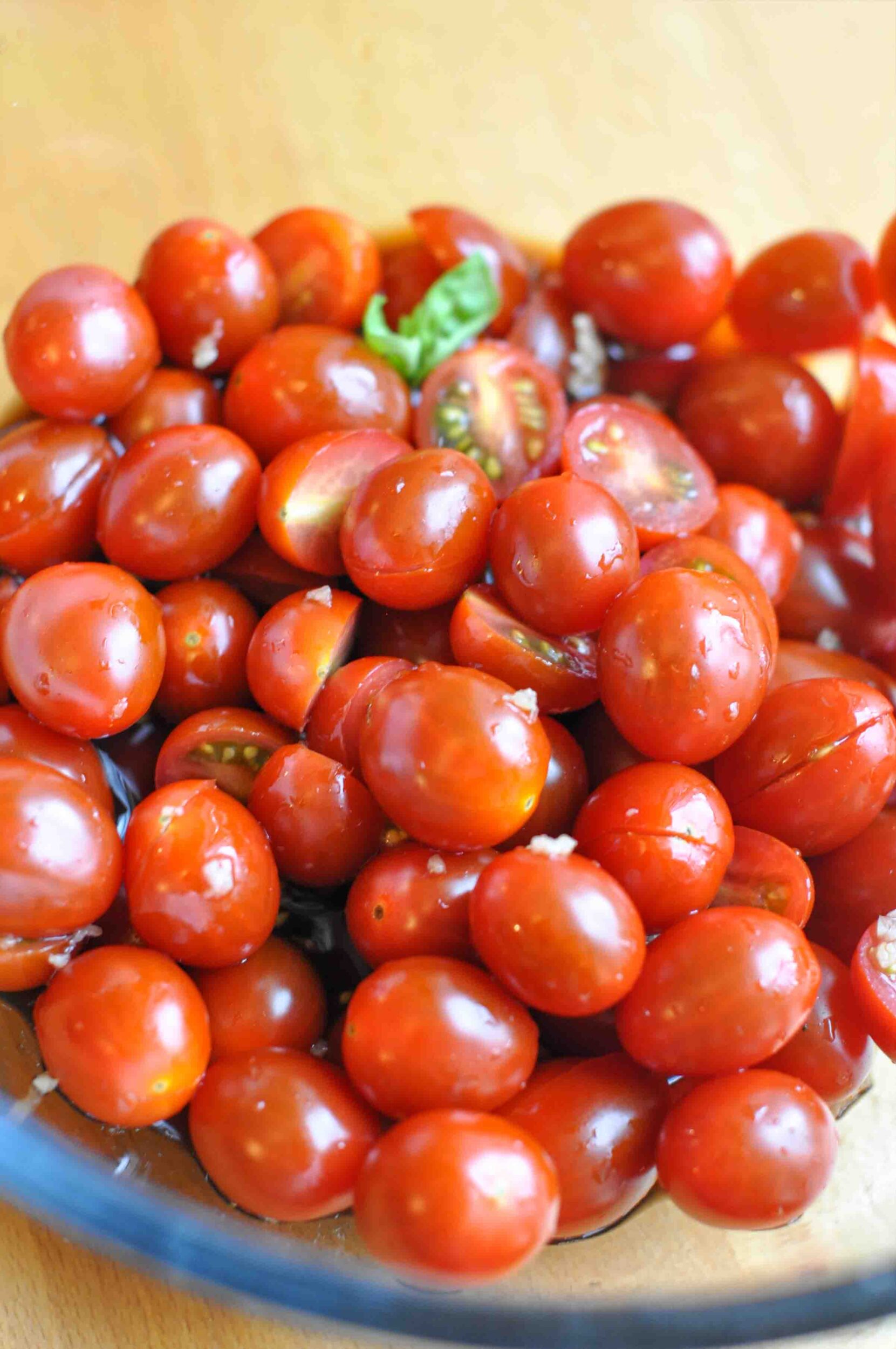 Flip chicken over when the skin is golden brown, and pour the tomato mixture on top.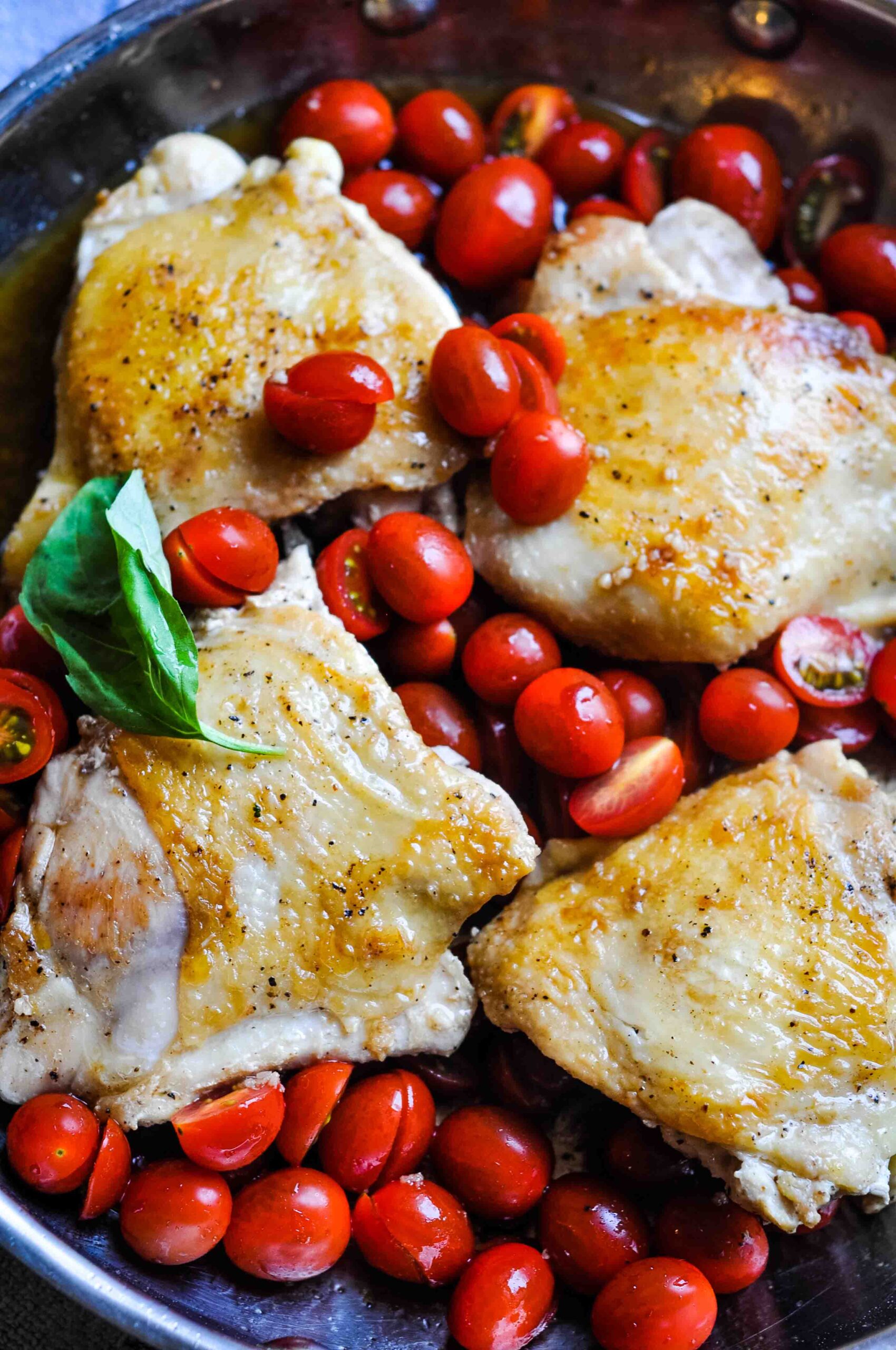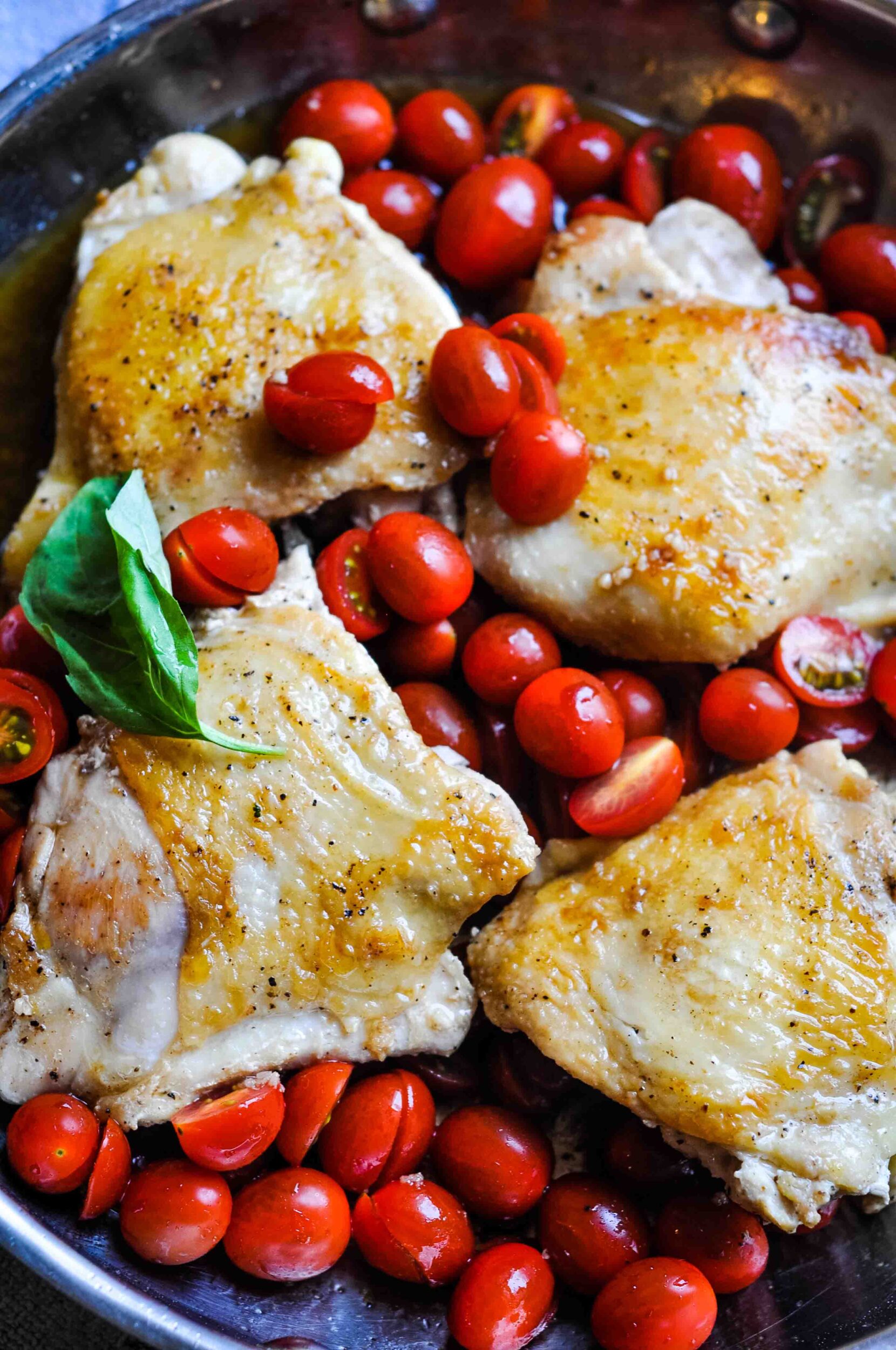 Transfer the skillet (without lid) to the preheated oven. Allow to bake for 18-20 minutes until chicken is fully cooked and tender.
After removing chicken from oven, sprinkle generously with chopped fresh basil and serve immediately. Bliss!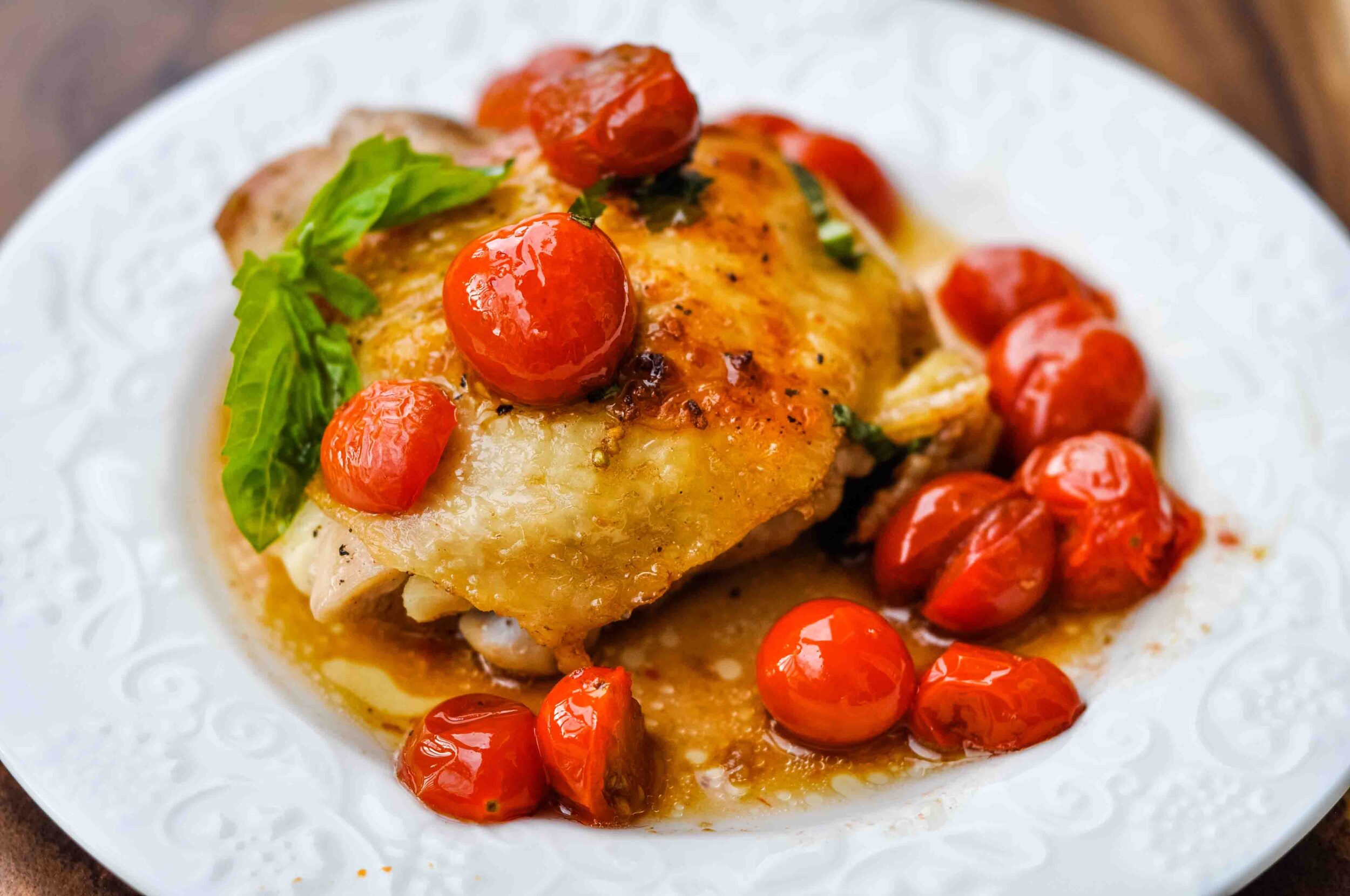 What to serve with tomato basil chicken:
There are a myriad of things to pair with this recipe, but here are some tried-and-true ideas:
With a side of mashed potatoes
Over pasta
With white or brown buttered rice
On top of a large green salad
With roasted veggies and garlic bread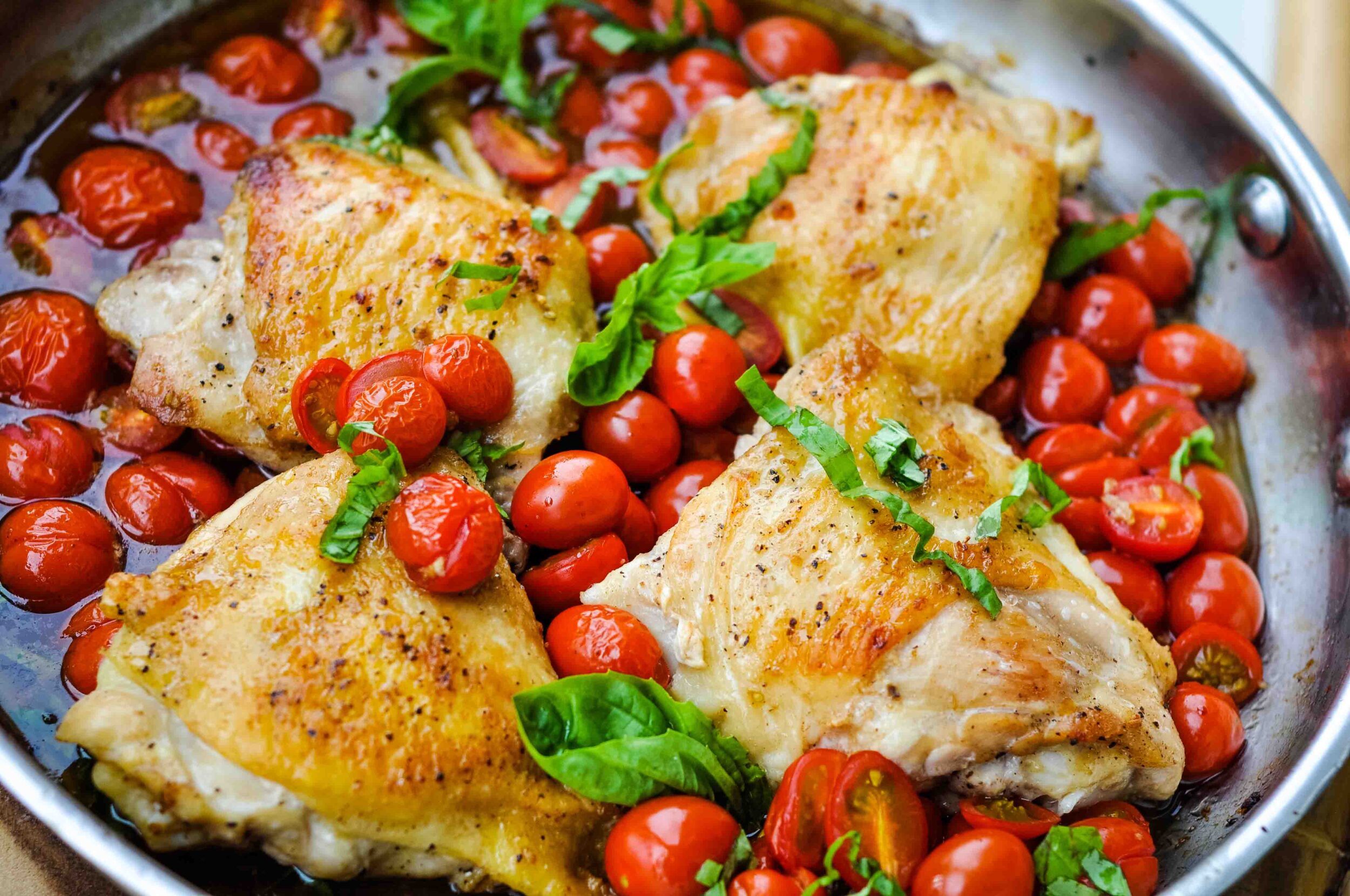 Other chicken recipes you'll love: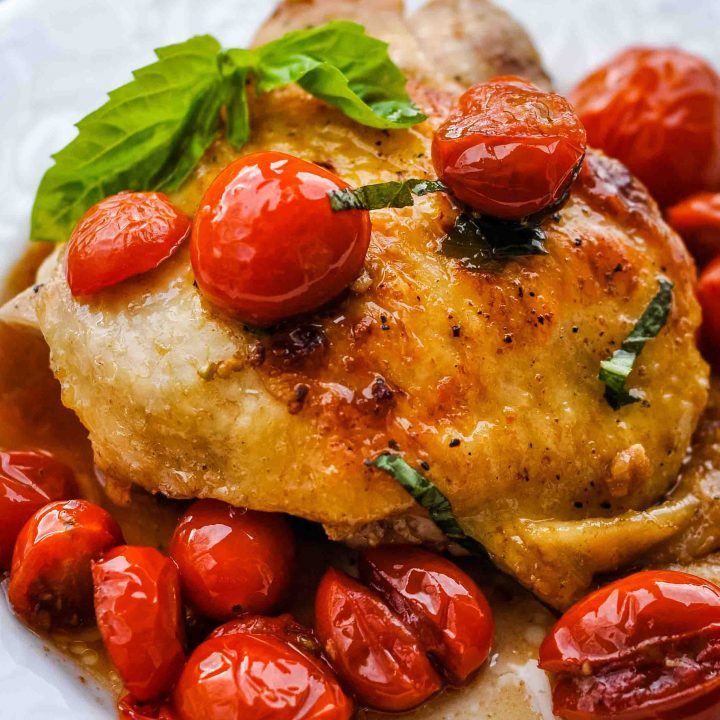 Yield: 6 servings
Tomato-Basil Balsamic Chicken Thighs
Prep Time: 10 minutes
Cook Time: 27 minutes
Total Time: 37 minutes
This super flavorful chicken is elegant enough for company and simple enough for weeknight dinners. Crispy, juicy chicken thighs coated in a balsamic glaze and smothered in sweet cherry tomatoes - what a feast!
Ingredients
2 1/2 lbs skin-on, bone-in chicken thighs (around 4-6 thighs)
1 Tbsp. olive oil
1 Tbsp. butter
1 tsp. salt
1 tsp. garlic powder
½ tsp. black pepper
3 cups grape tomatoes
½ cup balsamic vinegar
2 cloves garlic, minced
½ cup fresh basil, chopped
Instructions
1. Preheat oven to 425° F.
2. Melt butter and olive oil in a large stainless or cast iron skillet on medium heat.
3. Pat chicken thighs with a paper towel to absorb excess moisture. Sprinkle both sides of each thigh with salt, pepper, and garlic powder. When skillet is hot, place chicken thighs skin-side down into pan.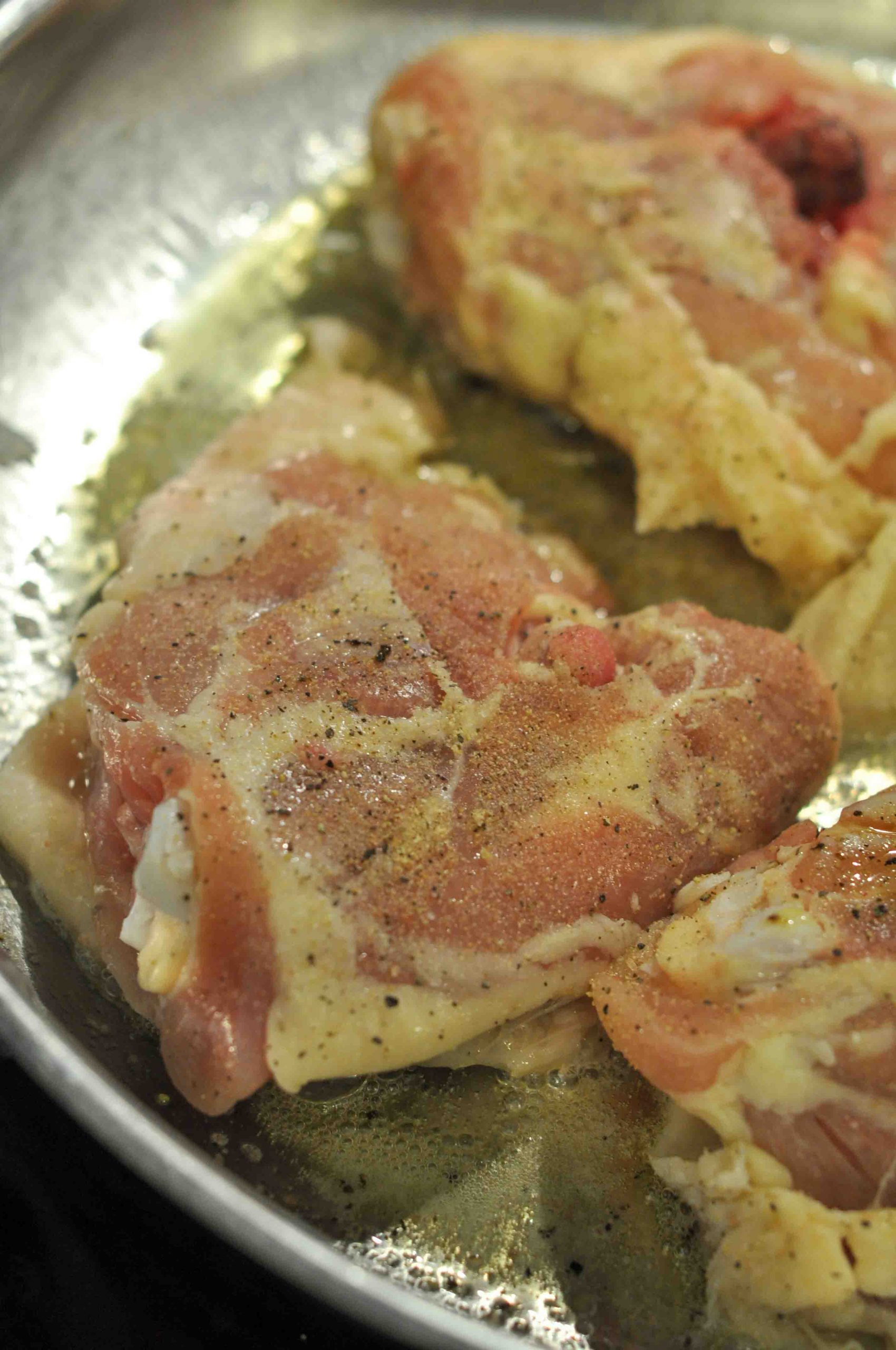 4. Cover with a lid and allow to cook for 7-9 minutes, undisturbed. This will allow the fat to render and chicken skin to become crisp and golden brown.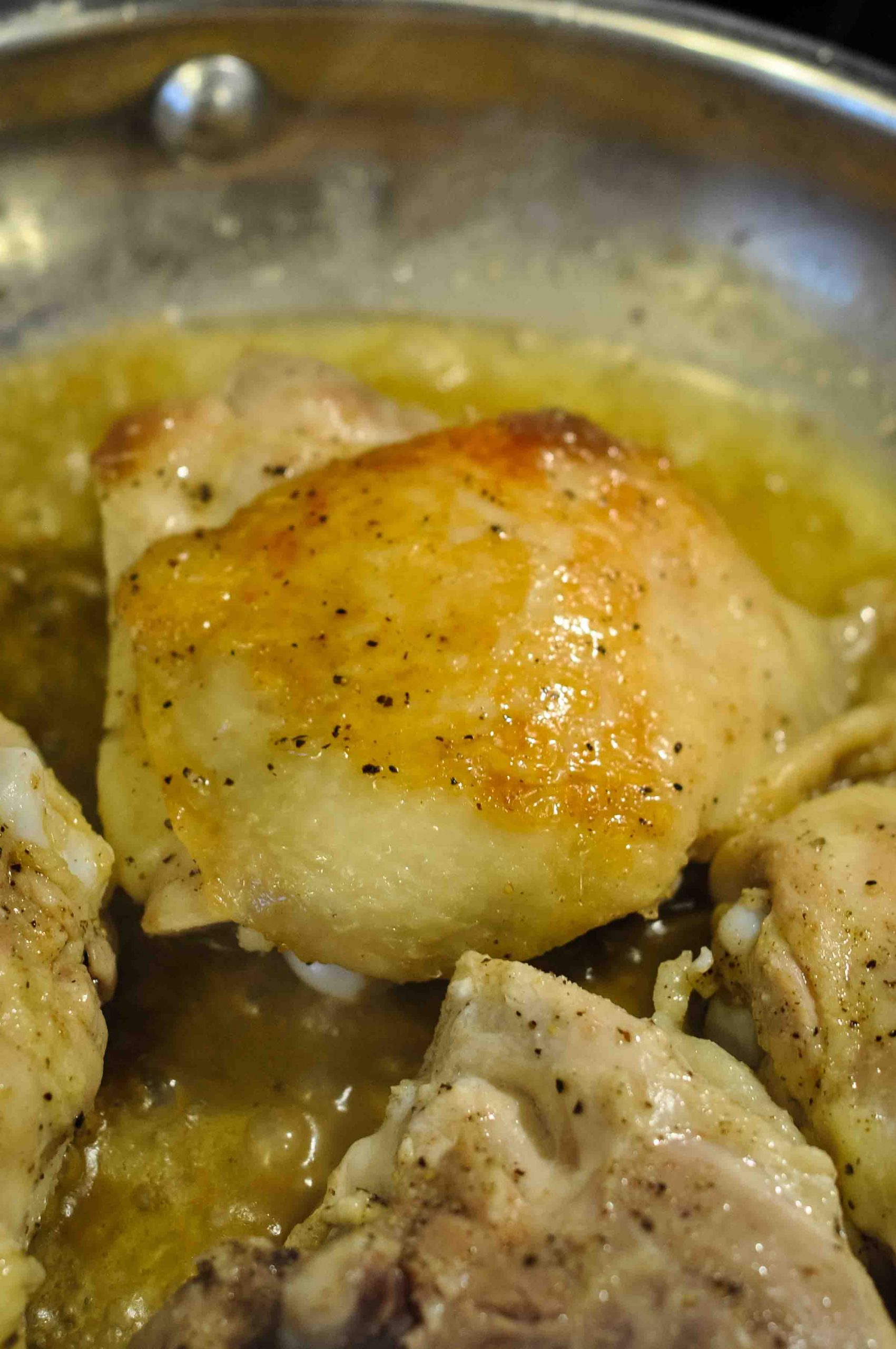 5. While the chicken is cooking, add grape tomatoes, balsamic vinegar and minced garlic to a bowl and combine. You may cut the grape tomatoes in half or leave them whole.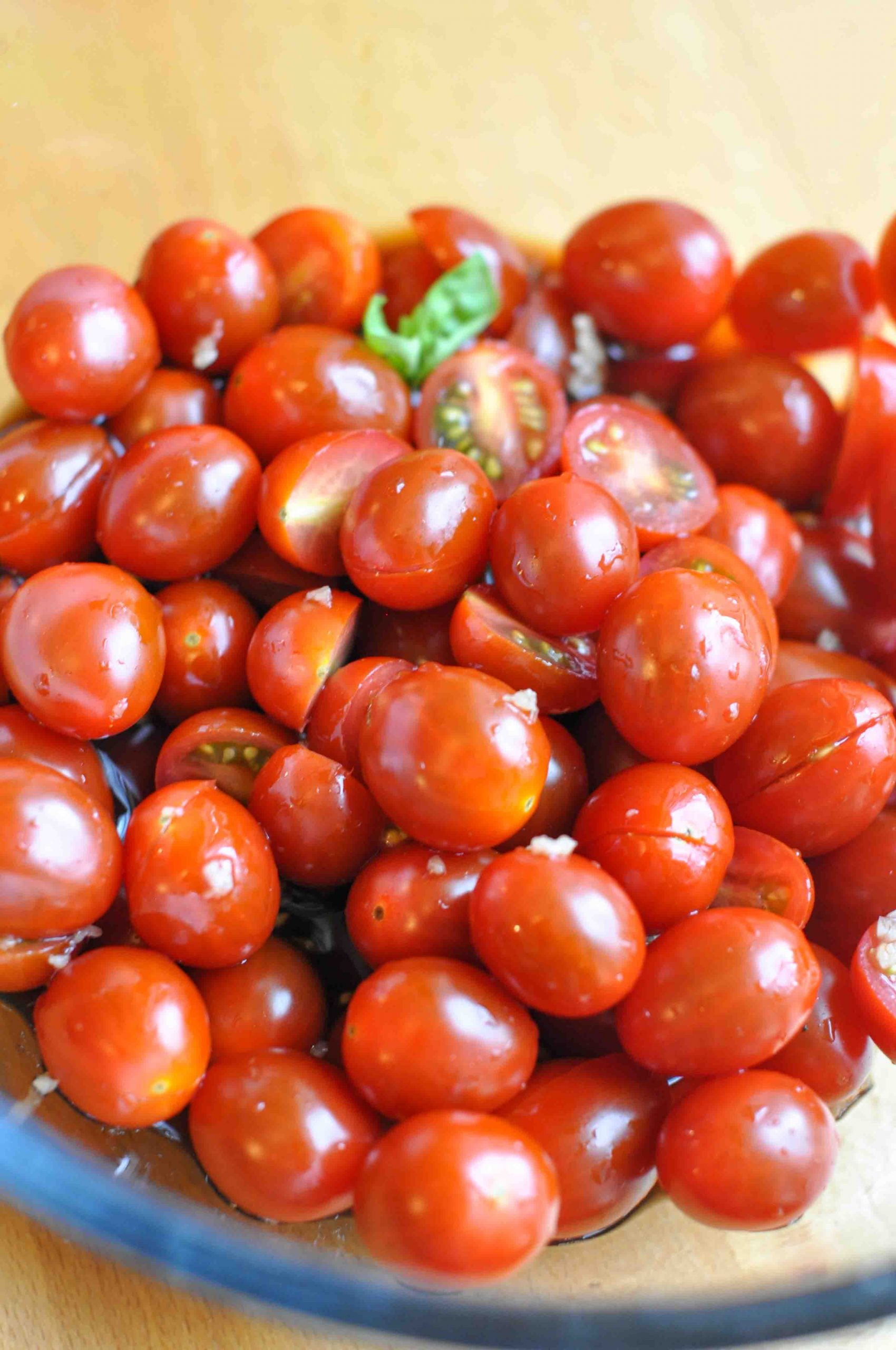 6. When chicken skin is golden brown, flip thighs over with tongs and spoon tomato mixture over the top.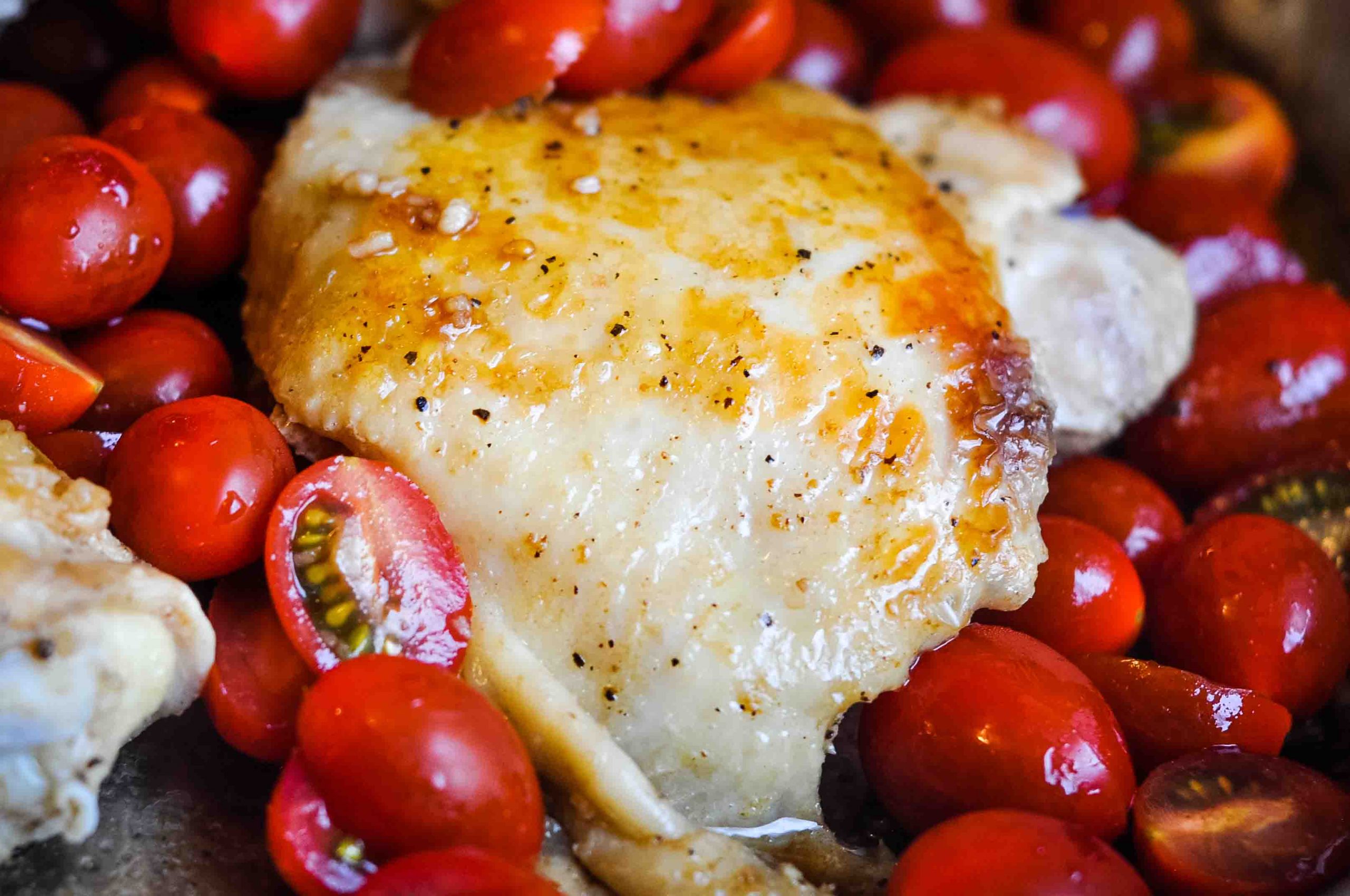 7. Transfer skillet to the preheated oven and bake for 18-20 minutes, until chicken is cooked through and internal temperature of chicken reaches 165° F.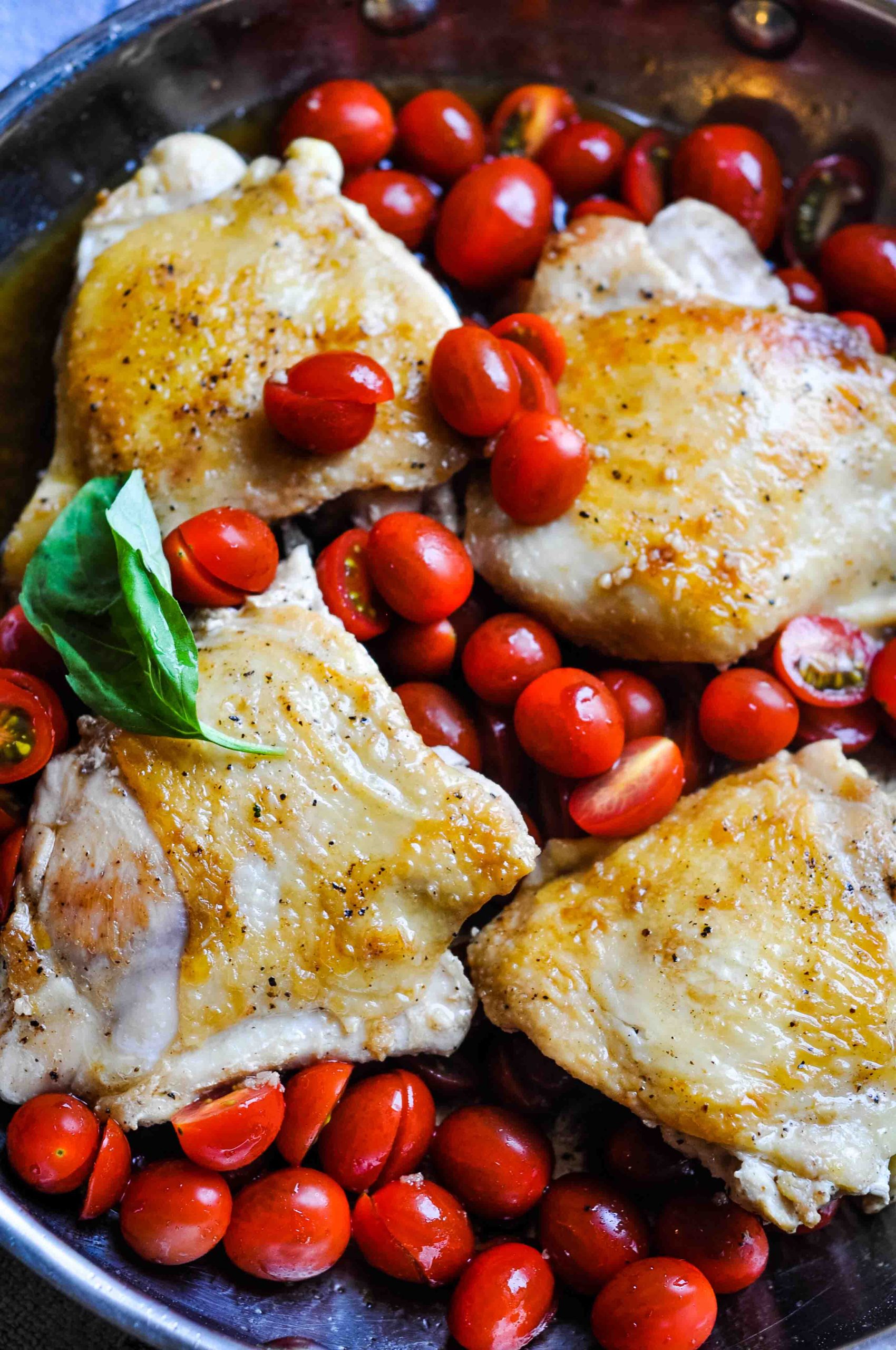 8. When chicken is done, sprinkle with freshly chopped basil and serve. Pairs wonderfully with rice, pasta, or roasted vegetables.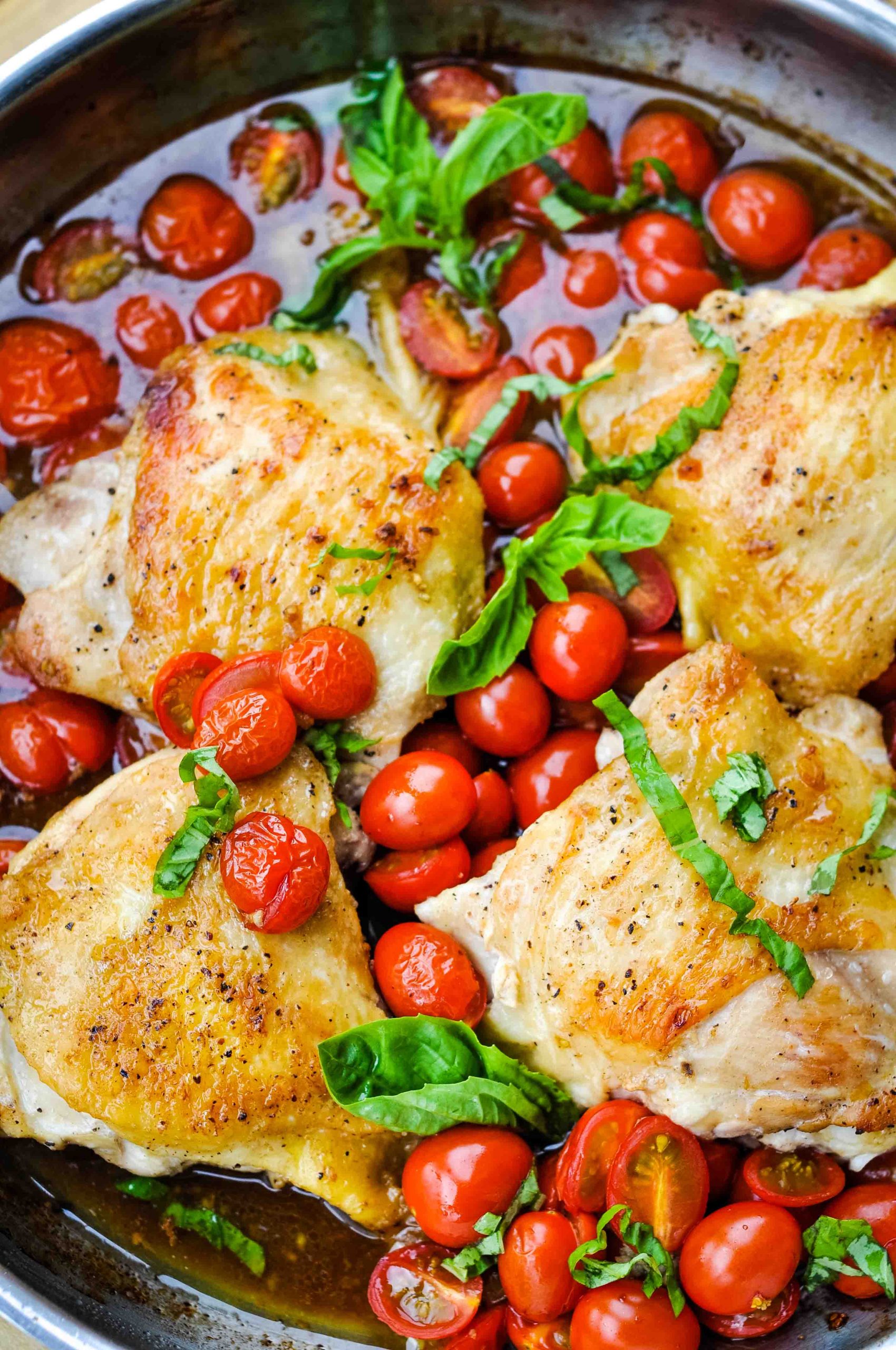 Recommended Products
As an Amazon Associate and member of other affiliate programs, I earn from qualifying purchases.
Nutrition Information:
Yield:
6
Serving Size:
1
Amount Per Serving:
Calories: 235
Total Fat: 15g
Saturated Fat: 5g
Trans Fat: 0g
Unsaturated Fat: 10g
Cholesterol: 102mg
Sodium: 544mg
Carbohydrates: 8g
Fiber: 1g
Sugar: 5g
Protein: 19g
What's your favorite chicken recipe? Please leave a star rating if you enjoyed this recipe, and tag me on IG at @healthychristianhome so I can see what you made!
PIN IT!