Learn why fluoride filled commercial toothpastes aren't the only way to a healthy and happy mouth, plus over 25 homemade toothpaste recipes free of toxins for beautiful clean teeth.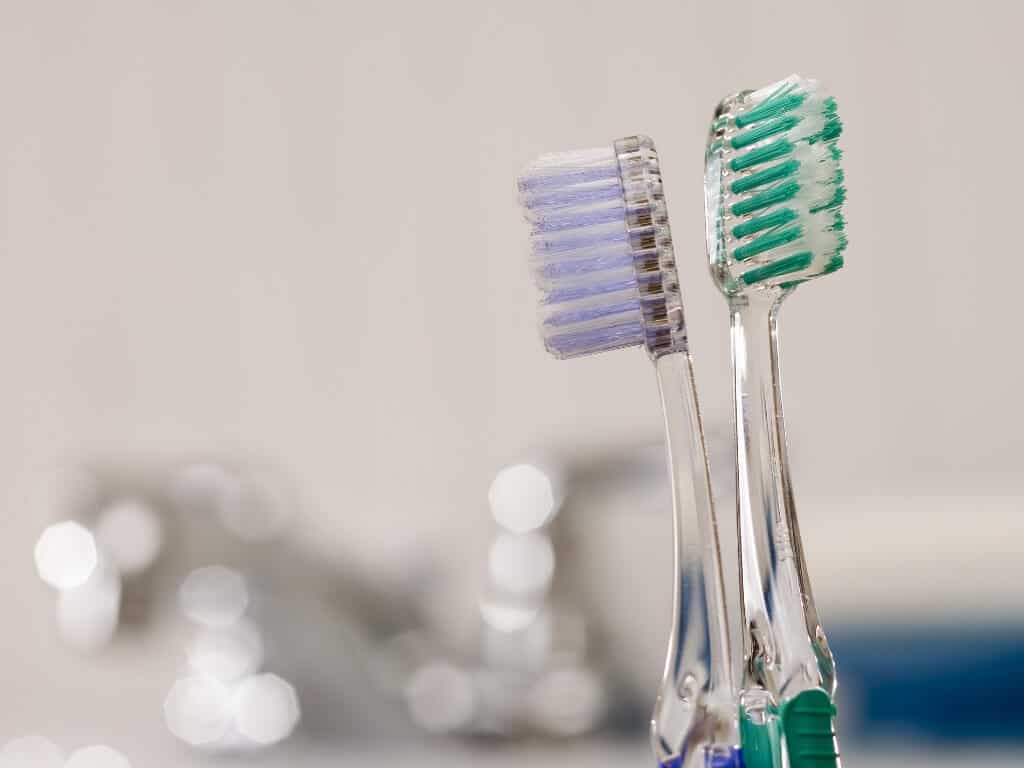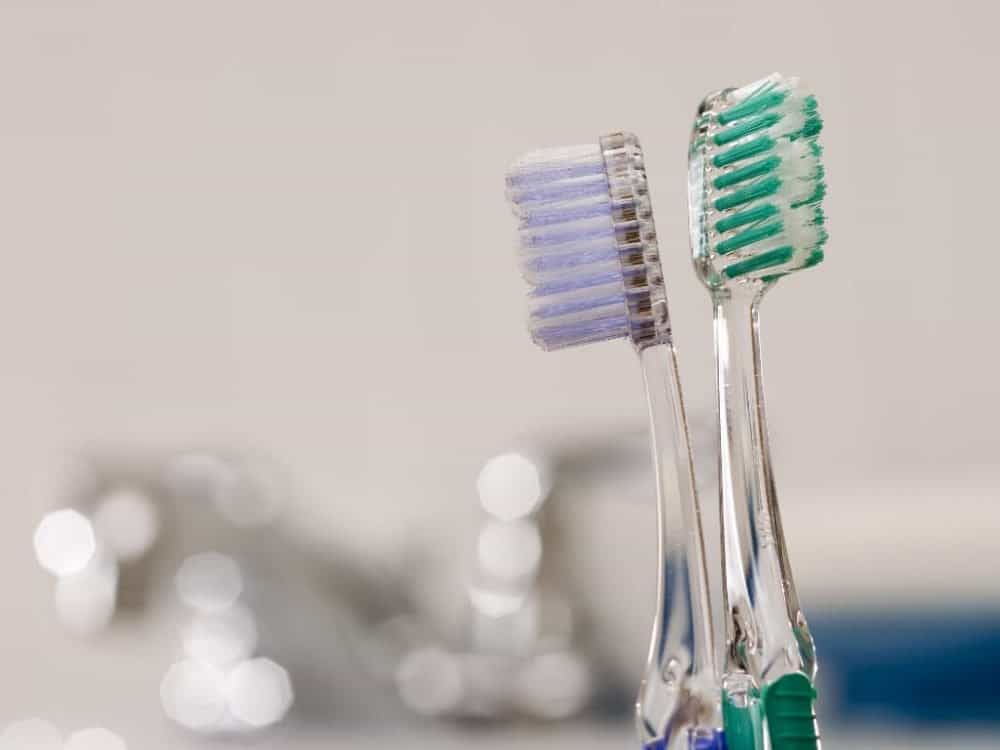 If you want a healthier mouth, the most effective thing you can do is eat a nutrient-dense diet and avoid excess refined sugars, especially sugary drinks. Good oral hygiene (frequent and thorough brushing + flossing) is also super important.
But is it 100% necessary to use fluoride-based toothpaste to keep cavities at bay? Not necessarily. It's worth taking the time to research what we're putting in our mouths (at least) twice per day.
In truth, fluoride really does help our teeth re-mineralize more quickly. But there are pros and cons, since fluoride isn't all that great for the other systems in our bodies.
Is Fluoride Safe? Some facts:
It is not a known nutrient. When I found this out, it seriously baffled me! I have always been under the impression that fluoride was a necessary nutrient for our bodies, like a mineral or a vitamin of sorts. It is totally unnecessary for human development!
It does actually help in the tooth remineralization process and strengthens enamel (source). However, diet and frequent brushing/flossing play the biggest role in oral health. I noticed when I stopped using fluoride that my teeth felt weaker than before – probably because my teeth were dependant on the fluoride over time. All toothpastes with the ADA seal must contain fluoride, so keep this in mind as you choose the type of toothpaste that's best for you. (Disclaimer: I'm not a dentist obviously, and this post is written for information only.)
It is not generally consumed worldwide. In fact, 97% of western European countries do not fluoridate their water! The decline in tooth decay from the 1970s to 2000, which is attributed to fluoride consumption, was the same in countries who did not use fluoride. Could the decline in tooth decay be attributed to another factor, such as better oral hygiene practices?
It is a known endocrine disruptor. This has a negative effect on the thyroid gland, which regulates weight, fertility, brain development, and energy levels. So while fluoride can have a positive influence on teeth, it's negative impact on the rest of the body means it may be smart to try homemade toothpaste and see how it works for you.
Extra Tip: Regular household water filters do not filter out fluoride! We purchased a special filtration system with fluoride/arsenic attachments that get rid of fluoride. It's called a Berkey and we love it. Get it here.
25+ Homemade Toothpaste Recipes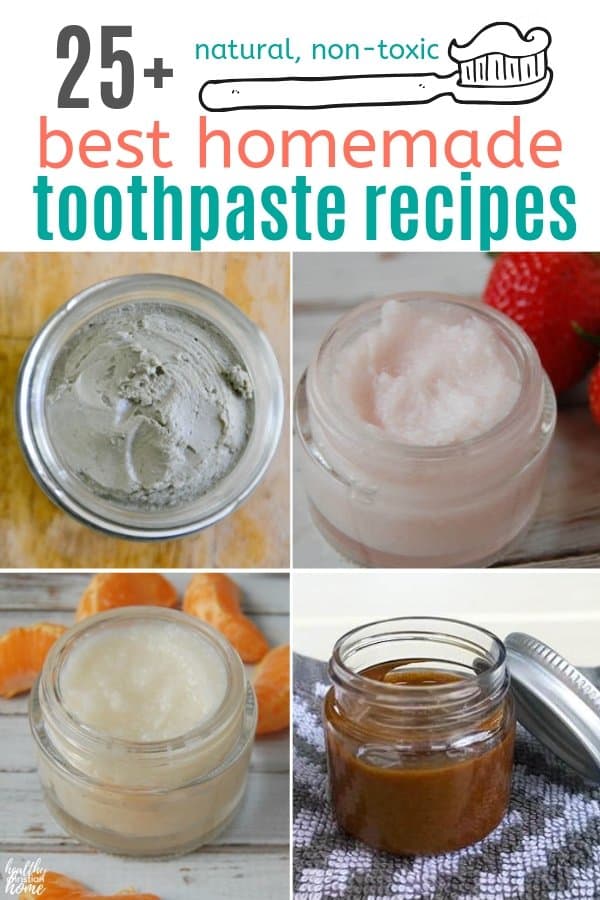 The homemade toothpaste recipes below are compiled from the best nautral living bloggers and all use clean, healthy ingredients. I've grouped them into three categories – bentonite clay based, coconut oil based, and unique toothpastes (some of which I'd never heard of!). You'll definitely find some to suit your fancy.
Bentonite Clay Homemade Toothpaste Recipes
The star ingredient in this toothpaste category is bentonite clay. You may be thinking "Hold on now – clay to clean my teeth? Isn't that dirt?" Not quite.
Bentonite clay is a special indian healing clay which provides necessary minerals to the body.
Bentonite clay carries a strong negative charge which bonds to the positive charge in many toxins. When it comes in contact with a toxin, chemical, or heavy metal, the clay will absorb the toxin and release it's minerals for the body to use. Bentonite also helps get oxygen to cells as it pulls excess hydrogen and allows the cells to replace it with oxygen instead.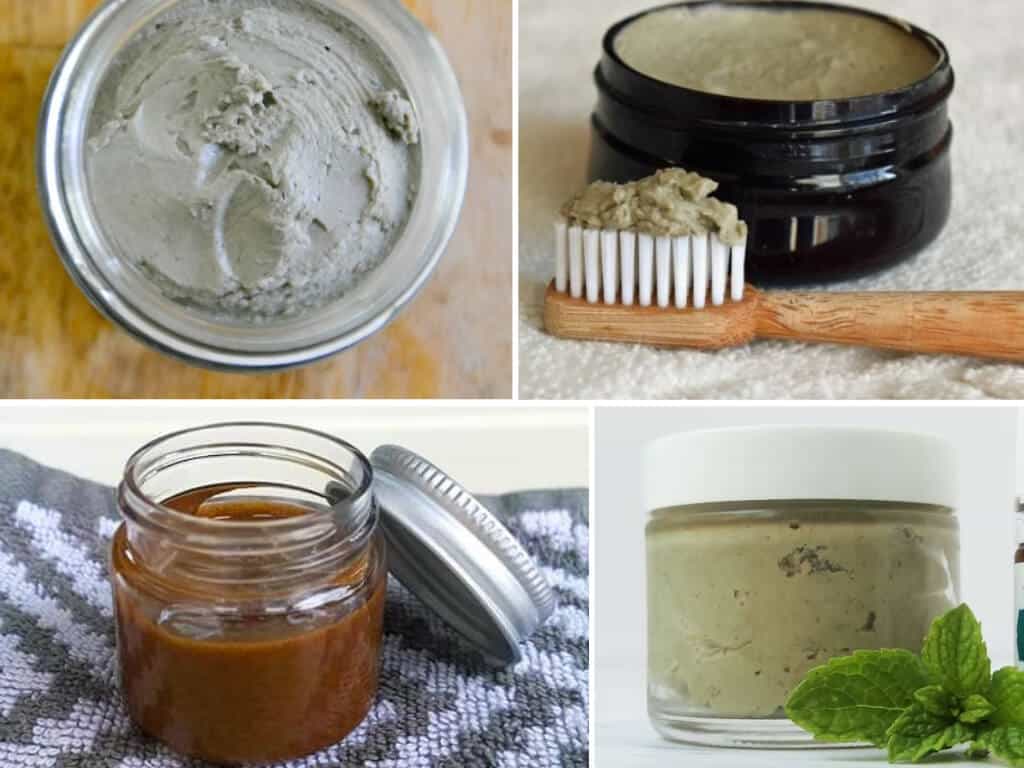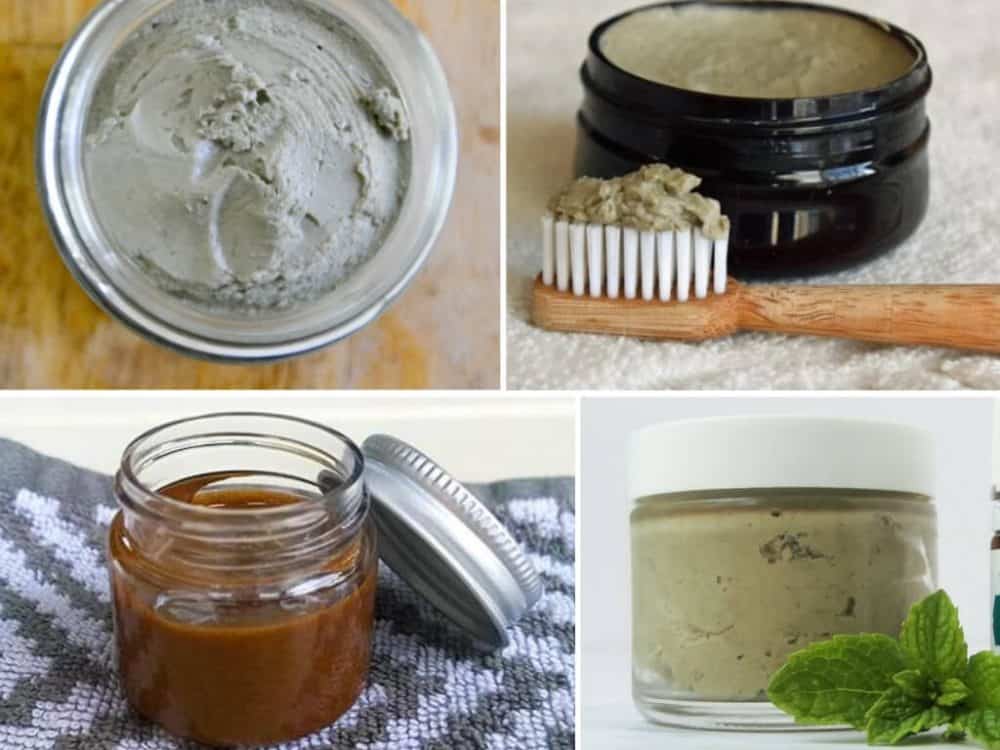 Chai Remineralizing Toothpaste from The Herbal Spoon
Homemade Tootpaste (Just Like Earthpaste) from Don't Waste the Crumbs
Orange Peppermint Homemade Toothpaste from Mindful Momma
DIY Non-Toxic Toothpaste from Raia's Recipes
Natural Toothpaste from a Hygenist by Real Nutritious Living
Bentonite Clay Toothpaste from Full of Days
Remineralizing Toothpaste from Bliss Health Coaching
Simple Homemade Peppermint Toothpaste from Live Simply
Almond Clay Toothpaste from Karissa's Vegan Kitchen
UPDATE: I recently heard that bentonite clay can pull out the toxins from metal for those with silver fillings. Since I didn't want toxic metals leaching out into my mouth when I brush, I sadly gave up the clay toothpaste. I'm not sure if it would actually be harmful, but I want to be on the safe side. If you have no silver fillings, you're good to go with these awesome recipes. Or, try the coconut oil based recipes below!
Coconut Oil Homemade Toothpaste Recipes
Coconut oil is wonderful for oral health because it has antibacterial properties, plus it's very healing to the mouth. Most of these recipes include baking soda and essential oils, too.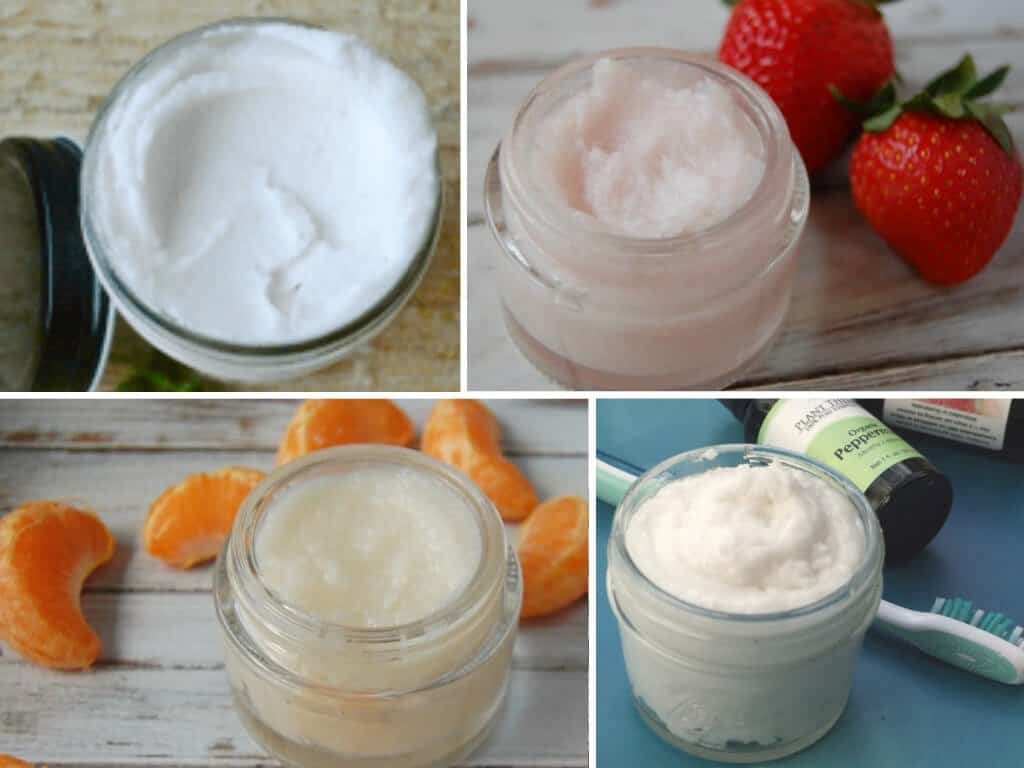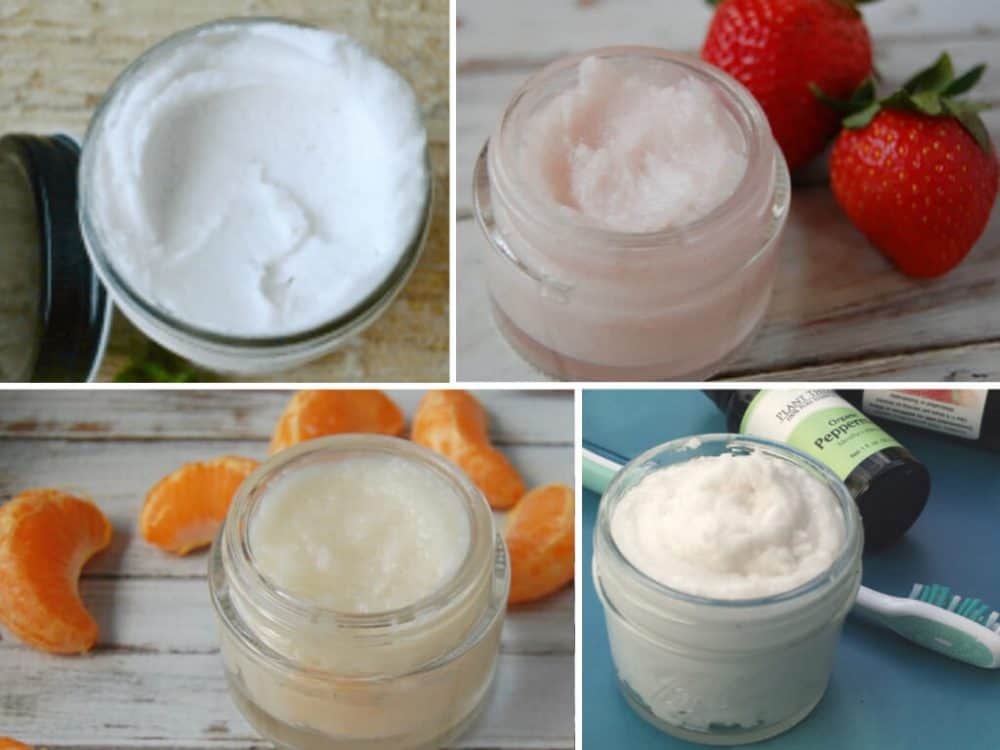 Homemade Peppermint Toothpaste from The Pistachio Project
Non-Toxic Toothpaste with Sage from Small Footprint Family
Whitening, Remineralizing, Detoxifying Coconut Oil Toothpaste from Butter for All
Kid-Friendly Creamsicle Toothpaste from The Pistachio Project
Homemade Toothpaste for Kids (and Pets!) from The Hippy Homemaker
Kid-Friendly Strawberry Toothpaste from The Pistachio Project
Homemade Toothpaste with Coconut Oil from Simple Green Smoothies
Unique Homemade Toothpaste Recipes
The toothpaste recipes below are very unique! From chocolate toothpaste (yes, chocolate helps remineralize teeth!) to tooth powders with spirulina algae to eggshell toothpaste – if you want to try something a little bit different, these recipes have you covered!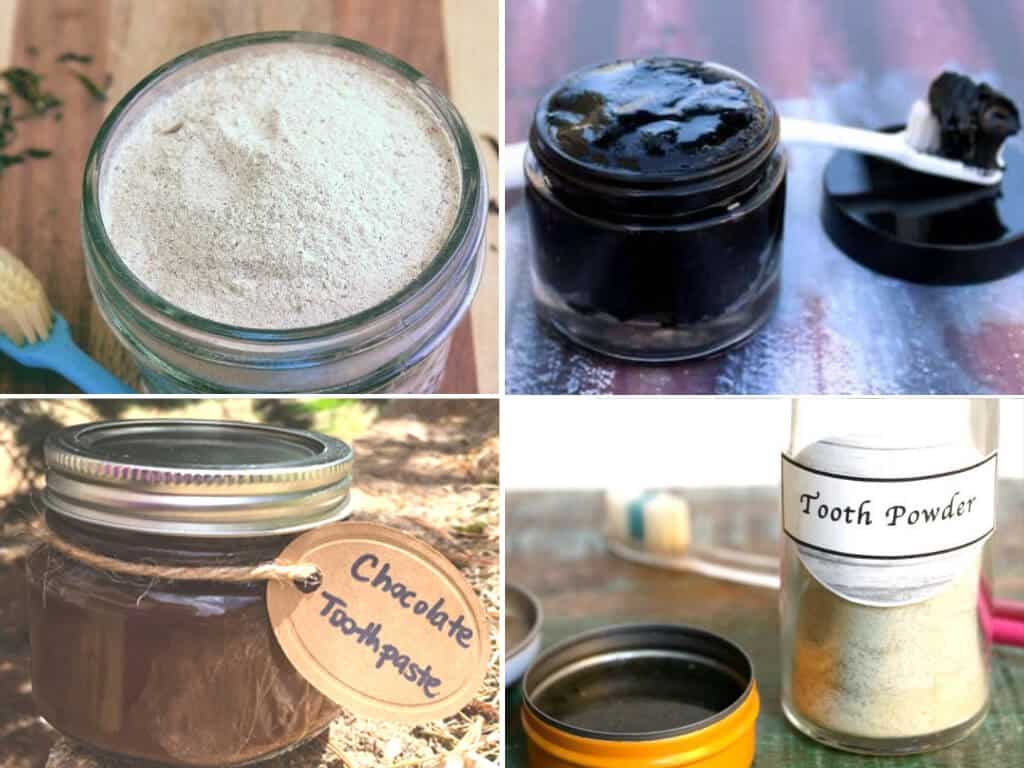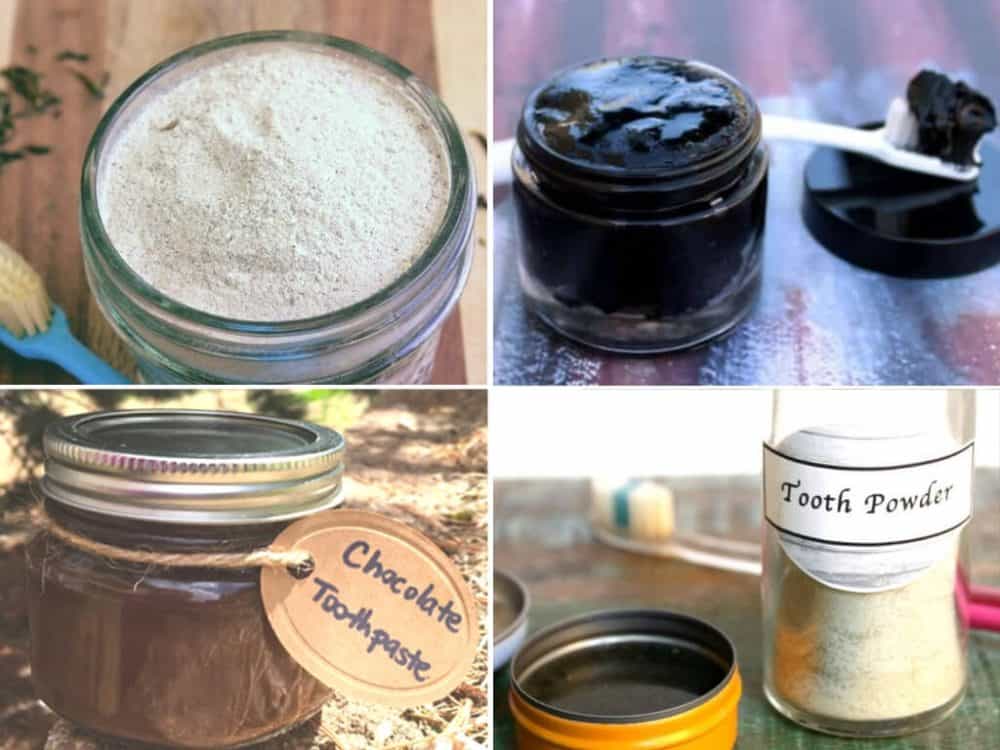 Chocolate (Cacao) Based Toothpaste from Naturally Free Life
Tooth Powder from Whole New Mom
Homemade Herbal Tooth Powder from The Hippy Homemaker
Healthy Chocolate Toothpaste from Healthy Living in Colorado
Homemade Diatomaceous Earth Toothpaste from It's a Love Love Thing
Herbal Tooth Powder & Toothpaste from Traditional Cooking School
Lemon-Lime Kids' Toothpaste from Growing Up Herbal
DIY Whitening Activated Charcoal Toothpaste from The Nourished Life
Cinnamon-Nutmeg Toothpaste from Nourishing Joy
Mineralizing Toothpaste with Activated Charcoal from Confessions of an Overworked Mom
Eggshell Calcium Rich Toothpaste from Becoming Kindred
Not Ready to Make Homemade Toothpaste?
If you're not ready to make the leap into toothpaste-making, try one of these store-bought toothpastes that are a bit more natural.
Fluoride Free: I love the Dr. Bronner's non-toxic toothpaste. It has a creamy texture and freshens my breath really well.

Redmond Clay Earthpaste is very similar to the bentonite clay homemade toothpaste recipes. They have some lovely-sounding flavors like Wintergreen, Lemon, Peppermint, and Cinnamon.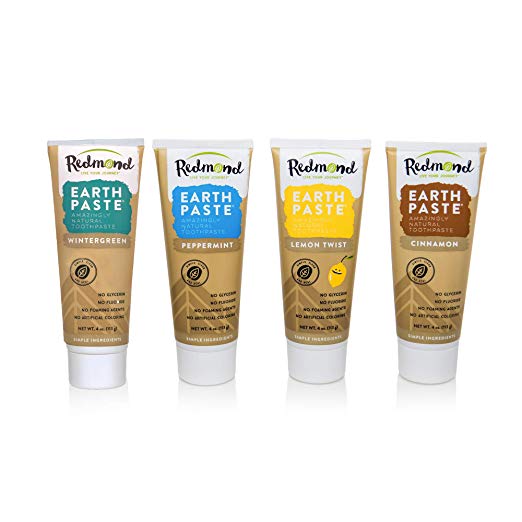 With Fluoride: If you're not quite ready to break up with fluoride, Hello Toothpaste is a great choice. I found some at TJ Maxx recently and absolutely love it! It's creamy, not too abrasive, and my teeth feel really strong when I use it. It also has no dyes, artificial sweeteners, SLS, artificial flavors, microbeads, triclosan, or parabens.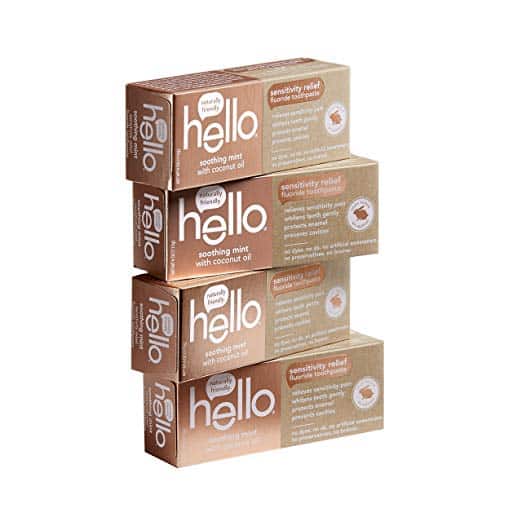 If you try a recipe, comment below and tell me what you think!
What's your oral care routine? Any toothpaste recipes to share?
With Joy,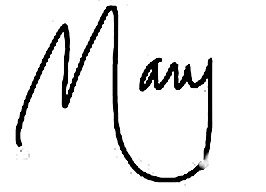 PIN IT!