I may receive a commission if you make a purchase through links in this post.
Are you a homemade salsa fanatic like me? After 8 years of perfecting the recipe, I'm sure it's the only one you'll ever need.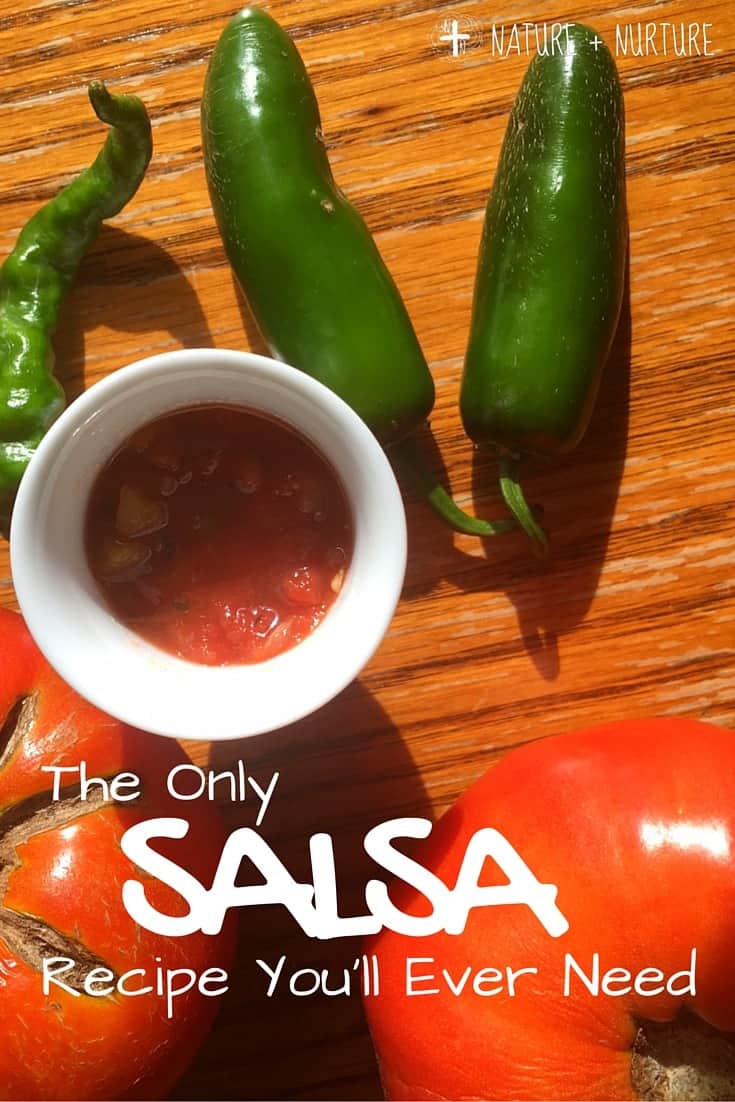 Are you a homemade salsa fanatic like me? I'm kind of obsessed with chips & salsa. When I was pregnant with my second son, all I wanted was Mexican food. I've definitely got a lot of experience making this homemade salsa recipe – trust me, it has endured 8 years of tweaking.
While we lived in Tennessee, my husband grew his own garden which was abundant with tomatoes and hot peppers. Thus, the recipe below was born. It has been a staple in our home ever since.
Note: Don't try this with habaneros. It's my husband's favorite version, but I'm not a huge fan of sweating it out 😉
Even when we lived in Scotland, we found a way to make our salsa! Yes, the tomatoes were sub-par, but it made us feel closer to home. It's definitely made us appreciate the abundance of plump tomatoes available in the States. EVEN better when you grow your own in the summertime.
Adjust the garlic and peppers to your personal taste… we tend to go a bit overboard sometimes. Ahem.
I toned it down for the recipe below. Let's just say that one of my husband's relatives asked me one day, "Have you been eating garlic?" I immediately thought, "Let me go hide under a rock now." Not cool.
You might wanna double this recipe – if your family is like mine, it'll be gone in a flash. And it's super easy to make – just add all the ingredients in a blender (except onions) and go! (We tried adding the onions in the blender too – it made the entire batch taste like a big ol' onion.)
Tip: Put this in mason jars, tie with some twine and give to friends and coworkers as an inexpensive gift. They'll love it!
Try this out and let me know what you think!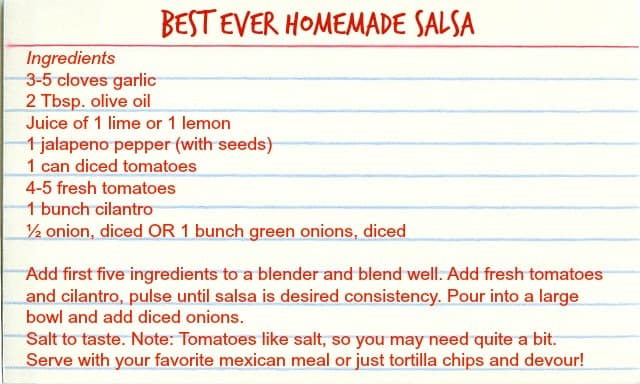 You may also like:
Have you ever made homemade salsa? What's your favorite condiment?
With Joy,
Mary