"The joy of the Lord is my strength" is a phrase we often hear, but what does it mean, really? Let's take a deeper look at the context of Nehemiah 8:10 and discover what this phrase means for us as Christians today.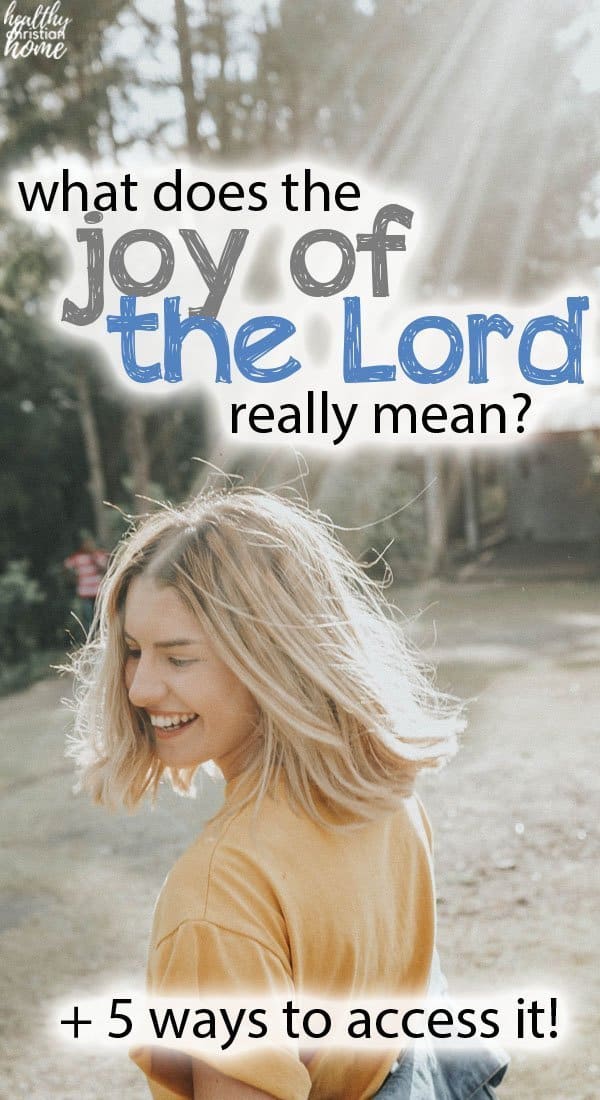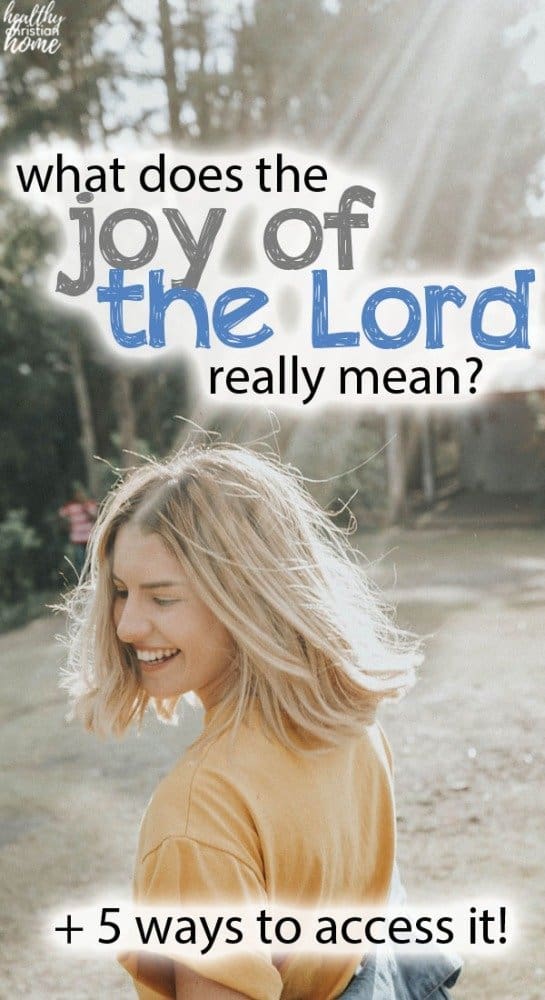 Ever feel like your strength is running out? I have. Some days, it's all too easy to evaluate my current level of strength and measure it against the days ahead. I even struggle with doubt at times, and wonder how I am going to make it through that day, let alone all the days in the future.
"The joy of the lord is my strength" verse
Where does the phrase "the joy of the Lord is my strength" come from? This bible verse is found in Nehemiah 8, where Ezra the scribe reads the words of God's law to the people. They stand in reverence for hours as God's word is read, and as they understand it, begin weeping.
For all the people wept, when they heard the words of the Law.

Then he said to them, "Go your way, eat the fat, drink the sweet, and send portions to those for whom nothing is prepared; for this day is holy to our Lord. Do not sorrow, for the joy of the Lord is your strength." (Nehemiah 8:9-10)

When we feel sorrow – whether it be realization of sin or because of difficult circumstances – we often wonder where our strength is going to come from. But it is vital to remember: the joy of the Lord is my strength.
But what is 'the joy of the Lord'?
We cannot conjure up this type of joy within ourselves, by our own power. It has to come from one source only – the Lord.
Thank goodness it's not our human joy – it's the joy of the Lord. Put another way, it's the joy God has, or possesses.
Can you even begin to imagine the amount of joy God has?
What's even more amazing is that God's joy centers around us. Hebrews 12:2 says that Jesus endured the cross "for the joy set before Him" (a relationship with us). And Zephaniah 3:17 says that God rejoices over us with singing!
Have you ever thought about the fact that being in a relationship with you makes God happy? Knowing that God feels this way about you should spark the flame of joy within you, too!
As Christians, we have access to God's boundless joy, a joy that does not come from our circumstances or within ourselves. It does not depend on how strong or spiritual we are.
This joy comes from God alone, and the relationship we have with Him.
This realization also enabled the apostle Paul. Here's a sermon clip from my husband about how God's strength enabled him:
A specific place we can find God's joy
You may be asking, "But how can I access God's joy in my life?"
We have an example from Nehemiah 8. As Nehemiah read the words of the Law, the people wept and mourned because they were not obeying the law. But Ezra comforts them, telling them not to weep because the joy of the Lord is their strength.
Their joy was realized because, even though a knowledge of the truth caused sorrow (repentance), it also gave them direction. 2 Corinthians 7:10 says, "Godly sorrow brings repentance that leads to salvation and leaves no regret, but worldly sorrow brings death."
Changing their lives and following God's ways gave them a deeper joy than they could have attained on their own.
It's the same for us – when we study and know the truth within the pages of the Bible, we have the joy of the Lord! 
Jesus said this as well in John 8:31-32, "To the Jews who had believed him, Jesus said, "If you hold to my teaching, you are really my disciples. Then you will know the truth, and the truth will set you free."
If you want to learn the truth of what the Bible says on a deeper level, or if you feel like you don't know the bible well, sign up for World Bible School's free online courses – they're excellent.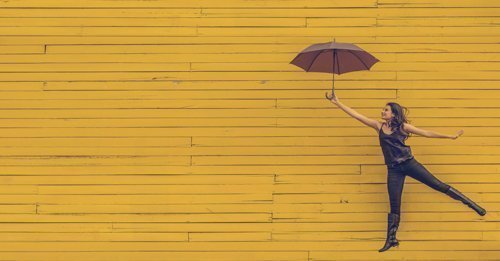 Accessing the Joy of the Lord in times of weakness
After we've studied and embraced the word of God in our lives, we still need to put it into practice to experience the benefits. We need to access the power of God's joy in our everyday lives.
Only God knows what we are truly capable of in His power. But many days, the words of Light the Fire feel all too true, "My spirit is willing, but my flesh is so weak!"
Here's an example of this in my life:
Recently, we traveled 16+ hours for Thanksgiving and a ministry tryout. Already tired and with two toddlers in tow, I got food poisoning on the way home. It. Was. Bad. It was all we could do to make it home, and I didn't move out of bed the rest of the day.
The next morning, I awoke feeling so much better! I got it in my mind that I had to catch up on everything I couldn't do while I was sick – laundry, cleaning, etc. My sweet (and wise) husband tried to tell me to slow down, that I had just been horribly sick the previous day. I said nah, I was fine. That is, until that evening.
When I get overly tired, it's easy for me to let my mind go in circles and not be able to sleep. Such was the case last night. I got to sleep super late, and all day I've been paying for pushing myself yesterday.
Here's an excerpt from my prayer journal that day:
I am told by You [God] to rejoice despite my circumstances, not be anxious, bring every thought into captivity to Christ, etc. You wouldn't tell me to do it if it was impossible. Why do I find it so much harder when I'm tired? I know Satan came to tempt Jesus when He was physically weak. Jesus answered him by quoting Scripture….

This [spiritual struggle] seems to happen when I am exhausted. Since I feel weak, I question whether I have the ability to win the victory. I have temptations on good days too, but they don't affect me as much because I feel physically strong.
Is it just me, or are spiritual battles harder to fight when you're tired? I need to access the joy of the Lord on days like this.
5 Ways to Let God be Your Strength
What is the key to accessing God's strength in our weakness? I'm still trying to figure it out. But here's what I've learned so far.
1. Meditate on Scripture.
This goes back to how the people responded to God's Law in Nehemiah 8. They let God's words penetrate deep down in their souls, where it could change them.
When you're studying, don't just read or say the words – think about what they mean. Go deeper. Keep a specific verse in mind for the day and dwell on it. For example, think, "The joy of the Lord is my strength" whenever you struggle or face temptation.
For an in-depth study method for spiritual warfare, read How to Grow Spiritually When You Don't Feel Close to God.
2. Look for God everywhere.
Count all the gifts He's given you, all day long. Try to find him in the ordinary. This practice will increase your joy exponentially, because you will start to see all the ways God cares for you.
The more I focus on God, the more I realize He is worthy of my trust and able to take care of it all. Isaiah 26:3 is one of my favorite Scriptures: "You keep him in perfect peace whose mind is stayed on you, because he trusts in you."
3. Pray constantly.
Every time you face a difficulty, ask God how to deal with it. Keep a conversation with Him going all day long. Talk to Him about how you're feeling. He'll help you face it!
To dive deeper in your prayer life, read my Ultimate Guide to Prayer Journaling.
4. Let go.
Finding joy in God means letting Him take control of your life.
I used to get so annoyed when I would hear the phrase "Let go", because I didn't know how to implement it. I'm still learning. But today I found this really cool "definition" of letting go by Suzie Eller:
Letting go is giving up what is beyond your control to embrace what you can change.
She goes on to say, "We can't control the words that once shaped our hearts, but we can replace them with truth from Scripture." Wow. 
There are certain things in life that cannot be changed, no matter how hard you try. In these situations, we must remember 1 Peter 5:6-7 "…humble yourselves under the mighty hand of God, that He may exalt you in due time, casting all your care upon Him, for He cares for you." Cast these cares on Him in prayer, and do your best to leave it with Him.

After that, do what you can. This totally reminds me of the popular "Serenity Prayer."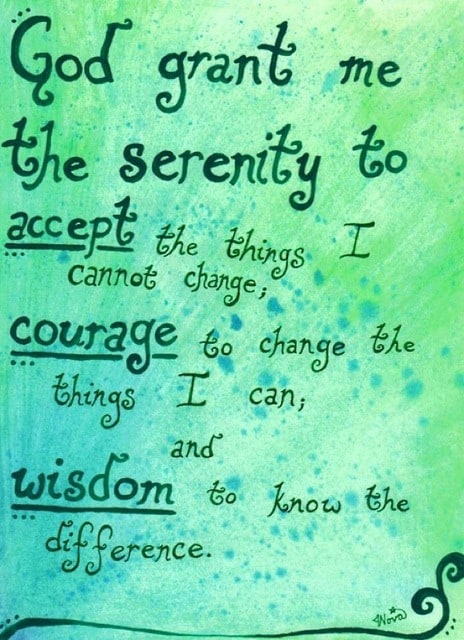 This leads me to the last point…
5. Do the next thing.
Whatever part of your life you can control and change, purpose to do something about it. Use the strength and talents God has given you to better your situation, and leave the rest to God.
In my case, it's being more proactive in taking care of myself. I can go to bed earlier, eat more healthy foods, and exercise more – these will all help strengthen my physical temple for those future battles that are to come! "Or do you not know that your body is a temple of the Holy Spirit within you, whom you have from God? You are not your own, for you were bought with a price. So glorify God in your body" 1 Corinthians 6:19-20.
The key when I am physically, mentally, or emotionally drained? The joy of the Lord is my strength – even when I feel weak, sad, or my circumstances are difficult. 
"My grace is sufficient for you, for My strength is made perfect in weakness." Therefore most gladly I will rather boast in my infirmities, that the power of Christ may rest upon me. Therefore I take pleasure in infirmities, in reproaches, in needs, in persecutions, in distresses, for Christ's sake. For when I am weak, then I am strong" 2 Corinthians 12:9-10.
22 Bible Verses About the Joy of the Lord is My Strength
Aside from the verses already listed, there are a bunch more in Scripture which encourage us to find our joy in God! Here are some of the best verses about the joy of the Lord and making Him our strength.
"Rejoice in the Lord always; again I will say, Rejoice." – Philippians 4:4
"The Lord is my strength and my shield; in him my heart trusts, and I am helped; my heart exults, and with my song I give thanks to him." – Psalm 28:7
"Behold, God is my salvation; I will trust, and will not be afraid; for the Lord God is my strength and my song, and he has become my salvation." – Isaiah 12:2
"You make known to me the path of life; in your presence there is fullness of joy; at your right hand are pleasures forevermore."  – Psalm 16:11
"May the God of hope fill you with all joy and peace in believing, so that by the power of the Holy Spirit you may abound in hope." – Romans 15:13
"The Lord is my strength and my shield; in him my heart trusts, and I am helped; my heart exults, and with my song I give thanks to him. The Lord is the strength of his people; he is the saving refuge of his anointed." – Psalm 28:7-8
"God, the Lord, is my strength; he makes my feet like the deer's; he makes me tread on my high places." – Habakkuk 3:19
"But the fruit of the Spirit is love, joy, peace, patience, kindness, goodness, faithfulness…" – Galatians 5:22
"These things I have spoken to you, that my joy may be in you, and that your joy may be full." – John 15:11
"The Lord your God is in your midst, a mighty one who will save; he will rejoice over you with gladness; he will quiet you by his love; he will exult over you with loud singing." – Zephaniah 3:17
"This is the day that the Lord has made; let us rejoice and be glad in it." – Psalm 118:24
"Of David. The Lord is my light and my salvation; whom shall I fear? The Lord is the stronghold of my life; of whom shall I be afraid."  – Psalm 27:1
"I will greatly rejoice in the Lord; my soul shall exult in my God, for he has clothed me with the garments of salvation; he has covered me with the robe of righteousness, as a bridegroom decks himself like a priest with a beautiful headdress, and as a bride adorns herself with her jewels." – Isaiah 61:10
"Rejoice in hope, be patient in tribulation, be constant in prayer." – Romans 12:12
"You have put more joy in my heart than they have when their grain and wine abound." – Psalm 4:7
"You have turned for me my mourning into dancing; you have loosed my sackcloth and clothed me with gladness…" – Psalm 30:11
"When the cares of my heart are many, your consolations cheer my soul." – Psalm 94:19
"A joyful heart is good medicine, but a crushed spirit dries up the bones." – Proverbs 17:22
"Rejoice always, pray without ceasing, give thanks in all circumstances; for this is the will of God in Christ Jesus for you." – 1 Thessalonians 5:16-18
"But let all who take refuge in you rejoice; let them ever sing for joy, and spread your protection over them, that those who love your name may exult in you." – Psalm 5:11
"Though you have not seen him, you love him. Though you do not now see him, you believe in him and rejoice with joy that is inexpressible and filled with glory…" – 1 Peter 1:8
"For his anger is but for a moment, and his favor is for a lifetime. Weeping may tarry for the night, but joy comes with the morning." – Psalm 30:5
WHAT DOES "THE JOY OF THE LORD IS MY STRENGTH" MEAN TO YOU? I NEED TO HEAR YOUR WISDOM!
With Joy,

PIN IT!