Homemade garlic blender salsa is SO easy to make and tastes 100x better than anything you can get from a jar (or even your favorite Mexican restaurant). In just five minutes, you'll have a salsa recipe that's so fresh and flavorful you'll want to make it over and over!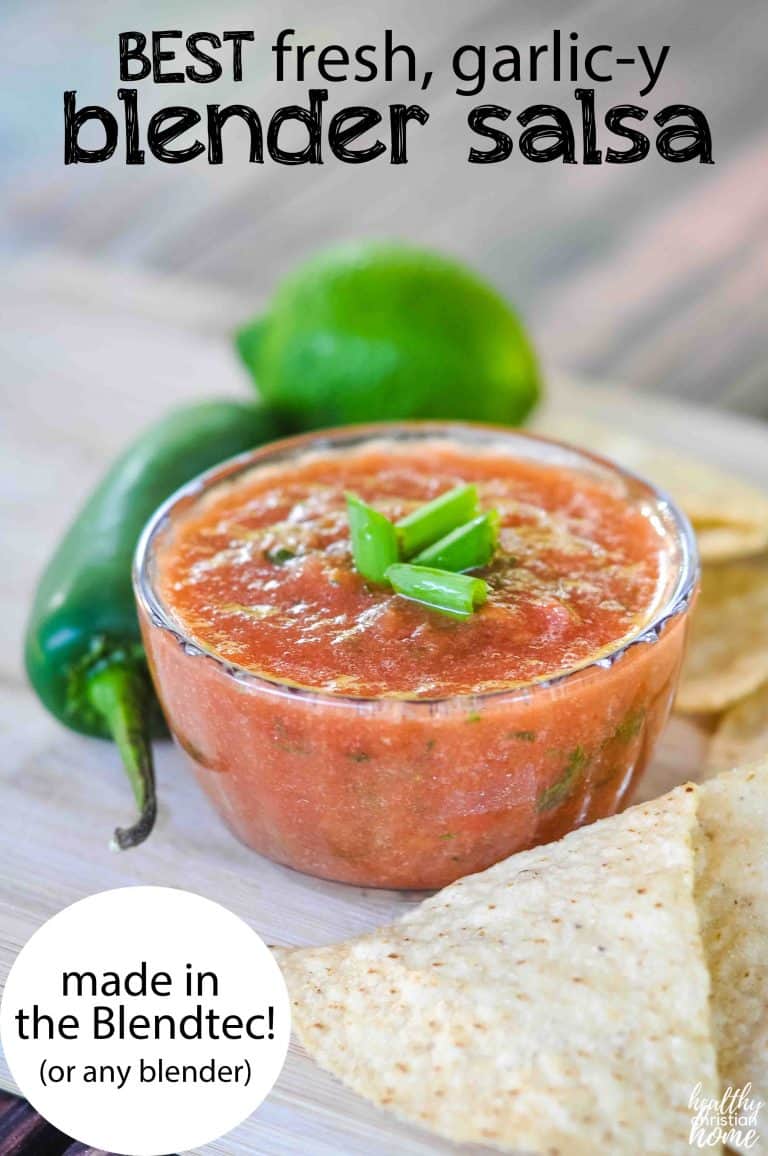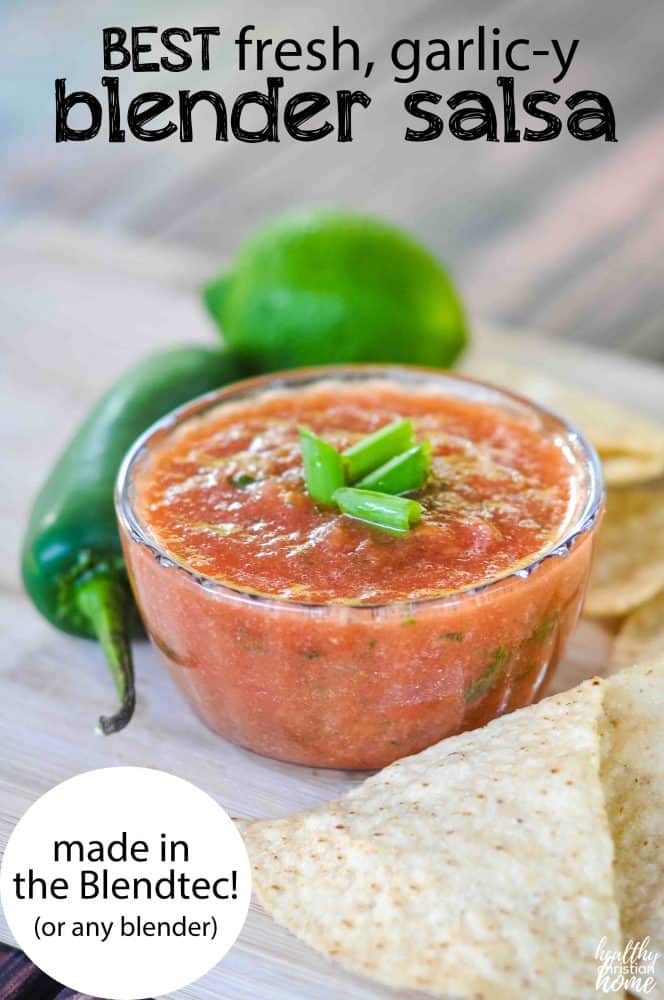 Homemade Salsa Fanatics – Unite!
Are you a homemade salsa fanatic like me? I'm kind of obsessed with chips & salsa.
When I was pregnant with my second son, all I wanted was Mexican food. I've definitely got a lot of experience making this homemade salsa recipe. Trust me, it has endured 8 years of tweaking, and this recipe is the result!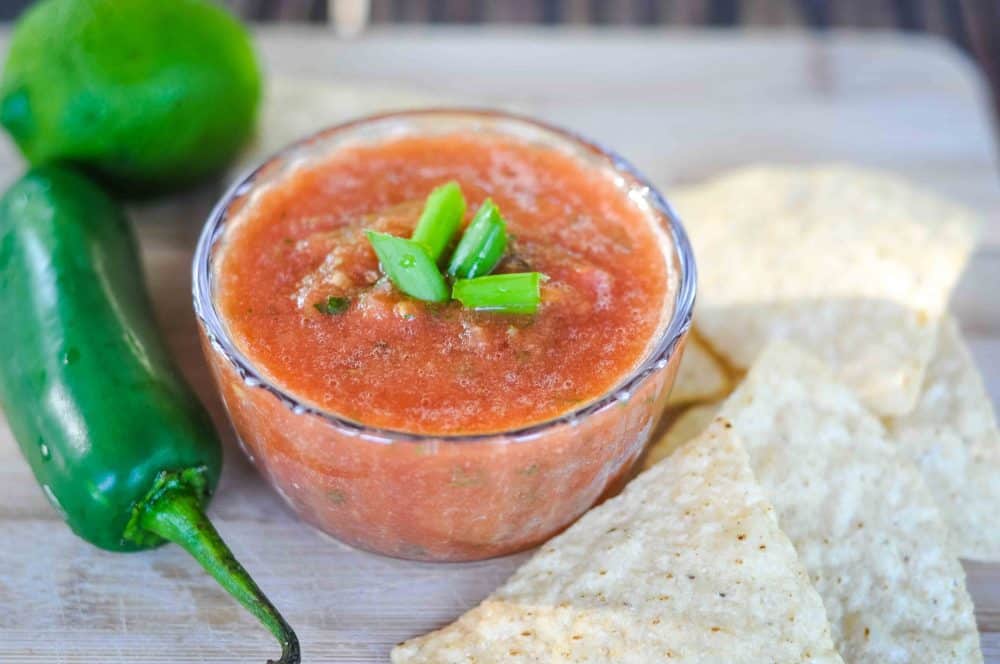 Even when we lived in Scotland, we found a way to make our salsa. Yes, the tomatoes were sub-par, but it made us feel closer to home. It's definitely made us appreciate the abundance of plump tomatoes available in the States. EVEN better when you grow your own in the summertime.
While we lived in Tennessee, my husband grew his own garden which was abundant with tomatoes and hot peppers. Thus, the recipe below was born. It has been a staple in our home ever since.
Note: Don't try this with habaneros. It's my husband's favorite version, but I'm not a huge fan of sweating it out 😉
Adjust the garlic and peppers to your personal taste… we tend to go a bit overboard sometimes. Ahem.
I toned it down for the recipe below. Let's just say that one of my husband's relatives asked me one day, "Have you been eating garlic?" I immediately thought, "Let me go hide under a rock now." Not cool.
Related post: 50+ Vegetable Recipes for People Who Don't Like Veggies
How to Make Salsa in the Blender (the easy way)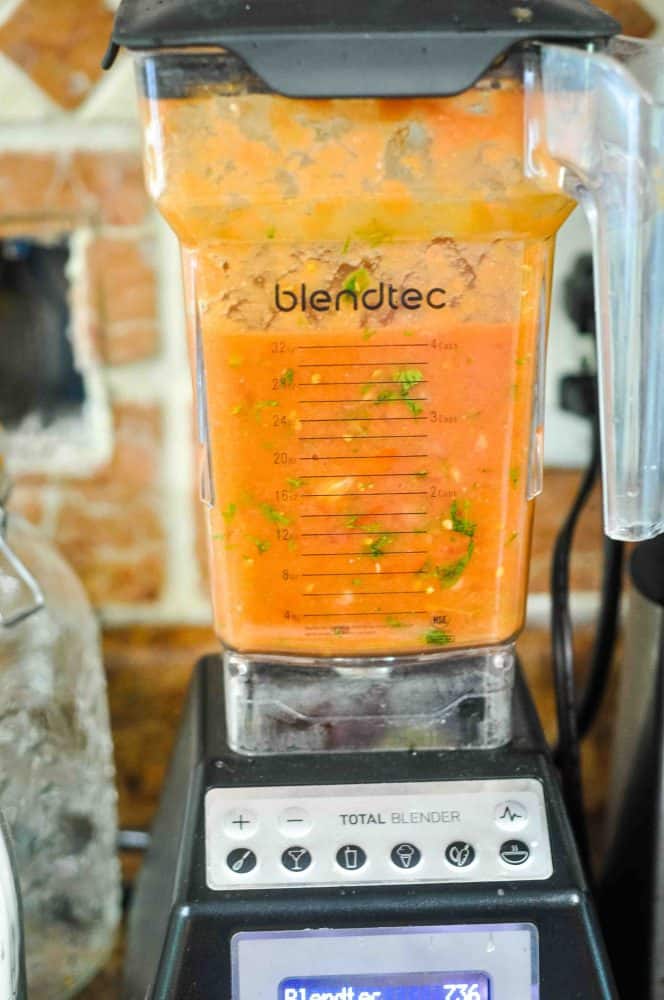 Making homemade salsa is a lot easier than you might think – just add all the ingredients in a blender (except onions) and go! (We tried adding the onions in the blender too – it made the entire batch taste like a big ol' onion.)
We absolutely love our Blendtec blender for smoothies like my basic fruit or chocolate smoothie and desserts like avocado chocolate mousse. But it's also wonderful for making Blendtec salsa!
The Blendtec has so many options for blade speed, and doesn't leave too many big chunks in the salsa like some of my blenders in the past. Below is the exact model we use – we love it!

All you need to do is add your lemon/lime juice, garlic, peppers, and canned tomatoes and puree until smooth. This ensures the garlic and spice is evenly incorporated and no one gets a big chunk of jalapeno!
Then, add the fresh tomatoes and cilantro and pulse the blender until it reaches your preferred level of chunkiness. If you want to finely dice an onion to add to the finished product, you may.
Right now we have fresh cilantro in our raised beds – literally begging to be made into salsa. So let's get to it!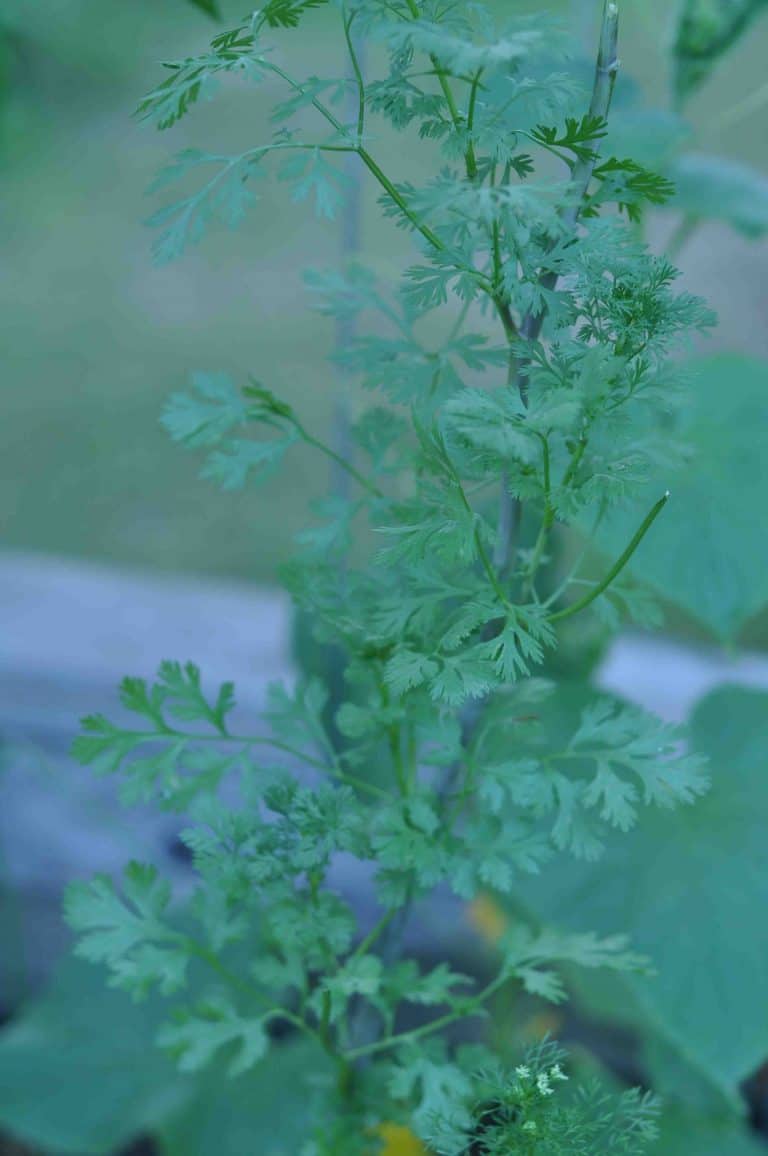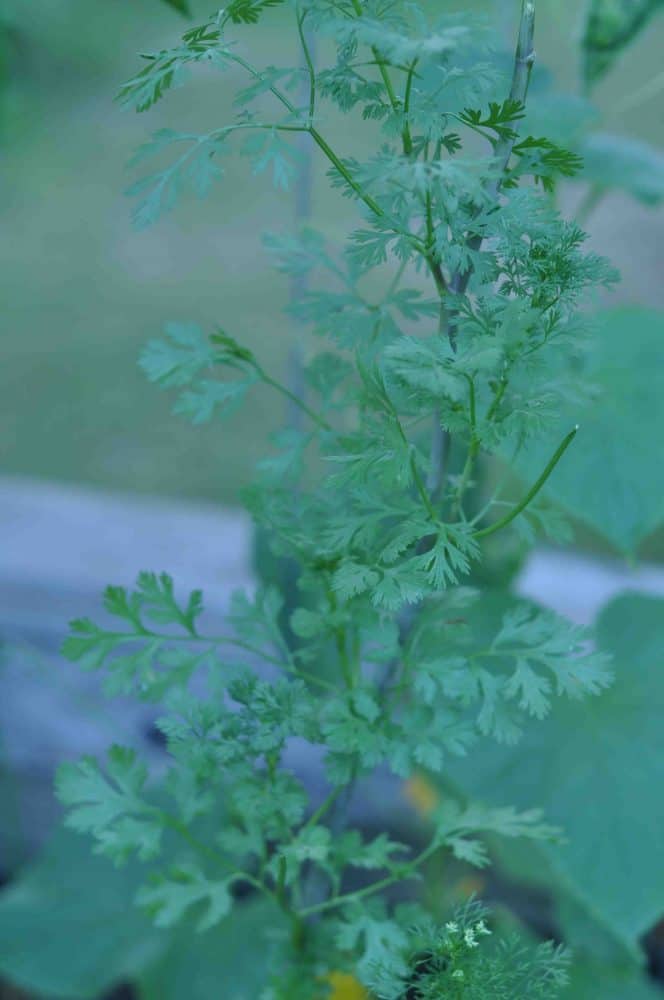 Tips for Making the Best Homemade Blender Salsa
There are a few tips and tricks for making your salsa shine!
If you like less heat, remove the seeds from the jalapenos. For extra heat, leave the seeds or add more peppers.
Using the correct amount of salt is extremely important for the best tasting salsa. Test your salsa (with a chip) and don't be shy about adding more! Each batch is different and needs a different amount of salt.
Using a mix of canned and fresh tomatoes gives homemade blender salsa the perfect depth. Without canned, the flavor isn't rich and deep enough. Without real tomatoes, the salsa lacks freshness. So a mix of both is what you want.
Unless you get your limes at peak season, they're usually more dry than lemons so you'll have to use more of them. Aim for 1/4 cup lime or lemon juice – it really makes a difference in the flavor.
For best results, refrigerate your salsa and use within one week. It doesn't last long at our house!
Put your salsa in mason jars, tie with some twine and give to friends and coworkers as an inexpensive gift. They'll love it!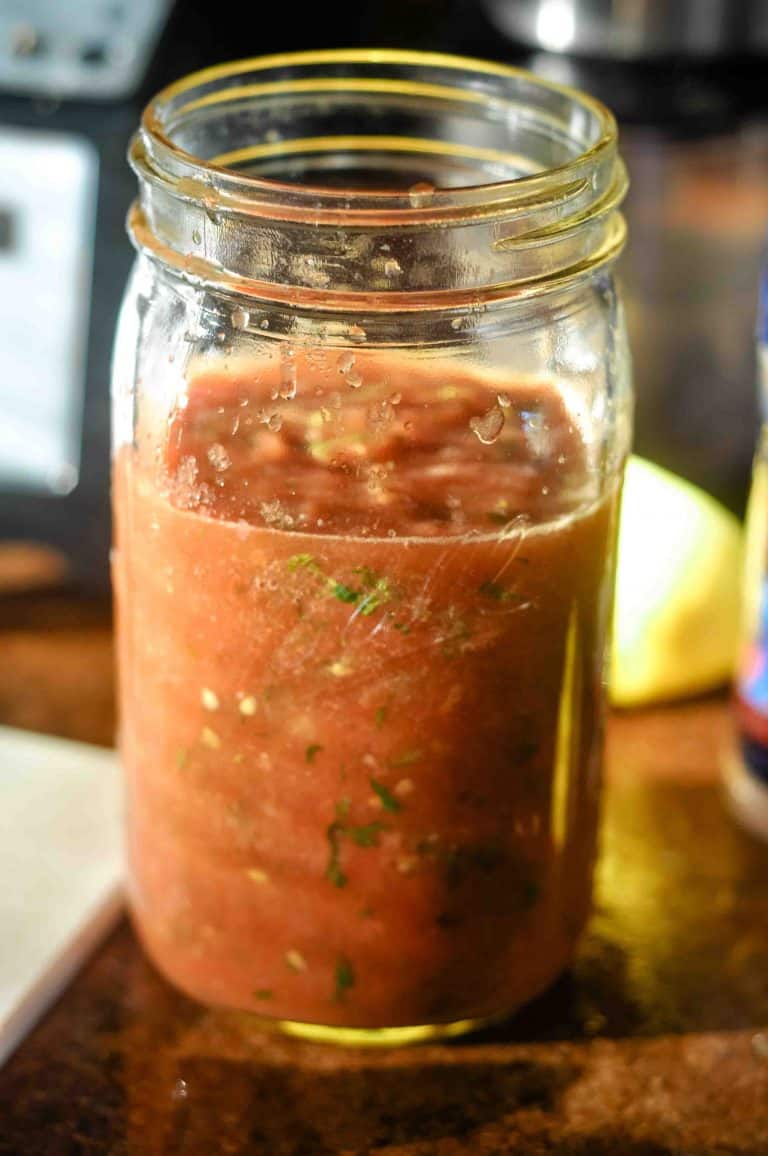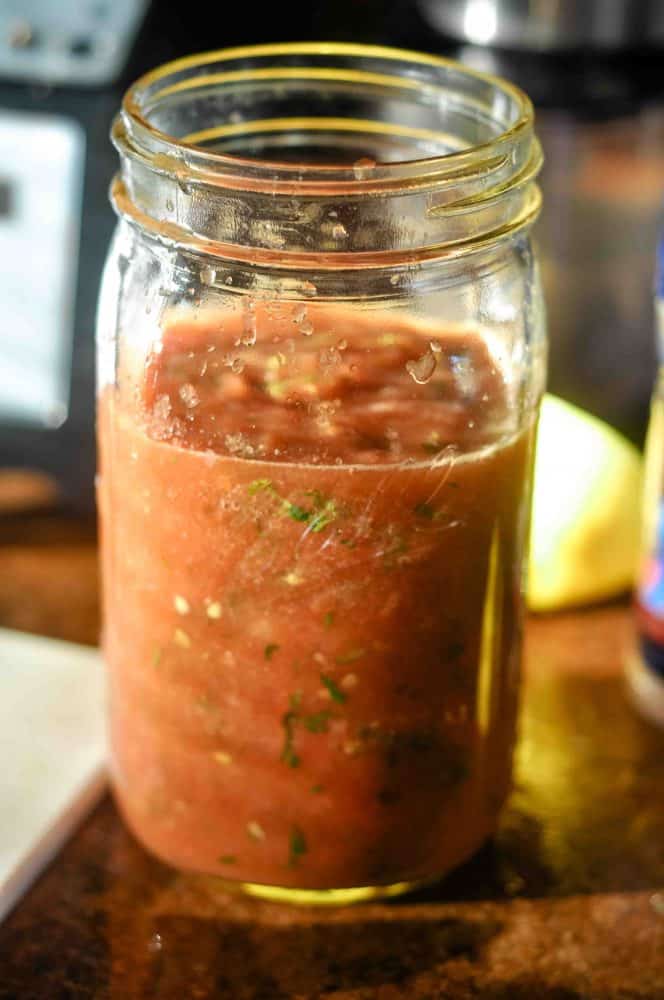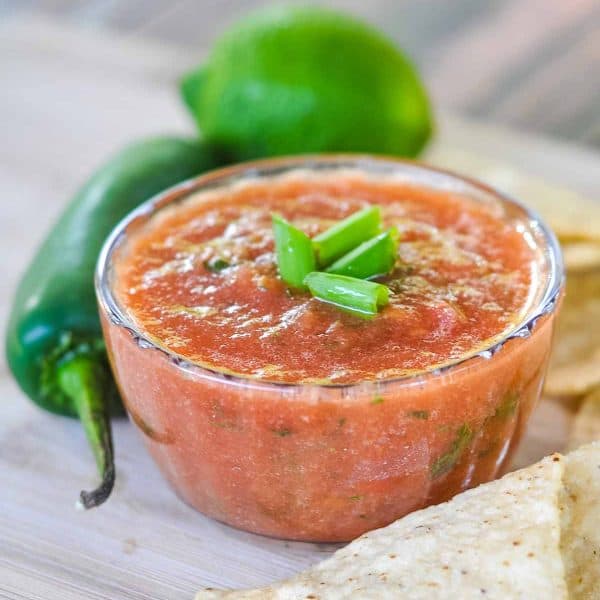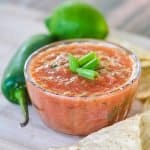 Homemade Garlic-y Blender Salsa
This homemade salsa made in the blender is SO easy and flavorful! Filled with canned and fresh tomatoes, garlic, peppers, and cilantro, you'll want to make this salsa recipe over and over!
Servings 12
Calories 20 kcal
Ingredients
4 cloves garlic
1-2 jalapenos seeded if you want to reduce heat
2 lemons or limes juiced (around 1/2 cup)
1 10 oz. can diced tomatoes
4-5 tomatoes fresh
1 cup cilantro more or less to taste
1/4 cup white or green onions chopped
1 tbsp salt or more to taste
Instructions
Add first 4 ingredients to blender. Blend on high until smooth. (If using a Blendtec, try the whole juice setting).

Add fresh tomatoes, cilantro, and salt to blender.

Pulse slowly until salsa reaches your preferred level of chunky or smooth.

Pour into a jar or bowl and add chopped onions. Stir. Taste salsa and add more salt if necessary.
Have you ever made homemade salsa? What's your favorite condiment?
With Joy,
Mary
PIN IT!