In this tutorial, you'll learn how to make homemade coconut milk from scratch in 5 minutes with no additives. Perfect if you are intolerant to dairy, or just want to add a tropical coconut flavor to your favorite drinks and dishes!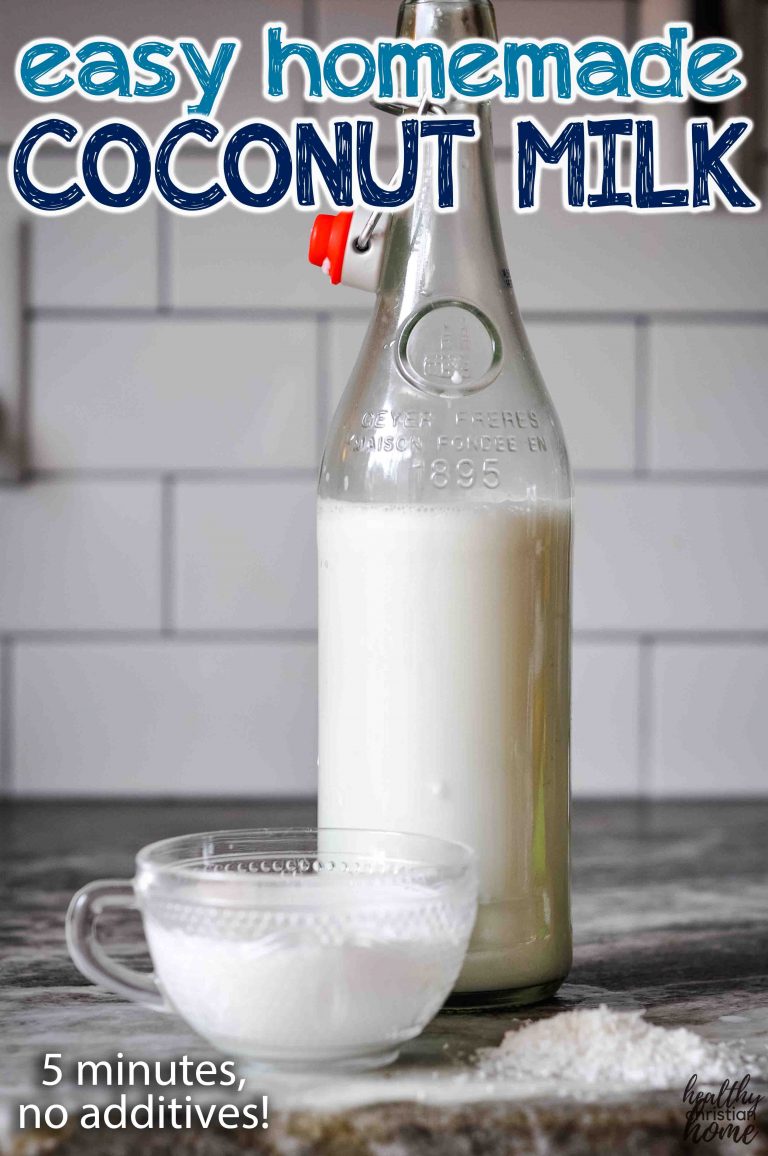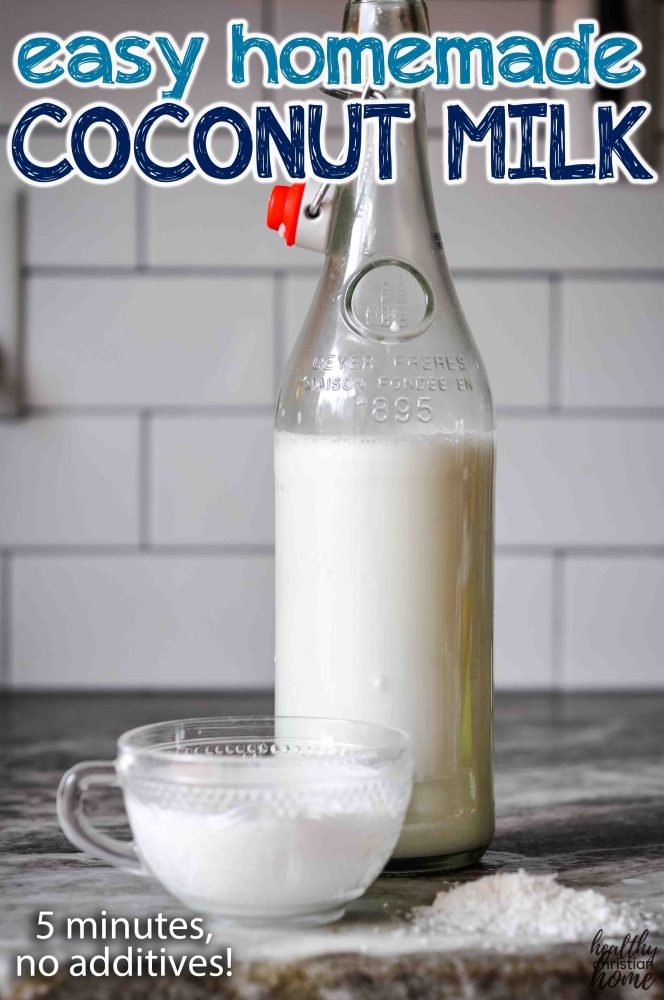 Coconut has always been a major obsession of mine. I simply adore the taste – Almond Joy, macaroons, coconut cake, doesn't matter. If it has coconut in it, I'm game.
Last night, our family went for ice cream and of course, I had to order chocolate with shredded coconut. Nothing better.
So why not extend my coconut obsession to drink form and make homemade coconut milk?
It's so yummy, tropical, and exotic – not to mention good for you and SUPER easy to make. This homemade milk alternative has a delicious, mild flavor and is full of nutrients.
If you're trying to limit your dairy intake, homemade coconut milk is the perfect alternative. It's delicious in fruit smoothies, coffee, hot cocoa, turmeric tea, or as a replacement in any recipe that uses milk. Coconut milk is also frequently used in curries and Asian-inspired dishes and soups.
Updated on December 15, 2019.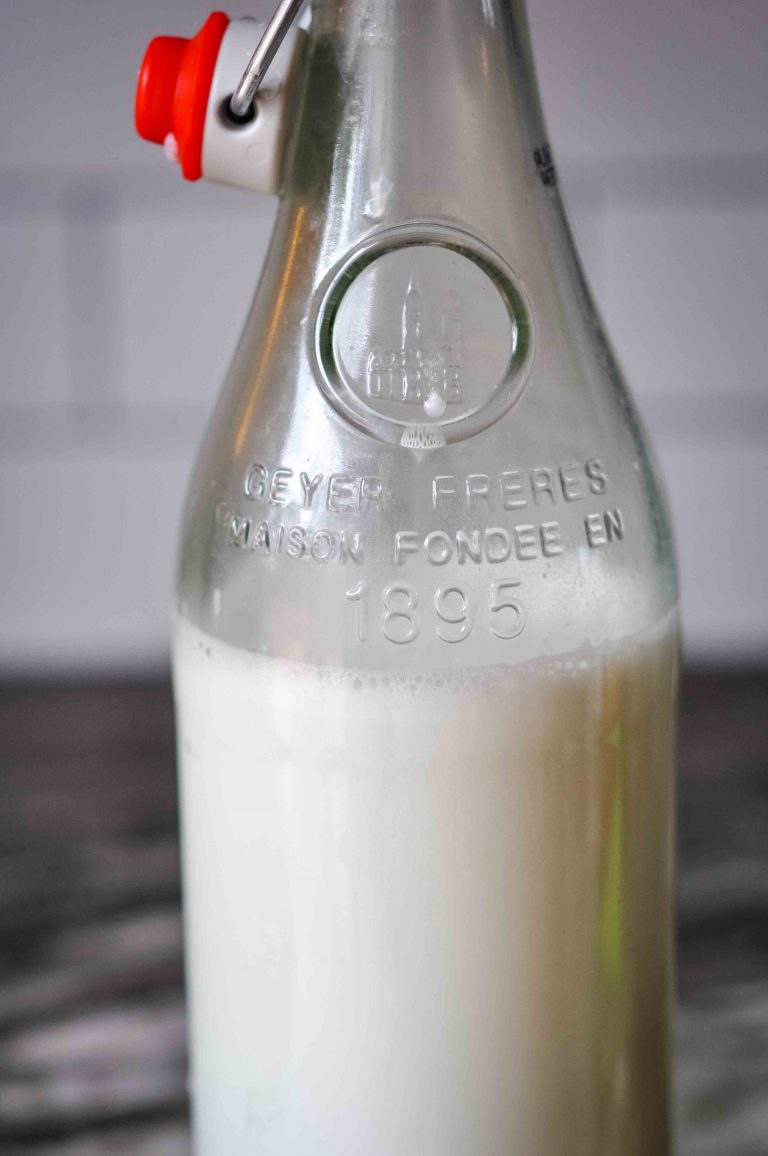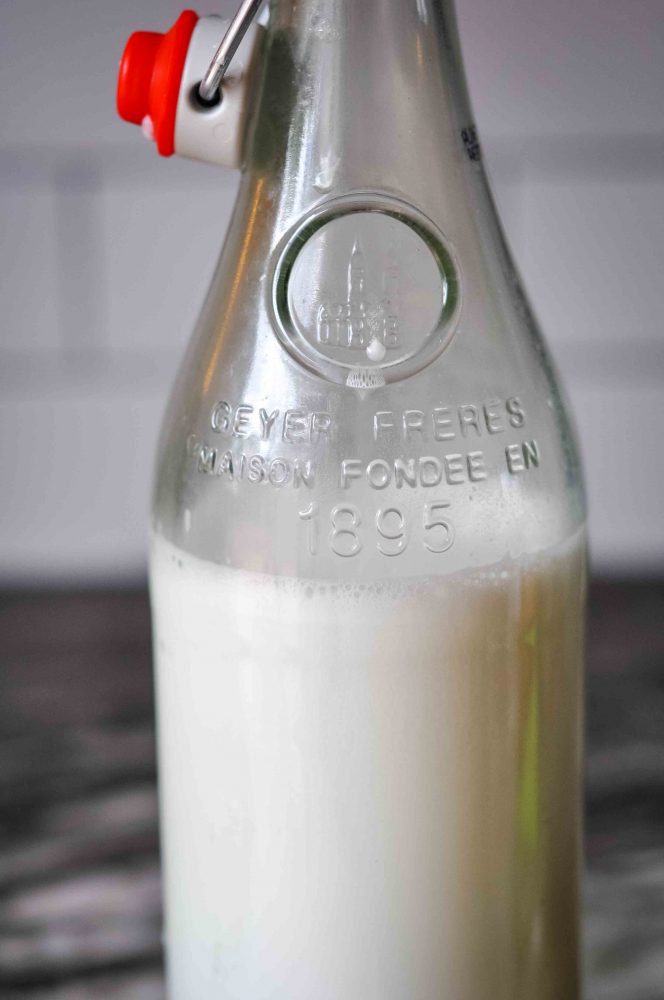 Coconut Milk Benefits
Coconut milk is a great source of manganese, copper, magnesium, iron, and other minerals. It's also great for electrolyte balance. It has some hefty benefits for the body, including:
Weight Loss. Coconut contains healthy fats like MCTs (multi chain triglycerides) which help fill you up and burn fat.
Heart Health. The lauric acid in coconut milk is protective and may improve cholesterol levels and heart health. The minerals in coconut help improve circulation and blood flow.
Improves Digestion. The electrolytes and healthy fats in coconut milk nourish the digestive lining, helping to improve IBS, ulcers, and related conditions.
Joint Health. The MCTs in coconut milk can reduce inflammation which can improve pain related conditions like arthritis.
Blood Sugar Balance. Again, the healthy fats in coconut milk go to work by slowing the rate of sugar absorption into the bloodstream, helping control insulin levels.
Source: Dr. Josh Axe "9 Coconut Milk Benefits and Recipes"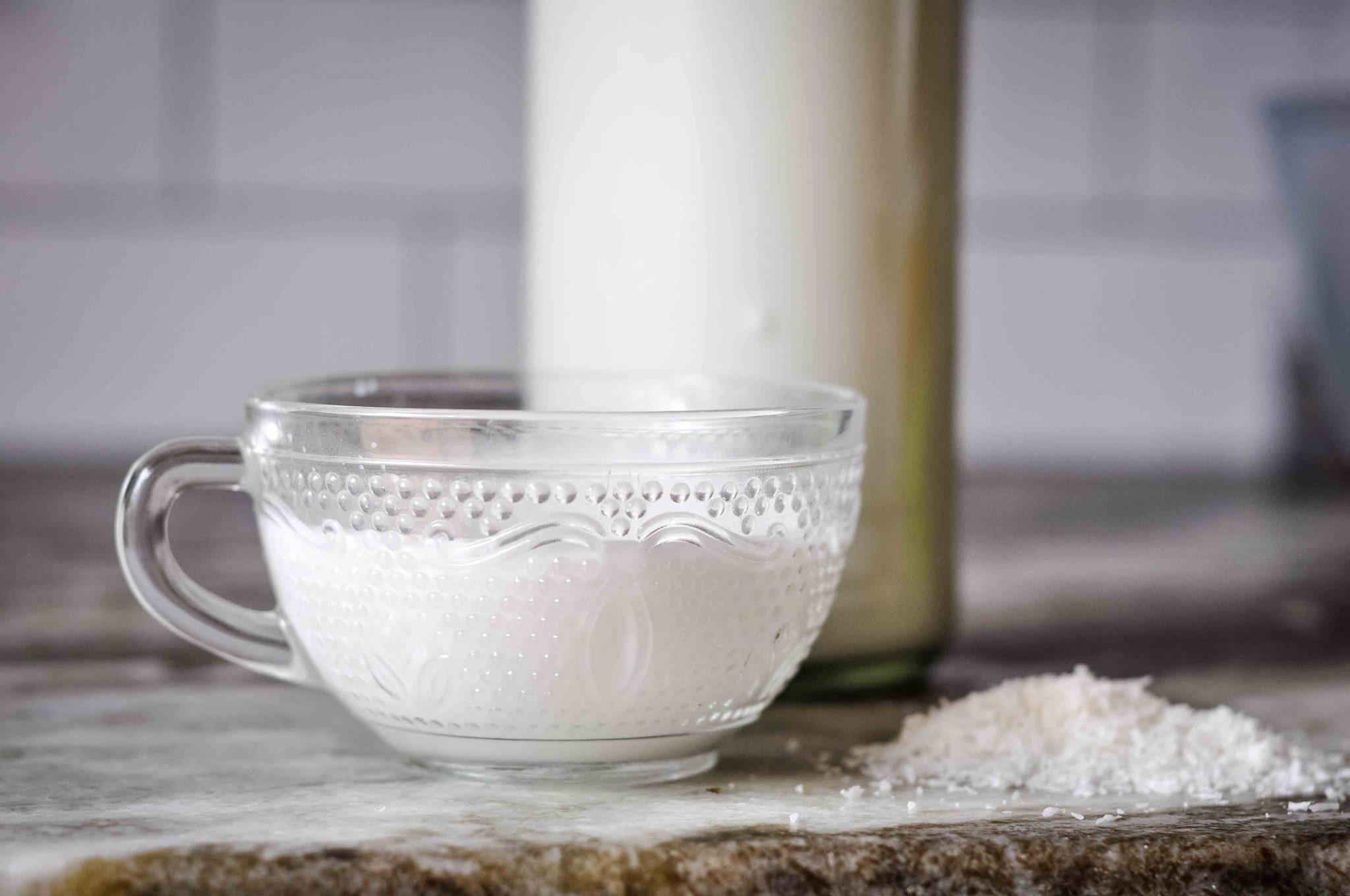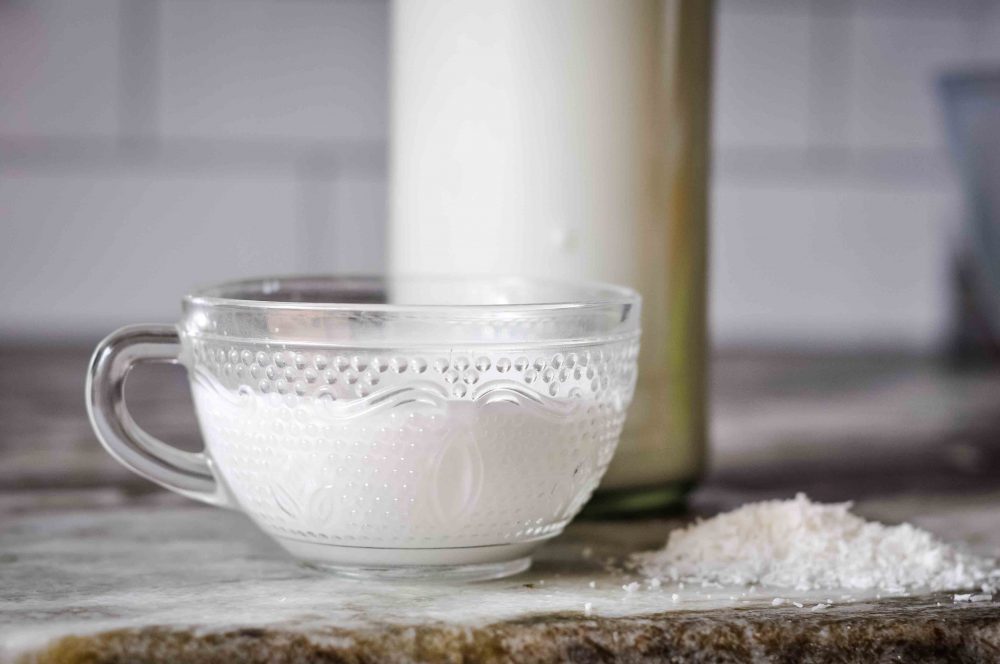 Why Make Homemade Coconut Milk?
These days, coconut is super popular and you can find it everywhere in many forms – coconut water, coconut milk, coconut oil… you get my drift. The problem is, these products can be pricey!
Also, store-bought coconut milk often has icky additives like careageenan and synthetic vitamins. Read this article from The Healthy Home Economist for more information on why these additives should be avoided. Some types of canned coconut milk also use BPA liners in their cans.Yuck!
Because of this, I like to use unsweetened shredded coconut and make my own – it's a bit cheaper than store-bought AND healthier. Double win!
Any type of coconut will work, as long as it's plain and unsweetened. Don't buy the sugary kind in the baking aisle!
Homemade Coconut Milk Price Comparison
Per cup, homemade coconut milk costs about $1.24. This is slightly cheaper than canned coconut milk, but the benefit is that you can skip the additives and it's fresher.
You may be able to find shredded coconut in bulk at an even cheaper price. The best deal I've found for organic unsweetened coconut on Amazon is $0.29 per ounce. At this price, your homemade coconut milk costs around $0.14 per ounce.
Sure, you could learn how to make coconut milk the old-fashioned way… buying a rock hard coconut, spend an eternity trying to crack it open with a cleaver or hammer, and cutting the coconut meat out of the shell. (Oh yeah, fresh coconuts are more expensive too.)
Or, you could save money and boatloads of time with this quick coconut milk recipe below. It only takes 5 minutes!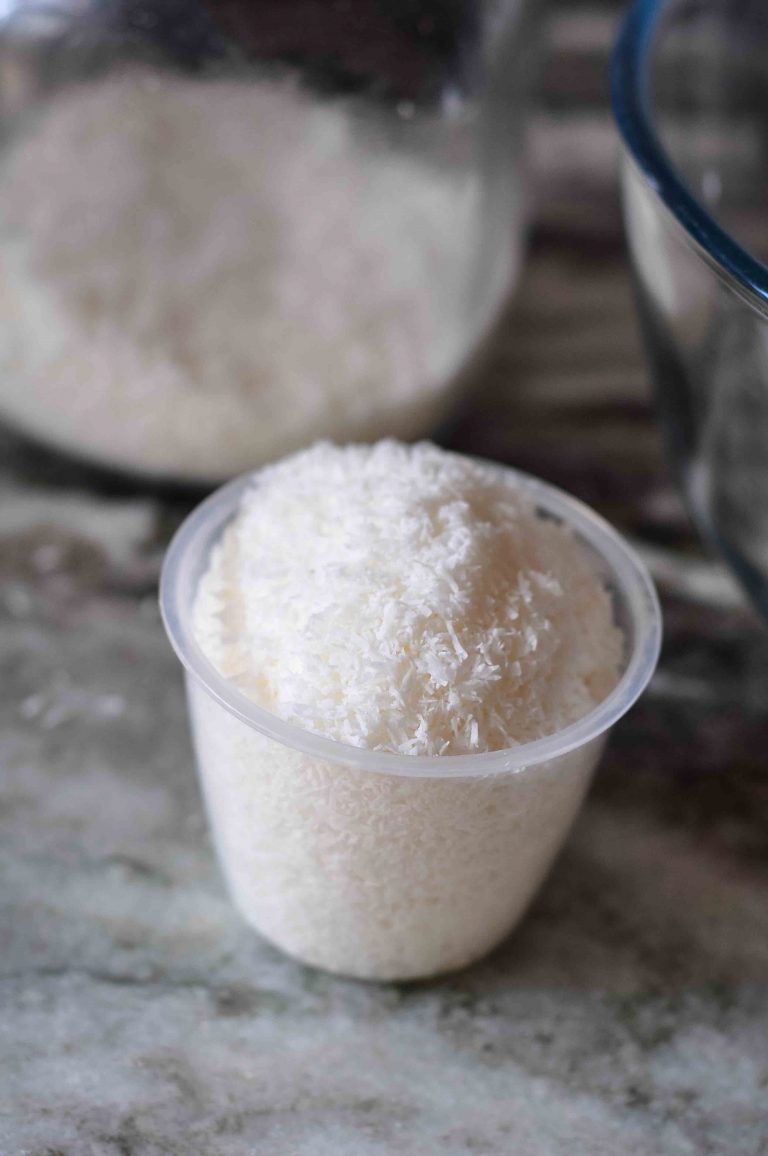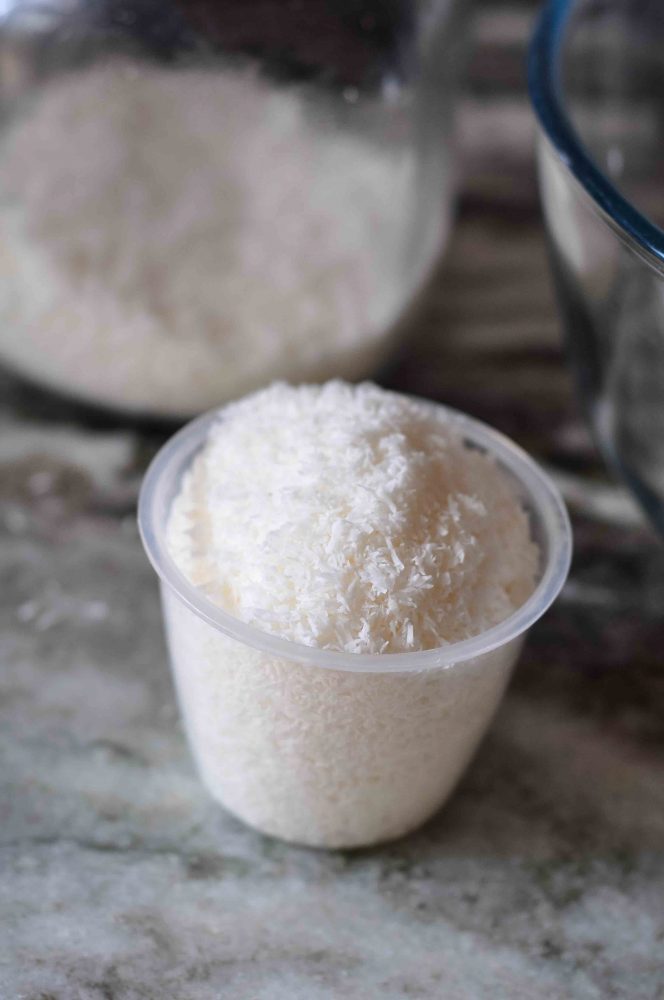 How To Make Coconut Milk In 5 Minutes (Tutorial)
Items Needed:
Unsweetened shredded coconut (this kind is great and very economical)
Blender (I LOVE my high speed Blendtec, it blends everything up so finely. It extracts all the nutrients out of the coconut pulp for this recipe. It even pulverizes crunchy things like seeds and carrots in our morning smoothies. Since we use it at least once per day, it's an investment I highly recommend if you make smoothies on a regular basis.)
Clean tea towel, cheesecloth, or nut milk bag – to strain out the coconut pulp
Large mixing bowl – for straining your coconut milk into
Large rubber band – to keep the cheesecloth in place as you strain. This is optional.
Jars for storing the coconut milk
A sweet "kitchen helper" if possible – this is a fun recipe to make with kids!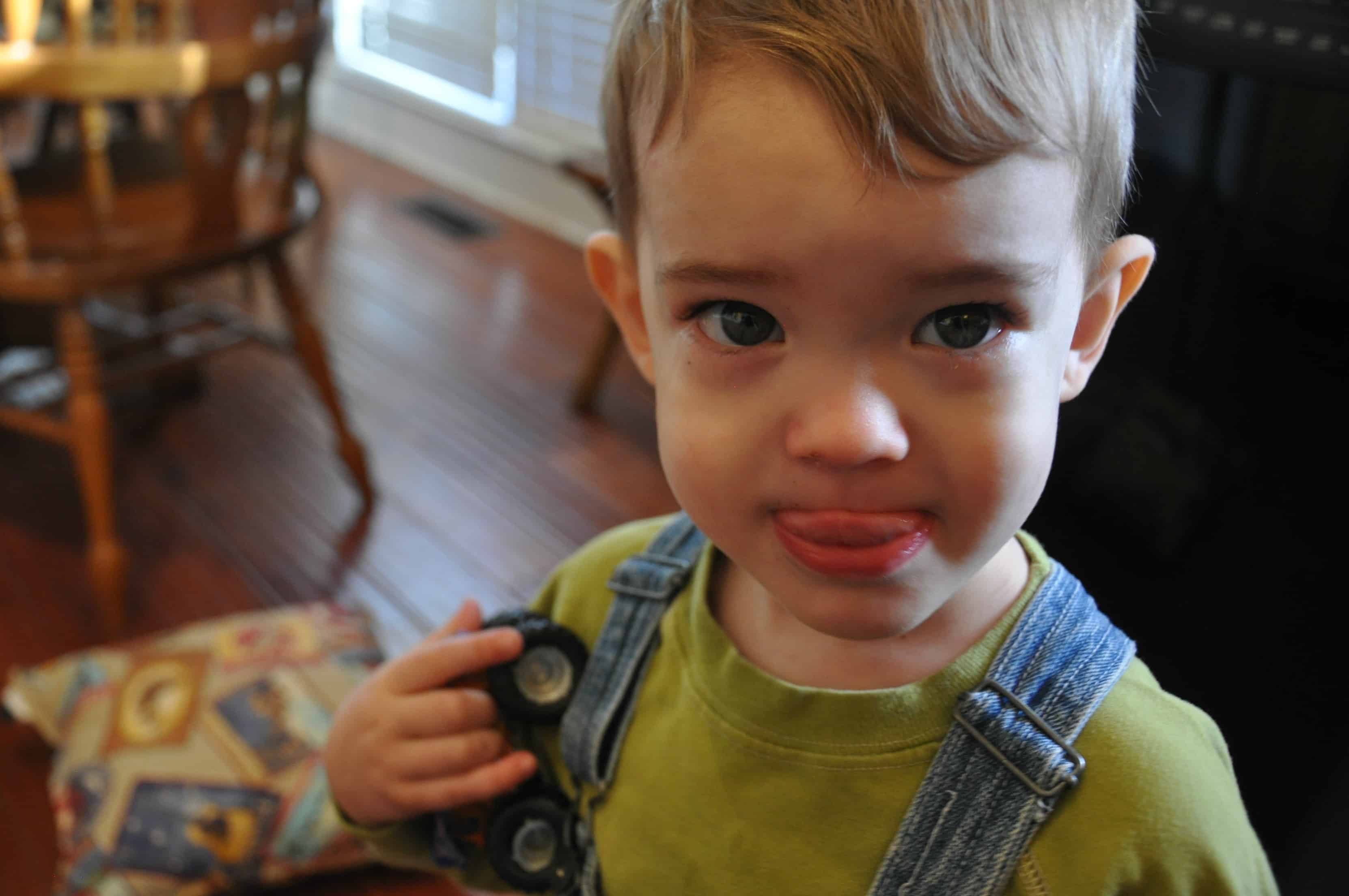 First, heat some water until hot, but not boiling. The hot water helps extract the fats from the coconut and give you a richer milk.
Add 2 cups of unsweetened shredded coconut and 4 cups of hot water to the blender or a large bowl. For optimal results, allow the coconut/water mixture to soak for about an hour. This helps soften the coconut and begins to extract some of its flavor and nutrients. If you don't have time to soak the coconut, this step is optional.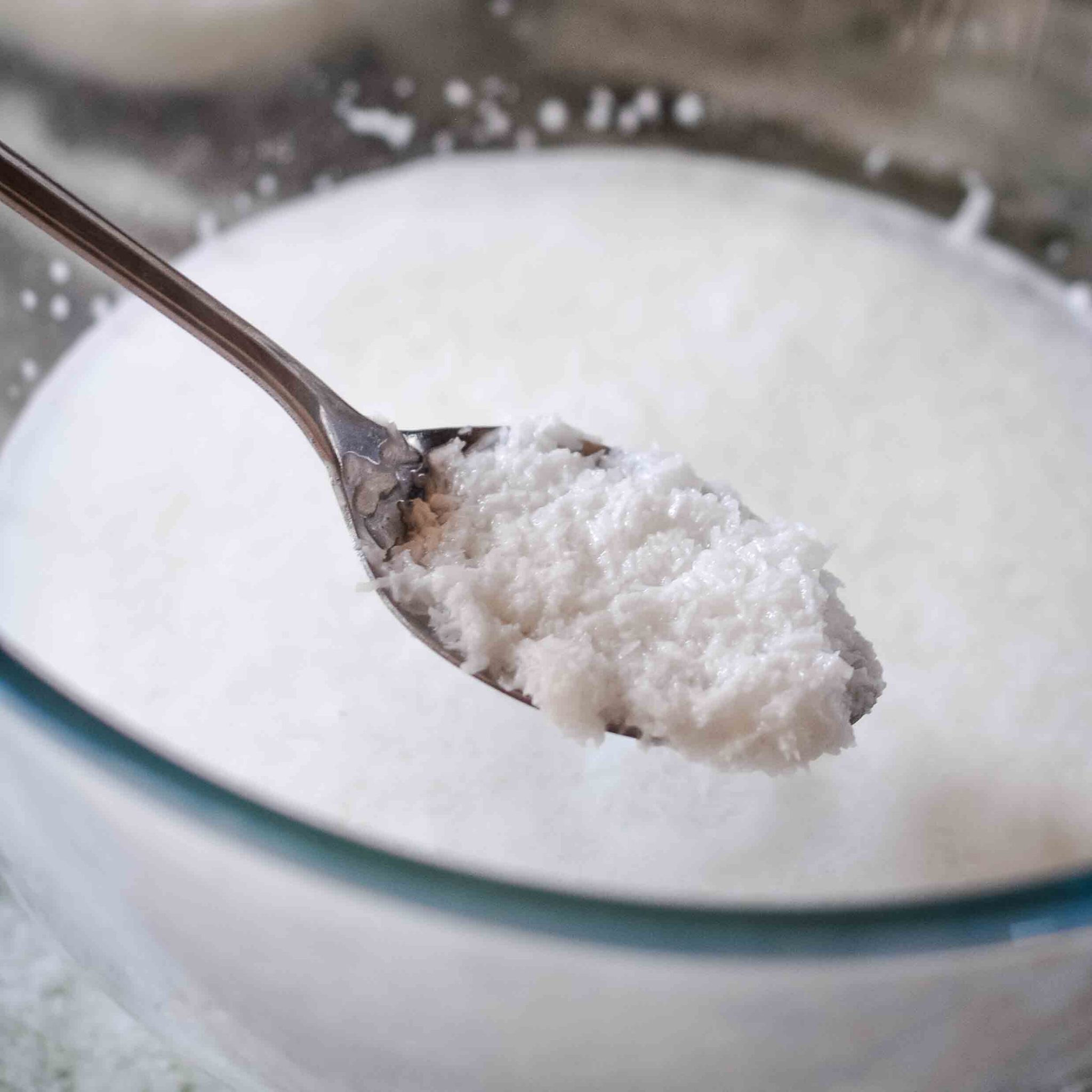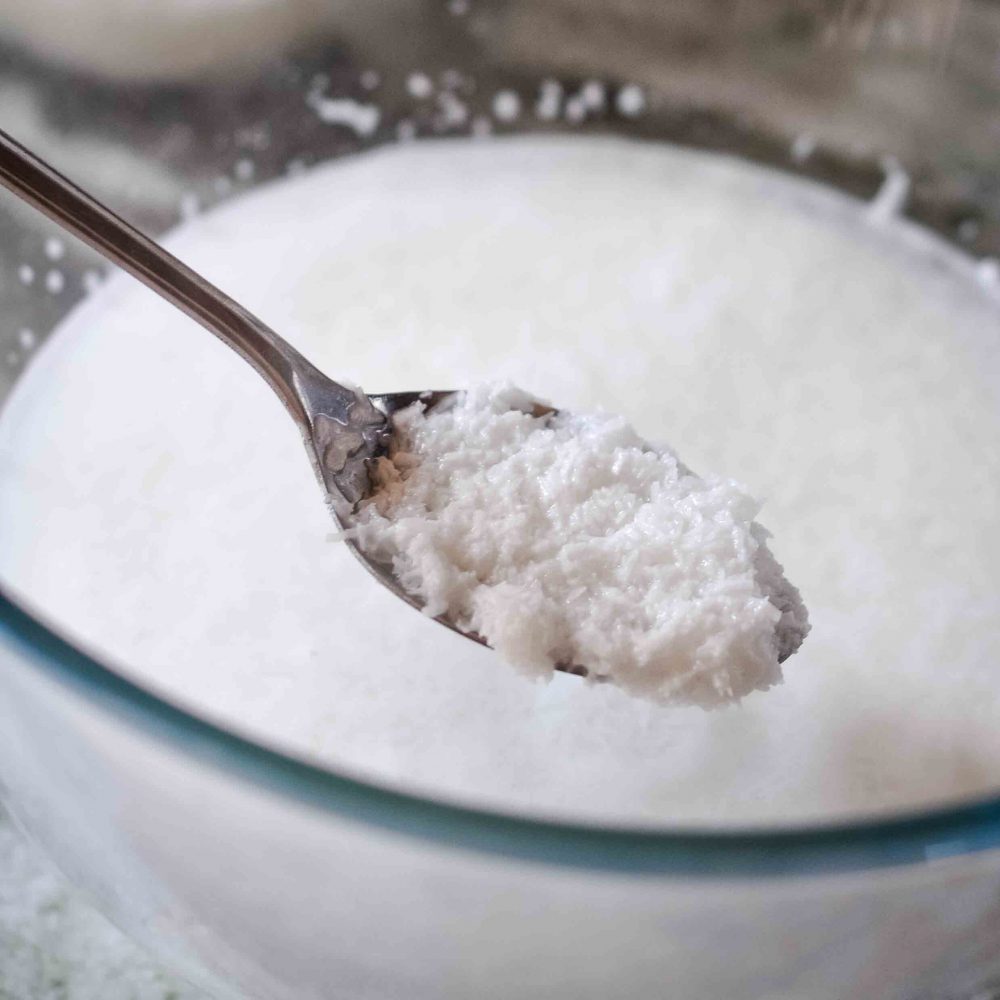 Blend the mixture on high for about 1 minute until the coconut is in tiny pieces, like pulp (make sure the lid's on tight). On my Blendtec, I used the "whole juice" setting because it blends the coconut as finely as possible.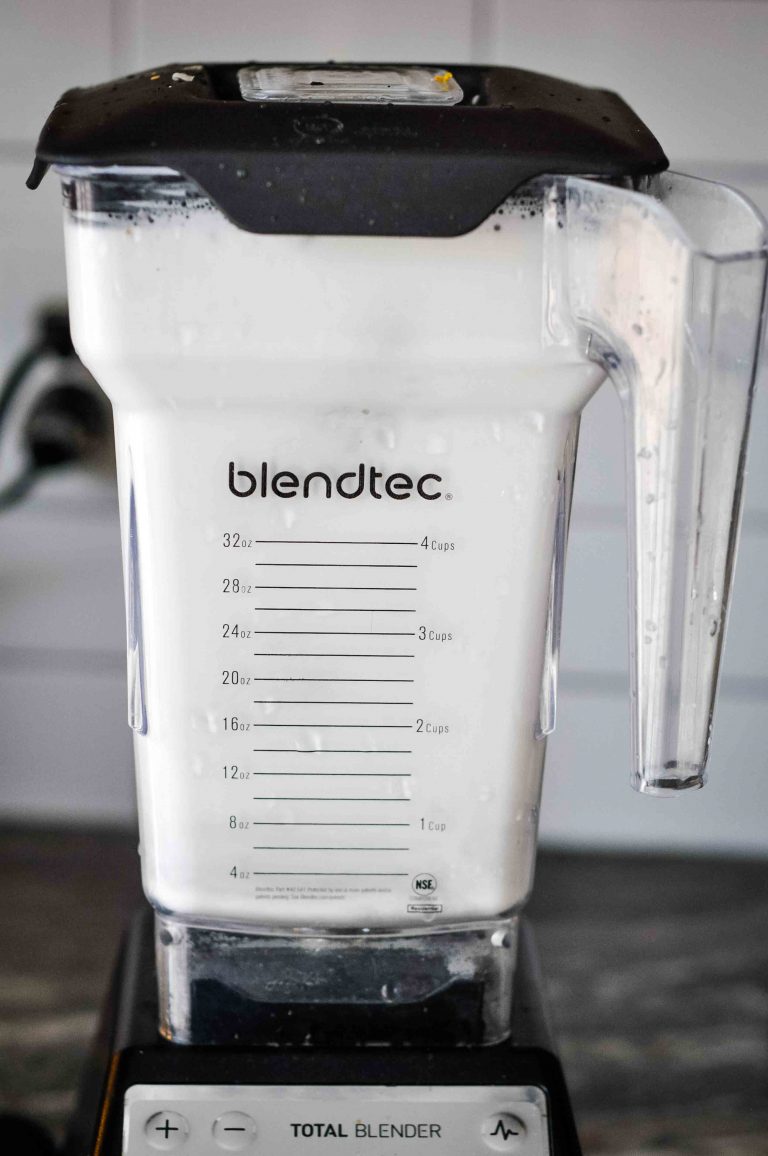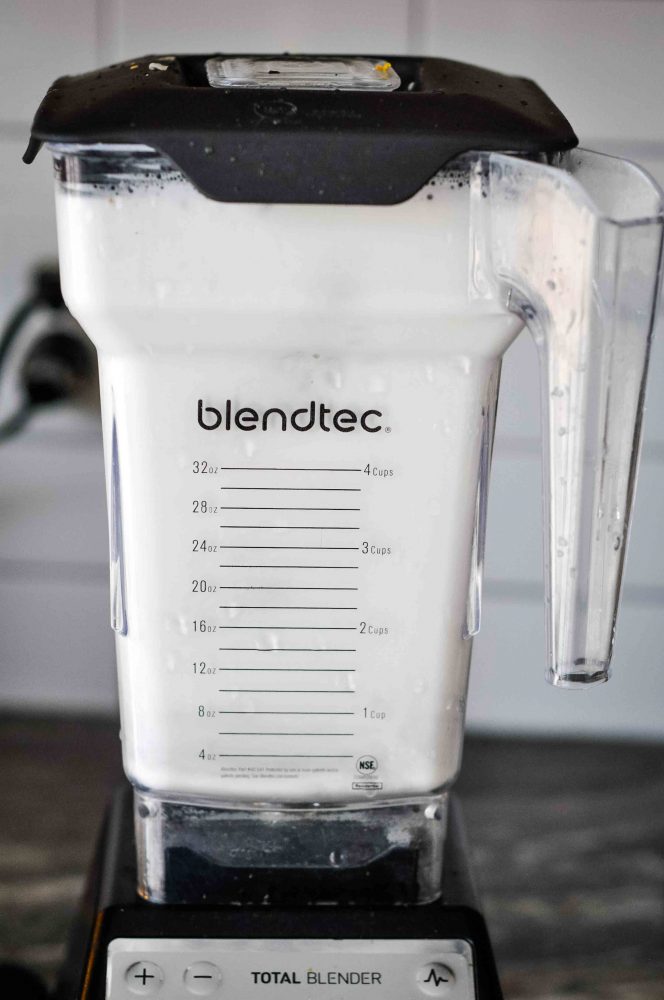 Next, place your clean cheesecloth, muslin, or tea towel over a large bowl and secure the rubber band around it. The rubber band is optional, but helps keep your towel in place.
Pour your coconut mixture through the towel, which will strain out all the coconut pulp.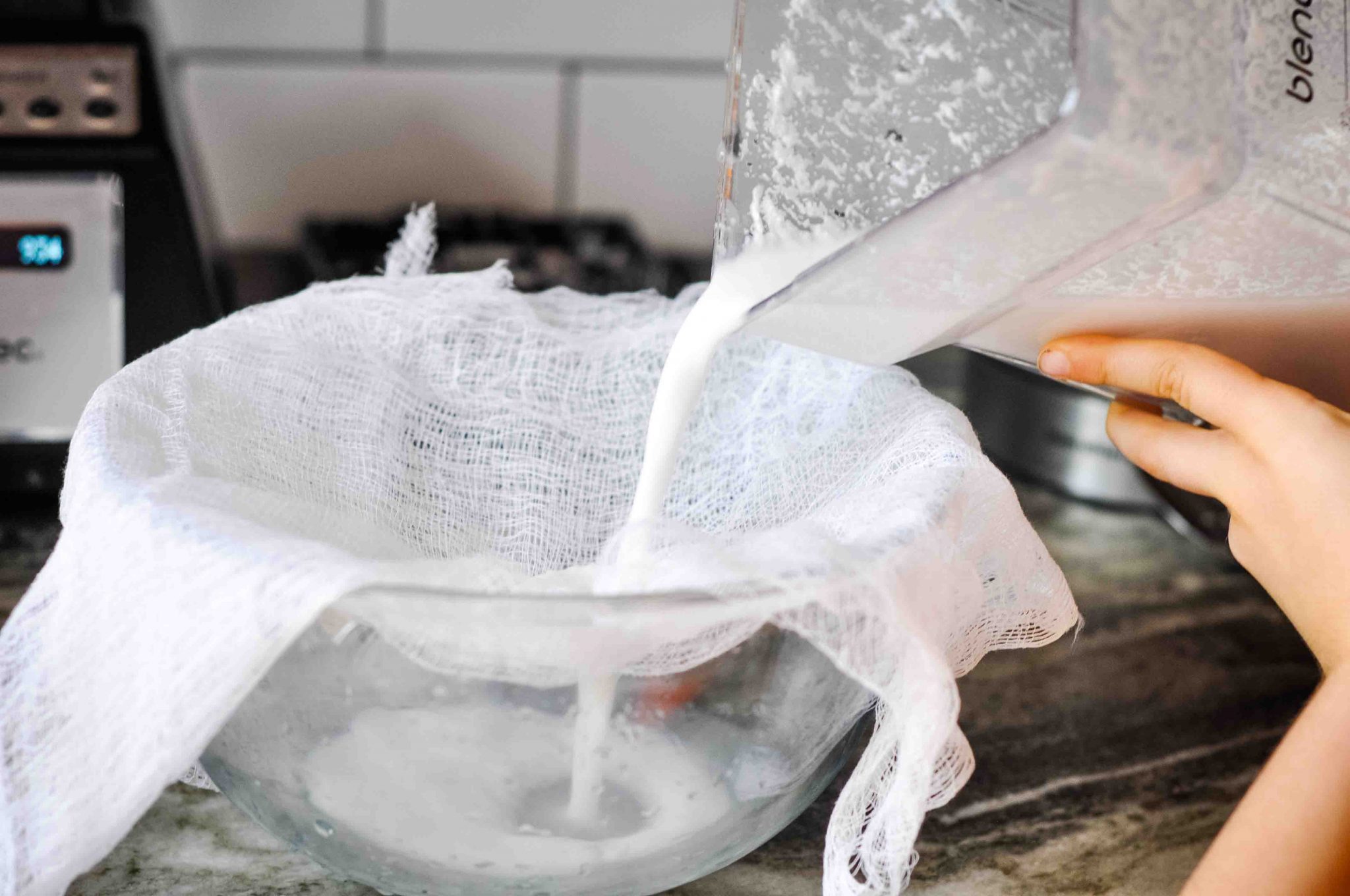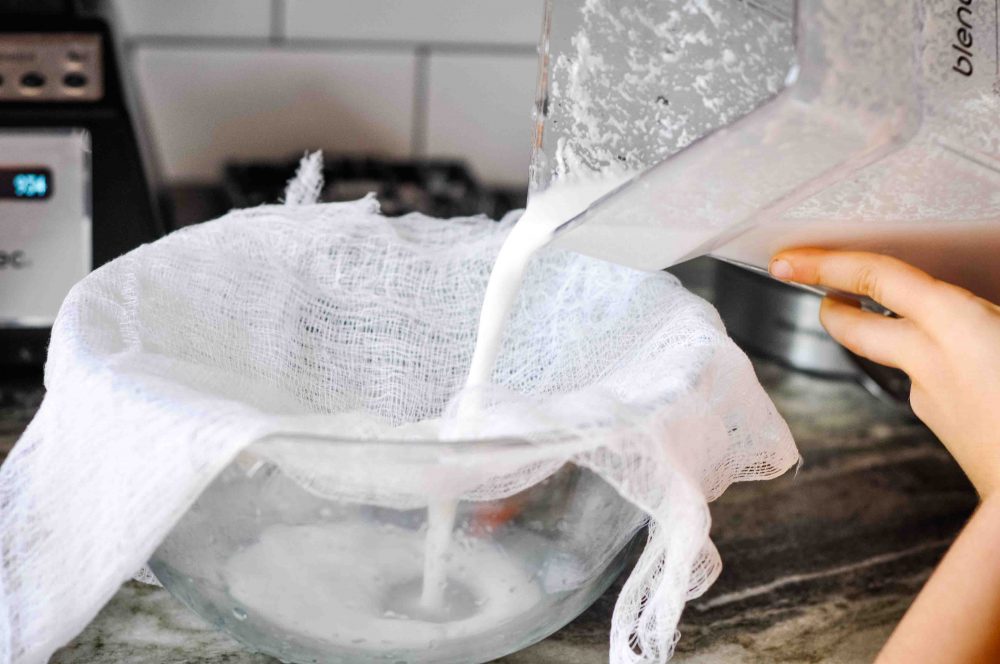 To make things even more simple, use a funnel lined with cheesecloth and pour the coconut milk directly into your storage container(s). If you have one, you can use a nut milk bag like this – I've been wanting to try one.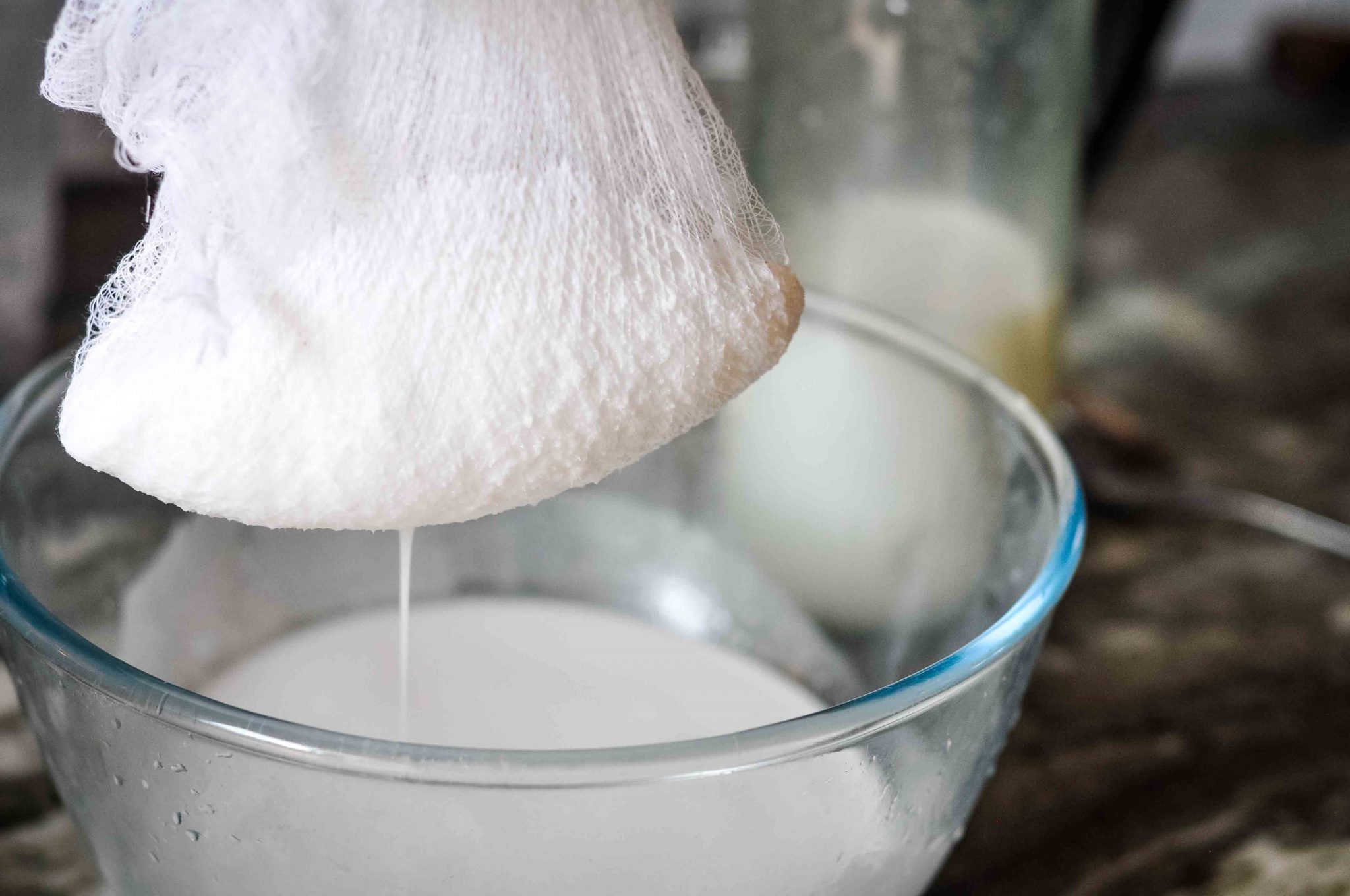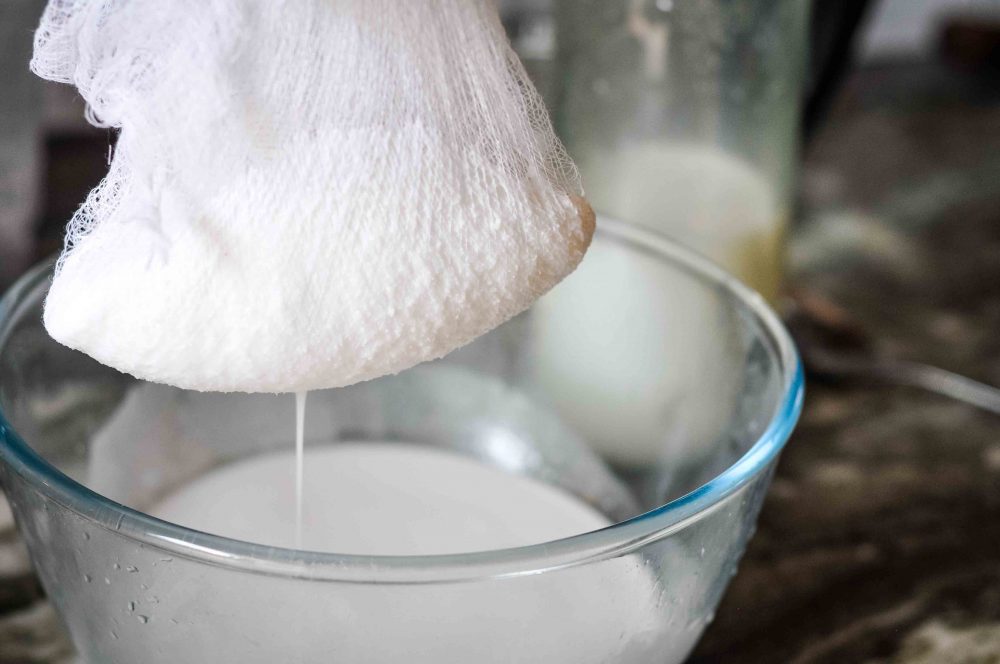 Finally, carefully squeeze any remaining liquid from your cheesecloth into your container (careful, it may be hot!). Then transfer to jars for storage.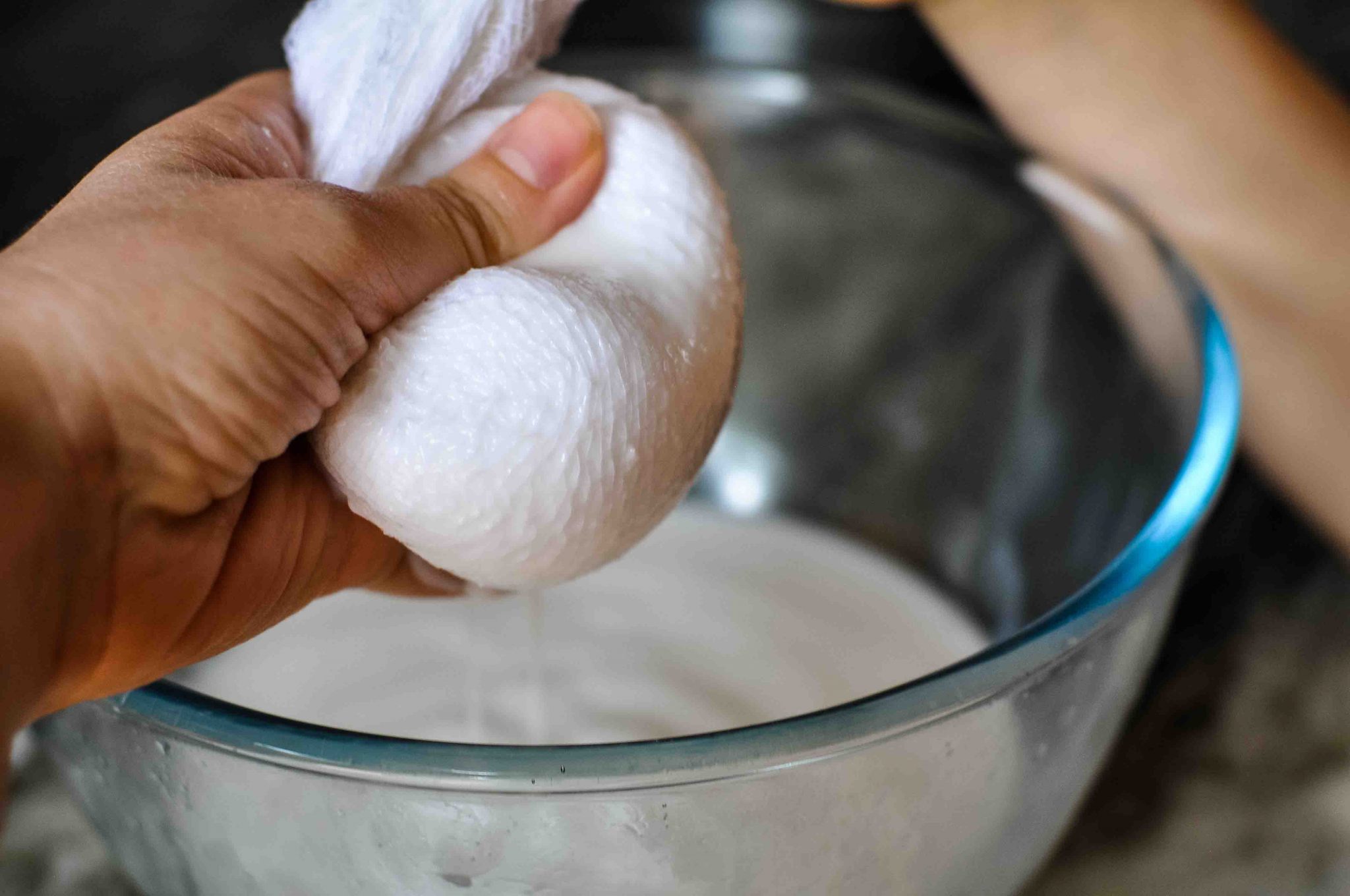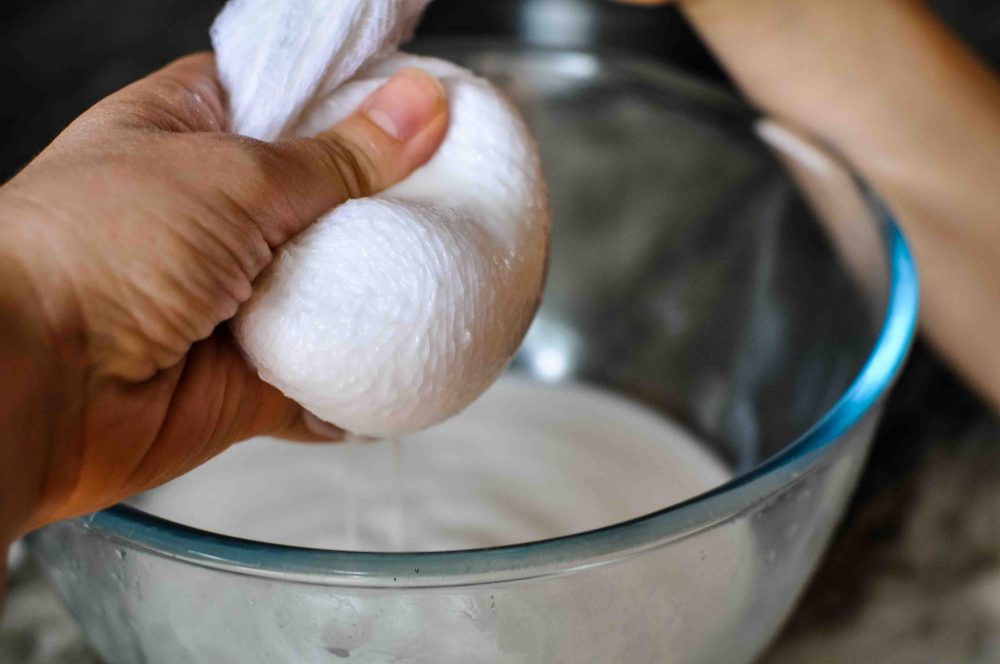 This recipe makes about 4 cups, and the coconut milk stays fresh in the fridge for about a week. You could easily adjust the amounts to make the quantity of coconut milk you need.
I've never frozen this before, but I think it would freeze well. If anyone tries freezing it, let me know how it turns out!
There you have it. I told you, SUPER easy. Now you've got fresh coconut milk with no additives! Plus, you'll never need to buy it again because you know how to make coconut milk.
Feeling lazy? This kind of canned coconut milk additive-free and really good, also (just not as cheap).
Homemade Coconut Milk Variations
Add natural sweeteners like dates (blend with the coconut), maple syrup, or raw honey.
Try ½ tsp vanilla extract for flavor.
Add 1 Tbsp. cocoa for chocolate flavor or ½ cup berries for berry flavor.
Ways to Use Homemade Coconut Milk
Turmeric Tea – This is one of my favorite ways to use coconut milk. In my opinion, you can't make turmeric tea without it! If you haven't tried this anti-inflammatory spiced Ayurvedic drink, it's a must!
Smoothies – I love using coconut milk in any type of smoothie from tropical fruit, to healthy chocolate, to energizing green, to pumpkin pie. It works perfectly in any recipe!
Homemade Curry – When making Indian food like curries, I often add coconut milk to add creaminess and an exotic taste. It's also great in Asian-inspired dishes like soups.
Chocolate Avocado Mousse – This is one of our favorite dairy free chocolate desserts, with one of the main ingredients being coconut milk. I usually make it with canned coconut milk though, since it tends to have a lot more cream which helps thicken the mousse. You could try it with homemade coconut milk and see what happens.
If you enjoy this recipe, please give it a star rating so more people can find it!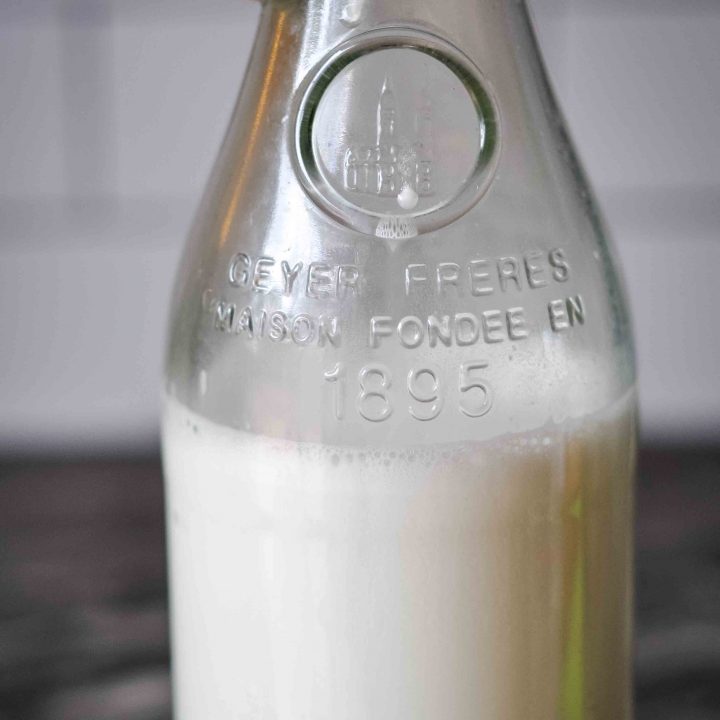 Yield: 4 cups
Easy Homemade Coconut Milk
Prep Time: 5 minutes
Additional Time: 1 hour
Total Time: 1 hour 5 minutes
Instructions
1. To a bowl or blender, add 2 cups shredded unsweetened coconut and 4 cups hot (not boiling) filtered water.
2. Allow to soak for about 1 hour (optional) to soften coconut and release nutrients.
3. Blend in a high speed blender for about one minute, until coconut is ground to a fine pulp.
4. Strain coconut milk through a thin towel, cheesecloth, or nut milk bag. Squeeze cloth to extract as much coconut milk as possible. Discard coconut pulp and transfer coconut milk to jars for storage.
5. Coconut milk stays fresh one week in the refrigerator.
Notes
If you like your coconut milk a bit sweet, add 2 dates or 2 Tbsp. maple syrup or honey while blending.
You may add ½ tsp. vanilla extract for additional flavor.
Recommended Products
As an Amazon Associate and member of other affiliate programs, I earn from qualifying purchases.
Nutrition Information:
Yield:
8
Serving Size:
1
Amount Per Serving:
Calories: 140
Total Fat: 14g
Saturated Fat: 12g
Trans Fat: 0g
Unsaturated Fat: 1g
Cholesterol: 0mg
Sodium: 13mg
Carbohydrates: 5g
Fiber: 3g
Sugar: 2g
Protein: 1g



What's your favorite way to use coconut milk?
PIN IT!