I may receive a commission if you make a purchase through links in this post.
In this post, discover the best cornbread recipe ever – passed down 4 generations. It's quick, crispy, and gluten free cornbread you'll make over and over again.
The humble skillet of cornbread. For me, it conjures up memories of childhood and my grandma's house. Every time my sweet mom comes to visit, she whips up a skillet of this delectable stuff. The perfect quick side dish for any meal – you won't be able to help feeling good after eating this country staple!
But… is cornbread healthy?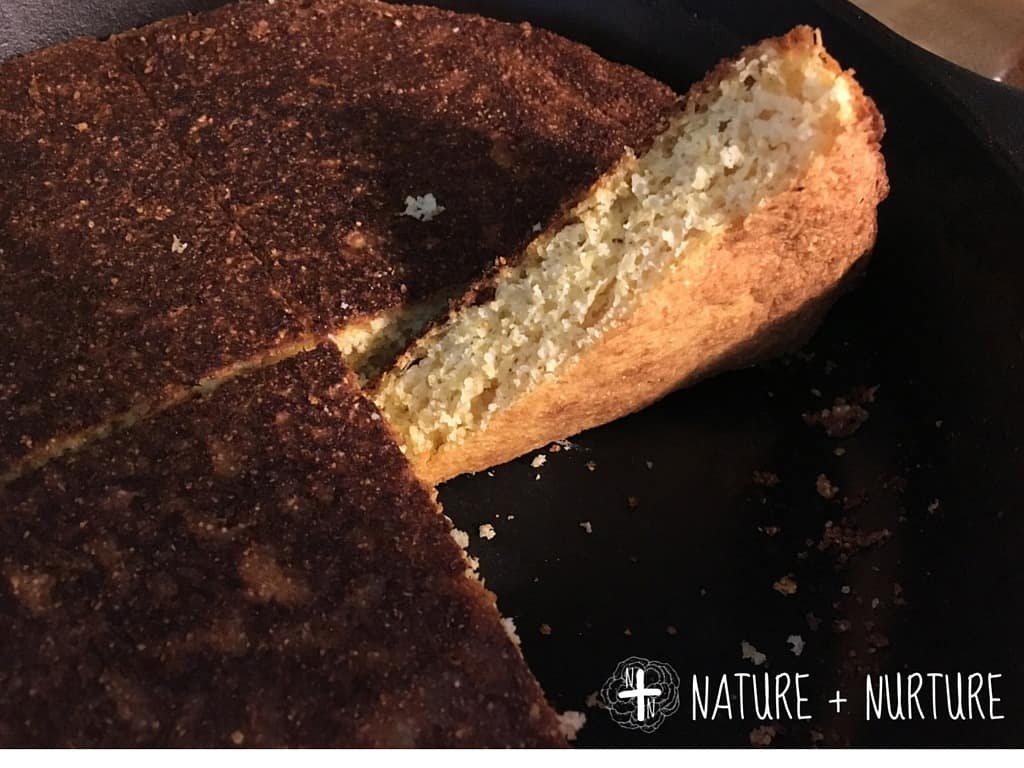 Cornbread is a traditional food that has been eaten for centuries.
Cornbread was one of the main parts of the diet of many North American natives and settlers – for good reason. The ingredients (mainly ground corn, milk, and egg) were easy for them to get ahold of. It sustained many of our pioneer and traveling ancestors and it can keep you going strong too!
Cornbread is a nutrient-dense whole grain.
A whole grain is one that has not been separated and stripped of it's nutrients. Cornbread contains many great elements like magnesium, calcium, iron, folate… the list goes on.
Corn bread contains all 10 of the essential amino acids, building blocks for proteins that control growth, cellular processes and organ function. A newer field of inquiry concerns antioxidants, chemicals that protect cells against damage by oxidation. (source)
Cornbread is a great complex carbohydrate.
Honestly, I'm convinced cornbread doesn't get enough attention in the wellness arena. The low-carb fad has caused many to miss out on this simple pleasure.
I'm a total carb advocate! God created corn, among other complex carbs, with a purpose. Complex carbs are essential for energy, sleep, mood, and metabolism. One Green Planet says,
Without carbs you may become foggy-headed, feel light-headed, have a hard time concentrating, feel sad or depressed, or just not feel like yourself. You may also have a harder time retaining information. Don't deprive your brain of carbs- it needs them!
Indeed, cornbread has some mighty benefits to boast of for a strong body!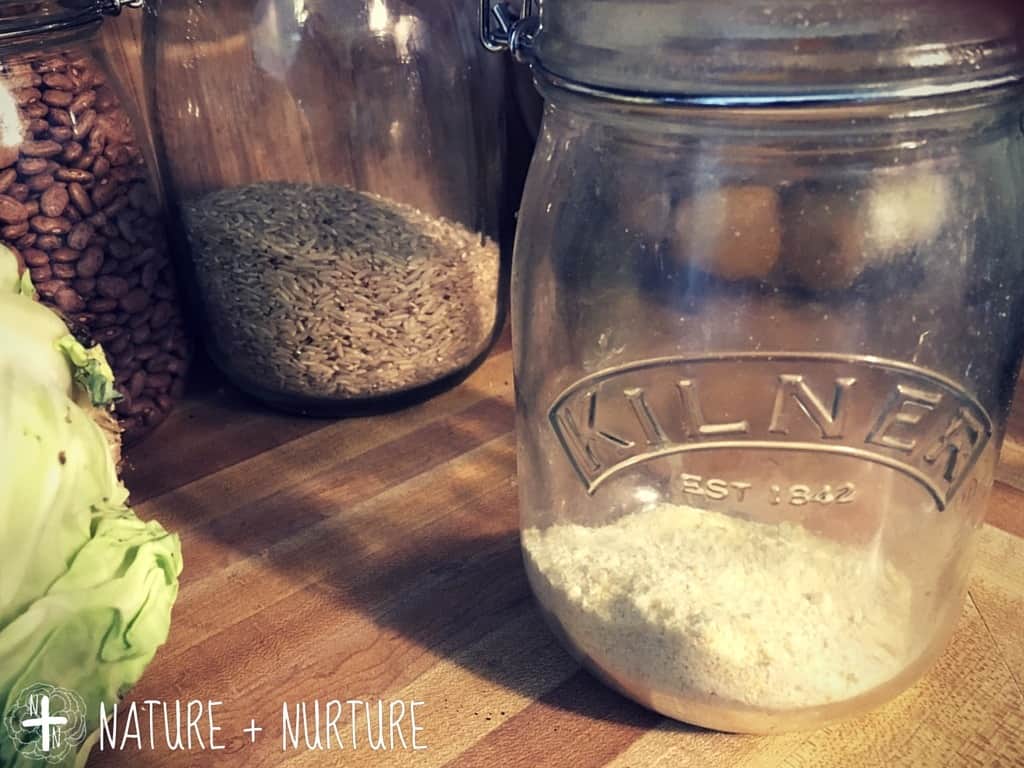 What kind of cornbread should I eat?
Not all types of cornbread are created equal. I wouldn't recommend buying a box of Jiffy and calling it good. The healthiest cornbread is made from scratch, preferably using simple, non-GMO and organic ground cornmeal. And it's stinkin' delicious.
Now I'm going to let you in on the most prized recipe in my family history. It's gluten-free (flourless) and has minimal ingredients. This particular cornbread recipe is passed down through 4 generations – and it's the best. Ever.
Even better, it is SO easy to make (it literally takes 5 minutes to whip up).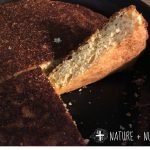 Best Cornbread Recipe Ever - Fourth Generation + Gluten Free!
The best cornbread recipe ever, passed down four generations. This gluten free cornbread is quick, tasty, crispy, and healthy.
Ingredients
1

cup

cornmeal

1/2

tsp

salt

1

pinch

baking soda

1

egg

1

mug

buttermilk

2

tbsp

high heat oil (like refined coconut)
Instructions
Preheat oven to 400 F. Add oil to a cast iron skillet on medium high heat.

While the oil is heating, mix the dry ingredients in a bowl. Fill a mug with buttermilk and add one egg, whisk to combine.

Add wet ingredients to dry ingredients and mix until smooth.

When the oil starts to dance, pour batter into the hot skillet and transfer to the oven. Bake for 20-25 minutes.
Now, print the recipe card (or Pin this post) because you're going to want to make this at least once a week!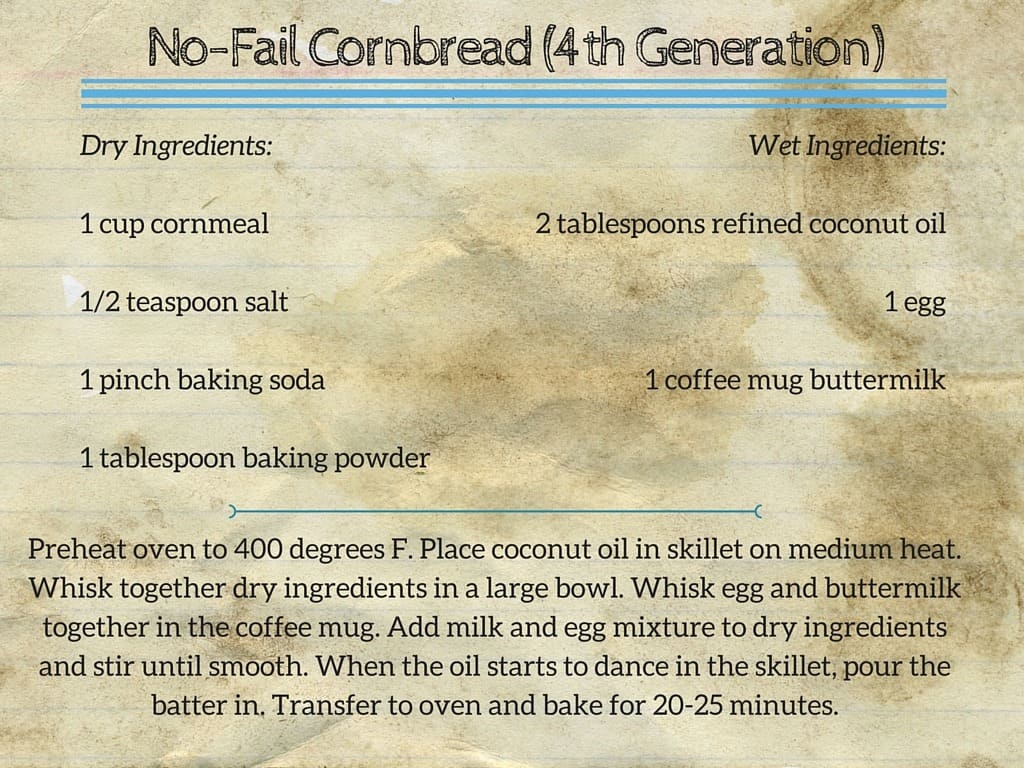 Recipe Notes:
I recommend this cornmeal and this oil for the perfect skillet of cornbread! And of course, a quality cast-iron skillet is a must.
No buttermilk on hand? No biggie! Just add a splash of white vinegar to regular milk, let it sit for a few minutes, and it's almost exactly like the real thing.
You can substitute the milk with non-dairy milk if you like.
To make this recipe egg-free, you can grind up 2 tablespoons chia seeds, mix with water, and let it sit for a few minutes. It will create a gelatinous compound that's the perfect egg substitute!
You Also Might Like: Why You Need to Stop Hating on These 3 Food Groups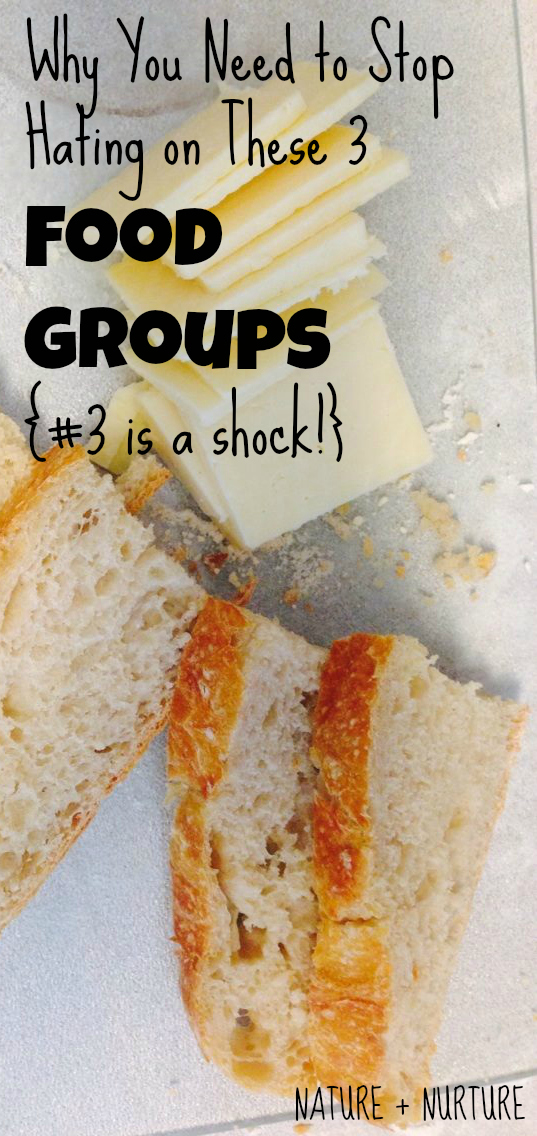 Are you a cornbread eater? Why or why not?
With Joy,

PIN IT!