Creamy roasted chicken noodle soup is the from-scratch, comforting soup recipe you need if you're not feeling well. It's also perfect for a cozy warming meal. Roasting the chicken adds an extra "wow" factor to this soup!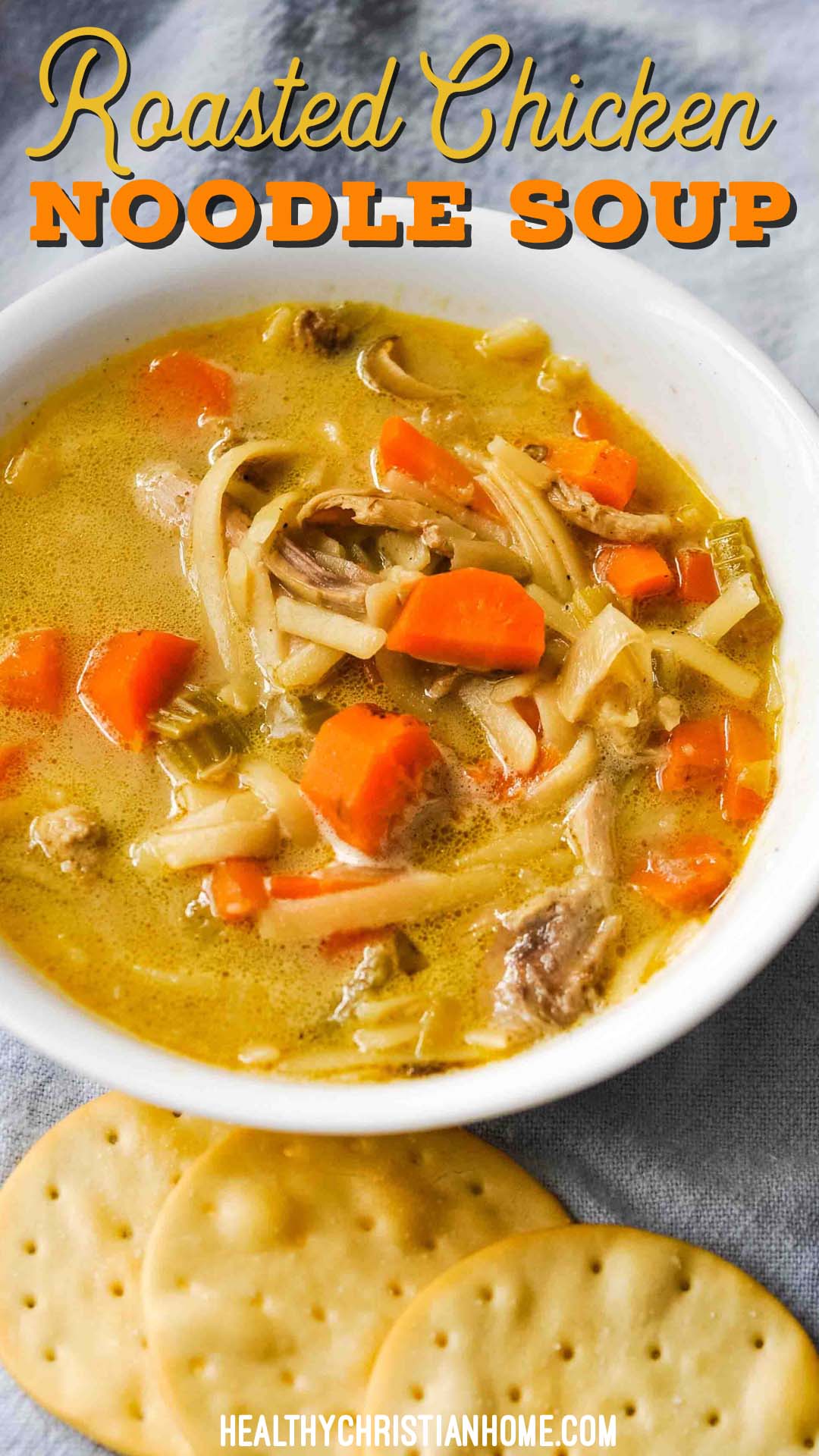 The Most Delicious Roasted Chicken Noodle Soup Recipe
Recently, Gabe wasn't feeling well so homemade soup was on the menu. We always have potato bacon, chicken tortilla or broccoli cheese soup on the rotation, but this time he requested chicken noodle.
In my mind, chicken noodle soup always felt a bit bland and sometimes left me feeling hungry. I wanted to make a soup that the whole family could be filled up on, yet still fit Gabriel's request.
So, I added a couple "extras" to level-up this soup and make it something truly crave-worthy. Roasting the chicken with a bit of curry powder adds an incredible depth of flavor, and finishing the soup with cream makes it dreamy and more filling.
(Tip: Always finish your soups with cream. They taste better every single time.)
To make a complete meal, serve this soup with crispy Southern cornbread or a slice of whole grain sourdough bread.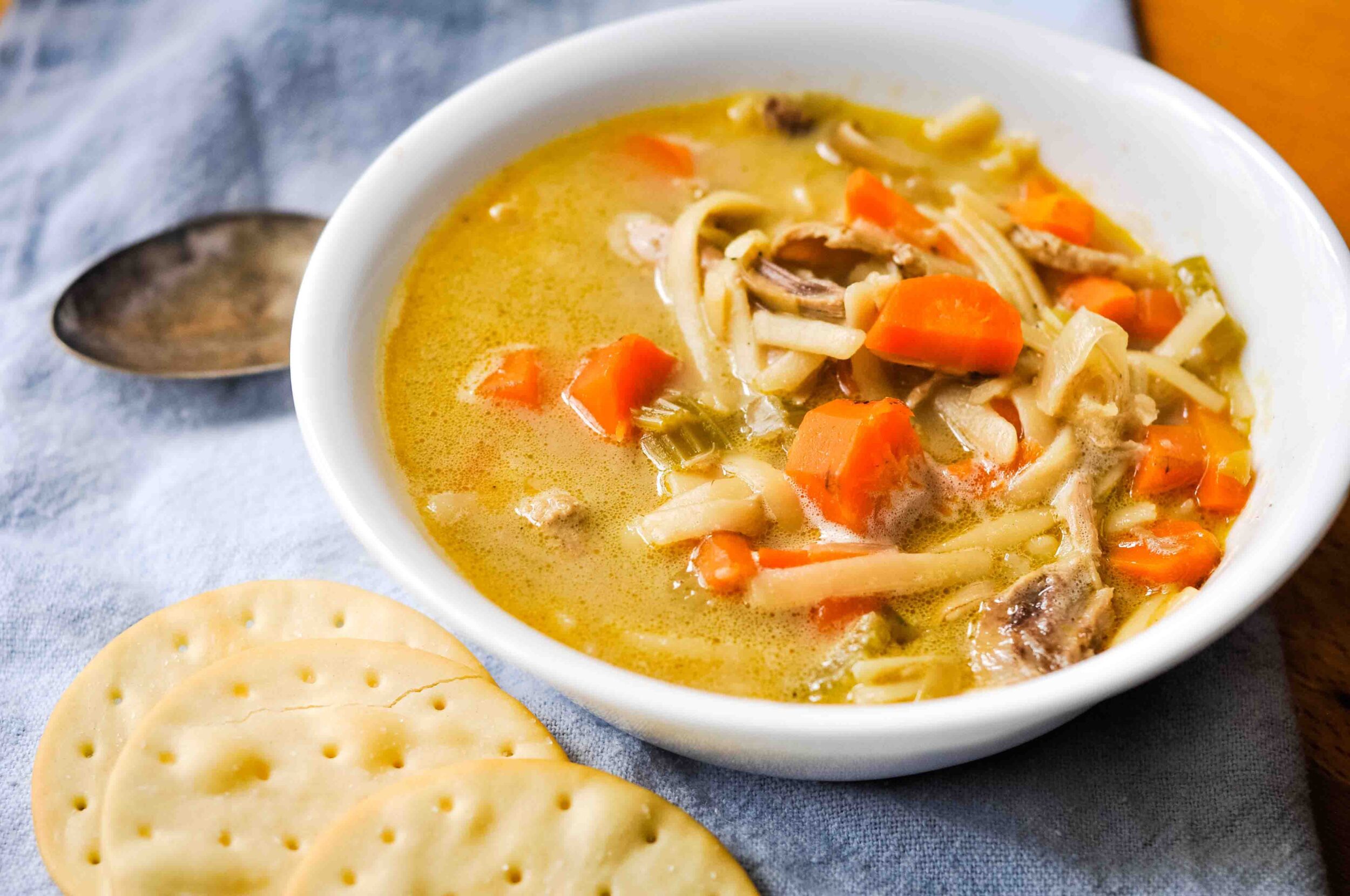 Health Benefits of Chicken Soup
Truly, there are powerful healing qualities in a pot of homemade chicken soup. Homemade broths are filled with minerals like calcium, magnesium, & salt, plus electrolytes for hydration, and also gelatin for gut health.
Plus, the chicken itself contains necessary proteins and amino acids needed for healing the body. It's also a great source of B vitamins, iron, and tryptophan which helps you relax.
The added veggies of course are great sources of antioxidants and anti-inflammatory compounds, plus extra vitamin C and other minerals to aid the body.
Grandma definitely knew best when she made chicken soup when you were sick!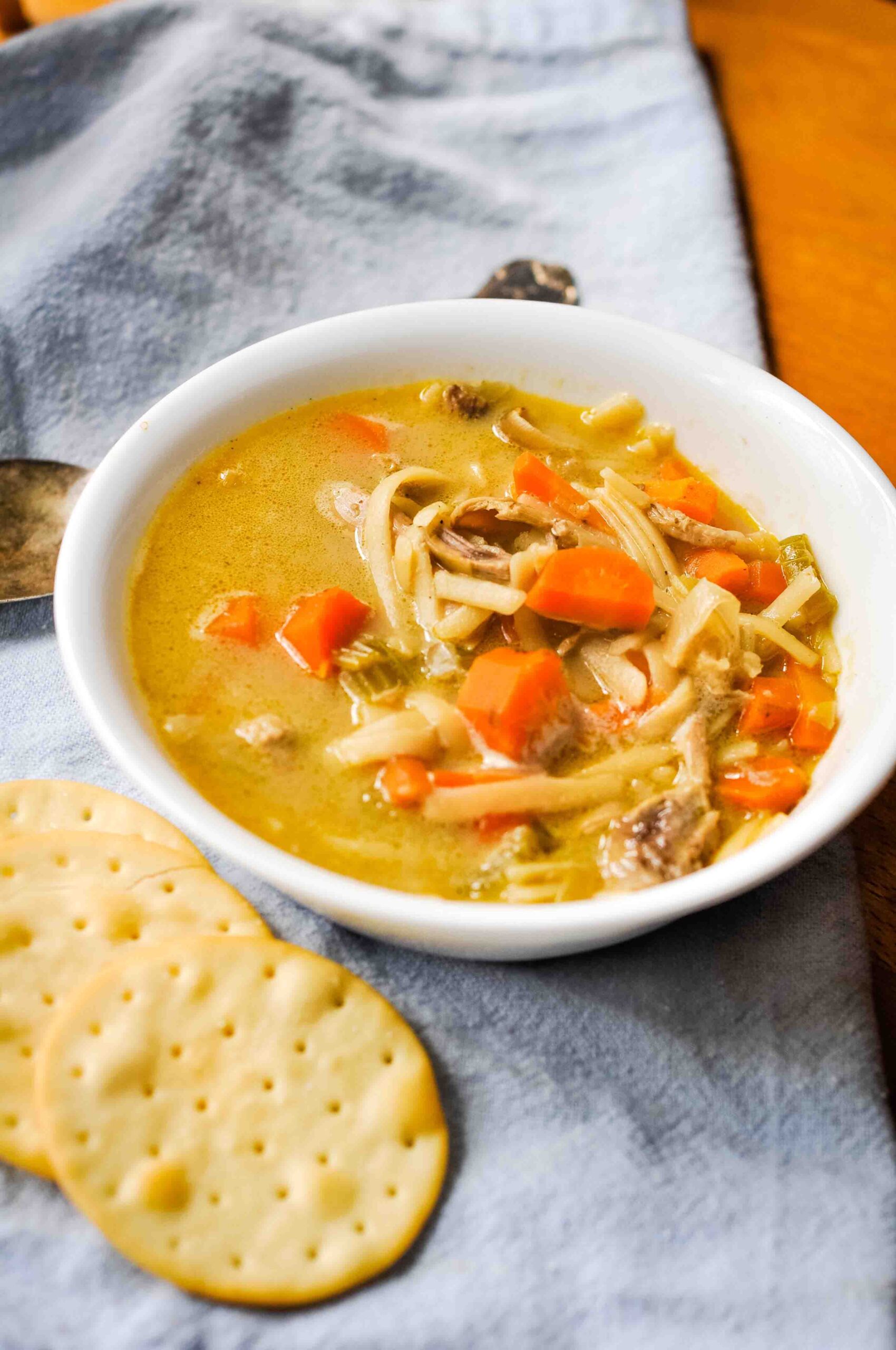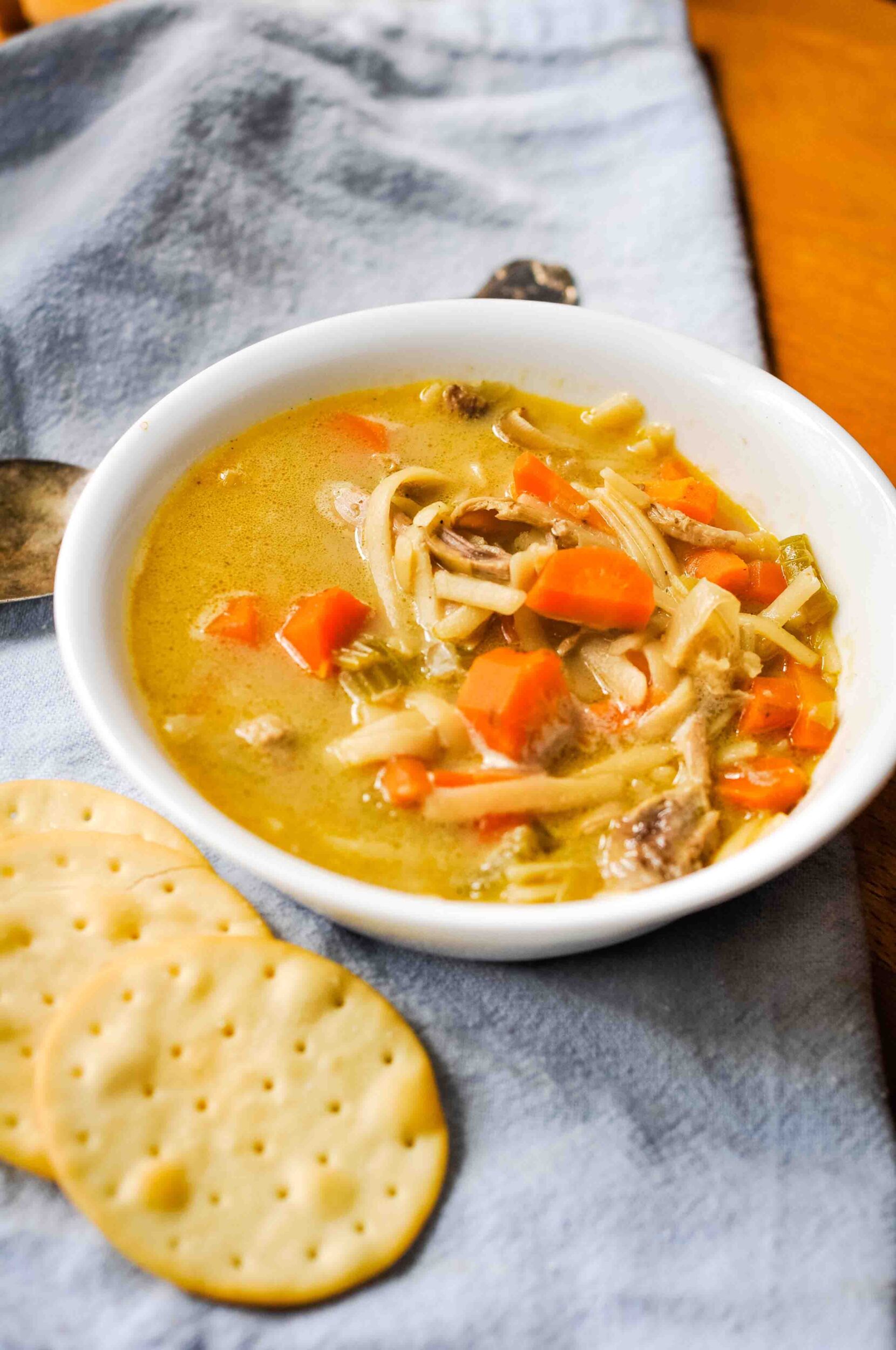 Do you cook chicken before adding it to soup?
You can do it either way – cook chicken directly in the soup broth, or cook it before adding it to the soup. For this recipe, we are roasting chicken quarters for an hour to really bump up the flavor.
It's also so simple to just throw chicken on a sheet pan to slow roast, then easily put the other elements of the soup together and add the shredded chicken at the very end.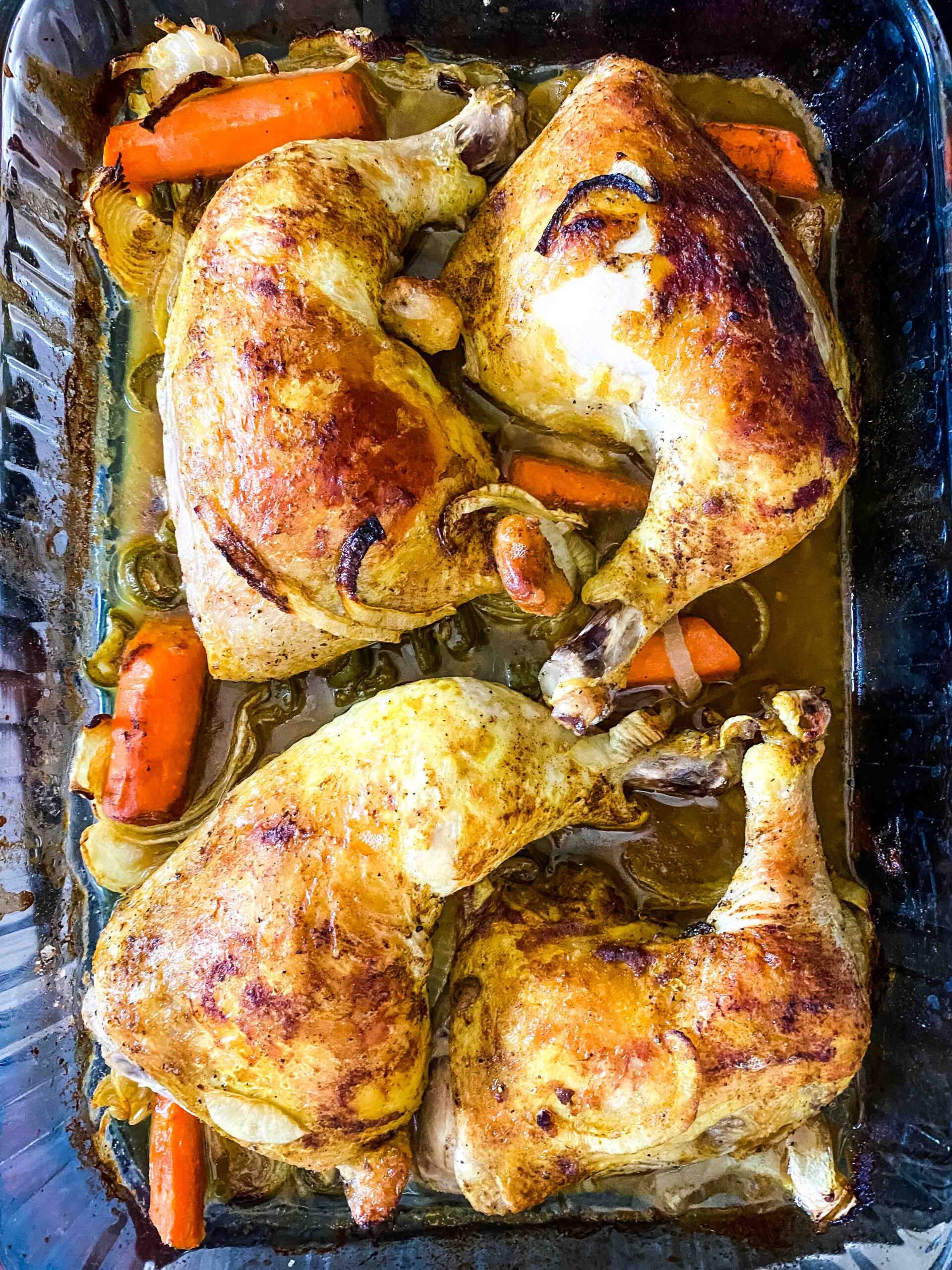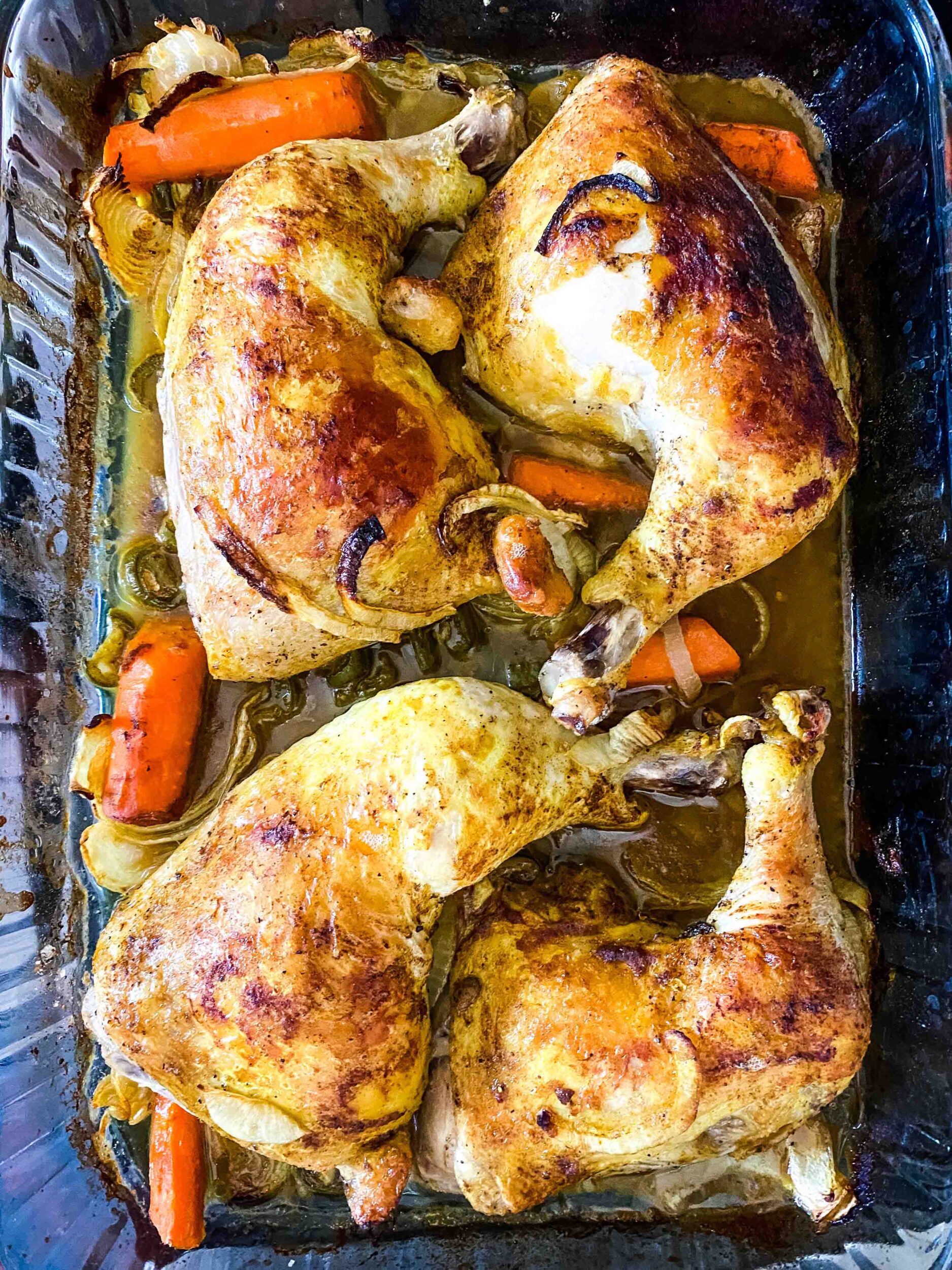 Should you cook noodles separately for chicken noodle soup?
You can, but it's not necessary. Some people choose to cook their noodles separately because they soak up a lot of the broth.
Cooking your noodles in the broth will make them more nutritious, but you might need to add extra broth to make your soup as broth-y as you want.
If you don't have a lot of extra broth to work with, you might want to cook your noodles separately in water and then add them at the end. It's entirely personal preference.
How do you keep noodles from getting soggy in chicken noodle soup?
Simply cook your noodles at the very end, after all the vegetables are already soft. That way, you'll be sure not the overcook them.
Cook your noodles for the amount of time indicated on the package directions, to al dente. Then just keep the soup warm until serving, rather than continuing to simmer/boil it which will cook the noodles even further.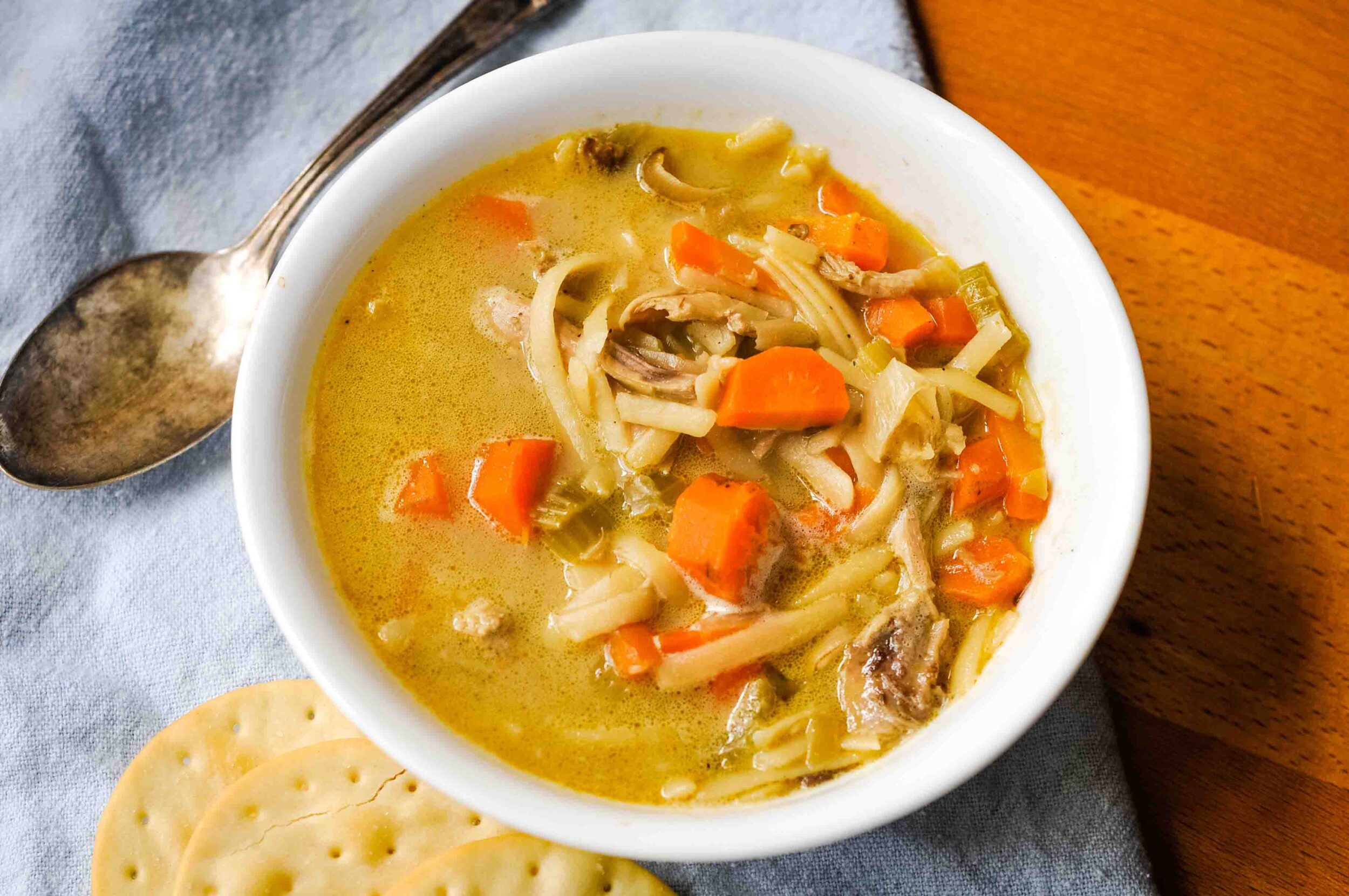 Roasted Chicken Noodle Soup Recipe Notes
Feel free to use any variety of vegetables you like in this soup. Classic options are celery, carrots, and onion, but you can also add mushrooms, turnips, or a variety of greens. Use what you have on hand and your soup will be delicious.
I like adding salt plus a curry powder blend to the chicken before roasting. You can truly use any blend of herbs or spices you prefer. Fresh herbs like rosemary, sage, or thyme are also lovely!
One way to make your soup even more flavorful is to add some veggies to the roasting tray along with the chicken. Roasting vegetables caramelizes them and gives them additional flavor, and you can add them into the soup along with the chicken.
Making your own broth always makes homemade soups taste the best! Here's our homemade broth & bouillon recipe. But, you can always use a store bought variety if you're short on time.
I love adding raw cream to this soup just before serving. You could also use half & half, or omit the cream if you prefer.
Use whatever type of noodles you fancy for this soup! I used a standard linguine, but you can use any shape under the sun. Rice noodles are a wonderful gluten free option.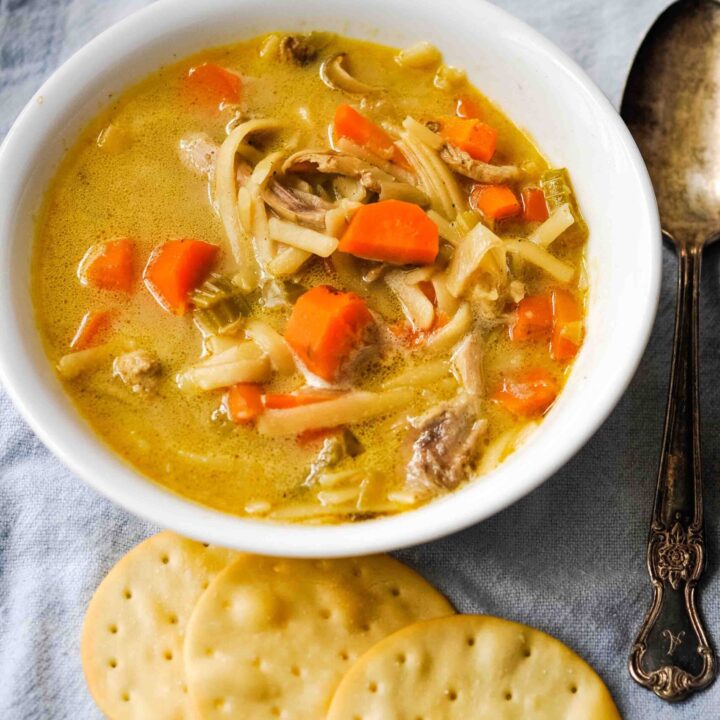 Yield: 8 servings
Creamy Roasted Chicken Noodle Soup
Prep Time: 20 minutes
Cook Time: 1 hour 10 minutes
Total Time: 1 hour 30 minutes
Creamy roasted chicken noodle soup is the comforting soup recipe you need! Roasting the chicken adds an extra "wow" factor to this nourishing soup.
Ingredients
2 chicken quarters (or 1 lb. bone-in chicken pieces)
1 tablespoon butter
1 onion, diced
4 carrots, diced
4 celery ribs, diced
8 cups broth
3 garlic cloves, minced
1/2 lb. noodles of your choice
1/4 cup fresh cream
Salt & pepper to taste
Instructions
Season chicken quarters or pieces with salt & curry powder blend, or other seasoning of your choice. Place on a baking tray and roast at 425° F for about an hour until chicken is fully cooked and skin is golden brown. You can also add a few vegetables to the roasting tray for extra flavor. *
While chicken is roasting, sauté vegetables in butter until soft. Add garlic and cook until fragrant. Pour in chicken broth and add salt & pepper to taste. Simmer until veggies are soft.
Add noodles to the soup and cook until al dente. You may need to add some extra broth, since the noodles will soak some of it up. Or, you can cook the noodles separately in water according to package directions.
Once fully cooked, remove chicken from bones and shred, adding to the soup. Add the roasted vegetables as well. Taste soup and adjust seasoning if needed.
Just before serving, pour in fresh cream. It makes all the difference!
Notes
* I usually add a carrot, one celery rib, and part of the onion to the roasting tray. I just cut them into larger chunks instead of dicing them into small pieces.
Recommended Products
As an Amazon Associate and member of other affiliate programs, I earn from qualifying purchases.
Nutrition Information:
Yield:
8
Serving Size:
1
Amount Per Serving:
Calories: 238
Total Fat: 10g
Saturated Fat: 4g
Trans Fat: 0g
Unsaturated Fat: 5g
Cholesterol: 39mg
Sodium: 488mg
Carbohydrates: 22g
Fiber: 2g
Sugar: 6g
Protein: 14g
What's your favorite type of soup when you're unwell? Will you make this recipe?
PIN IT!