Homemade deodorant that actually works can be difficult to create. In a natural beauty routine, DIY deodorant may be scary to attempt (after all, no one wants to stink).
However, with the right combination of ingredients, you can smell fresh as a daisy and feel great about the ingredients used on your skin. And, this recipe is so simple!
With ingredients like coconut oil, bentonite clay, and essential oils, this all natural deodorant isn't just non-toxic – it's actually good for your skin, too.
Read on for the best homemade deodorant recipe I've come across! It's detoxifying, easy to make, and it's a natural deodorant that WORKS!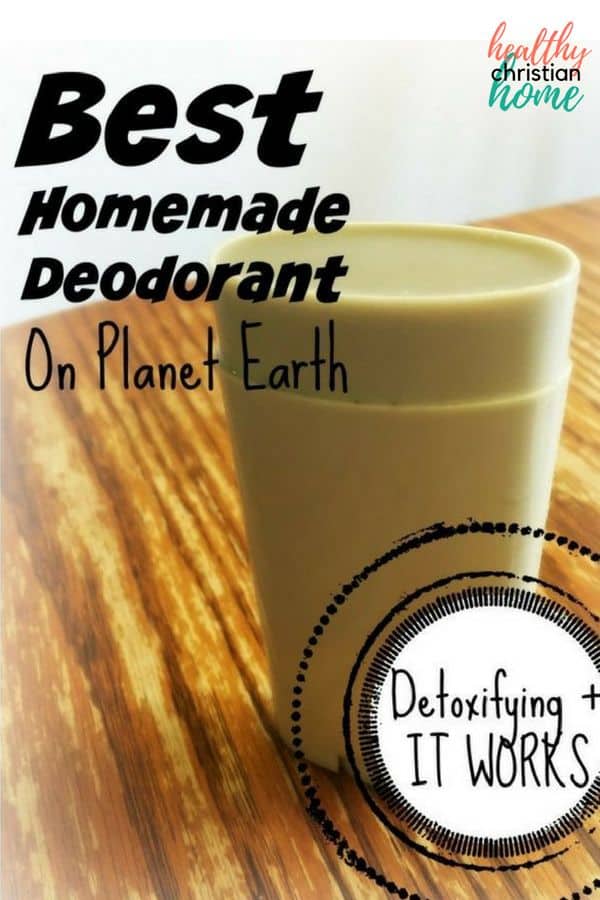 Body odor. Not something I've relished as I tried to find a natural solution for deodorizing my pits.
If you're reading this blog, I'm assuming you want to live as naturally as possible – yet, no one wants to smell bad while doing it. And let's face it, some of those "all natural deodorant" sticks just don't work.
But we also don't want horrible chemicals clogging up our pores and seeping into our bodies. Most commercial deodorants and anti-perspirants contain parabens, aluminum, silica, triclosan, propylene glycol, and other yucky things. Many of these are linked to cancer (particularly breast), skin irritation, and other problems according to Organics.org.
Even so-called "organic" brands of all natural deodorant can contain ingredients that are less than stellar for your health.
Let's think about this whole sweating thing for a minute. God created our bodies to sweat and get rid of toxins. The anti-perspirants that contain aluminum clog everything up, literally blocking the release of those toxins.
It doesn't take a genius to figure out that this can't be good for our bodies. A deodorant without aluminum is essential.
But I still want to smell pretty. What's a crunchy girl to do??
Enter the best homemade deodorant recipe on earth.
Guys, I can't take credit for this one. The original homemade deodorant recipe comes from Nadia at Body Unburdened. I just tweaked it a little bit and saw the idea elsewhere to pour the mixture into empty deodorant canisters to make a homemade deodorant stick.
It works just like regular deodorant but it's SO much better for you! I'm not much of a numbers person, but I'm pretty sure this recipe is also cheaper than store-bought deo.
As opposed to commercial deodorant which puts toxins into your body, this homemade natural deodorant does the opposite and actually pulls toxins out of your body! Wow.
Related: Best Healthy Living Resources List
A side note: If you're an avid store-bought deodorant user, it may take your body a little while to adjust to the all natural deodorant – you may sweat a little more for a time. Just apply the homemade deodorant more frequently to combat this. Your body WILL adjust – and you're doing yourself a favor!
Homemade deodorant ingredients + what they do:
1 cup coconut oil: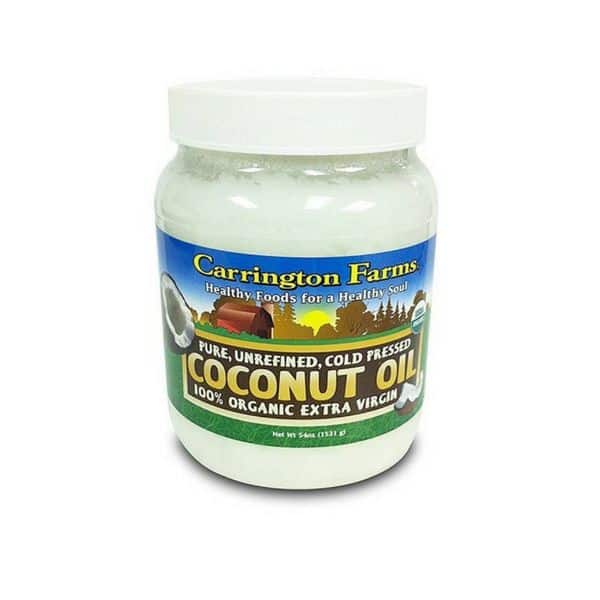 Coconut oil acts as the base for the homemade deodorant and gives it a creamy texture. It has awesome anti-bacterial properties. If you live in a hot climate, you may need to store the deodorant in the fridge if it starts to get melty.
1/2 cup beeswax pastilles (optional):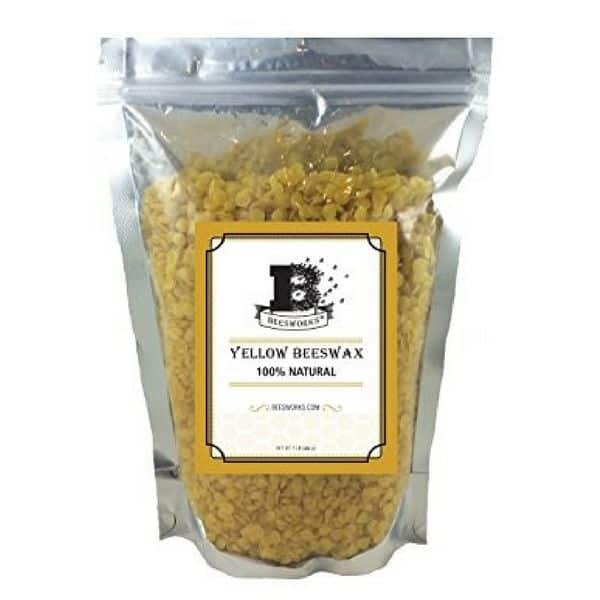 Beeswax helps to solidify the deodorant for use in the stick containers. The pastilles or pellets are easier to measure and use than the beeswax block. Feel free to omit this if you keep your home cool or live in a cooler climate, or if you want to store your deodorant in a jar instead. It is advisable to use beeswax if you live in a warm climate, since coconut melting point is 76° F.
6 tablespoons baking soda: Neutralizes your pH and helps with body odor to create a baking soda deodorant. If you would rather have a homemade deodorant without baking soda, here's the best sensitive skin deodorant recipe with no baking soda!
6 tablespoons corn starch: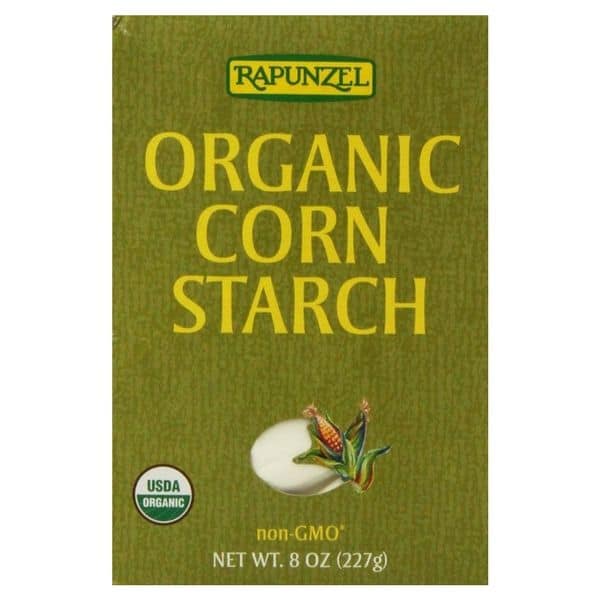 The role of cornstarch is to absorb excess moisture from the skin.
2 tablespoons bentonite clay (optional):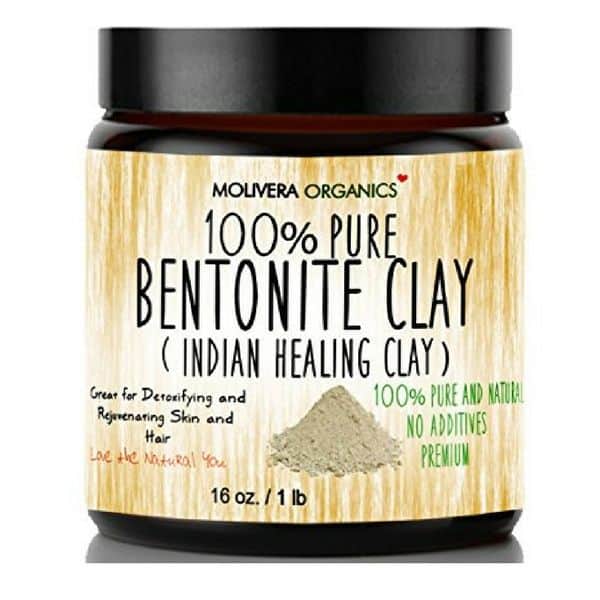 Bentonite clay is the detoxifying ingredient in this recipe. This homemade deodorant with bentonite clay also absorbs excess moisture and heals the skin.
30 drops essential oils: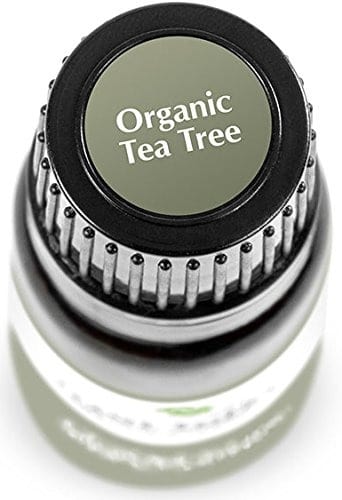 Tea tree essential oil is great for it's anti-bacterial and anti-fungal properties, but you could also use lavender, orange, rosemary – use your imagination! I love that this deodorant can be tailored to whatever scent you want. Plant Therapy essential oils are my favorite – they are wonderful quality for the price point.
Please note that this recipe makes enough to fill 2 empty deodorant canisters, plus a little extra.
Related post: All Natural Home Spa Day Routine (with DIY recipes)
Psst…before we get to the recipe, grab the "DIY Skincare Recipes" digital download/printable below for free, which includes this and 6 other awesome homemade skincare recipes.
Natural Homemade Deodorant Stick Method:
Start with 2 empty deodorant canisters. You can split the recipe if you only have one. Just wash it out and you're good to go!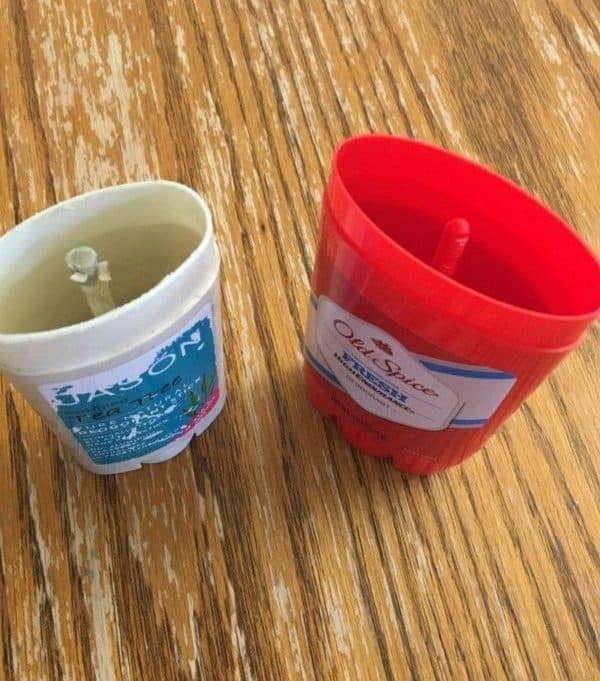 If you don't have a deodorant canister already, you can order them or just put your deodorant in a small container and spread it on with your fingers (a bit messy, but it works).  Check out these empty containers.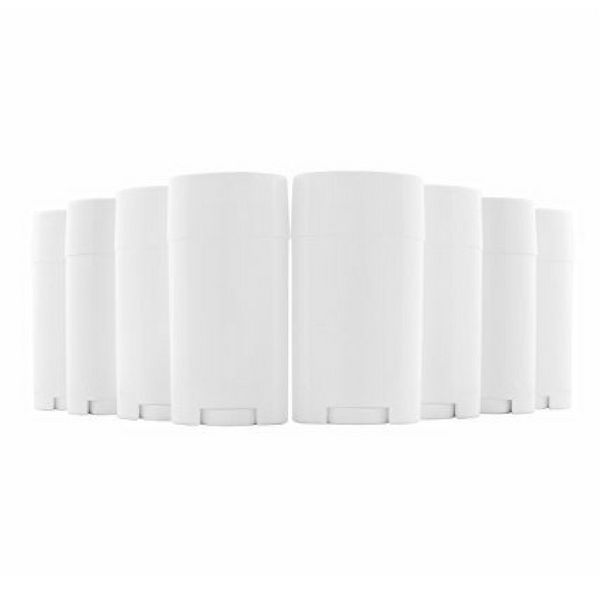 Melt the coconut oil (and beeswax, if using) until it's in liquid form. I just stick mine in the toaster oven for a few minutes, or microwave for a minute or two. Mix together thoroughly.
Mix the dry ingredients together with a fork.
Add all the dry ingredients and essential oils to the melted liquid mixture and stir with a small whisk or fork until it's nice and smooth.
The mixture will be the consistency of gravy and should look something like this. However, if you are using beeswax, it will be thicker – more like peanut butter.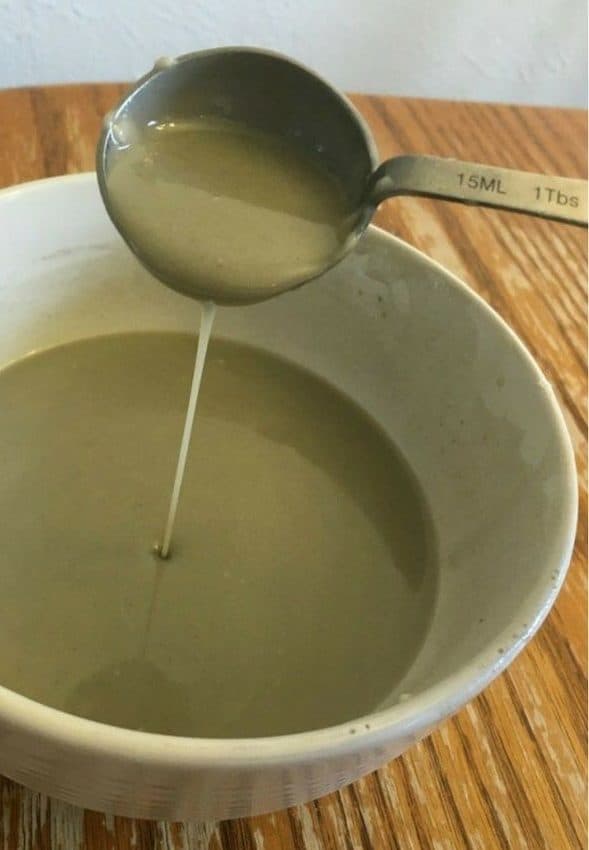 Then pour (or scoop) it into your empty deodorant canisters.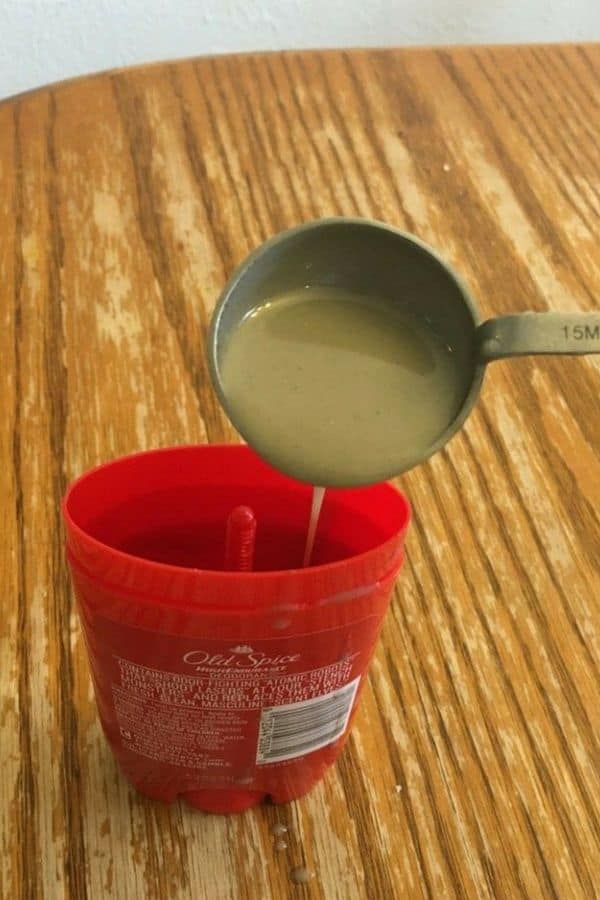 Refrigerate for several hours until the mixture is solid. You may need to let it sit at room temperature for a little while after this if it's super cold. It will soften a bit and enable you to twist the deodorant up and down.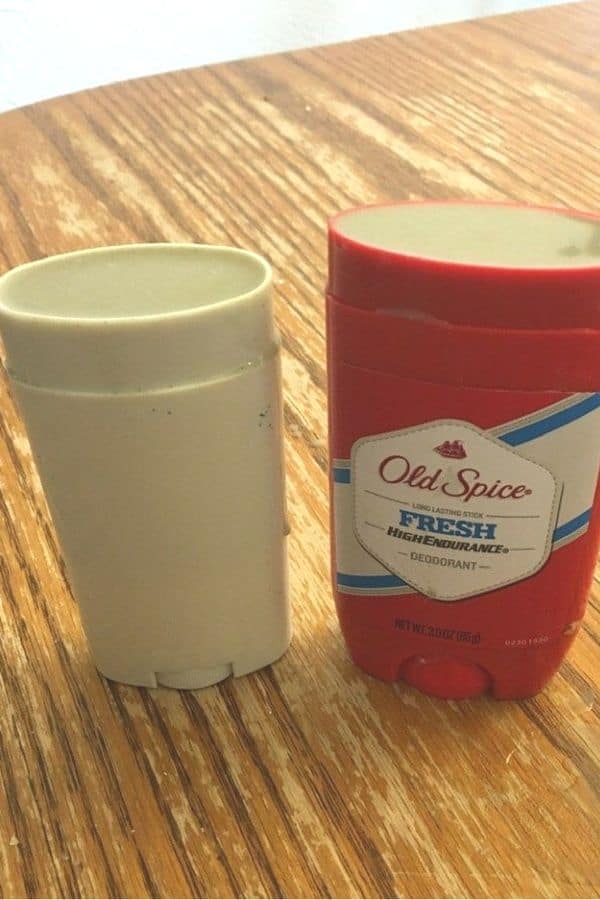 Your deodorant is ready to use! I've noticed that it goes on a little thicker than store-bought, so you won't need as many swipes as usual for good coverage.
More DIY body care recipes to try:
Once you start making this deodorant, you'll probably never want to stop! So simple, frugal, and good for you.
UPDATE: This is my husband's all time favorite recipe. I love it too, but lately I've been gravitating toward this sensitive skin deodorant recipe. It's perfect if you have any rashes or irritation going on (this can happen to some people using deodorant with baking soda).
Natural Homemade Deodorant Recipe Notes:
If your skin gets irritated, use less baking soda. It will still deodorize with less chance of irritation.
If you have any issues with the bentonite clay getting on your clothes, you are probably using too much deodorant. Try using a smaller amount and make sure it is absorbed fully before getting dressed. Alternatively, you can omit the bentonite clay if you wish.
When using bentonite clay, it's advisable to only use plastic or wooden utensils instead of metal. It is thought that the detox effect of the clay actually pulls metals from the utensils into the mixture. I accidentally used metal for this batch, as you can see in the photos.
If you don't have stick deodorant canisters, you can just use small jars or containers and apply a small amount with your fingers.
Related post: DIY Magnesium Lotion
Homemade Deodorant Recipe Card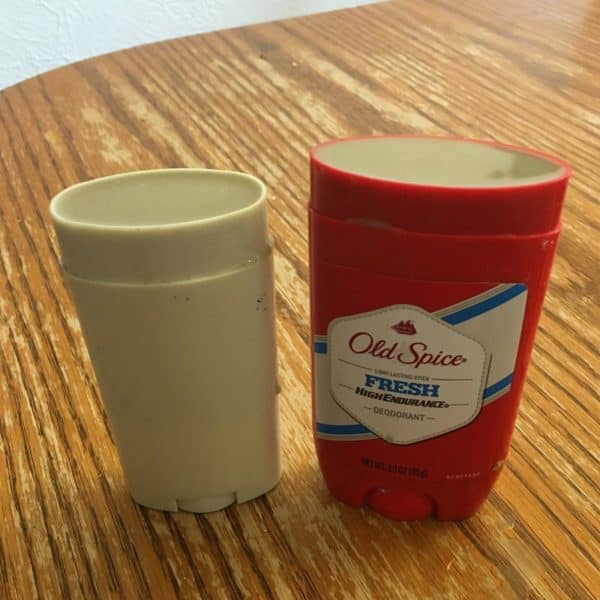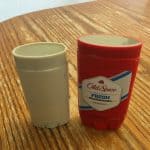 Homemade Deodorant That Works
With ingredients like coconut oil, bentonite clay, and essential oils, this all natural deodorant isn't just non-toxic - it's actually good for your skin, too.
 With ingredients like coconut oil, bentonite clay, and essential oils, this all natural deodorant isn't just non-toxic - it's actually good for your skin, too.
Prep Time 10 minutes
Setting time 1 hour
Ingredients
3 empty deodorant canisters
1 cup coconut oil
1/2 cup beeswax pastilles
6 tbsp. baking soda
6 tbsp. cornstarch non-gmo
2 tbsp. bentonite clay
30 drops essential oil lavender or other
Instructions
In a medium bowl, melt the coconut oil and beeswax in the microwave 1-2 minutes until melted. Stir together thoroughly.

Mix dry ingredients together in a separate bowl. Add dry ingredients to wet ingredients slowly, stirring frequently with a small whisk or fork to combine.

Add essential oils of choice to deodorant mixture and stir well.

Carefully pour or scoop into empty deodorant canisters. Refrigerate to harden.
Recipe Notes
Deodorant stays fresh around 2 months at room temperature.
Beeswax is optional. If you choose to omit, store deodorant in small containers (not twist up deodorant canisters) and apply a small amount with your fingers.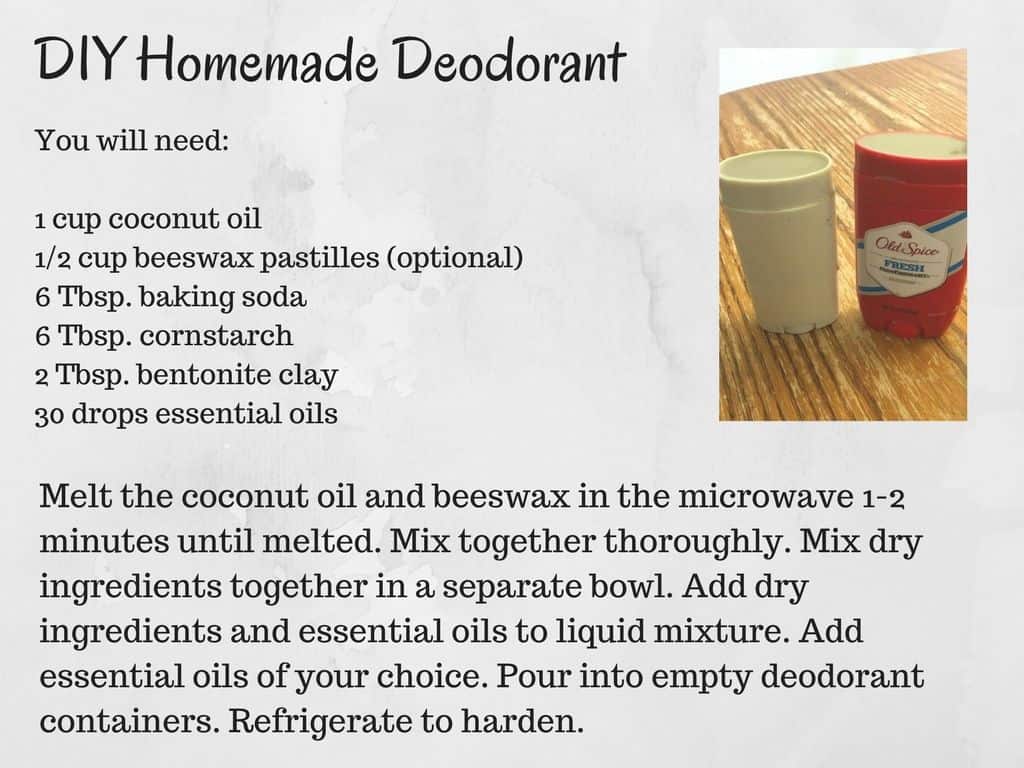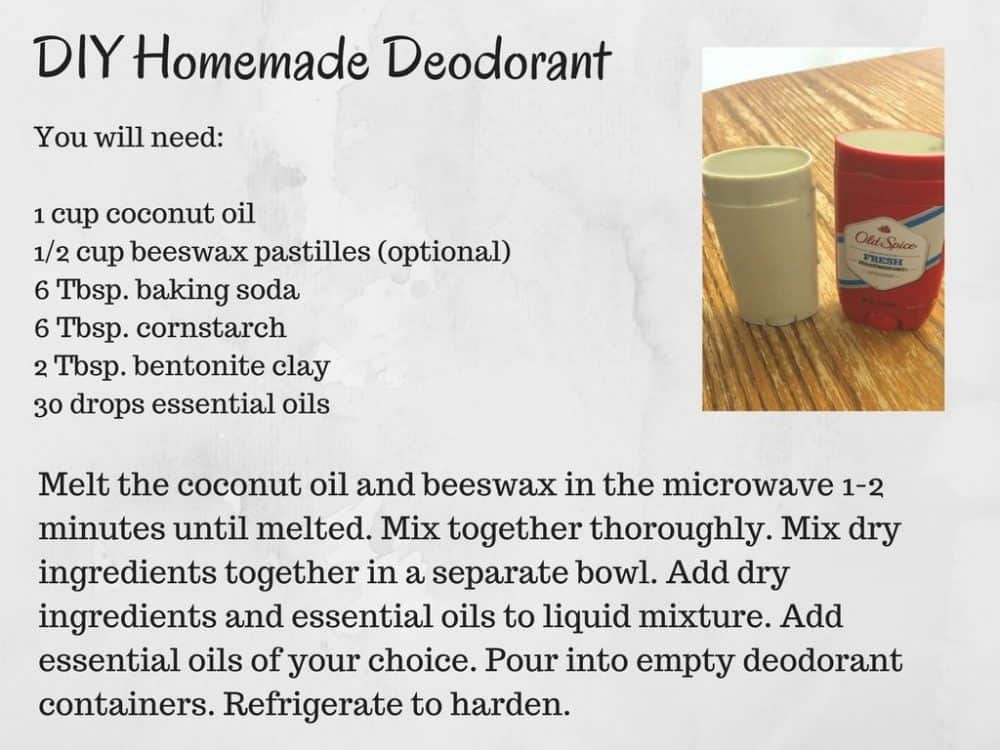 Also check out my "Things I Love" page, where I share the BEST resources for healthy and non-toxic living. You're sure to find a treasure!
Not keen on making your own deodorant? Or need a backup in case you run out? Here's our favorite non toxic brand – Schmidt's. It keeps you dry and smells heavenly. They have lots of natural scents to choose from. It even has husband's stamp of approval.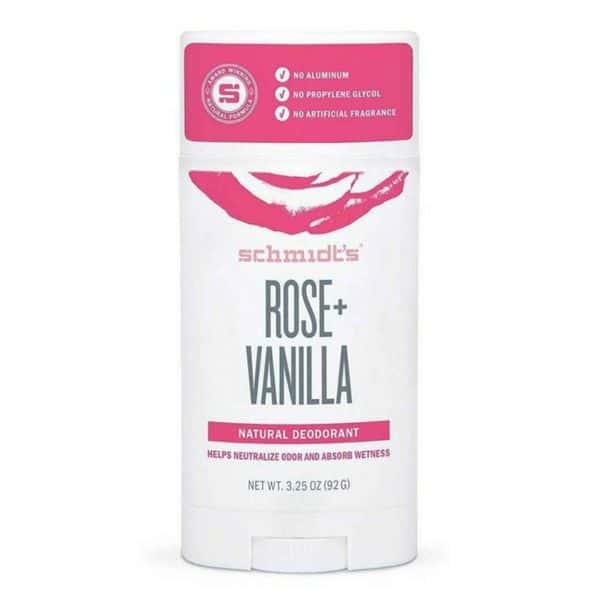 You may also like: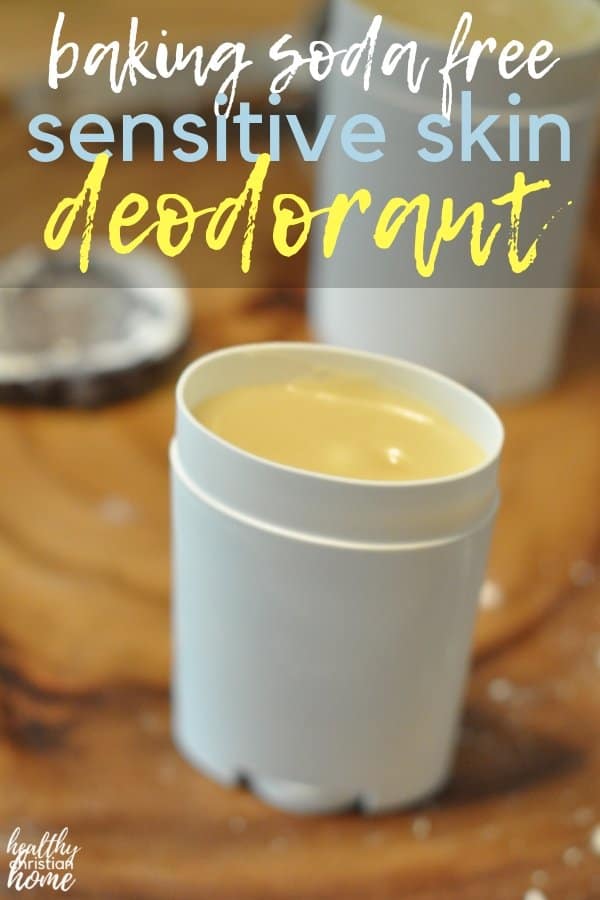 Would you ever try making your own homemade deodorant?
With Joy, 

PIN IT!