Want the best spicy potato soup recipe for spicy food lovers? This is it. Hot jalapeños kick up the flavor of the creamiest potato soup with savory bacon & cheese — yum!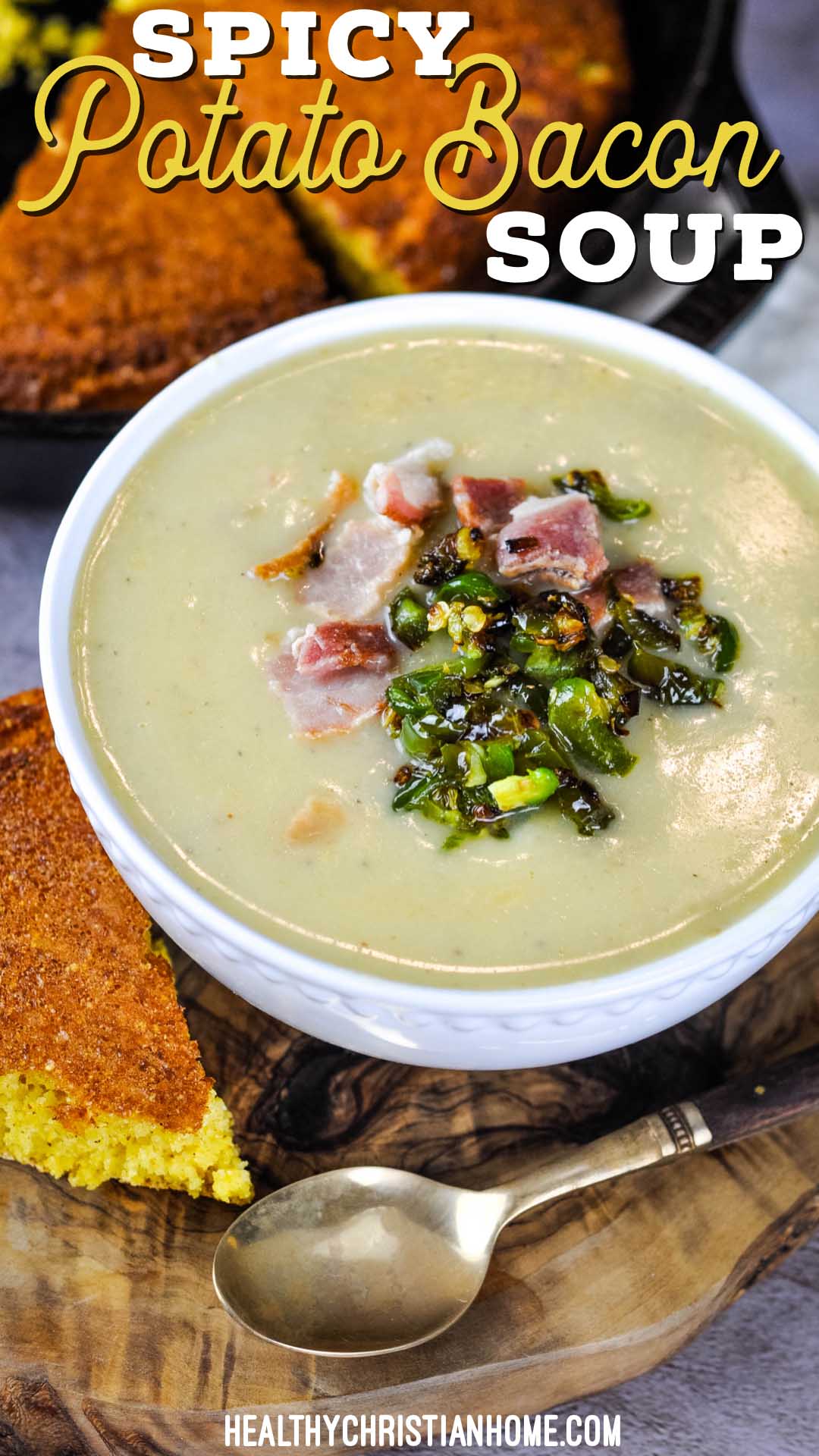 The BEST spicy potato soup recipe
You know those random kitchen experiments that just go incredibly right? This soup recipe is at the top of my list!
Sure, I've had plenty of recipe failures, which you won't see on the blog. Corn salad. Dry loaves sourdough. Spaghetti sauce that is just missing something.
But this recipe is definitely NOT one of those. This soup happened one winter around 2008 and has been warming our hearts and bellies ever since.
Sadly, I forgot about it after having young children who couldn't eat spicy food. (Bummer. We are working on adjusting those taste buds ASAP.)
But thankfully, my sister-in-law reminded me of this soup last week and I couldn't get it out of my mind! So, I had to make it for you all.
If you love creamy loaded bacon-potato soup, this has all the same delectable flavors but with a super spicy kick. What could be better?! It reminds me a lot of my favorite "snakebites" a.k.a. jalapeño poppers.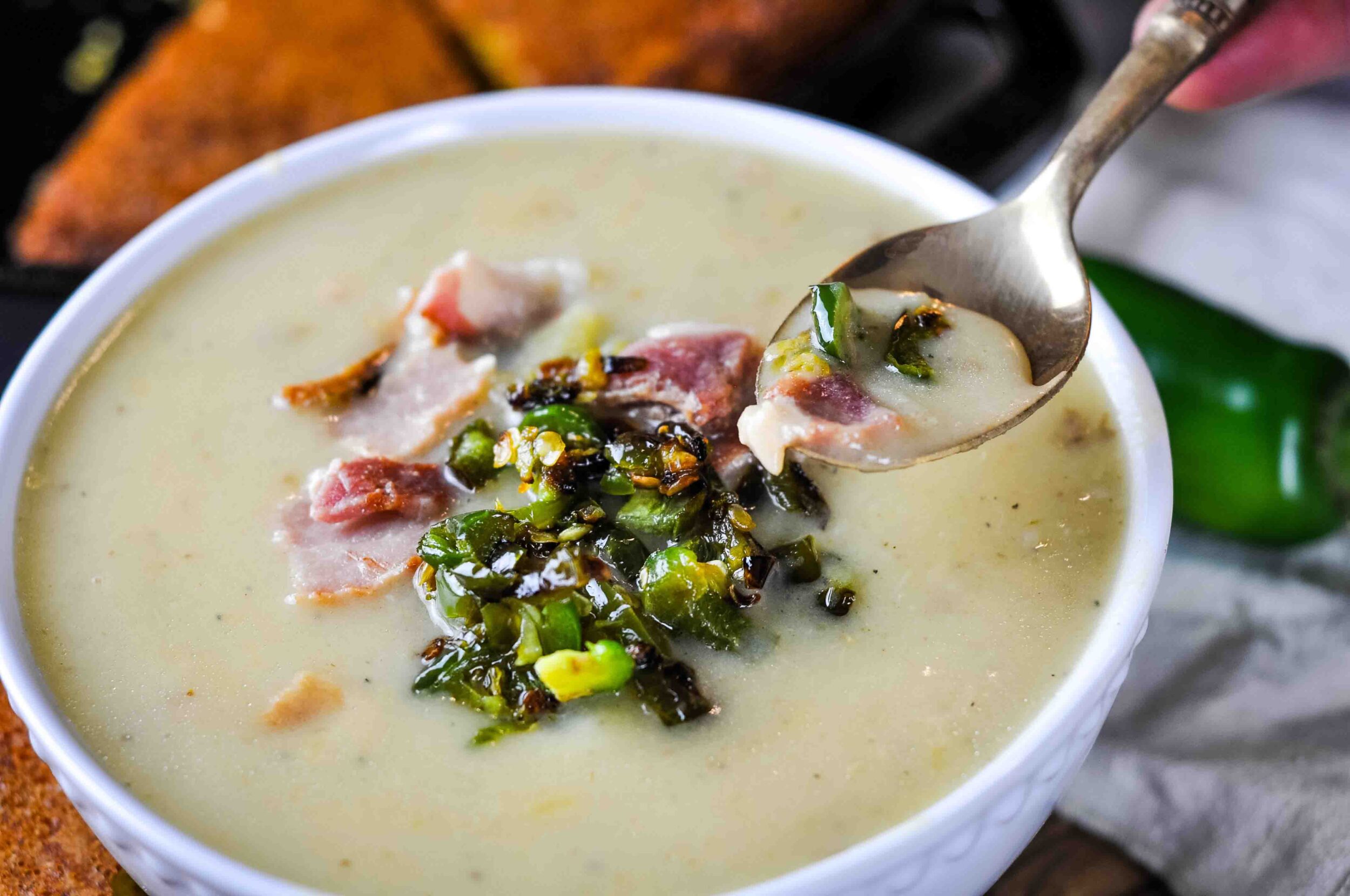 How do you add flavor to potato soup?
For making flavorful soups, it's ALL about the broth. If you take a bit of extra time to make homemade stock in large quantities and freeze it, your soups will be on a whole different level both nutrition and taste-wise.
Of course if you don't have time to make your own broth, store bought is fine. But it's so simple to do – here's a step by step tutorial that also shows you how to make your own bouillon cubes from the leftover veggies in the broth!
Bacon is another way to add tons of flavor to potato soup. I highly recommend a nitrate-free bacon, such as Greenfield Natural. The spicy jalapeños add another layer of incredible taste also, especially if you love hot and spicy soup recipes.
What type of potato is best for soups?
You can use any type of potatoes you like for potato soup! Whatever is on sale or that your family prefers will work for this recipe.
For russet potatoes, I recommend removing all the peels, as they tend to be a loth thicker and tougher. Keep in mind that russets tend to be more starchy and can make the soup texture a bit gluey.
For thinner-skinned potatoes like red and yellow, you can leave the skin on or just partially peel them.
Our family loves using yellow Yukon gold potatoes for their color and almost buttery texture. They are also lower in starch.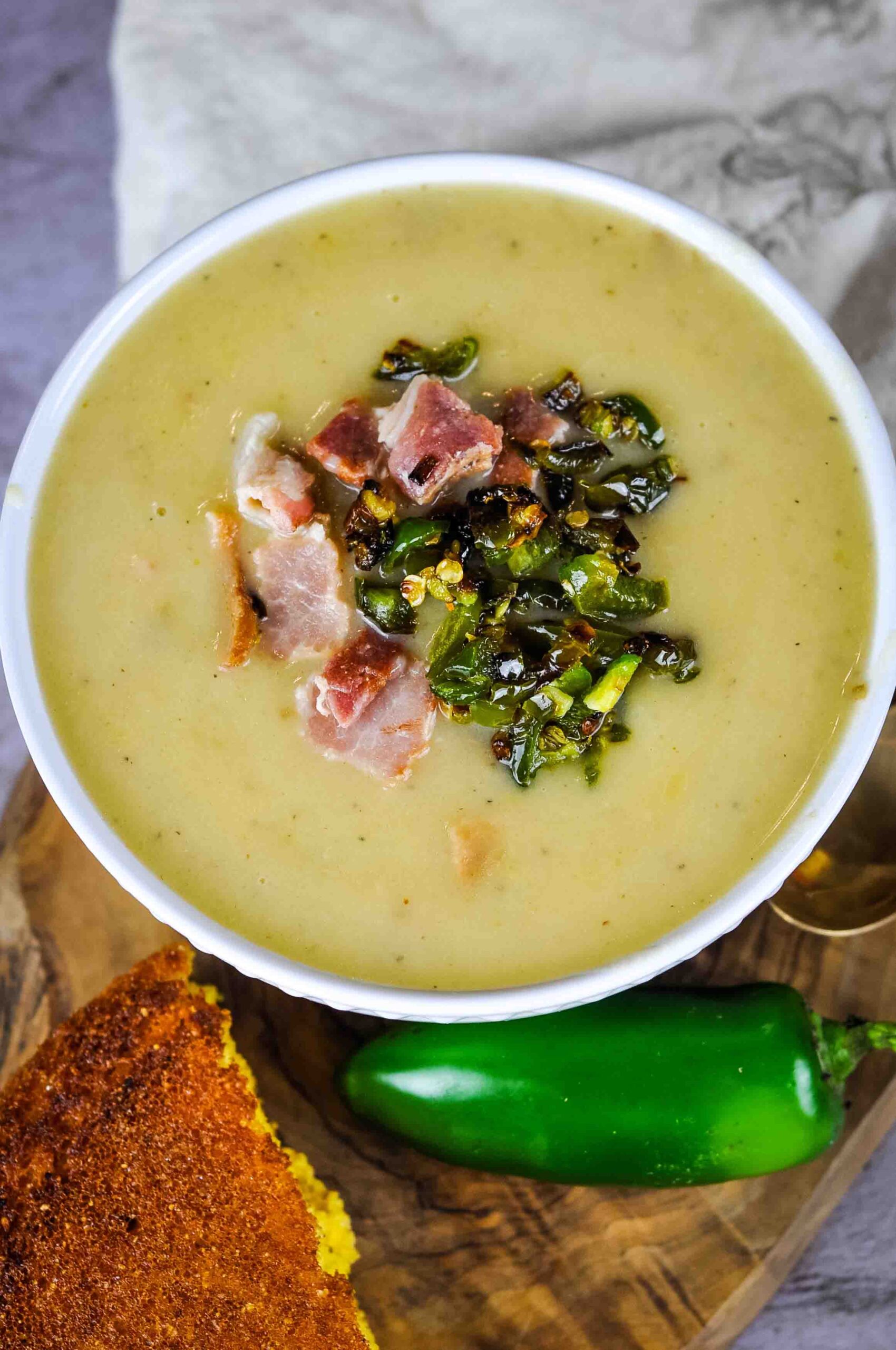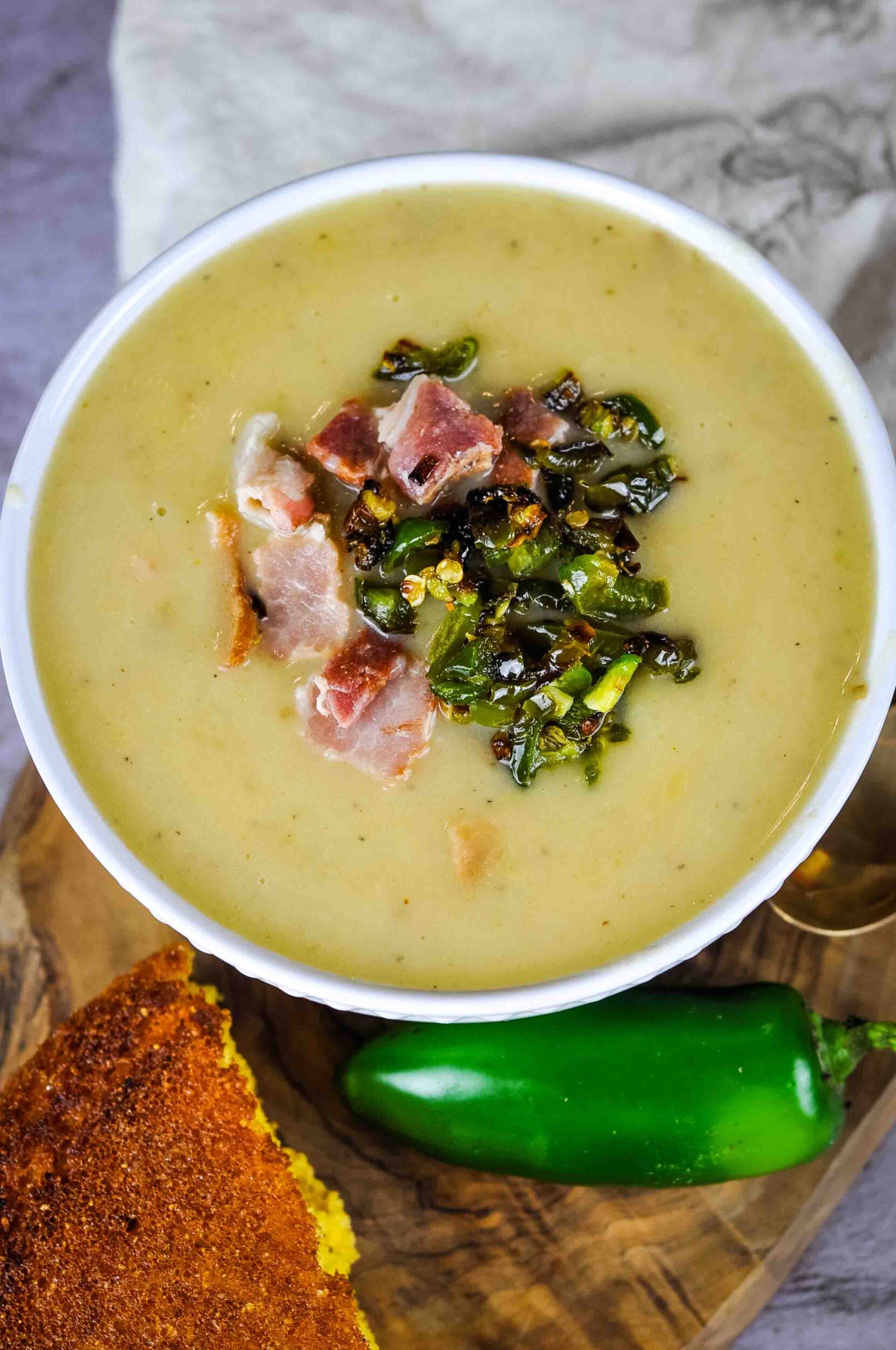 Should I boil potatoes before adding to soup?
You can if you like, as doing so removes some of the extra starch from the potatoes. However, I'm all about saving extra steps in the cooking process. Boiling the potatoes in the broth is easier and works great!
How do you make creamy potato soup from scratch?
First, cut the bacon into small pieces and cook in a large stock pot on medium heat. Once bacon is crispy, set aside to cool and drain bacon grease if desired. Leave a little grease in the pot to sautè the veggies.
Add diced jalapeños & onion to the pot and sautè for several minutes until translucent. Add minced garlic and cook for an additional minute.
Important Note: If some of your family members are sensitive to spicy food, you can sautè the jalapeños separately and add them to individual bowls.
Peel potatoes and dice them fairly small so they cook quickly. Add potatoes to the soup pot along with chicken broth, salt, & pepper.
Bring to a boil, then reduce heat to a simmer. Allow to simmer, covered until potatoes are soft (around 20 minutes).
Once potatoes are soft, blend with an immersion blender to desired consistency. Stir in half & half, shredded cheese, and cooked bacon. Adjust seasoning to taste and serve warm.
This recipe is even better served with my great-grandma's crispy southern cornbread on the side!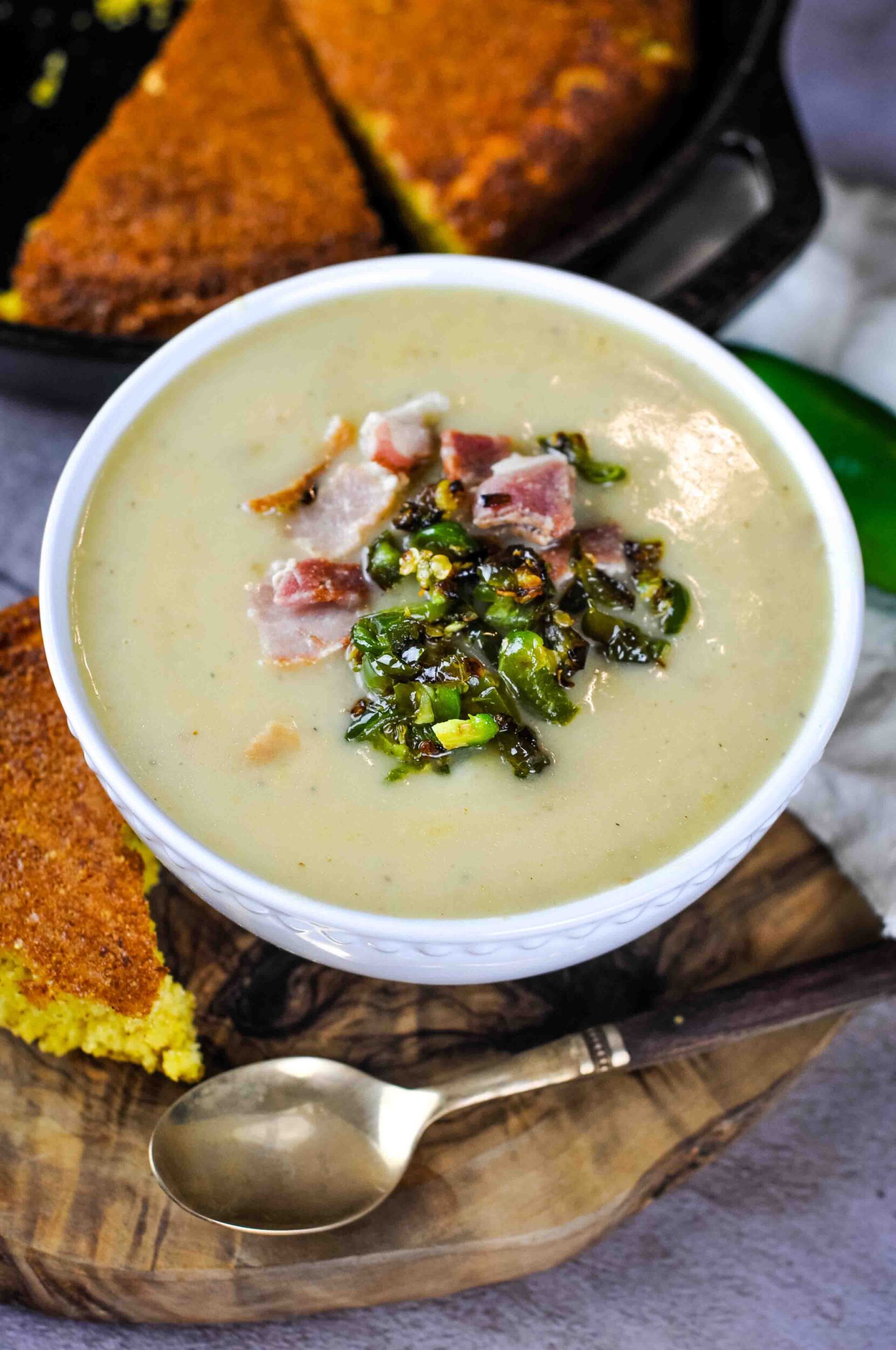 Spicy creamy potato soup cooking tips
Cook the jalapeños separately for spice-sensitive family members. If some people in your family don't like spice, or if you have little kids, this is a good option. Just sautè the peppers in a small skillet while you are simmering the soup, and people can add in the amount they like. Keep in mind that cooking the jalapeños separately will make the soup less spicy – simmering with peppers from the beginning helps the spice permeate the entire soup.
Avoid using pre-shredded bagged cheese. This contains anti-caking agents like cellulose that will prevent it from melting completely.
Cook the bacon first, then remove. This helps keep it crispy, and you can use the bacon grease to sautè the onions & garlic to infuse tons of flavor into your soup!
Use an immersion blender to blend the soup. I adore my immersion blender and it gets used at least once a week for soups in the colder months. I like blending the soup until the broth is creamy and thickened while still having some nice hearty chunks of potato.
Special dietary notes. If someone in your home is dairy-sensitive, you can make this without the added milk / cheese. It's still a good chunky bacon and potato soup recipe to keep. You could even add some coconut cream for a dairy free option.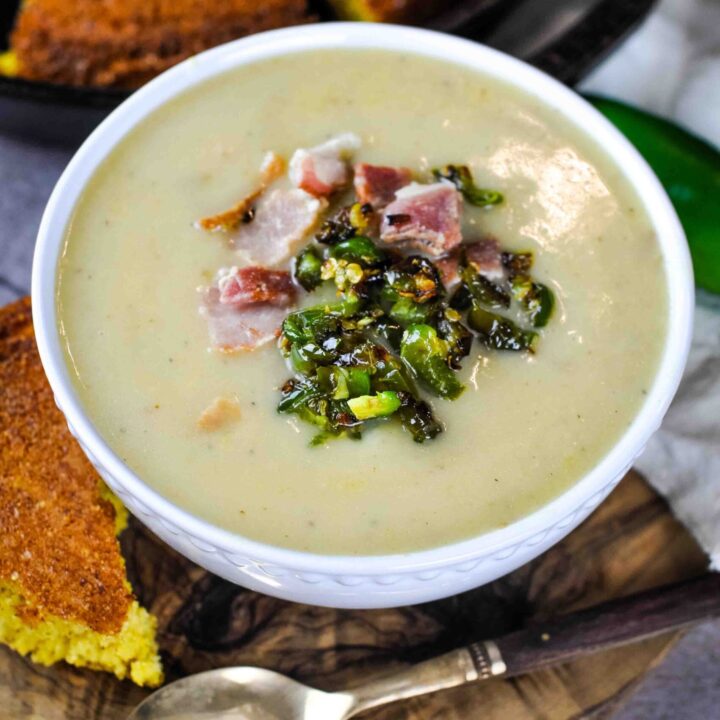 Yield: 8 servings
Spicy Potato Bacon Soup
Prep Time: 20 minutes
Cook Time: 20 minutes
Total Time: 40 minutes
Want the best spicy potato soup recipe for spicy food lovers? This is it. Hot jalapeños kick up the flavor of the creamiest potato soup with savory bacon & cheese -- yum!
Ingredients
10 oz. (around 6 slices) bacon, chopped
1 onion, diced
2-4 jalapeños, diced *
3 cloves garlic, minced
4 cups chicken broth
3 lbs. potatoes, peeled and chopped (around 8 medium sized potatoes)
1 cup half & half
1 cup cheddar cheese, shredded
Salt & pepper to taste
Instructions
Heat a large stock pot on medium heat and sautè chopped bacon until crispy. Remove bacon and set aside. Drain excess grease, leaving some in the pot to cook the veggies in.
To the stock pot, add diced onion & jalapeños. Cook until onion is translucent, then add minced garlic and cook for an additional minute.
Add potatoes and chicken broth, season with salt & pepper, and stir. Bring to a boil, then reduce heat to simmer. Cover with a lid and allow to cook until potatoes are tender, around 20 minutes.
When potatoes are soft, use an immersion blender to blend soup to desired consistency.
Add half & half, shredded cheese, and cooked bacon to the soup. Add additional seasoning if needed. Serve warm with crispy Southern cornbread.
Notes
* To adjust the amount of heat, seeds can be removed from jalapeños. You can also sautè the jalapeños separately and add to individual bowls at the end if some members of your famiy are sensitive to spice.
Recommended Products
As an Amazon Associate and member of other affiliate programs, I earn from qualifying purchases.
Nutrition Information:
Yield:
8
Serving Size:
1
Amount Per Serving:
Calories: 269
Total Fat: 8g
Saturated Fat: 5g
Trans Fat: 0g
Unsaturated Fat: 3g
Cholesterol: 27mg
Sodium: 627mg
Carbohydrates: 40g
Fiber: 4g
Sugar: 5g
Protein: 10g
Do you love potato soup? Will you try it with extra spice??
PIN IT!