Before your next trip, save these 28 travel bible verses to grant you traveling mercies and keep you calm. These Scriptures are perfect to meditate on as you board, whether you're traveling by plane, boat, train, bus, or car!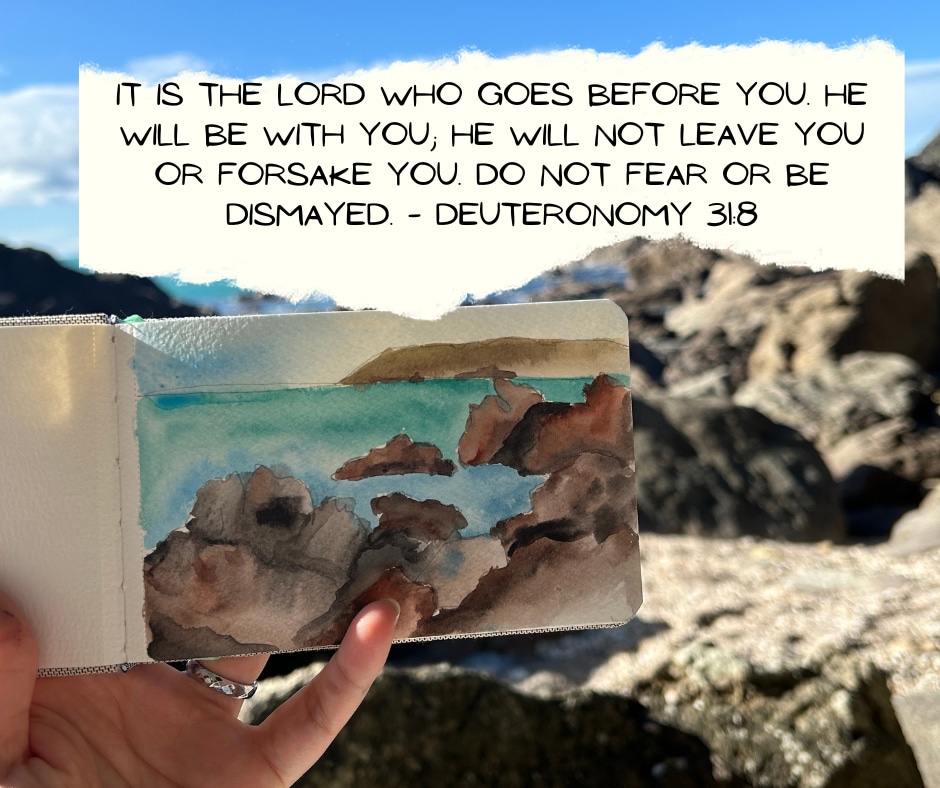 An Adventure to Remember
Last month we embarked on a trip we've been planning since before we got married over 16 years ago: New Zealand! Richard was born there and has family there, and we've been wanting to go for years. But it seemed like every time we tried to make the trek, something always prevented us from going, whether it was work, a new baby, health concerns, or moving.
But this year, despite going through one of our most challenging years (currently in upheaval with our home being damaged from toxic smoke from a landfill fire), we decided to go anyway. We decided, if we wait for a perfect time to travel, we'll never go anywhere!
And honestly, it was the perfect time to go — our kids are at such a fun age (9 & 11) and old enough to always have this as a core memory. They got to meet their great-grandfather, aunties & uncles, and cousins they've never met before. Not to mention all the breathtaking scenery, new foods, and memorable experiences we all had. The boys even got to sit in the cockpit of our first plane as we boarded!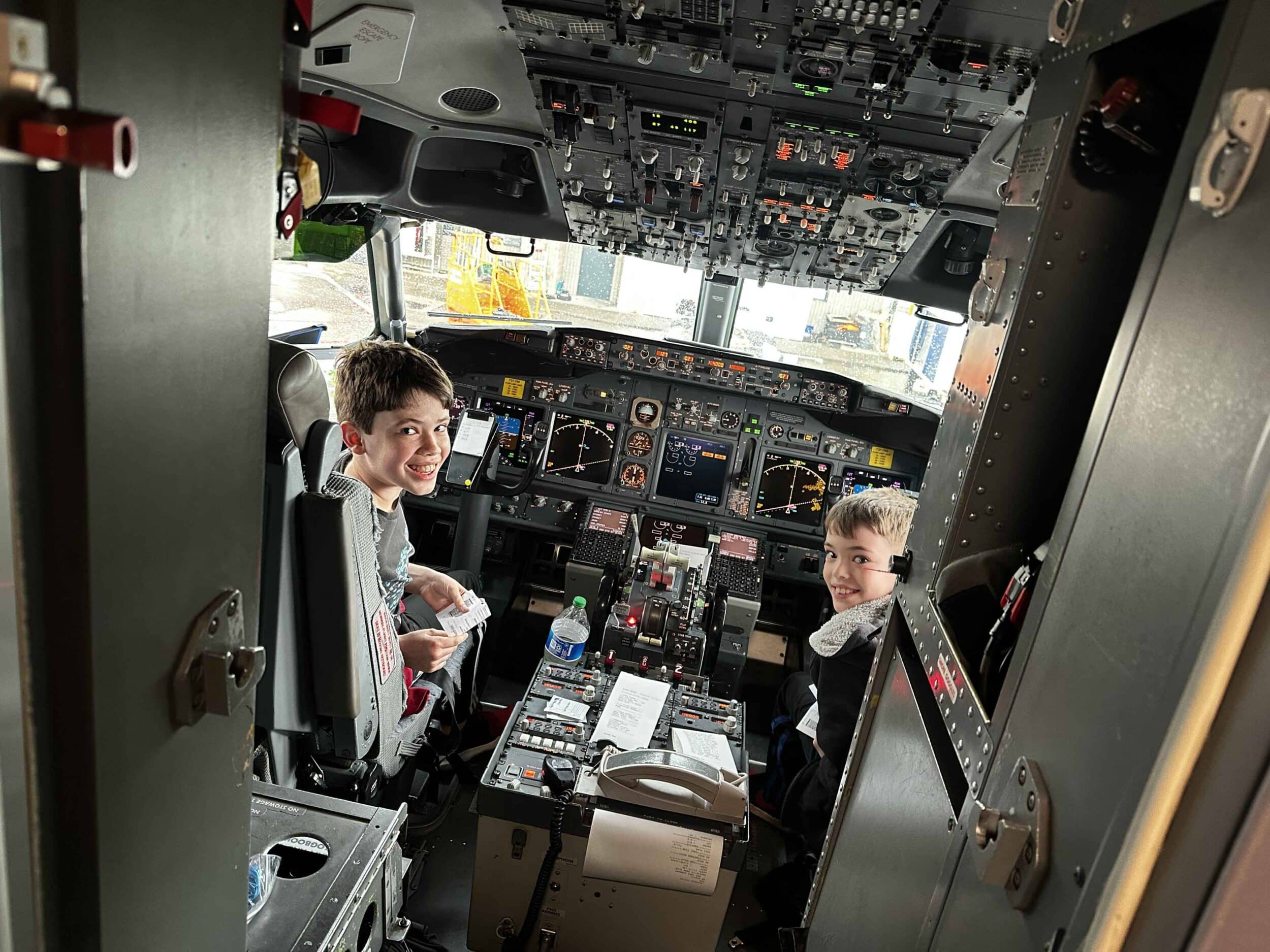 Since we haven't traveled in a while and this was the longest flight I've ever been on (14+ hours!) I needed some tools to help me stay calm. God's Word is at the top of the list, of course. I thought maybe you could also use some inspiring bible verses to help you stay calm and trust God as you travel!
Read Next: 48 Bible Verses About Peace to Comfort You
28 Best Bible Verses for Travel (calm & safe travels)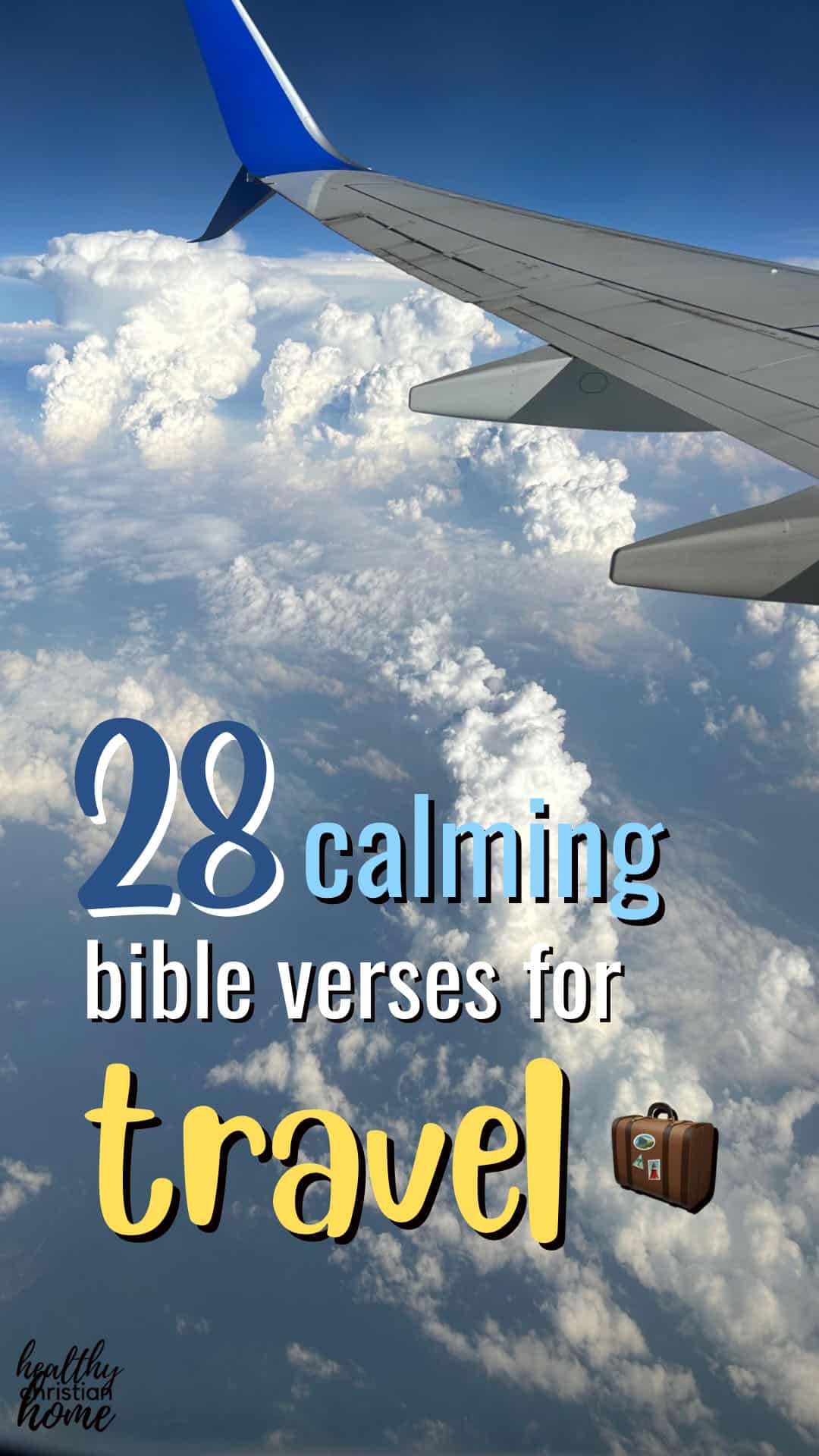 These are the best bible verses I could find to bring peace while traveling. I have divided them into 3 categories: God's protection, God's guidance, and God is watching over you.
God's protection (travel bible verses)
Deuteronomy 31:8
It is the Lord who goes before you. He will be with you; he will not leave you or forsake you. Do not fear or be dismayed.
Psalm 32:7-8
You are a hiding place for me; you preserve me from trouble; you surround me with shouts of deliverance. I will instruct you and teach you in the way you should go; I will counsel you with my eye upon you.
Psalm 121:5-8
The Lord is your keeper; the Lord is your shade on your right hand. The sun shall not strike you by day, nor the moon by night. The Lord will keep you from all evil; he will keep your life. The Lord will keep your going out and your coming in from this time forth and forevermore.
Psalm 91:4
He will cover you with his pinions, and under his wings you will find refuge; his faithfulness is a shield and buckler.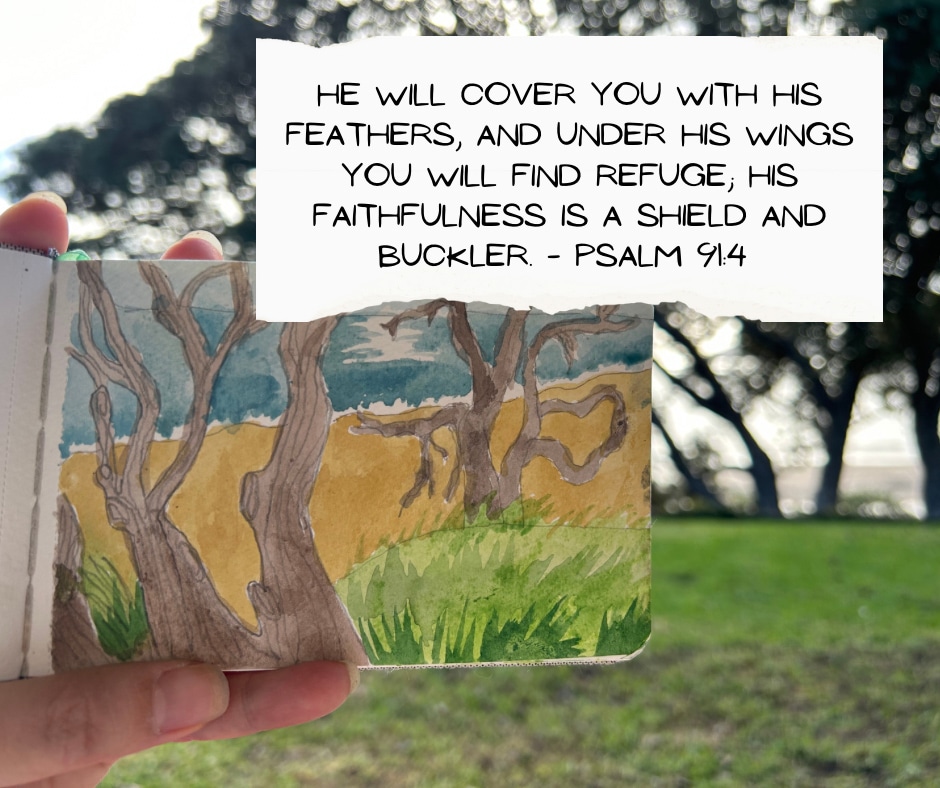 Jeremiah 17:7-8
Blessed is the man who trusts in the Lord, whose trust is the Lord. He is like a tree planted by water, that sends out its roots by the stream, and does not fear when heat comes, for its leaves remain green, and is not anxious in the year of drought, for it does not cease to bear fruit.
Isaiah 54:10
"For the mountains may depart and the hills be removed, but my steadfast love shall not depart from you, and my covenant of peace shall not be removed," says the Lord, who has compassion on you.
Job 12:10
In his hand is the life of every living thing and the breath of all mankind.
Philippians 4:6-7
Do not be anxious about anything, but in everything by prayer and supplication with thanksgiving let your requests be made known to God. And the peace of God, which surpasses all understanding, will guard your hearts and your minds in Christ Jesus.
John 14:27
Peace I leave with you; my peace I give to you. Not as the world gives do I give to you. Let not your hearts be troubled, neither let them be afraid.
Psalm 146:5-6
Blessed is he whose help is the God of Jacob, whose hope is in the Lord his God, who made heaven and earth, the sea, and all that is in them…
Philippians 3:20
But our citizenship is in heaven, and from it we await a Savior, the Lord Jesus Christ…
You also might like: 60+ Bible Verses for Strength (when life gets hard)
God's guidance (travel bible verses)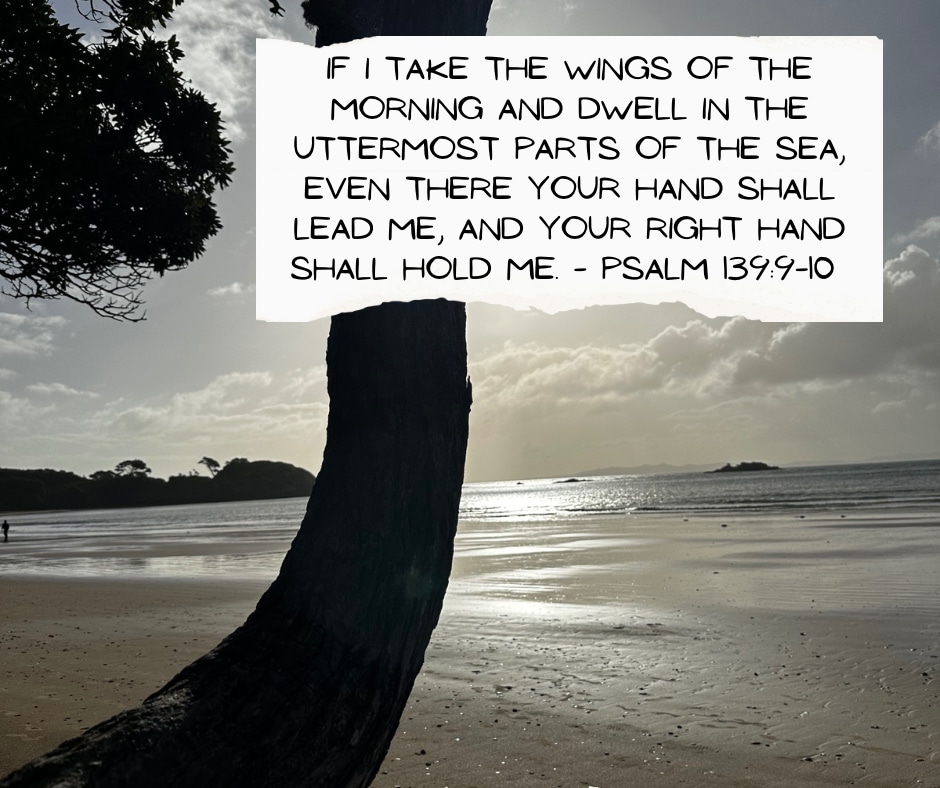 Psalm 139:9-10
If I take the wings of the morning and dwell in the uttermost parts of the sea, even there your hand shall lead me, and your right hand shall hold me.
Proverbs 3:5-6
Trust in the Lord with all your heart, and do not lean on your own understanding. In all your ways acknowledge him, and he will make straight your paths.
Proverbs 16:9
The heart of man plans his way, but the Lord establishes his steps.
Proverbs 3:23-24
Then you will walk on your way securely, and your foot will not stumble. If you lie down, you will not be afraid; when you lie down, your sleep will be sweet.
Psalm 116:8-9
For you have delivered my soul from death, my eyes from tears, my feet from stumbling; I will walk before the Lord in the land of the living.
Psalm 23:3-4
He restores my soul. He leads me in paths of righteousness for his name's sake. Even though I walk through the valley of the shadow of death, I will fear no evil, for you are with me; your rod and your staff, they comfort me.
Psalm 119:105
Your word is a lamp to my feet and a light to my path.
Joshua 1:9
Have I not commanded you? Be strong and courageous. Do not be frightened, and do not be dismayed, for the Lord your God is with you wherever you go.
Isaiah 52:7
How beautiful upon the mountains are the feet of him who brings good news, who publishes peace, who brings good news of happiness, who publishes salvation, who says to Zion, "Your God reigns."
God is watching over you (travel bible verses)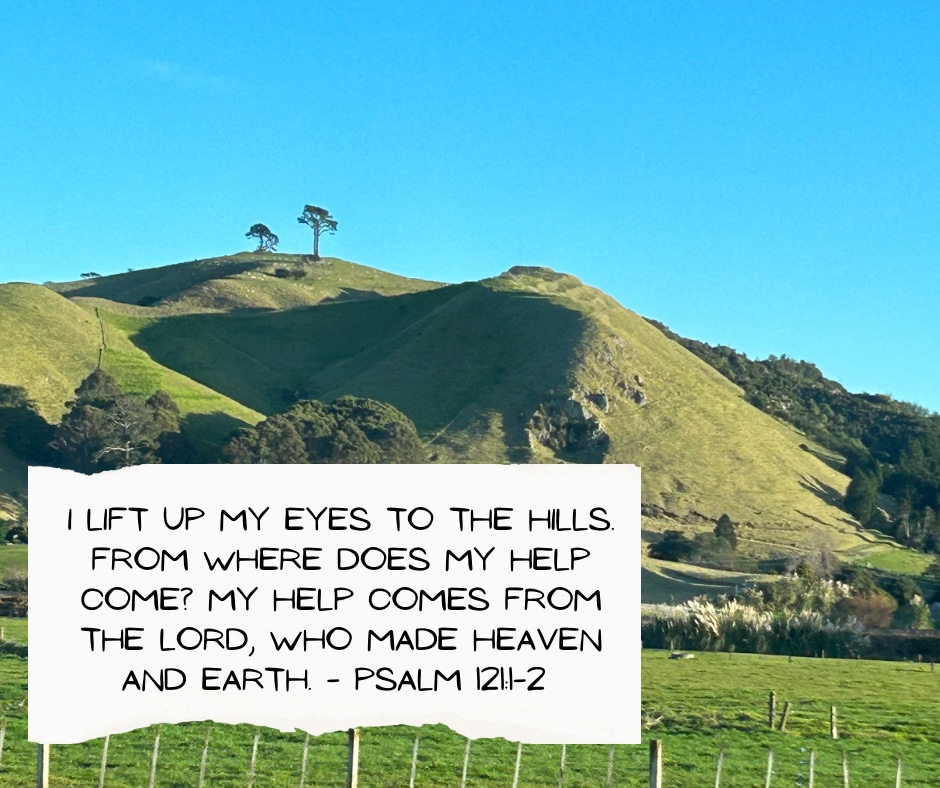 Psalm 121:1-4
I lift up my eyes to the hills. From where does my help come? My help comes from the Lord, who made heaven and earth. He will not let your foot be moved; he who keeps you will not slumber. Behold, he who keeps Israel will neither slumber nor sleep.
Proverbs 15:3
The eyes of the Lord are in every place, keeping watch on the evil and the good.
2 Timothy 1:7
…for God gave us a spirit not of fear but of power and love and self-control.
2 Chronicles 16:9
For the eyes of the Lord run to and fro throughout the whole earth, to give strong support to those whose heart is blameless toward him.
Psalm 139:5-7
You hem me in, behind and before, and lay your hand upon me. Such knowledge is too wonderful for me; it is high; I cannot attain it. Where shall I go from your Spirit? Or where shall I flee from your presence?
Matthew 6:31-34
Therefore do not be anxious, saying, 'What shall we eat?' or 'What shall we drink?' or 'What shall we wear?' For the Gentiles seek after all these things, and your heavenly Father knows that you need them all. But seek first the kingdom of God and his righteousness, and all these things will be added to you. "Therefore do not be anxious about tomorrow, for tomorrow will be anxious for itself. Sufficient for the day is its own trouble.
Psalm 95:3-5
For the Lord is a great God, and a great King above all gods. In his hand are the depths of the earth; the heights of the mountains are his also. The sea is his, for he made it, and his hands formed the dry land.
Psalm 146:9
The Lord watches over the sojourners; he upholds the widow and the fatherless, but the way of the wicked he brings to ruin.
Read Next: 40+ Bible Verses About Nature
Traveling grace prayer
Here's a special bible prayer for safe travel. Say this anytime you start feeling anxious or want to feel God's presence with you on your trip: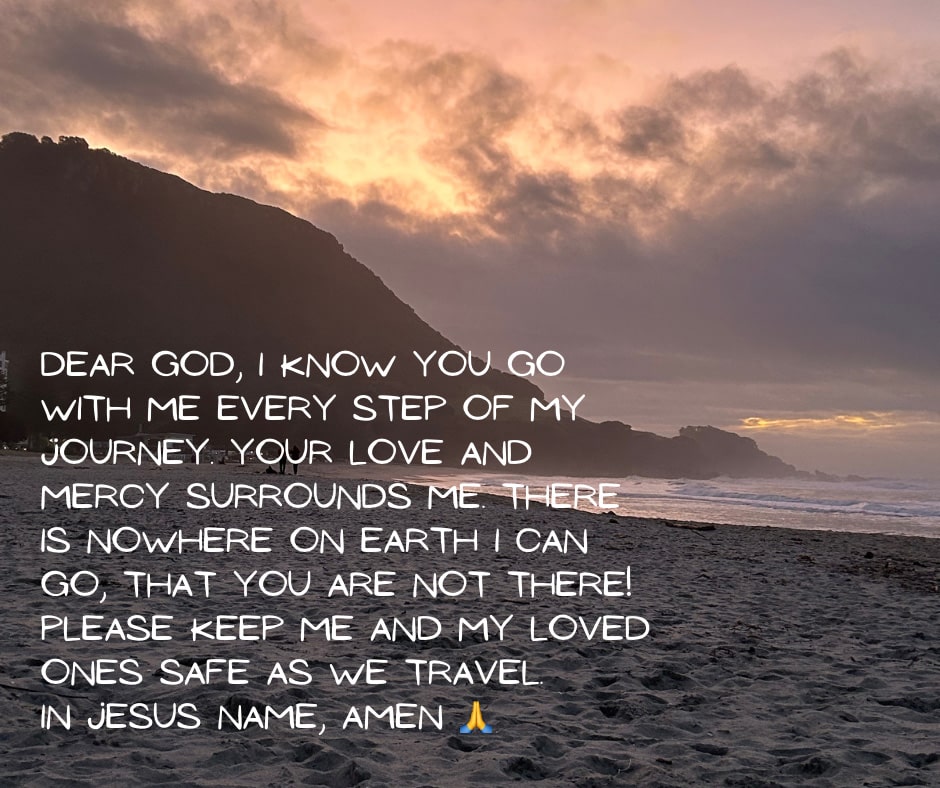 "Dear God, I know you go with me on every step of my journey. Your love and mercy surrounds me at all times. There is nowhere on earth I can go, that You are not there! Please keep me and my loved ones safe on our journey, and help us soak in your Creation and see You more clearly on this trip. In Jesus' Name, Amen."