Life is beautiful, but life is also hard. God knows this. That's why He gave us over 60 bible verses for strength to give us hope in hard times!
What does God say in difficult times?
The past few months have been rough for our family. A massive landfill fire forced us out of our home, and the smoke challenged our health and destroyed many of our belongings.
This got me thinking about what really matters in life. We can so easily become distracted by our "stuff" and forget about what we are really made for — to glorify God and do His will. Having an easy life is not our purpose as Christians, but it's often what we want.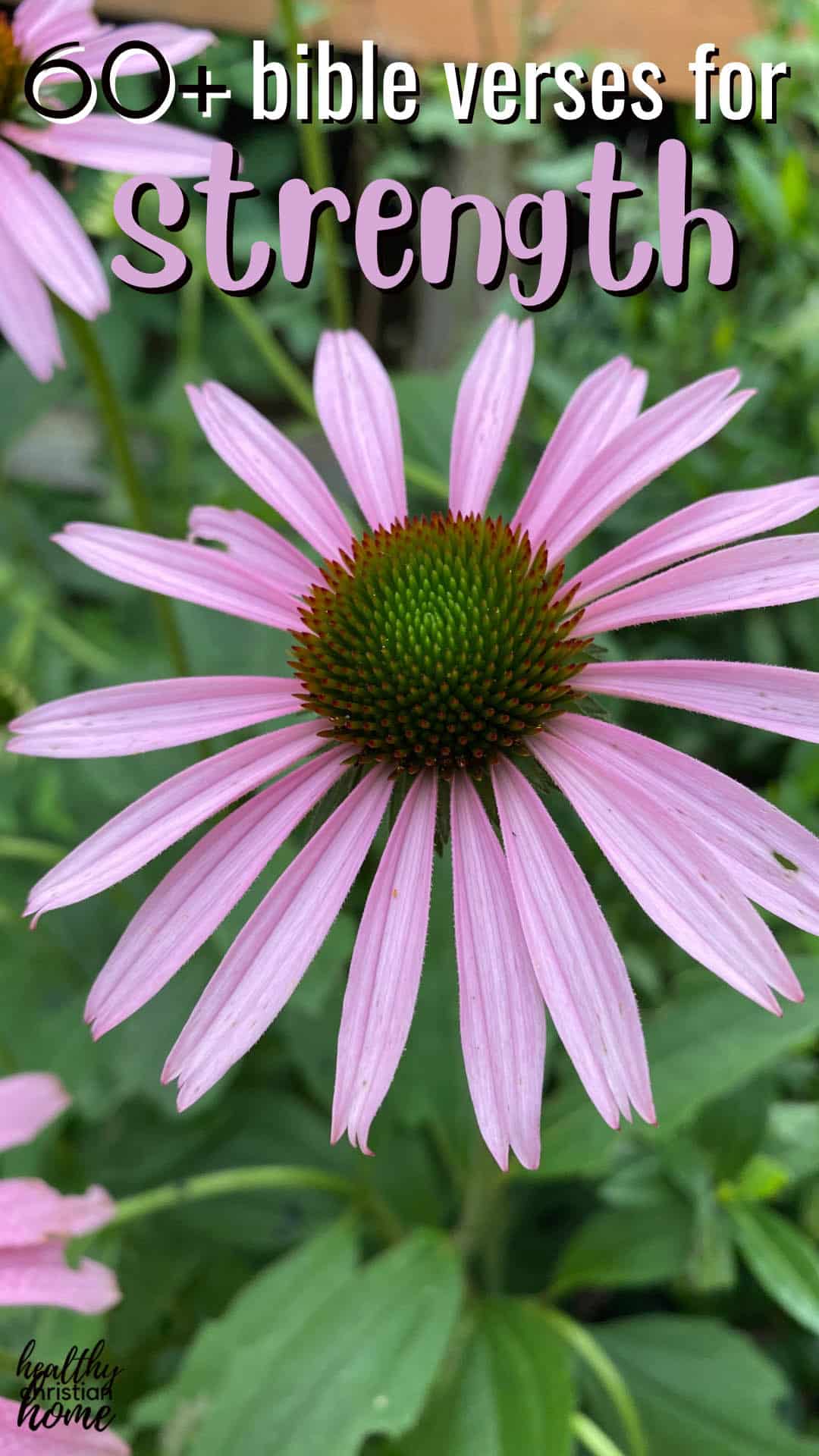 1 Peter 4:12-13 promises us: "Beloved, do not be surprised at the fiery trial when it comes upon you to test you, as though something strange were happening to you. But rejoice insofar as you share Christ's sufferings, that you may also rejoice and be glad when his glory is revealed."
Your "fiery trial" may not be a fire in your backyard, but you will undoubtedly face something else. Although we will experience hard times in our Christian walk, these times also challenge our faith and may cause us to feel weak. This is when we gratefully to turn to the Scriptures for comfort and help.
No matter what you're facing, may these bible verses for strength fill your heart with God's power and renewal!
60+ Bible Verses for Strength
These bible verses on strength are listed in order as you would find them within the Bible. Scriptures are written in the English Standard Version. I pray you find several that strengthen your heart today.
Exodus 14:14
The Lord will fight for you, and you have only to be silent.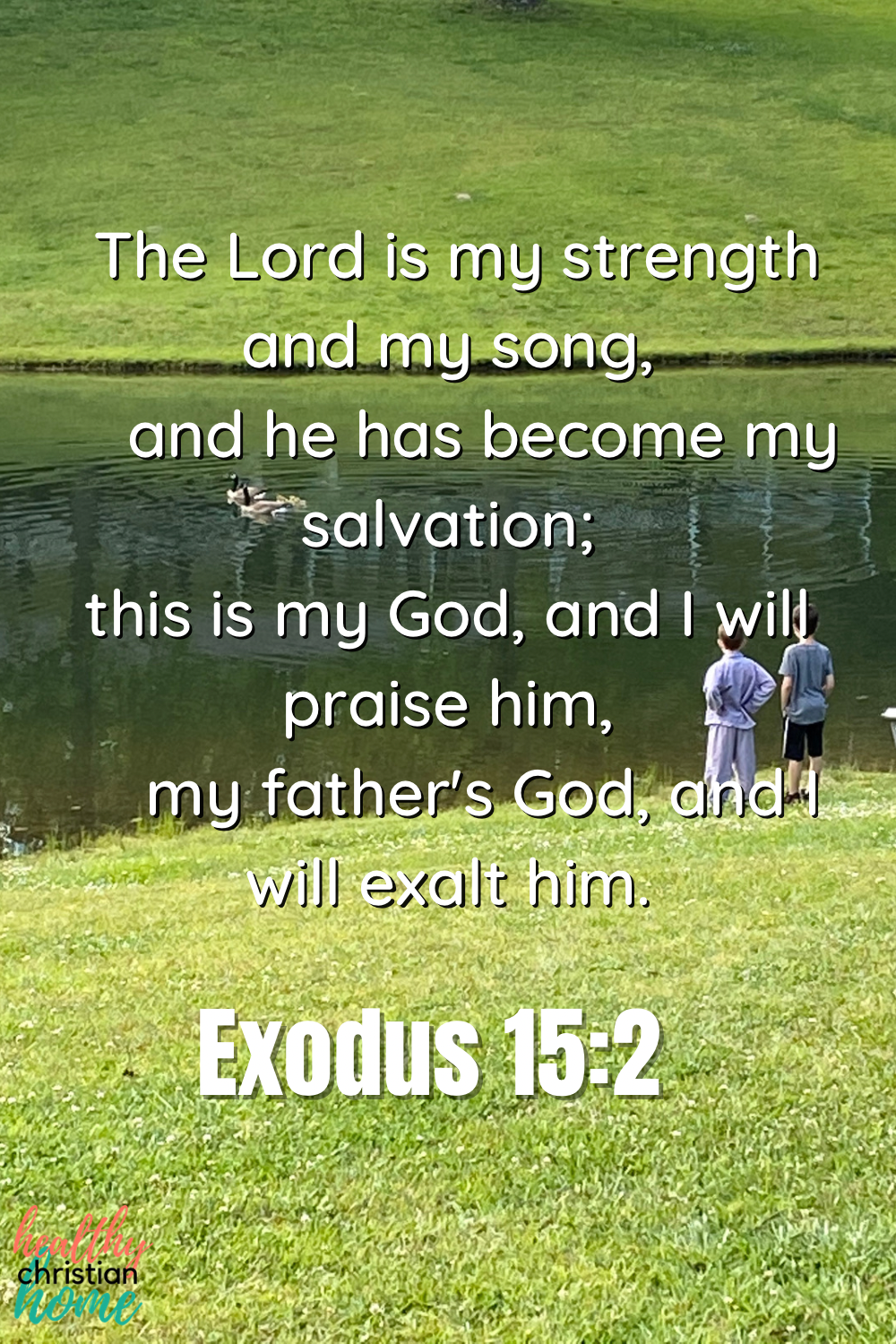 Exodus 15:2
The Lord is my strength and my song,
and he has become my salvation;
this is my God, and I will praise him,
my father's God, and I will exalt him.
Joshua 1:9
Have I not commanded you? Be strong and courageous. Do not be frightened, and do not be dismayed, for the Lord your God is with you wherever you go."
1 Chronicles 16:11
Seek the Lord and his strength;
seek his presence continually!
1 Chronicles 29:12
Both riches and honor come from you, and you rule over all. In your hand are power and might, and in your hand it is to make great and to give strength to all.
Nehemiah 8:10
Then he said to them, "Go your way. Eat the fat and drink sweet wine and send portions to anyone who has nothing ready, for this day is holy to our Lord. And do not be grieved, for the joy of the Lord is your strength."
Job 26:2
How you have helped him who has no power!
How you have saved the arm that has no strength!
Psalm 10:17
O Lord, you hear the desire of the afflicted;
you will strengthen their heart; you will incline your ear…
Psalm 18:1
I love you, O Lord, my strength.
Psalm 18:39
For you equipped me with strength for the battle;
you made those who rise against me sink under me.
Psalm 27:1
The Lord is my light and my salvation;
whom shall I fear?
The Lord is the stronghold of my life;
of whom shall I be afraid?
Psalm 28:7
The Lord is my strength and my shield; in him my heart trusts, and I am helped; my heart exults, and with my song I give thanks to him.
Psalm 28:8
The Lord is the strength of his people; he is the saving refuge of his anointed.
Psalm 29:11
May the Lord give strength to his people! May the Lord bless his people with peace!
Psalm 33:18-20
Behold, the eye of the Lord is on those who fear him,
on those who hope in his steadfast love,
that he may deliver their soul from death
and keep them alive in famine.
Our soul waits for the Lord;
he is our help and our shield.
Psalm 46:1
God is our refuge and strength, a very present help in trouble.
Psalm 59:16-17
But I will sing of your strength;
I will sing aloud of your steadfast love in the morning.
For you have been to me a fortress
and a refuge in the day of my distress.
O my Strength, I will sing praises to you,
for you, O God, are my fortress,
the God who shows me steadfast love.
Psalm 68:35
Awesome is God from his sanctuary; the God of Israel—he is the one who gives power and strength to his people. Blessed be God!
Psalm 71:9
Do not cast me off in the time of old age; forsake me not when my strength is spent.
Psalm 73:26
My flesh and my heart may fail, but God is the strength of my heart and my portion forever.
Psalm 84:5
Blessed are those whose strength is in you, in whose heart are the highways to Zion.
Psalm 104:14-16
You cause the grass to grow for the livestock
and plants for man to cultivate,
that he may bring forth food from the earth
and wine to gladden the heart of man,
oil to make his face shine
and bread to strengthen man's heart.
Psalm 105:4
Seek the Lord and his strength;
seek his presence continually!
Psalm 118:14
The Lord is my strength and my song; he has become my salvation.
Psalm 119:28
My soul melts away for sorrow; strengthen me according to your word!
Psalm 138:3
On the day I called, you answered me; my strength of soul you increased.
Proverbs 31:25
Strength and dignity are her clothing,
and she laughs at the time to come.
Ecclesiastes 7:19
Wisdom gives strength to the wise man more than ten rulers who are in a city.
Isaiah 12:2
"Behold, God is my salvation; I will trust, and will not be afraid; for the Lord God is my strength and my song, and he has become my salvation."
Isaiah 35:3-4
Strengthen the weak hands,
and make firm the feeble knees.
Say to those who have an anxious heart,
"Be strong; fear not!
Behold, your God
will come with vengeance,
with the recompense of God.
He will come and save you."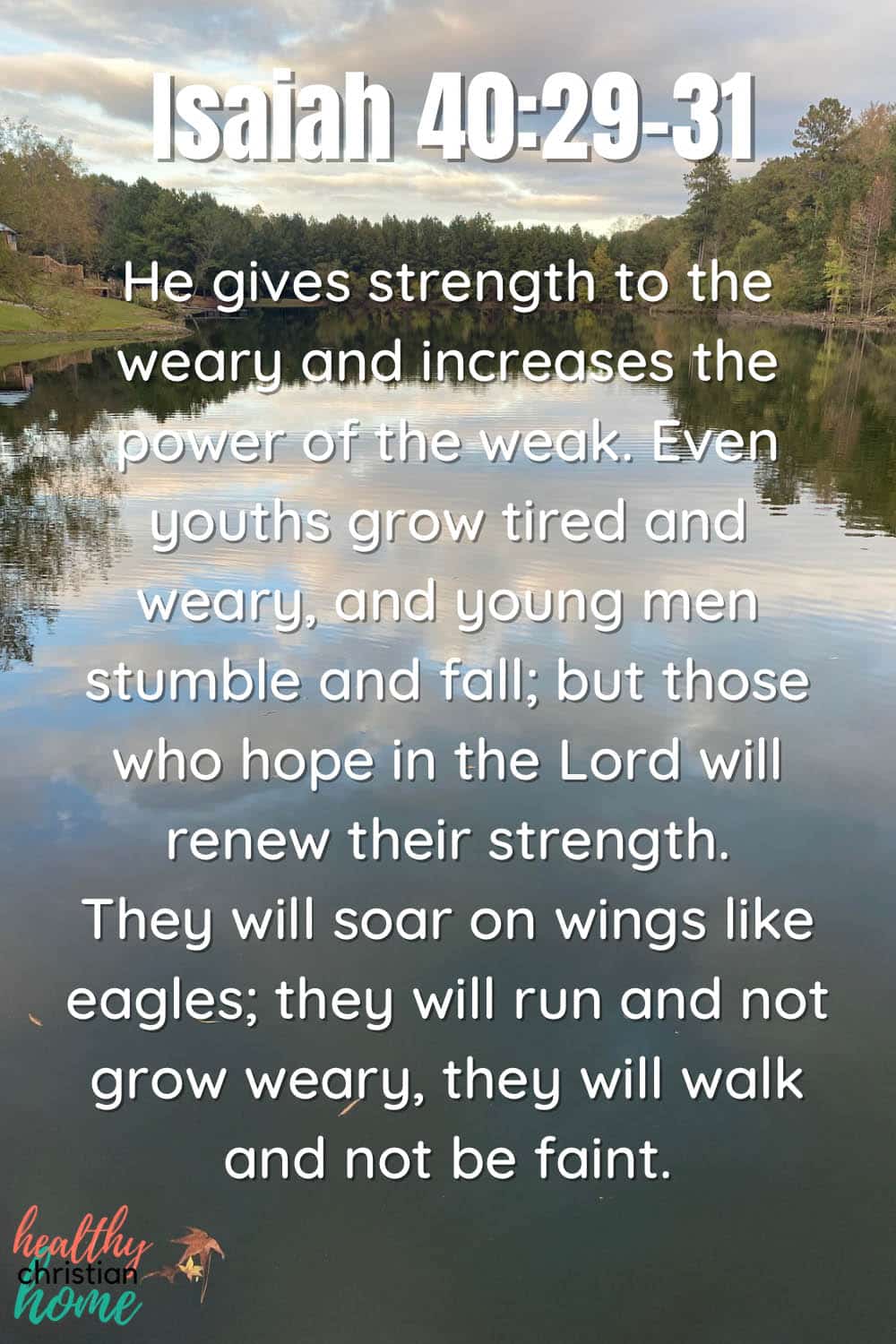 Isaiah 40:28-31
Have you not known? Have you not heard?
The Lord is the everlasting God,
the Creator of the ends of the earth.
He does not faint or grow weary;
his understanding is unsearchable.
He gives power to the faint,
and to him who has no might he increases strength.
Even youths shall faint and be weary,
and young men shall fall exhausted;
but they who wait for the Lord shall renew their strength;
they shall mount up with wings like eagles;
they shall run and not be weary;
they shall walk and not faint.
Isaiah 41:10
…fear not, for I am with you;
be not dismayed, for I am your God;
I will strengthen you, I will help you,
I will uphold you with my righteous right hand.
Isaiah 45:24
Only in the Lord, it shall be said of me,
are righteousness and strength;
to him shall come and be ashamed
all who were incensed against him.
Jeremiah 17:5-8
Thus says the Lord:
"Cursed is the man who trusts in man
and makes flesh his strength,
whose heart turns away from the Lord.
He is like a shrub in the desert,
and shall not see any good come.
He shall dwell in the parched places of the wilderness,
in an uninhabited salt land.
"Blessed is the man who trusts in the Lord,
whose trust is the Lord.
He is like a tree planted by water,
that sends out its roots by the stream,
and does not fear when heat comes,
for its leaves remain green,
and is not anxious in the year of drought,
for it does not cease to bear fruit."
Jeremiah 32:17
Ah, Lord God! It is you who have made the heavens and the earth by your great power and by your outstretched arm! Nothing is too hard for you.
Ezekiel 34:16
I will seek the lost, and I will bring back the strayed, and I will bind up the injured, and I will strengthen the weak, and the fat and the strong I will destroy. I will feed them in justice.
Habakkuk 3:17-19
Though the fig tree should not blossom,
nor fruit be on the vines,
the produce of the olive fail
and the fields yield no food,
the flock be cut off from the fold
and there be no herd in the stalls,
yet I will rejoice in the Lord;
I will take joy in the God of my salvation.
God, the Lord, is my strength;
he makes my feet like the deer's;
he makes me tread on my high places.
Mark 12:30
And you shall love the Lord your God with all your heart and with all your soul and with all your mind and with all your strength.
Luke 22:31-32
"Simon, Simon, behold, Satan demanded to have you, that he might sift you like wheat, but I have prayed for you that your faith may not fail. And when you have turned again, strengthen your brothers."
John 16:33
"I have said these things to you, that in me you may have peace. In the world you will have tribulation. But take heart; I have overcome the world."
Acts 14:21-22
When they had preached the gospel to that city and had made many disciples, they returned to Lystra and to Iconium and to Antioch, strengthening the souls of the disciples, encouraging them to continue in the faith, and saying that through many tribulations we must enter the kingdom of God.
Romans 16:25
Now to him who is able to strengthen you according to my gospel and the preaching of Jesus Christ, according to the revelation of the mystery that was kept secret for long ages…
1 Corinthians 16:13-14
Be watchful, stand firm in the faith, act like men, be strong. Let all that you do be done in love.
2 Corinthians 1:8-10
For we do not want you to be unaware, brothers, of the affliction we experienced in Asia. For we were so utterly burdened beyond our strength that we despaired of life itself. Indeed, we felt that we had received the sentence of death. But that was to make us rely not on ourselves but on God who raises the dead. He delivered us from such a deadly peril, and he will deliver us. On him we have set our hope that he will deliver us again.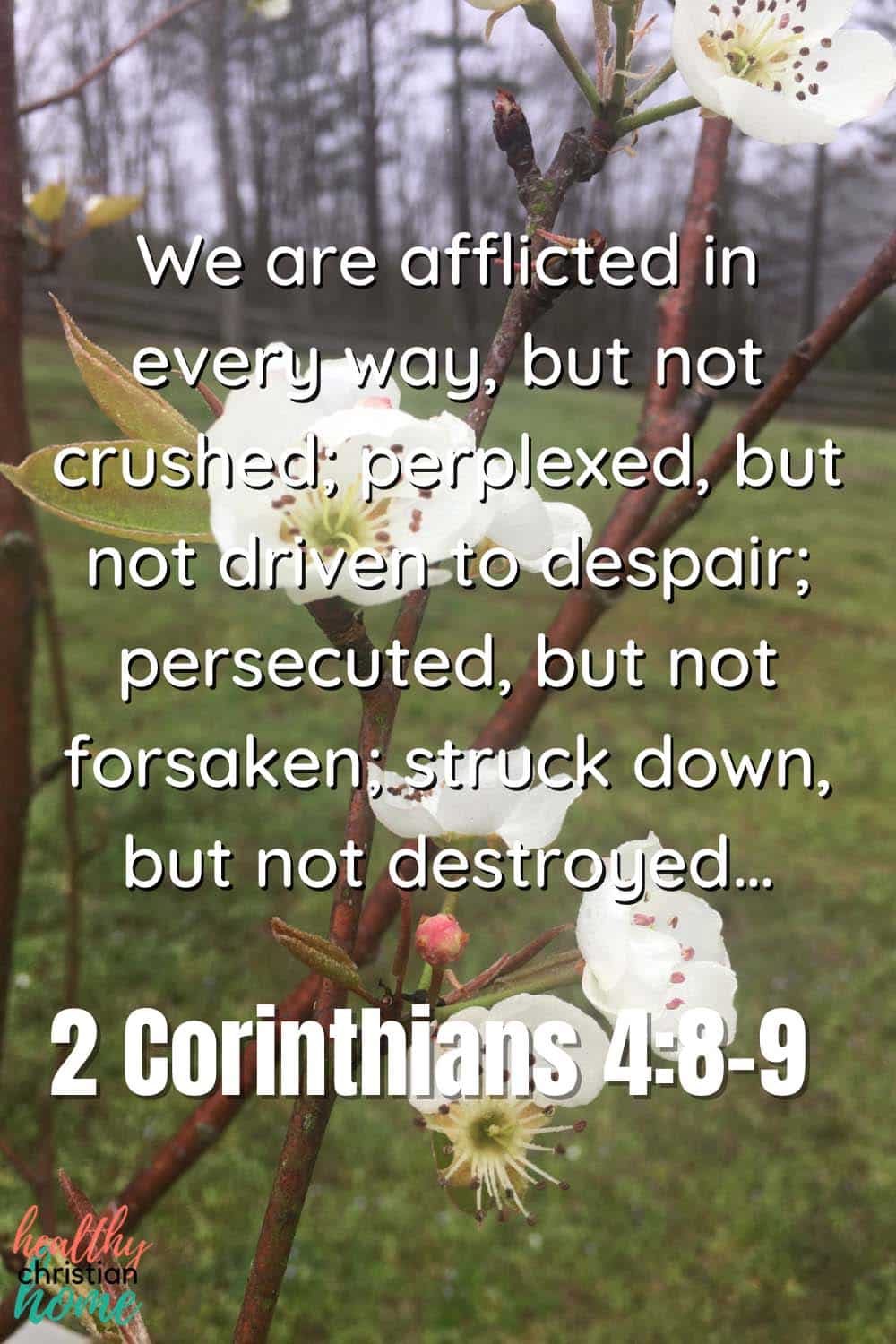 2 Corinthians 4:7-9
But we have this treasure in jars of clay, to show that the surpassing power belongs to God and not to us. We are afflicted in every way, but not crushed; perplexed, but not driven to despair; persecuted, but not forsaken; struck down, but not destroyed…
2 Corinthians 12:9-10
But he said to me, "My grace is sufficient for you, for my power is made perfect in weakness." Therefore I will boast all the more gladly of my weaknesses, so that the power of Christ may rest upon me. For the sake of Christ, then, I am content with weaknesses, insults, hardships, persecutions, and calamities. For when I am weak, then I am strong.
Ephesians 3:14-19
For this reason I bow my knees before the Father, from whom every family in heaven and on earth is named, that according to the riches of his glory he may grant you to be strengthened with power through his Spirit in your inner being, so that Christ may dwell in your hearts through faith—that you, being rooted and grounded in love, may have strength to comprehend with all the saints what is the breadth and length and height and depth, and to know the love of Christ that surpasses knowledge, that you may be filled with all the fullness of God.
Ephesians 3:20-21
Now to him who is able to do far more abundantly than all that we ask or think, according to the power at work within us, to him be glory in the church and in Christ Jesus throughout all generations, forever and ever. Amen.
Ephesians 6:10-11
Finally, be strong in the Lord and in the strength of his might. Put on the whole armor of God, that you may be able to stand against the schemes of the devil.
Philippians 4:13
I can do all things through Christ who strengthens me.
Colossians 1:11
…being strengthened with all power, according to his glorious might, for all endurance and patience with joy…
2 Thessalonians 3:3
But the Lord is faithful. He will establish you and guard you against the evil one.
1 Timothy 1:12
I thank him who has given me strength, Christ Jesus our Lord, because he judged me faithful, appointing me to his service…
2 Timothy 1:7
…for God gave us a spirit not of fear but of power and love and self-control.
2 Timothy 2:1-3
You then, my child, be strengthened by the grace that is in Christ Jesus, and what you have heard from me in the presence of many witnesses entrust to faithful men, who will be able to teach others also. Share in suffering as a good soldier of Christ Jesus.
2 Timothy 4:7-8
I have fought the good fight, I have finished the race, I have kept the faith. Henceforth there is laid up for me the crown of righteousness, which the Lord, the righteous judge, will award to me on that day, and not only to me but also to all who have loved his appearing.
2 Timothy 4:17-18
But the Lord stood by me and strengthened me, so that through me the message might be fully proclaimed and all the Gentiles might hear it. So I was rescued from the lion's mouth. The Lord will rescue me from every evil deed and bring me safely into his heavenly kingdom. To him be the glory forever and ever. Amen.
Hebrews 13:9
Do not be led away by diverse and strange teachings, for it is good for the heart to be strengthened by grace, not by foods, which have not benefited those devoted to them.
1 Peter 5:10
And after you have suffered a little while, the God of all grace, who has called you to his eternal glory in Christ, will himself restore, confirm, strengthen, and establish you.
More bible verses to help you:
What does the Bible say about staying strong in hard times?
Paul may give the greatest perspective on strength and weakness. "For the sake of Christ, then, I am content with weaknesses, insults, hardships, persecutions, and calamities. For when I am weak, then I am strong" (2 Corinthians 12:10).
He is saying that before any of us experienced hardship, Christ experienced it first. He conquered the greatest hardship: death! For our greatest hardship: Sin!
So, for the sake of Christ, Paul even welcomed weakness. This caused others to see Christ shine through the scars. This caused others to say, "There's no way this is Paul getting himself through the turmoil. It must be something stronger. Something bigger. It must be Christ!"
So with Christ, when we are weak, then we really are strong.
What is the scripture of strength and comfort?
Another well known Scripture that exudes God's strength and comfort is Psalm 23. Read it in its entirety here, along with the meaning it holds for Christians today.
Truly, the entire book of Psalms imparts strength to believers. If you are in need of strength, I highly recommend reading Psalms. Several of my favorite verses in Psalms are listed above, as well.
What is the most positive Bible verse on strength?
It's hard to answer this question because, as you can see above, there are SO many positive bible verses on strength. But I think the most beloved of all might be: "I can do all things through Christ who strengthens me." – Philippians 4:13
Bible Verses for Strength Bookmarks Printable
Don't forget to download & print your beautiful bookmarks with some of the best bible verses about faith! This printable PDF contains 4 bookmarks for you to use and share with friends.
Note: For best results, print bookmarks on cardstock.
{Click here to download & print your free bookmarks!}