Learning how to wait on the Lord and be patient does not come naturally. In this post, discover some practical tips on how to handle life during a waiting period, plus 40+ bible verses about patience.
What does it mean to wait on Lord?
If you've experienced a storm in your life – whether it be loss of a loved one, health issues, financial trouble, relationship problems, addiction, or any host of other problems – you know how difficult it can be to be patient and wait for a resolution. Or if there is no resolution, to wait for the grief or pain to pass on by.
If you are in this season of life, learning to be patient or "wait on the Lord" can be a tall order. And what does it even mean?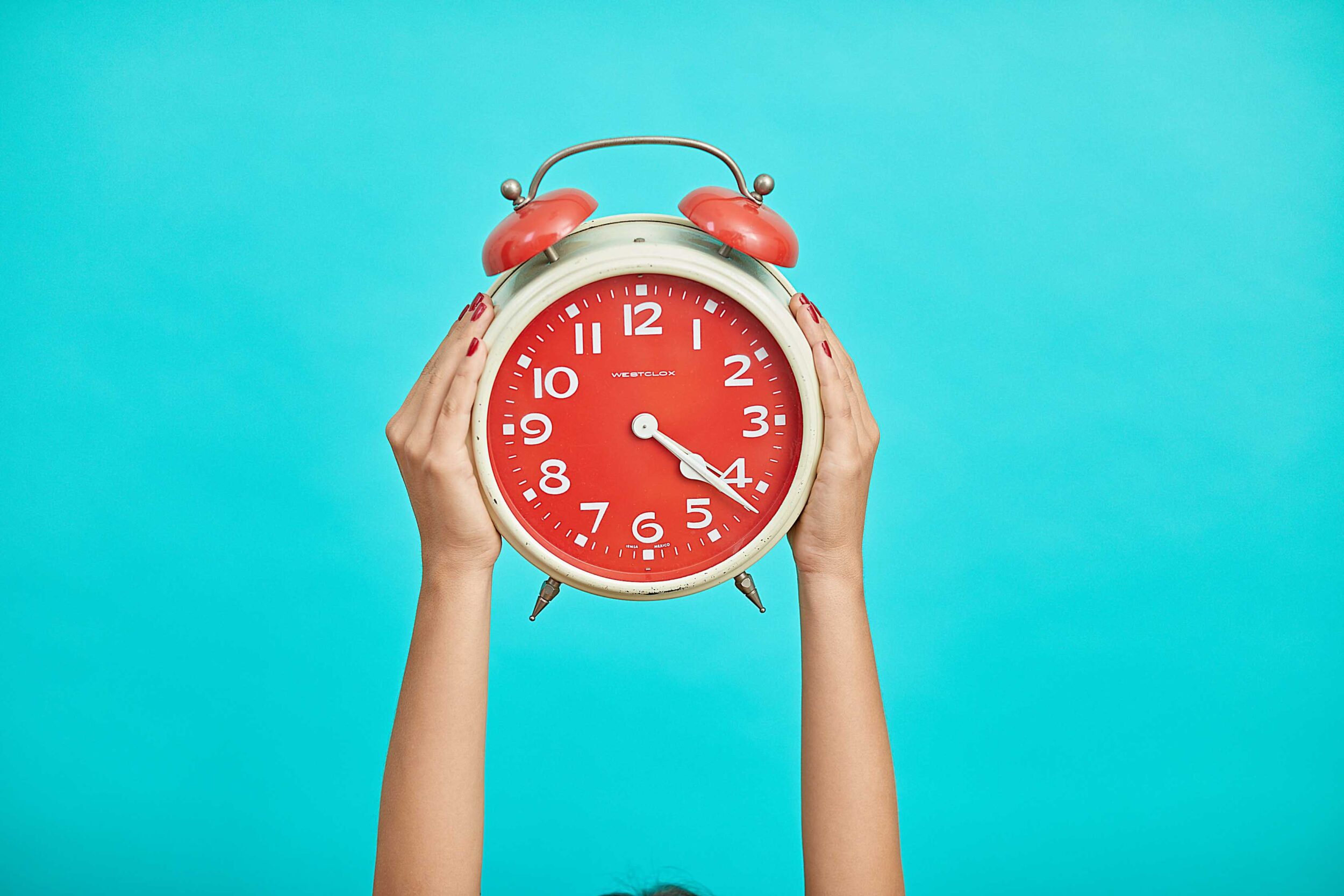 Essentially, learning to wait on the Lord means to simply be still in His presence, in the midst of the hardship, trusting in His plan. Not trying to frantically change the situation, or "do more" to prove your faith. God already knows your situation and hasn't forgotten you.
Prayer and bible study can definitely help encourage your heart while you wait on the Lord, but waiting on Him isn't necessarily something tangible you do — it's a posture of your heart.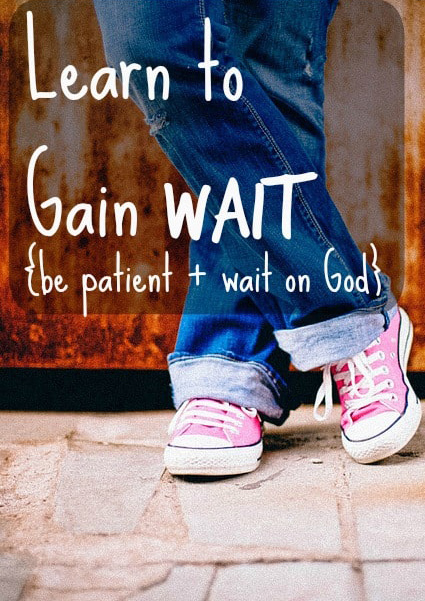 What the Bible says about waiting on the Lord? 3 Tips to Help you Wait Well
Allow me share some other tips that have helped me along the way.
1. Realize you will not reach your breaking point.
In my opinion, the reason we are so impatient for our prayers to be answered is that we think we won't make it otherwise. Subconsciously, we think that without this "thing" we are praying for, we cannot survive.
If you constantly think to yourself, "I can't take it (insert your problem here) anymore!" – well, you may not realize it, but you're calling God a liar. God has promised not to let you be tested beyond your ability to endure (1 Corinthians 10:13).
In fact, worrying about your ability to cope is more likely to make your problem last even longer. When we realize God is literally ALL we need, regardless of the situation, contentment is already within our grasp.
2. Look for the gift in the difficulty.
There is no pain or loss that is devoid of some sort of blessing. Whether it be a friend reaching out to you, discovering a strength you didn't know you had, or the ability to help someone else in the future, there is ALWAYS something good within the bad.
Usually, the outcome is some sort of wisdom – a wisdom you never would have gained otherwise. You may never know how this blessing could impact the world.
"Count it all joy, my brothers, when you meet trials of various kinds, for you know that the testing of your faith produces steadfastness. And let steadfastness have its full effect, that you may be perfect and complete, lacking in nothing." (James 1:2-4)
Read Next: What Does "Love is Patient, Love is Kind" Actually Mean? (A Closer Look at 1 Corinthians 13)
3. Rejoice for the opportunity of a "faith check."
When you go through something awful or unexpected, you get the chance to see whether or not your faith in God is real. Before I experienced any major difficulties in my life, I remember being afraid of anything bad happening to me. I would wonder if my trust in God was strong enough to withstand a storm.
Now, I don't have to wonder – I know my faith is the tried-and-true, real deal!
Remember Job? Satan told God that the only reason Job was faithful was that He had put a "hedge around him." That used to be me.
I doubted the strength of my faith before a trial, wondering, "Do I only worship God because things are going well in my life?" It's such a blessing not to wonder that anymore.
What the Bible teaches about patience?
When Satan penetrated that hedge of Job's, his response was, "The Lord gave, the Lord has taken away. Blessed be the name of the Lord."
Let's look at this a little deeper by diving into 1 Peter 1:6-9.
Verses 6-7 In this [salvation, assurance of heaven] you rejoice, though now for a little while, if necessary, you have been grieved by various trials, so that the tested genuineness of your faith—more precious than gold that perishes though it is tested by fire—may be found to result in praise and glory and honor at the revelation of Jesus Christ.
This passage clearly states a purpose in our trials – it refines, clarifies, and helps us see that our faith and trust in God is real. It's not just there when things are rosy.
The impurities in our faith like doubt, selfishness, and worry – these can be burned away in the midst of a trial, leaving a beautiful strong and sparkling patience and faith behind.
Verses 8-9 Though you have not seen him, you love him. Though you do not now see him, you believe in him and rejoice with joy that is inexpressible and filled with glory, obtaining the outcome of your faith, the salvation of your souls.
Although we may not see Christ with our physical eyes, His presence is clearer during difficulties than at any other time. And we can rejoice despite the circumstances, knowing our home in heaven is a sure thing.
If you're struggling, consider it a badge of honor! Remember – God bragged on Job when He proudly said to Satan, "Have you considered my servant Job?" No matter what Satan threw at him, Job remained a friend of God.
Maybe God has said to Satan recently, "Have you considered my servant (insert your name here)?" Take this opportunity to cling to God regardless of what Satan throws at you. Your faith is shining brighter than ever, and God is allowing you to produce patience.
I love this quote I read in an article recently:
When you're waiting, you're

not

doing nothing. You're doing the most important something there is. You're allowing your soul to grow up. If you can't be still and wait, you can't become what God created you to be.

Read more here.
Whether you are trying to be patient for an answered prayer or for a storm to pass – God is always faithful. He will give you the exact amount of strength you need for each day (His mercies are new every morning, Lamentations 3).
He will provide a beautiful blessing embedded in the difficulty – keep your eyes peeled! And, He will give you the blessing of knowing that you possess a faith that can go the distance.
40+ Bible Verses About Patience
Remember the following bible verses about patience & waiting on the Lord — I pray they encourage you! All Scripture quotes are in the English Standard Version (ESV).
Isaiah 40:28-31
Have you not known? Have you not heard?
The Lord is the everlasting God,
the Creator of the ends of the earth.
He does not faint or grow weary;
his understanding is unsearchable.
He gives power to the faint,
and to him who has no might he increases strength.
Even youths shall faint and be weary,
and young men shall fall exhausted;
but they who wait for the Lord shall renew their strength;
they shall mount up with wings like eagles;
they shall run and not be weary;
they shall walk and not faint.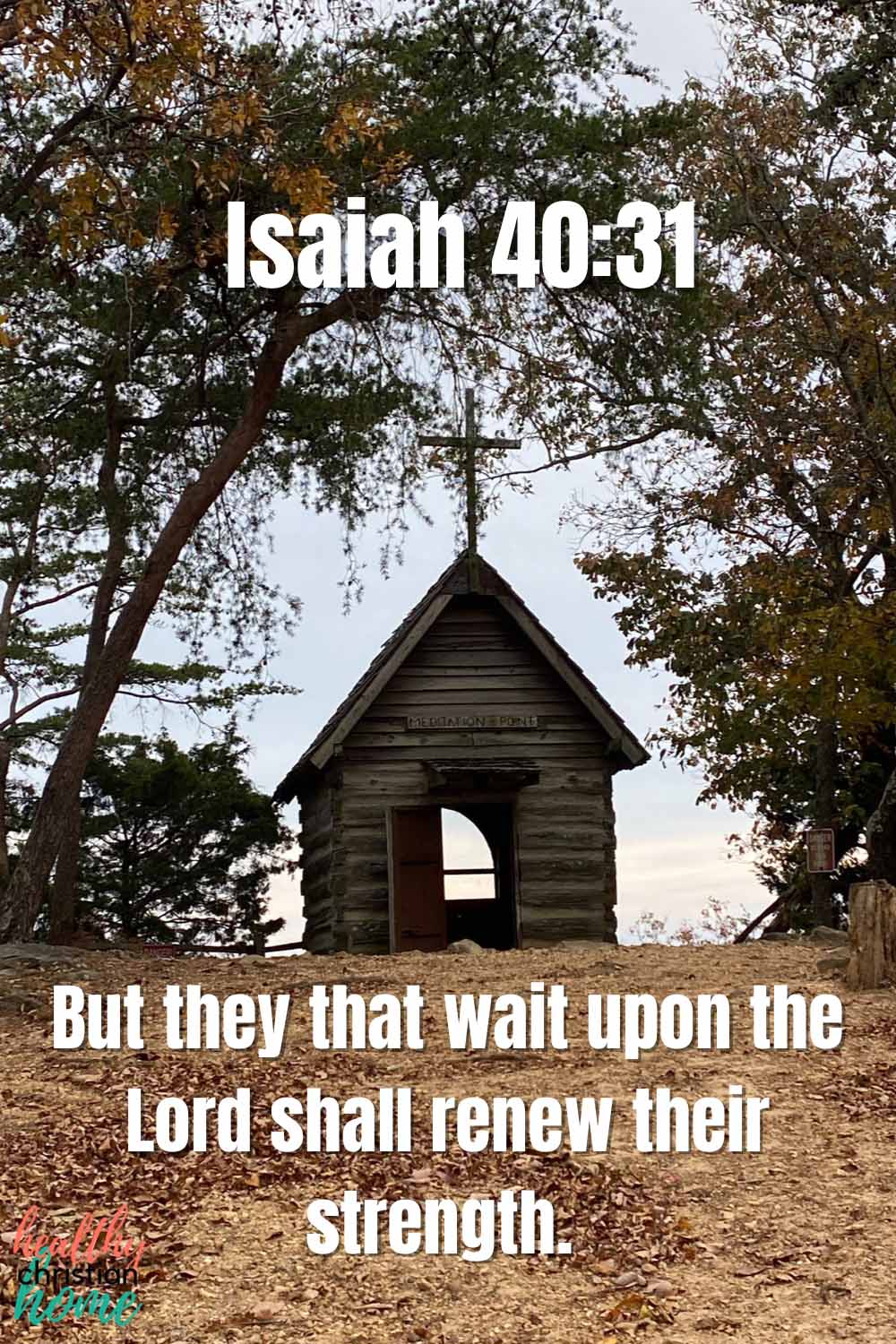 Psalm 27:13-14
I believe that I shall look upon the goodness of the Lord in the land of the living! Wait for the Lord; be strong, and let your heart take courage; wait for the Lord!
Psalm 37:7
Be still before the Lord and wait patiently for him; fret not yourself over the one who prospers in his way, over the man who carries out evil devices!
Psalm 40:1-2
I waited patiently for the Lord; he inclined to me and heard my cry. He drew me up from the pit of destruction, out of the miry bog, and set my feet upon a rock, making my steps secure.
Lamentations 3:25-26
The Lord is good to those who wait for him, to the soul who seeks him. It is good that one should wait quietly for the salvation of the Lord.
Micah 7:7
But as for me, I will look to the Lord; I will wait for the God of my salvation; my God will hear me.
1 Peter 2:19-23
For this is a gracious thing, when, mindful of God, one endures sorrows while suffering unjustly. For what credit is it if, when you sin and are beaten for it, you endure? But if when you do good and suffer for it you endure, this is a gracious thing in the sight of God. For to this you have been called, because Christ also suffered for you, leaving you an example, so that you might follow in his steps. He committed no sin, neither was deceit found in his mouth. When he was reviled, he did not revile in return; when he suffered, he did not threaten, but continued entrusting himself to him who judges justly.
Isaiah 64:4
From of old no one has heard or perceived by the ear, no eye has seen a God besides you, who acts for those who wait for him.
Hebrews 10:36-39
For you have need of endurance, so that when you have done the will of God you may receive what is promised. For, "Yet a little while, and the coming one will come and will not delay; but my righteous one shall live by faith, and if he shrinks back, my soul has no pleasure in him." But we are not of those who shrink back and are destroyed, but of those who have faith and preserve their souls.
Matthew 24:13
But the one who endures to the end will be saved.
Psalm 25:4-5
Make me to know your ways, O Lord; teach me your paths. Lead me in your truth and teach me, for you are the God of my salvation; for you I wait all the day long.
Proverbs 3:5-6
Trust in the Lord with all your heart, and do not lean on your own understanding. In all your ways acknowledge him, and he will make straight your paths.
Luke 21:19
By your endurance you will gain your lives.
Psalm 130:5-6
I wait for the Lord, my soul waits, and in his word I hope; my soul waits for the Lord more than watchmen for the morning, more than watchmen for the morning.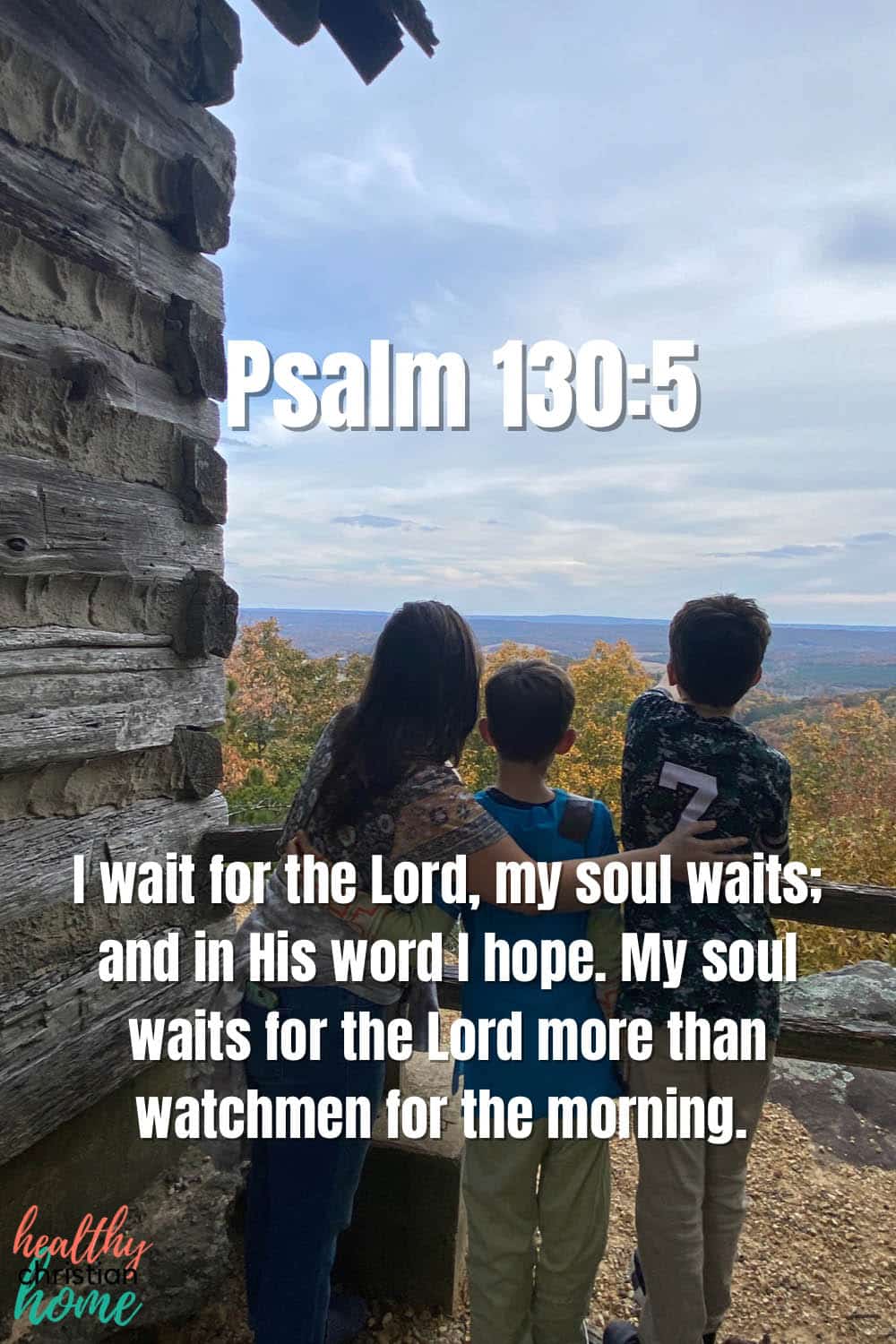 Exodus 14:14
The Lord will fight for you, and you have only to be silent.
Isaiah 30:18
Therefore the Lord waits to be gracious to you, and therefore he exalts himself to show mercy to you.
For the Lord is a God of justice; blessed are all those who wait for him.
Hebrews 12:1-2
Therefore, since we are surrounded by so great a cloud of witnesses, let us also lay aside every weight, and sin which clings so closely, and let us run with endurance the race that is set before us, looking to Jesus, the founder and perfecter of our faith, who for the joy that was set before him endured the cross, despising the shame, and is seated at the right hand of the throne of God.
2 Thessalonians 3:5
May the Lord direct your hearts to the love of God and to the steadfastness of Christ.
Revelation 14:12
Here is a call for the endurance of the saints, those who keep the commandments of God and their faith in Jesus.
Matthew 6:33
But seek first the kingdom of God and his righteousness, and all these things will be added to you.
Galatians 6:9
And let us not grow weary of doing good, for in due season we will reap, if we do not give up.
Hosea 12:6
So you, by the help of your God, return, hold fast to love and justice, and wait continually for your God.
Romans 8:23-25
And not only the creation, but we ourselves, who have the firstfruits of the Spirit, groan inwardly as we wait eagerly for adoption as sons, the redemption of our bodies. For in this hope we were saved. Now hope that is seen is not hope. For who hopes for what he sees? But if we hope for what we do not see, we wait for it with patience.
Philippians 4:11-13
Not that I am speaking of being in need, for I have learned in whatever situation I am to be content. I know how to be brought low, and I know how to abound. In any and every circumstance, I have learned the secret of facing plenty and hunger, abundance and need. I can do all things through him who strengthens me.
Ecclesiastes 7:8
Better is the end of a thing than its beginning, and the patient in spirit is better than the proud in spirit.
1 Corinthians 13:4-7
Love is patient and kind; love does not envy or boast; it is not arrogant or rude. It does not insist on its own way; it is not irritable or resentful; it does not rejoice at wrongdoing, but rejoices with the truth. Love bears all things, believes all things, hopes all things, endures all things.
Romans 15:4
For whatever was written in former days was written for our instruction, that through endurance and through the encouragement of the Scriptures we might have hope.
1 Timothy 1:16
But I received mercy for this reason, that in me, as the foremost, Jesus Christ might display his perfect patience as an example to those who were to believe in him for eternal life.
Hebrews 6:11-12
And we desire each one of you to show the same earnestness to have the full assurance of hope until the end, so that you may not be sluggish, but imitators of those who through faith and patience inherit the promises.
Colossians 1:10-11
… so as to walk in a manner worthy of the Lord, fully pleasing to him: bearing fruit in every good work and increasing in the knowledge of God; being strengthened with all power, according to his glorious might, for all endurance and patience with joy;
Ephesians 4:1-2
I therefore, a prisoner for the Lord, urge you to walk in a manner worthy of the calling to which you have been called, with all humility and gentleness, with patience, bearing with one another in love…
James 5:7-8
Be patient, therefore, brothers, until the coming of the Lord. See how the farmer waits for the precious fruit of the earth, being patient about it, until it receives the early and the late rains. You also, be patient. Establish your hearts, for the coming of the Lord is at hand.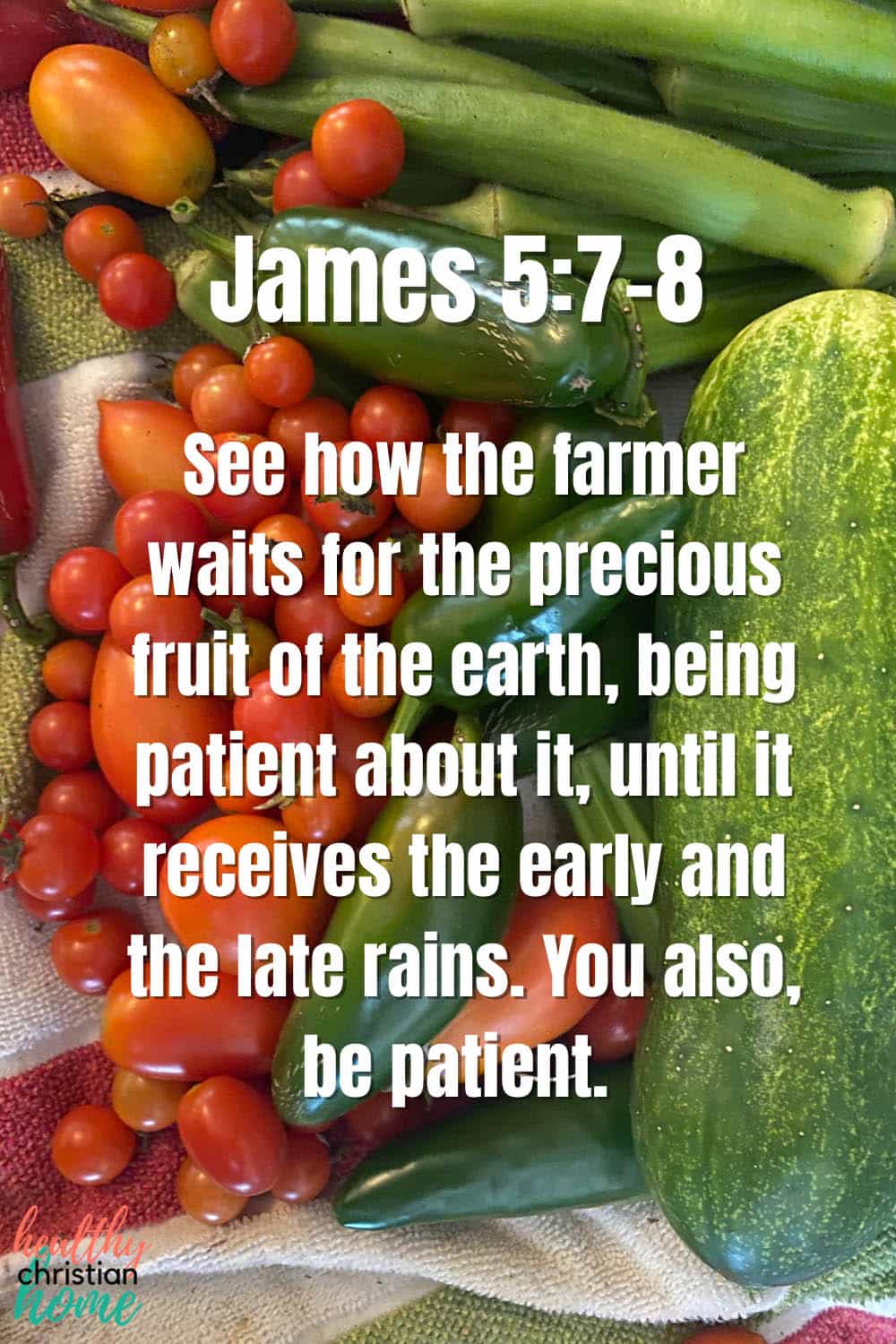 James 5:11
Behold, we consider those blessed who remained steadfast. You have heard of the steadfastness of Job, and you have seen the purpose of the Lord, how the Lord is compassionate and merciful.
Hebrews 10:36
For you have need of endurance, so that when you have done the will of God you may receive what is promised.
Colossians 3:12
Put on then, as God's chosen ones, holy and beloved, compassionate hearts, kindness, humility, meekness, and patience…
Galatians 5:22-23
But the fruit of the Spirit is love, joy, peace, patience, kindness, goodness, faithfulness, gentleness, self-control; against such things there is no law.
Romans 2:6-7
He will render to each one according to his works: to those who by patience in well-doing seek for glory and honor and immortality, he will give eternal life;
Romans 5:3-4
Not only that, but we rejoice in our sufferings, knowing that suffering produces endurance, and endurance produces character, and character produces hope…
Romans 12:12
Rejoice in hope, be patient in tribulation, be constant in prayer.
Let wait become the resolution to your problem, instead of a "weight problem" becoming your resolution. Let's be patient and gain wait – the right kind!
If you found these bible verses about patience inspiring, please share! What's the hardest part about learning to be patient?
PIN IT! ↓