Learn how to create a cozy bedroom retreat with practical tips for making the bedroom your favorite room in the house. Implement these cozy bedroom ideas today to up your self-care game and feel more rested than ever!
Creating your own bedroom sanctuary and retreat is a perfect way to show self-care and make yourself feel great every day, not just on special occasions or trips. We shouldn't settle for cluttered bedside tables, piles of clothing, or bedding we're not crazy about. Let's make our bedrooms something to look forward to at the end of a busy day. Your quality of sleep – and quality of life – will improve!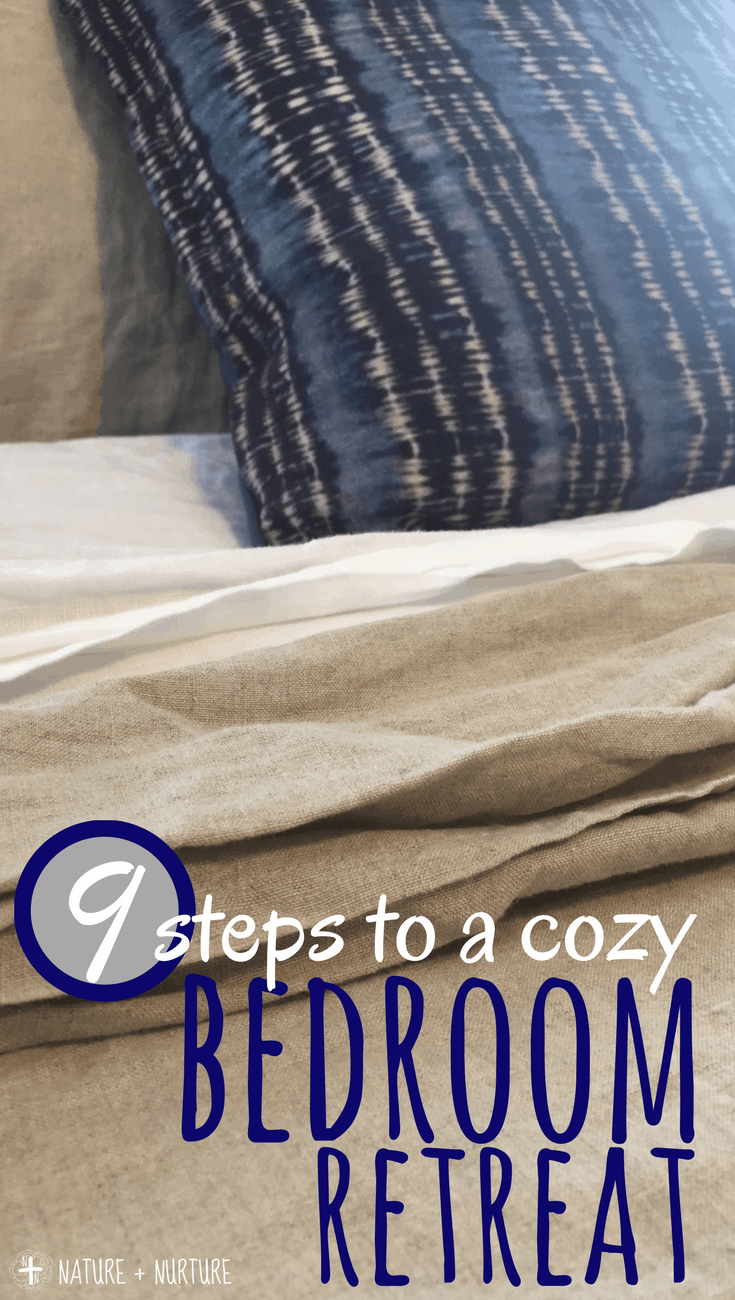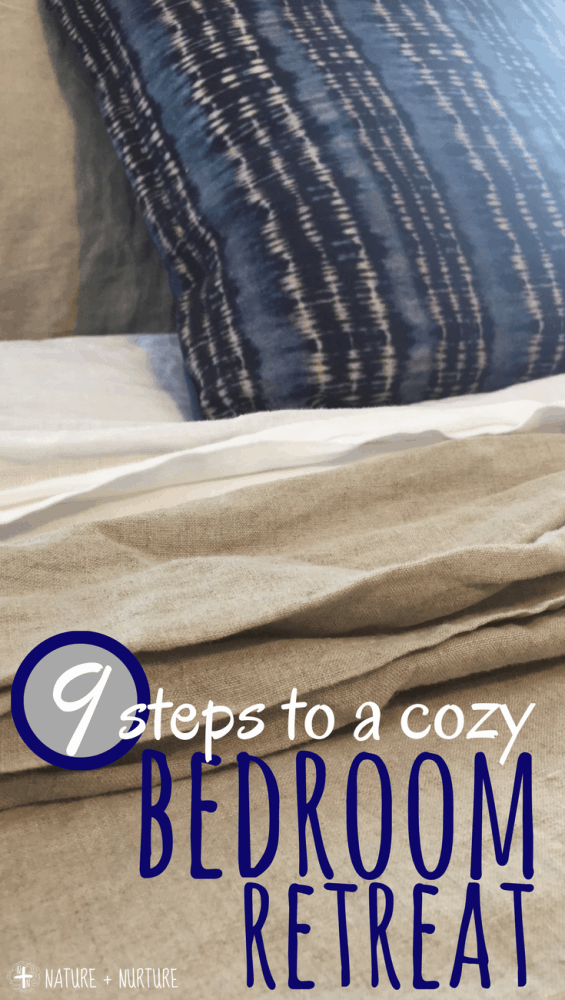 In today's post, I am preaching to myself.
Growing up, all the lessons and reminders of how to keep a clean house by my very tidy mother fell on deaf ears. It became a running family joke that if there were dishes on the side table or shoes in the floor, we ALL knew who they belonged to.
I'm a creative, right-brained, artsy gal who just can't seem to get it together. (That's my story and I'm sticking to it.) Couple that with my equally right-brained, creative husband and two little boys, and you've got a recipe for clutter city.
Sorry, Mom. You taught me better than this.
But, maybe there's hope for me yet. I've grown up a little and after having children of my own, a tidy home has started to appeal to me more. It helps simplify life, which I'm all about. It also clears the mind and promotes relaxation – which we all need need more of.
Especially when it comes to the bedroom. Of all the places in the home that need an extra-relaxing vibe, its here. It's the room you probably spend the most time in, and it's where you begin and end your day. For these reasons, it's worth the extra effort to keep it beautiful.
However, in my home (and maybe in yours too), it's usually the spot that gets the most neglected. Which makes sense, because it's out-of-sight during the day, and it's the last place company sees when they come over. Sadly, our bedrooms can become the "stash everything in here because I don't know what to do with it" spot.
No more.
It's time to reclaim our bedrooms!
Have you ever thought about the fact that your home usually looks it's best for other people? What about for you – don't you matter too?
I want to start beautifying my bedroom, for no other reason than the fact that it's my personal space. It's not there to impress anyone else – just to comfort me. I love this quote from the FlyLady in my favorite organizing book:
I dislike the phrase 'company ready' because we should treat [ourselves and] our families better than we treat company."
This concept really speaks to me. Why should we only experience deep relaxation and pampering when we check into a nice hotel? Why not make our bedrooms better than anything a 5-Star hotel can offer?
Related post: 7 Ways to Slow Down and Enjoy Life Again
In this post, you'll learn…
How to declutter and simplify your bedroom
The importance of lighting for a cozy bdroom
How artwork can elevate your space
The best bedding for ultimate luxury
The importance of window coverings
How to improve bedroom air quality
The joy of adding plants to your space
Why you need a bedroom seating area
This post is sponsored by Primary Bedding.
9 Steps to Creating a Cozy Bedroom Retreat
Discover 9 ways you can create the bedroom sanctuary of your dreams, starting tonight! Thanks to this post, our bedroom is finally clean… for now. Progress, right?
1. De clutter the junk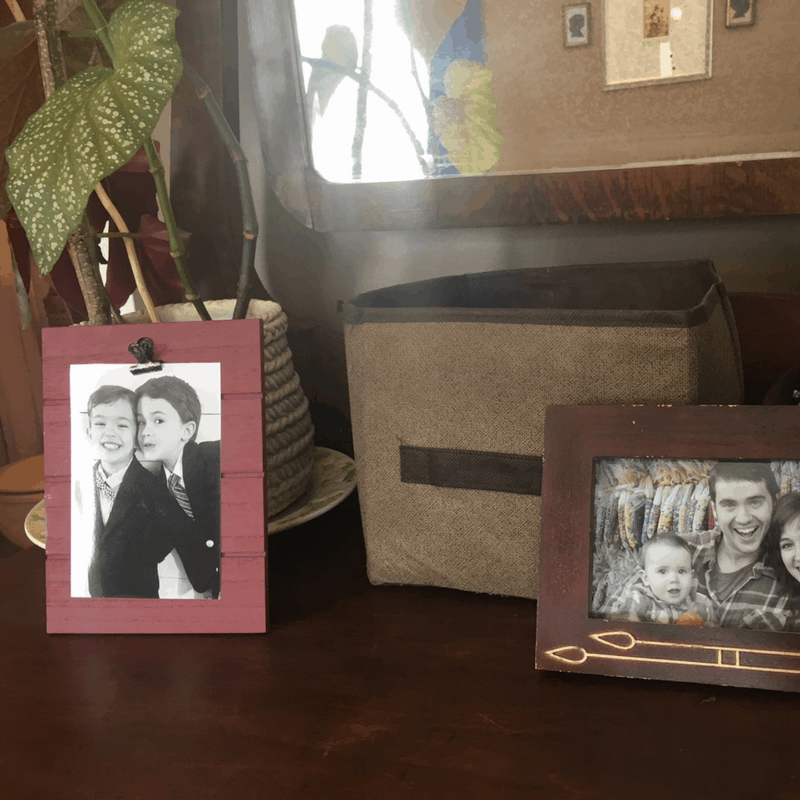 This is an obvious first step, but unless you're a born organized person, I bet you're not doing it. Thanks to this post and the fact that I cannot in good faith practice hypocrisy, I actually decluttered my bedroom space. And let me tell you, it feels so good!
Grab a trash bag and find at least 20 items to toss or give away. Grab another bag and place items in it which belong in another part of the house. Put it all away until every surface is clear.
If you're someone who just has to have a clutter catch-all for those pens, coins and the like, buy yourself a pretty bowl. I mean a work of art, something that makes you happy to see every day, not just any old container. We use a pretty copper bowl for Richards knickknacks and a wooden bowl, carved by a friend, for mine.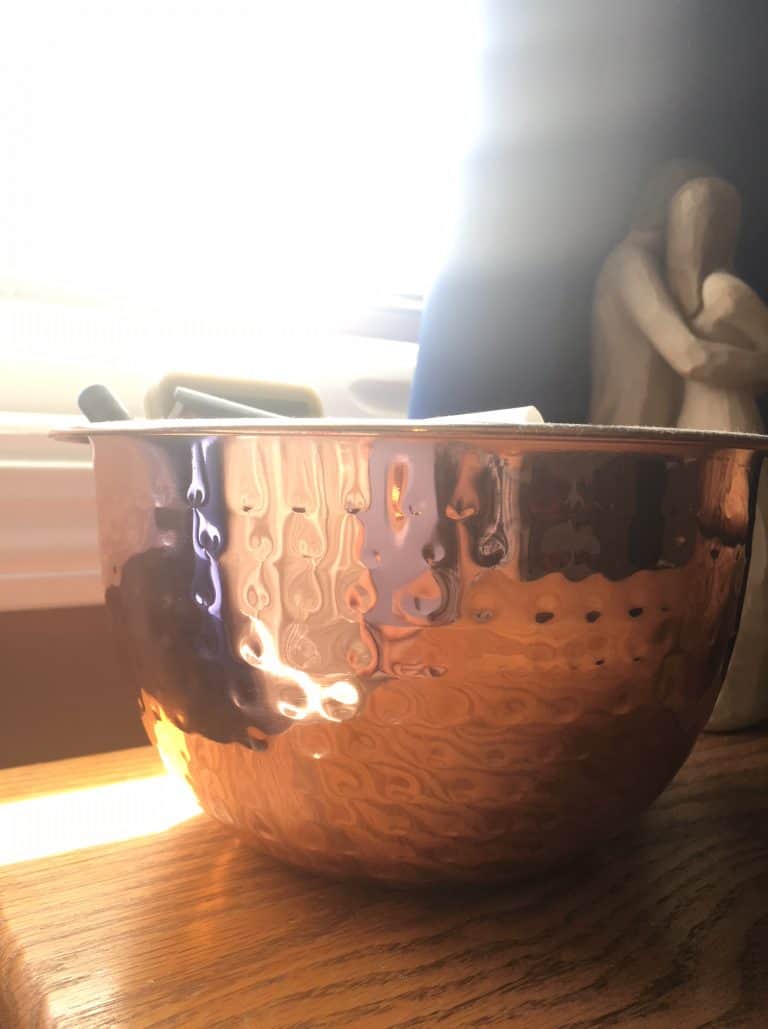 To prevent the clutter monster from returning, make sure everything has a home. My biggest issue currently is storage space, so I need to get rid of a few things to make putting my clothes away easier. When faced with using my muscles to cram an article of clothing into a drawer, or just leaving it on the bench… well, you can guess which one I normally choose. Making it easy to put things away makes that choice a lot simpler.
2. Add lamps and soft lighting
When we were first married, my husband had a lamp business. He made lamps out of anything and everything – from cute teapots to antique radios. I used to joke that one day, I would come home and all our furniture would be turned into lamps.
To this day, we still love lamp lighting, although Richard rarely has time to make them now. His creations reside downstairs, but a couple of our other favorite lamps are in our bedroom.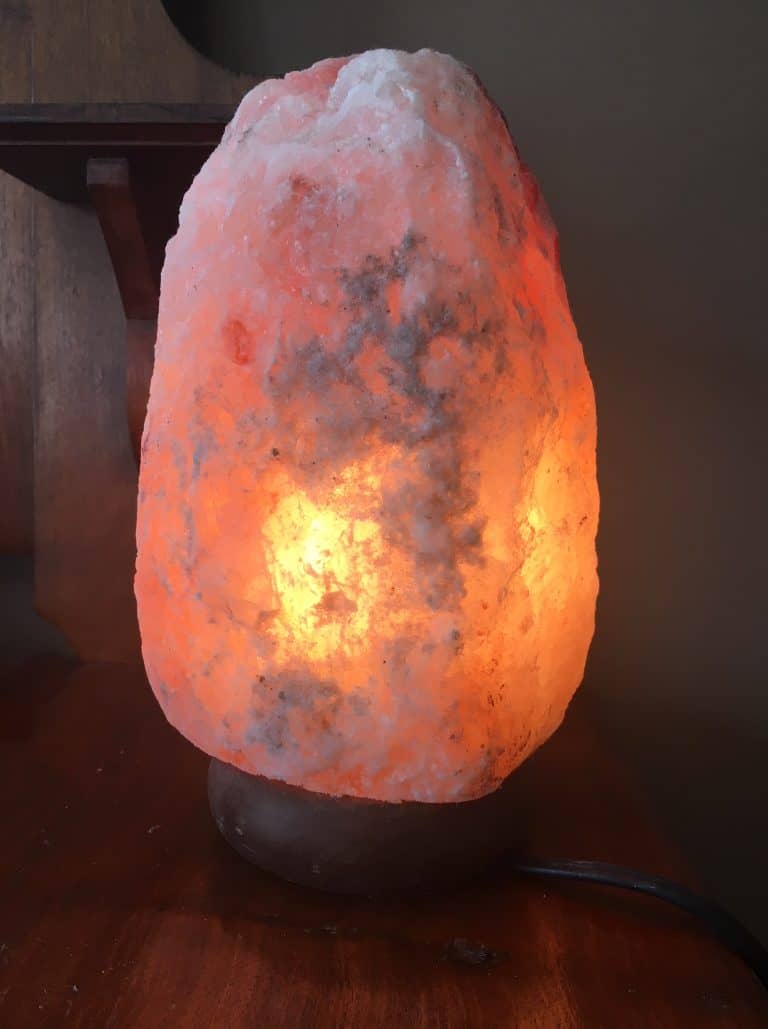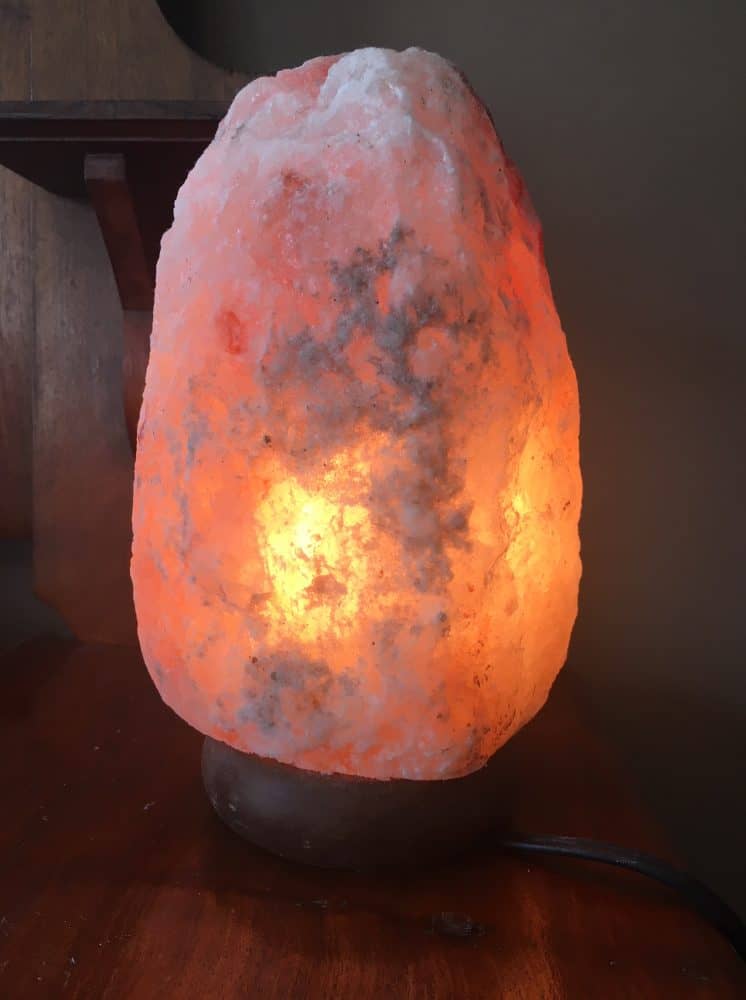 Our absolute favorite is our Himalayan salt lamp, which mimics candle light with its soft pink, enchanting glow. It is also said to improve air quality by omitting negative ions. I also really enjoy using a Himalayan salt tea light candle holder.
On my bedside table, I have a Tiffany lamp with irises that I just adore. It's a work of art I can enjoy every time I use it.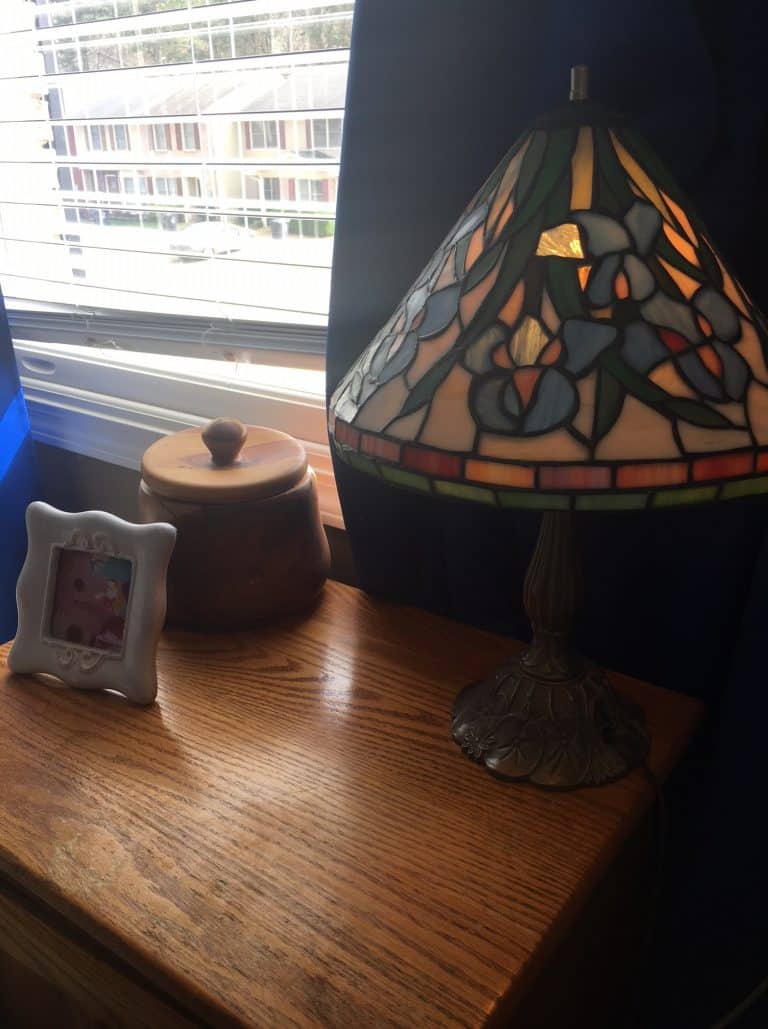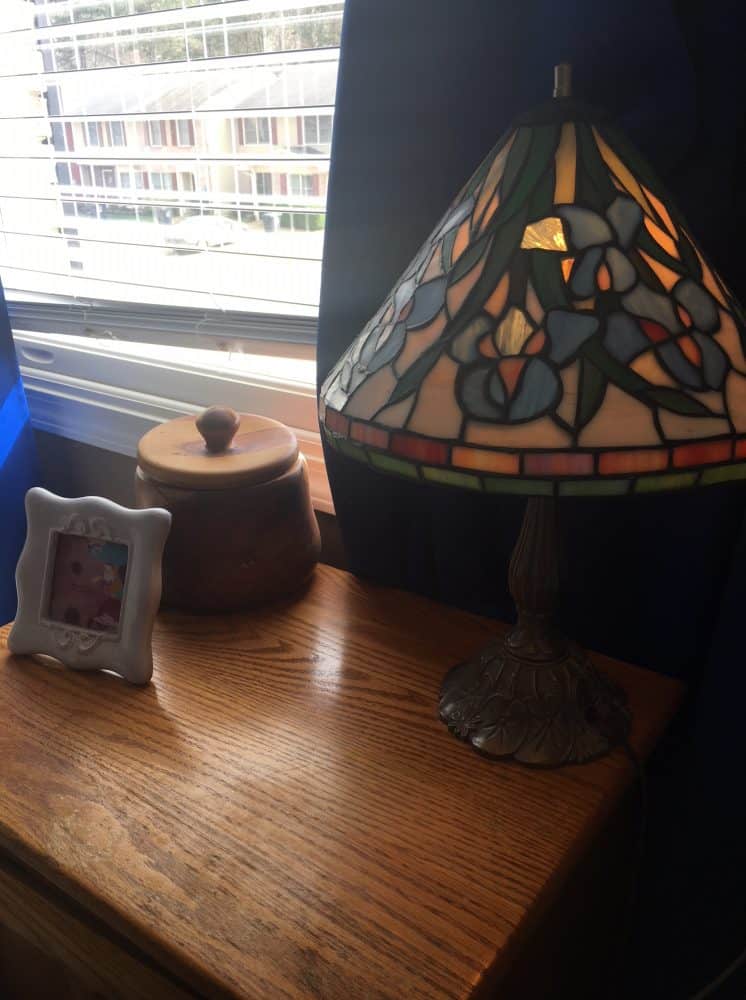 Add some extra lamp lighting to your space – it definitely adds to the cozy bedroom feel.

3. Hang special artwork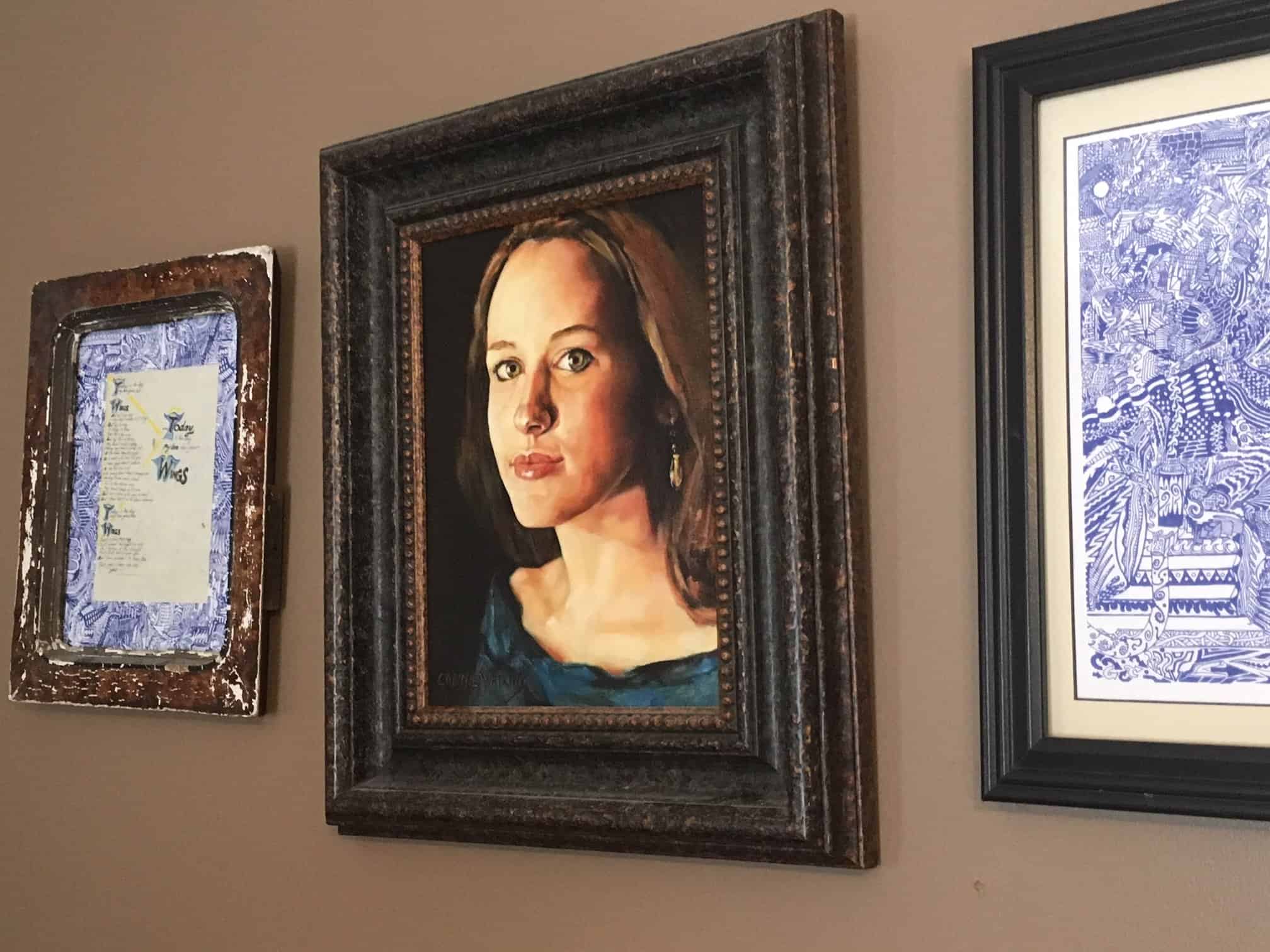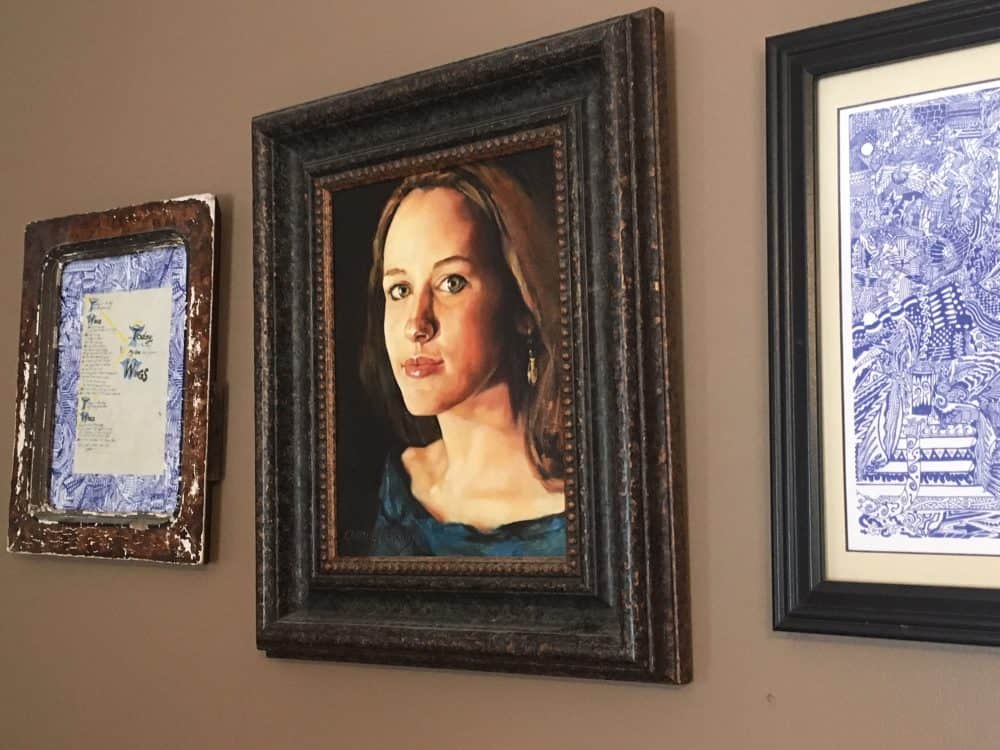 Some of our most treasured works of art hang in our bedroom. This grouping is my particular favorite. The center oil painting is a portrait of me done by a distant cousin who is a professional artist. My husband gave it to me on our anniversary several years ago. The two pieces on either side are some of my husband's abstract pen-and-ink artwork. The piece on the left contains a poem he wrote me when I went to Europe while we were dating. My mom frames love letters from my dad and hangs them in the bedroom – it's super sweet.
It's tempting to want to put all the best artwork or photos where everyone can see them (like the living and dining areas), and leave the leftovers for the bedroom because "I'm the only one that sees it." Or worse, leave the walls completely bare.
Remember – YOU see this room every day and it's a sacred space! You deserve to begin and end your day with beauty. I challenge you to relocate one of your favorite works of art to your bedroom. If you don't have anything that's appropriate, go thrift store hunting for the perfect pieces. It will definitely help create a cozy bedroom experience.
Relaxing choices for the bedroom include nature scenes, paintings, embroidery, and black-white photography. It doesn't have to be anything super personal like I mentioned above; just something you love and find beautiful.
4. Invest in quality bedding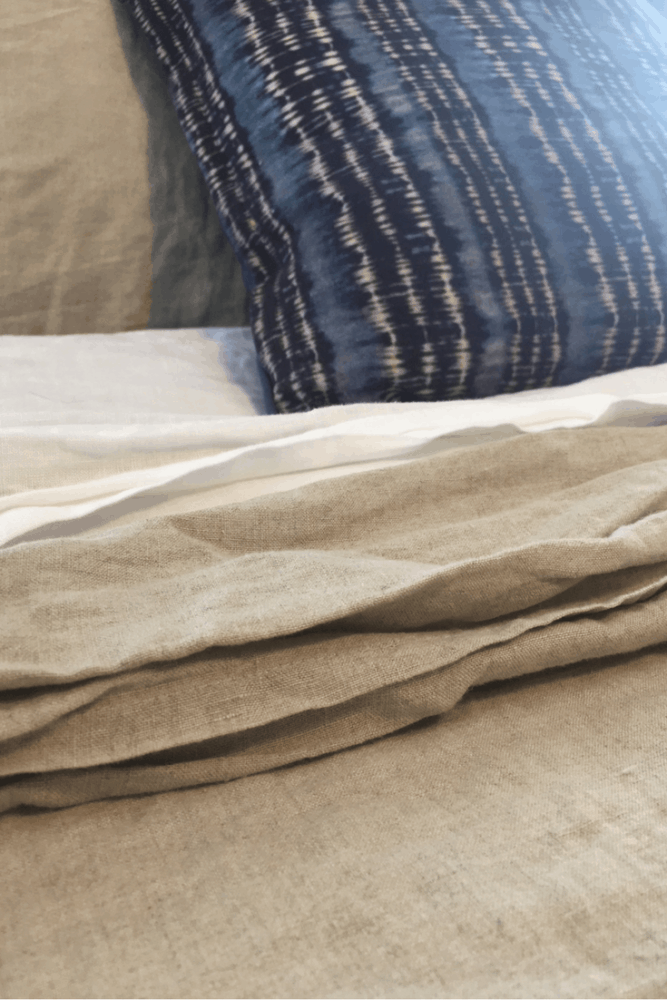 Quality bedding is probably the most important aspect of turning your bedroom into a personal retreat. After all, you spend 1/3 of your life in bed – it's worth getting the best quality. My husband and I try to save money on just about everything, with the exception of shoes and bedding. He experienced a broken back as a child, and comfort is not something we like to compromise on.
For the longest time, we were using cotton sheets and a quilt with synthetic fibers, which was fine but it just didn't give us that plush feeling and total relaxation we were after.
That is, until I found Primary bedding. The moment I saw this bedding, it was love at first sight. I've always wanted to try pure linen bedding, and now I'm head over heels!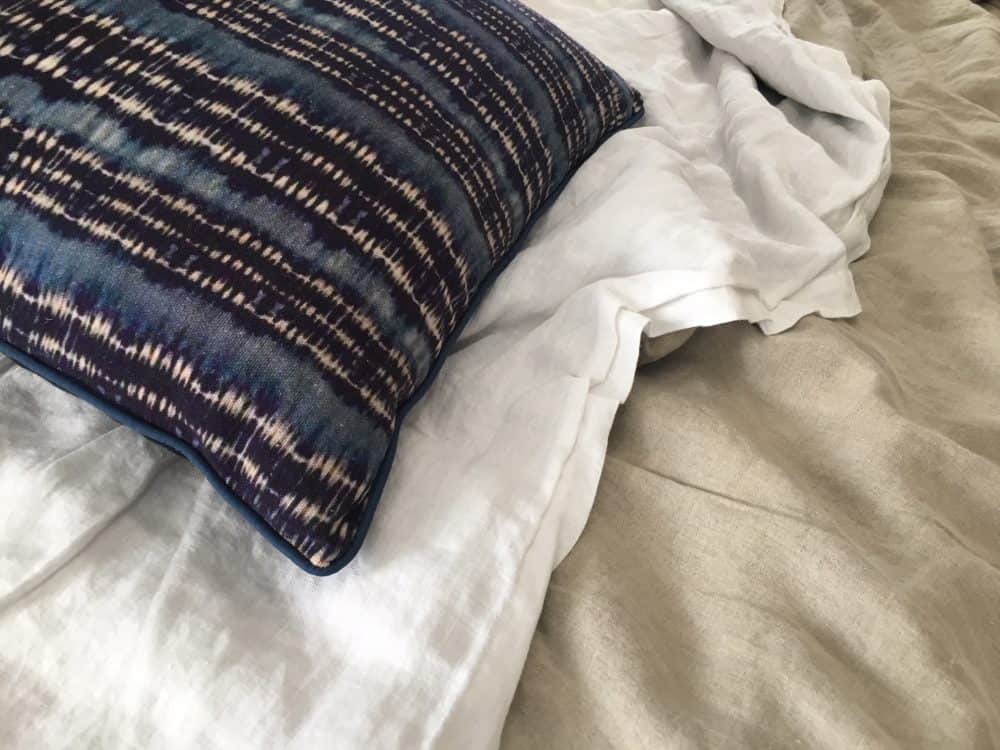 In the past, we spent a good amount of money on high thread count Egyptian Cotton sheets, which we loved the feel of. But after a few years, they would start to get threadbare and tear. Richard got pretty good at darning them, actually – but it wasn't an ideal situation.
Linen is such a wonderful natural fiber because it is more durable than cotton. In some cases, linen bedding is even passed down generations. Primary bedding is 100% French linen, which is the gold standard.
It took a night or two for me to get used to the feel of linen, but now I definitely won't go back. Linen is ultra light and breathable and gets softer with every wash. One thing to keep in mind: if you can't stand wrinkles, linen probably isn't for you. Personally, I adore the relaxed and casual look. Here's a close-up view of the texture.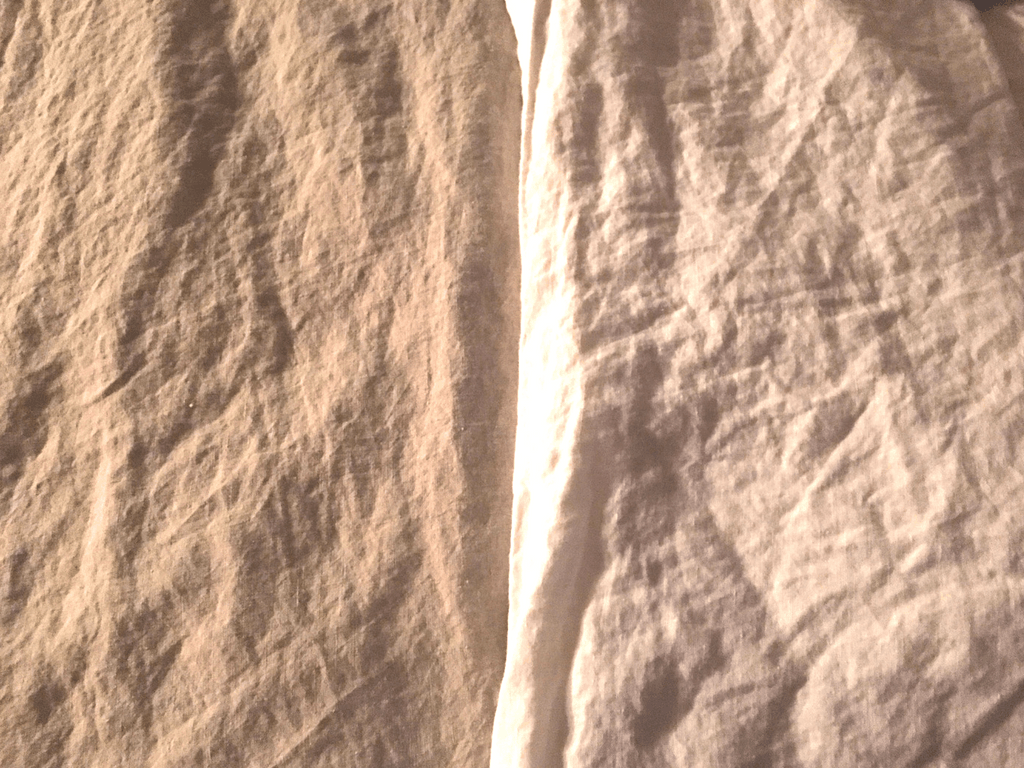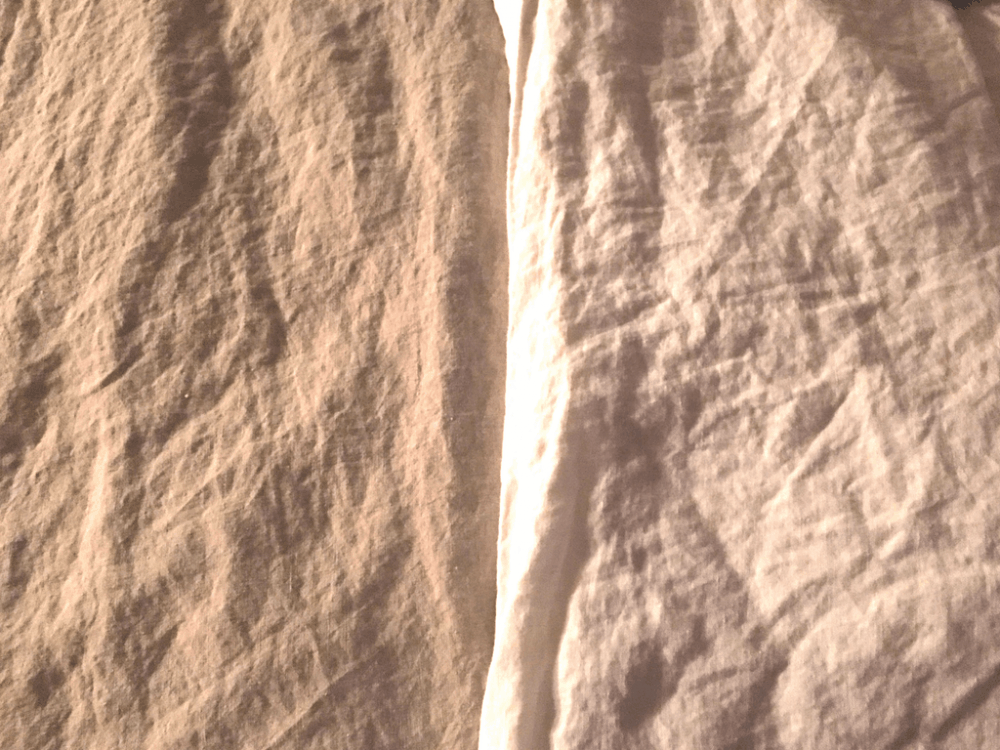 Linen is a little more expensive than cotton, but the longevity and feel is definitely worth it. And Primary bedding is able to make their linen affordable because they ship directly from the factory instead of using other retailers.
One of my favorite aspects of Primary bedding is that I never have to make my bed anymore. Yep, you heard me right! They've come up with a genius solution. The top sheet snaps onto the duvet cover, so your sheets never get tangled. Now, that is a BIG win for this messy girl who has an aversion to household chores.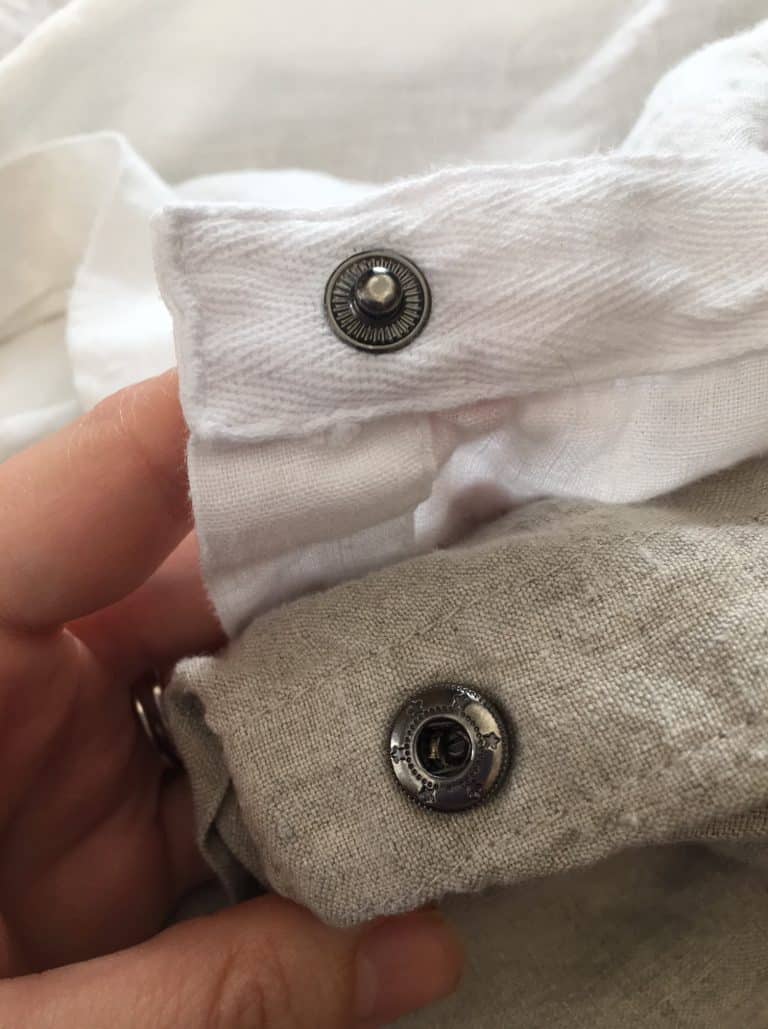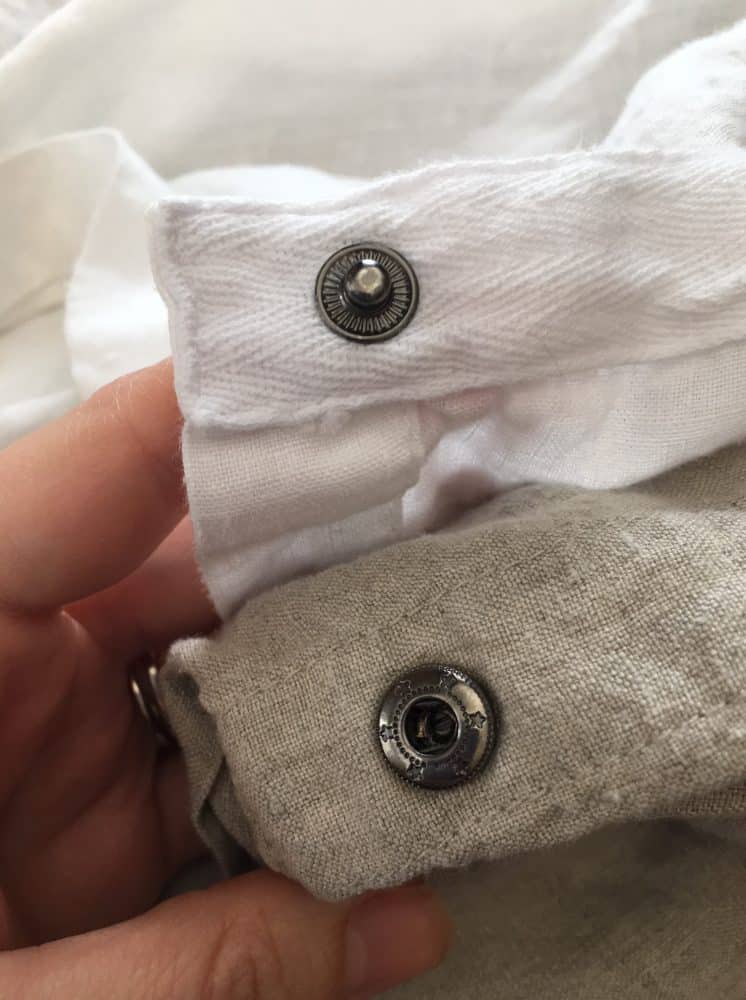 All you have to do is fluff the comforter, and your bed is made! Add a decorative pillow or two for fun, and you're golden.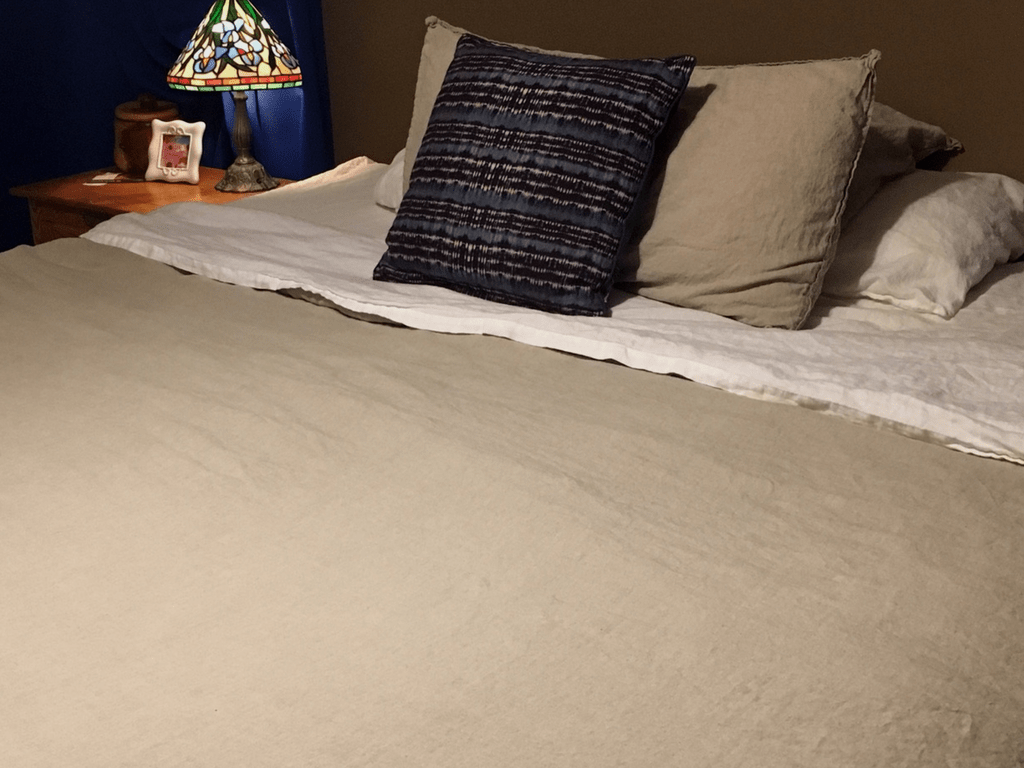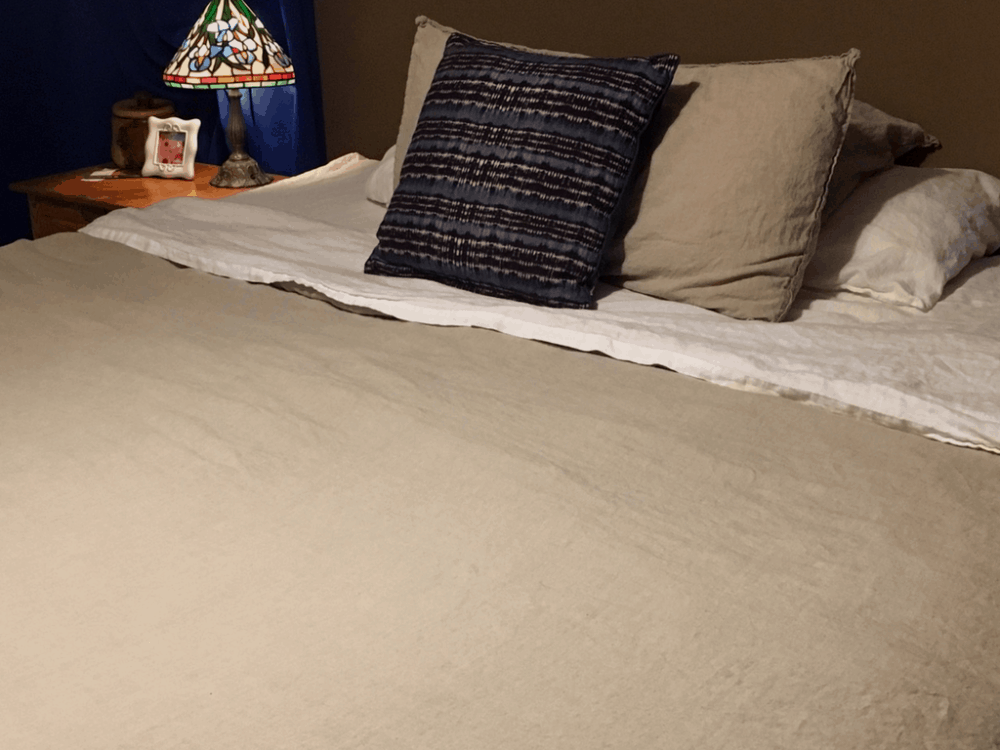 Adding top quality bedding to our space has been the best element to make our bedroom feel like a sanctuary.
I've also got a special goodie for Healthy Christian Home readers! You can get 10% off your purchase when you use the coupon code MaryHarp10 at checkout! Get Primary bedding here.
6. Add Blackout curtains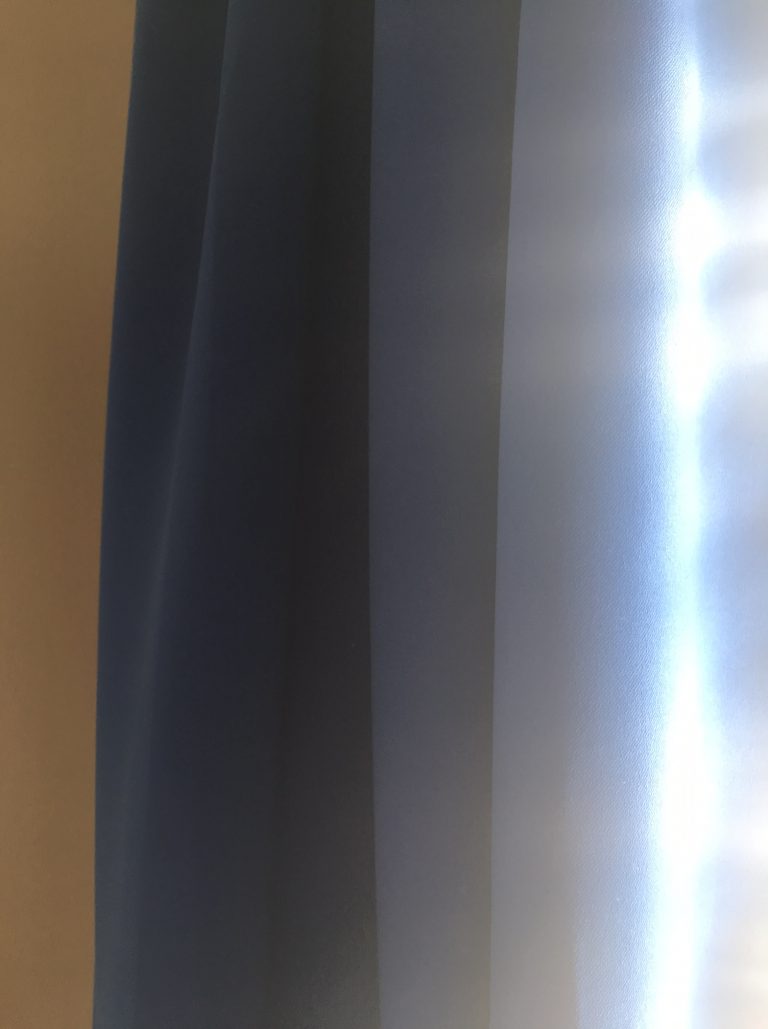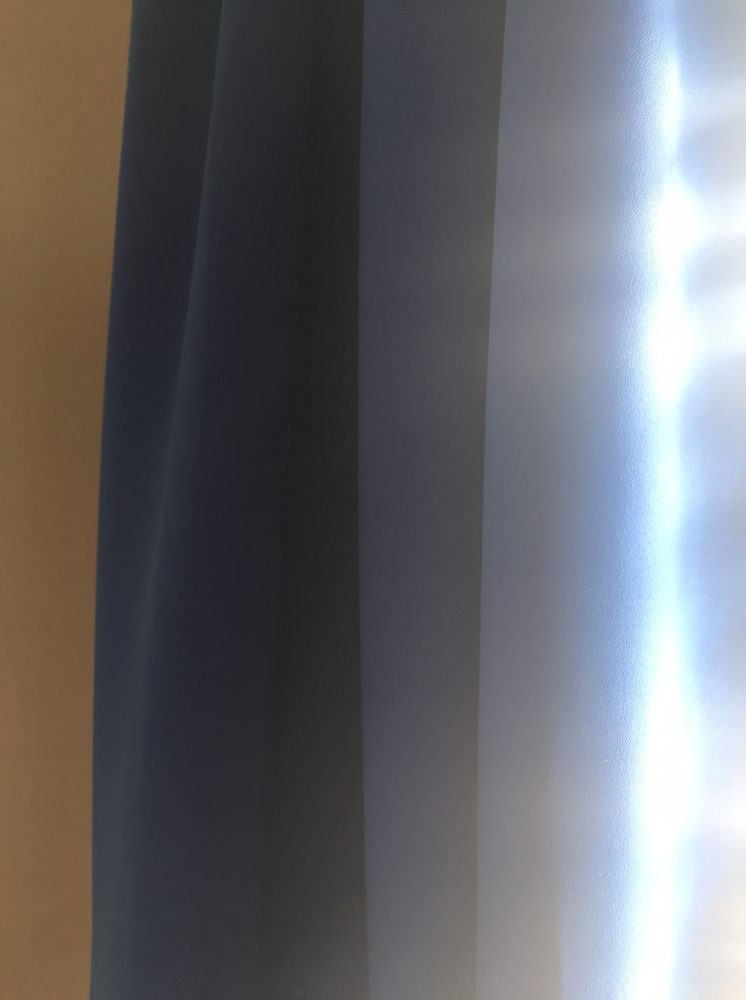 Living in Scotland, blackout curtains are a must. During the height of summer, it didn't get dark until 10 p.m. and the sun came out again at 4:30 a.m.!
After returning to the States, we brought our love of blackout curtains with us. Now we are never bothered by street lights, and if we want to sleep in on Saturday, nothing disturbs us (except for maybe the kids). Adding blackout curtains to your space is an easy way to create a cozy bedroom and add a luxury feel.
7. Improve air quality
Recently while visiting my in-laws, we slept in a bedroom with an air purifier. Both of us slept more deeply than ever and had more dreams than usual. Normally, sleeping at someone else's home equates to worse quality sleep, due to being in a strange place. So, we thought it had to be the air purifier that made such a difference.
It's also a great help if you have allergies or pets. Right now, we don't actually have one, but it's next on my wish list. Instead, we are using a box fan with a 20×20 inch regular air filter propped against it, and it seems to do the job fairly well.
Of course, essential oil diffusers and candles are another great way to improve the air quality of your bedroom space and transform it into a cozy bedroom retreat.
8. Add plants
Ok, so this kind of goes along with air quality, but it also goes deeper than that. Adding a plant or two to your bedroom does wonders to clean the air, but it also adds an aesthetic element that is unmatched. Bringing the outdoors indoors is one of the most calming things you can do for your space.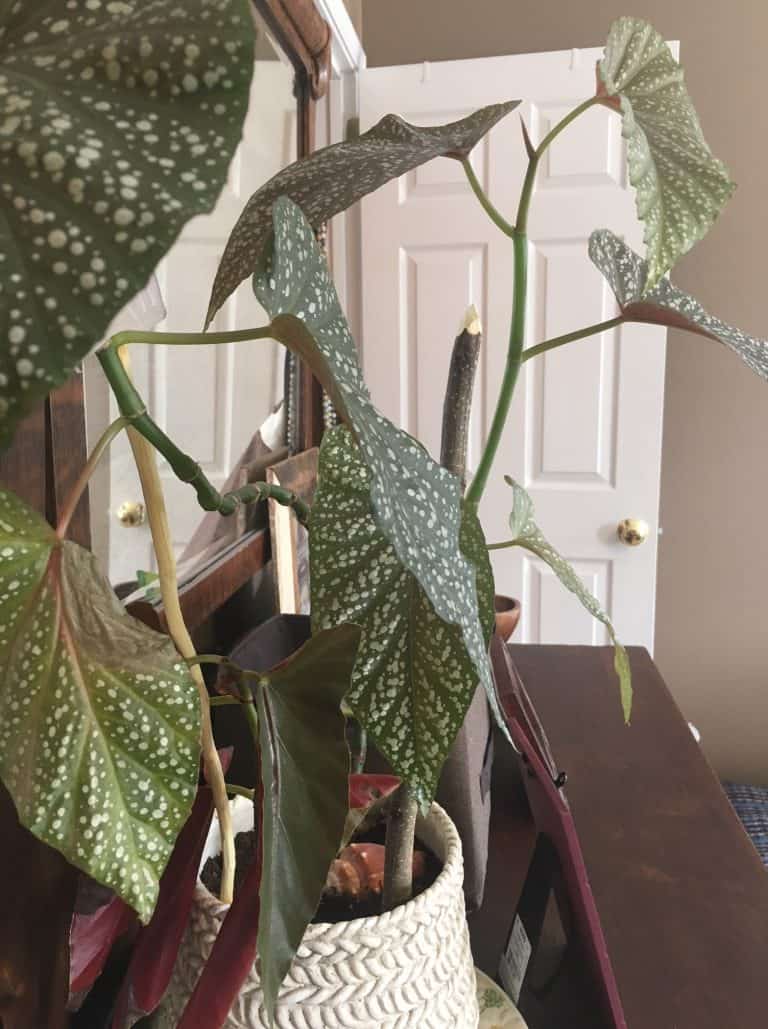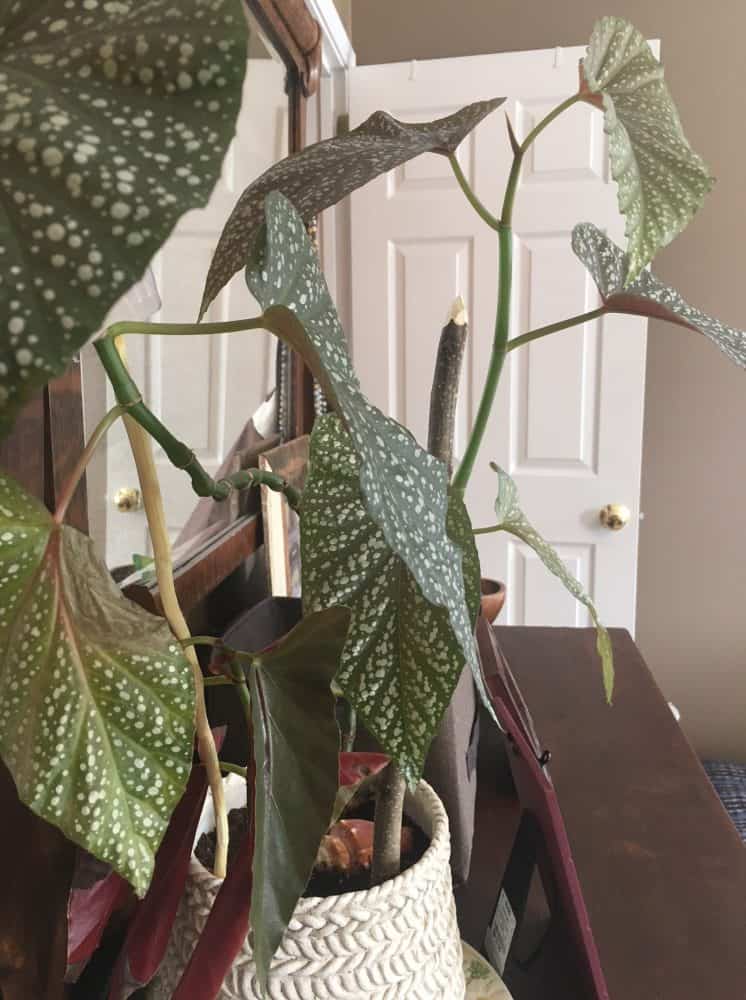 Right now, our bedroom has an aloe plant and a large angel wing begonia, which is honestly one of my favorite elements of our bedroom. This particular plant comes from a cutting that my husband's great-grandfather planted! Talk about cozy nostalgia.
9. Create a seating area
If you have the space, a special seating area is a great way to give your bedroom a luxury feel – even if it's just a solo chair. It's really helpful for getting dressed, putting on shoes, or just enjoying a good book. A beautiful chair also adds a bit of extra comfort and style to your cozy bedroom.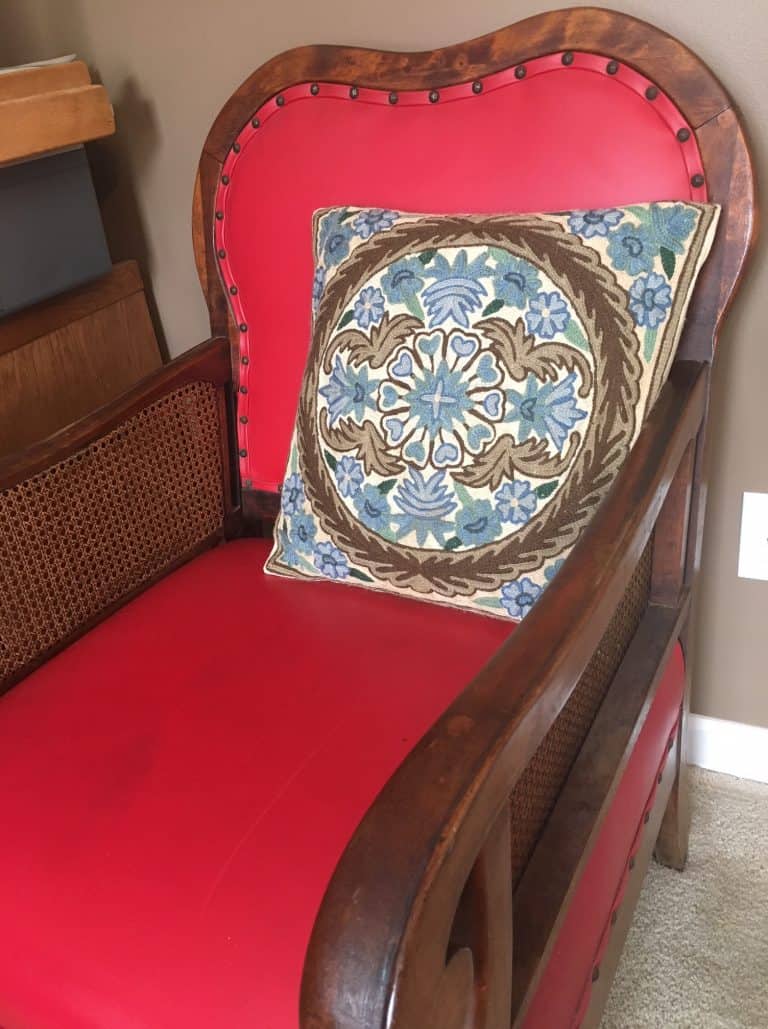 Several years ago, we found this gorgeous leather red antique chair. It makes such a statement, perfect for adding a pop of color to the bedroom and making the space a bit unique.
Creating a cozy bedroom retreat doesn't have to be difficult or super expensive. It just takes a little bit of thought, planning, organization, and a few quality pieces. You deserve to have a top notch space to get top notch R&R!
Related post: Why You Need a Designated Happy Place
What's your favorite element of a cozy bedroom? I'd love to hear your suggestions or see photos of your space!
With Joy,

PIN IT!