Take your favorite salad up another notch with this authentic greek salad dressing! A savory blend of olive oil, red wine vinegar, lemon juice, garlic, and herbs, this homemade dressing takes only takes 5 minutes to make.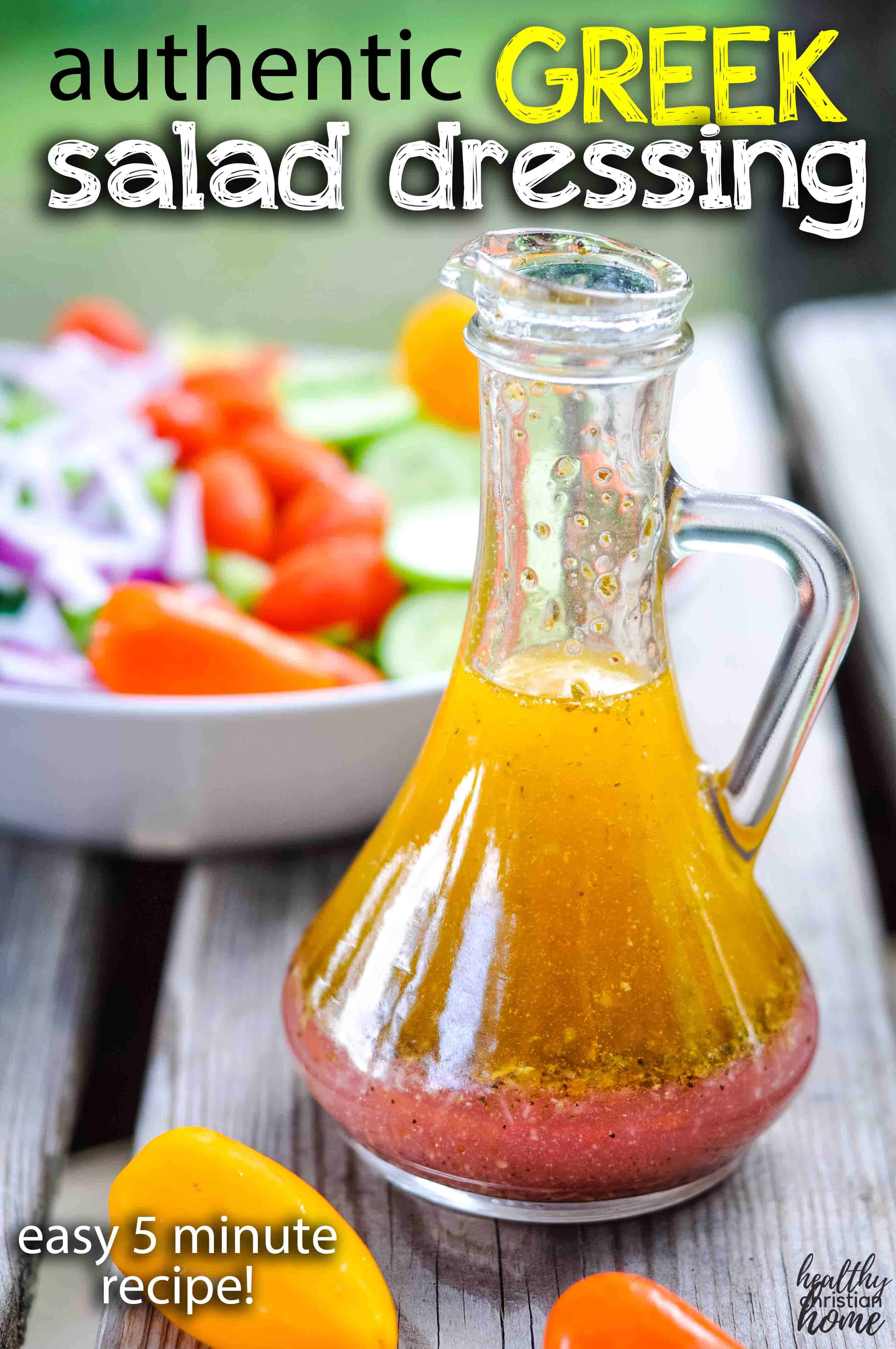 My love affair with Greece runs DEEP. They seem to make the best of literally everything.
Food, art, architecture, culture, they even win an award for Biblical language… I digress. And every time I want to go to my happy place, I close my eyes and I'm right back on a balcony in sunny Mykonos.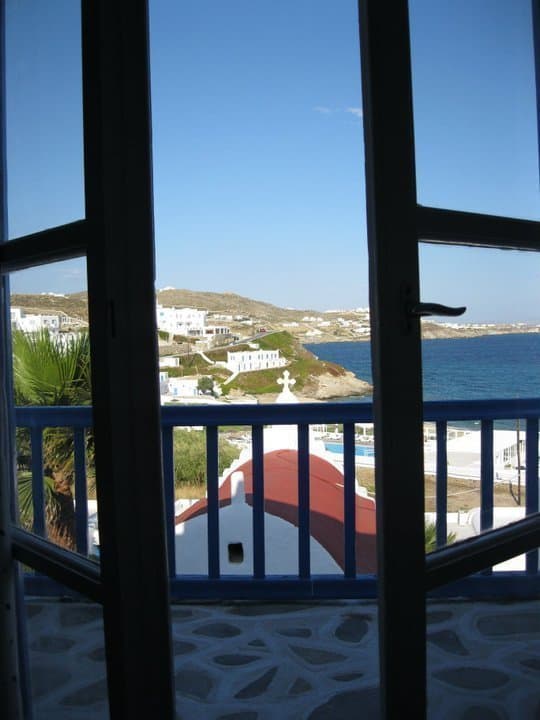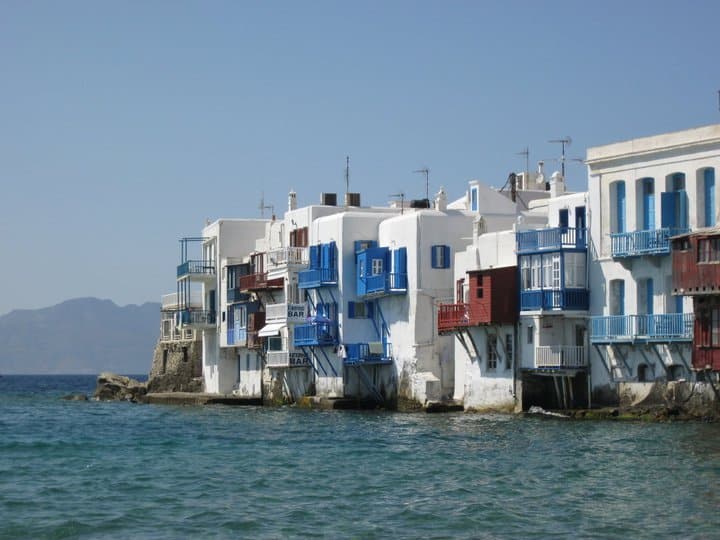 I 100% agree with Gus Portokalos in my favorite movie My Big Fat Greek Wedding:
There are two kinds of people. Greeks, and everyone else who wish they was Greek.
But I can pretend, can't I??
And it's easy to do when I drench everything in this super versatile authentic greek salad dressing. It's perfect on so much more than just my ultimate greek salad with mini peppers. Marinate meats, dip sandwiches, pour over roasted veg….okay now my mouth is watering. It is simply the best salad dressing recipe.
This Greek dressing is so beloved in our house, it has now surpassed the status of my lemon "everything" dressing which I've made for years. Because, you know, it's Greek.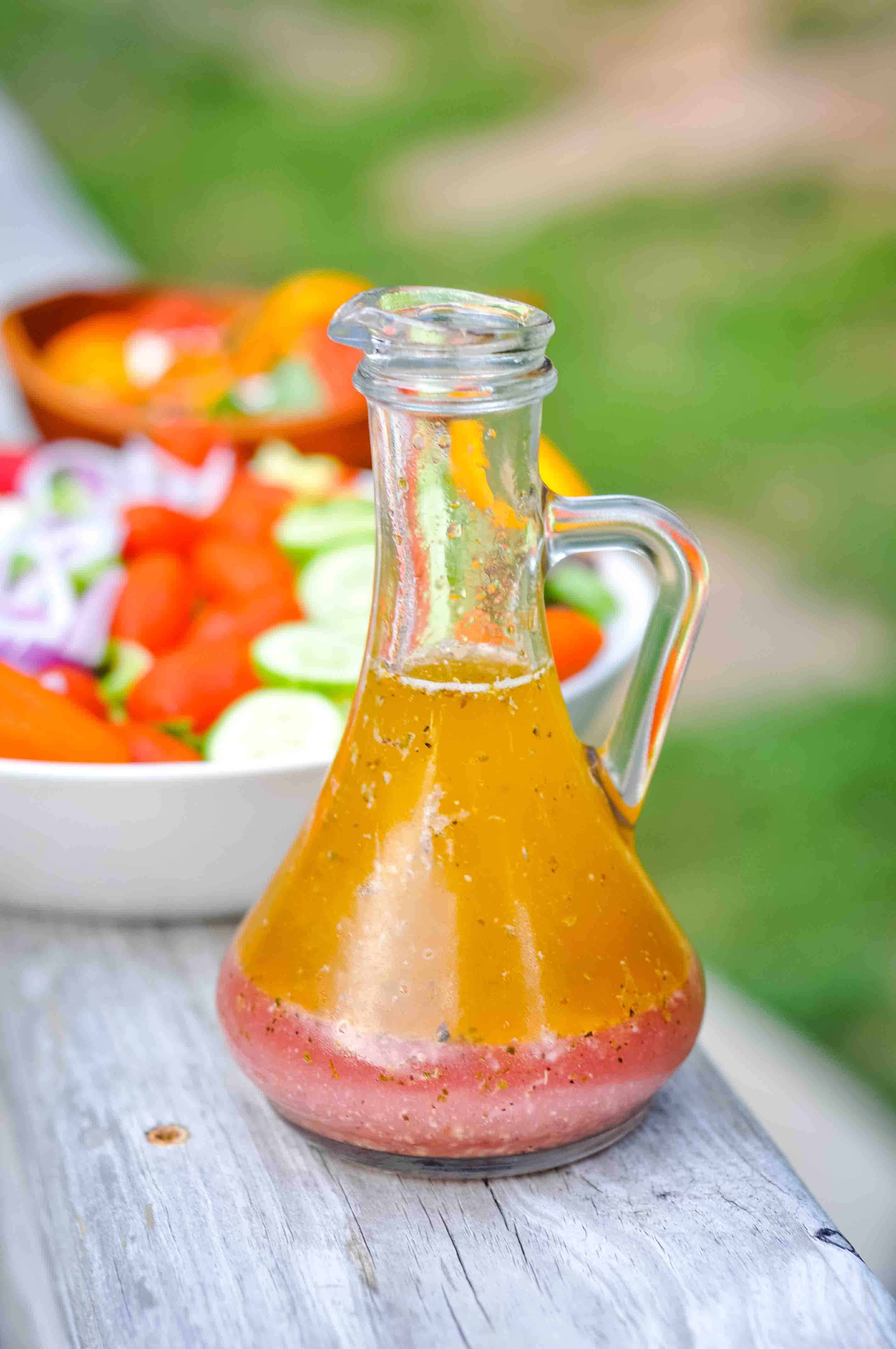 What is Greek salad dressing?
The traditional greek salad dressing has a few key ingredients: quality olive oil, lemon juice, red wine vinegar, and garlic. Dried oregano is also used, as this is the traditional herb the Greeks sprinkle over slabs of fresh feta when your order a horiatiki salata (traditional Greek salad) in the Plaka.
It is said that Greek cooks pour olive oil, lemon juice, good-quality red wine vinegar, and garlic over pretty much everything they eat from lamb to potatoes to salads. Of course, they also have access to some of the best olive oil in the world.

The Kitchn, How to Make a Classic Greek Viniagrette
Why make homemade Greek salad dressing?
I love homemade salad dressings because they taste far superior to store-bought, plus they're a lot healthier. Grocery store dressings tend to have lots of processed oils, additives, sugars, MSG, etc. Homemade is definitely the way to go!
And homemade dressing is so easy to make, why wouldn't you? Only five extra minutes and you can enjoy it for a couple of weeks (though it usually only lasts a few days in our house).
How to make an authentic Greek dressing recipe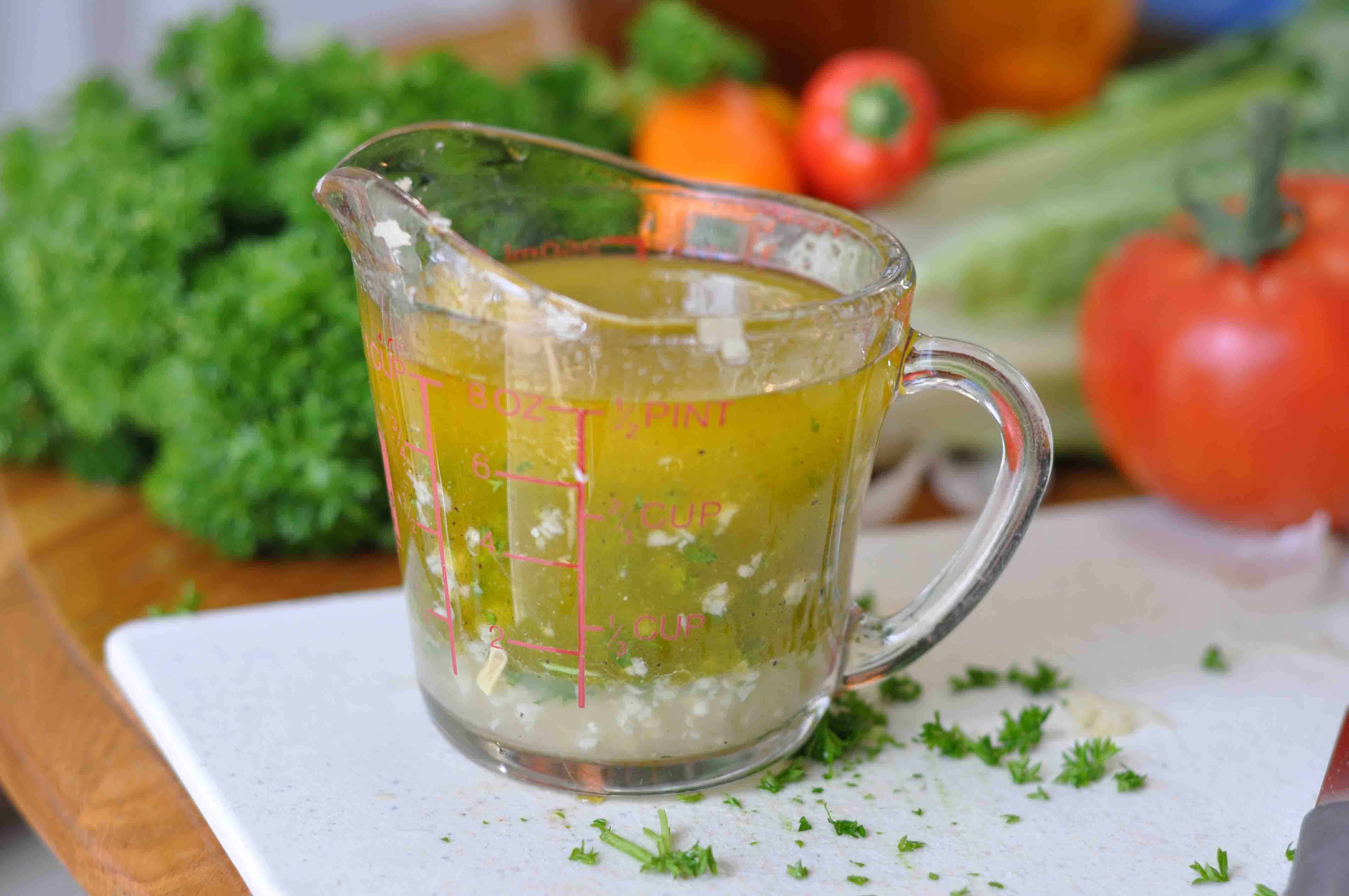 First, start with the best quality olive oil you can afford (I love scouring TJ Maxx, Marshall's, and HomeGoods for special oils like this!). This will serve as the base of your dressing.
Next, the vinegar. I don't think I realized how DELICIOUS red wine vinegar is until I made this salad dressing! Officially my new favorite type of vinegar. This brand is really really good.
Also, garlic is key! To make prep time faster, use a garlic press instead of mincing the garlic by hand. My pampered chef garlic press has seen plenty of use over the years, and it's the best quality one I've tried.
Just add olive oil, red wine vinegar, lemon juice, garlic, dijon mustard and herbs to a medium sized jar and shake, shake, shake! This will emulsify your dressing perfectly. Or, you can whisk all the ingredients together in a small bowl.
The addition of dijon mustard is totally optional and just gives the greek dressing an extra kick. Sometimes I use it, sometimes I don't. It's wonderful either way.
Tips & Tricks for making the best Greek salad dressing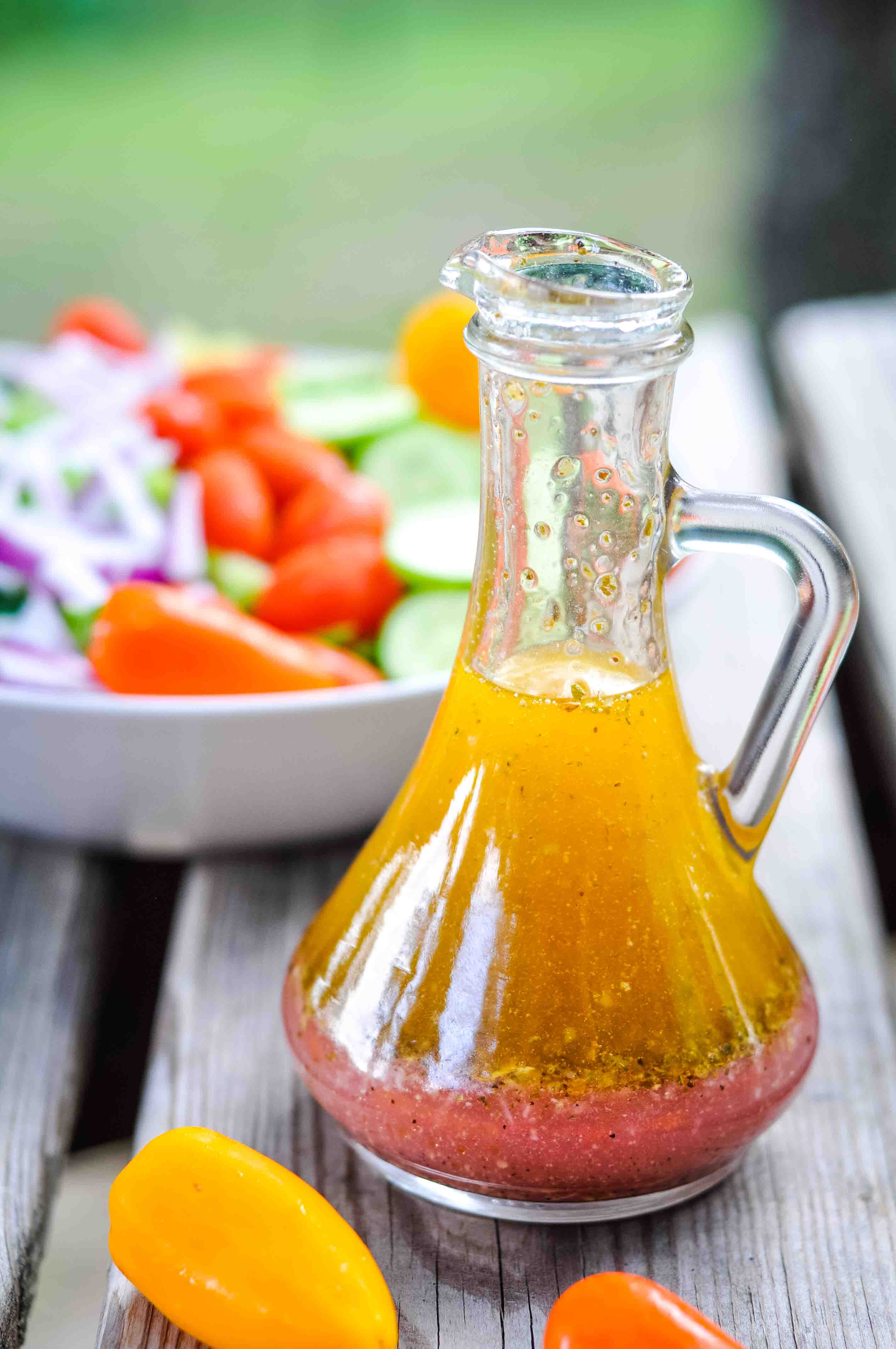 Stored in the fridge, this dressing will last 2 weeks. If the oil solidifies at all due to the cold temp, simply set it in a bowl of warm water to liquefy.
To make this Greek dressing even tastier, use fresh oregano instead of dried. It will really enhance the flavor. What a wonderful motivation to add to your herb garden!
To make this a creamy greek salad dressing recipe, simply add two tablespoons of greek yogurt and blend well with an immersion blender. I think I like it even better this way! Swoon-worthy.
If you don't have lemon on hand, you may omit it and use a little extra red wine vinegar.
Greek salad ingredients to accompany this dressing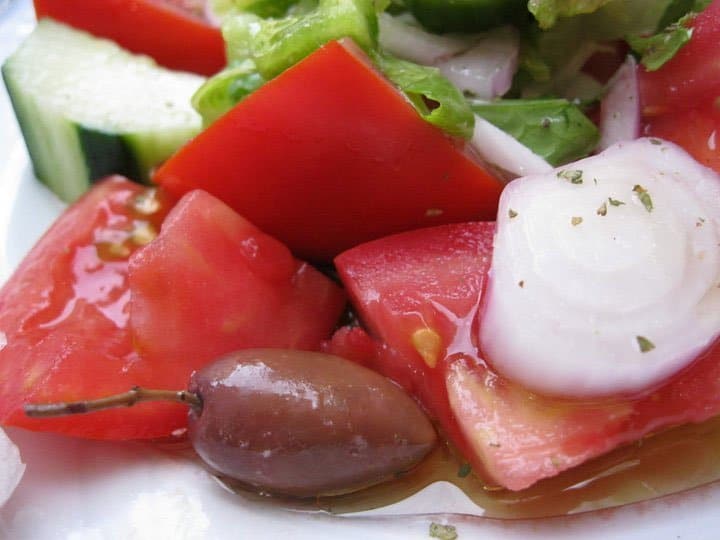 To transform your favorite garden salad into a Greek-inspired salad, here are the must-have ingredients:
tomatoes
cucumbers
thinly sliced onion
peppers
kalamata olives
feta cheese
Don't forget to try my favorite greek salad recipe with mini sweet peppers, which pairs perfectly with this dressing! I love that mediterranean food is so healthy and tasty 🙂 This is also the perfect dressing to top tomato, cucumber, & onion salad.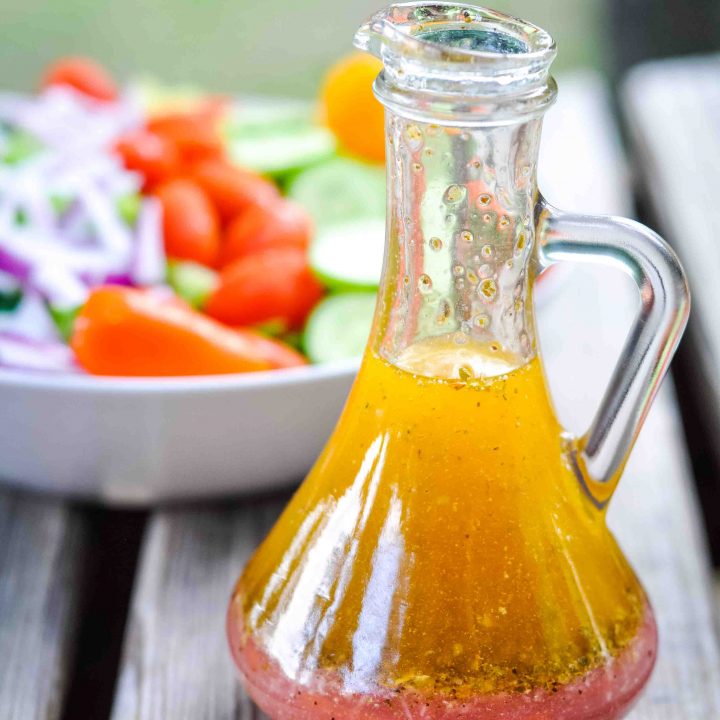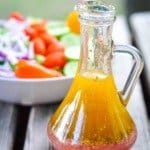 Authentic Greek Salad Dressing
Take your favorite salad up another notch with this authentic greek salad dressing! A savory blend of olive oil, red wine vinegar, lemon juice, garlic, and herbs, this homemade dressing takes only takes 5 minutes to make.
Ingredients
½ cup olive oil
¼ cup red wine vinegar
¼ cup lemon juice
2 cloves garlic minced
1 tbsp. oregano dried or fresh
1 tsp. salt or more to taste
1 tsp. pepper
1 tsp. dijon mustard optional
Instructions
Add all dressing ingredients to a small jar.

Shake thoroughly to combine until dressing is emulsified (vinegar and oil will separate, after shaking, which is natural).

Taste dressing and add more salt, if needed.

Keep dressing in the fridge for up to 2 weeks. If dressing solidifies, warm it in a bowl of warm water before use.
Recipe Notes
To make a creamy greek dressing, whisk in 2 Tbsp. greek yogurt. A wonderful addition!
What's your favorite homemade dressing recipe? Add it in the comments below!
PIN IT!