This cucumber tomato onion salad recipe is a delicious summer veggie salad for your next picnic! Served with homemade lemon garlic dressing, it's the perfect side dish for any barbecue or luncheon.
This garden vegetable salad is the perfect way to showcase your garden abundance, and no lettuce is needed! It's bursting with juicy tomatoes, crunchy cucumbers, spicy onions and flavorful olives and feta cheese.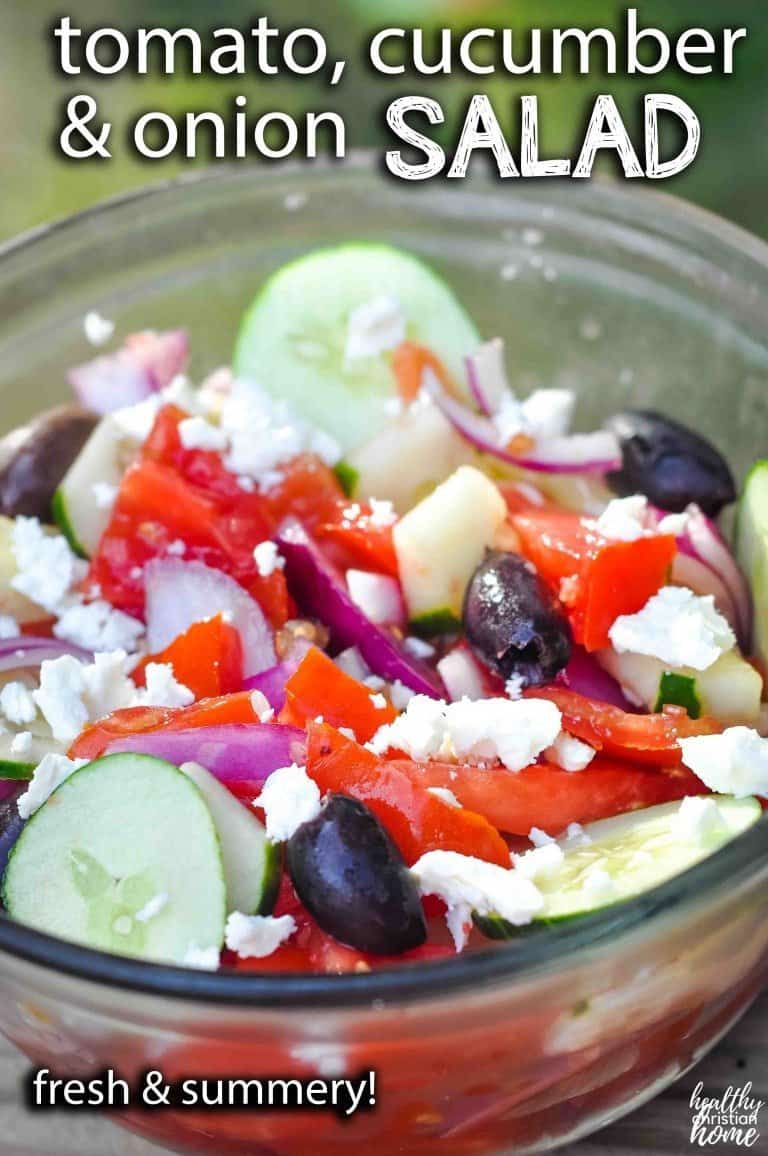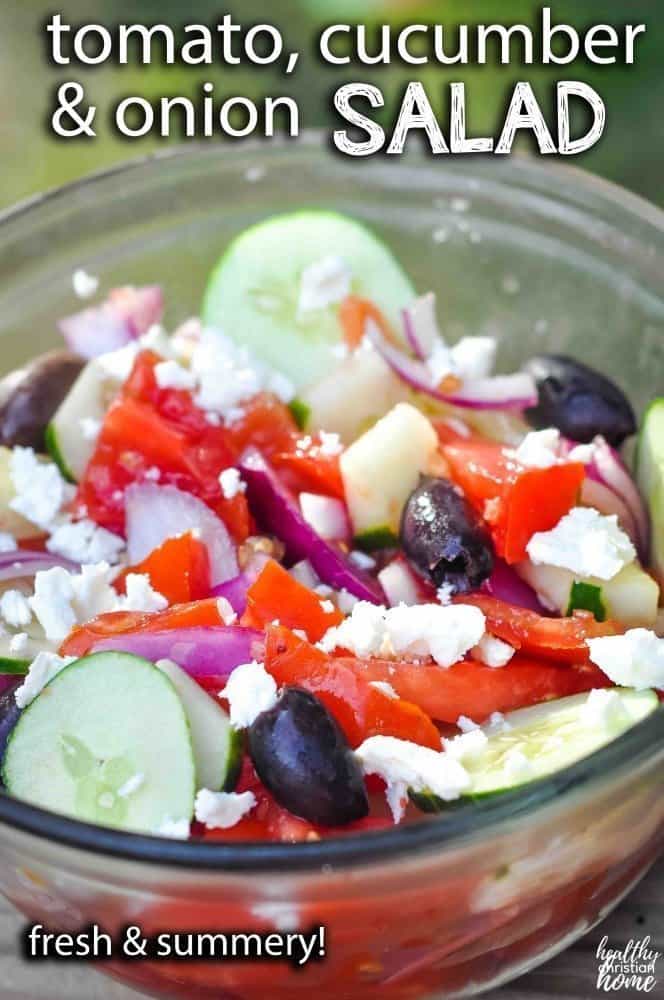 Post updated on May 11, 2018.
Guys. This cucumber tomato onion salad is stinkin' delicious. So much so, that I actually CRAVE it the same way I do chips and ice cream.
Yep, it's that good.
Have you tried the tomato cucumber and onion salad at Cracker Barrel? (They've recently discontinued it. Sigh.) If you're a fan, you've gotta try this recipe, which blows it out of the water (just sayin').
This salad is perfect for summer and the abundance of fresh crisp cucumbers and luscious tomatoes everywhere. We've got some in our garden, and I can't WAIT for them to be ready so I can make this with home-grown veggies. No need to run to the store for lettuce – this is a lettuce free salad which is quite refreshing. No wilting to worry about.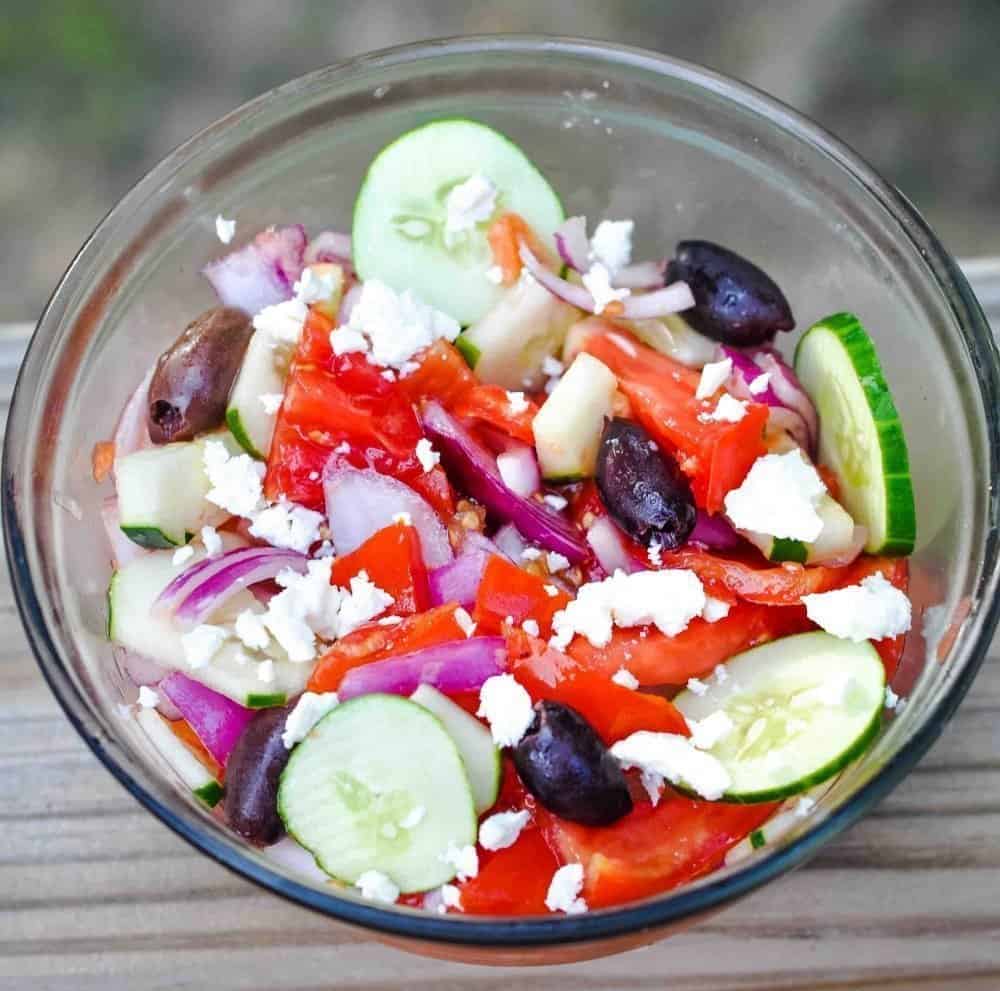 This simple cucumber tomato salad is bursting with B vitamins, potassium, lycopene, and vitamin A – all to energize you for summer fun!
The secret to this summer veggie salad is the delectable homemade dressing. I just can't convince myself to buy dressing at the store anymore, since this is SO simple and yummy! It's my version of greek salad dressing – I'm calling it Lemon-Garlic Dressing. I put it on everything. I love it on any salad, stir fry, or as a dipping sauce.
Let's get to the cucumber and tomato salad recipe – it couldn't be simpler. But first, grab your free traditional real food meal plan!
Cucumber Tomato Onion Salad Method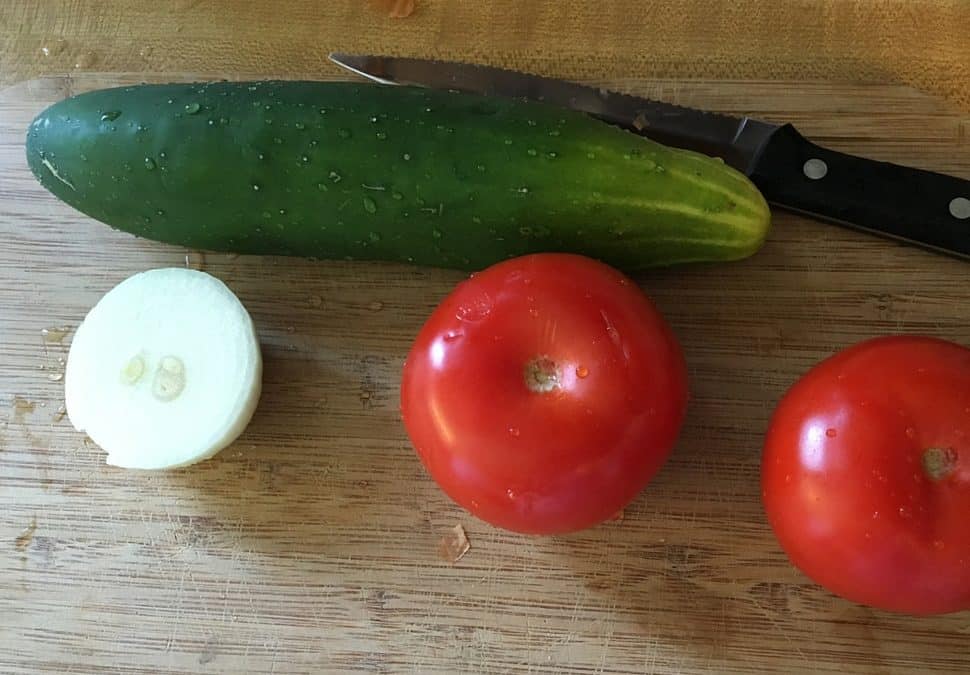 First, wash 2 large cucumbers, 2 large tomatoes, and half an onion. Dice and place in a large bowl.
Next, add a few sliced kalamata greek olives (optional). I'm in love with the Pearls brand. You can also add some feta cheese to make this more of a greek salad.
Mix up the Delish Lemon-Garlic Dressing (recipe below) and drizzle over the entire salad and mix well. Or, try my authentic Greek salad dressing instead (which is very similar but with a Greek flair). A glass salad dressing bottle is nice to have for mixing this up often.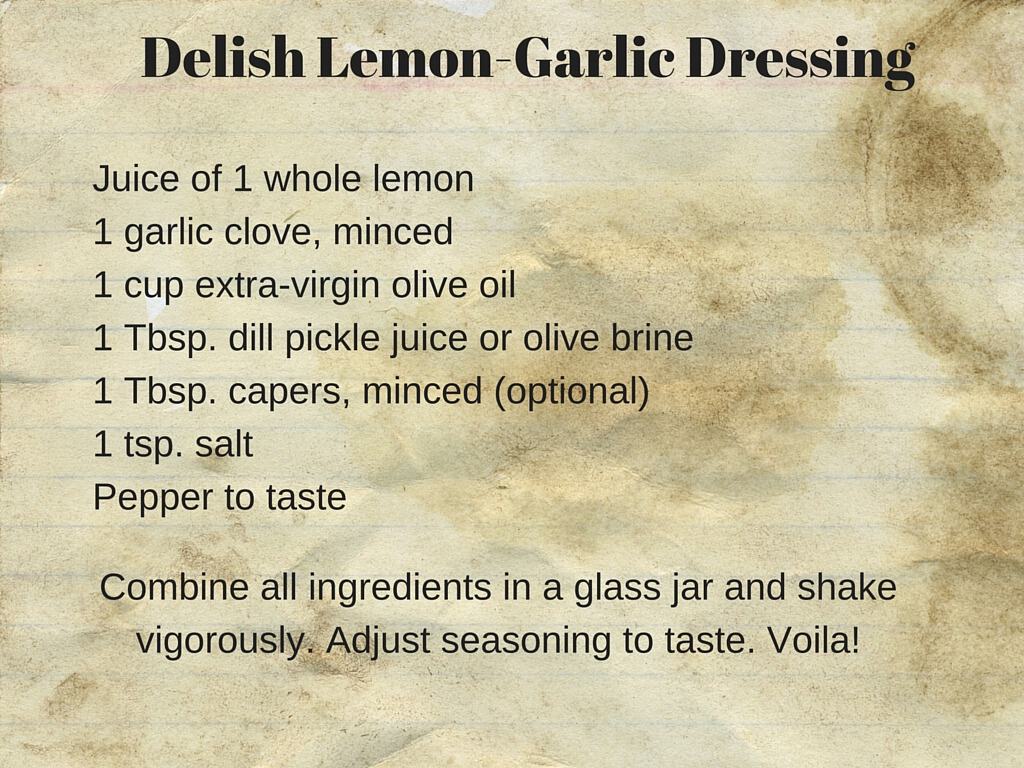 Let this salad sit in the fridge for a day for the flavors to mesh – it'll be even more delicious. Only I can't wait that long – I just eat it. All of it.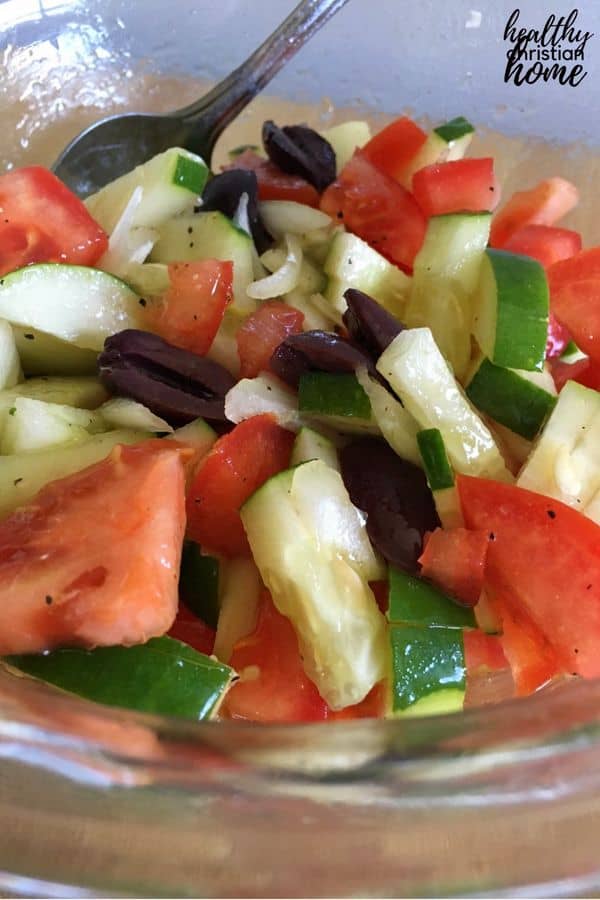 I hope you enjoy this recipe as much as I do. Your body will thank you.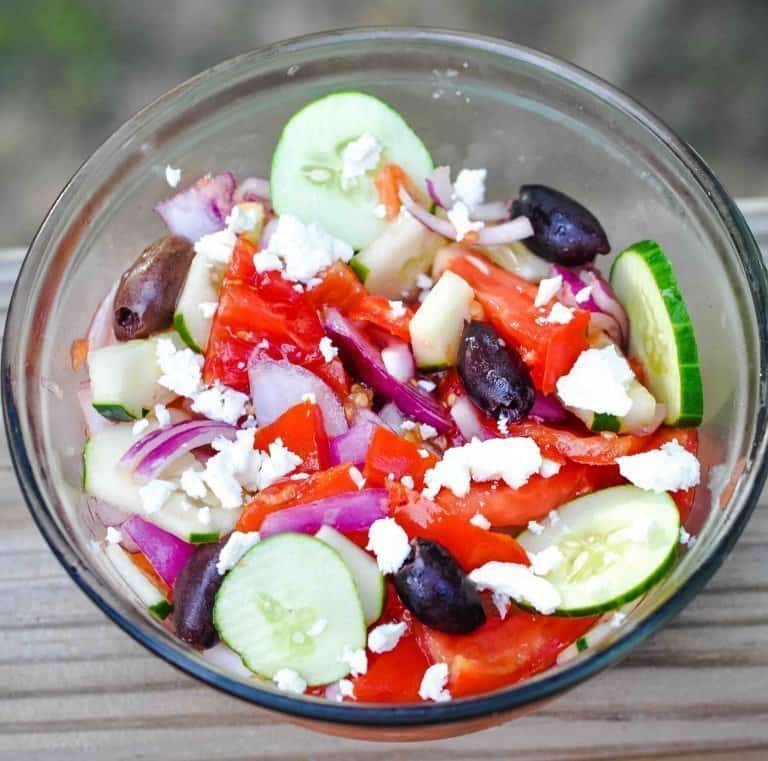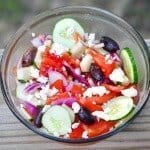 Tomato, Cucumber, & Onion Salad
A fresh summer vegetable salad bursting with tomatoes, cucumbers, onions, olives, and a delectable lemon-garlic greek salad dressing.
Ingredients
1 large cucumber thinly sliced
2 tomatoes diced
1/2 onion finely chopped
4 ounces feta cheese crumbled (optional)
1/2 cup kalamata olives pitted
Lemon Garlic Greek Dressing
1 lemon juiced
1 garlic clove minced
1 cup olive oil extra virgin
1 TBSP dill pickle juice OR olive brine
1 TBSP capers minced (optional)
1 tsp sea salt
1/2 tsp black pepper
Instructions
Chop veggies and place in a large bowl. Add feta cheese and olives, if desired. 

Mix ingredients for lemon-garlic dressing in a small jar or container. Shake or stir vigorously to combine and pour desired amount over the salad.
Recipe Notes
Salad can be kept in the fridge for up to 3 days.
You may also like: 50+ Veggie Recipes for People Who Don't Like Veggies!
Please leave a recipe review below if you make this! What's your favorite summer salad recipe?
With Joy,

PIN IT!