Make your very own homemade bouillon cubes following this simple recipe. Made with the leftovers of your homemade stock or broth, these healthy bouillon cubes are budget-friendly and add an incredible layer of flavor to soups, casseroles, stir fry, gravies, even sides like mashed potatoes! Goodbye, store-bought yucky squares!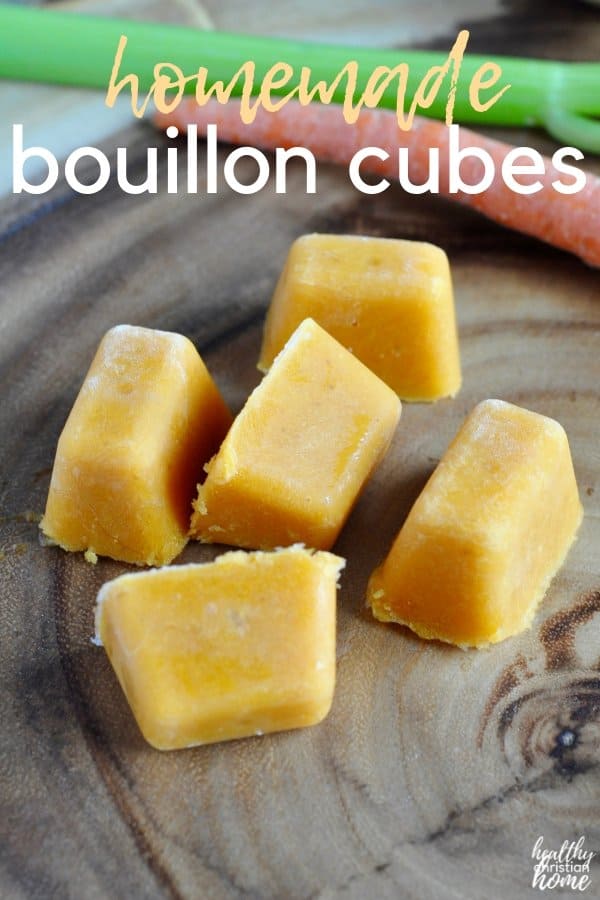 Making homemade bouillon cubes is possible!
Homemade bouillon cubes are simple to make, especially if you're already used to making homemade broth or stock. Such a relief not to have to buy those who-knows-what's-in-there store bought bouillon cubes anymore.
I don't know about you, but I always felt a little icky when I made a recipe calling for bouillon cubes. It was a "mystery ingredient" to me – I didn't feel good about what was in it, but I didn't think it was possible to make myself.
Even though I felt iffy about using store-bought bouillon cubes, there were so many recipes I loved that needed them and I didn't want to give those recipes up.
Thankfully, my husband (a.k.a. the Soup King) figured out a simple and delicious process for making our own. First, the run-down on why you want to make a store-bought bouillon cube substitute in the first place.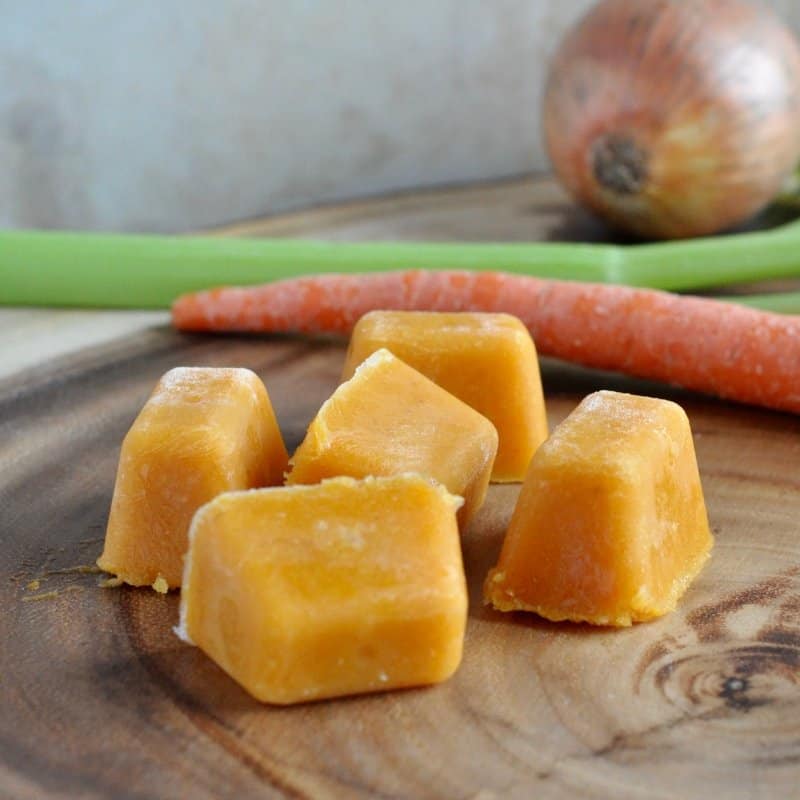 Do you know what's in those store-bought cubes? Sure, they taste great, but sadly they have some seriously yucky ingredients. Here are the ingredients from a popular brand chicken bouillon cube:
Salt, monosodium glutamate, hydrogenated cottonseed oil, chicken fat, hydrolyzed soy/corn protein, dehydrated mechanically separated cooked chicken, dehydrated chicken meat, dehydrated chicken broth, autolyzed yeast extract, dehydrated onions & parsley, lactose, water, colour, spices & spice extract, disodium guanylate, disodium inosinate, citric acid, tartaric acid, hydrogenated soybean oil and sulphites.

(source)
There are several questionable ingredients listed here, but the most alarming one to me is that monosodium glutamate (MSG) is the #2 ingredient!
That means a huge percentage of these cubes is made up of MSG, which is a known excitotoxin (it overstimulates the nervous system and causes an inflammatory response). In sensitive people, it causes symptoms like muscle tightness, headaches, fatigue, flushing and more. But even if you're not sensitive, it can cause issues down the line:
With time, these repetitive inflammatory responses cause our nerves to start producing more and more nerve cells that are sensitive to this kind of stimulation. The more overly-sensitive nerve cells we have, the stronger our immediate response to MSG will be.

Food Renegade, MSG is Dangerous – the Science is In
I don't know about you, but I'd rather eat ingredients I can pronounce that are actually good for my body.
Homemade Bouillon Cube Ingredients
In contrast to store-bought cubes, these homemade bouillon cubes are healthy as can be! Not only are they free from toxic ingredients, they are filled with nourishing ones.
The only ingredients are veggies, garlic, salt, and bits of chicken meat. Puree it all with an immersion blender, freeze into cubes, and you're done!
How to Make Bouillon Cubes From Scratch
Here's the step-by-step process for making your own bouillon cubes! You are essentially making a large batch of chicken stock with veggies, and instead of discarding the solids, using them instead.
Step 1: Make Homemade Stock
First, make homemade chicken or beef stock as usual. Add your whole chicken (or just the bones and veggies), cover with water and simmer.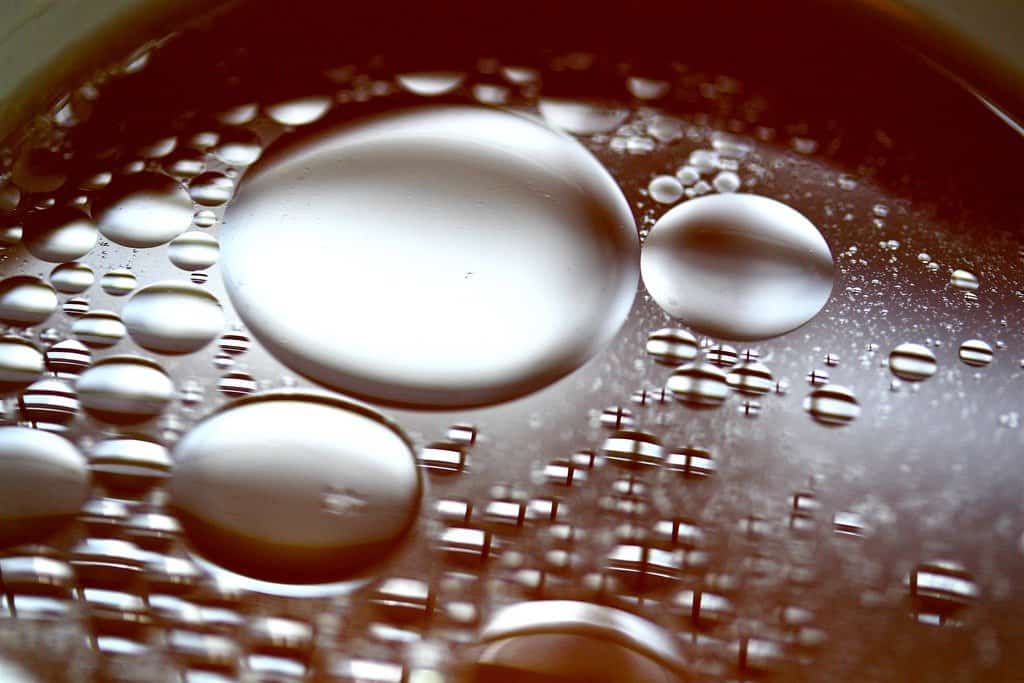 Homemade stock ingredients:
1 whole chicken (or a chicken carcass/beef bones)
2-3 onions (wash them, don't peel the dry outer layer off – it adds flavor and color)
3 stalks celery
5 large carrots
4-6 bulbs of garlic (The whole bulb, not just the clove. This is what gives the amazing flavor.)
Turmeric (1 Tbsp powdered or 1 knuckle fresh & grated)
Salt (a tablespoon or so, to draw the marrow out of the bones)
1 Tbsp apple cider vinegar (also helps draw nutrients out of bones).
Simmer the broth. Cover the ingredients with pure filtered water and allow to come to a boil. Skim the foam off the top and reduce heat to a simmer. If you are using a whole chicken, remove it after one hour and allow to cool before removing the meat and adding the bones back to the pot.
Save the cooked veggies. Continue to simmer for around 8 hours. Strain, but don't throw away the veggies. We are going to use them, along with chicken meat, in the next step.
Strain, season, & store. Strain the broth, salt to taste, and pour into mason jars. Set aside one cup of stock to use in making bouillon cubes later. Once cool, freeze the jars for later use in soups, stews, and sauces.
Step 2: Make the Bouillon Cubes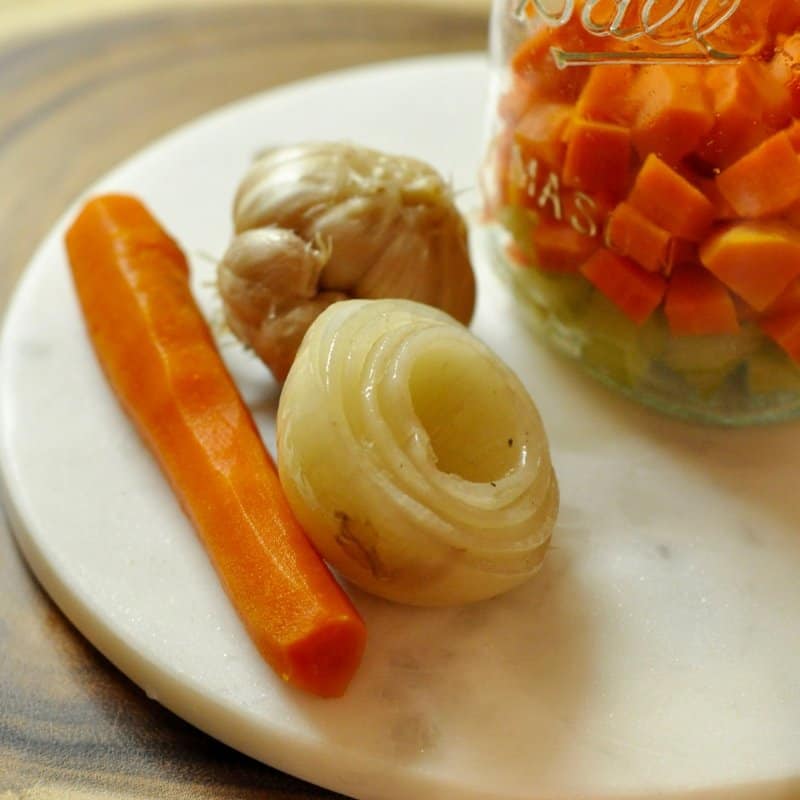 Save the veggies. After your stock is finished simmering, remove the garlic bulbs, setting them aside to cool. They should still be intact. While you strain the broth, pick out the veggies and add them to a container: carrots, onions, celery, garlic bulbs, plus any loose pieces of chicken.
Now take your cooled garlic bulbs (the KEY to the taste of your boullion cubes) and remove the skin. To do this, squeeze the individual cloves and the garlic will ooze out like butter.
Reserve bits of meat or organ meats too. You can use the liver, kidneys, etc for your cubes. Organ meats are very healthy and add a depth of flavor, bouillon cubes are a great way to re-purpose them. You can make the bouillon cubes with or without muscle/organ meats.
Reserve fat. If you have some leftover fat from your chicken broth that has solidified at the top, (such as schmaltz which is chicken fat), you can add some of this to the bouillon cubes also.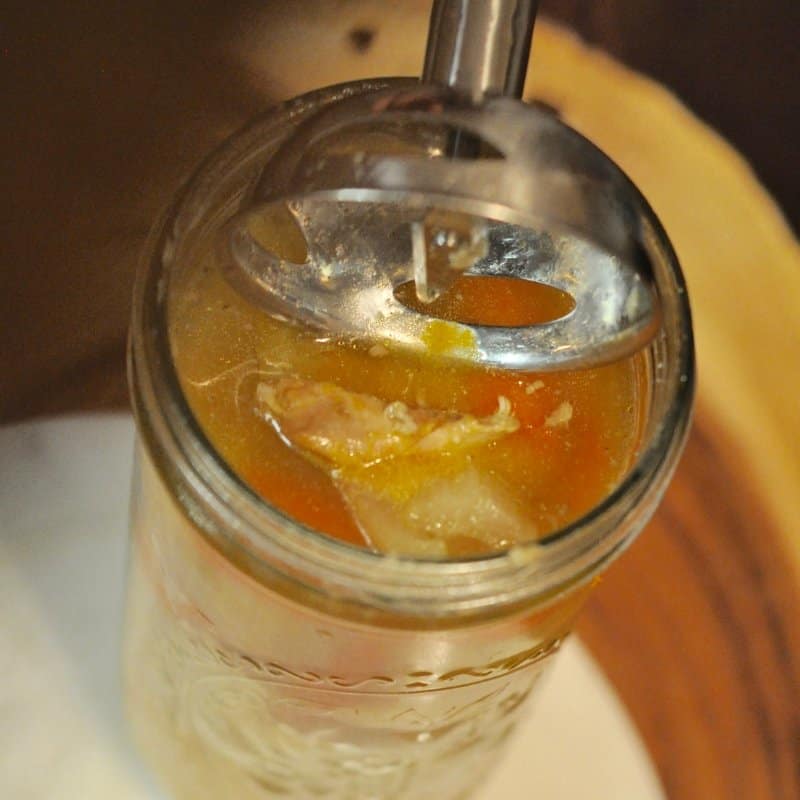 Add all ingredients to a bowl or mason jar. It should be full of yummy goodness with the veggies, chicken bits, and fat. Add salt and a cup of broth. Now blend it up with your immersion blender.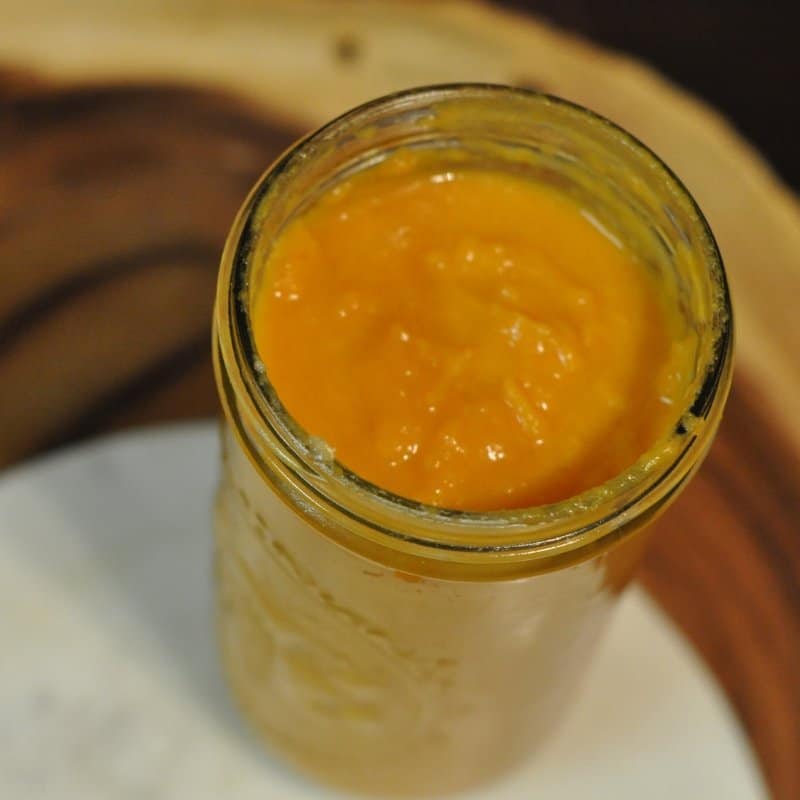 Pour the mixture into your ice cube trays and freeze. Once frozen, place the cubes in a freezer bag and you are done!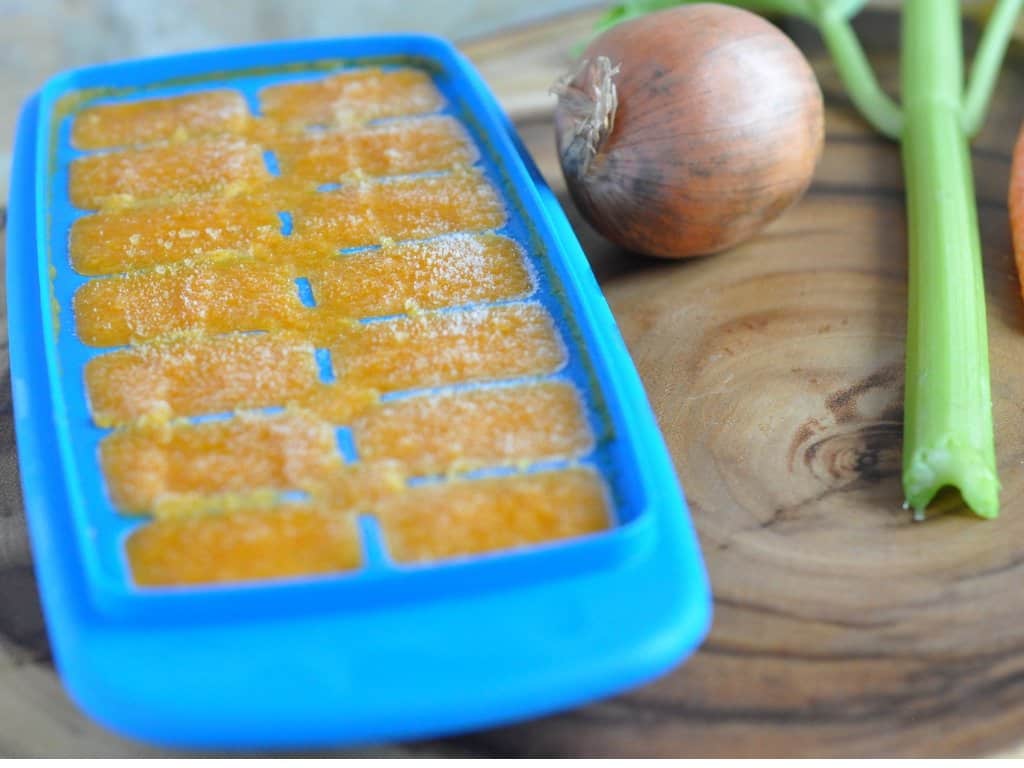 To use in your recipes, use one homemade bouillon cube in place of one store bought cube. The homemade cubes are of course larger than store bought cubes, but the flavor is more mild so you can use more. Enjoy your recipes to the fullest, knowing they are made with the freshest and most nutritious ingredients!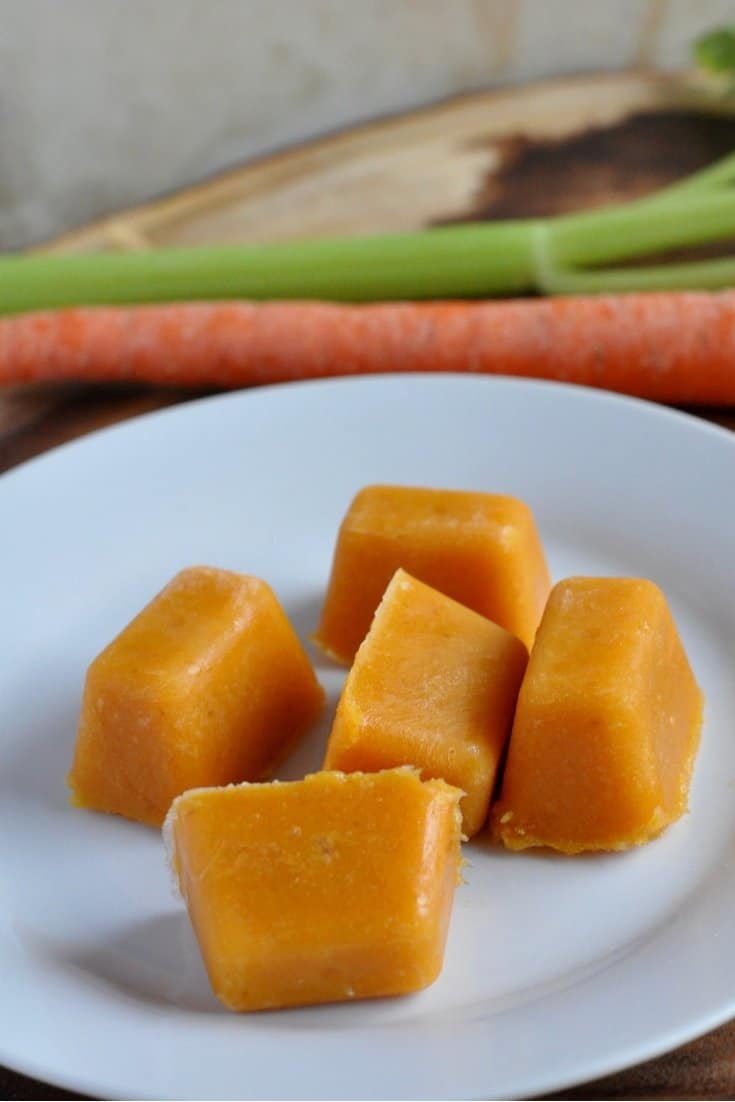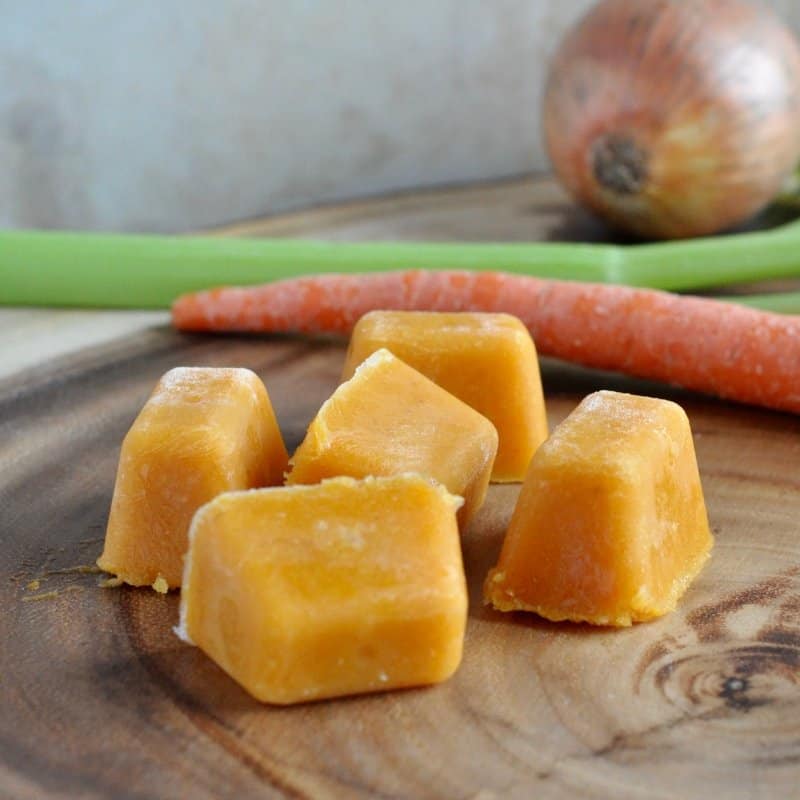 Yield: 2 dozen cubes
Homemade Bouillon Cubes from Stock Leftovers
Prep Time: 15 minutes
Cook Time: 8 hours
Total Time: 8 hours 15 minutes
Homemade boullion cubes made with veggies, garlic, bits of meat, and broth add the perfect flavor to all your favorite recipes! These taste so much better than store-bought, with no artificial ingredients like MSG.
Ingredients
1 whole chicken with giblets
5 carrots
4 stalks celerey
2 onions, halved
4-6 bulbs garlic
1 teaspoon turmeric powder
1 Tablespoon apple cider vinegar
1 Tablespoon salt (for the stock pot)
1 teaspoon black pepper
Filtered water, to fill stock pot
2 teaspoons salt (for bouillon cubes)
1/2 teaspoon sage (for bouillon cubes, optional)
1 Tablespoon schmaltz (chicken fat) reserved from broth
Instructions
Add the whole chicken including giblets, plus the onions, celery, carrots, garlic, turmeric, apple cider vinegar and one Tablespoon salt and 1 tsp. black pepper to a large stock pot. Cover fully with fresh filtered water.
Simmer several hours. If using a whole chicken, remove the meat at this point and reserve for later. Save 1/2 cup of the meat for the cubes. Continue simmering broth all day (up to 8 hours), if desired.
Strain broth and remove bones, reserving all the soft veggies in a large bowl or jar. Add 1/2 cup chicken meat, plus any organ meats such as the chicken giblets to the bowl (if available). Reserve 1 cup of broth for later use.
Carefully squeeze individual garlic cloves out of the peel and into the bowl. Add ground sage and salt, adjusting if needed. Bouillon should be quite salty to taste (we are using this to add flavor to all our recipes). I have listed 2 teaspoons, but use your personal preference here.
Add 1 cup of chicken broth and 1 Tablespoon schmaltz to your container of veggies and meat bits. Using an immersion blender, puree everything until smooth.
Fill ice cube trays with the bouillon puree and freeze. Once frozen, cubes can be stored in a ziplock bag in the freezer. Use one homemade cube to replace one store bought cube in any recipe.
Recommended Products
As an Amazon Associate and member of other affiliate programs, I earn from qualifying purchases.
Nutrition Information:
Yield:
24
Serving Size:
1 grams
Amount Per Serving:
Calories: 70
Total Fat: 3g
Saturated Fat: 1g
Trans Fat: 0g
Unsaturated Fat: 2g
Cholesterol: 22mg
Sodium: 52mg
Carbohydrates: 2g
Fiber: 1g
Sugar: 1g
Protein: 7g