This magic shell recipe is the perfect topping to drizzle over your favorite ice cream or frozen treat. No need to buy magic shell at the grocery store. You can make it yourself in less than 5 minutes with only 2 ingredients: chocolate chips and coconut oil.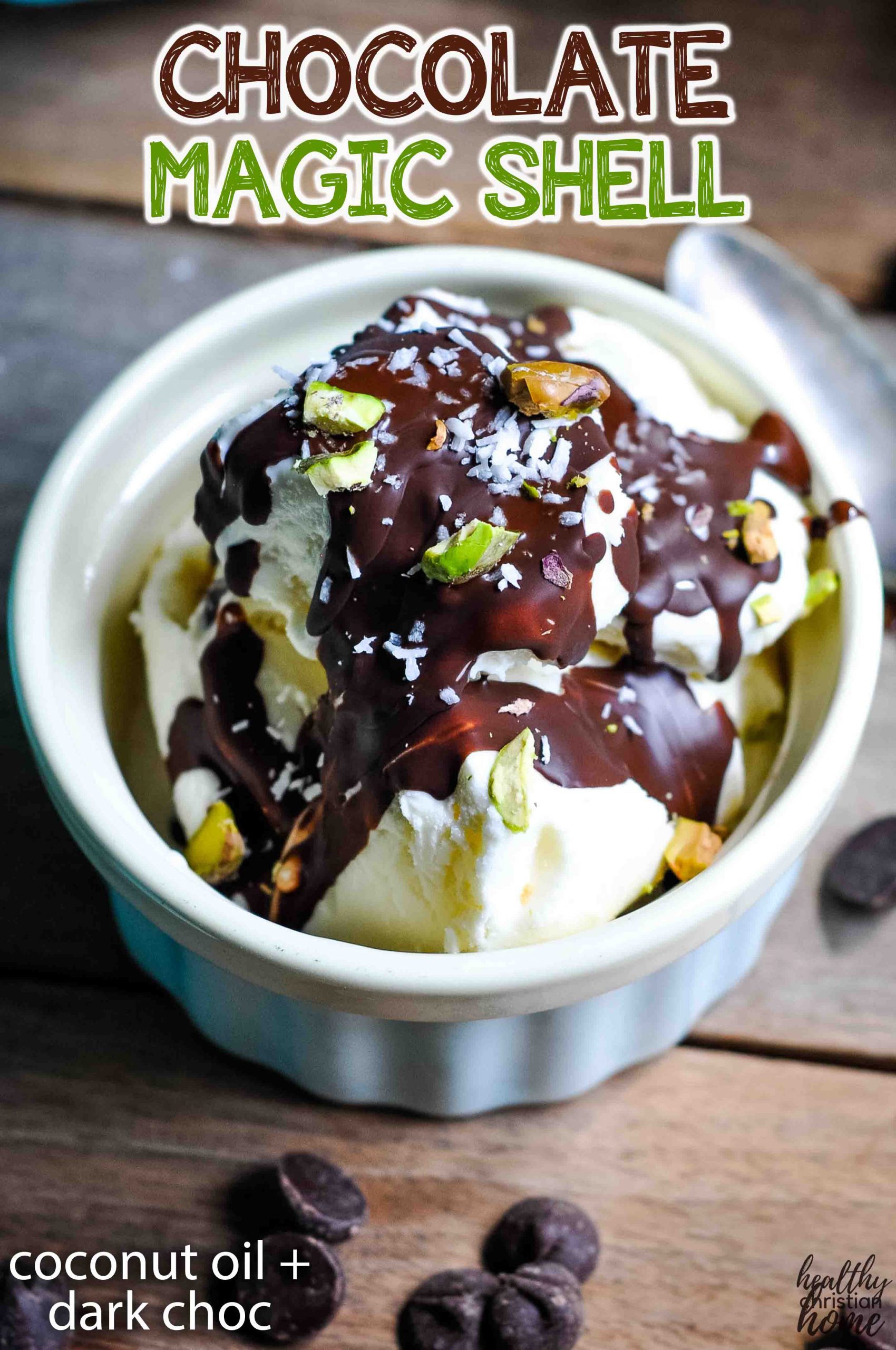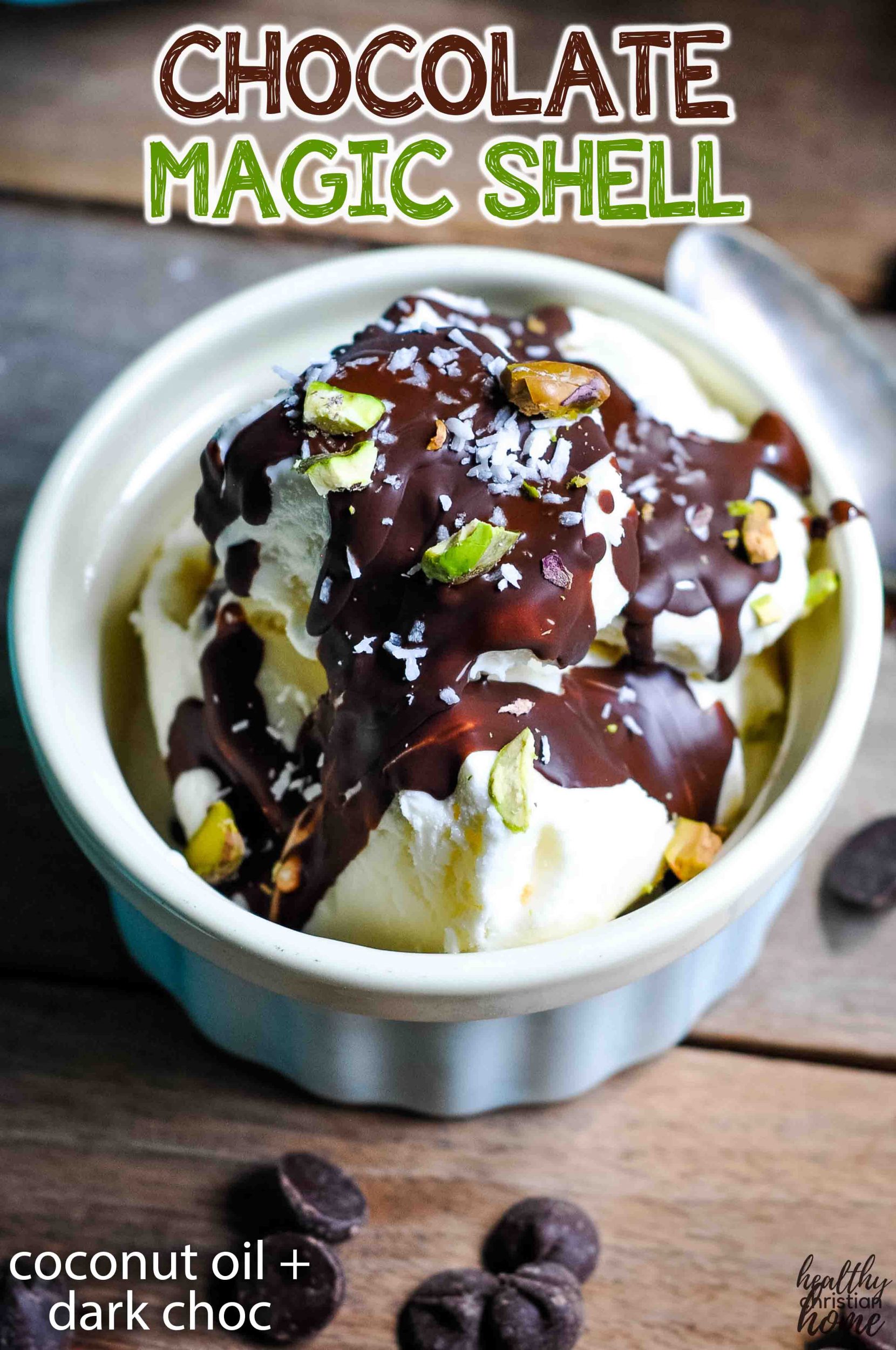 Ice Cream Lovers, Rejoice!
I love ice cream. And really, in moderation, it can be a great bedtime snack when incorporated into a real food diet.
Make sure to choose a natural, additive-free version with real milk, cream, and sugar (yum!) and without all the corn syrup and guar gum gunk. (ALDI Specially Selected is a good brand.)
Read this article to see how your favorite brand measures up on the clean eating scale. Try making your own if you can't find a brand with decent ingredients in your area.
Or, try making one of these yummy-looking recipes: Raw Milk Ice Cream or Honey Sweetened Chocolate Ice Cream.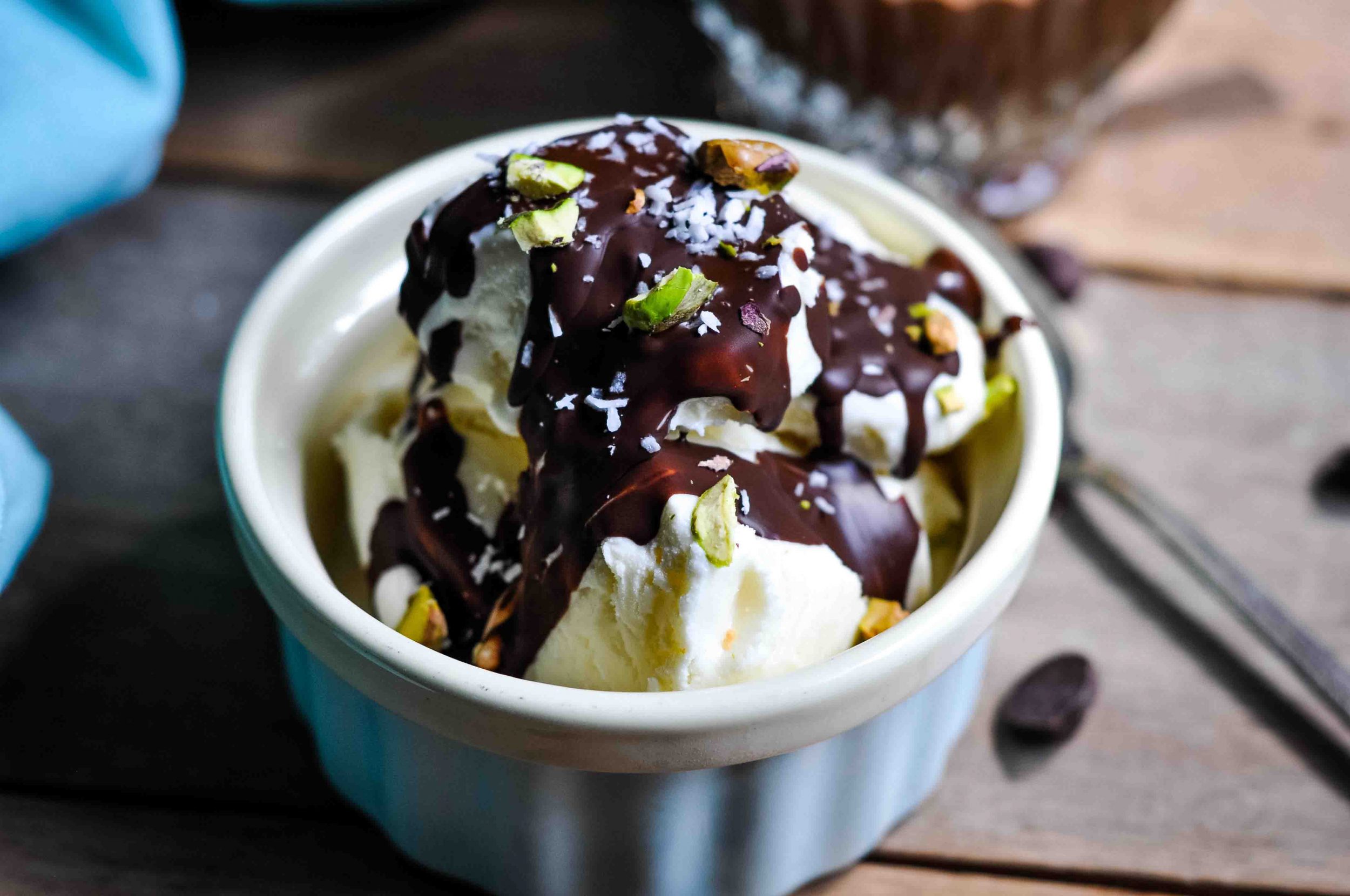 When sourced with high quality dairy products and if it's made without additives, it (ice cream) is loaded with vitamins A, D, calcium, and saturated fat! Ice cream has been said to have a macro-nutrient profile similar to breast milk, so no wonder it's a comfort food!

– Catherine Crow, Butter Nutrition
The best magic shell ice cream topping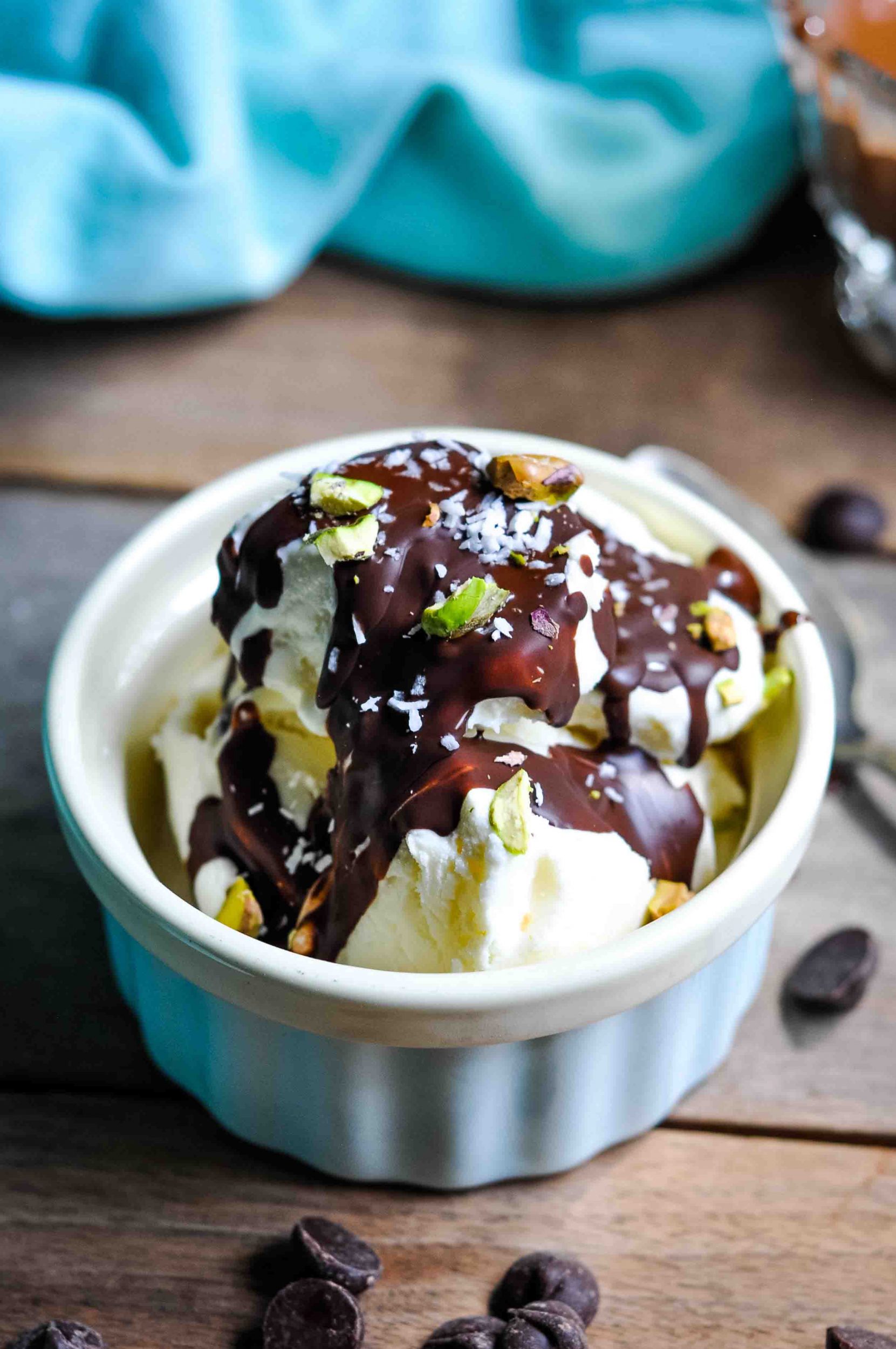 As if we needed any more incentive to eat ice cream, this homemade chocolate magic shell (also known as "crackle") really steps it up a notch.
For me, ice cream is just so much more satisfying if it has a bit of a 'crunch' to it. This magic shell topping satisfies that crunch in the best way!
Once you make this homemade chocolate syrup magic shell, you'll NEVER go back to buying store bought. It's so easy, it's laughable – plus it goes from liquid to solid in a flash.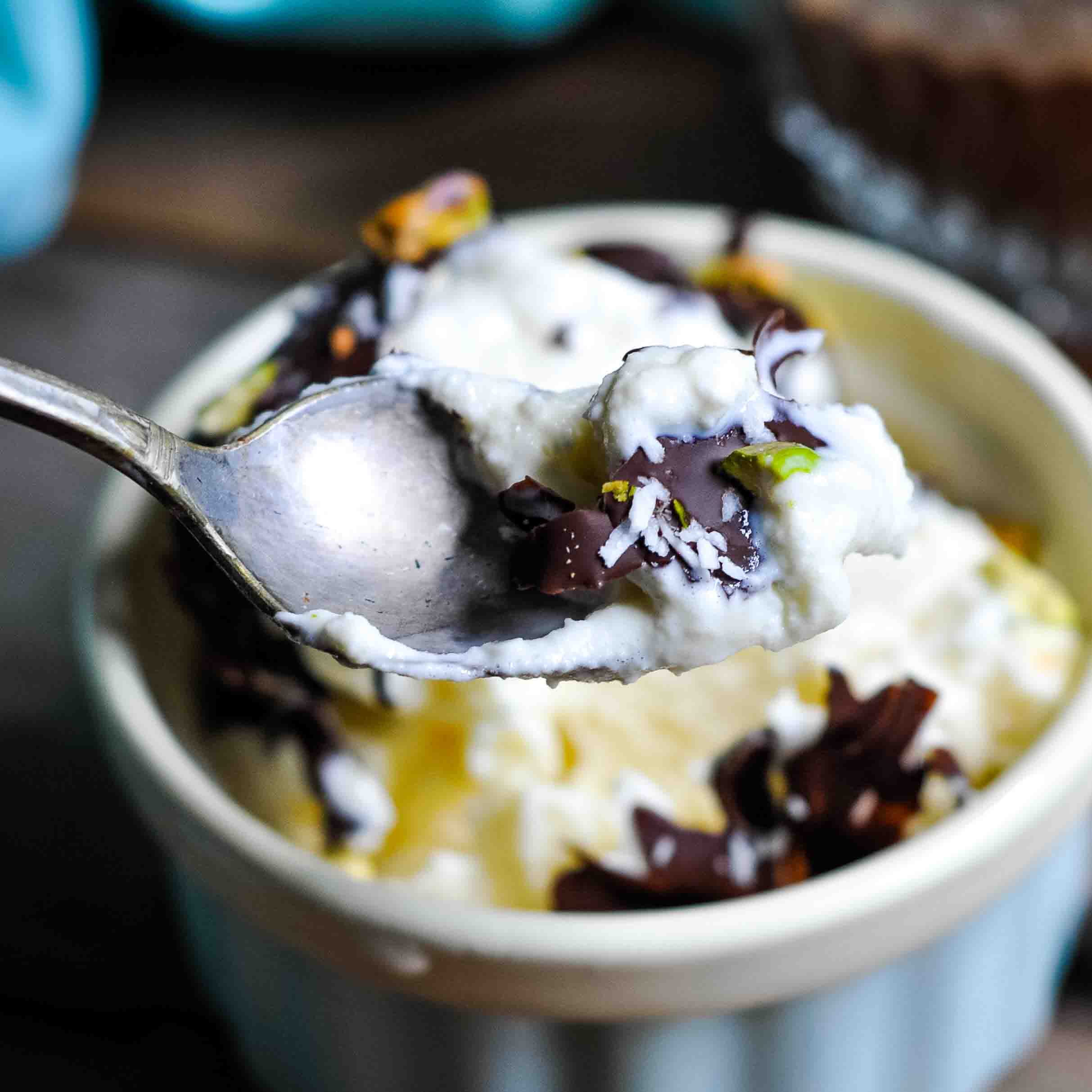 Chocolate magic shell from the grocery store isn't all that good for you. Here are the ingredients in one popular brand: sugar, sunflower oil, coconut oil, chocolate, whole milk solids, cocoa processed with alkali, soy lecithin, salt, vanilla.
In contrast, the magic shell we're making today has only 2 ingredients: dark chocolate and coconut oil.
Homemade chocolate magic shell ingredients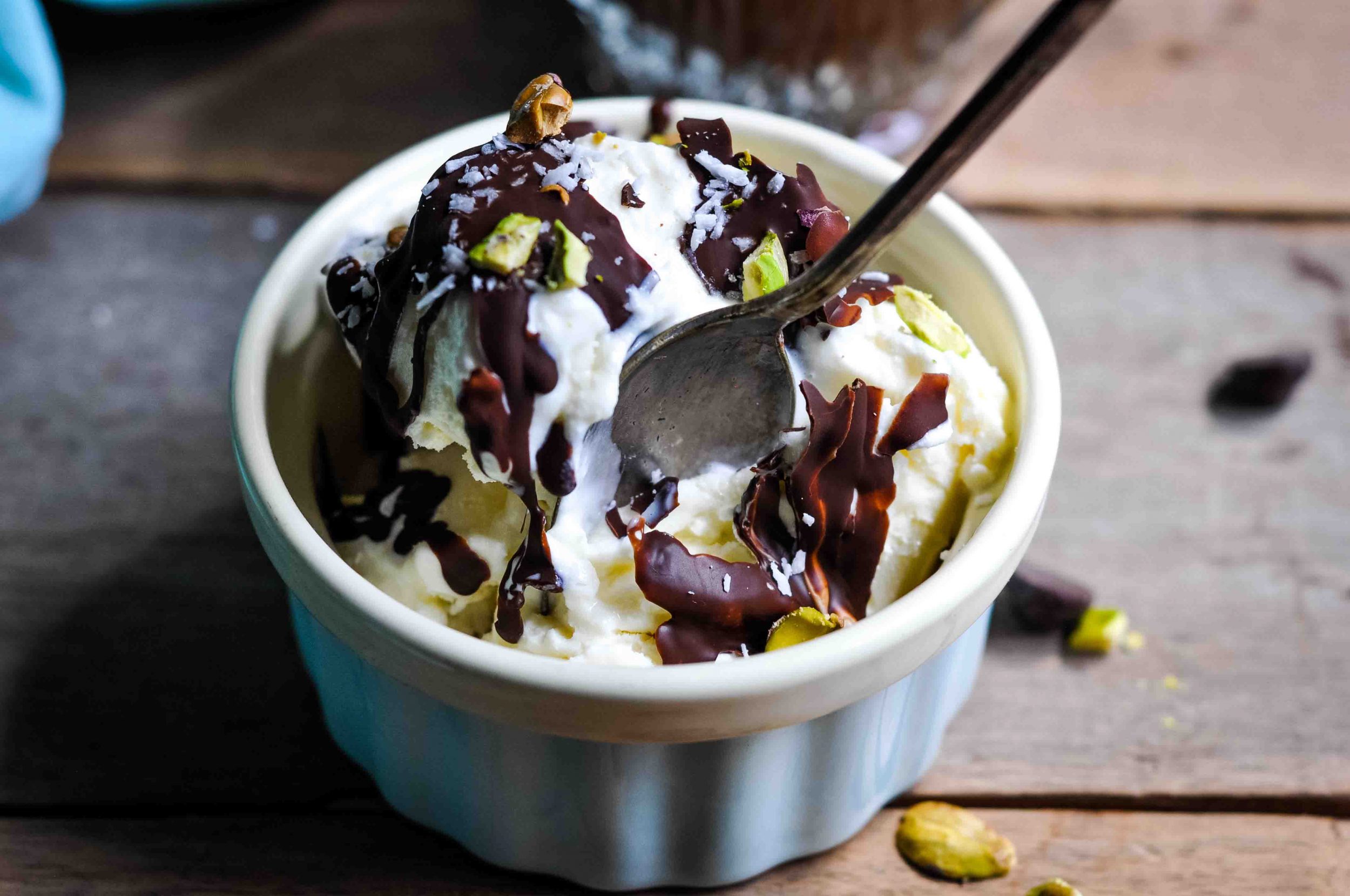 Dark chocolate: You can truly use any kind of dark chocolate you prefer in this recipe. I like using regular dark chocolate chips (these have super clean ingredients), but you can also use a sugar-free version or any clean dark chocolate bar of your choosing, cut into pieces.
Coconut oil: This is the "magic" ingredient that gives your shell its special power to solidify. Use a good quality extra virgin coconut oil, which is rich in lauric acid and healthy fats.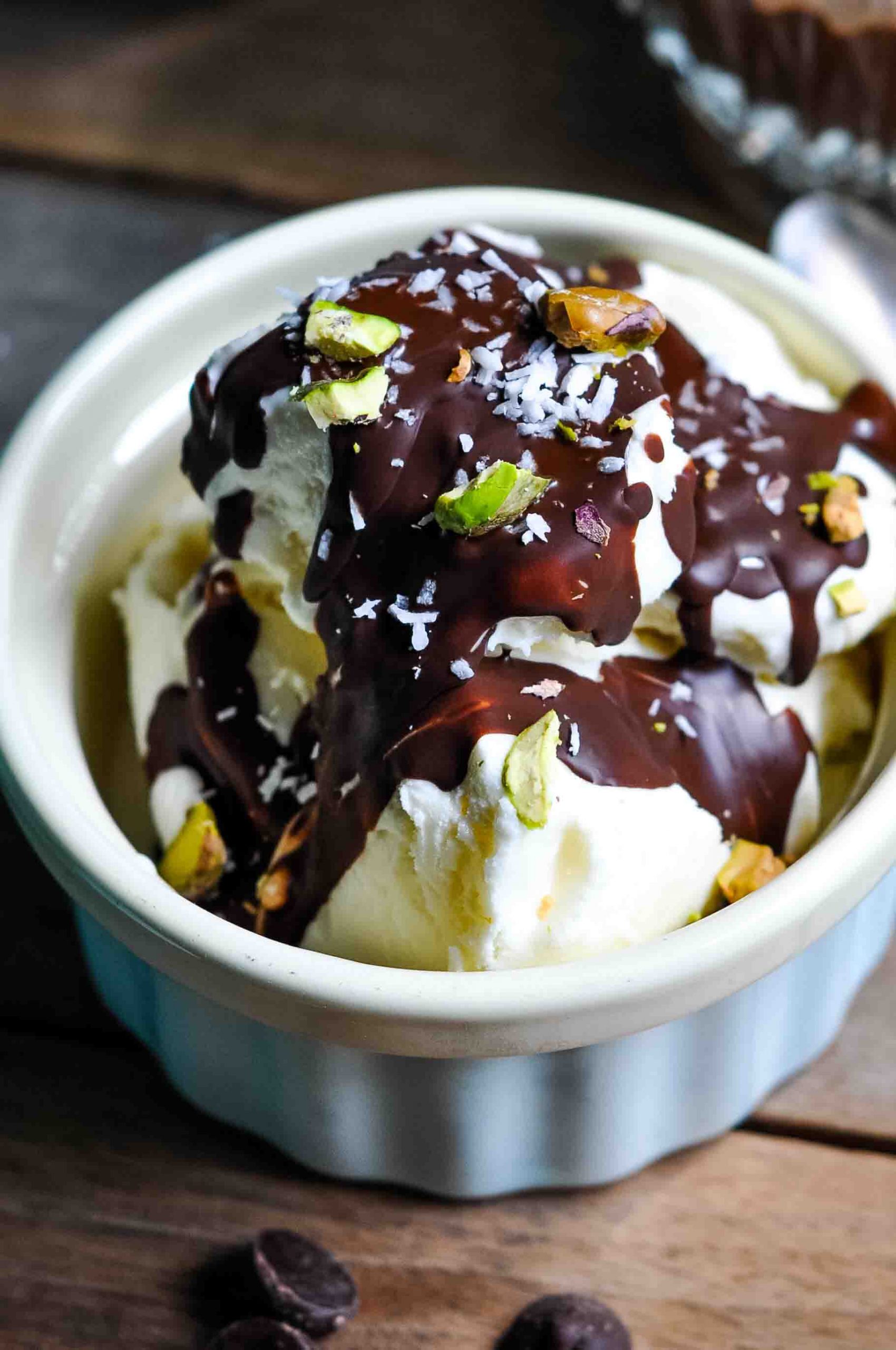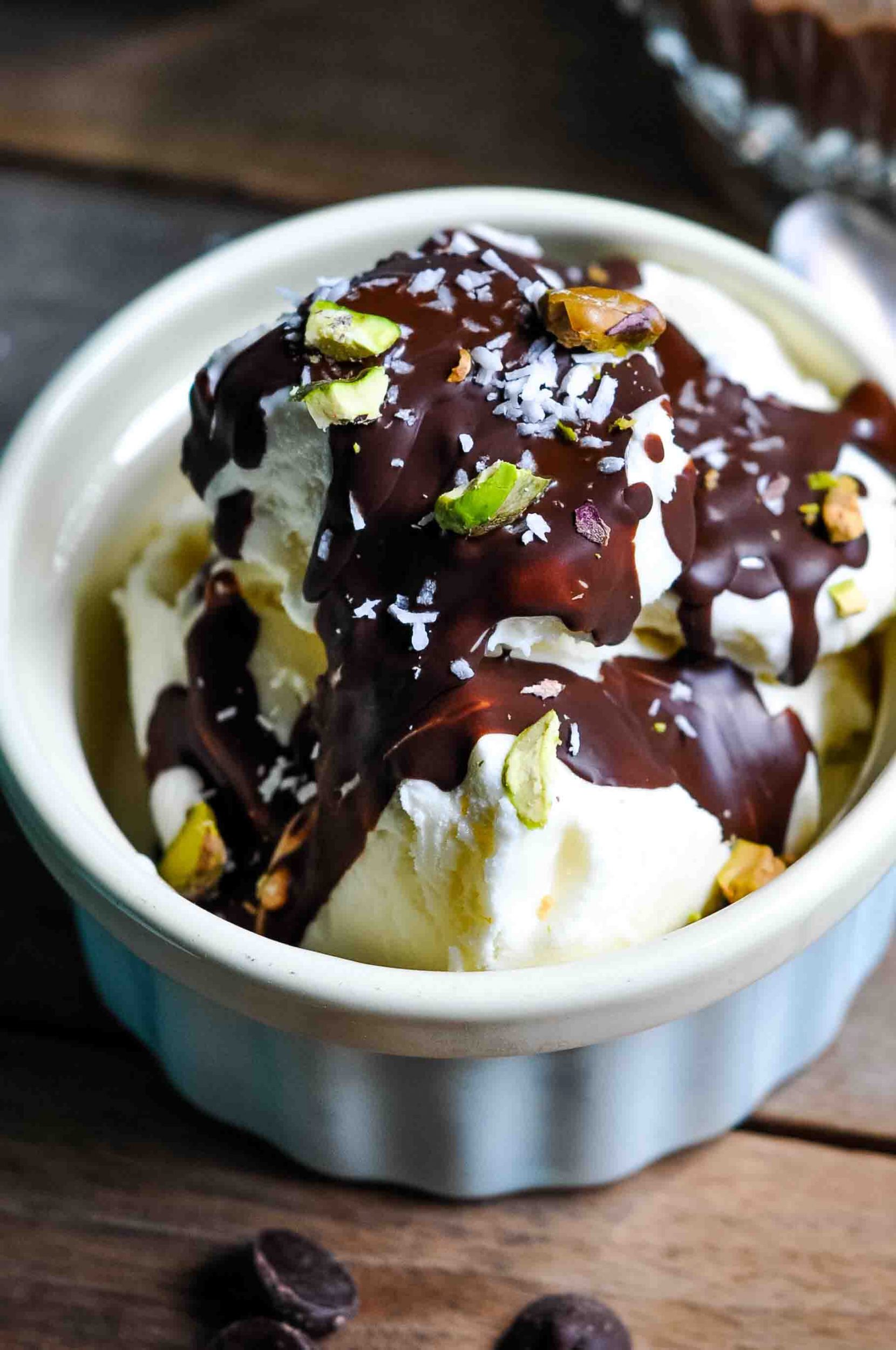 The coconut oil doesn't impart much of a coconut flavor, so don't worry about that if you're not a fan. Make sure to use good quality dark chocolate, which is loaded with magnesium to help you sleep.
Chocolate Magic Shell = Yum-O. Let's get to the recipe!
How to make homemade chocolate magic shell
In a small bowl or mug, add 1/2 cup chocolate chips and 1/4 cup coconut oil. Honestly, I don't measure. I just pour the ingredients in and eyeball it, using a little more chocolate than coconut oil.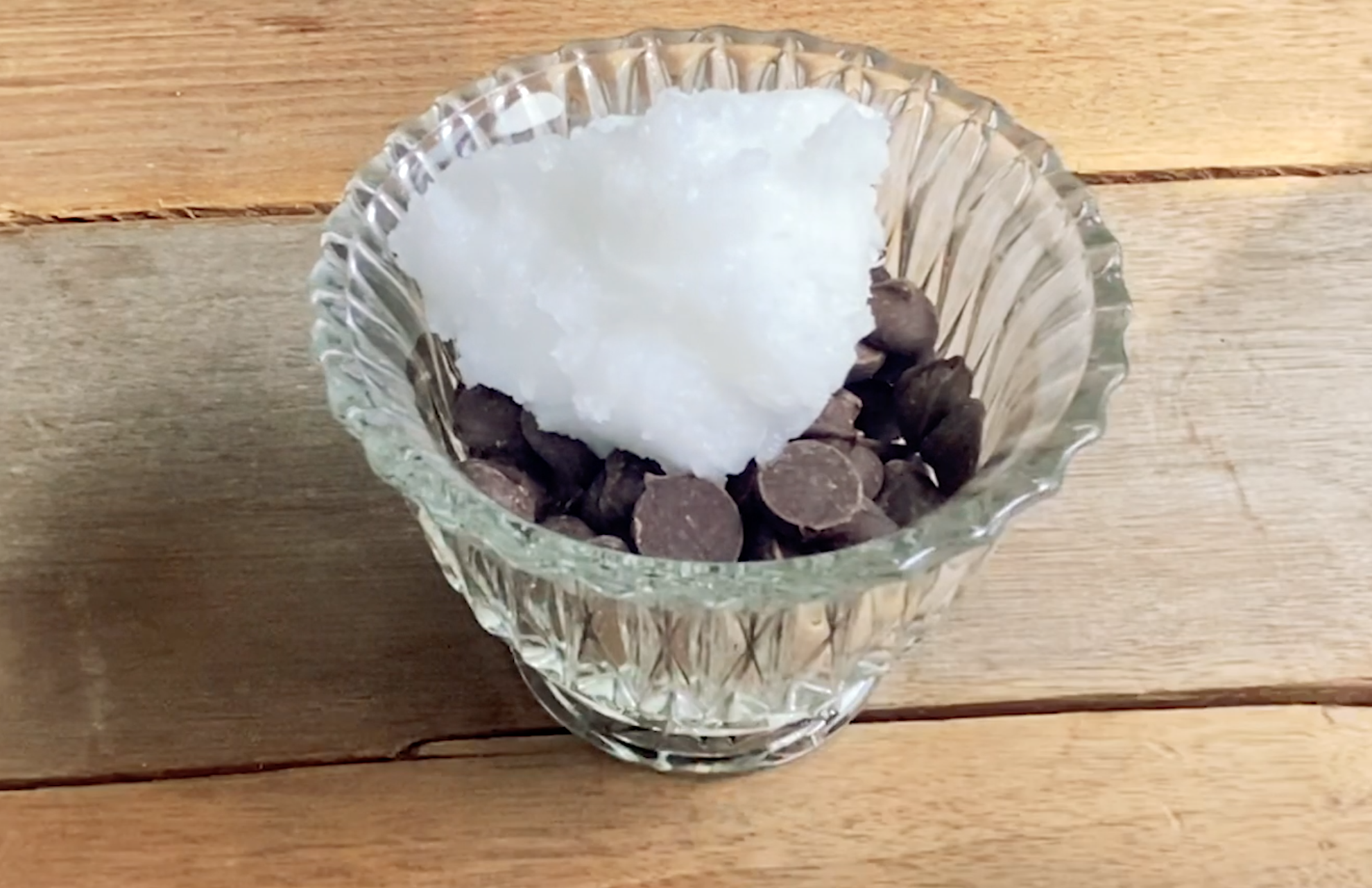 Gently heat the coconut oil and chocolate in a microwave, toaster oven, or double boiler until melted (not too hot!). I like heating it in 30 second increments in the microwave, stirring every 30 seconds. It's usually ready in 90 seconds.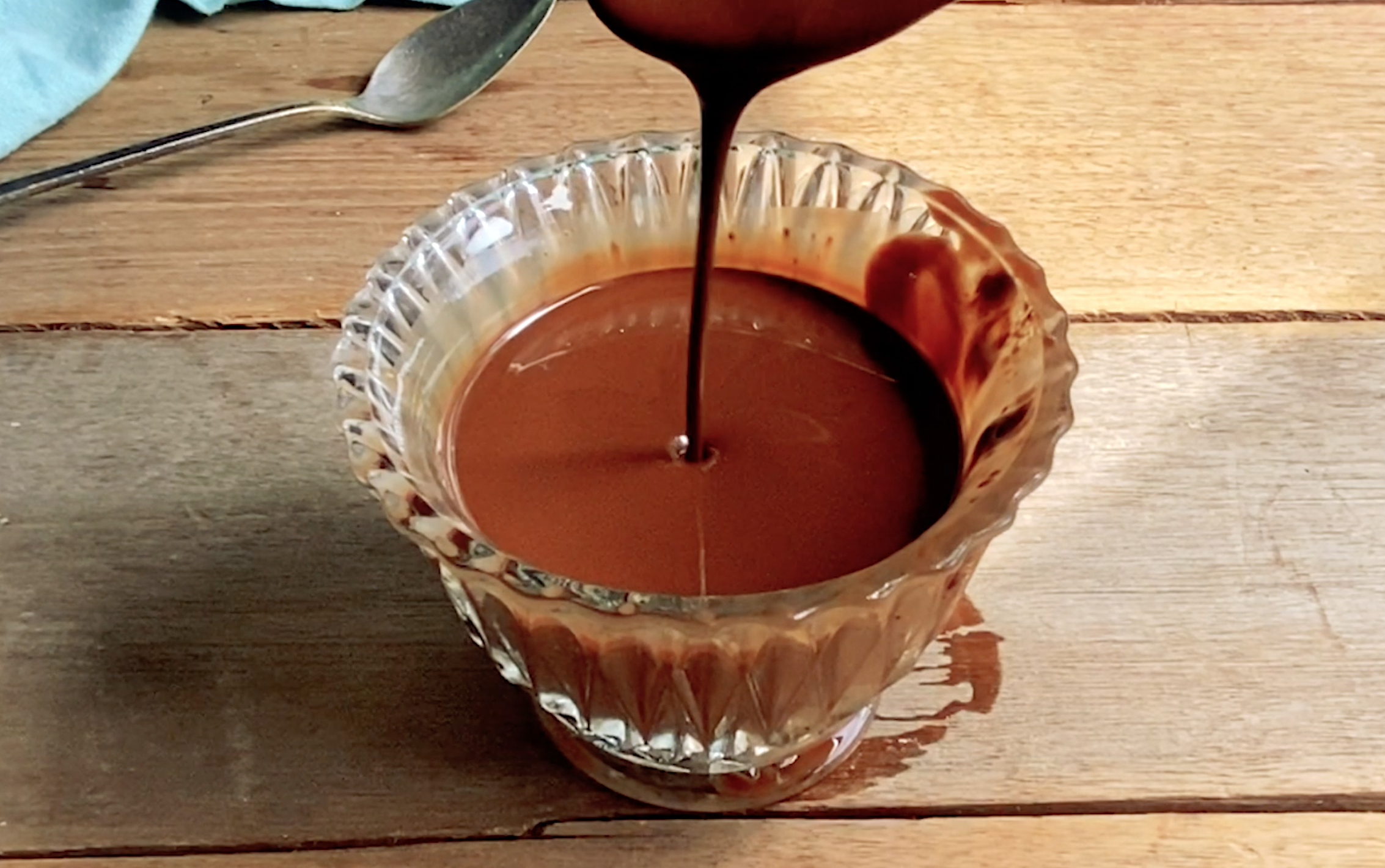 Stir well with a fork or whisk and drizzle over your favorite ice cream.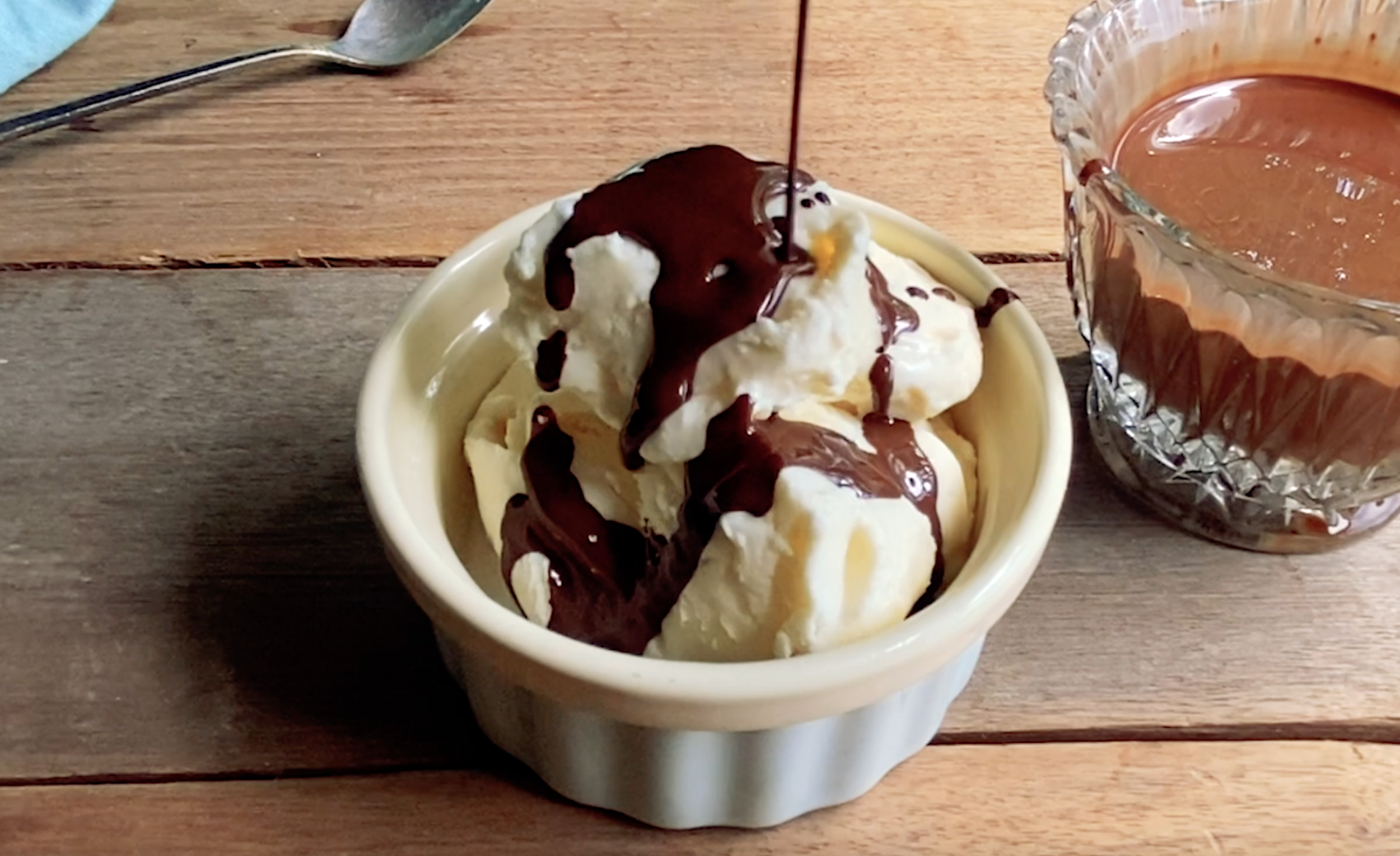 Magic Shell Serving Ideas
One of my guilty pleasures is Reese's Blizzards from Dairy Queen. I crave them even when I know how bad they are for me. This magic shell helped me come up with the PERFECT replacement!
Just take a couple scoops of vanilla ice cream, then add 1-2 tablespoons of your favorite natural peanut butter and drizzle with chocolate magic shell! It's a Reese's blizzard, Healthy Christian Home style!
Here are some other ways to serve it:
Serve over chilled cheesecake
Add it to my chocolate avocado mousse
Sprinkle with shredded coconut and nuts (pictured)
Add strawberries to make chocolate covered strawberry ice cream!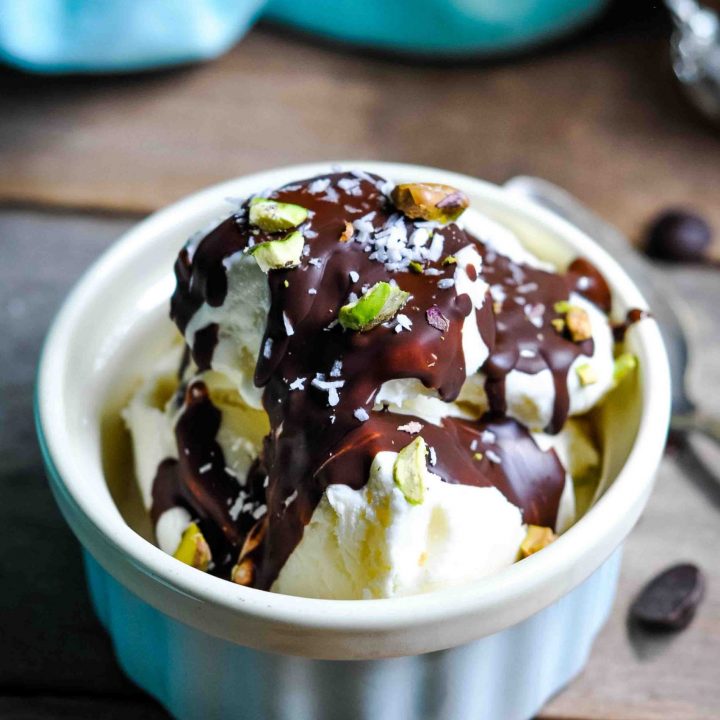 Yield: 8 servings
Chocolate Magic Shell (2 Ingredients!)
Prep Time: 4 minutes
Cook Time: 1 minute
Total Time: 5 minutes
Try this 2-ingredient chocolate magic shell recipe for dessert. Just melt dark chocolate chips and coconut oil together for the perfect ice cream topping!
Ingredients
1/2 cup dark chocolate chips (or bar, cut into pieces)
1/4 cup extra virgin coconut oil
Instructions
In a small bowl, microwave chocolate chips and coconut oil on HIGH for 30 seconds.
Stir. Microwave for an additional 30-60 seconds or until melted.
Stir thoroughly and drizzle over your favorite frozen treat.
Store in an airtight container at room temperature or in the refrigerator. Use within 2 weeks.
Notes
If you don't want to use the microwave, you can also heat the ingredients in a double boiler or toaster oven and stir well.
Recommended Products
As an Amazon Associate and member of other affiliate programs, I earn from qualifying purchases.
Nutrition Information:
Yield:
8
Serving Size:
1
Amount Per Serving:
Calories: 118
Total Fat: 10g
Saturated Fat: 8g
Trans Fat: 0g
Unsaturated Fat: 2g
Cholesterol: 1mg
Sodium: 3mg
Carbohydrates: 6g
Fiber: 1g
Sugar: 5g
Protein: 1g
Magic Shell Recipe notes:
If you don't want your magic shell to have any coconut flavor, use refined coconut oil which has no taste. I like the coconut flavor (it isn't strong), but to each their own.
You can store your magic shell at room temperature tightly covered or in the fridge. Re-heat when ready to use. Use within 2 weeks.
If you prefer not to use a microwave, you can melt everything together in a double boiler on medium heat or in a toaster oven in an oven-proof dish.
What's your favorite healthy-ish chocolate dessert?
PIN IT!