Healthy chocolate mousse that's packed FULL of nutritious ingredients and deliciousness? Yes, please! A light dessert with avocado, chia seeds, coconut milk, and dark chocolate that tastes super decadent.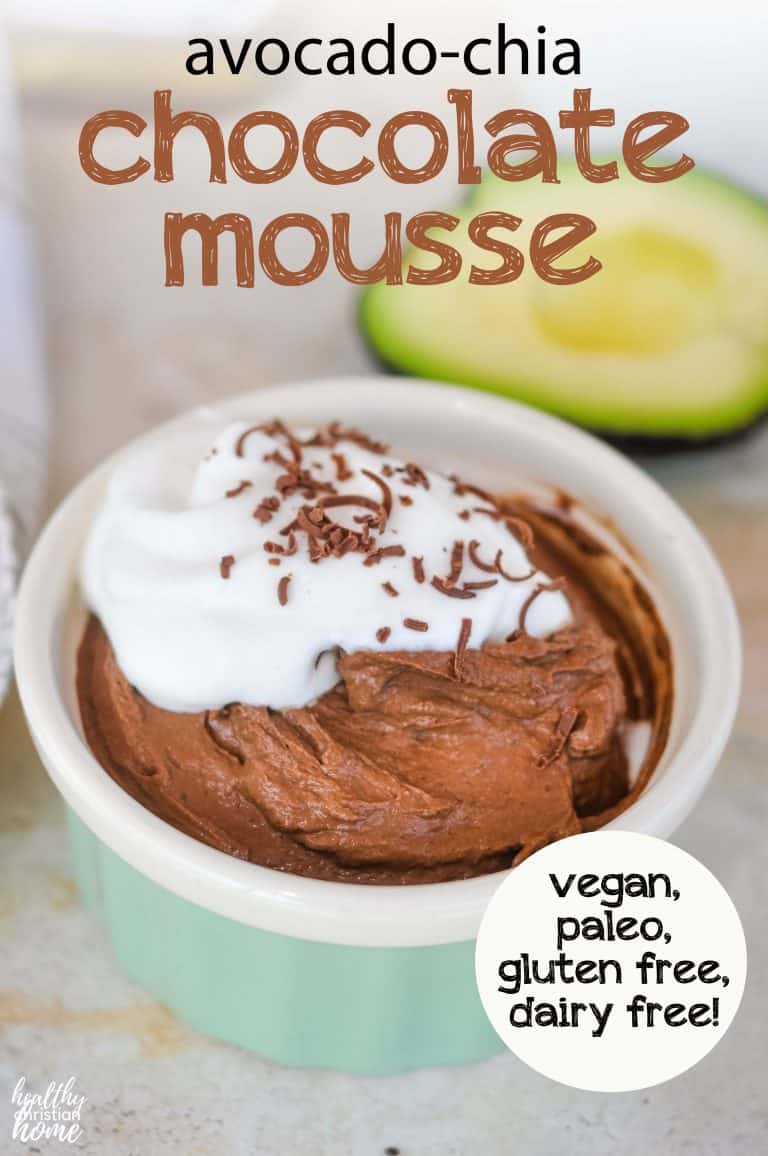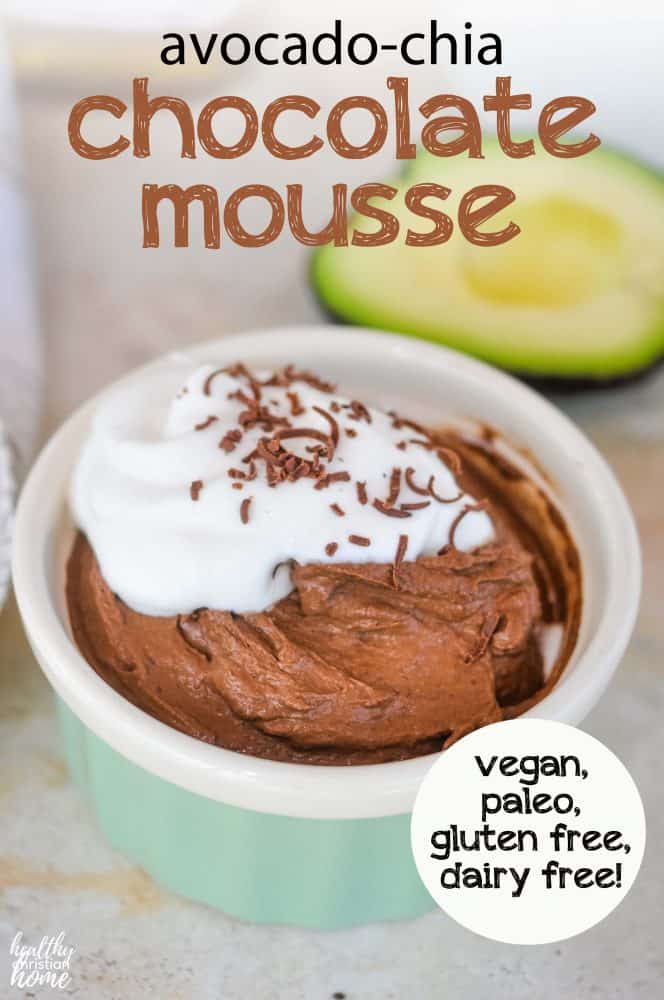 I'm a chocolate girl. Take away just about any food, and I'll survive. But chocolate is a no-go.
Pretty much every night, I eat a couple of my favorite truffles with a cup of hot tea. But lately, I've been whipping up this delectable chocolate mousse as a healthier alternative. It's totally guilt-free and healthy!
Richard definitely approves. It's his favorite thing for me to make currently. My boys love it too, and get so excited when mommy makes "chocolate pudding." I love that they are eating super healthy food, and they don't even know it! 😉
Another great thing about this recipe is that it literally takes 5 minutes to whip up. Just add all the ingredients to a high powered blender and blend until smooth. Refrigerate overnight (or, if you're in a hurry to eat it, freeze for 30 minutes). That's it! It's even better served with whipped cream (what isn't?).
I find that this pudding definitely satisfies my chocolate craving in a healthy way so don't feel deprived. If you are trying to eat clean but struggle with giving up desserts and sweets, this healthy chocolate mousse is the perfect recipe for you.
Healthy Chocolate Mousse Ingredients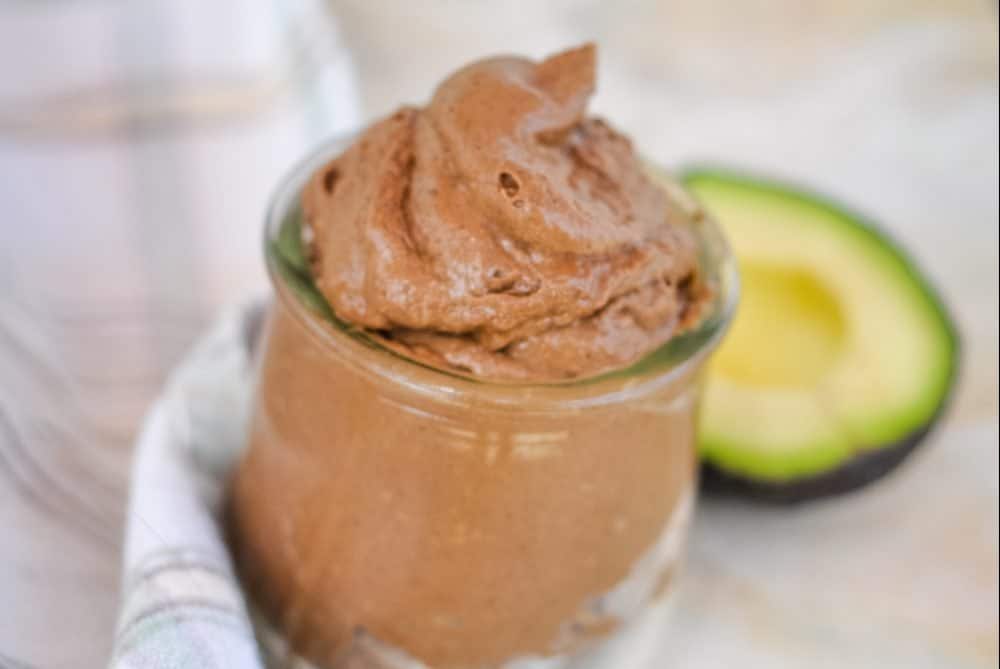 I first started to think about making this after writing this post about chia seeds. I found some yummy chia pudding and mousse recipes on Pinterest and came up with my own creation.
The ingredients in this recipe are 100% clean. There is even a paleo or sugar free option if you need it. Let's look at each ingredient in detail.
Canned coconut milk
You need the canned kind for this recipe, since the kind in the carton (or homemade) is too thin. Canned coconut milk tends to be a lot thicker and have more coconut cream, which is essential for the thickness of the mousse. You can find my favorite kind of coconut milk here – it has a TON of cream. I like to buy it in bulk online and use it for desserts and smoothies.
Coconut milk has lots of health benefits. It's a rich source of lauric acid, which has protective benefits for the heart. It's also got plenty of electrolytes to balance the body, and can assist with muscle creation and fat loss (source).
Avocado
Avocados are super trendy right now, and for good reason. Not only do they add a smooth and creamy texture to the mousse, they are packed with nutrition. One avocado contains 20 different vitamins and minerals, including Vitamin K and folate. It's also the only fruit containing heart-healthy monounsaturated fat (good fat).
For a long time, we didn't eat avocados much because the individual ones are expensive and seemed to go bad really quickly. But then we bought one of those large mesh packs with a bunch of avocados inside. They are smaller, but it is more economical to buy them this way and they seem to be better quality too! The ripeness is perfect and it takes them longer to rot. We have been using them to make tons of guacamole and this healthy chocolate mousse!
Dark Chocolate
This recipe calls for either dark chocolate chips or chopped dark chocolate squares. If you are sugar free or paleo, you can use unsweetened baking chocolate. You might just want to add a little extra maple syrup to achieve the desired sweetness. Another great option is Lily's Dark Chips, which uses stevia as the only sweetener.
I like Ghirardelli 60% dark chocolate chips. But you can use whatever you have on hand. Using a high powered blender is pretty important for the chocolate to blend totally smooth. If you don't have a high powered blender, you should be able to use a couple spoonfuls of cocoa powder instead. If you do so, tell me how it turns out in the comments.
I LOVE the fact that chocolate has health benefits! It fights free radicals, it's good for your brain and heart, PLUS it's full of antioxidants. You can't go wrong.
Chia Seeds
Chia seeds are one of the best superfoods out there, and can be added to anything since they are tasteless. They are similar to gelatin, in that they help thicken sauces and liquids. In this recipe, they add nutrition and help thicken the mousse. Chia seeds are rich in Omega 3s, antioxidants, and more. You can read all about them in my post 15 Weird and Wonderful Ways to Use Chia Seeds.
Maple Syrup
This is a great sweetener to use instead of sugar, since it is 100% natural and has a lower score on the glycemic index (which means it's easier on your blood sugar). It also contains calcium and potassium, among other nutrients (source). Maple syrup adds a wonderful flavor and sweetness to this mousse.
Vanilla Extract
This ingredient is well-known for it's popularity in baked desserts, but did you know it's also really good for you? I didn't, until researching for this post. Pure vanilla extract (not the imitation stuff) fights inflammation, provides antioxidants, and even boosts mental health (source).
Of course, it adds to the deliciousness factor of this creamy dessert.
More Healthy Desserts to Love:
How to Make Chia Avocado Healthy Chocolate Mousse Recipe
Psst… there's a printable recipe card at the bottom of this post for your convenience.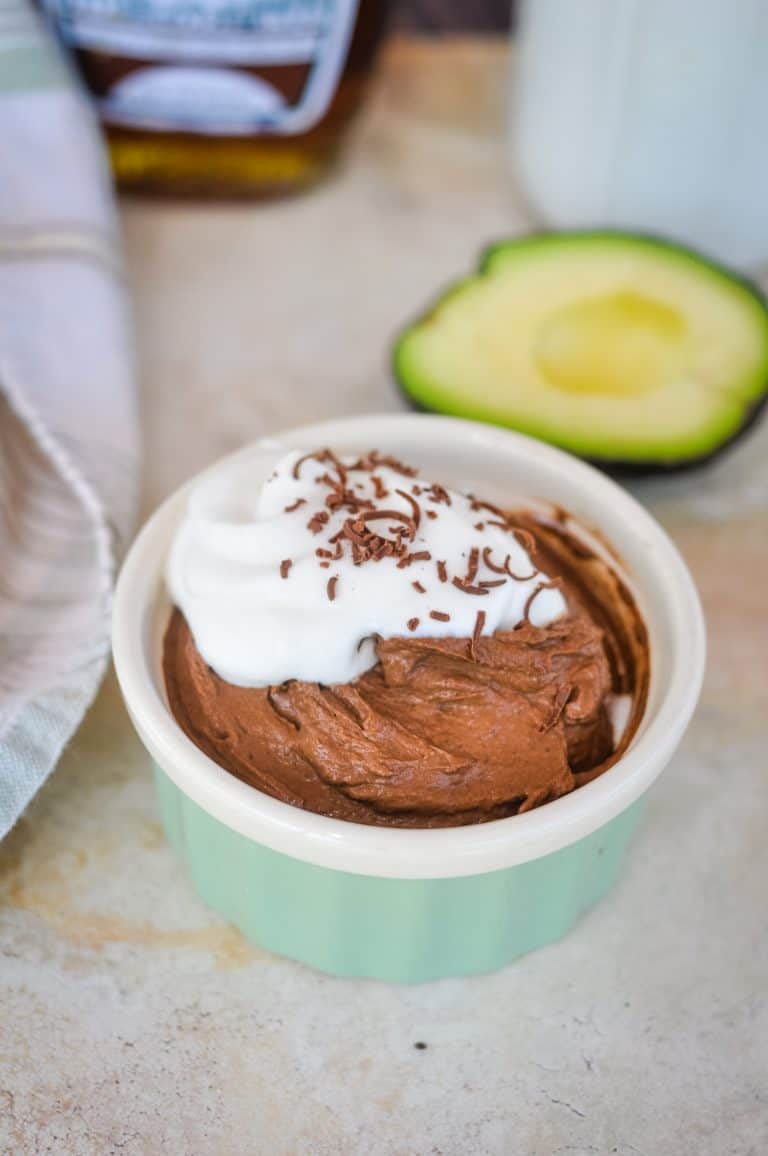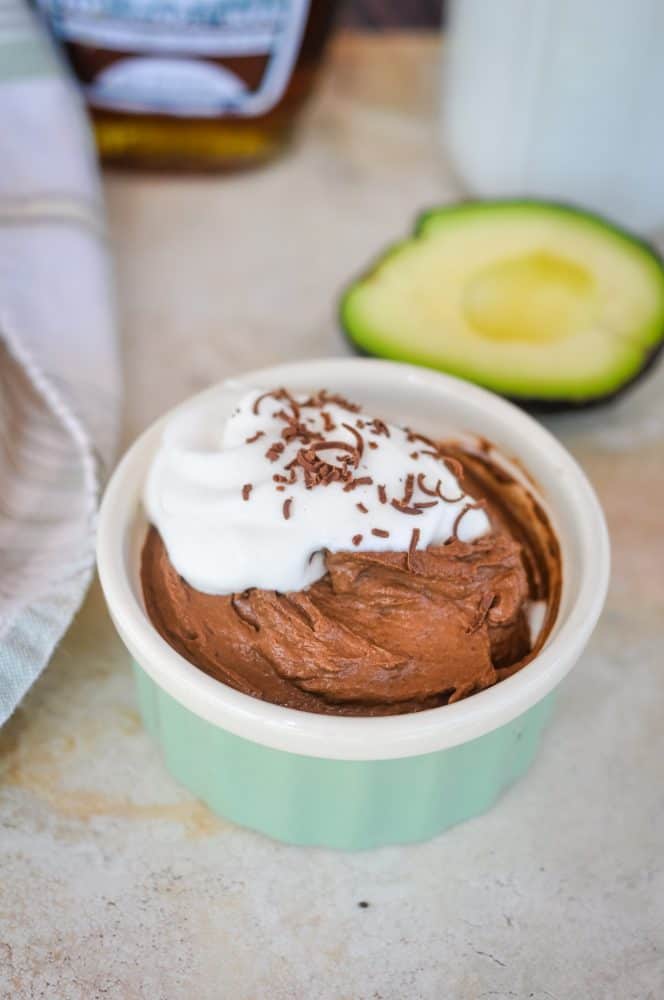 First, add coconut milk, chia seeds, maple syrup, avocado, vanilla extract, and dark chocolate to the blender.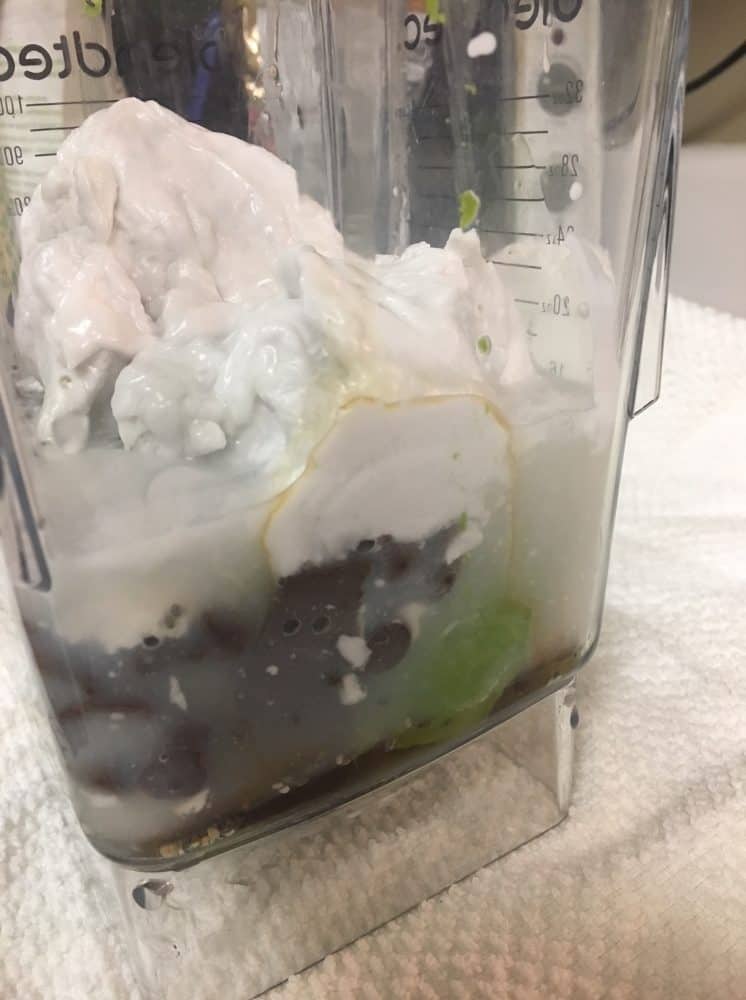 Blend on high until super smooth. I make this in our high speed Blendtec on the Ice Cream setting, which creates the perfect consistency. I'm not sure how it would work in a regular blender, but I think any blender will do as long as you blend it on high until it is very smooth.
Note: You may want to substitute ground chia seeds and cocoa powder if you are using a regular blender, as whole seeds and chocolate chips may not pulverize completely.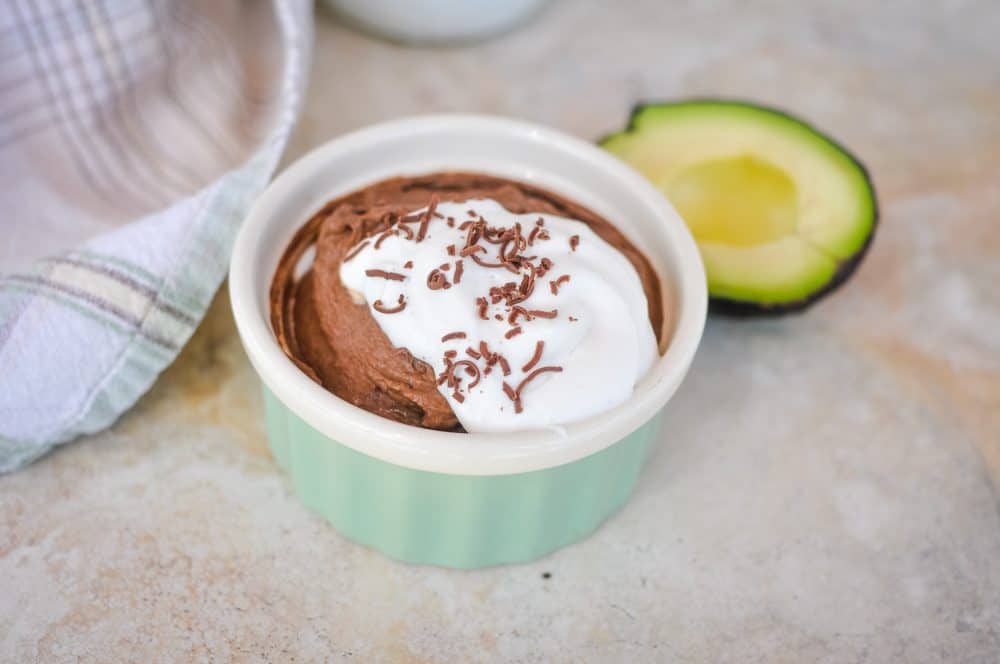 Pour the mousse into a shallow container and refrigerate overnight for best results. If you want to eat it immediately, you can freeze individual servings in small cups for 30 minutes.
Top with my homemade whipped cream, if desired. Enjoy – guilt free!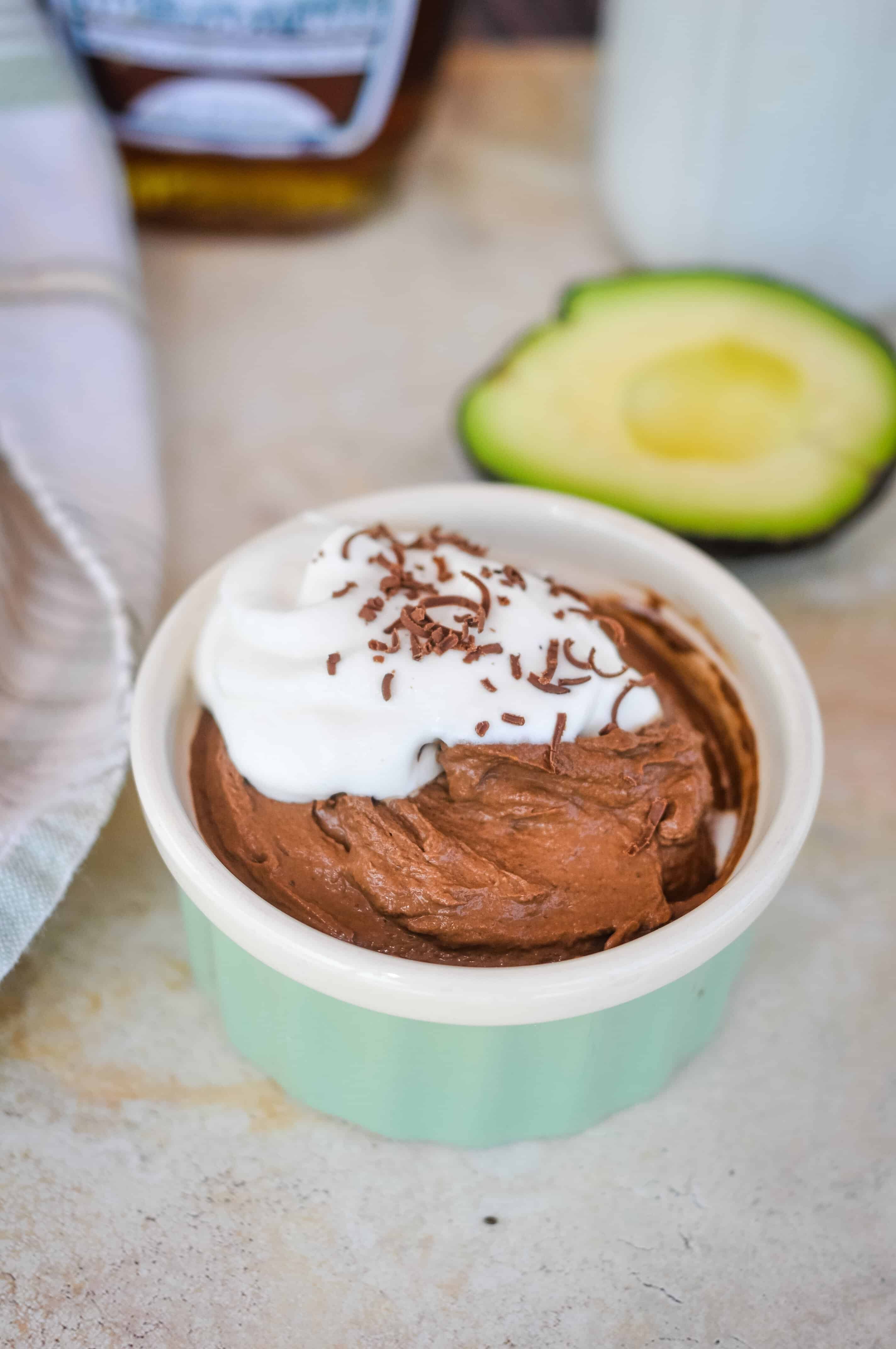 Yield: 6
Chia Avocado Chocolate Mousse
Prep Time: 5 minutes
Cook Time: 30 minutes
Total Time: 35 minutes
Healthy chocolate mousse that's packed FULL of nutritious ingredients and deliciousness? Yes, please! A light dessert with avocado, chia seeds, coconut milk, and dark chocolate that tastes super decadent.
Ingredients
1 13.5 oz can organic coconut milk, with cream
1 avocado
2/3 cup dark chocolate chips, (Lily's for paleo)
2 tbsp chia seeds
2 tbsp pure maple syrup
1/4 tsp pure vanilla extract
Instructions
Combine all ingredients in a high powered blender.
Blend on HIGH until smooth, about 1 minute.
Pour into a shallow container and refrigerate overnight. To eat immediately, pour single servings into cups and freeze for 30 minutes.
Serve with whipped cream, if desired.
Notes
For a paleo option, use Lily's dark chocolate chips sweetened with stevia. Alternatively, you can use 1 TBSP cocoa powder with 2 additional TBSP maple syrup.
Recommended Products
As an Amazon Associate and member of other affiliate programs, I earn from qualifying purchases.
Nutrition Information:
Yield:
6
Serving Size:
1 grams
Amount Per Serving:
Calories: 345
Total Fat: 28g
Saturated Fat: 18g
Trans Fat: 0g
Unsaturated Fat: 8g
Cholesterol: 7mg
Sodium: 19mg
Carbohydrates: 23g
Fiber: 5g
Sugar: 13g
Protein: 4g
What's your favorite healthy dessert?
With Joy,

PIN IT!