Our family moved six times (twice internationally!) within a decade. Challenging? Yes. A blessing? Most definitely. Here are 9 life lessons from this experience that I'll carry with me on my journey through life.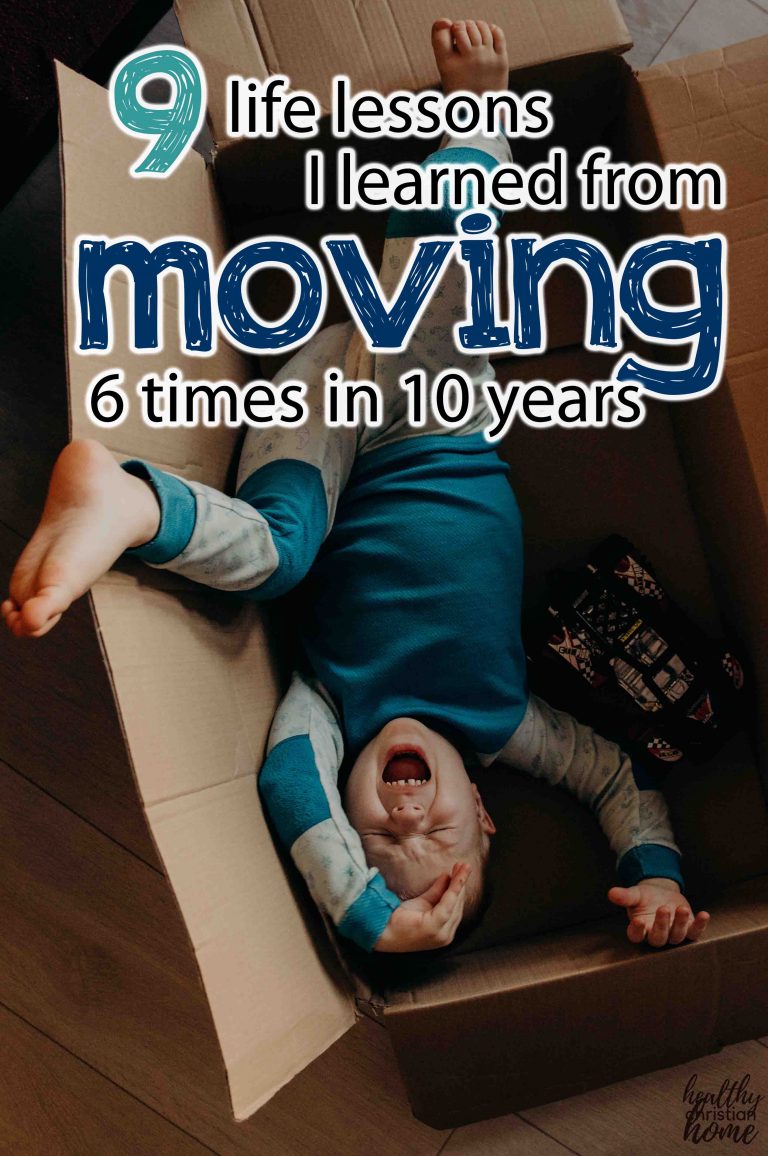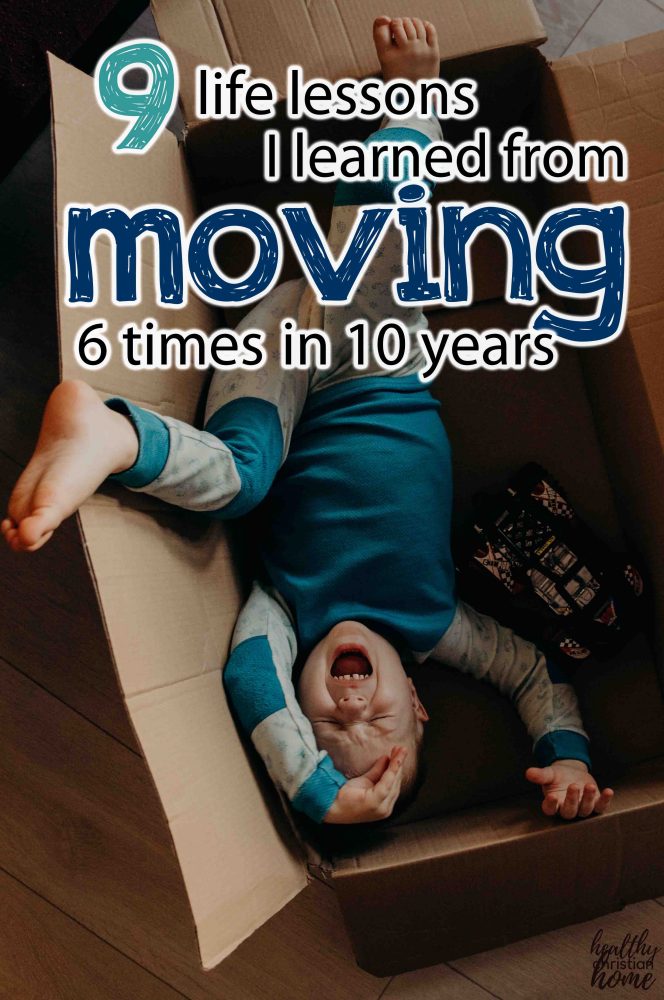 The nomadic challenges of ministry family life
No one makes plans for their future with, "I think I'll become a nomad and move countless times…" But, sometimes circumstances (especially working in ministry) make this a necessity.
Deep down, we ALL want a sense of home, roots, belonging somewhere.
And there seems to be a misconception about minister's families that we are somehow superhuman. That we don't need or miss our family as much as "regular people." That we are somehow divinely empowered to bear the distance more easily.
"I could never live that far away from my parents/kids/grandkids. I don't know how you do it," well-meaning people remark.
Neither do we. While we make it work and we love where we are, we sure wish we could be in two places at once.
While there are always ample situational reasons for our nomad-like existence, people haven't always understood. One person actually commented, "You must really enjoy moving! You're restless and can't stay put."
If only that were true.
On the contrary, moving so many times (twice internationally) wasn't our idea. Twice we had no choice BUT to pick up and leave, which made these transitions all the tougher.
Other times, an opportunity came up which we could not pass up to benefit for our growing family.
Though it's easy to have a pity party about the realities of nomadic life, I want to flip the conversation. Lately I've been contemplating some major blessings I've received and lessons I've learned from moving 6 times in 10 years.
These lessons can be applied to all of us, whether you're a roamer or you've been in the same small town since birth.
9 Life Lessons I learned from Moving 6 Times in a Decade
While many times I've fought against the idea, moving so much has actually made me a better person, because I've learned the following lessons:
1. Heaven is going to be wonderful.
When I'm missing a past home, dear friends I can't see anymore, or family that's far away, I always come back to this.
Heaven is a wonderful place, filled with glory and grace.
These times make me long for heaven, because I know all the dearest people in the world to me will be there. And it motivates me to reach those who are dear to me who still don't know Jesus.
I'm also holding this promise of Jesus close to my heart:
And everyone who has left houses or brothers or sisters or father or mother or children or lands, for my name's sake, will receive a hundredfold and will inherit eternal life."

– Matthew 19:29
2. Never take a minute of family time for granted.
If you are blessed enough to have parents or grandparents or adult kids or siblings nearby, hold them close.
Every single second we spend with our parents and siblings at holidays, with the cousins playing together and laughing, is a rare gift. It's something I took for granted growing up, and never will again.
The pain of parting is nothing to the joy of meeting again.

– Charles Dickens, Nicholas Nickelby
3. Cement your marriage in stone.
Being away from family for most of our marriage has blessed Richard and I in one unminstakable way — it taught us to cling to each other. We had no other choice, and I think it has blessed our marriage immensely.
God elevated the marriage relationship above all others in Genesis 2:24, "Therefore a man shall leave his father and his mother and hold fast to his wife, and they shall become one flesh."

No matter where you live, let your spouse be your truest home. Families and locations change, but you have committed to your spouse for life. Cementing your life in this fact will bless your family for generations.
Read next: 12 Prayers for Married Couples to Invigorate Your Relationship
4. Be less rigid and more flexible.
I don't describe myself as a flexible person — I like things a certain way and don't mind saying so. But moving a ton has taught me to lighten up and realize there are always new beginnings and experiences to be had. Nothing is final, life is transient, so enjoy the ride. (Even when you have to sell the '49 Chevy, like my husband did.)
5. A place doesn't make a home. People do.
Alas, I'm still learning this lesson. Some places I've lived have 'felt' more like home than others.
But the deep-down truth is that the people in your life make a home. Whether that's family, friends, or neighbors — the people you allow into your life and show love to are your true home.
Family does not only consist of those with whom we share our blood, but also of those for whom we'd give our blood.

– Charles Dickens, Nicholas Nickleby
Read next: I Want a Little House on the Prairie Life and Deep Down, You Do Too
6. There are kindred spirits everywhere.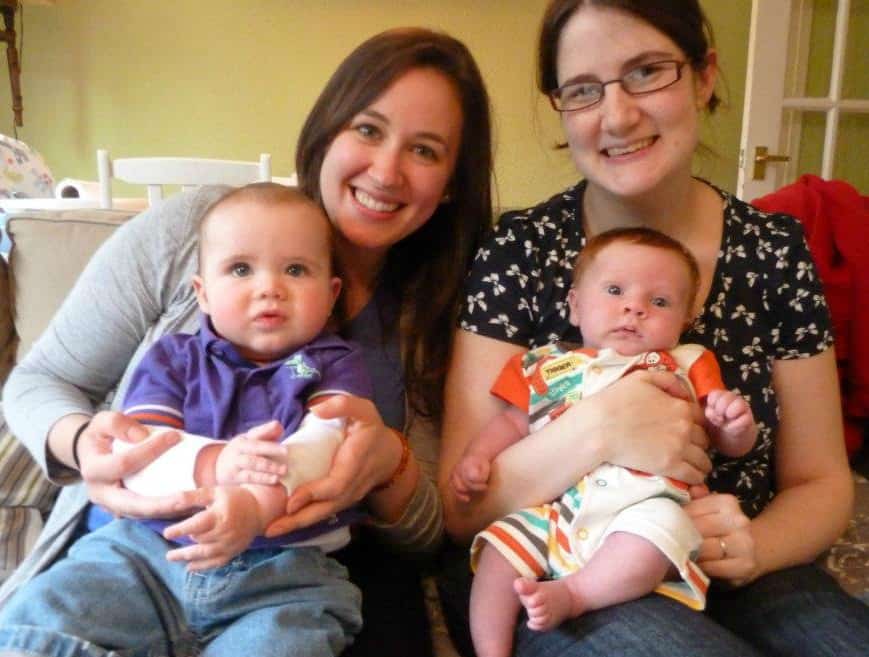 Remember in Anne of Green Gables, where Anne talks about finding "kindred spirits?" They really do exist — all over the world.
As we've moved around, we always have a handful of super-special people in each place that mean the world to us. There are mentors, adopted grandparents, early motherhood friends, college friends, or side-by-side workers in the mission field who are only a Skype phone call away. And a place to stay when we go visit! 😉
It's funny, when we were going through one of the most difficult times in our life in Scotland, that was when God blessed us with the dearest and closest friends we've ever had as a couple. These families impacted our life in amazing ways. Shout out to you guys – you know who you are!
7. Slow down judgment of people from other walks of life.
Fresh out of college and before our first move, I had life figured out… or so I thought.
But moving to another country and experiencing hardships in a place far away from family support changes you. And makes you realize you don't have life figured out, just like everyone else.
Thank goodness I know the One who does.
Having this experience taught me that most everyone is simply doing the best they can with what they've been given. So many people haven't been blessed with a Christian home, parents who are together, and a knowledge of God's Word.
It causes me to pause, count my blessings, do a whole lot less judging and a whole lot more loving.
8. This world is an amazing, beautiful place.
I am now blessed to have so many places to hang my hat. Arkansas, Tennessee, Scotland, Kentucky, Georgia, Ohio and now Alabama. Plus, my husband is a New Zealander, so this is home to him, too.
These places all hold special memories for our family, and I could go to any of these places and feel at home in a different way.
To feel 'at home' in so many corners of the globe is a rare blessing. It's why we sip Scottish tea and watch British shows in the Deep South of Alabama, with New Zealand ferns and kiwi birds decorating our home.
9. Praise God for His design for the church.
It's been such a blessing to see how the church functions in different areas of the world. We have been loved so deeply with amazing support systems everywhere we've gone. What an incredible plan God has for His people!
It doesn't matter where where you go, there are people striving to follow God's plan for the church as it is laid out in the Bible. We've seen it in action, and it has changed us!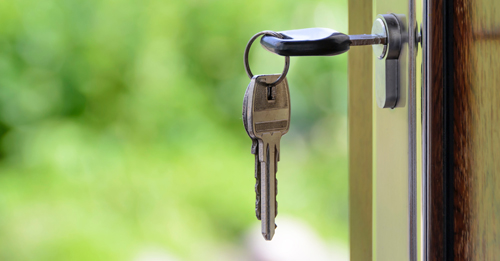 Ideas for Reducing Stress During a Big Move
Now, if you happen to be moving in the near future, here are some helpful tidbits I've picked up along the way.
I always manage to let stress get the better of me when I move, even though I know God's got this and He's already proven Himself to me. My verse for during these times is "The Lord is my portion" says my soul, "therefore I will hope in Him." So I try to take "moving season" one day at a time and set my mind on things above.
Here are some tools that help me de-stress during these times.
Bible+ 6 app – I love doing my Bible study on this app. It has several great Bible reading plans to choose from. The one I'm using guides me through reading the entire Bible in 250 days. Even though I don't usually finish the plan each day, it keeps up with where I am. I like that I read different parts throughout the Bible simultaneously, and that I don't have to carry any heavy books – it's all right on my phone.

Bach flower remedies – these homeopathic drops are a natural solution to stress management. I've started taking these again this week to help "take the edge off" in a natural way.
Adrenal Health – When you go through lots of stress, your adrenal glands can take a beating. After being diagnosed with adrenal fatigue last year, I've had to be a lot more conscious of taking care of my body and not overdoing it (read more on adrenal fatigue from Red and Honey here). I do notice feeling that way more if I'm under extra stress, so these Adrenal Health adaptogenic herbs from Gaia Herbs give my adrenals an extra boost.

All of this is in addition to basic self-care. I'm trying to get good sleep and eat well, but that's not easy when you're trying to move!

Now for a few practical moving tips.
Below, I've compiled a few moving tips that have made moving easier for me this time around, plus some I wish I'd seen earlier!
Color code your boxes by room via Hip2Save

Put packing tape over liquid bottles, THEN screw on the lid. No leaks!

Take a photo of electronic connections before packing via Krazy Koupon Lady

Put hanging clothes in trash bags via Budget Dumpster

Keep small drawer items all in the same large Ziploc via Hip2Save

Have a box of cleaning essentials in the car, ready to go for the first day!

Bag & label hardware, screws, etc. for putting specific furniture items together via A Mommy's Life with a Touch of Yellow

Decide (before you go) where to put things when you arrive via Sarah Titus
Join the conversation: Have you ever moved? What was that experience like, and what life lessons did you learn from it?
PIN IT!