Have you ever wondered how to make eggnog without alcohol? This easy non-alcoholic homemade eggnog is the perfect companion for any holiday gathering. Homemade custard, maple whipped cream and a dash of nutmeg will make this a new holiday tradition for your family.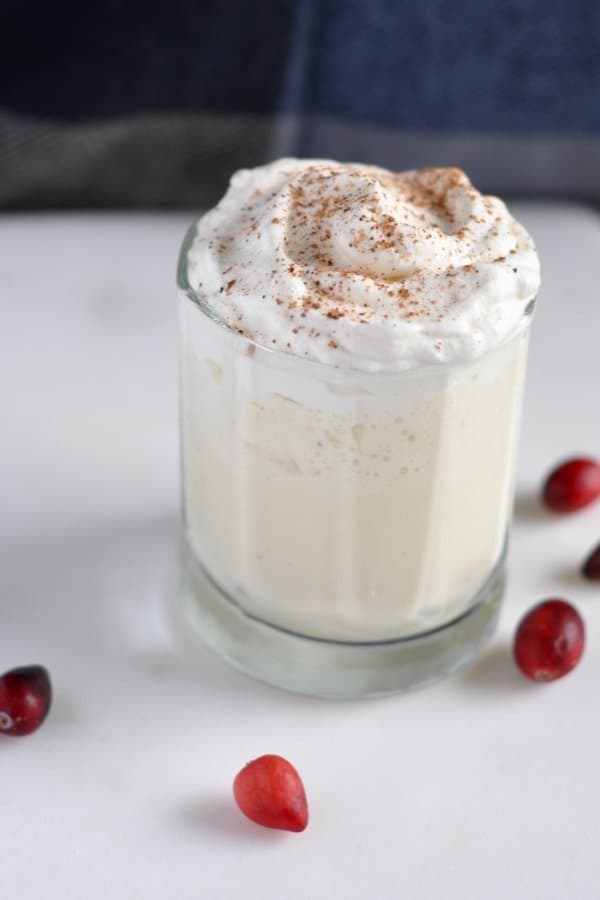 Store bought eggnog is pretty gross, in my opinion. After trying the overpowering, sickeningly sweet drink from that green carton several times growing up, I was decidedly against eggnog.
That is, until I got brave enough to try my mom's homemade eggnog. From then on, my aversion was replaced with love for this frothy winter drink that tastes a lot like ice cream!
This homemade eggnog recipe begins with a simple custard, then adds whipped egg whites and homemade maple whipped cream. It is nothing short of divine! Even my boys love what they call "the ice cream drink."
Even better, this recipe is non alcoholic, which makes it the perfect drink for any gathering. No need to worry about serving it to underage people or those who don't drink (including myself). It's great for everyone!
Originally, alcohol was used in this recipe to preserve the eggs and eliminate the risk of bacteria. We'll talk more in a bit about why this recipe is still safe sans alcohol.
Right up there with homemade wassail, this might just be my new favorite Christmas drink.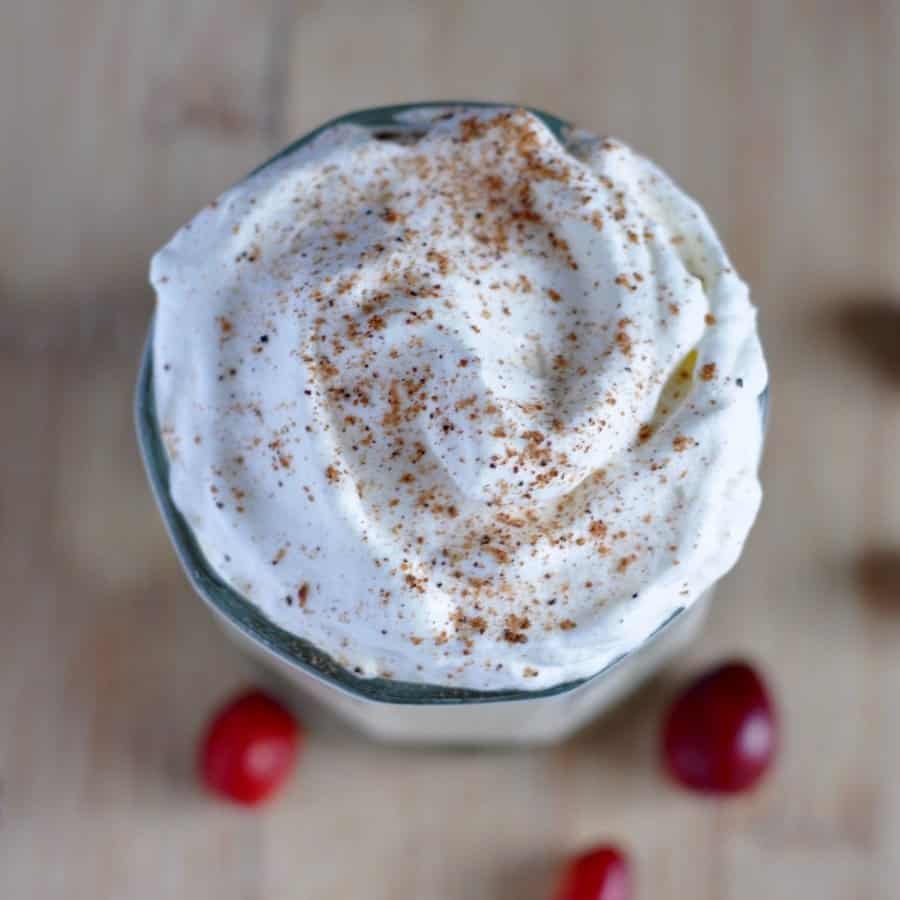 Why homemade eggnog is better than store bought
Is it really worth the effort to make your own eggnog? Definitely yes. I'll tell you why.
Here are the typical store bought eggnog ingredients:
Grade A Milk & Cream, High Fructose Corn Syrup, Egg Yolks, Sugar, Nonfat Milk, Natural and Artificial Flavors, Spices, Carrageenan, Annatto (color), Turmeric (color).
HFCS as the #2 ingredient? Carrageenan? No thank you. We can do better.
Additionally, the FDA is so strict about the use of raw eggs in commercial products that the egg yolk solids are restricted to 1% of the final product. So basically, you're buying a non-eggy eggnog.
Which kind of defeats the purpose.
That being said, you do have to be careful with the consumption of raw eggs (especially young children, pregnant women or people with health issues). But know that the risk of contamination is extremely small. Read this quote from The Nourished Life about the safety of raw eggs:
…only 1 in 30,000 eggs even has a salmonella problem. If I eat three raw eggs a day, statistics say it would take more than 27 years before I'd actually run across one with salmonella. Of course, I know life isn't about statistics, but you get the point.

Elizabeth Walling from The Nourished Life
So, raw eggs are generally safe – as long as you're healthy and the eggs are really fresh. But consume at your own risk. 
The nutmeg and vanilla extract may also act as a bit of a natural preservative.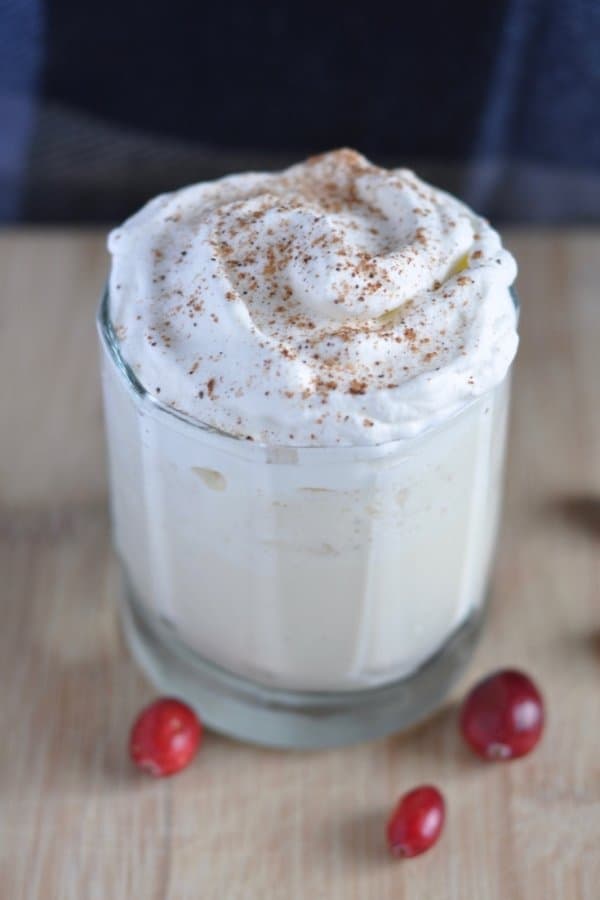 Homemade eggnog nutrition
Homemade eggnog is actually really good for you! Here's the ingredients list:
Whole milk, eggs , organic sugar, whipping cream (with maple syrup), vanilla extract and nutmeg.
Not too shabby!
And here are some of the nutritious things inside:
Great balance of carbs, fat, and protein.
Eggs contain fat soluble vitamins and lots of B vitamins.
Eggs are also a great source of Omega-3s (for brain health) and lecithin (for liver and skin).
Milk and whipped cream are great sources of calcium and healthy fats.
Nutmeg has a high concentration of manganese, which is wonderful for the blood among other benefits (source).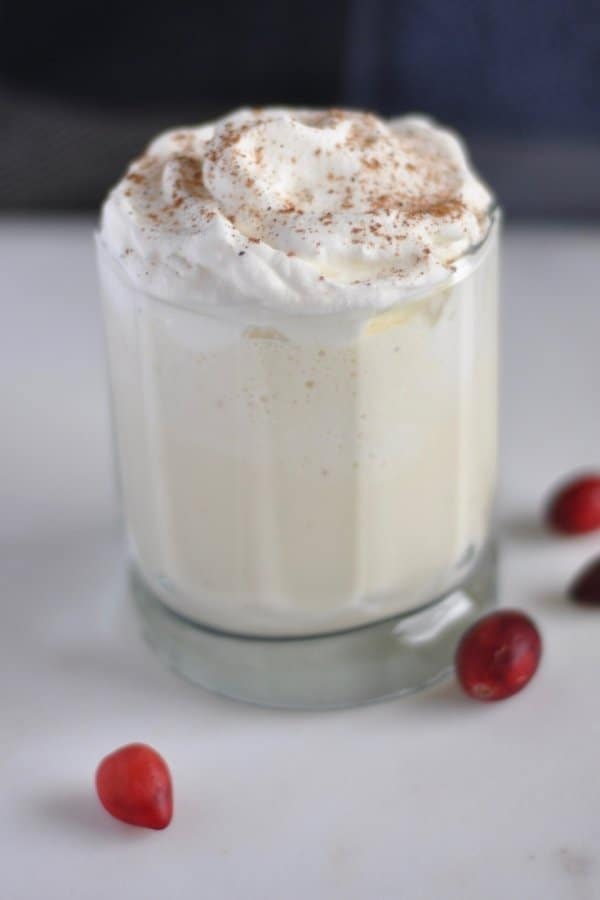 Homemade eggnog recipe notes
This homemade eggnog has cooked yolks, but the whites are raw. So it's very important that you use the freshest, best quality eggs you can find. Consume at your own risk.
When making the custard, keep in mind it will not be very thick. The main point is to heat it to steaming but DO NOT boil. It will thicken slightly and coat the spoon lightly, but the egg whites and cream are what really thickens the mixture.
You may use store bought whipped cream, but homemade is super easy and sooooo much better. It only takes a minute or so to whip the cream with an electric mixer.
Keeps in the fridge for 3 days (although eggnog never sticks around in our house).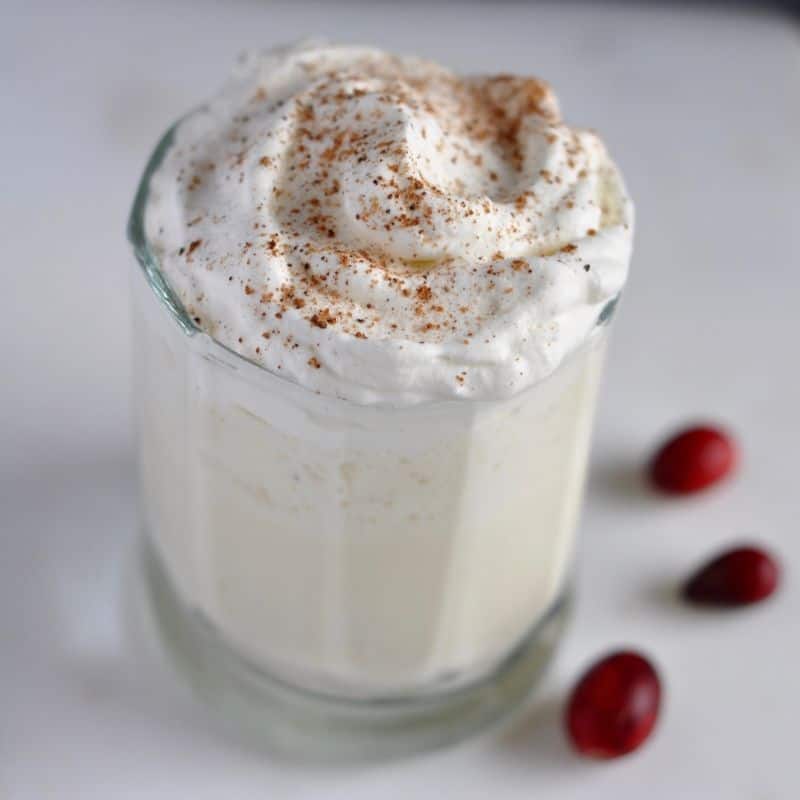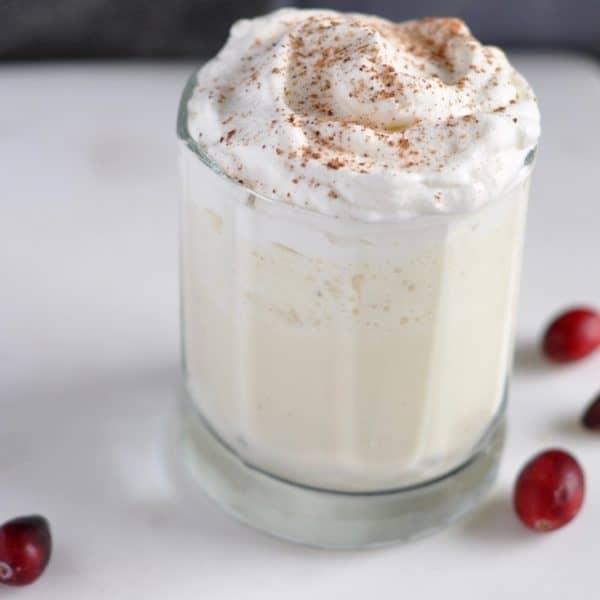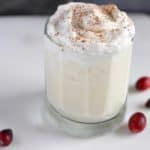 Easy Homemade Eggnog (non alcoholic)
Have you ever wondered how to make eggnog without alcohol? Homemade custard, maple whipped cream and a dash of nutmeg create the perfect holiday eggnog!
Prep Time 10 minutes
Cook Time 15 minutes
Total Time 25 minutes
Ingredients
1/3 cup pure cane sugar organic
2 egg yolks
1/4 tsp salt
1/8 tsp ground nutmeg
4 cups whole milk
2 egg whites
3 TBSP pure cane sugar
1 tsp vanilla extract
1/2 cup heavy whipping cream
1 TBSP maple syrup
Instructions
Beat 1/3 cup sugar into egg yolks. Add salt, stir in milk, and heat on medium heat to make the custard.

Stir frequently as the mixture heats for approximately 15 minutes. Do not allow mixture to boil. It will thicken slightly until it lightly coats the spoon. Remove from heat and allow to cool.

Beat whipping cream and maple syrup together until peaks form. Set aside.

Beat egg whites until foamy. Gradually add 3 tablespoons sugar, beating until soft peaks form.

Add egg whites, vanilla, and half the whipped cream to custard and mix thoroughly.

Chill 3-4 hours before serving.

Garnish with additional whipped cream and a dash of nutmeg, if desired.
Try these other favorite holiday recipes:
Enjoy your homemade 'nog! Have you ever tried homemade?
With Joy,

PIN IT!