Looking for some turbo-charged inspiring words to get you through the day, or a tough life season? These 79 inspirational quotes for Christian women will uplift, empower, and ground you so you can be all God made you to be.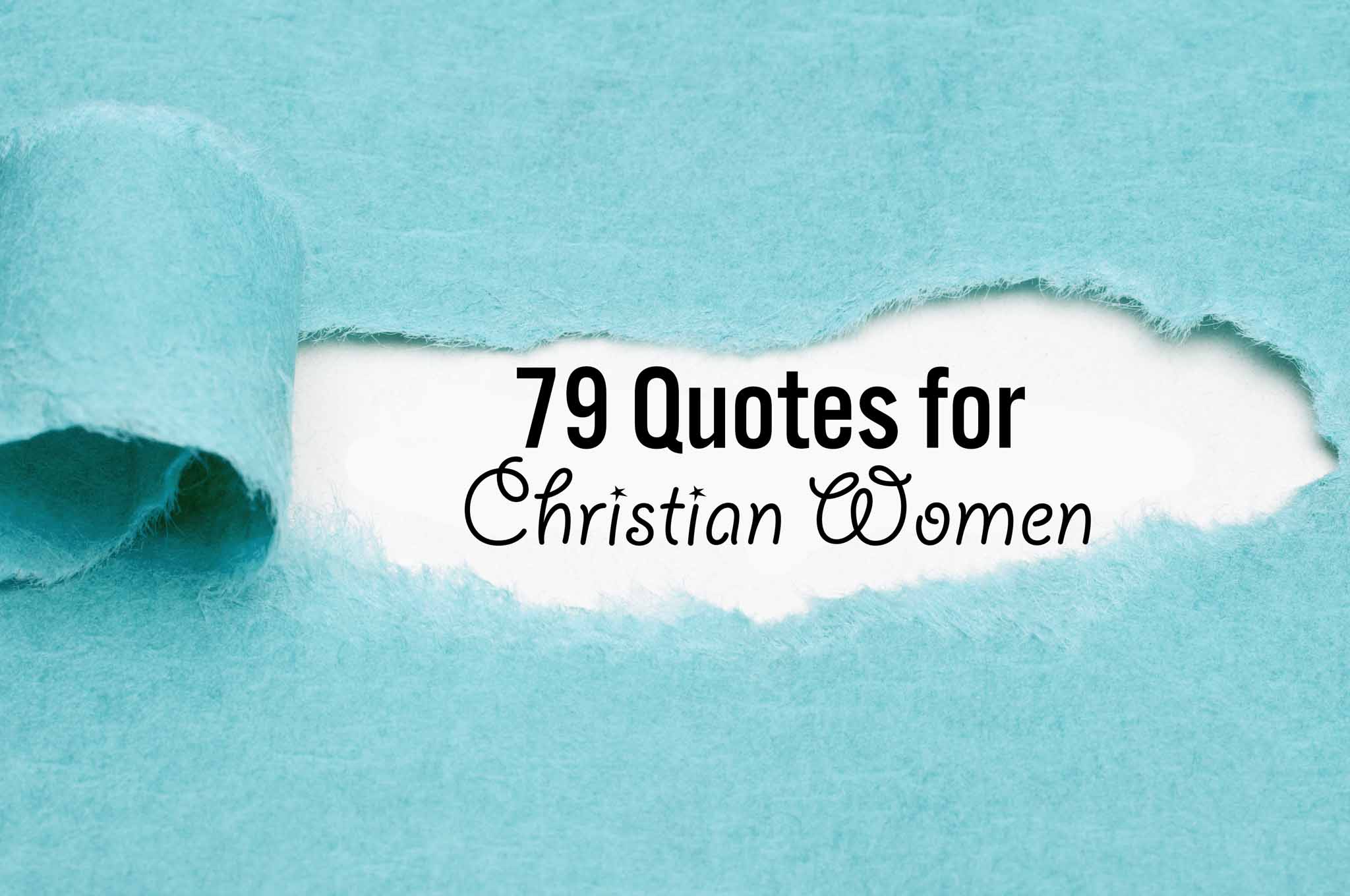 Nothing compares to the word of God for life-giving, transformational words. And I hope you're spending time in the Bible every single day. (Get started with these 100 powerful bible quotes and 30 verses about God's faithfulness).
Quotes from people can be powerful too, in a different way. Sometimes, you're having a bad day and someone says just the right thing to snap you back to reality or soothe your spirit.
This person's words shine wisdom into your life like a flashlight into a dark cave. Words of understanding from people who have been there — they're powerful.
When someone shares the hard-won wisdom God has taught them, it's gold! These words provide much-needed relief for getting through tough seasons.
So today, I compiled over 70 inspirational quotes for Christian women, to lift you up when you need a boost. Hopefully these quotes will inspire, convict, and make you feel like you're not alone. (I also added a bunch of them to the video below, along with some cozy scenes around our lake country home.)
79 Inspirational Quotes of Wisdom for Christian Women
(Note: A select few of these quotes are from books I've read, which I've linked next to the author's name on the quote.)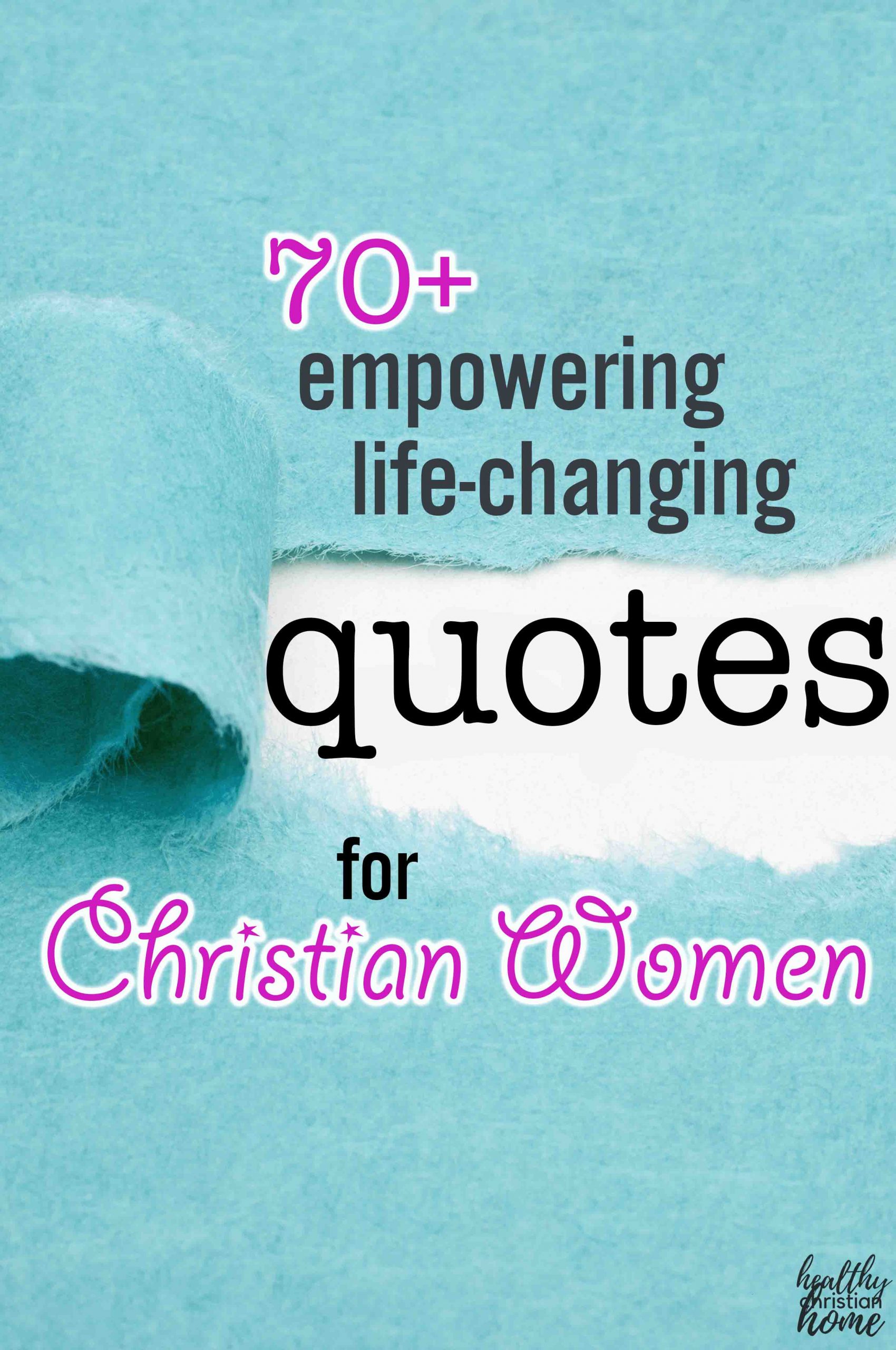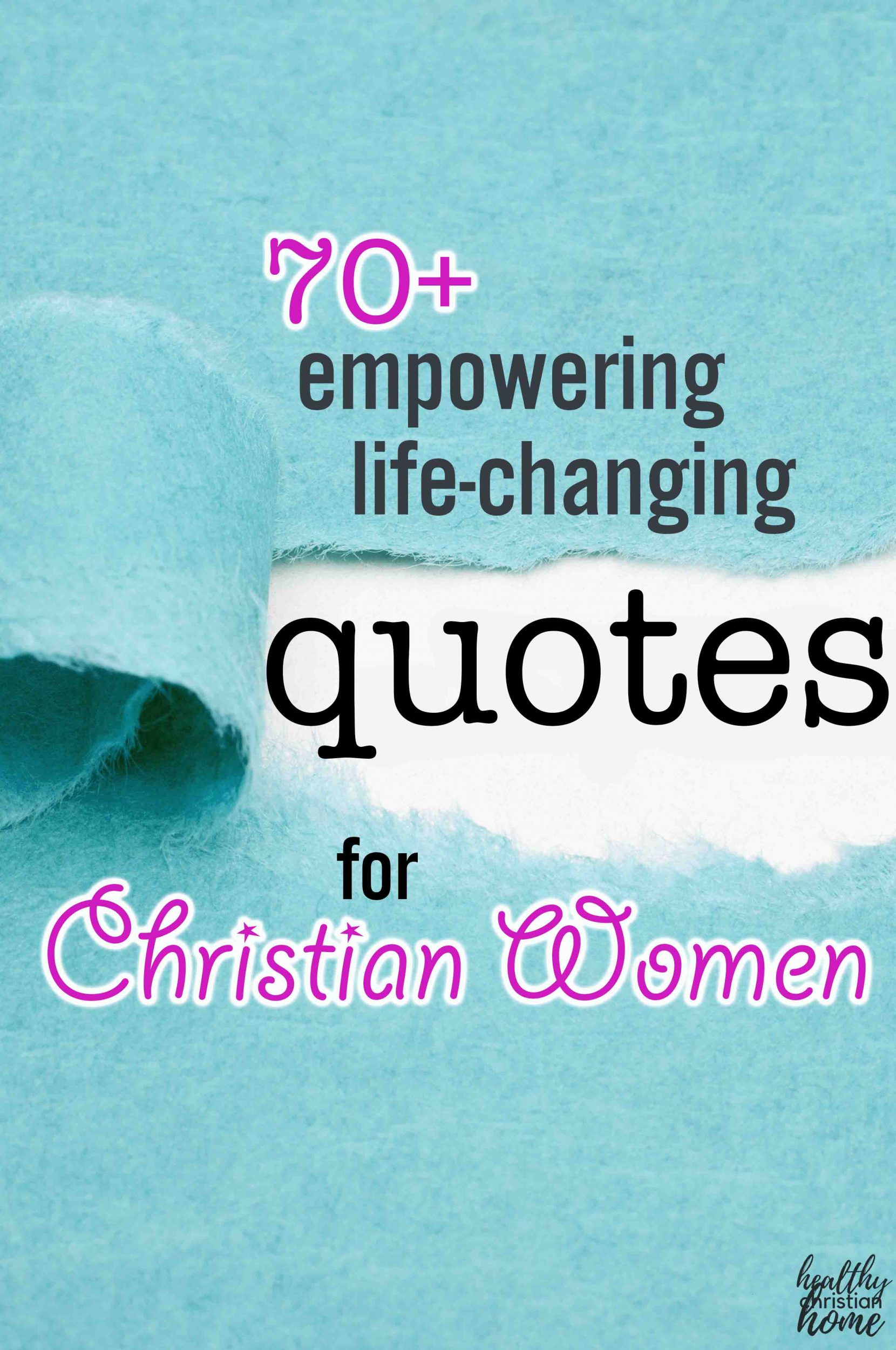 Quotes on faith in God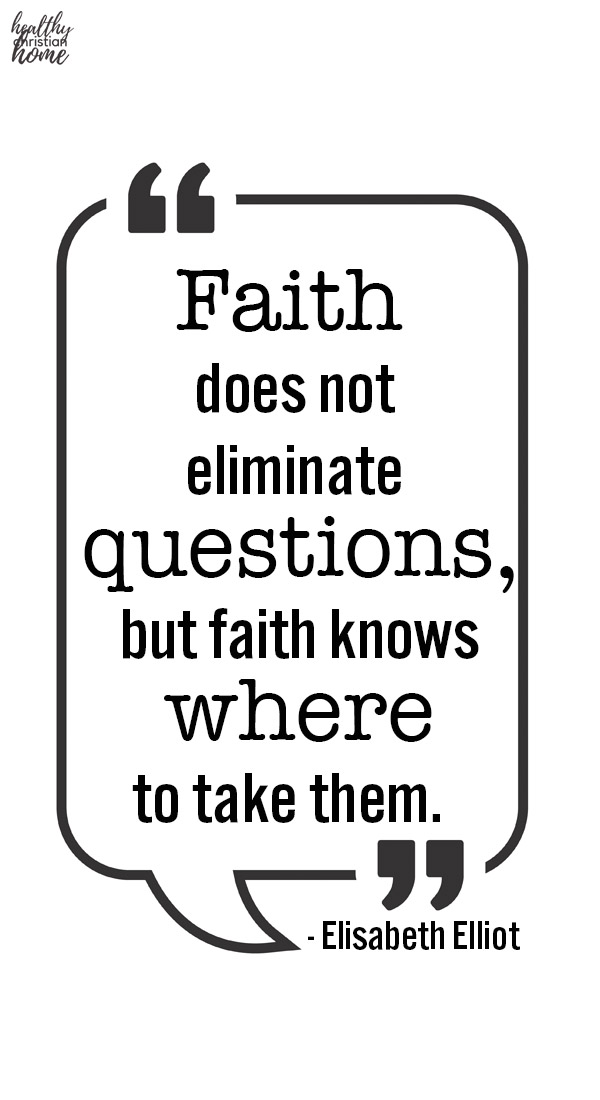 "Faith does not eliminate questions. But faith knows where to take them." – Elisabeth Elliot
2. "Why wish upon a star when you can pray to the one who created it?" – Unknown
3. "Waiting on God requires the willingness to bear uncertainty, to carry within oneself the unanswered question, lifting the heart to God about it whenever it intrudes upon one's thoughts." – Elisabeth Elliot
4. "You can never learn that Christ is all you need, until Christ is all you have." – Corrie Ten Boom
5. "Don't bother to give God instructions; just report for duty." – Corrie Ten Boom
6. "We need never shout across the spaces to an absent God. He is nearer than our own soul, closer than our most secret thoughts" – A.W. Tozer
7. "The gospel frees us from demanding our own way, because nothing we desire to obtain is worth sinning against such love and kindness." – Elyse Fitzpatrick
8. "I believe that a woman who loses interest in her Bible has not been equipped to love it as she should. The God of the bible is too lovely to abandon for lesser pursuits." – Jen Wilkin
9. Imagine how differently you might approach each day by simply stating: God is good. God is good to me. God is good at being God. And today is yet another page in our great love story." – Lysa TerKeurst
10. "God is God. Because he is God, He is worthy of my trust and obedience. I will find rest nowhere but in His holy will that is unspeakably beyond my largest notions of what he is up to." – Elisabeth Elliot
11. "If we want to feel deeply about God, we must learn to think deeply about God." – Jen Wilkin
12. "We humans must confess, 'I am because he is.' Only God can say, 'I AM WHO I AM'." – Jen Wilkin
13. "What comes into our minds when we think about God is the most important thing about us." – A.W. Tozer
14. "The man who would truly know God must give time to Him." – A.W. Tozer
15. "The heart cannot love what the mind does not know." – Jen Wilkin
16. "Of one thing I am perfectly sure: God's story never ends with ashes." – Elisabeth Elliot
17. "If we find ourselves with a desire that nothing in this world can satisfy, the most probable explanation is that we were made for another world."
― C.S. Lewis
18. "The irony is that while God doesn't need us but still wants us, we desperately need God but don't really want Him most of the time." – Francis Chan
19. "God can't give us peace and happiness apart from Himself because there is no such thing." – C.S. Lewis
20. "Our fall was, has always been, and always will be, that we aren't satisfied in God and what He gives. We hunger for something more, something other." – Ann Voskamp
21. "I realized that the deepest spiritual lessons are not learned by His letting us have our way in the end, but by His making us wait, bearing with us in love and patience until we are able to honestly pray what He taught His disciples to pray: Thy will be done." – Elisabeth Elliot, Passion & Purity: Learning to Bring Your Love Life Under Christ's Control
22. "God's love isn't based on me. It's simply placed on me. And it's the place from which I should live . . . loved." – Lysa TerKeurst, Uninvited: Living Loved When You Feel Less Than, Left Out, and Lonely
23. "I believe in Christianity as I believe that the sun has risen: not only because I see it, but because by it I see everything else." – C.S. Lewis
24. "The Christian does not think God will love us because we are good, but that God will make us good because He loves us." – C.S. Lewis
Quotes on slowing down & enjoying life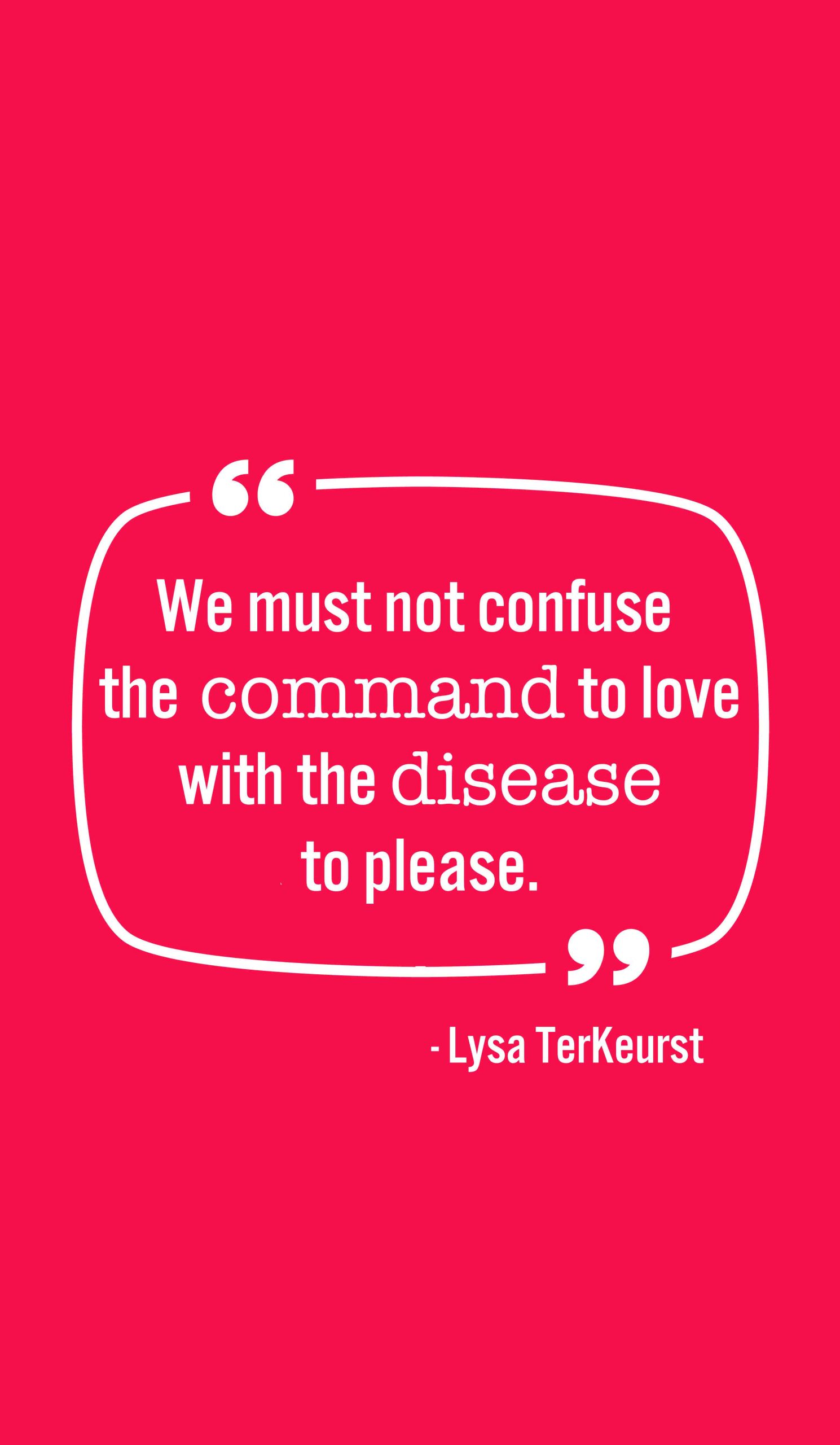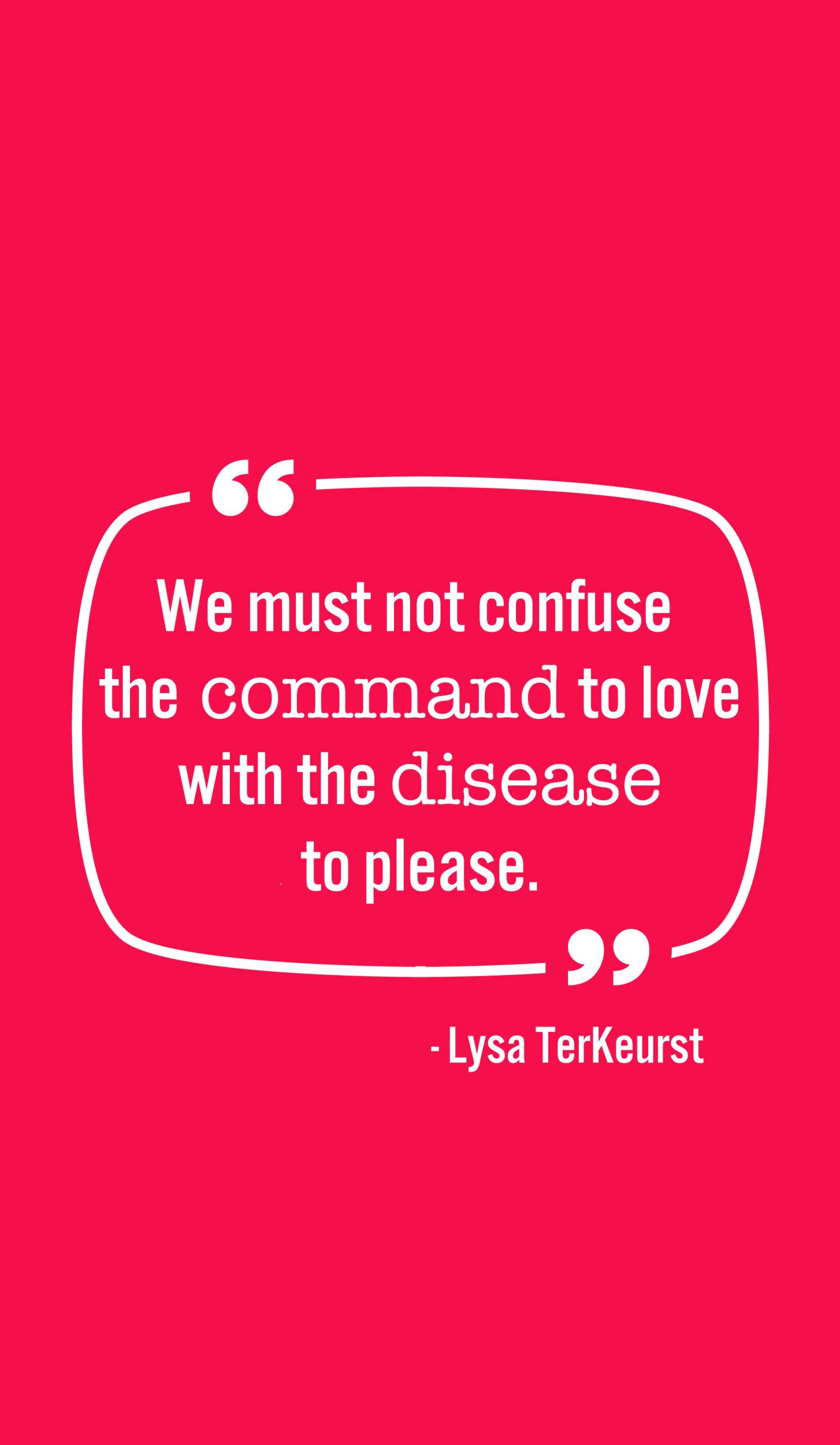 25. "The prayers we weave into the matching of socks, the stirring of oatmeal, the reading of stories, they survive fire." – Ann Voskamp
26. "Aim at heaven and you will get earth thrown in. Aim at earth and you get neither." – C.S. Lewis
27. "Being in a hurry. Getting to the next thing without fully entering the thing in front of me. I cannot think of a single advantage I've ever gained from being in a hurry. But a thousand broken and missed things, tens of thousands, lie in the wake of all the rushing…. Through all that haste I thought I was making up time. It turns out I was throwing it away." – Ann Voskamp, 1000 Gifts: A Dare to Live Fully Right Where You Are
28. "I want to sleep hard on clean white sheets and throw parties and eat ripe tomatoes and read books so good they make me jump up and down, and I want my everyday to make God belly laugh, glad that he gave life to someone who loves the gift." – Shauna Niequist
29. "When life is sweet, say thank you and celebrate. And when life is bitter, say thank you and grow." – Shauna Niequist
30. "Jesus doesn't participate in the rat race. He's into the slower rhythms of life, like abiding, delighting, and dwelling—all words that require us to trust Him with our place and our pace." – Lysa TerKeurst
31. "…sometimes the happiest ending isn't the one you keep longing for, but something you absolutely cannot see from where you are." – Shauna Niequist
32. "We must not confuse the command to love with the disease to please." – Lysa TerKeurst
33. "The best and most beautiful things in the world cannot be seen or even touched – they must be felt with the heart." Helen Keller
34. "Watch what you're thinking about: The words your mind thinks become the house your heart lives in." – Ann Voskamp
35. "Kindness is a language the blind can see and the deaf can hear" – Mark Twain
36. "A woman who lives with the stress of an overwhelmed schedule will often ache with the sadness of an underwhelmed soul."
― Lysa TerKeurst, The Best Yes: Making Wise Decisions in the Midst of Endless Demands
37. "Feelings are indicators, not dictators. They can indicate where your heart is in the moment, but that doesn't mean they have the right to dictate your behavior and boss you around. You are more than the sum total of your feelings and perfectly capable of that little gift . . . called self-control." – Lysa TerKeurst, Uninvited: Living Loved When You Feel Less Than
38. "Never is a woman so fulfilled as when she chooses to underwhelm her schedule so she can let God overwhelm her soul." – Lysa TerKeurst
Quotes on using your talents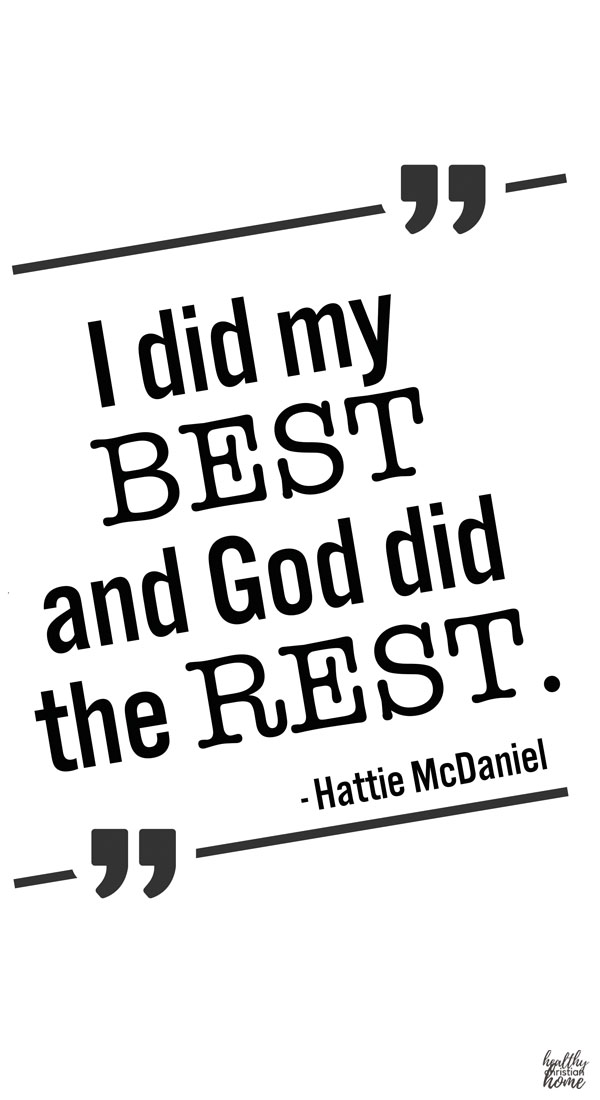 39. "Your talent is God's gift to you. What you do with it is your gift back to God." – Leo Buscaglia
40. "Knowing what must be done does away with fear." – Rosa Parks
41. "Discover what you love to do, what you were created to do, and then do it for the people around you with love. That is the abundant life, dear girl, no matter where in the world you live." – Robin Jones Gunn
42. "I did my best, and God did the rest." – Hattie McDaniel
43. "I am content to fill a little space if God be glorified." ― Susanna Wesley
44. "It's nice to be important, but it's more important to be nice." – Unknown
45. "Now I know that the best thing I can offer to this world is not my force or energy, but a well-tended spirit, a wise and brave soul." – Shauna Niequist, Present Over Perfect: Leaving Behind Frantic for a Simpler, More Soulful Way of Living
Quotes on courage & hope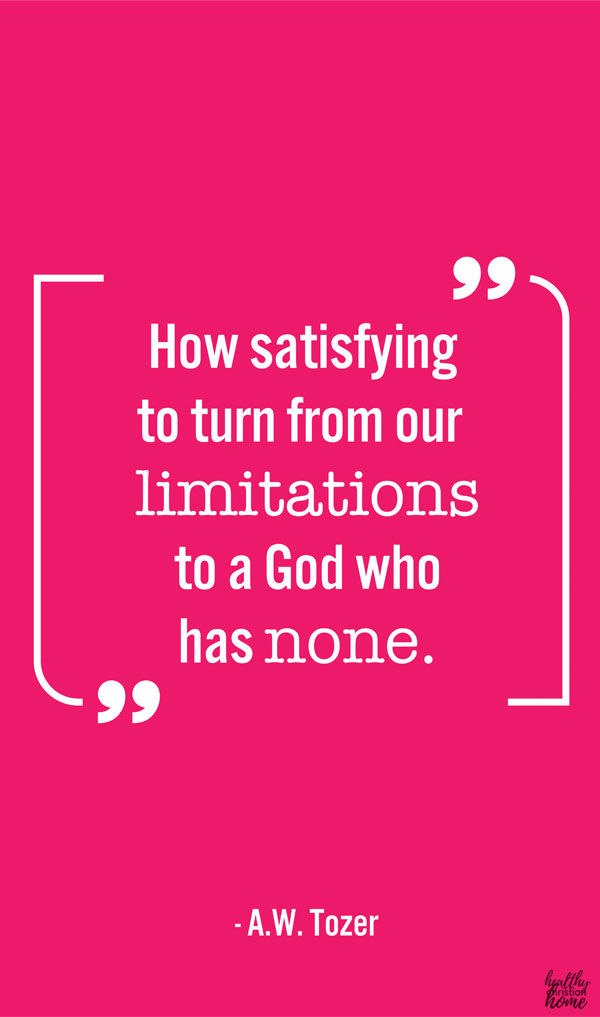 46. "I am not in control, but I am deeply loved by the One who is." – Glenn Packiam
47. "It's been said that peace is not the absence of danger but the presence of God." – Anne Graham Lotz
48. "If you look at the world, you'll be distressed. If you look within, you'll be depressed. If you look at God you'll be at rest." – Corrie Ten Boom
49. "Sometimes when you're in a dark place you think you've been buried, but you've actually been planted." – Christine Caine
50. "Every day may not be good, but there's something good in every day." – Alice Morse Earle
51. "Is prayer your steering wheel or your spare tire?" – Corrie Ten Boom
52. "When things fall apart, the broken pieces allow all sorts of things to enter, and one of them is the presence of God." – Shauna Niequist
53. "We need days of failure because they help humble us, and through them we can see how God's grace is poured out on the humble." – Elyse Fitzpatrick
54. "Any concern too small to be turned into a prayer is too small to be made into a burden." – Corrie Ten Boom
55. "How satisfying to turn from our limitations to a God who has none." – A.W. Tozer
56. "Never doubt God in the darkness what he has given us in the light." – Francine Rivers, author of Redeeming Love
57. "Our greatest fear should not be of failure but of succeeding at things in life that don't really matter." – Francis Chan, Crazy Love
58. "Worry does not empty tomorrow of its sorrow, it empties today of its strength." – Corrie Ten Boom
59. "There is nothing worth living for, unless it is worth dying for." – Elisabeth Elliot
60. "Just when we think we've messed up so badly that our lives are nothing but heaps of ashes, God pours His living water over us and mixes the ashes into clay. He then takes this clay and molds it into a vessel of beauty. After He fills us with His overflowing love, He can use us to pour His love into the hurting lives of others." – Lysa TerKeurst
61. "Pain insists upon being attended to. God whispers to us in our pleasures, speaks in our consciences, but shouts in our pains. It is his megaphone to rouse a deaf world." – C.S. Lewis
62. "Leave it all in the Hands that were wounded for you." – Elisabeth Elliot
63. "There are far, far better things ahead than any we leave behind." – C.S. Lewis
64. "Never be afraid to trust an unknown future to a known God." – Corrie Ten Boom
65. "We are not necessarily doubting that God will do the best for us; we are wondering how painful the best will turn out to be." – C.S. Lewis
Quotes on homemaking & family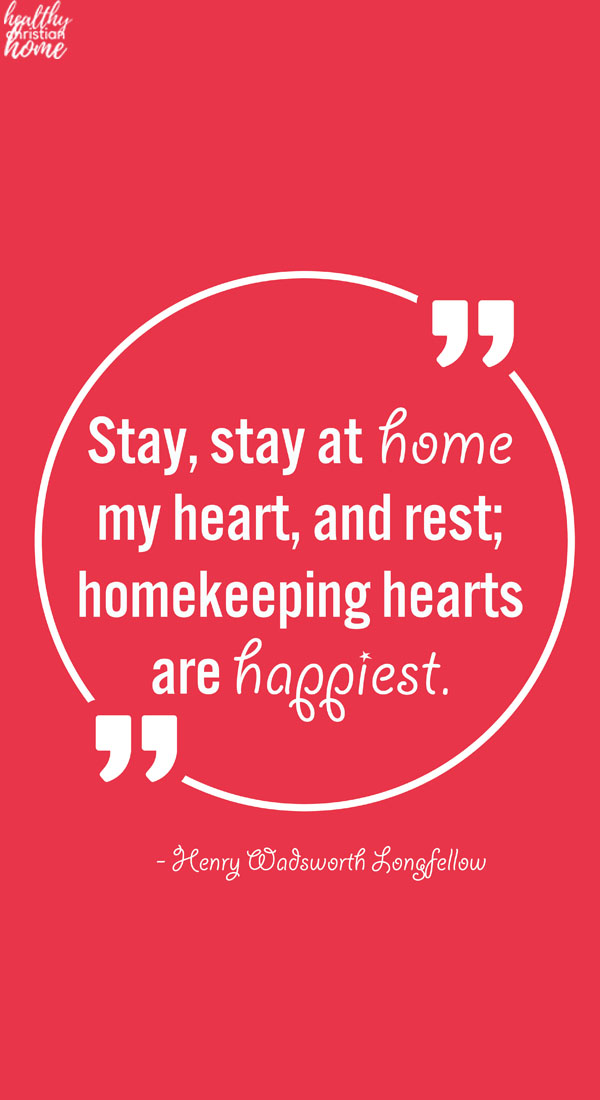 66. "Stay, stay at home, my heart, and rest; homekeeping hearts are happiest." – Henry Wadsworth Longfellow
67. "There is no happiness like that of being loved by your fellow-creatures, and feeling that your presence is an addition to their comfort." – Charlotte Bronte, Jane Eyre
68. "The homemaker has the ultimate career. All other careers exist for one purpose only – and that is to support the ultimate career. " – C.S. Lewis
69. "The most important work you ever do will be within the walls of your own home." – Harold B. Lee
70. "No ordinary work done by a man is either as hard or as responsible as the work of a woman who is bringing up a family of small children; for upon her time and strength demands are made not only every hour of the day but often every hour of the night." – Teddy Roosevelt
71. "I thought parenting was going to reveal my strengths, never realizing that God had ordained it to reveal my weaknesses." – Elyse M. Fitzpatrick
72. "We are partners with our children because we are just like them, dearly loved sinners." – Elyse M. Fitzpatrick
73. "Never imagine that what you do for others or what you do in private doesn't matter. It counts more than we know. God watches how we steward what is not our own before He entrusts us with more." – Lisa Bevere
74. "The heart of hospitality is about creating space for someone to feel seen and heard and loved. It's about declaring your table a safe zone, a place of warmth and nourishment." – Shauna Niequist
75. "Children are not a distraction from more important work. They are the most important work." – Dr. John Trainer
76. "No occupation in this world is more trying to soul and body than the care of young children. What patience and wisdom, skill and unlimited love it calls for. God gave the work to mothers and furnished them for it, and they cannot shirk it and be guiltless." – Isabella Alden
77. "I think preparing food and feeding people brings nourishment not only to our bodies but to our spirits. Feeding people is a way of loving them, in the same way that feeding ourselves is a way of honoring our own createdness and fragility." – Shauna Niequist
78. "Our homes, imperfect as they are, must be a haven from the chaos outside. They should be a reflection of our eternal home, where troubled souls find peace, weary hearts find rest, hungry bodies find refreshment, lonely pilgrims find communion, and wounded spirits find compassion."
― Jani Ortlund
79. "If God is good, and if He wants us to subdue this planet, and if He wants us to obey the Great Commission and conquer this world for Christ, and if He tells half the human race that they're in charge of tending the home, it follows from this that the home is actually one of the most strategic and important tools by which the world will be won." – Rebekah Merkle
What quotes inspire you in everyday life? I'd love to hear them!
PIN IT!