If you adore cilantro by the handful and you're wondering, "What can I make with lots of cilantro?" you're in luck. You'll go crazy for this zesty, zingy cilantro salad!
Cilantro on a bed of romaine is the star of the show, along with plenty of chopped tomatoes & cucumbers. The savory vinegar-y dressing takes it over the top!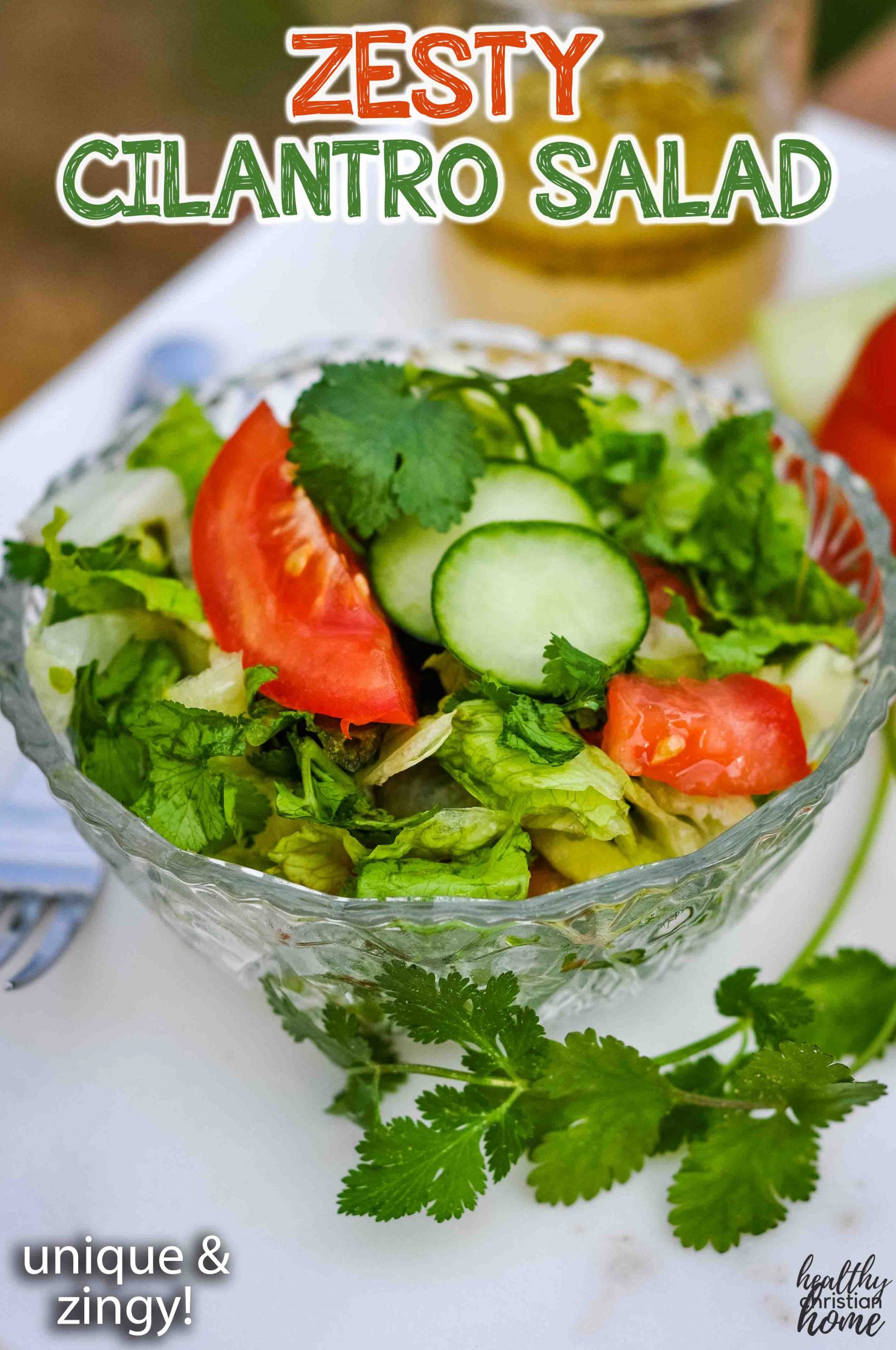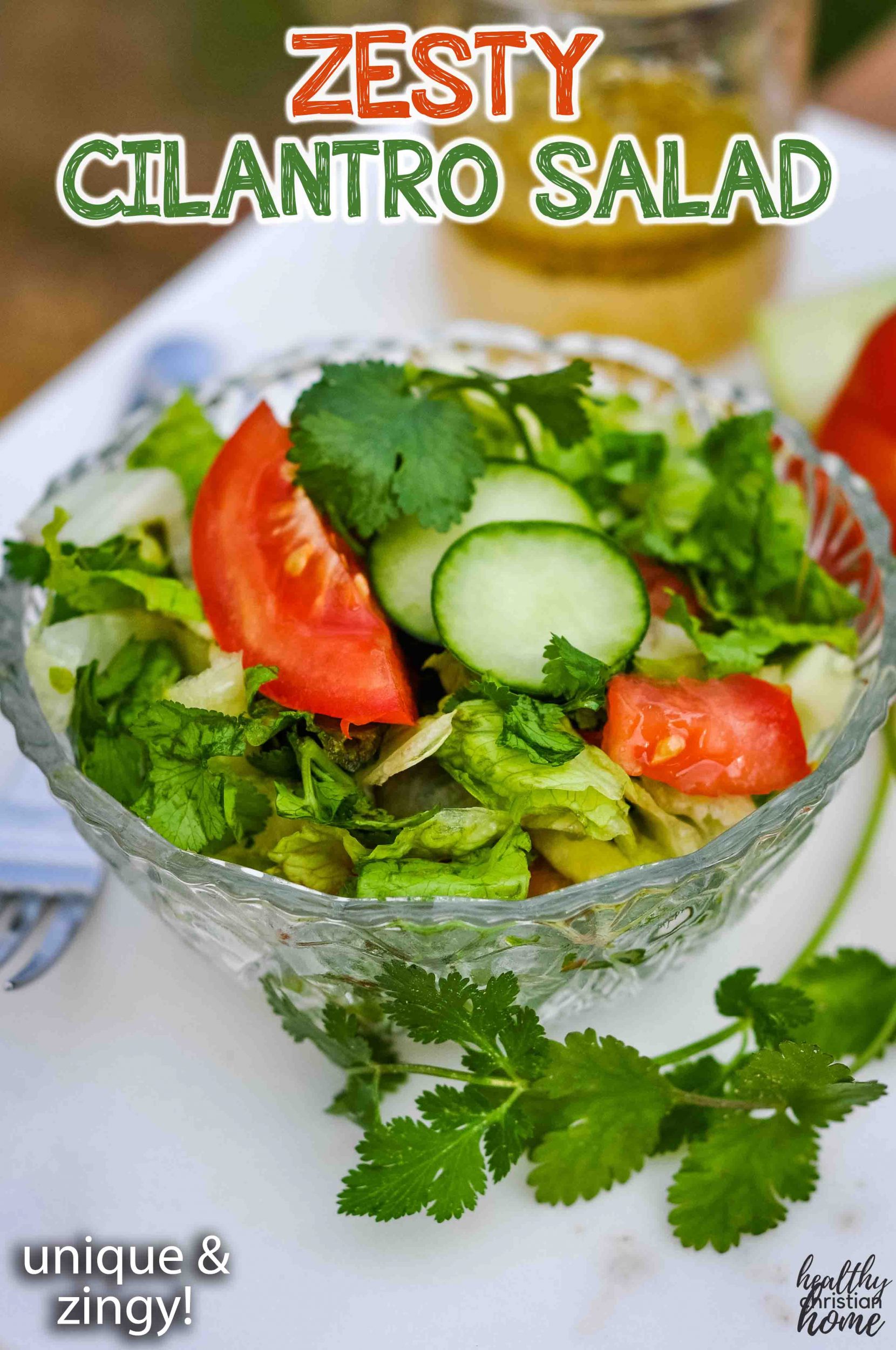 Zesty Cilantro Salad from the Queen of Salads
My sister-in-law Brooke is the Queen of Salads. Every time we eat at her house, or if she is bringing a side dish to a gathering, we ALL ask for one of her special creations.
She was gracious enough to share the recipe for one of my favorites: a zesty cilantro salad. If you're a cilantro fan, you must try it!
She originally obtained this recipe from a grad school pal who is from Central America. Apparently it was a family tradition for her, but we aren't sure of the exact name for the salad. So I made one up.
That said, it's very similar to a traditional mexican salad. Her biggest tip for the success of this salad?
Chop every element of the salad very very VERY fine.
This allows the cilantro and all the other flavors to distribute evenly, and for each bite to have all the ingredients represented.
I'm not sure I succeeded with the batch I took pictures of for this post. (Plus, I wanted some larger chunks for the photographs.)
Brooke would have been more careful to chop everything fine. Sorry sis, I'm a bit impatient.
It still tasted divine!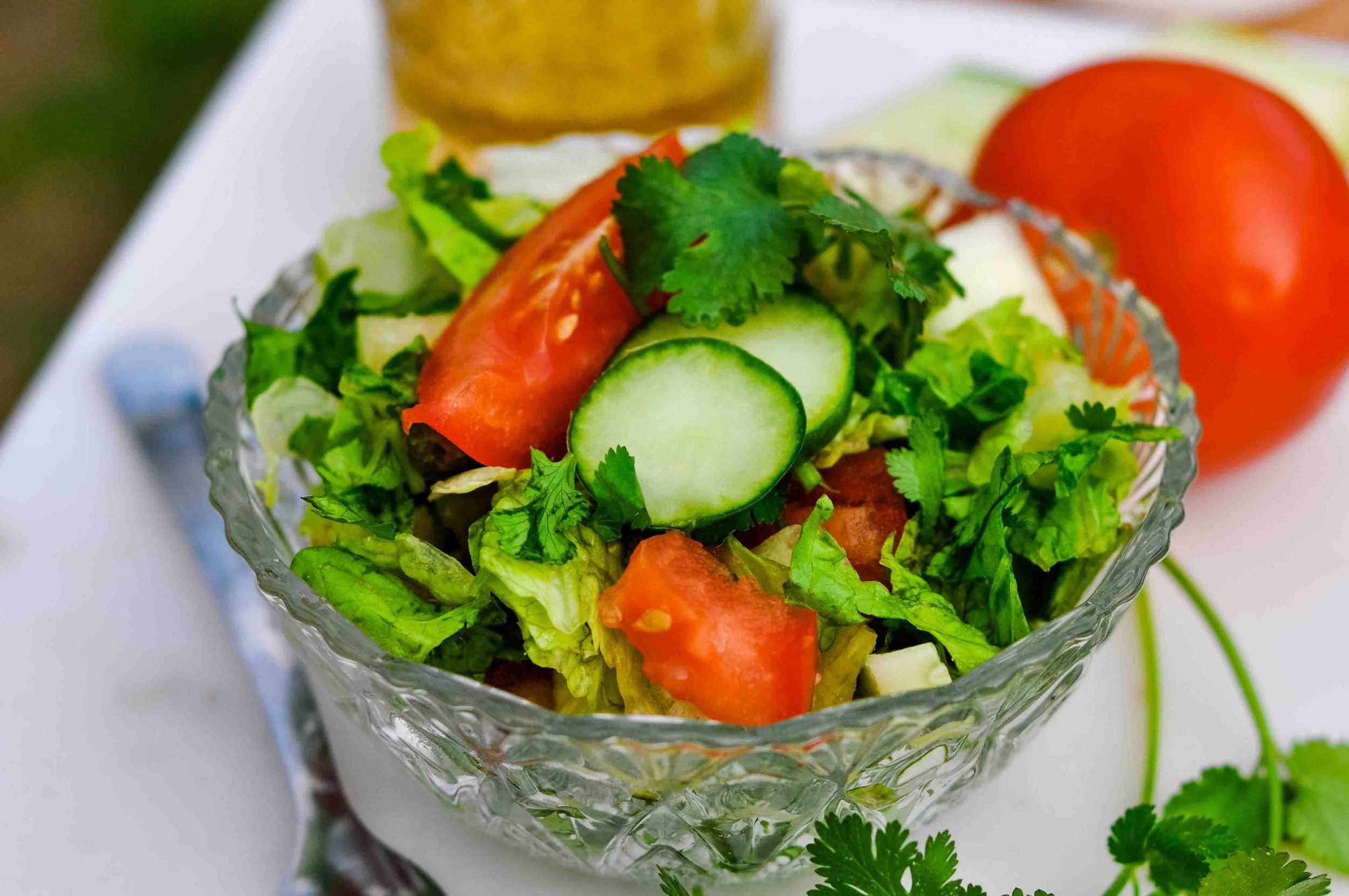 Cilantro Salad Key Ingredients
The ingredients of this salad are simple, and there aren't too many. But each one of them is key to its flavor.
Since the ingredient list is so specific, I wouldn't do any swaps or substitutions for this recipe. You want just the right balance of flavor and crunchy-ness, which this salad has in spades.
Cilantro – Use around 2 cups of fresh cilantro, or around 1 bunch. Be sure to wash it really well.
Romaine lettuce – Romaine is the best choice for this salad since it is hardy and holds up very well in the fridge. This salad is even better the second day as the ingredients meld together!
Cucumber – The perfect refreshing crunch to complement everything in this salad.
Tomatoes – Use any type you like, but in season tomatoes are so much better.
More salad recipes you'll love:
Roasted Broccoli Salad w/ Bacon & Pecans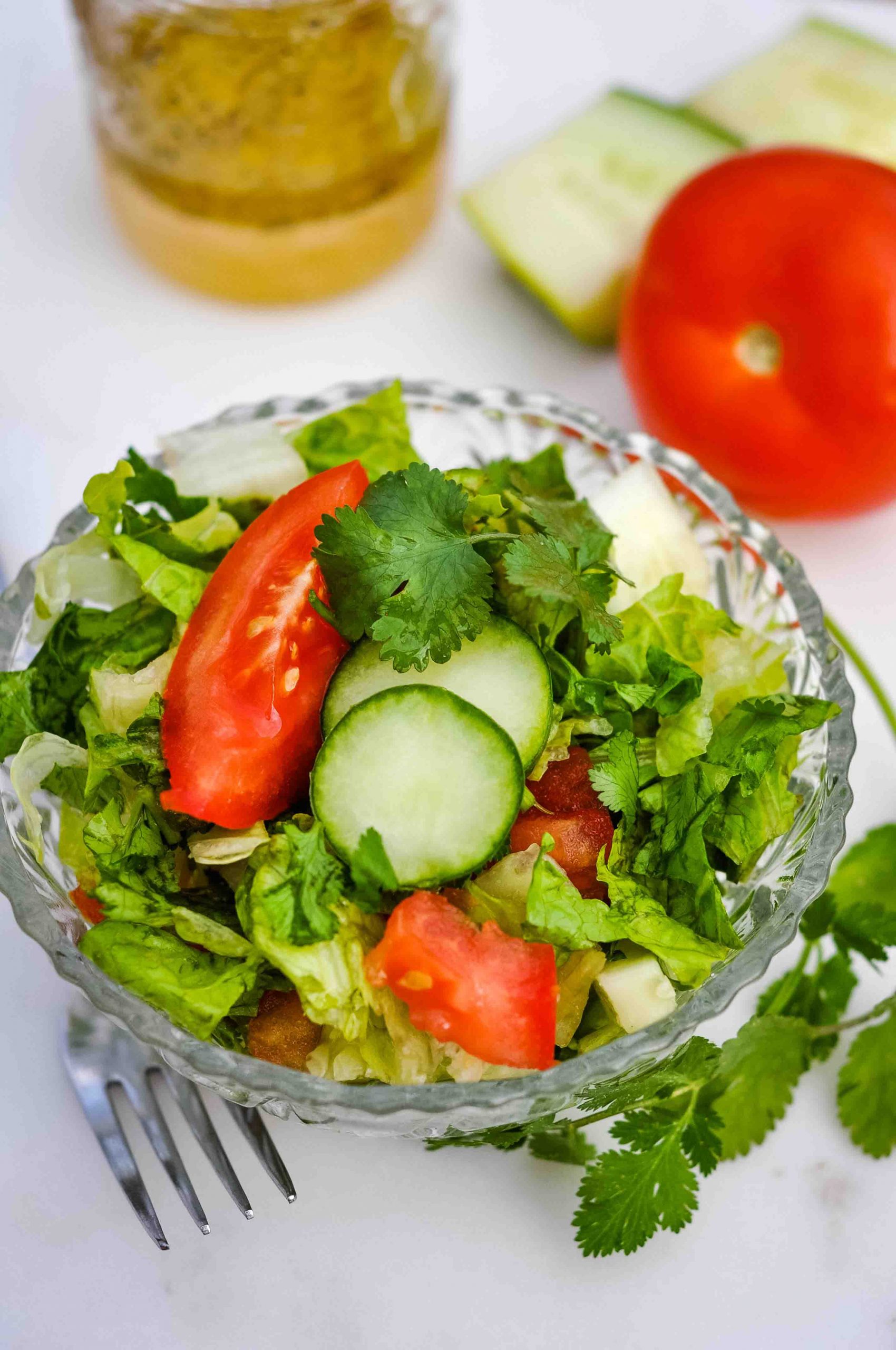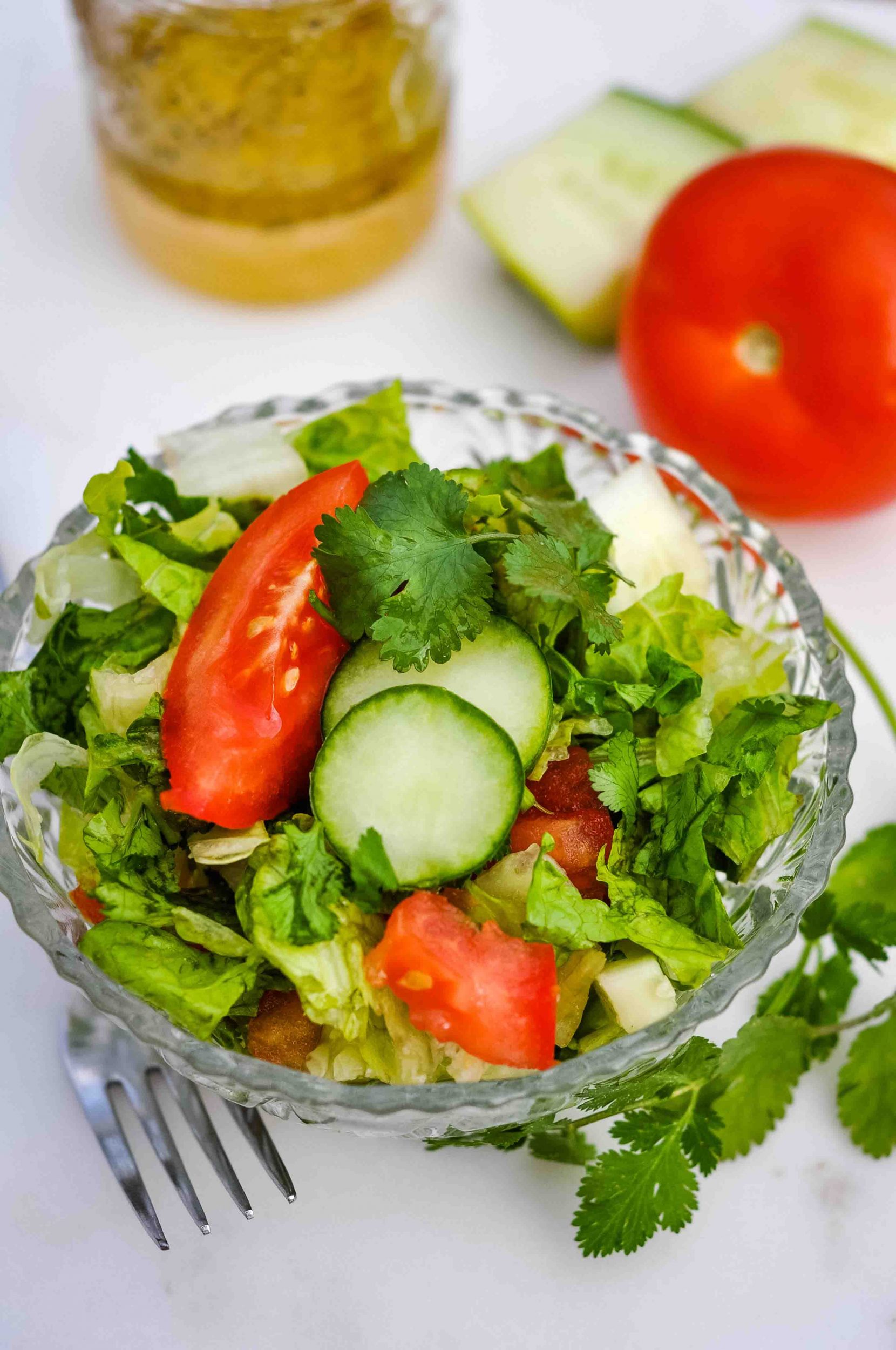 Is cilantro a Superfood?
Cilantro is definitely very good for you! It's the leafy part of the coriander seed and contains vitamins C, A, & K. It also has a bit of folate, potassium, & manganese, among other nutrients.
Cilantro can also help reduce pain and inflammation and has antifungal properties.
But if you're part of the small % of the population with a genetic anomaly which makes cilantro taste like soap, all I can say is I'm sorry. Very very sorry.
Zesty Cilantro Salad Dressing
This homemade vinaigrette dressing is a crucial element of this salad's taste, but it's really easy to make and only takes a couple of minutes to mix up. For best results, pour it over the salad and mix everything up at least 30 minutes prior to serving to allow all the flavors to meld.
Here are the zesty dressing ingredients:
Rice Wine Vinegar – This type of vinegar is often used in Asian cooking and you can find it in the imported/international foods aisle of your grocery store. It's key to this salad's flavor!
Extra Virgin Olive Oil – A good quality EVOO is a must too!
The magic ratio of oil to vinegar is 1:2. Plus salt & pepper to taste – that's all you need!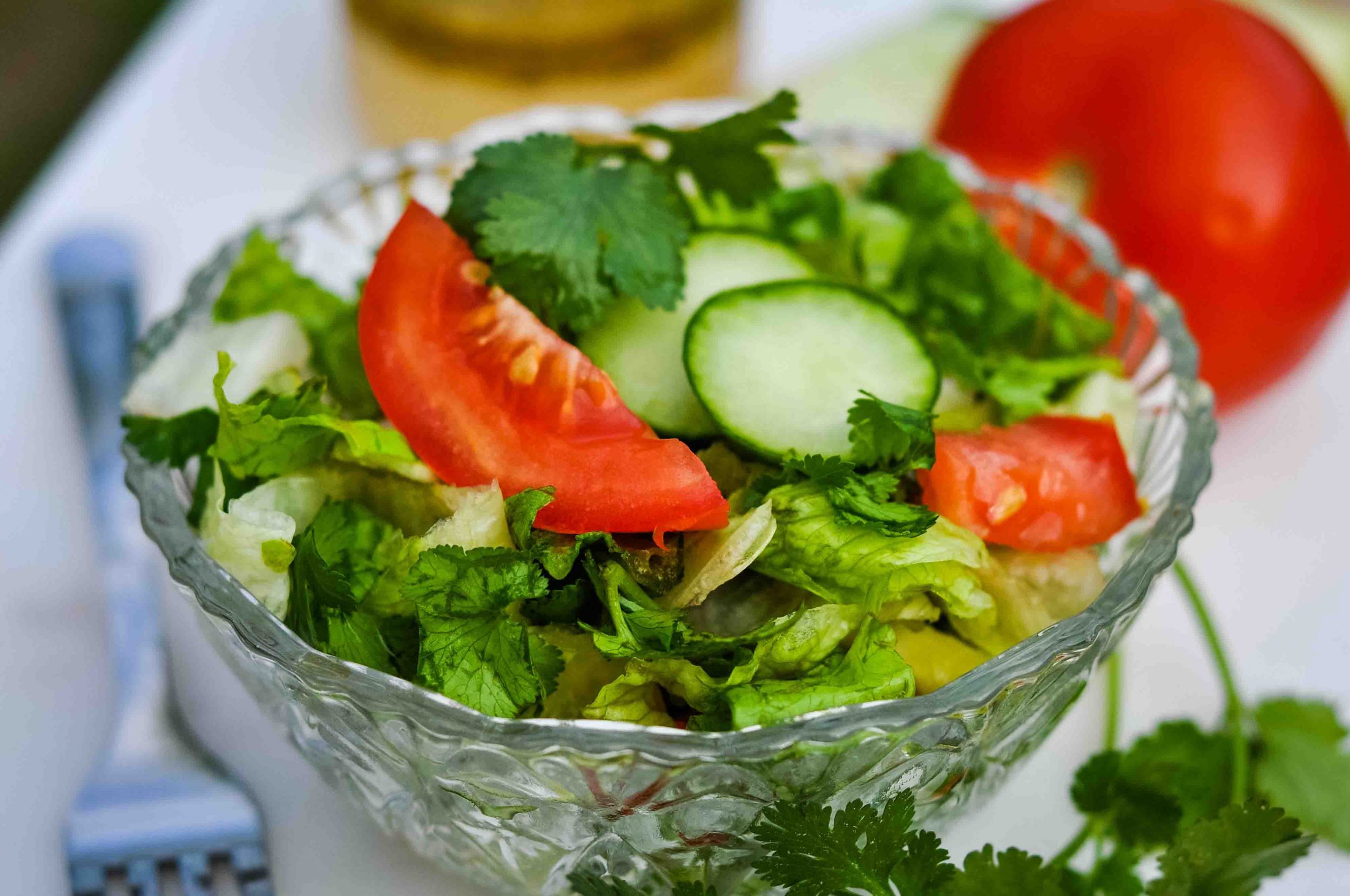 Zesty Cilantro Salad Tips & Variations —
Here are some tips for the perfect salad:
Remember to chop everything in this salad VERY FINE! Since the cilantro has such a strong flavor, it's really important.
Use ripe, in season tomatoes when possible for best results.
I like romaine lettuce for its crunch, but you may use any salad greens you prefer.
Try adding some chopped onion and some crunchy pumpkin or sunflower seeds on top.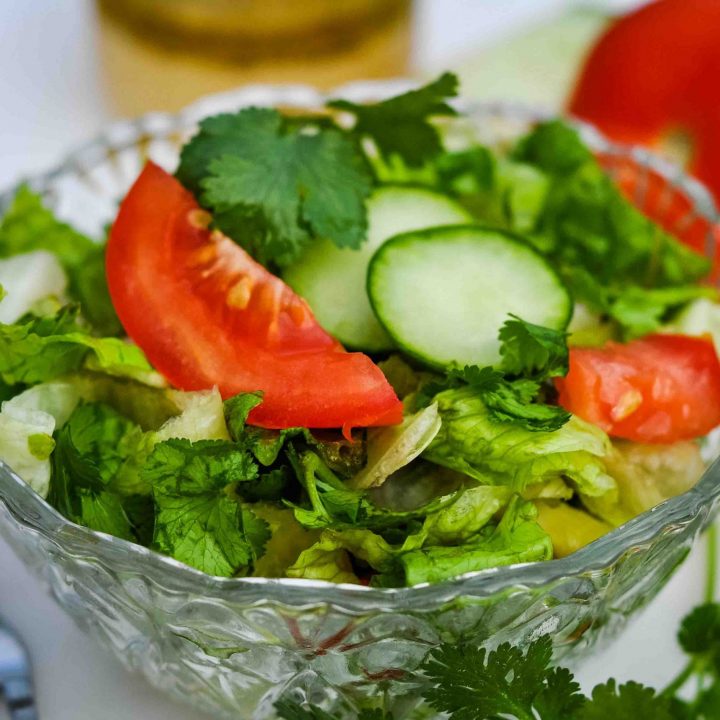 Yield: 4 servings
Zesty Cilantro Salad
Prep Time: 15 minutes
Total Time: 15 minutes
If you enjoy cilantro by the handful, you're going to love this zesty cilantro salad! Zingy, fresh cilantro is complemented by romaine, cucumber, and tomato with a mouthwatering vinaigrette.
Ingredients
1 bunch cilantro (about 2 cups), chopped fine
1/2 pound tomatoes, chopped (3-5 tomatoes)
4 cups romaine lettuce, chopped fine
1/2 pound cucumbers, chopped fine (2-3 cucumbers
Rice Wine Vinaigrette
2 Tbsp. extra virgin olive oil
3 Tbsp. rice wine vinegar
1/2 tsp. salt & pepper (to taste)
Instructions
Chop all salad ingredients FINE and add to a large bowl. Chopping the ingredients fine is very important to ensure all flavors are distributed evenly.
In a small jar, add all ingredients for the vinaigrette and shake thoroughly. Pour over salad.
Toss salad and allow flavors to meld for 30 minutes before serving. Leftover salad keeps up to 2 days in the refrigerator.
Recommended Products
As an Amazon Associate and member of other affiliate programs, I earn from qualifying purchases.
Nutrition Information:
Yield:
4
Serving Size:
1
Amount Per Serving:
Calories: 113
Total Fat: 7g
Saturated Fat: 1g
Trans Fat: 0g
Unsaturated Fat: 6g
Cholesterol: 0mg
Sodium: 162mg
Carbohydrates: 12g
Fiber: 3g
Sugar: 6g
Protein: 3g