This leftover cranberry sauce oatmeal is the perfect post-Thanksgiving breakfast. This cranberry sauce recipe with creamy oatmeal is light, yet filling; tart, yet sweet. Try this recipe for a unique and tasty variation on this breakfast staple.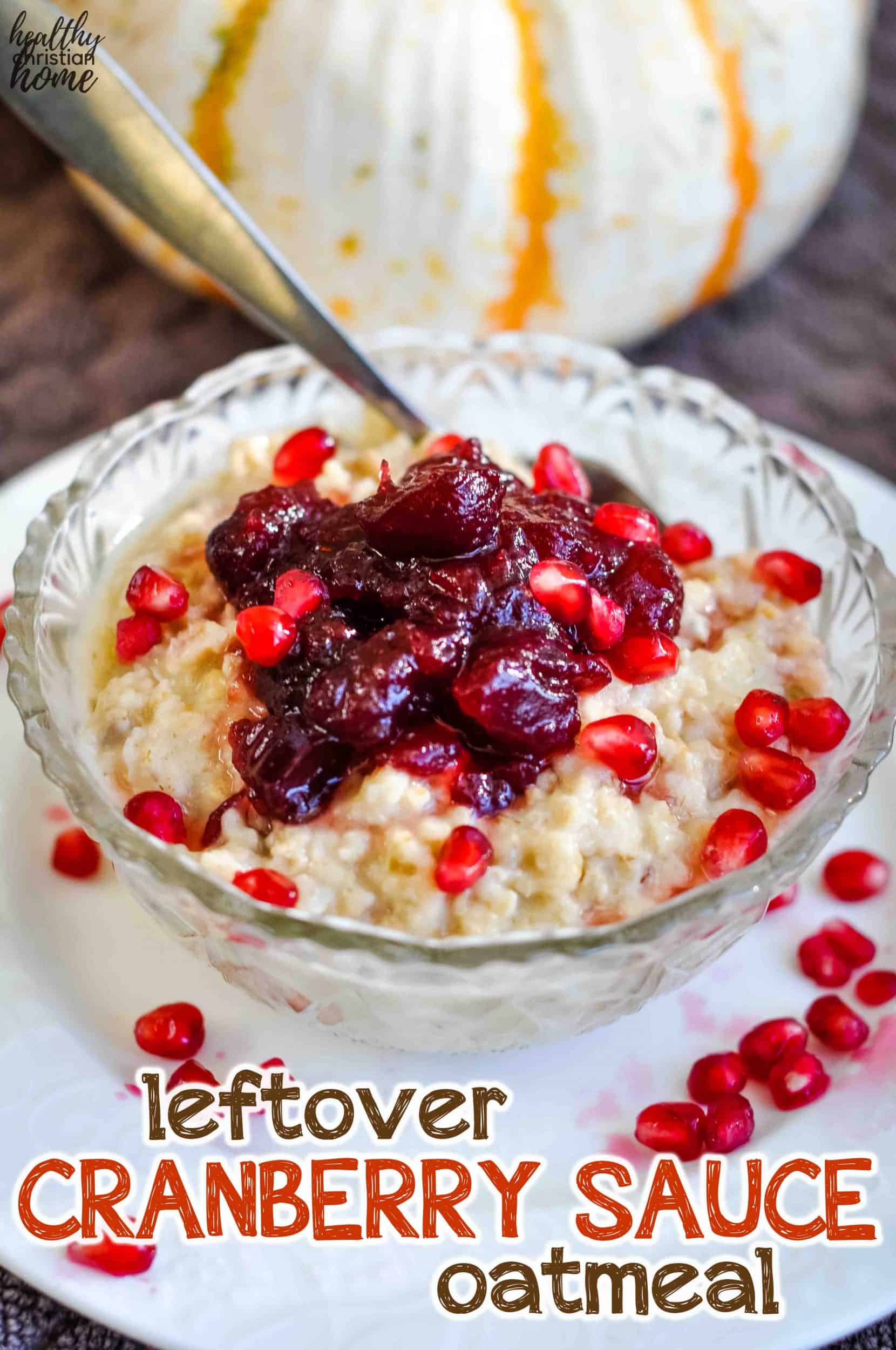 The Post-Thanksgiving Leftover Saga Begins…
Most likely, you've already crammed your Pinterest board with all those picture-perfect Thanksgiving recipes, and crammed your cupboards full of ingredients. But what about those Thanksgiving leftovers? Especially poor cranberry sauce… sometimes he gets left out.
It's hard to believe, but the morning after Thanksgiving, we will inevitably be hungry again. But we don't want to over-indulge like we did yesterday. Yet, all those leftovers are staring us in the face when we open the fridge, and we don't know what to do with them!
That's why this leftover cranberry sauce oatmeal is the perfect breakfast for post-Thanksgiving. It supplies plenty of Black Friday energy – whether you're returning to work, braving the shopping mall, or perusing those online deals. Plus, it puts that cranberry sauce to good use! What could be better?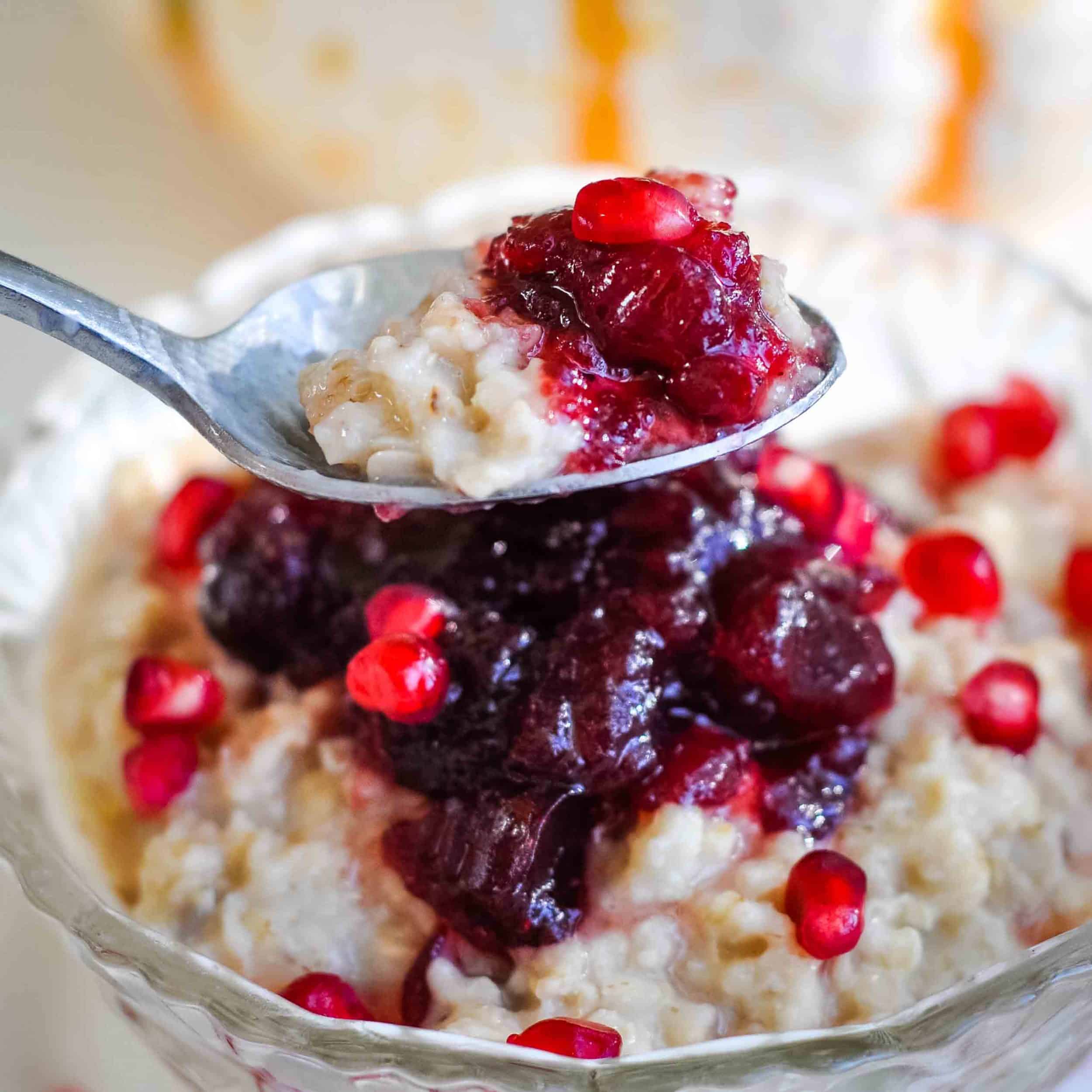 Cranberry sauce recipes for the perfect bowl of oatmeal
Kudos to my sister Stephanie for the idea for this cranberry oatmeal. I'm using her homemade cranberry sauce recipe, too:
1 bag fresh cranberries, zest and juice of 1 orange, 1 cup organic sugar (or honey/maple syrup), half tsp salt. Cook over low heat until cranberries burst and the sauce reaches desired consistency. Serve hot.
Here are a few more unique and healthy cranberry sauce recipes: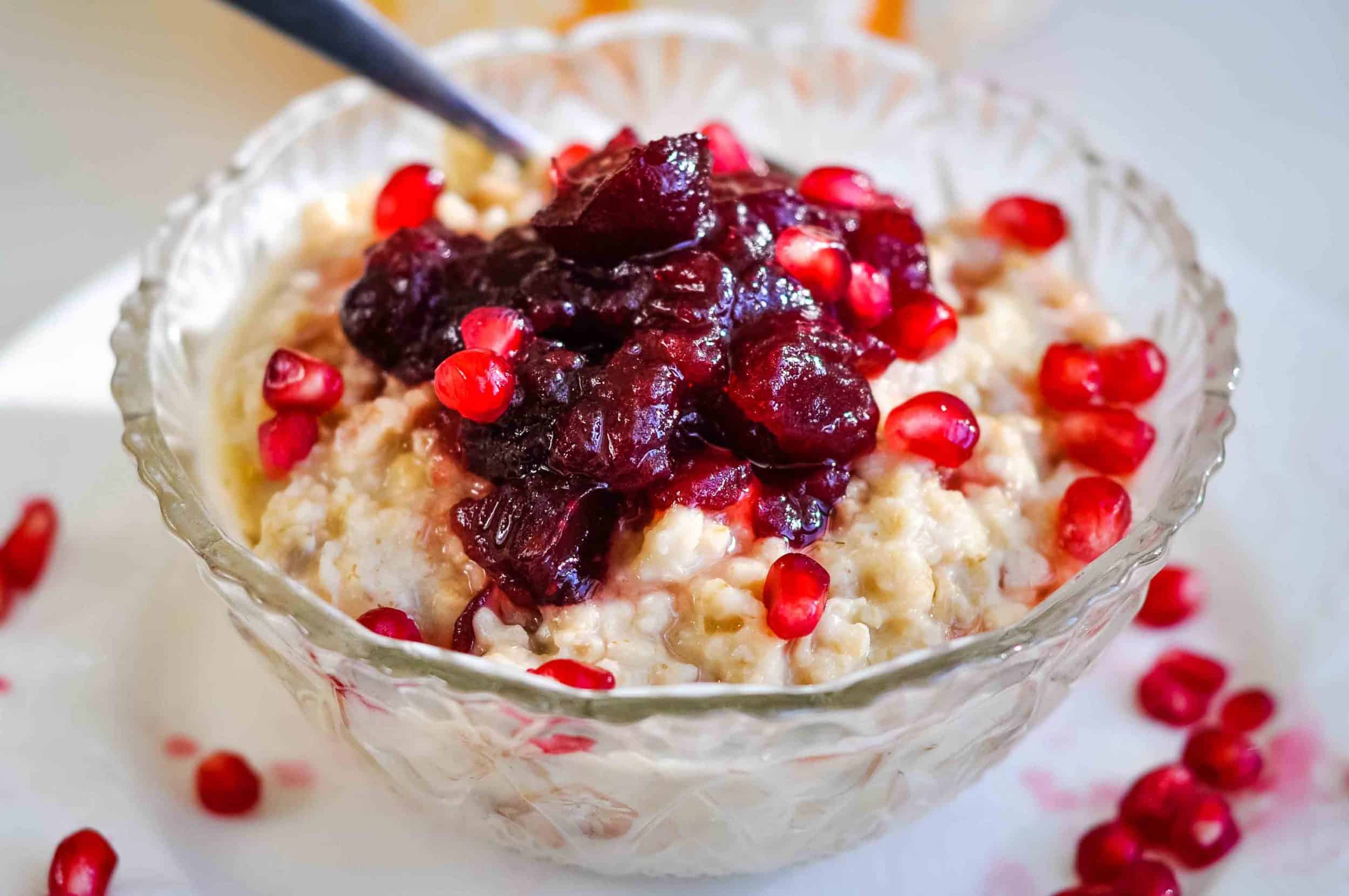 How long can you keep cranberry sauce in the refrigerator?
You don't necessarily have to make this recipe the morning directly after Thanksgiving. Homemade cranberry sauce stays fresh 10-14 days in the refrigerator, and the canned stuff stays fresh for about a week. So you have a bit of time to indulge in this cozy recipe.
If you're wondering, "Can cranberry sauce be frozen?", heres the deal: You can freeze homemade cranberry sauce for around six months. Canned cranberry sauce can be frozen for up to 2 months, but can get a bit watery when frozen.
Ok, now let's get to the oatmeal!
How to Make Leftover Cranberry Sauce Oatmeal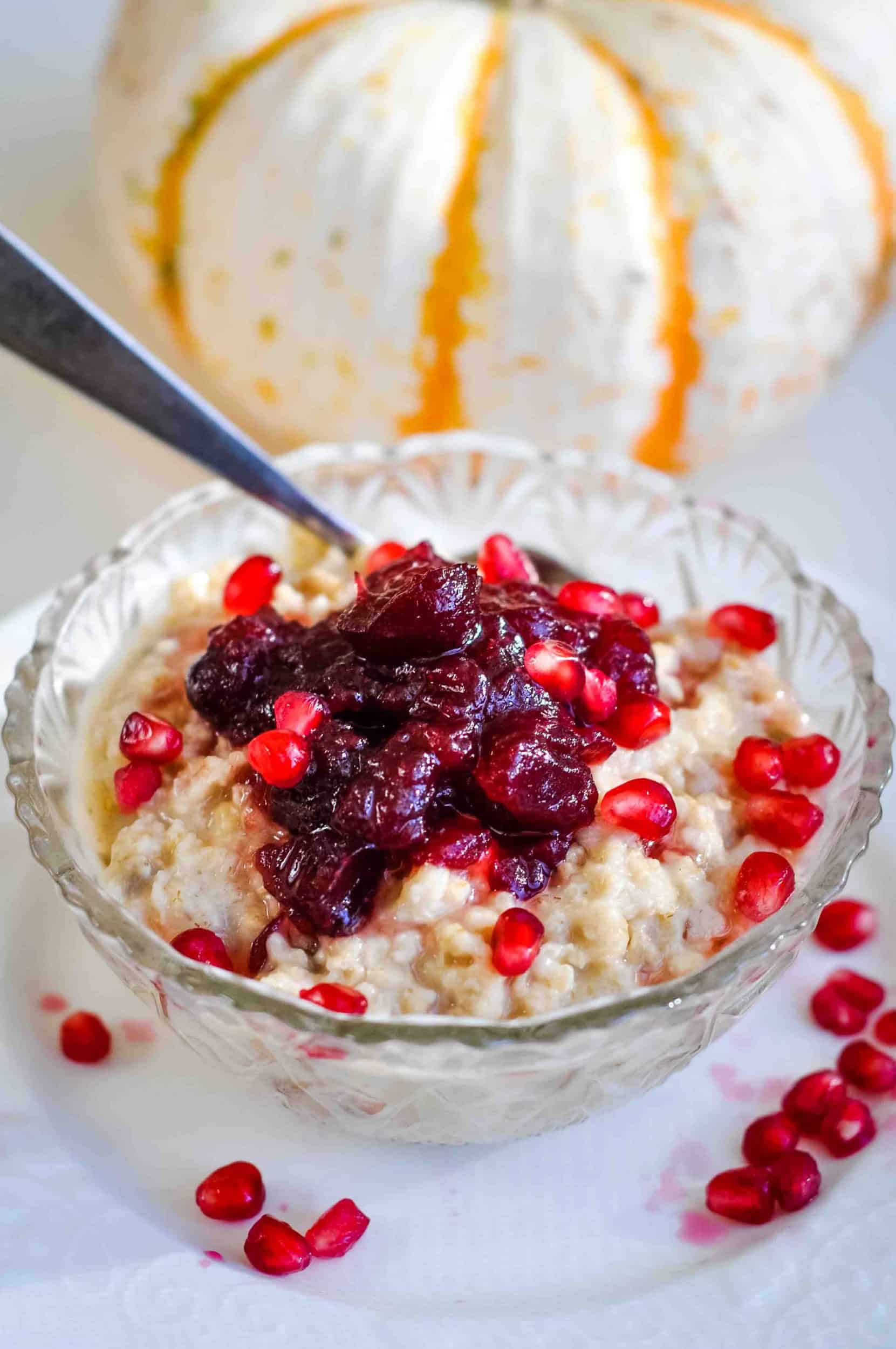 Roll out of bed. It's tough, but you can do it. Make coffee. Now for oatmeal.
Make your preferred method of oatmeal – whether stovetop old-fashioned or instant, according to package directions.
My favorite method is soaking organic quick-cook or steel cut oats overnight to increase digestibility and reduce phytic acid. (Check out this post if you're wondering why soaking oats is important.) Sometimes I also add chia or flax or sunflower seeds for added health benefits and energy.
Personally, I prefer the creaminess of quick oats to the chewier old-fashioned. Then, cook in the microwave or on stovetop. Pre-soaking your oats shortens cook time, also.
Add honey, maple syrup, or Sucanant/Rapadura (evaporated cane juice) to taste. Make it less sweet than you normally would – the cranberry sauce will sweeten it more. Don't forget pat of butter or coconut oil and splash of cream or milk.
Now, the good stuff! Add 1-2 tablespoons of your lovely cranberry sauce and stir!
Ah, don't you just love the holidays?
More healthy, holiday-inspired recipes to try: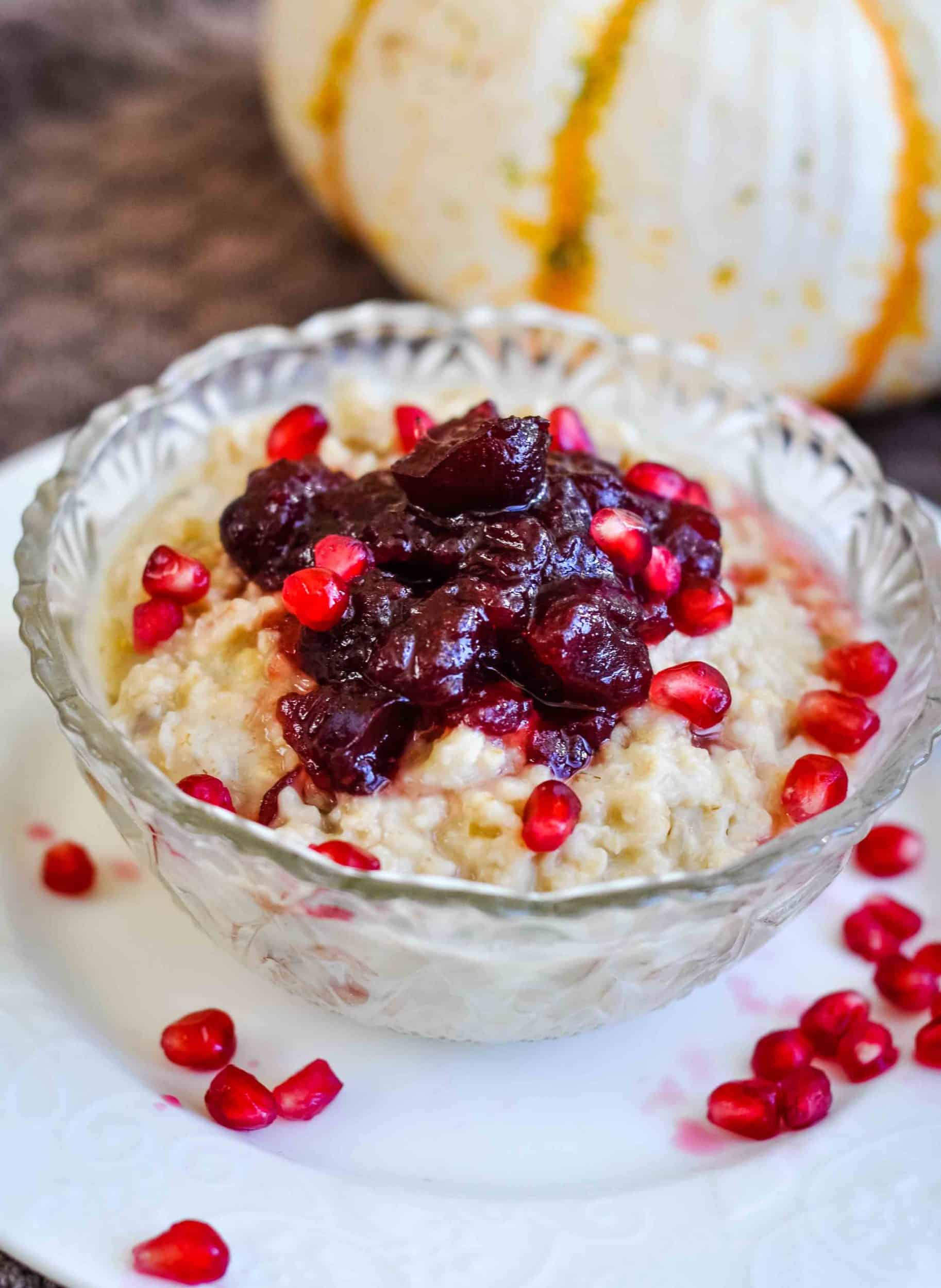 Cranberry oatmeal varitions
For an added burst of cranberry goodness, throw in some fresh or dried cranberries too.
Try adding some brightly colored pomegranate arils (my boys call them "rubies"). They add such a beautiful pop of color!
Orange and cranberry go together like jam on toast. For a cranberry orange oatmeal, try adding some orange juice and zest to the bowl!
If you're a fan of chilled overnight oats, this recipe just got even easier. Combine all your ingredients the night before and enjoy straight out of the fridge. Here's a lovely dark chocolate cranberry overnight oats recipe to try.
Try sprinkling your bowl of cranberry oatmeal with chopped nuts like walnuts or pecans. Seeds are a great idea also – why not use up any leftover pumpkin seeds from all your pumpkin-inspired recipes?
Here's the printable recipe – be sure to leave a star rating here if you enjoy it!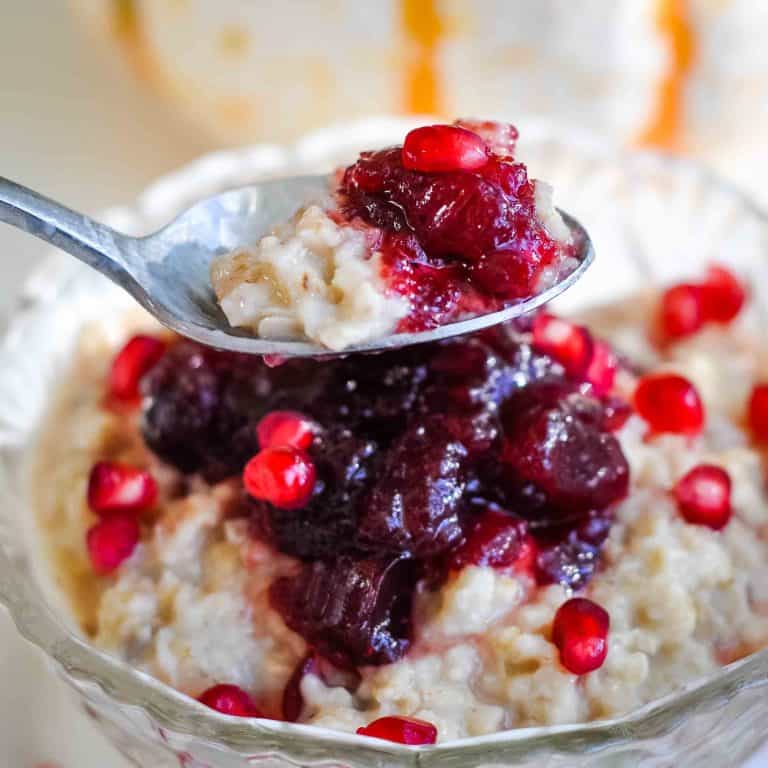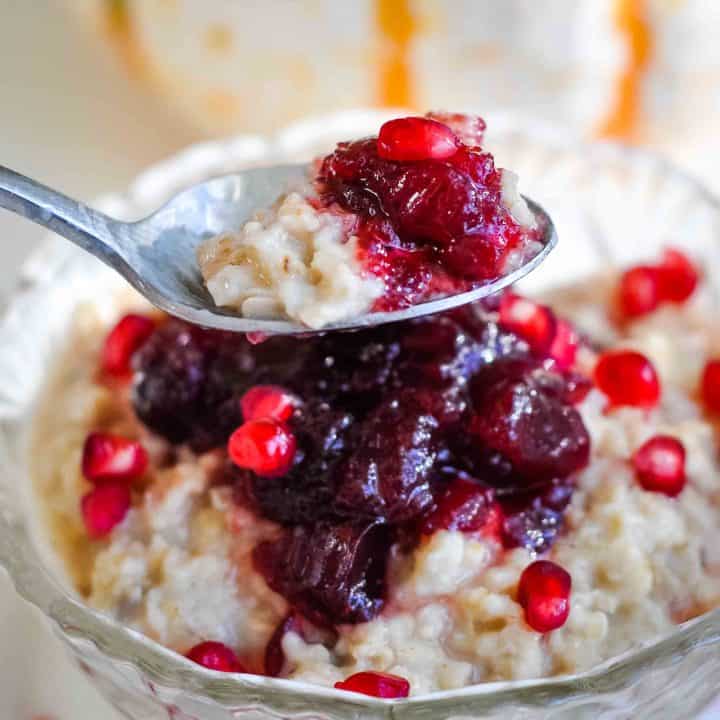 Yield: 1 1/2 cups
Leftover Cranberry Sauce Oatmeal
Prep Time: 5 minutes
Cook Time: 5 minutes
Total Time: 10 minutes
This leftover cranberry sauce oatmeal is the perfect post-Thanksgiving Day breakfast! Tart, sweet cranberry sauce livens up a class bowl of oatmeal for holiday porridge bliss.
Ingredients
1/2 cup filtered water
1 tsp. apple cider vinegar
2 tablespoons maple syrup (or honey or evaporated cane juice)
1 tablespoon butter
2 tablespoons heavy cream (or milk)
Instructions
1. Add oatmeal, water, and apple cider vinegar to a bowl. Cover and allow to soak overnight, or around 8 hours, for best digestibility.
2. Cook for 1-2 minutes in the microwave on high, or on medium-low heat for around 5 minutes (or until soft).
3. Stir in sweetener of choice, butter, cream, and cranberry sauce. Sprinkle with fresh or dried cranberries if desired. Serve warm.
Recommended Products
As an Amazon Associate and member of other affiliate programs, I earn from qualifying purchases.
Nutrition Information:
Yield:
2
Serving Size:
1
Amount Per Serving:
Calories: 254
Total Fat: 12g
Saturated Fat: 7g
Trans Fat: 0g
Unsaturated Fat: 4g
Cholesterol: 32mg
Sodium: 58mg
Carbohydrates: 36g
Fiber: 2g
Sugar: 25g
Protein: 2g
I hope you enjoy this cranberry oatmeal recipe. What's your favorite recipe for Thanksgiving leftovers?
PIN IT!