Healthy pumpkin chocolate chip muffins are the perfect low-sugar breakfast or fall snack! A welcome reprieve from sugar-laden treats, these low sugar healthy pumpkin muffins are sweetened with applesauce and maple syrup. They're moist, flavorful, and filled with chocolate – what could be better?!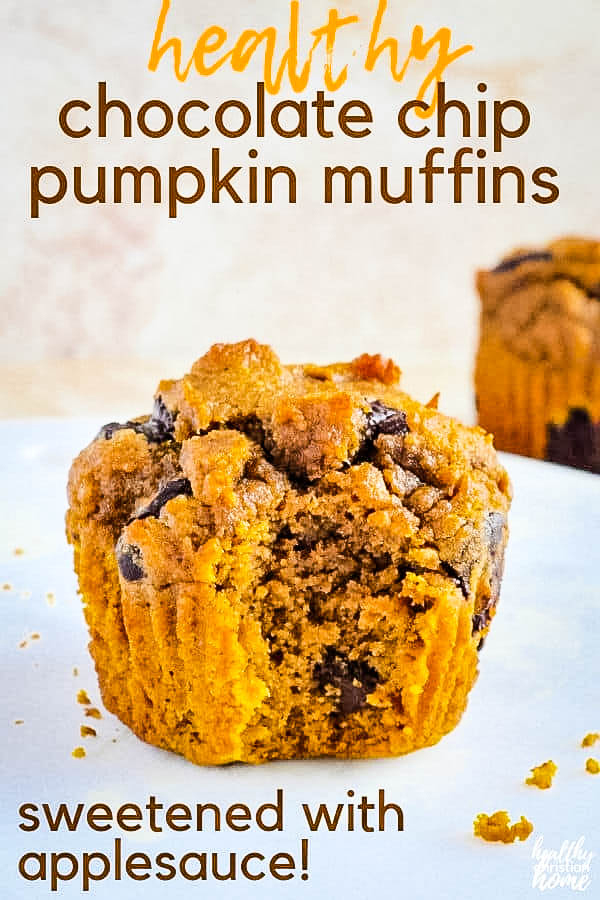 Updated on September 23, 2021
Healthy Pumpkin Muffins & A Messy Kitchen
I'm a baker at heart. I love creating a good batch of cookies or muffins, making a gigantic mess, and savoring the end result.
The cleanup part? Not really my thing.
That's why I married a man who also happens to enjoy doing the dishes. Thanks, Rich.
These healthy pumpkin chocolate chip muffins are my new favorite way to get the kitchen good and messy! It's hands-down our favorite muffin recipe ever.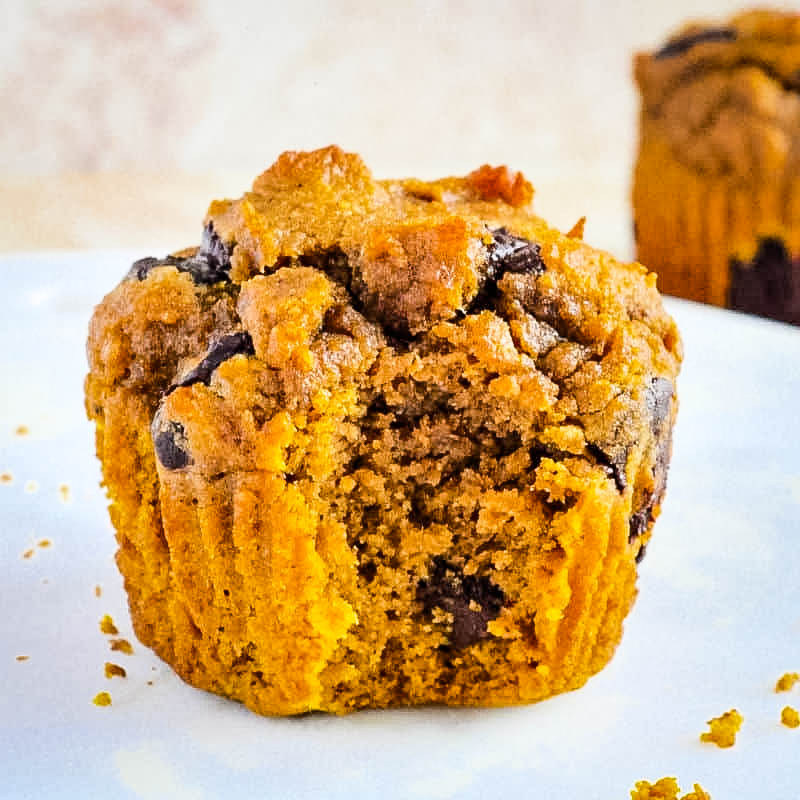 What Makes These Pumpkin Chocolate Chip Muffins Healthy?
Even better, these muffins are guilt-free and super low in sugar. Sorta like my delectable healthy pumpkin roll and pumpkin cream cheese bread.
Other healthy ingredients in these muffins include coconut oil, applesauce, maple syrup, and dark chocolate. You can even use whole wheat or freshly ground flour if you really want to up your game.
These muffins are so good, in fact, that I'm planning to hoard as many cans of ALDI pure pumpkin as possible, so I can still make these after the holiday season is over.
Sorry, pumpkin pie lovers. You better get to ALDI real quick.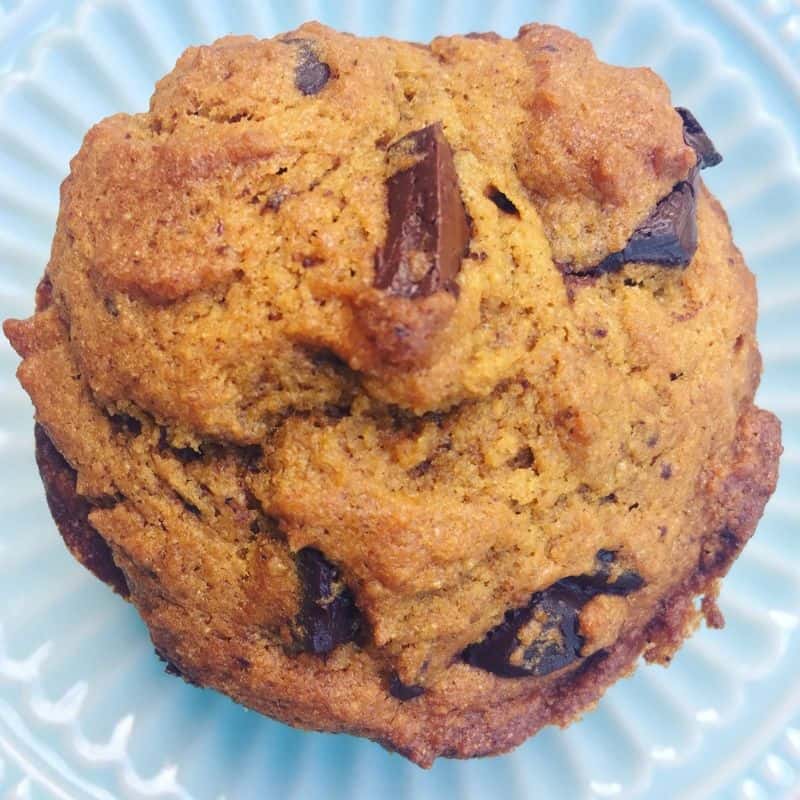 Tricks for Healthy, Low-Sugar Pumpkin Muffins
The thing I like most about these muffins (aside from the fact that they're melt-in-your-mouth moist and delicious), is that they are actually low in sugar.
Really!
These muffins are perfectly sweet and moist thanks to my secret weapon: applesauce.
Okay, it's not so secret. But if I can have sweet muffins with less sugar that never get dry? I call it a win.
First, I made a recipe for classic pumpkin chocolate chip muffins which were divine.
Then, I started thinking – how can I make these muffins healthier without sacrificing the deliciousness factor?
Most pumpkin muffin recipes call for 2 cups of sugar. (That's a lot.) I decided to replace one cup of the sugar with one cup of applesauce.
For the other cup, I used 1/2 cup maple syrup and 1/2 cup organic cane sugar. You could also easily use coconut sugar or sucanant instead of cane.
Then, I reduced the amount of oil (since there's extra moisture in the sweetneners I used) and subbed coconut oil for the typical canola.
The result? Sheer perfection.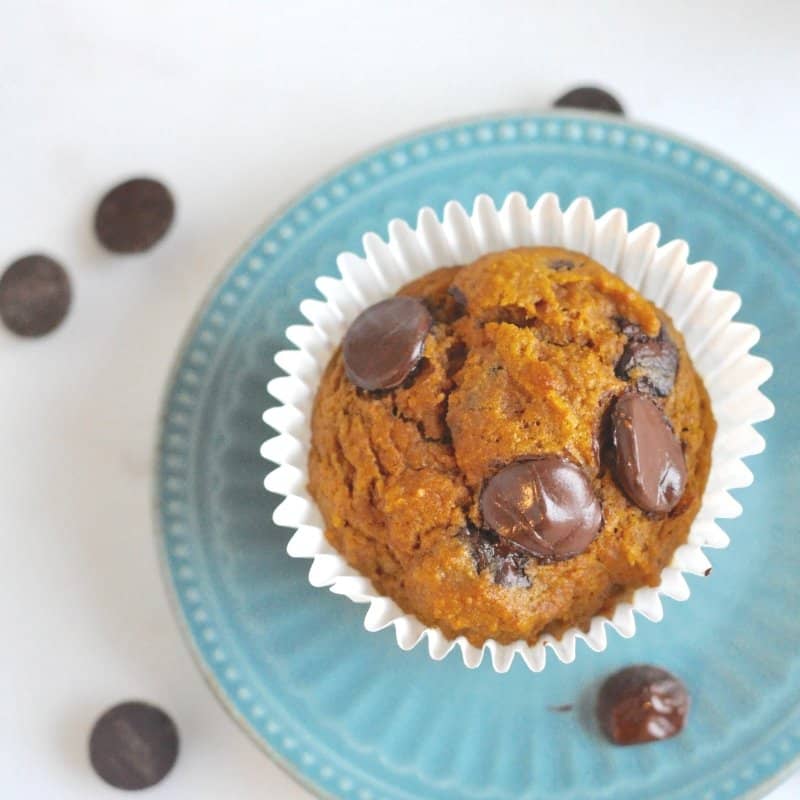 Can These Muffins Be Made Gluten Free?
Yes, they can! Simply sub your favorite gluten free flour. You could also try oat flour, or make your own oat flour by grinding oats in a high speed blender.
Using Applesauce as a Sweetener in Muffins
Applesauce is a wonderful substitute for sugar in muffins or any baked recipe that yields a soft finished result. However, if you're looking for a crispy texture (such as a sugar cookie), applesauce doesn't work.
However, things like quick breads, cakes, and muffins are perfect candidates for using applesauce as a sweetener!
Also, keep in mind that when subbing applesauce, you should reduce the liquid in your recipe by 1/4 in most recipes. The substitution ratio is equal, as well – one cup sugar for one cup applesauce. And, be sure to choose an unsweetened applesauce at the grocery store – you're trying to avoid sugar, remember?
Or, if you want to try your hand at applesauce-making, it couldn't be easier! Here's a simple recipe.
For more tips on using applesauce instead of sugar, read this post.
Another reason I love using applesauce in these healthy pumpkin chocolate chip muffins is that it enhances the fall flavor. Apples are a classic fall food that pairs perfectly with pumpkin and spices.
Ahhhhh, autumn vibes.
Other pumpkin recipes you might like:
Healthy Pumpkin Chocolate Chip Muffins Recipe Tips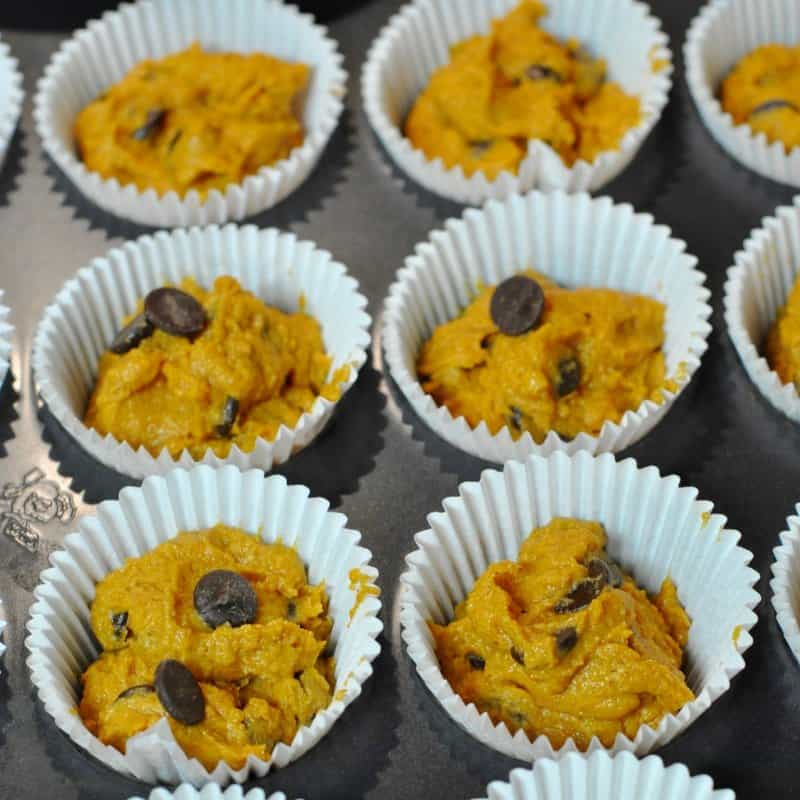 You can try using an extra cup of applesauce to replace the maple syrup and sugar. However, you may want to reduce the coconut oil to 1/4 cup.
You may also substitute 1 banana for the applesauce, or for the maple syrup/sugar.
It's best to slightly undercook these muffins for best results. Leaving them *slightly* gooey up-levels these from "good muffins" to "best muffins ever." Don't leave them too gooey obviously – you want to make sure the eggs cook thoroughly. Use the toothpick test to check doneness.
I enjoy using Ghirardelli dark chocolate chips in this recipe. If you're a purist, these Lily's baking chips are sugar free and yummy.
To simplify the baking process, I love using a large 2 dozen muffin tray so I don't have to wash multiple trays. It's the perfect size for this recipe.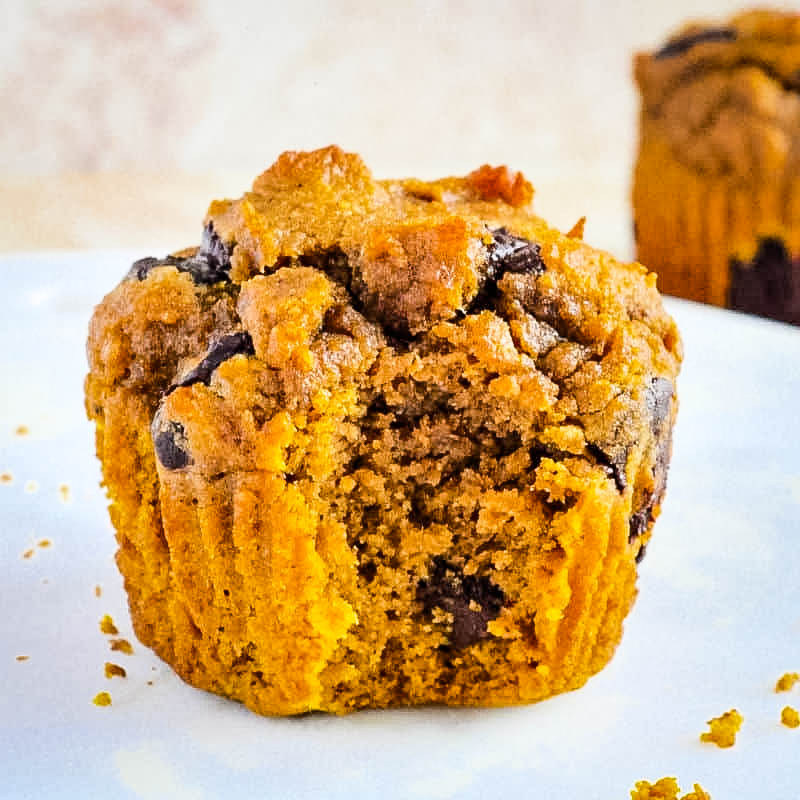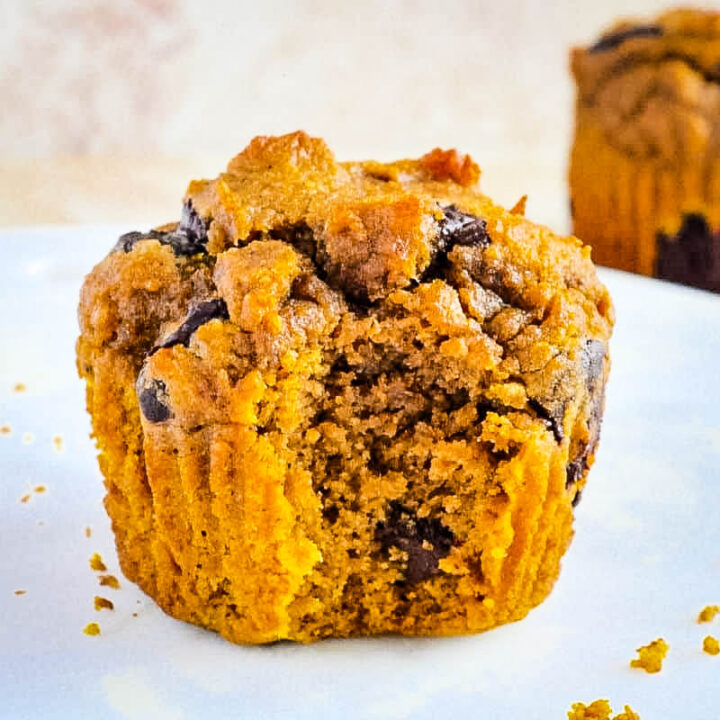 Yield: 2 dozen
Healthy Pumpkin Chocolate Chip Muffins
Prep Time: 10 minutes
Cook Time: 15 minutes
Total Time: 25 minutes
Healthy pumpkin chocolate chip muffins are the perfect breakfast or snack! These low sugar muffins sweetened with applesauce are a nice alternative to sugar-laden holiday treats.
Ingredients
4 eggs
1 can pure pumpkin puree, 15 oz.
1 cup applesauce, unsweetened
1/2 cup coconut oil, melted
1/2 cup maple syrup
1/2 cup organic sugar (or coconut sugar)
3 cups whole wheat or all purpose flour (like Wheat Montana)
2 teaspoons baking soda
1 teaspoon baking powder
1 Tablespoon pumpkin pie spice
1 teaspoon salt
2 cups dark or semisweet chocolate chips
Instructions
Preheat oven to 400 F. Grease muffin pan or add paper muffin liners.
Beat eggs, pumpkin, applesauce, maple syrup, sugar, and oil in a large bowl until smooth.
Mix flour, baking soda, baking powder, salt, and pumpkin pie spice.
Add flour mixture to pumpkin mixture and mix thoroughly, then fold in chocolate chips.
Fill muffin cups almost full with muffin batter. Bake at 400 F for 15-17 minutes. Check them a minute or two early to check for doneness - don't overcook. Cool for several minutes before enjoying.
Yield: 2 dozen muffins. These are even better the next day!
Nutrition Information:
Yield:
24
Serving Size:
1 muffin
Amount Per Serving:
Calories: 265
Total Fat: 10g
Saturated Fat: 7g
Trans Fat: 0g
Unsaturated Fat: 3g
Cholesterol: 31mg
Sodium: 238mg
Carbohydrates: 41g
Fiber: 5g
Sugar: 18g
Protein: 6g
Please RATE this recipe & let us know what you think! And snap a photo & tag me on Instagram @healthychristianhome
PIN IT!