One of the best parts of fall is puttering around the kitchen, trying to cram pumpkin into every recipe I possibly can. This pumpkin cream cheese bread fits the bill nicely!
Soft and moist pumpkin spice bread and a decadent cream cheese filling come together to create the ultimate fall breakfast or snack! Even better, it's low in sugar so it won't derail your plans to eat healthy during the holidays.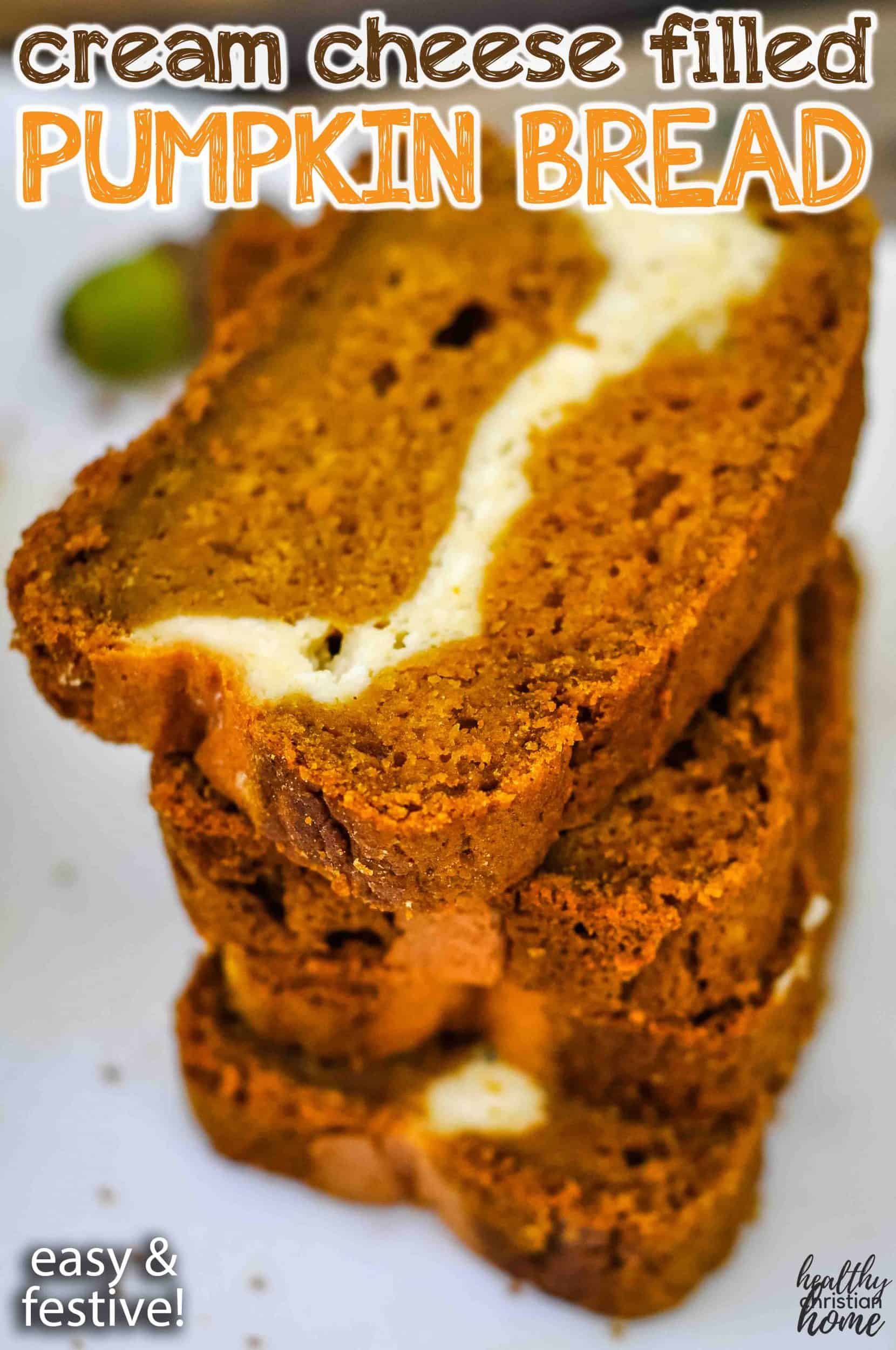 Why Pumpkin Cream Cheese Bread is the BEST
Pumpkin is a celebrity — royalty, even — among vegetables (well, technically it's a fruit). Since we only see her in stores once a year and is she associated with all things fall-themed and cozy, she gets all the attention while squashes and rutabagas sit pouting.
In fact, I have an entire board on Pinterest dedicated to pumpkin recipes where my pumpkin roll and pumpkin chocolate chip muffins go wild every year.
Yes, pumpkin is the only specific food that gets its own Pinterest board. It's just that special to me.
Now I'm thinking maybe I should make a board specifically for chocolate… I digress.
If you're pumpkin crazy too, today's recipe is for you.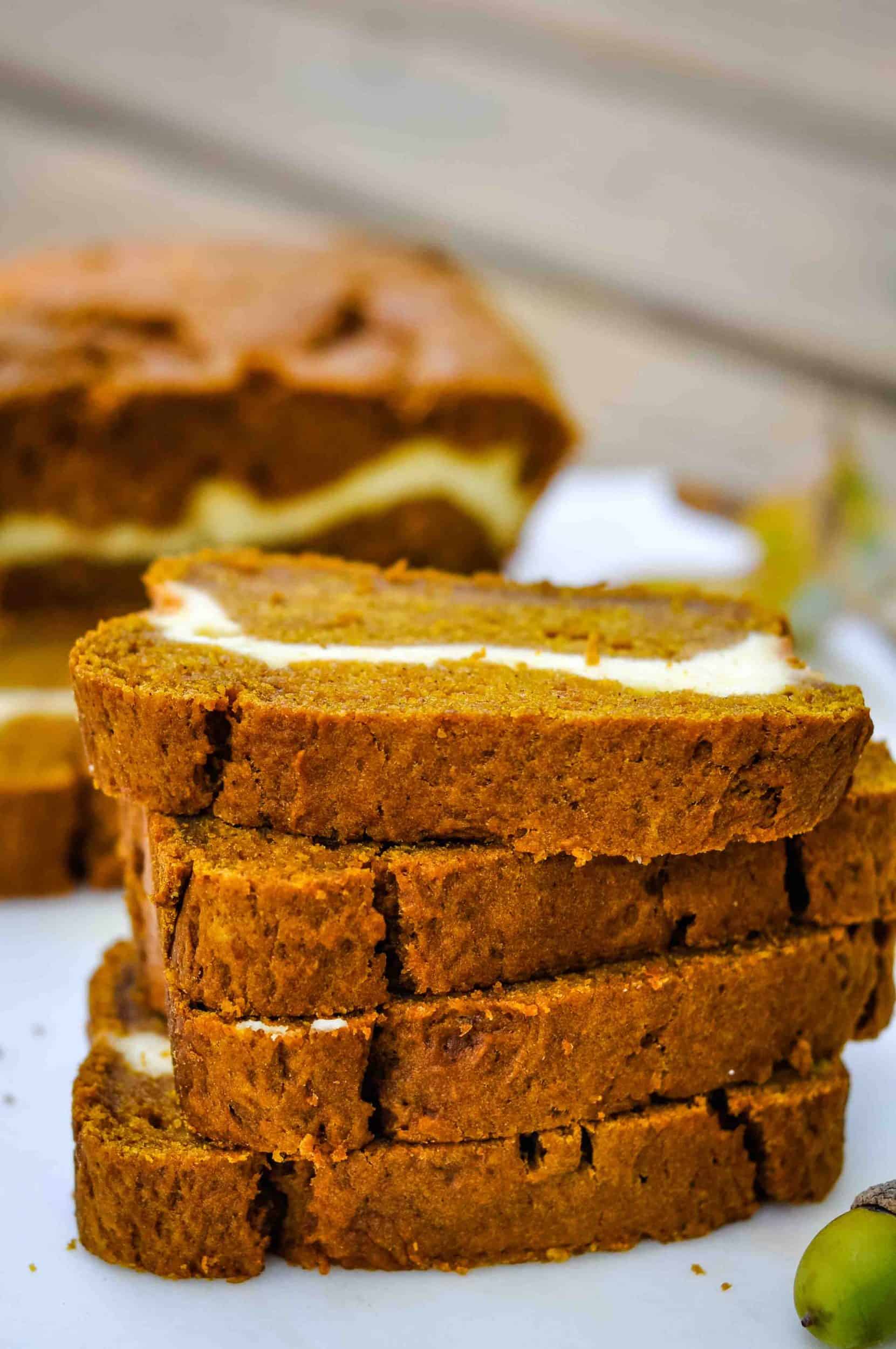 Last month, I created the most divine cream-cheese filled pumpkin muffins and our family kept dreaming about them. So I decided to use the same basic idea and make them into a quick bread – pumpkin cream cheese bread to be exact!
This pumpkin bread certainly does not disappoint.
Plus, this particular recipe is lower in sugar than most recipes you'll find online thanks to the addition of applesauce (which also keeps it moist). And it makes two loaves, so you'll have one for yourself and one for a friend during this season of giving.
Or, save one loaf for the freezer. He's a pretty good friend too.
How to Make Cream Cheese Filled Pumpkin Bread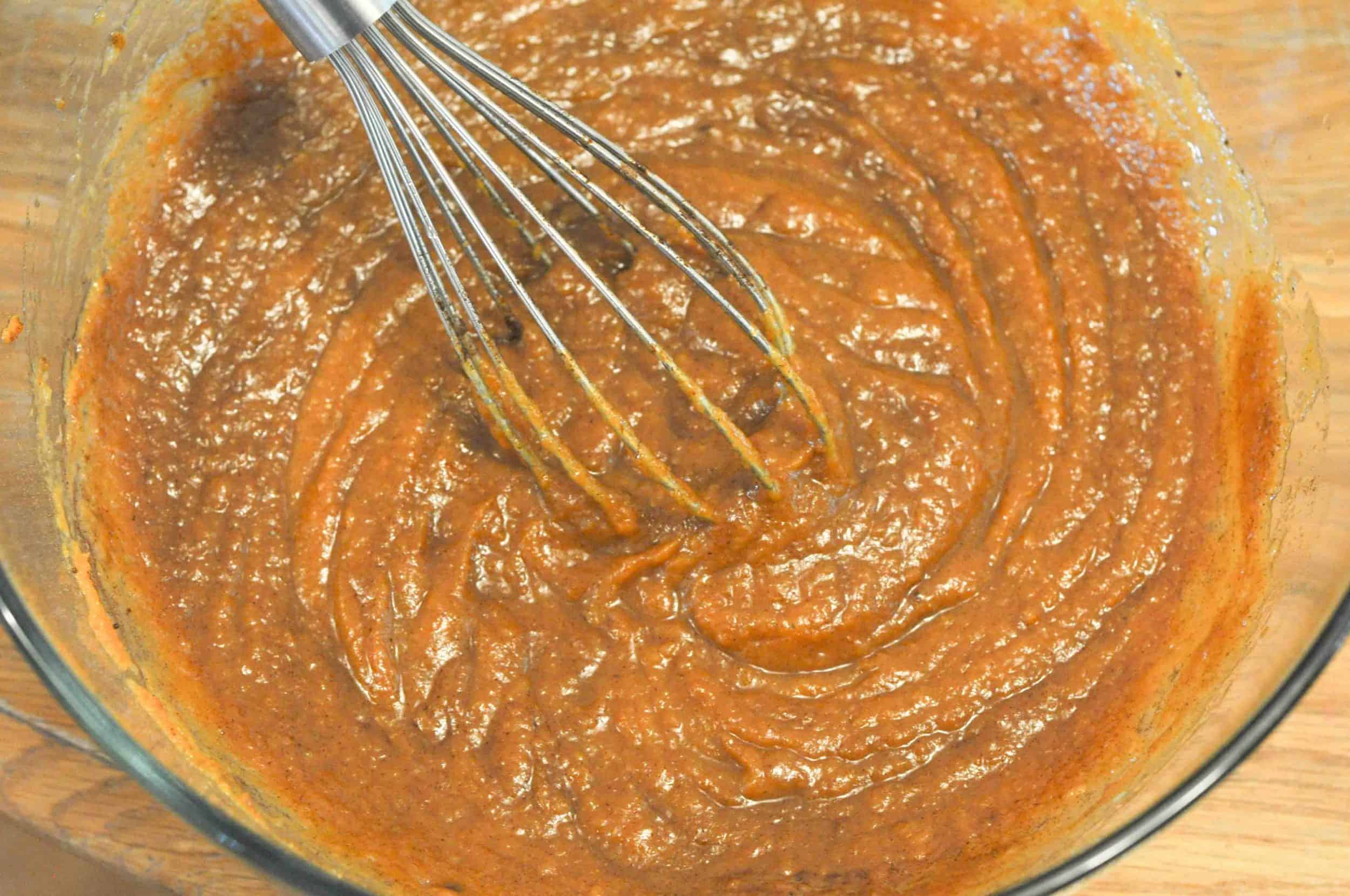 This pumpkin cream cheese bread is so simple to make, yet looks so fancy when you cut into it and see its gorgeous, wavy cream cheese layer.
All you have to do is whisk the wet ingredients together, then add the dry ingredients and stir until combined (careful not to overmix).
Then, add 2/3 of the batter into the bottom of your greased and floured loaf pans. Mix together the cream cheese filling ingredients with an electric mixer and spread carefully on top of the pumpkin layer.
Finally, top the cream cheese layer with the rest of your pumpkin bread batter. Don't spread too vigorously – you don't want to disturb the cream cheese filling below.
Bake bread 45-50 minutes at 350 F until a toothpick inserted into the center comes out clean (or with several small moist crumbs). Allow to cool for 15 minutes before turning out onto wire racks to cool completely before slicing.
My favorite flour to use for pumpkin bread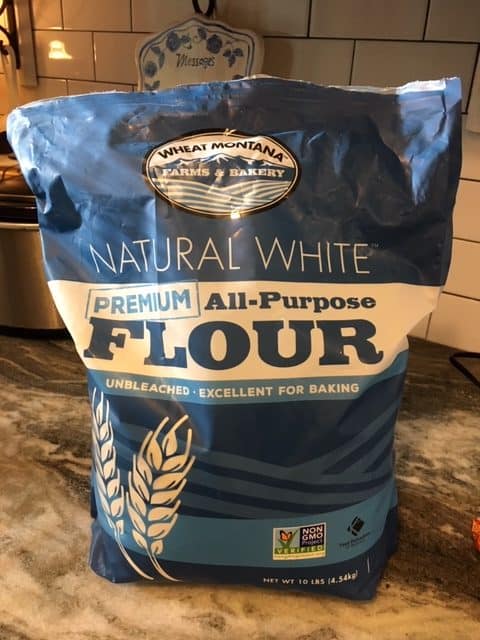 This post is sponsored by Wheat Montana. All opinions are 100% my own.
If you read this blog often, you know what a fan I am of Wheat Montana's range of flours for baking. They lovingly grow and harvest their chemical-free wheat in Three Forks, Montana. It's all 100% non-GMO Project Verified, so I feel really good about serving it to my family.
Ask your local Walmart to start carrying it if they don't already, or look for it at selected TJMaxx, HomeGoods, and Ross locations. Their all purpose baking flour is only 6 cents an ounce ($1 per pound) on Amazon when you buy 20 pounds in bulk!
If your family is GF and you want to make a gluten free pumpkin bread, try using a good quality gluten free blend like Bob's Red Mill or coconut flour (reduce the flour to 1 1/2 cups, since coconut flour absorbs more moisture). Keep in mind that the end result of texture will vary somewhat using alternative flours.
Storage and Freezing Tips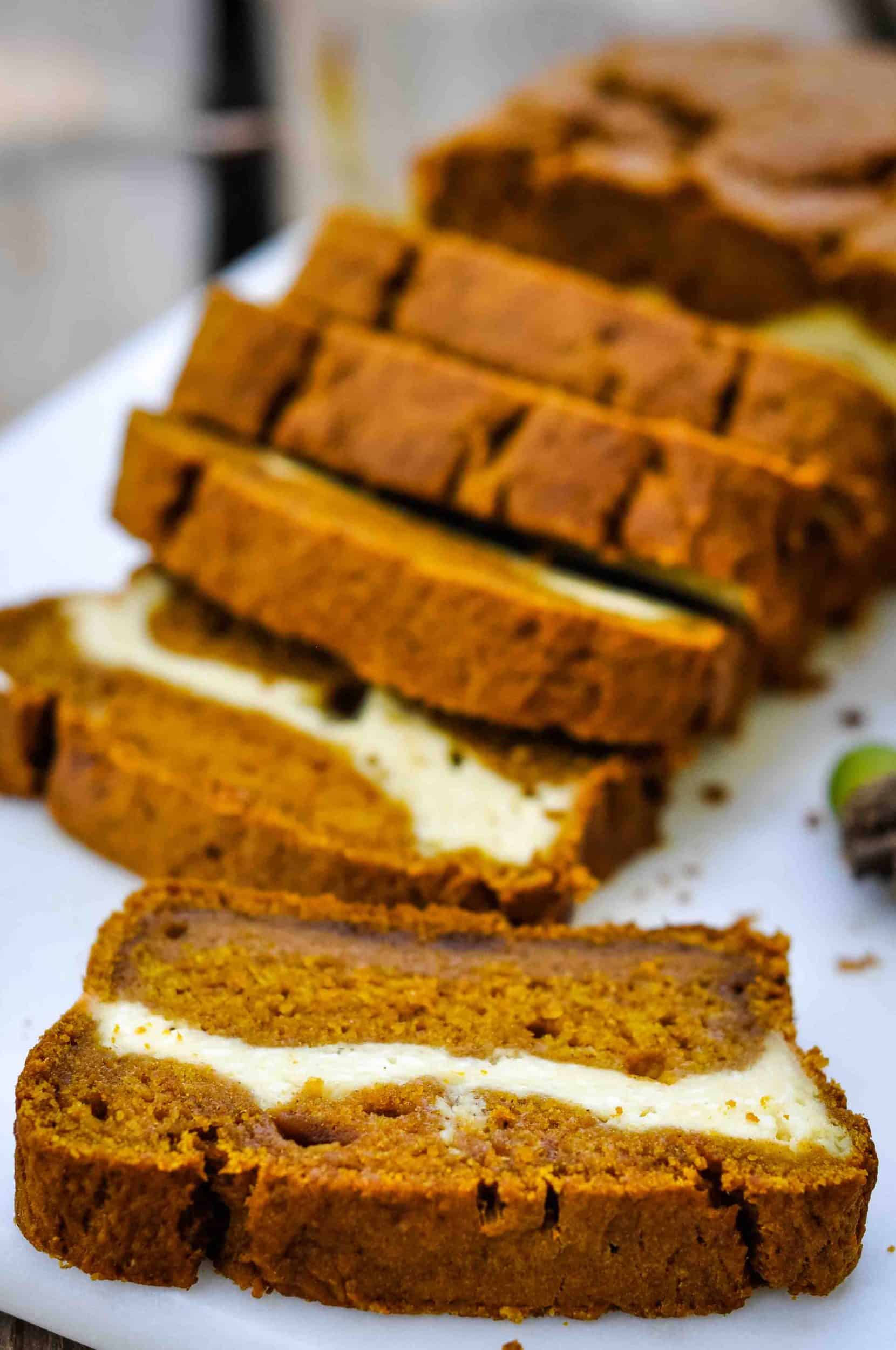 This pumpkin bread keeps for around 5 days in a container at room temperature. (But it usually disappears much faster than that around here!)
You can also freeze this bread very easily. Once bread is cool, wrap in plastic wrap and aluminum foil and freeze for up to 6 months. Slice before freezing for easier thawing.
To thaw, simply remove bread from freezer and thaw for 24 hours at room temperature before serving.
Tips for the perfect cream cheese filling layer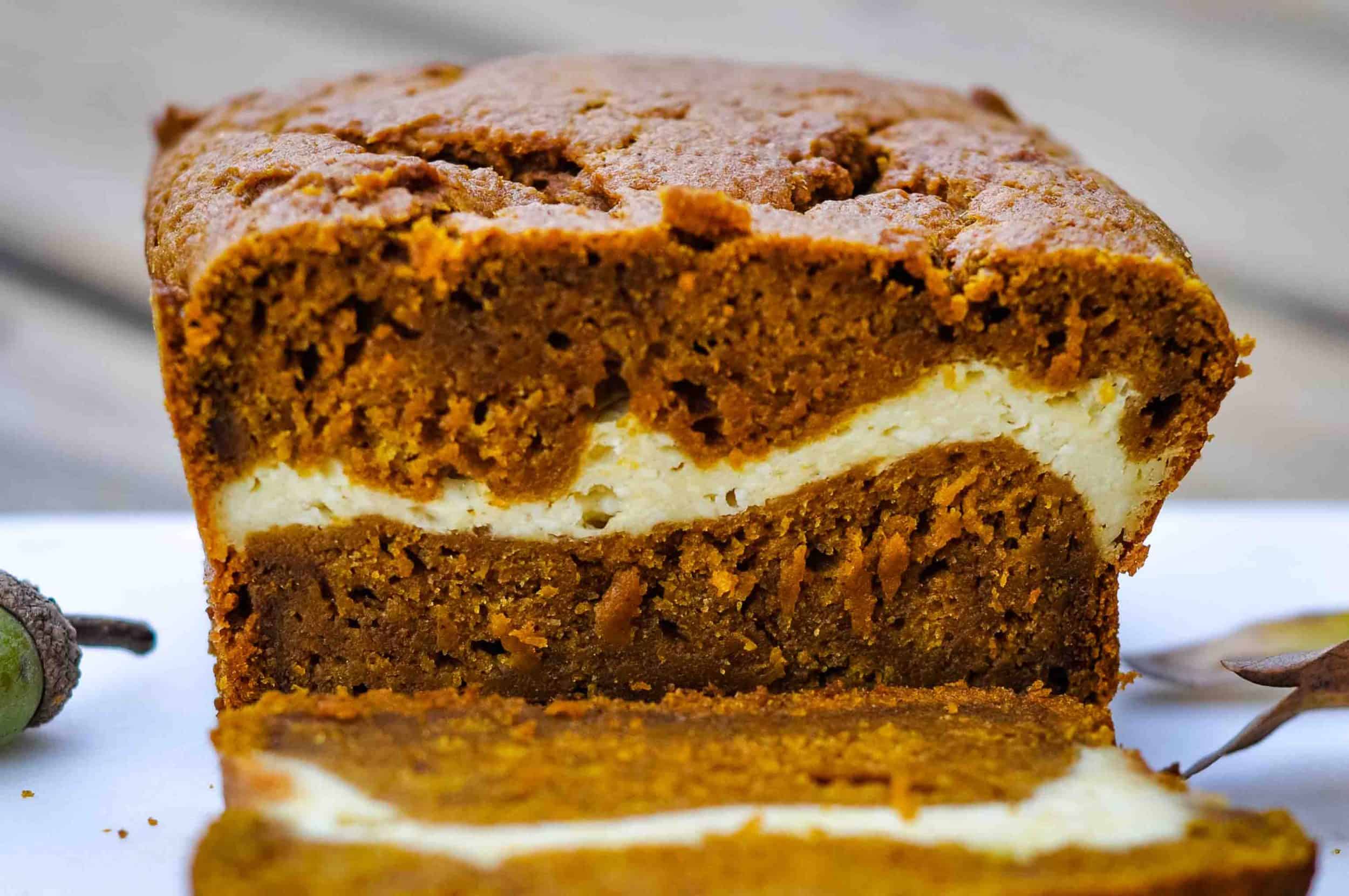 Undoubtedly, the most impressive part of this pumpkin bread is the delectable wavy cream cheese layer. Here are some tips to perfect it:
Instead of adding half of your bread batter to the pan before the cream cheese, we are adding 2/3 because the cream cheese filling can settle during baking. This ensures a beautiful marbled effect in the middle of the loaf once it's baked.
Use the block type of cream cheese for this recipe, not the kind in the tub.
Allow cream cheese to come to room temperature before baking for easy mixing of the filling.
Use an electric mixer to make sure all the cream cheese filling elements are thoroughly combined.
Feel free to add a splash of vanilla or almond extract to give your filling an extra-special flavor.
If you are making this pumpkin bread gluten-free, you can omit the flour in the filling or swap it for half the amount of arrowroot powder or cassava flour.
Why does my pumpkin bread not rise?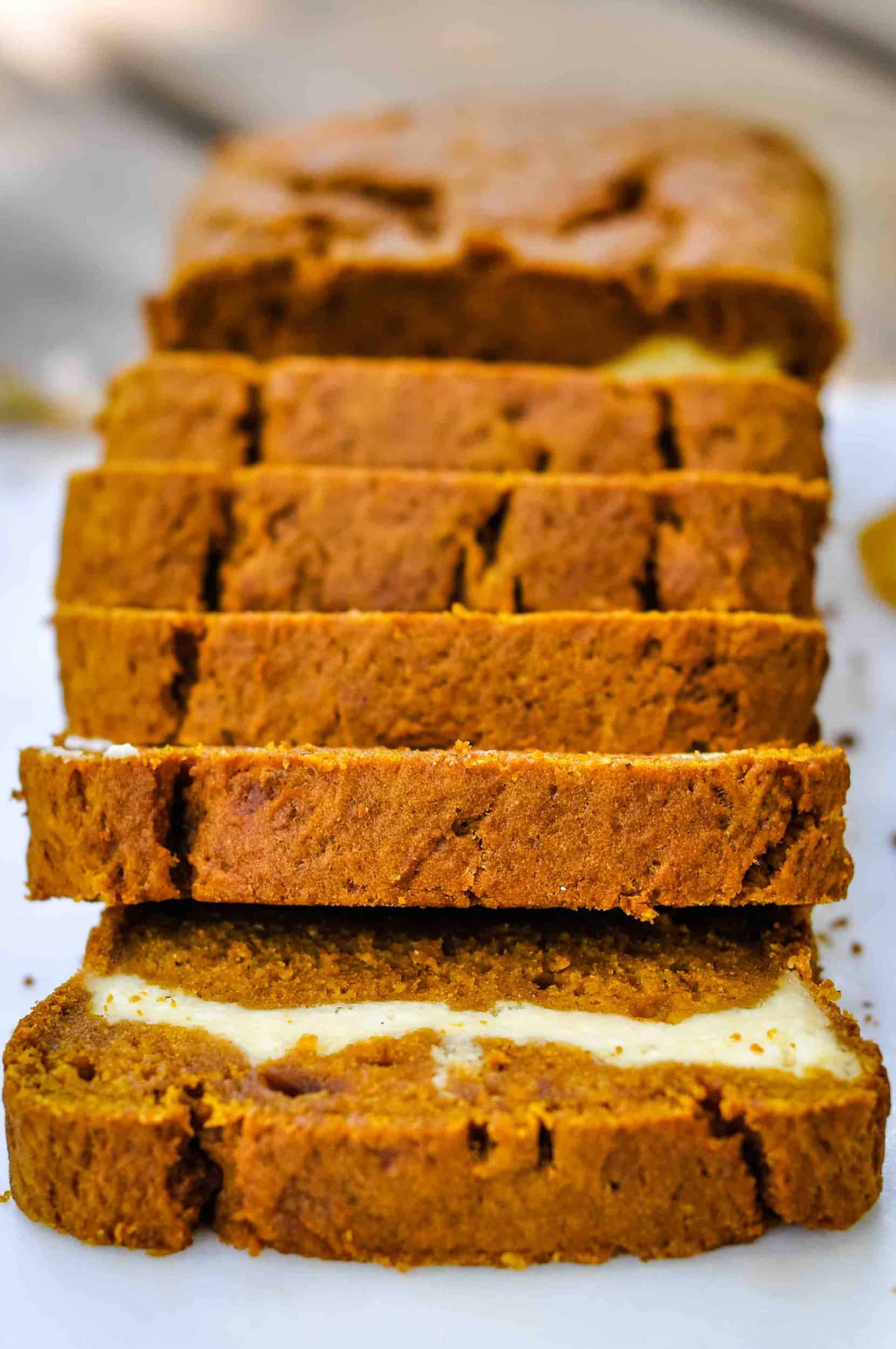 Originally, I tried pre-soaking the flour overnight for better digestion (based on Weston A. Price diet principles our family tries to follow). However, this resulted in a bread that had basically no rise. So it was back to the drawing board!
This recipe is more of an occasional treat that doesn't lend itself well to practices like soaking. I discovered it works much better to skip the soaking step. But, quick breads still often don't have the same rise as traditional yeast or sourdough breads.
This is totally fine, because the main point of quick breads is to add lots of flavorful add-ins like apple or pumpkin. They still rise enough to look pretty and add a degree of lightness in the loaf.
Other tips from for better rise are to not overfill the loaf pan (which can lead to collapse) and to lower the oven temperature by 25 degrees F if you're having issues (source).
If you follow this recipe, your loaf will rise significantly during baking. As it cools, it will settle somewhat. This recipe yields a medium density bread that is still very moist with a delicate crumb.
More delicious baked goods to try: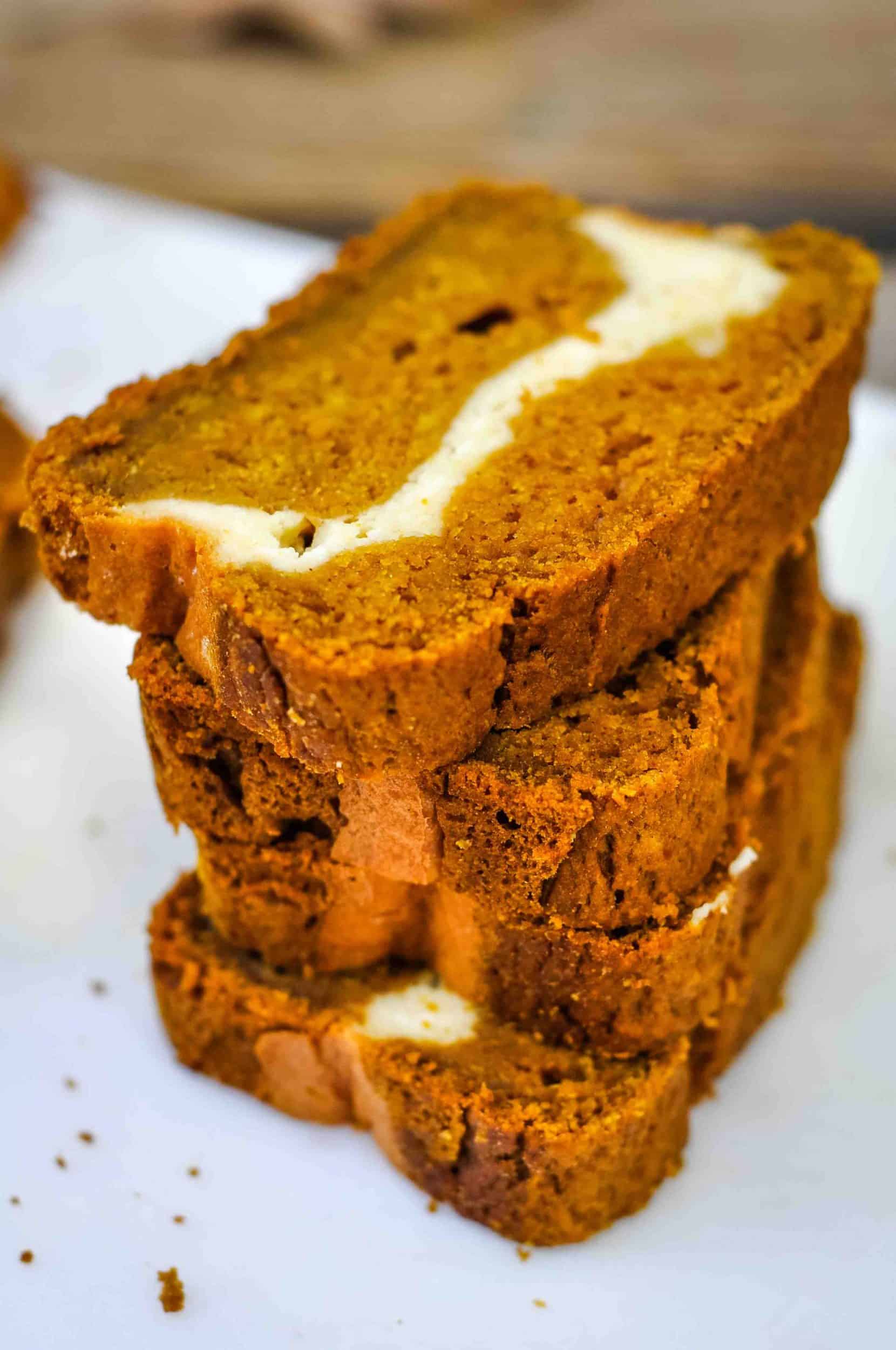 Baking Tips for Pumpkin Cream Cheese Bread
Here are a few additional tips to bake the perfect loaf of cream cheese filled pumpkin bread:
I prefer using ceramic or glass loaf pans for health reasons and avoiding aluminium and non stick versions. Be sure to grease and flour your loaf pan thoroughly so the loaf doesn't stick.
You can also use parchment paper in the loaf pan for easy removal (follow this wonderful tutorial for how to line your loaf pan with parchment paper).
If you are wondering what makes pumpkin bread crumbly, it's usually a lack of moisture. We are using applesauce and coconut oil to keep our bread nice and moist.
It's also very important to allow your bread to cool thoroughly before slicing to hold its shape.
If you don't have applesauce, you can substitute additional coconut oil instead (or vice versa).
Make sure to use canned PURE pumpkin, not pumpkin pie filling. This is essential to ensure the proper texture of your bread as well as reduce sugar.
If you like a lot of pumpkin spice, feel free to add extra (or some additional ground cinnamon) to the recipe.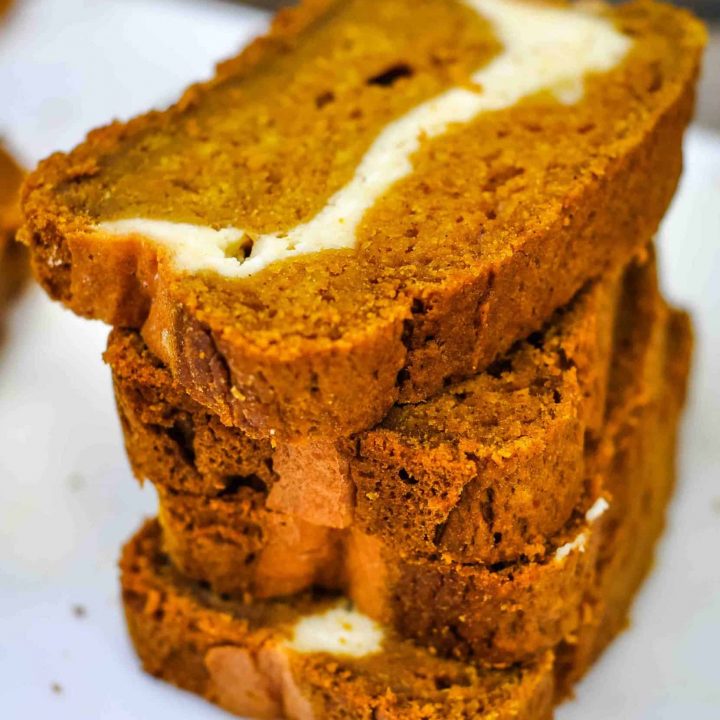 Yield: 2 loaves
Pumpkin Cream Cheese Bread (low sugar)
Prep Time: 20 minutes
Cook Time: 45 minutes
Total Time: 1 hour 5 minutes
Soft and moist pumpkin spice bread and a decadent cream cheese filling come together to create the ultimate fall breakfast or snack! Even better, it's low in sugar so it won't derail your plans to eat healthy during the holidays.
Ingredients
1 egg
½ cup applesauce
½ cup melted coconut oil
2 tsp. vanilla
1 Tbsp. pumpkin pie spice blend
1 tsp. baking powder
1 tsp. baking soda
½ tsp. salt
Cream Cheese Filling:
1 8 oz. block cream cheese, softened
1 egg
2 Tbsp. maple syrup
4 Tbsp. flour 
Instructions
Preheat oven to 350 F. Grease and flour two 9x5-inch loaf pans (or grease and line with parchment paper).
In a large bowl, whisk together egg, pumpkin, granulated sweetener, applesauce, coconut oil, vanilla, and pumpkin pie spice.
Next add the flour, baking powder, baking soda, and salt. Stir in gently with a spatula and do not overmix.
Spoon about 2/3 of the batter evenly into the bottom of prepared loaf pans, reserving the other 1/3 of the batter for later.
In a medium bowl, whisk together cream cheese, egg, maple syrup, and flour with an electric mixer.
Divide cream cheese filling and pour it into both loaf pans, spreading evenly.
Spread reserved pumpkin bread batter over the top of cream cheese filling, smoothing carefully with a spatula. Don't spread it around too much, or you may disturb the cream cheese filling underneath.
Bake loaves for 45-50 minutes or until top is golden and a toothpick inserted in center of loaf comes out clean, or with a few moist crumbs. Remember that the cream cheese filling will stay moist, but bread should be cooked.
Cool bread in loaf pans for 15-20 minutes before turning out into wire racks. Allow to fully cool before slicing and serving.
Notes
If bread is starting to look browned well before the 45 minute mark, gently cover with foil for the remainder of baking time.
If converting this recipe to gluten free, sub 1 ½ cups of coconut flour for all purpose flour and use 2 Tbsp. arrowroot powder or cassava flour in the cream cheese filling.
Recommended Products
As an Amazon Associate and member of other affiliate programs, I earn from qualifying purchases.
Nutrition Information:
Yield:
20
Serving Size:
1
Amount Per Serving:
Calories: 241
Total Fat: 10g
Saturated Fat: 7g
Trans Fat: 0g
Unsaturated Fat: 2g
Cholesterol: 30mg
Sodium: 190mg
Carbohydrates: 33g
Fiber: 3g
Sugar: 13g
Protein: 5g
What's your favorite pumpkin based treat?
PIN IT!